If you're visiting Oregon, you have to tour the Mt. Hood and Columbia River Gorge Scenic Loop and don't forget the Dramamine® if you get motion sick!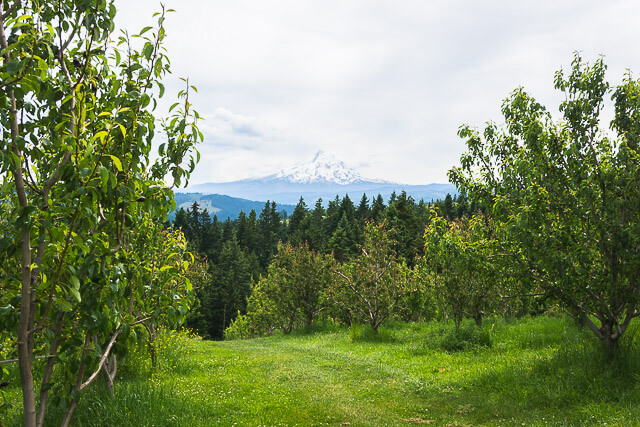 A few weeks ago I had the pleasure of taking a farm tour with oxo and Travel Oregon through the Mt. Hood and Columbia River Gorge Scenic Loop in Oregon. It was such an amazing experience. The views were amazing, the company was wonderful, and the food was great! I had so much fun spending the weekend with the girls and exploring some of this beautiful state.
When we got our itinerary for the day a couple months before, I knew we were going to have one major problem, or at least I was. With talks of shuttle buses and mountains and loops, my (as my husband would refer to it) fragile brain wouldn't be too thrilled.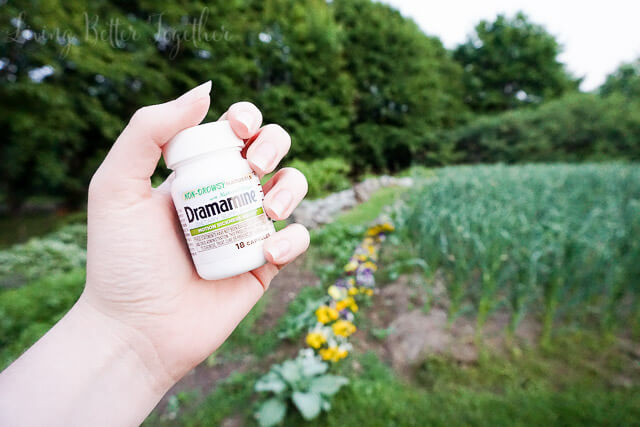 I've suffered from motion sickness for as long as I can remember. It's not fun and it has a way of putting a damper of fun events. It wasn't until I took my first plane trip in 2007 when I had my first dose of Dramamine®, and boy did it change my life. Suddenly I didn't have to miss out on any more moments with my friends and family. So when I saw the itinerary for Oregon, the first thing that went in my bag (after my camera of course) was my Dramamine.
More than 50% of women suffer from motion sickness and most don't treat it. But I refuse to be someone who lets a little nausea ruin my plans. Dramamine® Non-Drowsy Naturals helps prevent and relieve motion sickness symptoms like nausea and vomiting, which products like antacids and upset stomach relievers do not. And since it's made from natural ginger, it is safe to use every day you travel.
It was time to take the No More Missed Moments Challenge! Begin your challenge by selecting from one of the below moments and activities and deciding when you want to experience it. On the day of your activity, take one dose of the Dramamine® Non-Drowsy Naturals samples 30 minutes before your activity, following the directions on the product label.
Here are some options, but feel free to embark on any adventure that you may have missed out on before due to motion sickness!
Take a road trip
Take a helicopter ride
Go on amusement park rides
Go on a cruise or boat road
A summer activity or travel opportunity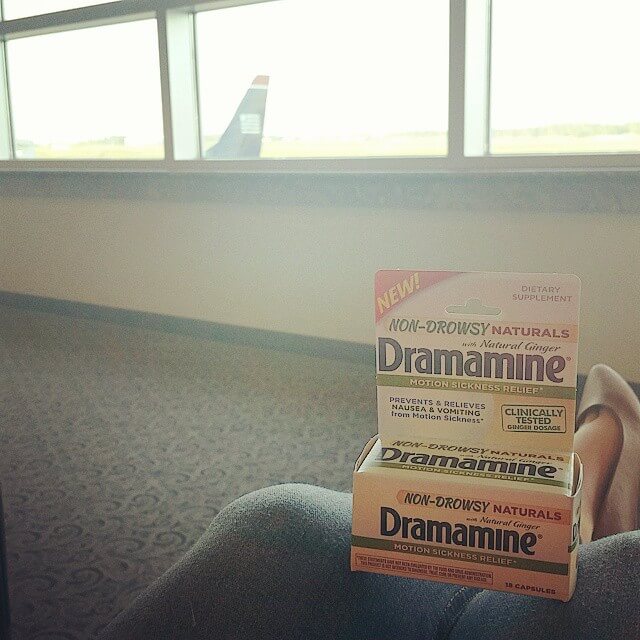 I barely made it passed security at the airport before I whipped out a bottle of the new Dramamine® Non-Drowsy Naturals at the start of my trip. But I made sure to bring it along for the tour too and I was so glad I had. After just a minutes on that shuttle, I would have been done for. A lot of the other girls didn't think to bring any, but I came with a full supply and was happy to help make their experiences more enjoyable.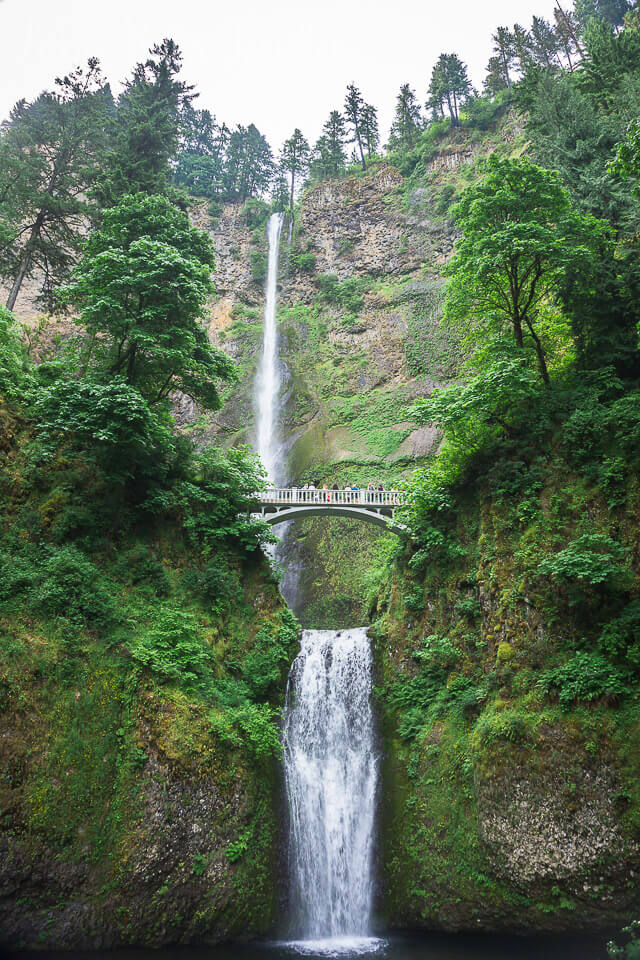 The day was such a beautiful day, we left Portland and headed out to Multnomah Falls, the second highest falls in the United States. We only had a little bit of time there, but it was just enough to take in the gorgeous view. I do wish we'd had a little more time to hike and explore the area. Next we were off to check out some of the fruit farms in the fruit loop.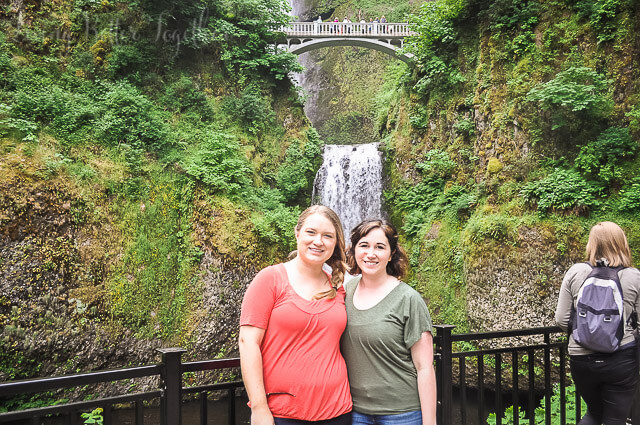 Did I mention I finally got to meet one of my best friends in real life while I was there! This is Maggie from The Love Nerds, it was so much fun to spend the weekend together!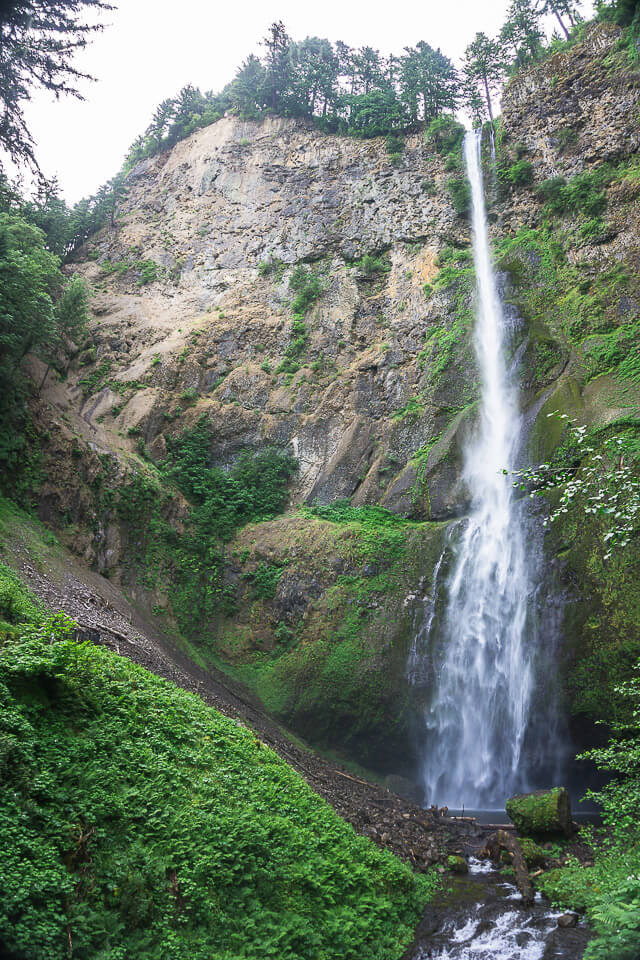 The falls were just stunning!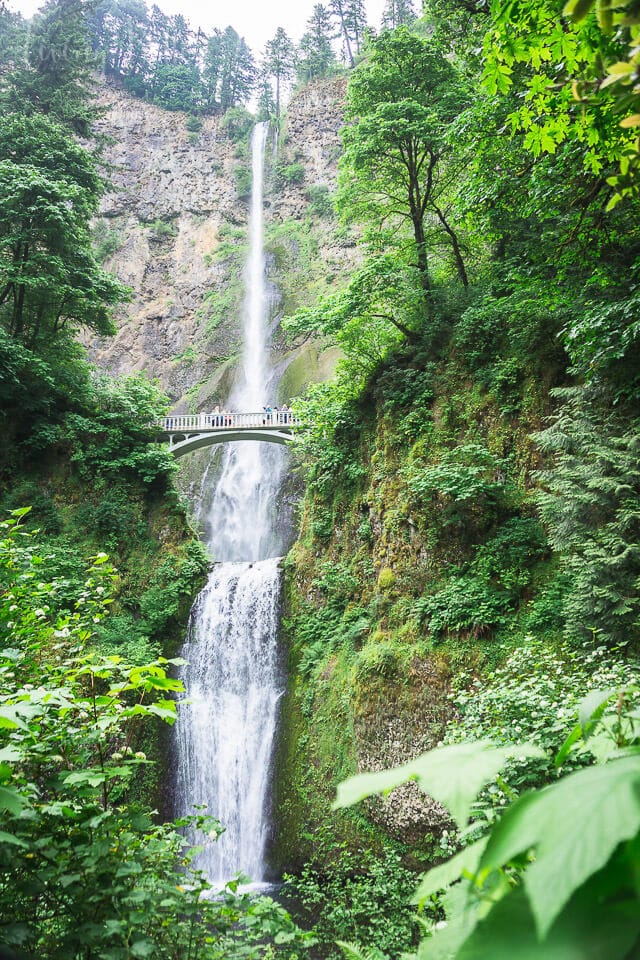 We stopped at the Draper Girl's Farm where the lovely owner gave us a tour and let us try some of the amazing products and fruits she makes on her farm. It was such a quaint little place with beautiful gardens, animals and an insane view of Mt. Hood.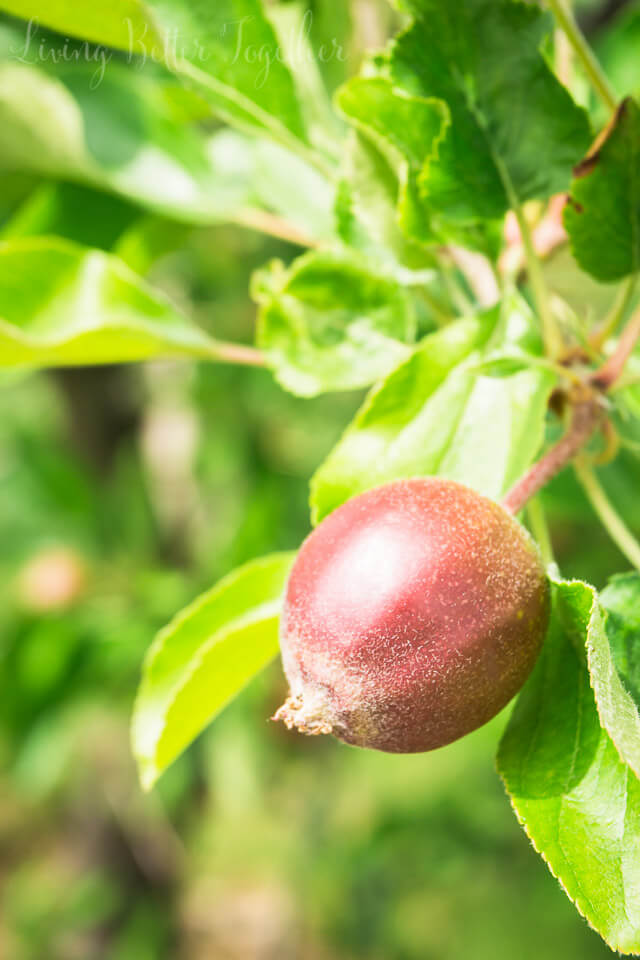 Pears!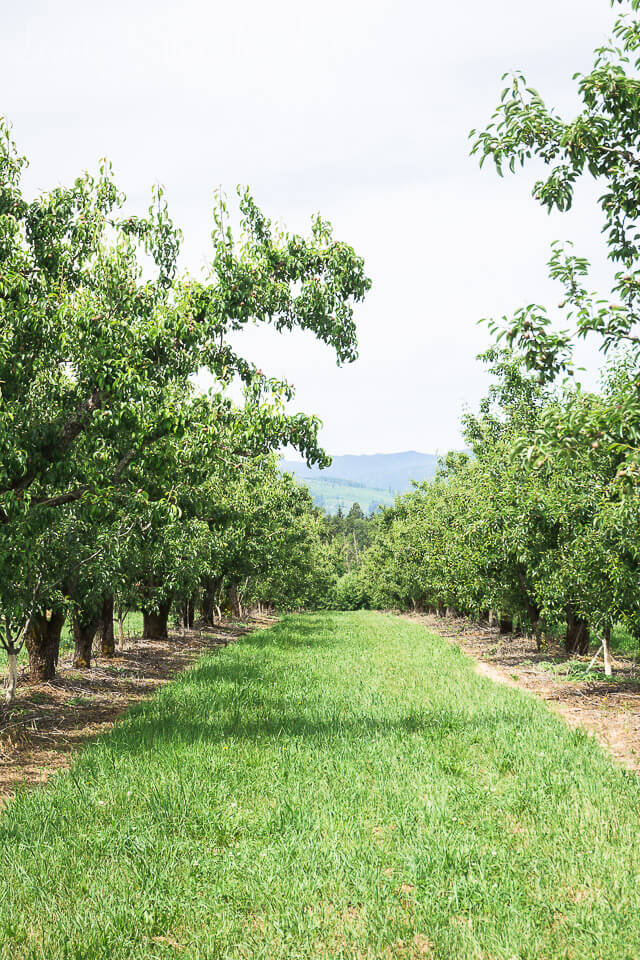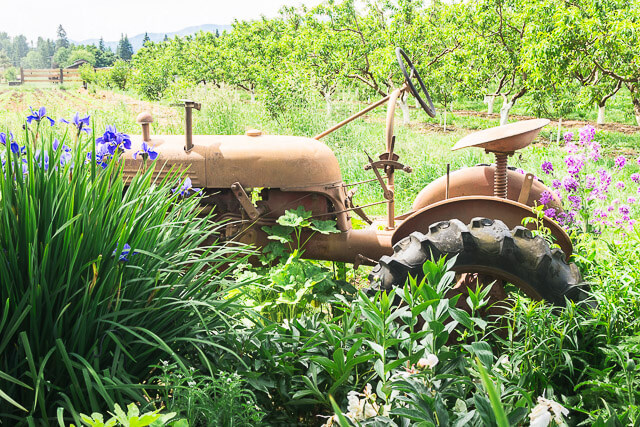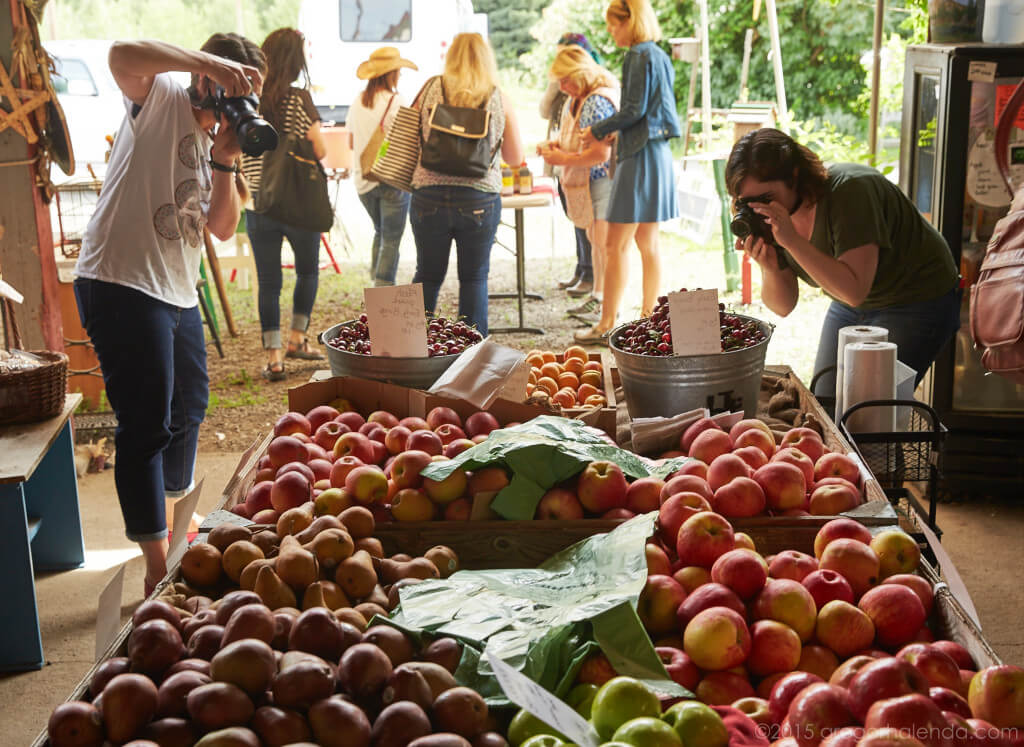 Me taking pictures of food… it's what I do.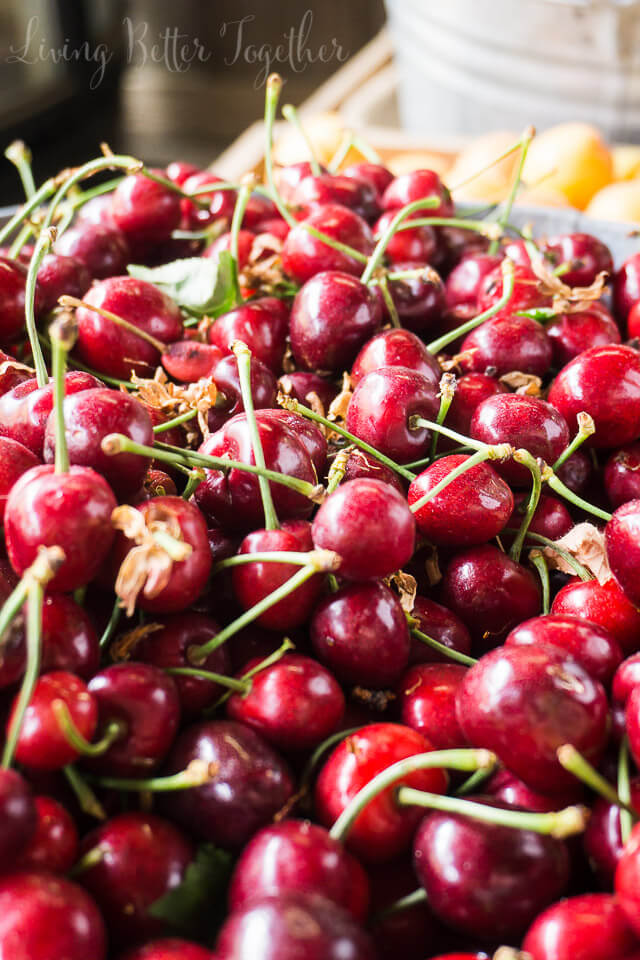 Said food.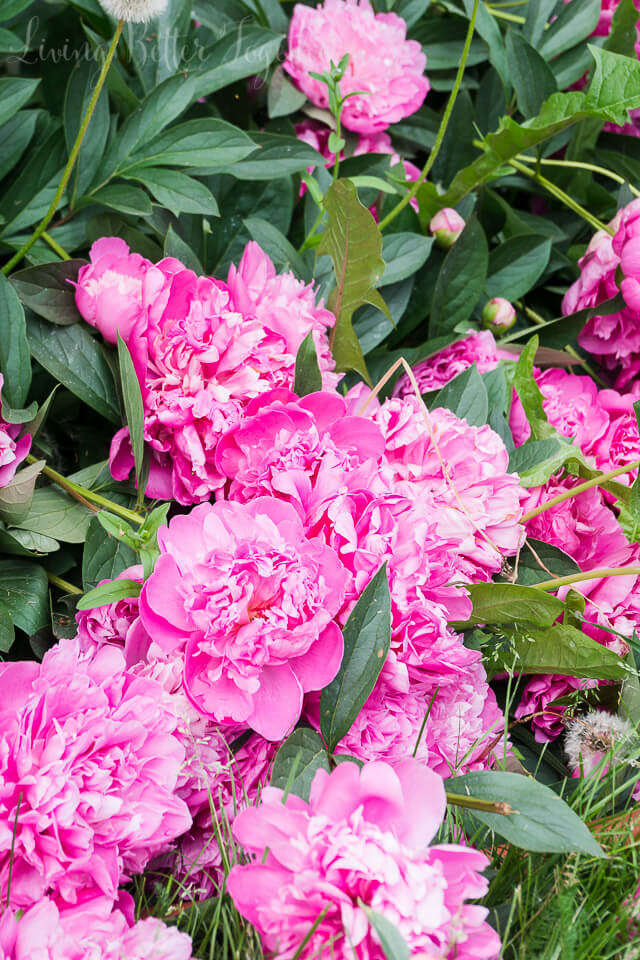 Gorgeous gardens surrounded the entire farm, but the peonies were my favorite!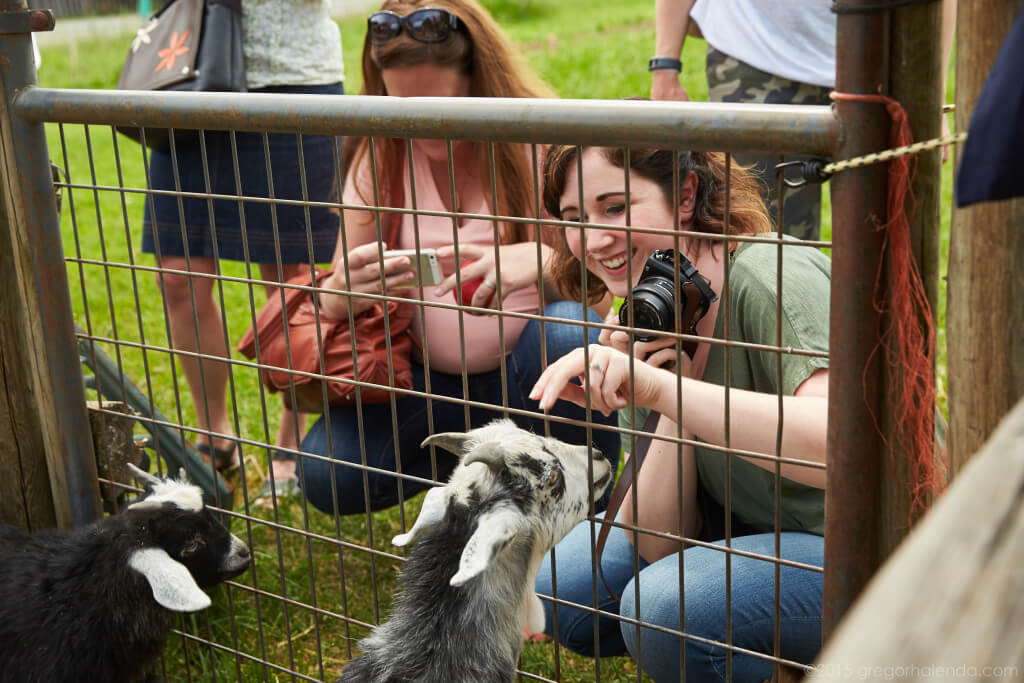 I got to play with the baby goats and this guy REALLY wanted my fingers!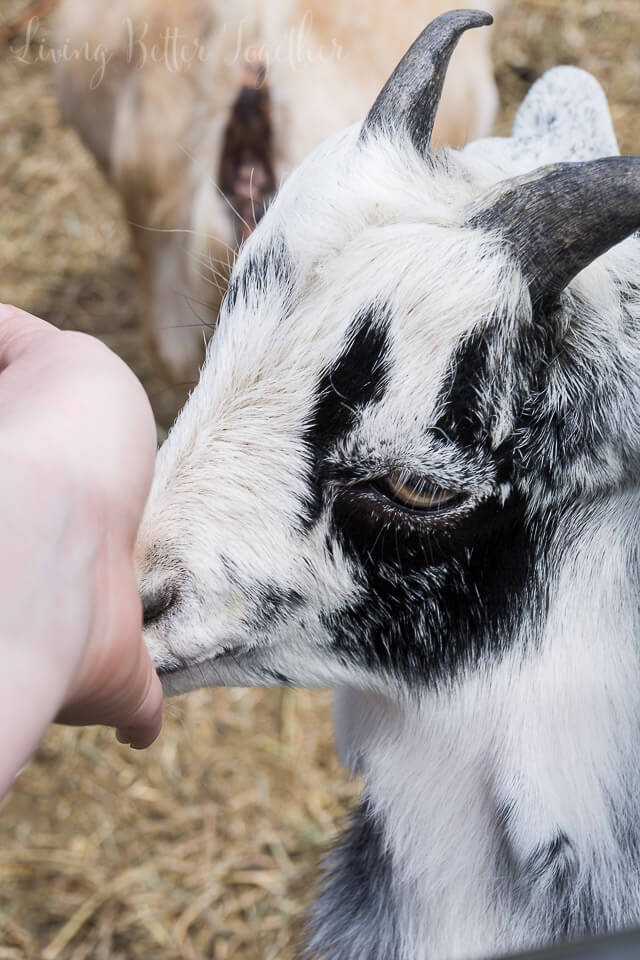 I also got to spend the weekend with Sandra from A Dash of Sanity, Rachel from Eazy Peazy Mealz, Sarah from High Heels and Grills, and Jen from Carlsbad Cravings. It was so fun meeting and getting to know these fabulous women!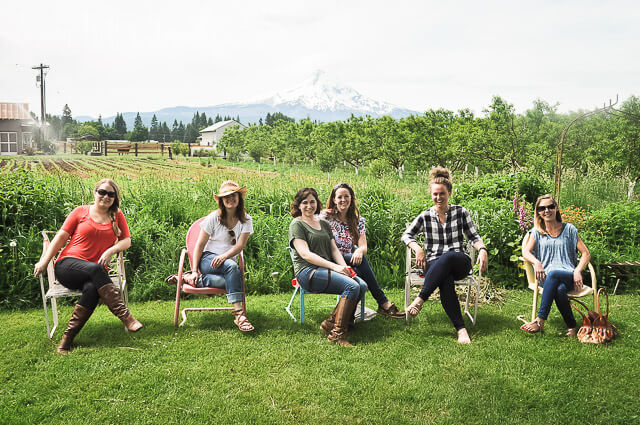 Next we were off to The Gorge White House for a tour and lunch. It was a beautiful location with a view of both Mt. Hood and Dog Mountain, which is in Washington. They have a beautiful winery and hard ciders made right on site. They also serve craft beer and have an amazing food cart if you're hungry!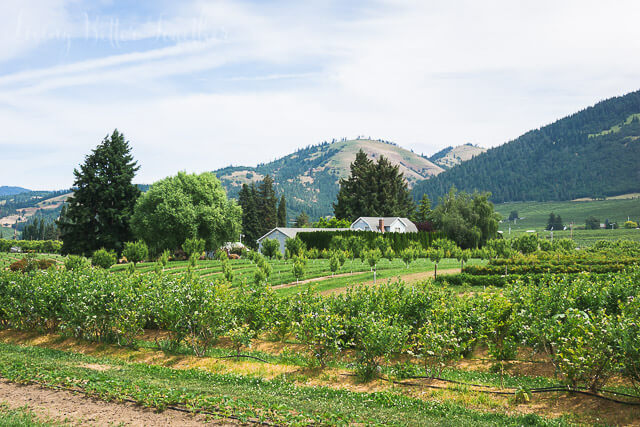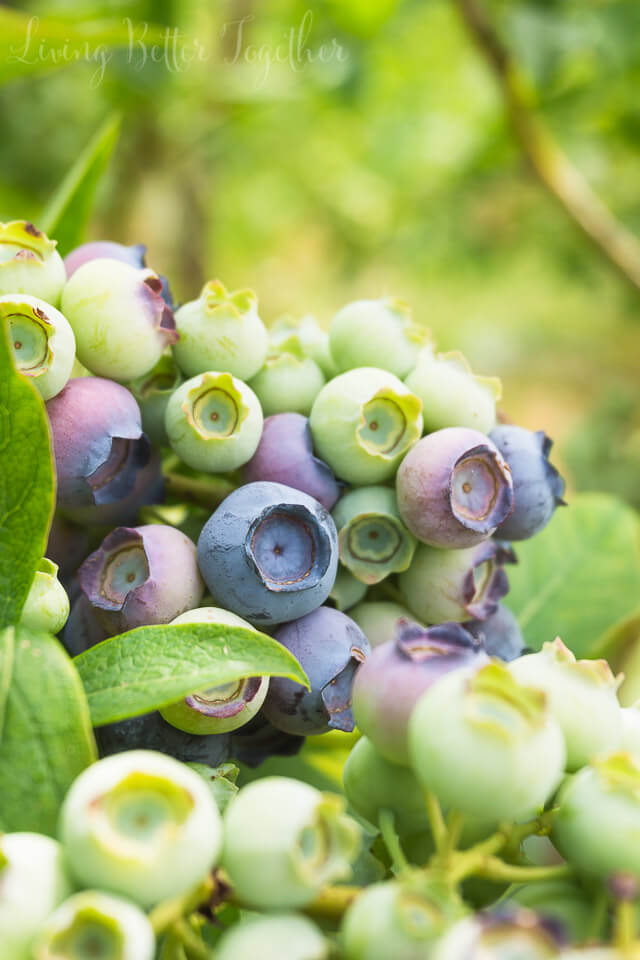 Blueberries!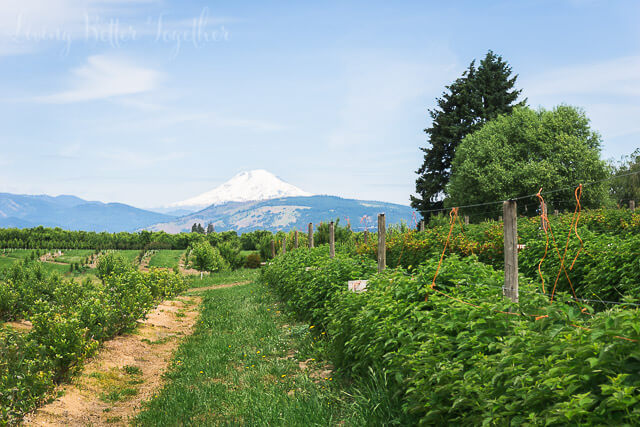 Dog Mountain.
Our last stop was at the beautiful Sakura Lodge overlooking the valley and an incredible view of Mt. Hood. It was such a nice place and I would definitely recommend a stay there if you're ever in the area. The worst part about the place was that it's up a long and winding road and the shuttle driver got lost… good thing I had that Dramamine®!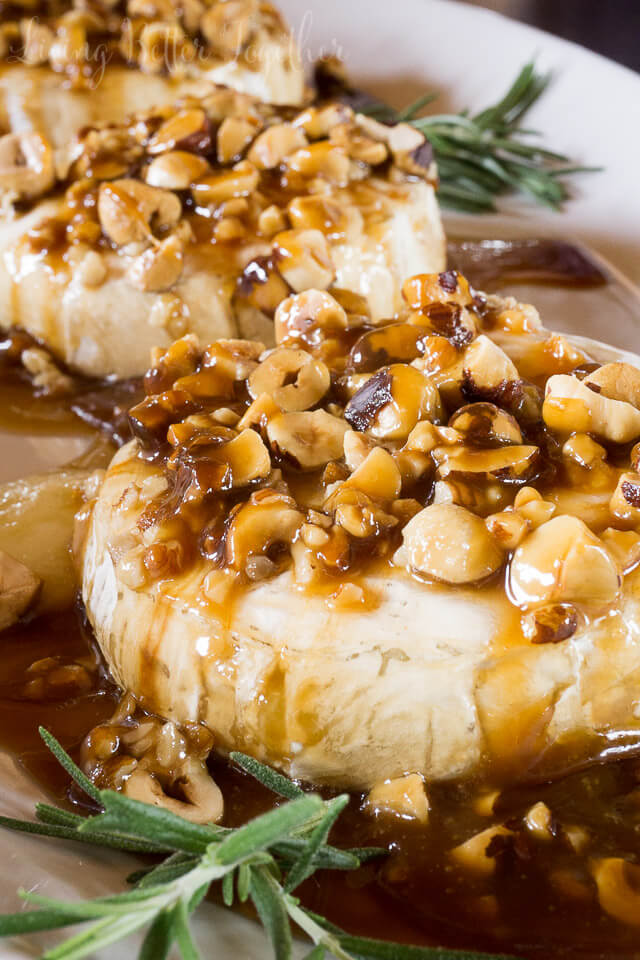 They fed us some spectacular little treats!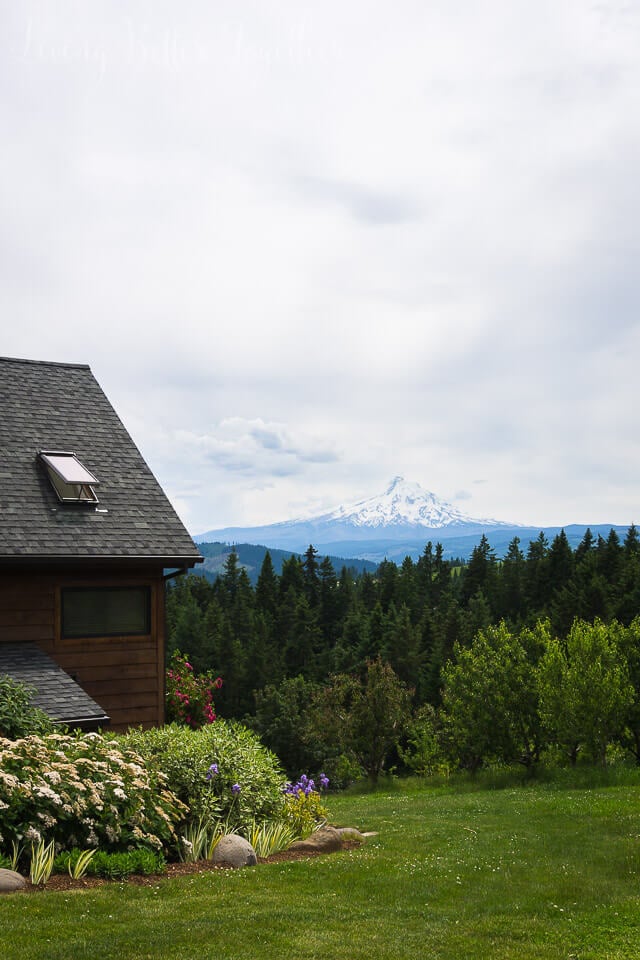 And the views were killer – could you imagine waking up to this every morning? It is an active volcano though, so I guess that's the risk you take.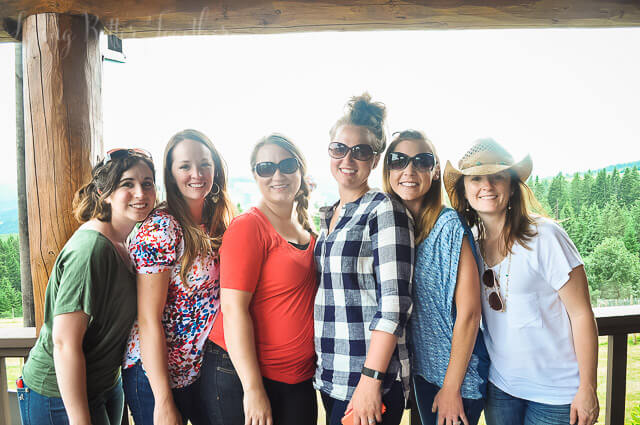 By the end of the day we were exhausted. So it was back to the big city for dinner (yes, we needed MORE food), and then for me to catch my plane back to the east coast that night. I know I didn't share many food photos, but I'll be covering everything I ate in Portland here on the blog real soon and you just might hate me for all the deliciousness I consumed. Thank you, Dramamine® for allowing me to make amazing memories without worry!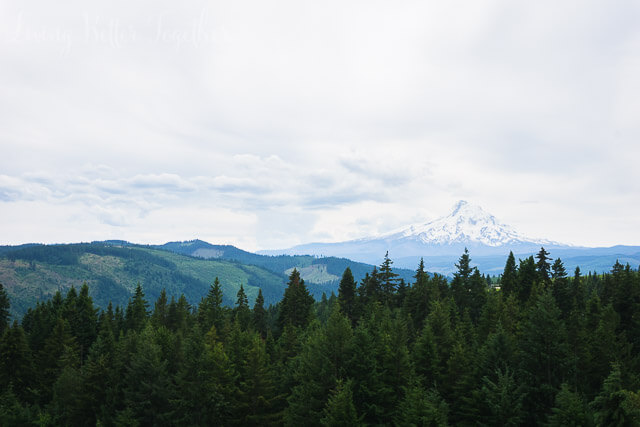 I've taken the No More Missed Moments Challenge, now it's your turn! What trip or activity will you be packing your Dramamine® for this summer? For more information about Dramamine® Non-Drowsy Naturals and other Dramamine® products and to download a coupon, visit www.dramamine.com! You can also follow them on Facebook or Twitter.
I was selected for this opportunity as a member of Clever Girls and the content and opinions expressed here are all my own.