These Postpartum Recovery Products and Tips will help make your recovery easier so you can spend more time enjoying your new baby!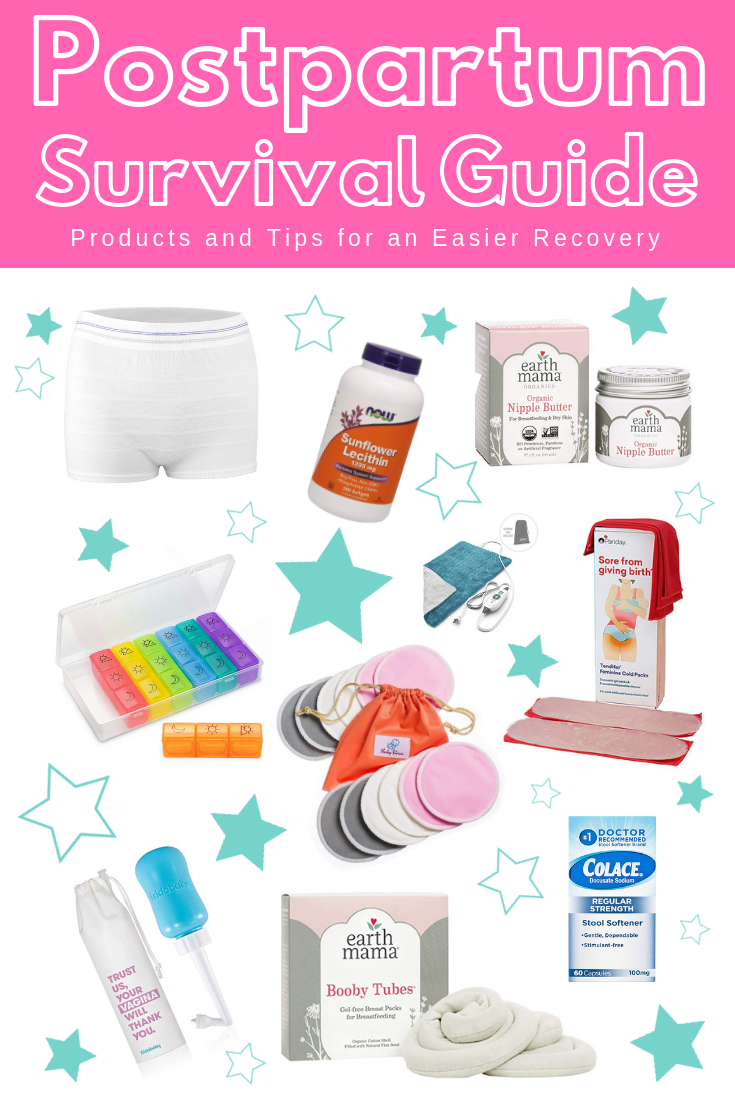 Postpartum Survival Products and Tips
It's been just eight weeks since I had my daughter and I'm finally starting to feel relatively "normal" again. My postpartum recovery was not an easy one as you might have guessed from Evie's Birth Story. But I learned a lot and was thankful for all the resources and information I received from my doctor, nurses, and other moms.
So I thought I would share some of that advice as well as some of the products that helped me survive the first few weeks after childbirth in case any of you are prepping for a baby too and aren't quite sure what you'll need.
My Best Tips for Postpartum Recovery
Do Not Skip Meds – I can't tell you how important it is to set a medication schedule and stick to it. When you miss a dose, it can take a day to correct it. My first few days home were extremely tough because my meds got all out of whack and I was in a lot of pain. My mother finally took control of them and set me up with a schedule which helped immensly because I was at the point where I couldn't even process mg and hours.
Lean Forward When You Urinate – I know this sounds weird, but if you lean forward and put your head between your knees, it will change the flow of your urine and reduce burning. I didn't have any burning in the beginning, but about two weeks in it started and this tip was a saving grace for me.
Take A Shower Every Day – I'm not talking about a full shampoo and shave, I'm talking about a 3-minute rinse, you'll be amazed at how much more human it makes you feel and it will help keep things clean and heal faster.
Drink ALL The Water – I thought I had to drink a lot of water when I was pregnant, but I have to drink so much more now. Especially for those who are nursing or pumping, you'll need to stay extra hydrated in order to keep your supply up. It will also help with constipation and healing.
Sleep On A Towel – Your hormones are regulating and this means your body is experiencing a lot of change and for many, like myself, this led to night sweats. By sleeping on a towel, you can easily replace it in the middle of the night and not have to sleep in damp sheets.
Make Yourself Eat – I know how quickly the days go by and suddenly you've gone from waking up to almost dinner time and you know you didn't eat lunch and you can't remember if you had breakfast because that days all seem to run together. But you gotta eat. Make it a priority because you need your energy and strength to take care of your little one.
Take It Easy – On that first good day you're going to feel like you can take on the world and by taking on the world I mean go up and down the stairs three times, make dinner, and put away dishes. Wait and have someone else do these things. I got a little over ambitious a few days postpartum and it set me back quite a bit. If you're feeling good, just keep doing what you're doing and add normal activities back in slowly and not all at once.
Let People Help – I know how overwhelming life can be after having a baby. Your emotions are all over the place, you're physically and mentally exhausted, and you are in no condition to play hostess. But guess what, you coud probably benefit from the help and no one needs you looking all pretty to come watch the baby for an hour or two while you take a nap. However, don't be afraid to speak up when it does get to be too much.
Enjoy Your Baby – I know you're tired and I'm pretty sure that will never go away, so take advantage of it and enjoy all the snuggles and love your new son or daughter has to offer because they grow so fast.
Recovery Basics
I was not looking forward to the postpartum recovery period, in fact, in a lot of ways it worried me more than the actual birth. The birth was hard – but it was quick – and I feel totally justified in my concerns over the postpartum recovery.
By the end of week one, I was ready to trade in the day to day postpartum life for labor all over again – I was THAT miserable. It seemed like every time something would feel better a new issue would pop up. It was stressful and discouraging, to say the least.
These products are the basics, many of which you'll begin using at the hospital after delivery and some you'll want to stock up on ahead of time. Each hospital is different and may provide different things – I recommend asking your doctor about what your particular hospital offers so you can be prepared.
I also highly recommend asking your nurses for extras of some of the hospital provided supplies before being discharged.
Mesh Underwear – These things are life and I found them to be rather comfortable. I requested a few extra pairs before leaving the hospital and accidentally discovered that they were washable so I was able to rotate them for several weeks.
Always Discreet Underwear – Okay, let's call them what they are – adult diapers – but trust me, you'll be thankful you have them. The hospital pads can become quite bulky and this underwear can help provide peace of mind, especially at night.
The MomWasher – You should get a peri bottle at the hospital, but they is like a super version. It has an angled head for better spray and worked WAY better than the one I got at the hospital. This product is used to spray warm water on your hooha when you urinate to help dilute the urine and reduce burning – this is especially nice if you had any tearing. The peri bottle is also used to help clean yourself since wiping isn't an option for a while.
Perineal Cooling Pads – So if you're an expecting mama, I'm sure you've heard of "padsicles", well I didn't want to deal with making or using them and didn't want to add any extra moisture down there. So I bought these. Were they pricey for what they are… yup. Were they worth every penny… abso-freaking-lutley! And they work great as cold compresses for foreheads and for relieving sore breasts during those first few weeks of breastfeeding and pumping.
Tucks Wipes – Many hospitals provide you with these, mine did not. You can use them to line your pad for temporary relief for tears and hemorrhoids.
Stool Softener – They should start you on stool softener at the hospital and it's really important that you keep taking it once you get home and beyond your first bowel movement. At 8 weeks postpartum I was still taking them twice a day. I would also recommend having some Miralax on hand should things get backed up.
Sitz Bath – So this is an item that a lot of people swear by, but I honestly didn't find it that helpful. And honestly, the reason I probably didn't find it helpful was because I didn't use it as I should have. I have a low attention span and it stressed me out to have to think about sitting on the toilet for 20 minutes 3 times a day.
Epsom Salt – There are a few uses for this stuff and it's always good to have in the house anyway. You might want it for a sitz bath or in my case, I use it to help with clogged ducts (see breastfeeding/pumping section). Make sure to get plain Epsom salt, some of the essentials oils that are often found in Epsom are not recommended for postpartum healing or should not be used on your nipples if you're breastfeeding or pumping.
Postpartum Belly Girdle – I am not using this as much as I should be, but I do think it's been helpful when I do use it. There are a lot of different kinds out there, this is just the one I chose to use because I liked that it had different levels depending on the number of weeks you are postpartum. Using a girdle or belly band helps your abdomen realign while providing a light compression to help your uterus shrinks and your organs move back into place. It can also help reduce the sag of skin.
Extra Postpartum Comforts
These aren't things you necessarily need during postpartum recovery and none of them are really treatment items, but they will make life a lot more comfortable during your recovery.
Heating Pad – Those cold gel packs are great for your vaginal area, but your back and breasts are going to ache too and heat will help them feel better.
ChapStick – I was surprised by how dry and dehydrated I was after giving birth and my lips saw the worst of it, so I highly recommend having a few sticks around the house that are easily accessible to you.
Pill Case – As I mentioned above, my mom had to get me on a schedule with my medications so my pain remained manageable. Having a pill case made a huge difference over having a pile of pill bottles. Everything was premeasured for me so I just had to pop the container for the time of day and I just had to refill the pill case every few days.
Robe – Having a short lightweight robe was so helpful to me. We had a lot of visitors during the first few weeks and since I spent a lot of time in my nursing bra and pajama pants, I could easily throw this on and be what I call "postpartum presentable". It was also great during kangaroo care because I could do skin to skin with Evie and still have us both covered and warm.
Wrist Blood Pressure Cuff – Many of the more serious issues that can arise after birth impact blood pressure and this can be helpful to have on hand should you start having other symptoms. High blood pressure and a constant headache can be a sign of preeclampsia which can develop after delivery in mothers who didn't have it during pregnancy. This is completely above and beyond, but doesn't hurt.
Breastfeeding/Pumping Products
I mentioned in my second-trimester bumpdate that I would be exclusively pumping. I knew it was considered the hardest way to do things, but man, I had no idea just how hard it would be.
I am fortunate enough to have established a really great milk supply and by January I should have stashed away enough to begin weaning myself from the pump and still provide Evie with daily breastmilk until she's 9 months old with formula supplementation.
Pumping has sort of dictated my life over the last two months and while it's been a successful venture, it's been a tough one. I suffer from chronic clogged ducts and most recently am being treated for Thrush.
So needless to say, I've needed to find ways to help with the discomfort and keep me going. Here are a few of my favorite items for nursing and pumping mamas.
I also highly recommend my Lactation Brownies Recipe for boosting you milk supply!
Wireless Nursing Bras – If you're nursing or pumping, you'll want to make sure to wear wireless bras because not only are they more comfortable than wired, but wired are believed to stunt bloodflow and in turn lower milk production.
Booby Tubes – I love these things because unlike my electrical heating pad (which I also love) I can heat these things up and stick them in my bra when I have clogs or aches and still move freely around the house.
Lecithin – I have been plagued with chronic clogs since around two weeks postpartum and this supplement has helped me cut down on the number of clogs I get and help the ones I do get break up faster.
Pumping Bra – Nobody has time to hold pump bottles for 20 to 40 minutes, it's so much easier to go hands-free and a good pumping bra will allow you to put on your makeup, play with the baby, or just take a little "me time" to play on your phone. I love the brand because the material is comfortable and the sizing is super customizable which is great because it's likely to change week to week as your body does.
Haakaa – If you're breastfeeding, this is a great little device that can be used to catch letdown and collect milk that might otherwise be wasted. However, I use it to clear clogged ducts by putting Epsom salt and hot water in it and using it during a hot shower.
Earth Mama Nipple Butter – Your nipples will thank you for this stuff, end of story.
Bamboo Nursing Pads – I tried a few different kinds of disposable ones, but I found that they were awkward, expensive, and didn't do an overly great job. Reusable ones can still leave some pretty awkward lines under your clothes (thank goodness it's currently sweater sweason), but they do a much better job absorbing and they will cost less over time.
So there you have it, my favorite products that helped me through the postpartum recovery period and my best tips for you. If you're just getting ready to give birth for the first time, Congratulations and Good Luck! If this isn't your first rodeo, I'd love to know what products you found to be the most helpful!