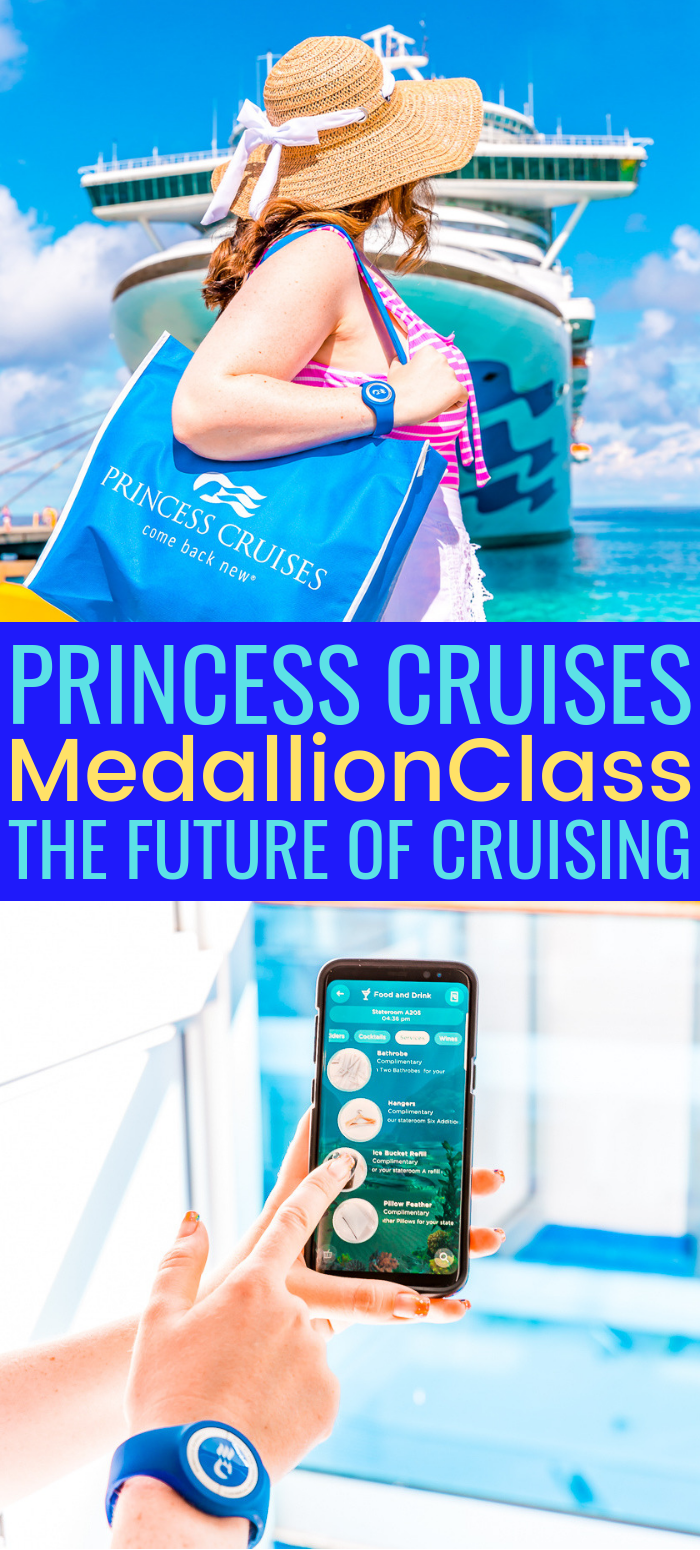 Princess Cruises has launched The MedallionClass™ Experience and the OceanMedallion™ provides cruisers with everything they need for an exceptional vacation experience! Cruising is now better and easier than ever!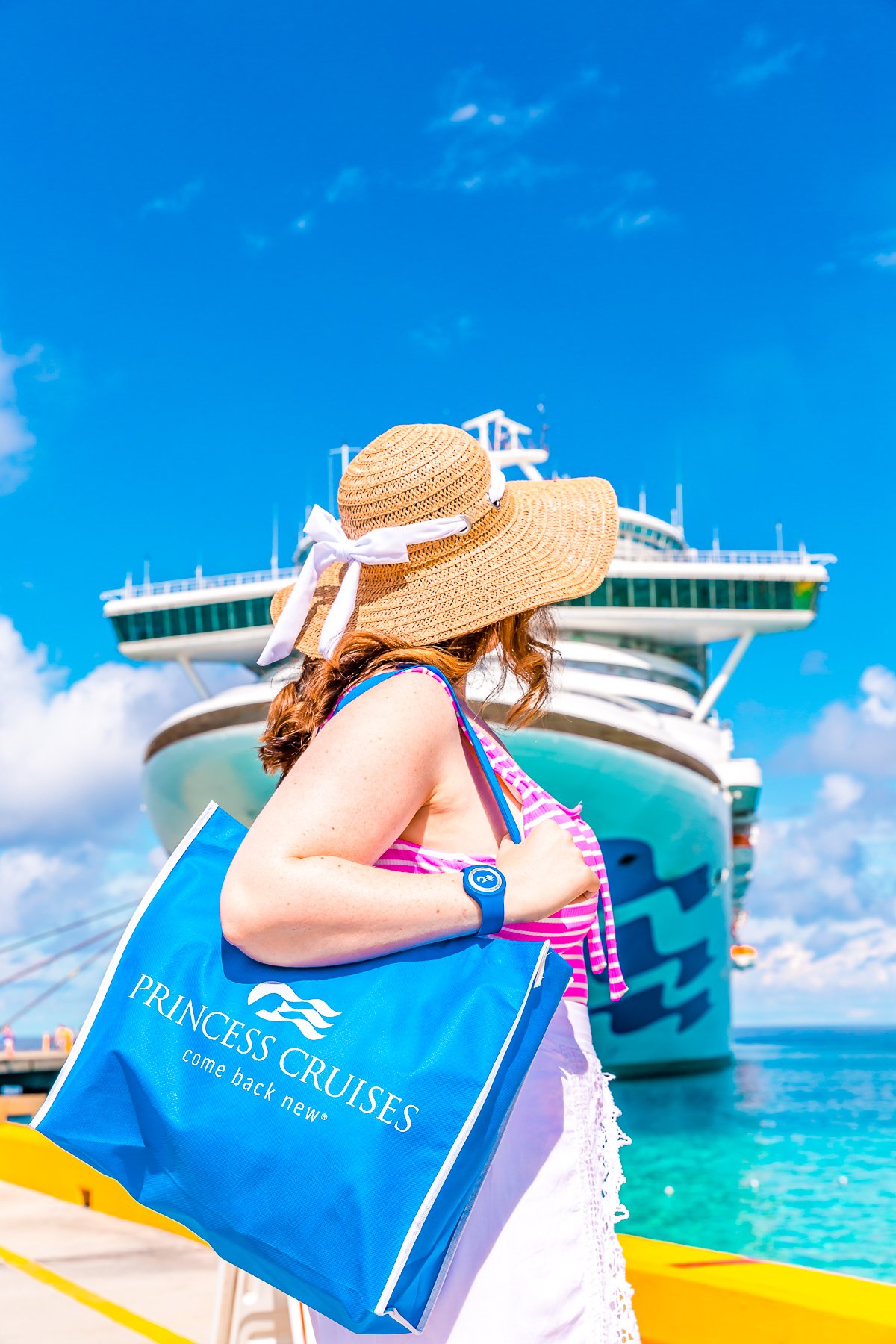 Just when you thought cruising couldn't get any more convenient, Princess Cruises has launched MedallionClass™!
I had the pleasure of partnering with Princess Cruises in March in the Eastern Caribbean and in October in the Mediterranean on the newest ship, Sky Princess, to test out the new OceanMedallion™.
And let me tell you, cruising has never been easier (or more fun)!
Even though I had a great time on my Western Caribbean Cruise in November of 2017, these cruises were far and away an even more leisurely and enjoyable experience.
And that is primarily due to the OceanMedallion™!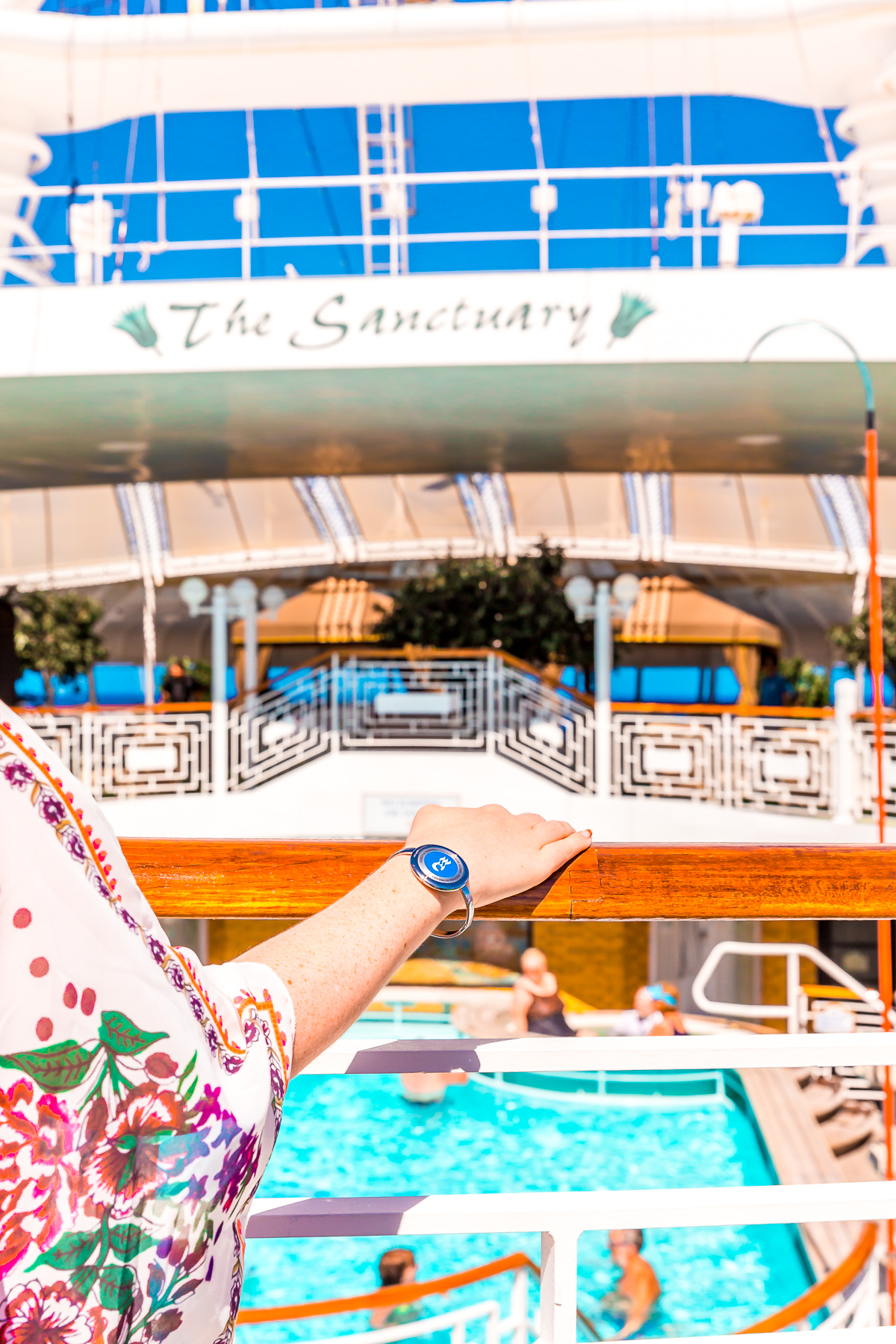 What Is OceanMedallion™?
Princess Cruises' new wearable device works in conjunction with their MedallionNet™ and MedallionPay™ to provide a number of convenient features for their guests while aboard their cruise ships.
This device is basically your personal assistant during your cruise. It acts as your key card, identification, and credit card. And when used in conjunction with the new apps, you can order room service, poolside service, play games, find shipmates and so much more! You can also now access your shipboard account and book excursions through the app!
OceanMedallion was created by the same people behind the MagicBands, but it offers even more in terms of technology!
Check out my Instagram Highlights from the cruise to see some of the fun digital experiences and features in action!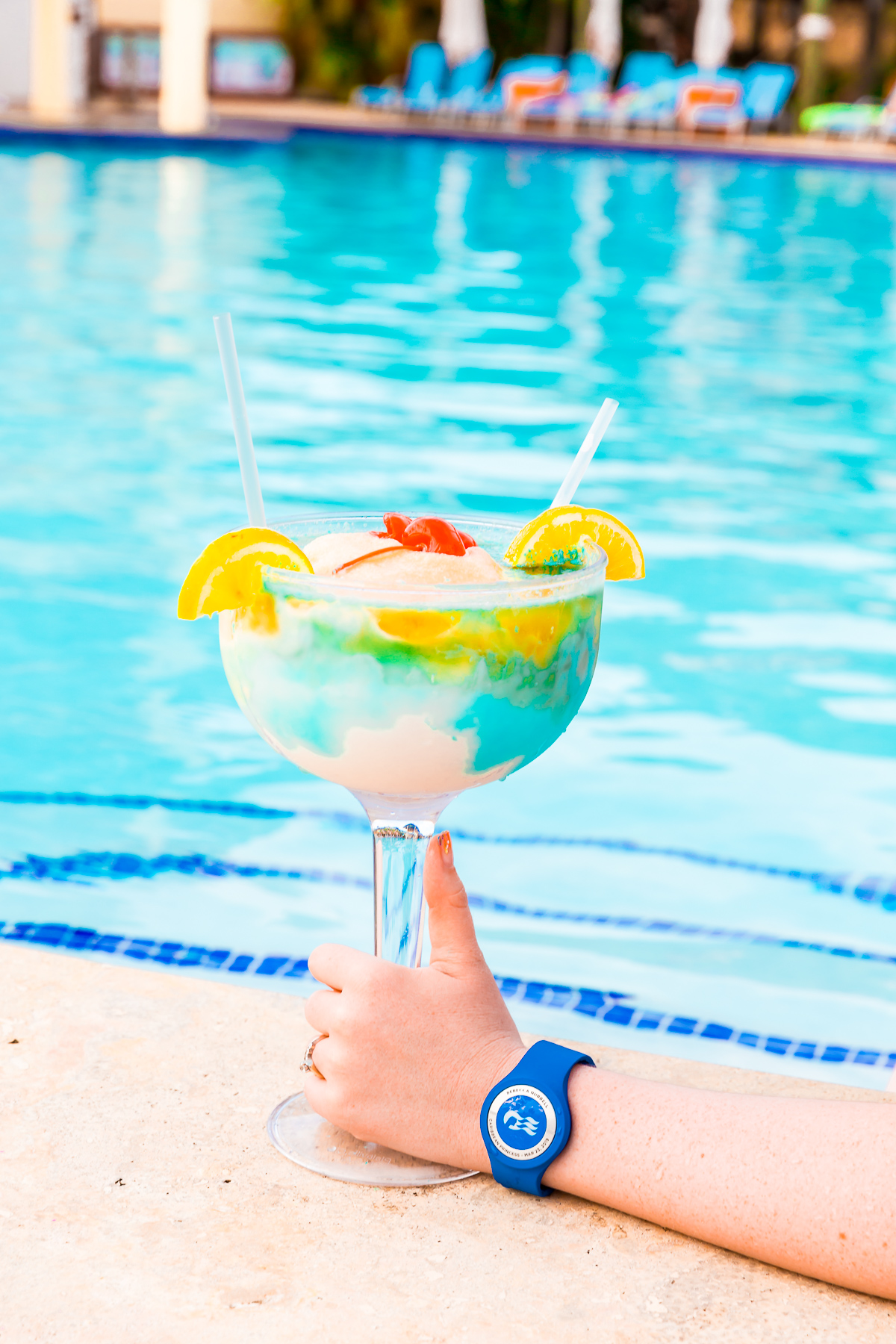 Embarkation and Disembarkation are EASY!
Gone are the days of long lines! During my 2017 cruise, getting on and off the ship felt like it took forever, but with the OceanMedallion, you simply scan and walk off or on, it's that easy!
This means more time connecting with destinations and people on both ends so you can enjoy the pool onboard or have more time exploring in port!
Embarkation from your starting port goes a lot quicker and more smoothly once you arrive at the terminal. And for disembarkation, we were off the ship, through customs, and on our way to the airport in 5 minutes!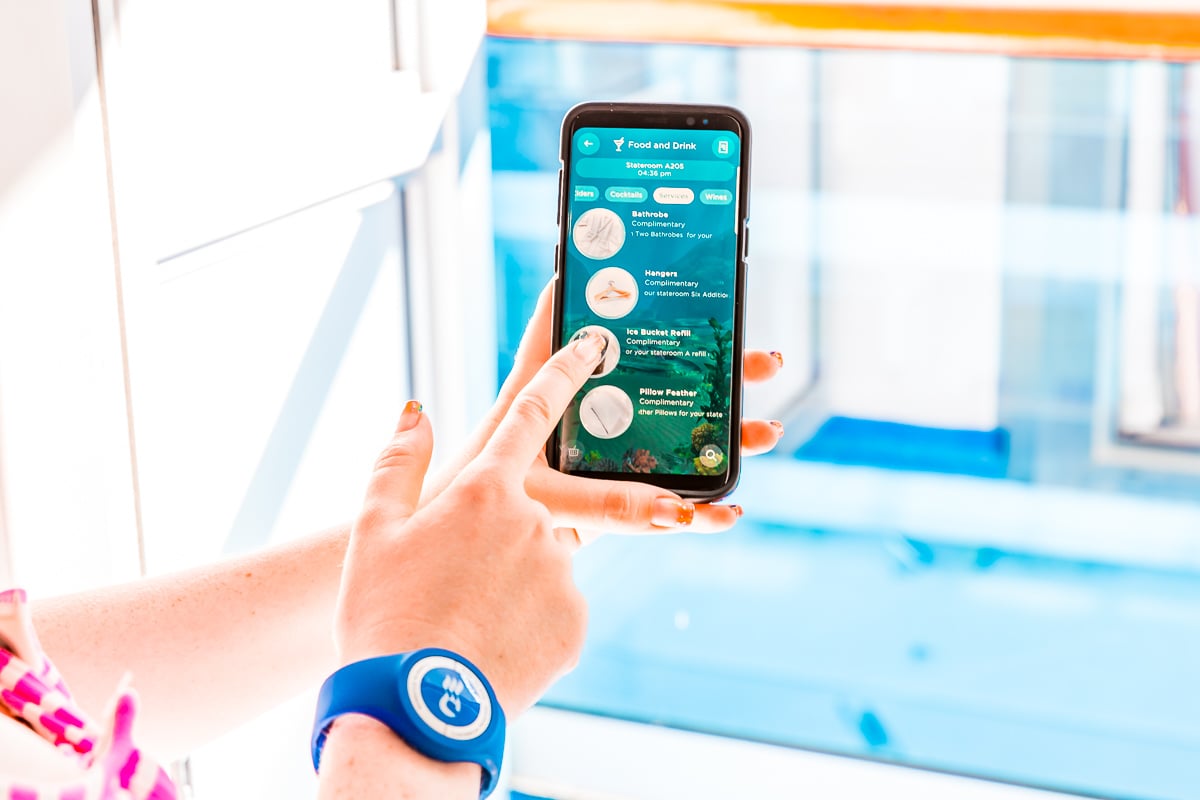 Princess Cruises Digital Experiences
In order to make the most of this new technology, there are a few apps you'll want to download on your mobile device. These apps will work without purchasing an internet package.
Previously, you needed five apps to fully embrace this high tech system. However, between my first MedallionClass™ Experience in March 2019 and my most recent on in October 2019, the apps have been condensed. Now OceanReady™, OceanNow™, and OceanView™ are all part of the MedallionClass™ app!
And you can access PlayOcean™, OceanCompass™, and OceanCasino™ from the MedallionClass™ app as well, but will need to have them downloaded in order for them to work!
Prepare For Your Trip With OceanReady™!
This is the only app you NEED to download because it's where you'll enter your personal details after booking your cruise to get your OceanMedallion.
You will need your OceanMedallion™ for embarkation, so make sure you fill out everything at least two weeks prior to your cruise. The Medallions ship from Singapore, so you want to give them ample time to arrive at your home.
If you are traveling in a group, say a family of four, one individual can put everyone's information into the app as long as you are on the same booking.
You will not need this particular app on the trip, only before.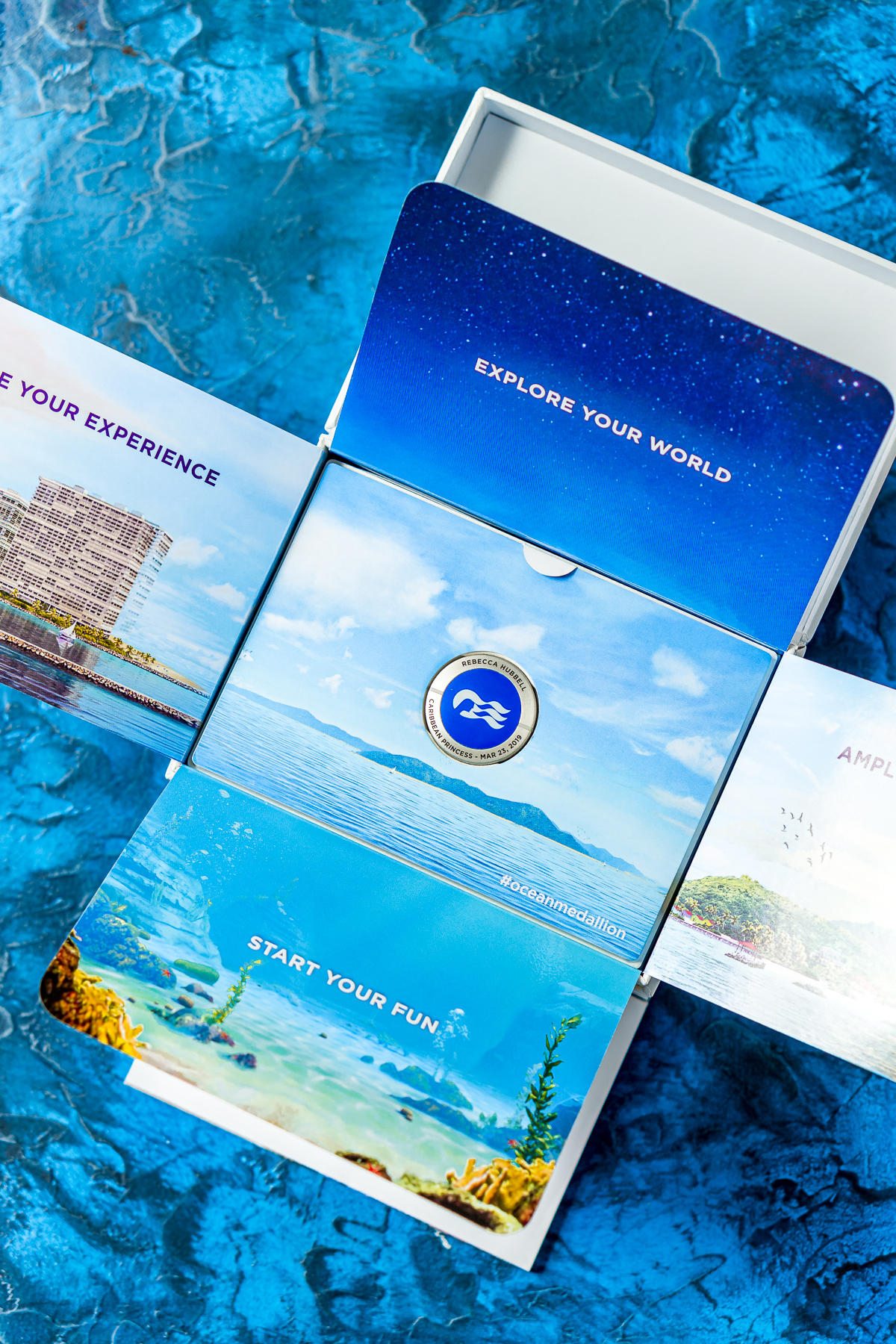 Never Get Lost with OceanCompass™!
If you've never been on a cruise, let me tell you, it can be a little overwhelming at first. Cruise ships are big and there's a lot of people and a lot of levels and a lot of things to do. So how the heck do you find your way around?
This app is your guide to everywhere you want to go onboard! AND it can even help you easily locate and chat and navigate your way to your shipmates!
If you're traveling with a group, this is especially helpful when you need to find each other or message one another!
Have It Brought To You With OceanNow™!
My favorite app of the bunch! This one is definitely one that you will use frequently onboard, or at least you should!
This app allows you to order food and drinks from anywhere on the ship to be delivered to you. That means you no longer risk losing that perfectly positioned lounge chair by the pool or missing a minute of one of the Movies Under The Stars!
Simply open the app, place your order, and wait for it to arrive! I highly recommend the Dirty Banana drink!
You can also order non-food items like sunscreen, or more towels for your stateroom – talk about convenient!
Onboard Fun At Your Fingertips With PlayOcean™!
Love games? You're going to enjoy this app then! You can participate in Games Under The Stars and Trivia On Deck using your phone as a controller.
You'll also find PlayOcean portals throughout the ship where you can partake in a fun scavenger hunt onboard the ship – kids love it!
And don't forget to build your Tagalong who will act as your avatar!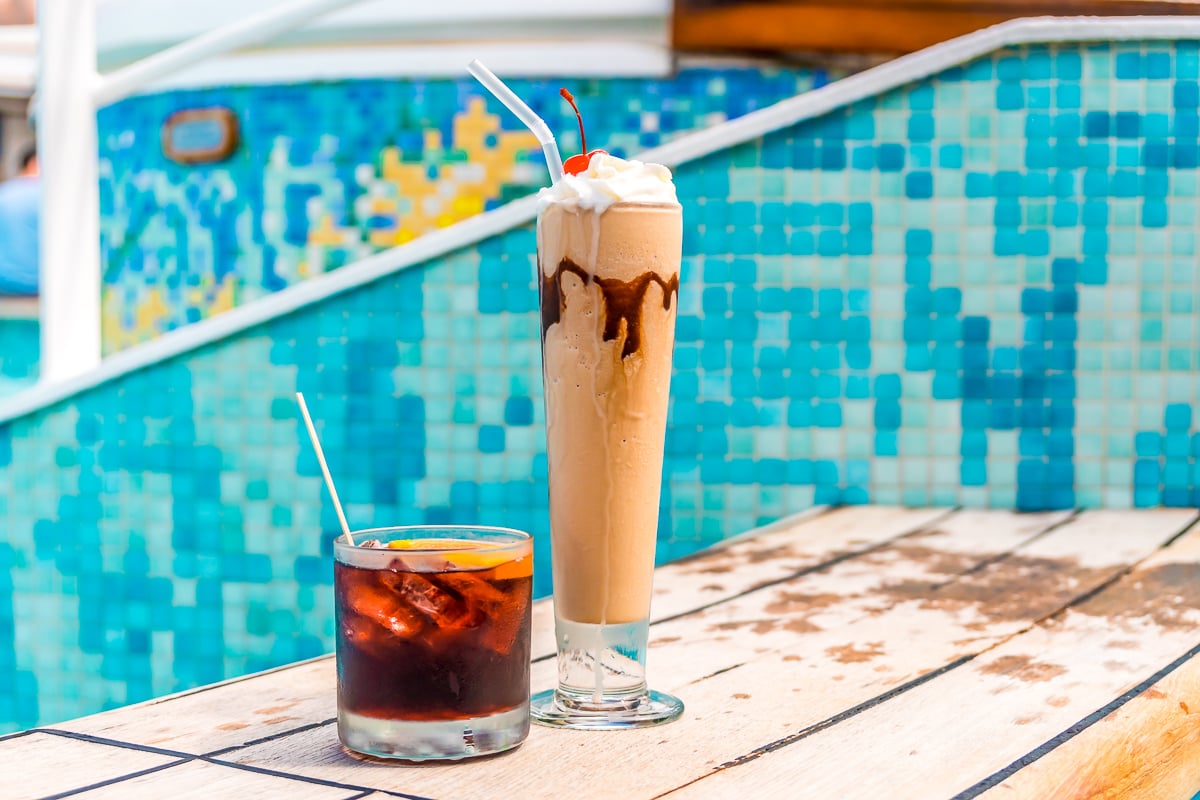 Gamble From The Pool With OceanCasino™!
I know a lot of people who love spending time in the Casino while they're cruising! And this app gives you the ability to gamble anywhere on the ship from your phone!
Yes, the casinos still exist, but now you'll find a couple of smaller casino areas and this app where you can test your luck!
I mean, if I were a gambling woman, I'd bet you'd rather hit the slots or test your poker face from next to the pool with a Rum Punch in your hand, amirite?
Experience Cultures With OceanView™!
This app is available on both your phone and on your stateroom television where you can find Ocean Stories.
Ocean Treks with Jeff Corwin gives you an inside look into some of the excursions available in different ports. We were about to get a feel for what to expect during our adventure to the Damajagua Waterfalls in The Dominican Republic.
Good Spirits with Matthew Biancaniello inspired the new bar onboard Princess Cruises and features destination-inspired cocktails like this Sandia En Fuego.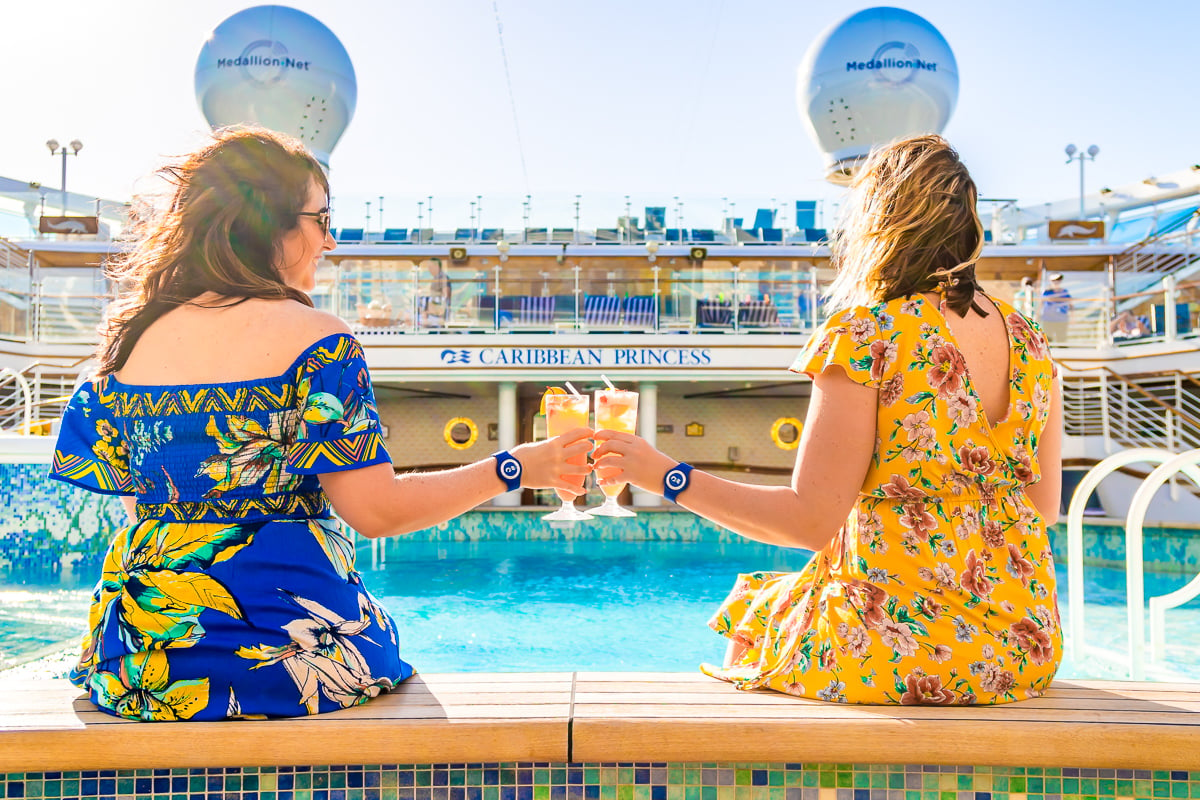 MedallionNet – The Best Internet At Sea!
Finally, land-like internet is available aboard all MedallionClass ships! I barely noticed a difference from my home internet, this is night and day compared to my last Princess cruise where the internet was so slooooooooow.
And I'll be honest, knowing that I was going to have the internet at sea is probably what made me feel so comfortable leaving Evie for the first time when she was just 6 months old.
I could check her Owlet monitor from the app on my phone before bed to make sure she was still breathing almost a thousand miles away (yes, I'm that mom).
I was able to video chat – yes, you read that right, VIDEO CHAT – with Matt and Evie while we were at sea!
And I was also able to stay on top of my emails, check-in for my flights, and browse Instagram!
It was awesome! Because this Mama needed some rejuvenation and this way I didn't feel "too" guilty getting it!
And if you want to disconnect for the week, just don't buy the internet package, but it's sure is nice to have the option!
The amazing internet connection was also the only reason and way we were comfortable with both Matt and I going on our European cruise on the Sky Princess this fall and leaving Evie at home with her grandparents.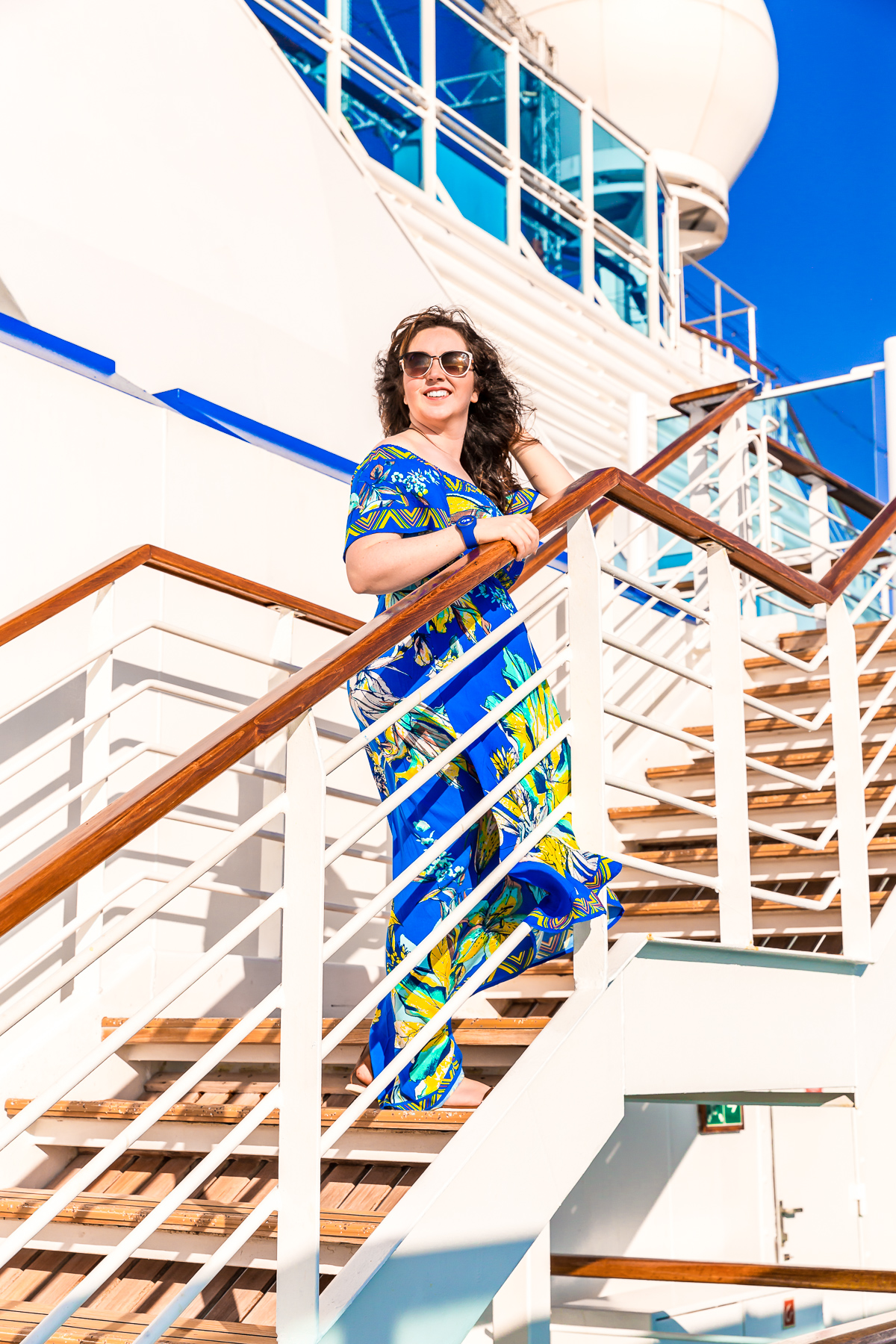 MadallionClass™ Ships
Eventually, this amazing technology will be on every ship across the entire fleet! The Caribbean Princess, Regal Princess, Royal Princess, Crown Princess, and Sky Princess are all OceanReady™.
And in 2020, this amazing technology will be rolling out across six more ships in the Princess Fleet! Including the brand new Enchanted Princess ship coming in June 2020!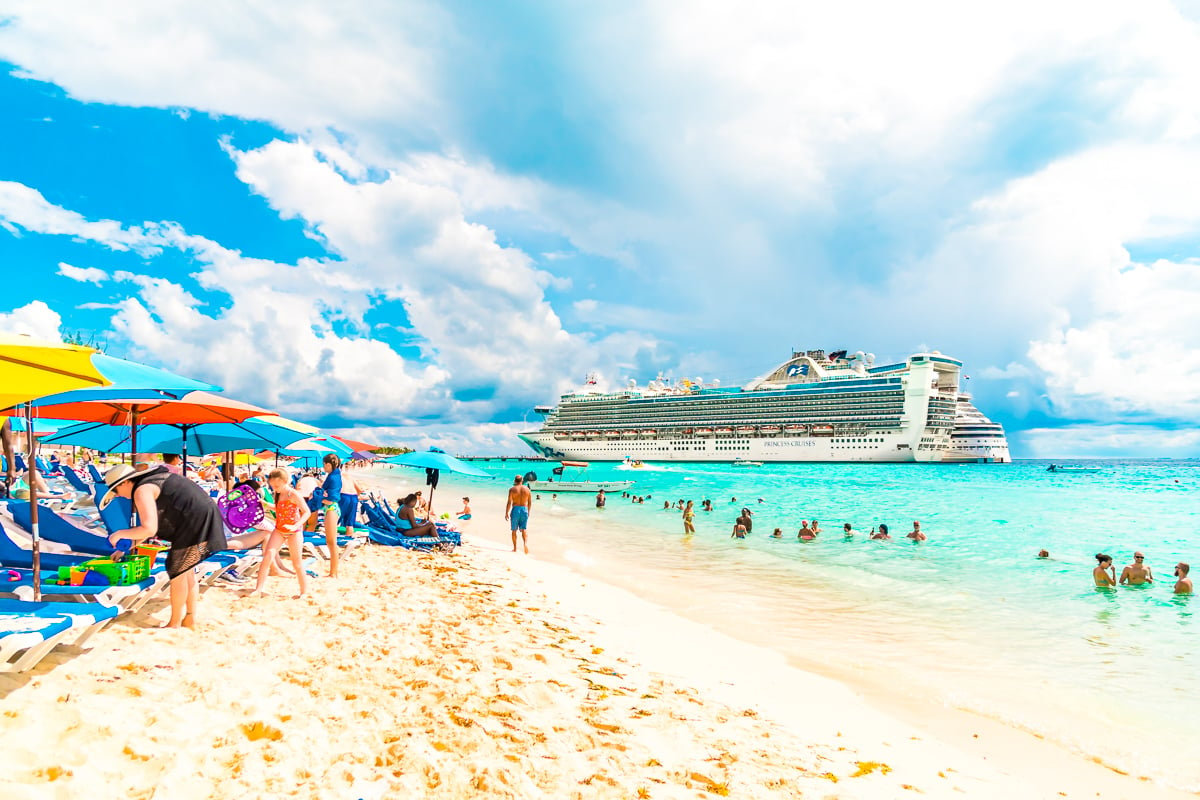 OceanMedallion Questions From You Guys!
How Much Does It Cost?
MedallionClass™ is no additional cost to you, it's included in your cruise package. It doesn't matter what level stateroom you have or how many times you've cruised, you WILL get an OceanMedallion!
How Do You Get Your Medallion?
It will be shipped to you once you have filled out all of your personal information in the OceanReady App. Then you're ready for your MedallionClass vacation!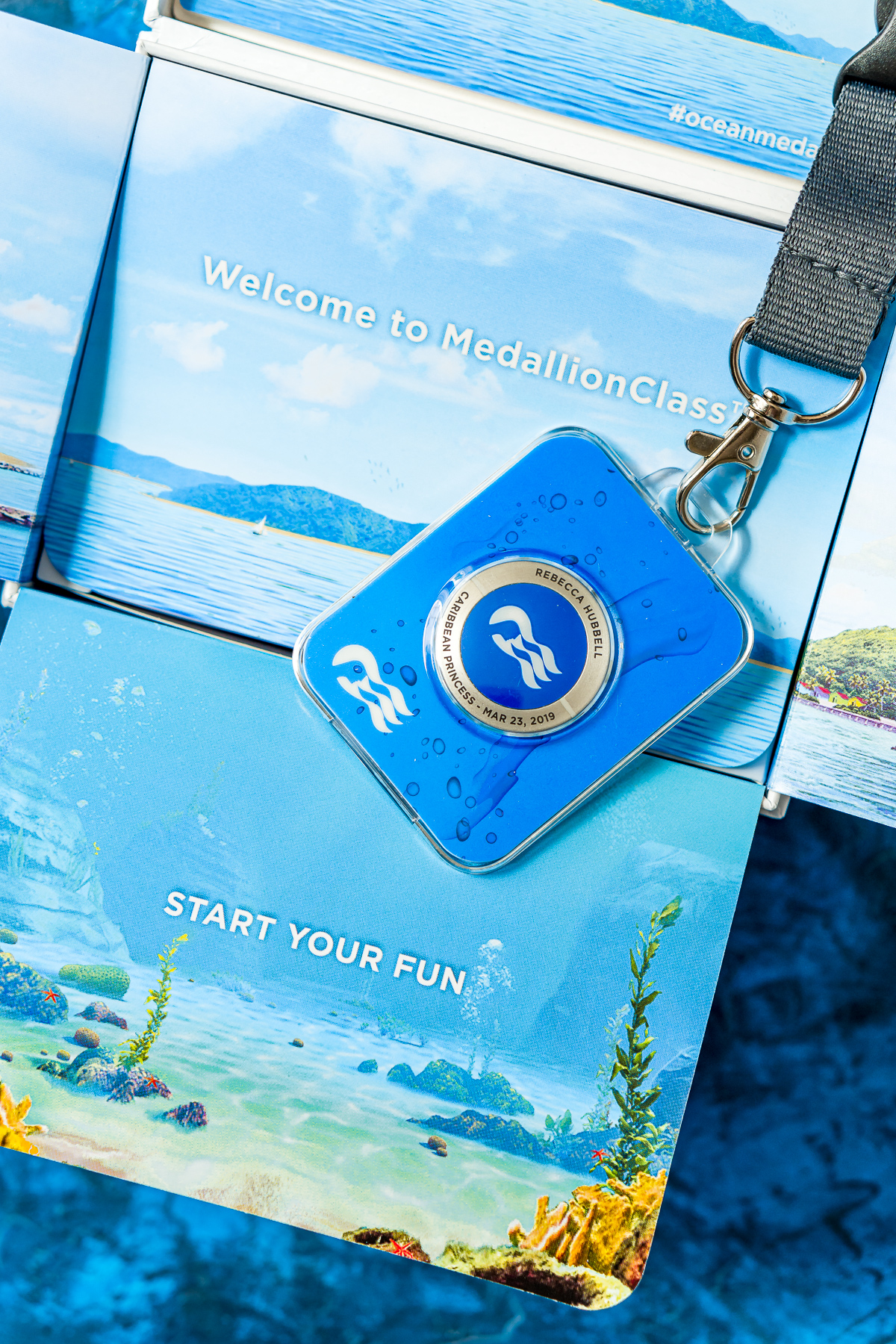 How Much Is MedallionNet?
I don't know exactly and I think it depends on how long your cruise is, but my package was $140 for the duration of my cruise (Saturday-Saturday). However, that package covers 4 devices so families can share it!
Are The OceanMedallion Accessories Free?
Princess Cruises offers a ton of wonderful accessories. When you receive your OceanMedallion(s) in the mail, it will come with a lanyard and plastic case.
Once onboard, you can purchase additional accessories like the silver bangle ($65) or blue sports band ($12) pictured in the photos.
Is The OceanMedallion Waterproof?
It sure is! This is so awesome because it means you can keep it on you while swimming or going on water-based excursions!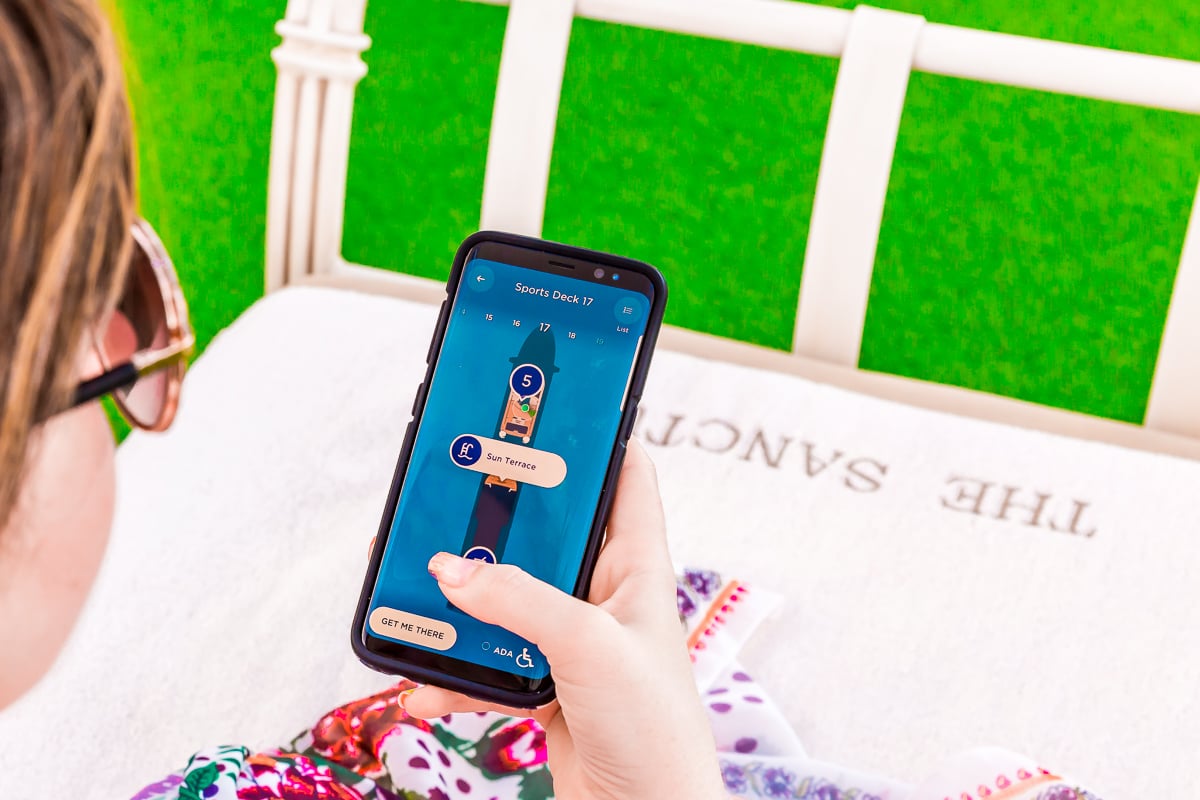 MedallionClass Is New!
This means that there are new features being added every day AND that there are still improvements to be made.
I definitely felt frustrated with it at times during my first OceanMedallion cruise. However, they have made so many improvements to the apps and functionality between March and October 2019 that I have no doubt it will only get better!
Now that it's on five ships, and will be on six additional ships in 2020, I think these bugs will get worked out quickly as more people use it! But it's definitely a game-changer when it comes to cruising!
So what are you waiting for? Book your MedallionClass cruise vacations today and don't forget to check out my What To Pack For A Cruise post too!
Princess Cruises MedallionClass Guide
Click the button above to save this travel guide to your board!

Let's Connect!
I created a fun little group on facebook and I'd love for you to join in! It's a place where you can ask questions and see what's new with Sugar & Soul! If you'd like to check it out, you can request to join HERE.
Be sure to follow me on Instagram and tag #sugarandsoulco so I can see all the wonderful recipes YOU make from this site! You can also Subscribe to my Newsletter so you never miss a delicious recipe again!