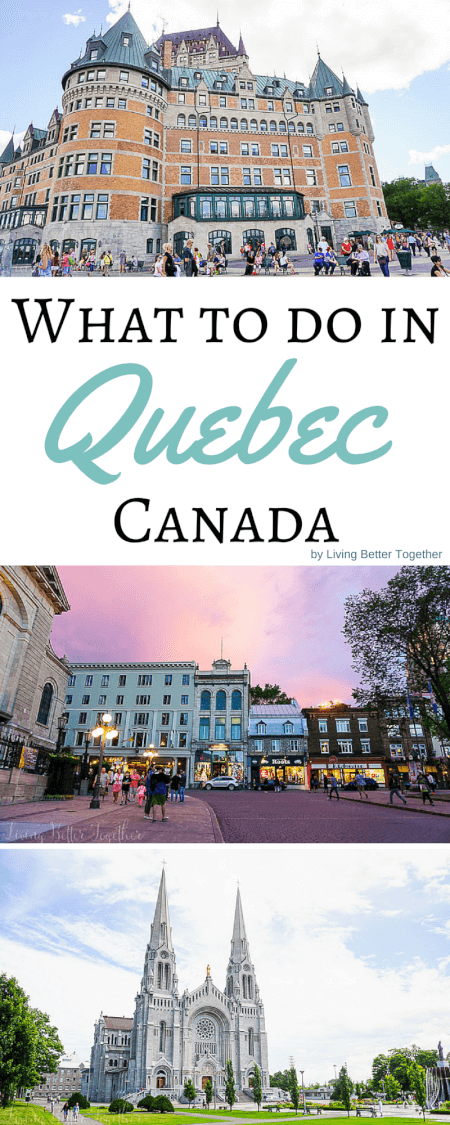 What to see and do in and around Quebec City in 48 hours!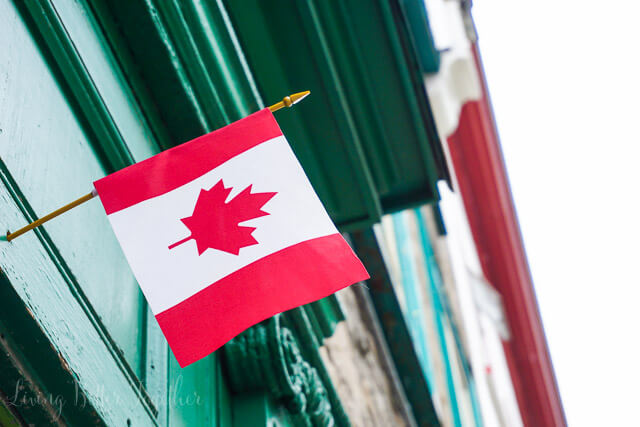 One of the coolest things about Maine is the fact that we border another country, Canada. In fact, some people think we're part of it, The 13th Province. I get it, we're all up here in the sticks, but we like it that way and most of us become international travelers early in life thanks to crossing the border for family vacations in the north.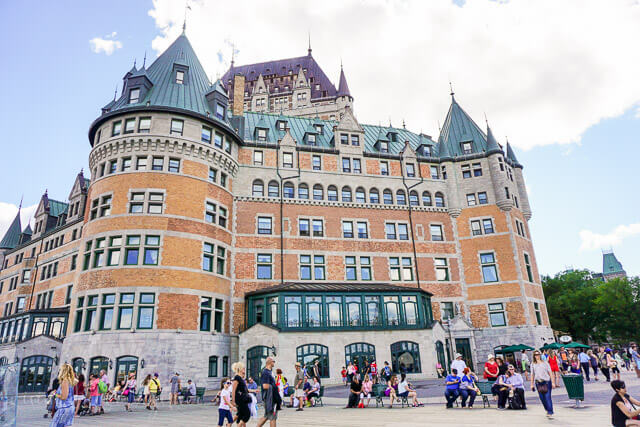 With all these dreams of travel and exploring other countries, it's really pretty cool to have another one just a 2 1/2 hour drive from my house. Even better that big cities like Quebec and Montreal are just 4 or 5 hours away by car! So a couple weeks ago, Matt and I loaded up the car with some of our closest friends and headed up to Quebec City for a long weekend. I put a video together of some of the highlights and you can check it out below!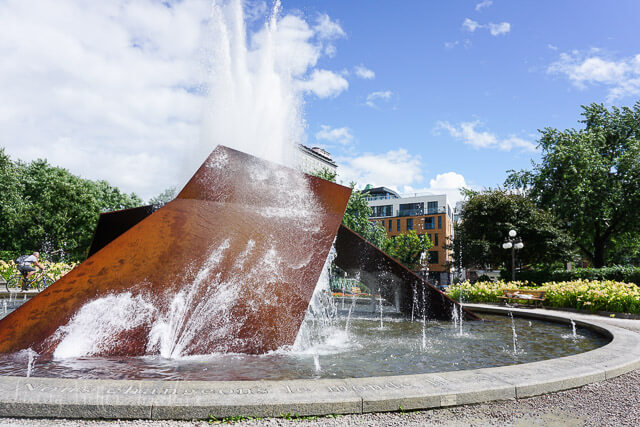 Now, I'm warning you, this post is SUPER picture heavy! Normally I break travel posts up, but with such a short trip I figured it would be best to put it all together. We were able to do quite a bit in the 48 hours we were in and around the city. We left around 8:30 am from the house and arrived at our Airbnb* just before 1:00 pm on Friday.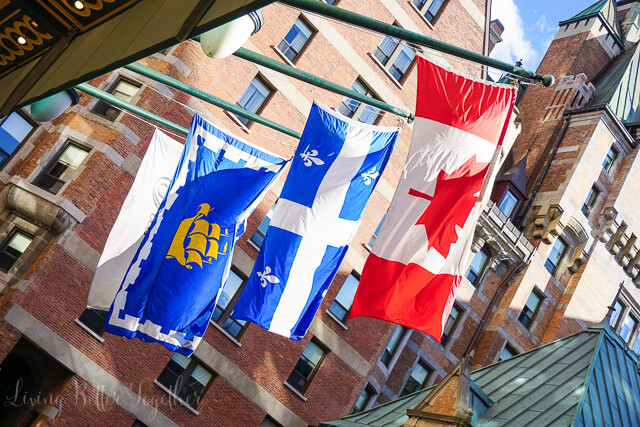 If you haven't signed up for Airbnb* yet, you definitely should! We stayed in an apartment just outside over the river from Old Quebec. Our host, David, met us there and gave us a tour. The place was very clean with all the amenities we needed. It was right across the street from an IGA grocery store and close to restaurants. It was just a 2-minute walk to the wall and close to the bus stops too.
If you're planning a trip to Quebec and haven't yet booked accommodations, check David's place out here. Save $10 off your stay by letting him know you read about it here. Plus, when you sign up for Airbnb*, you save $25 off your first stay!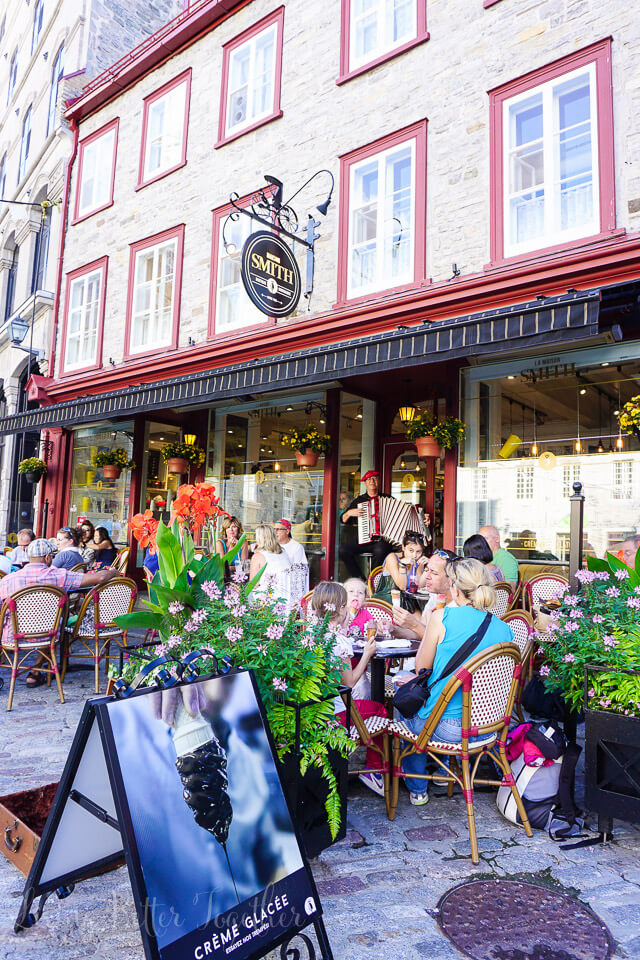 You should be aware that unlike the rest of Canada, the Province of Quebec's first language is French, but many speak English as well. They also use the metric system so speed limits will be in Kilometers not miles. Don't get too excited when you see that speed sign jump from 60 to 120 after the border crossing!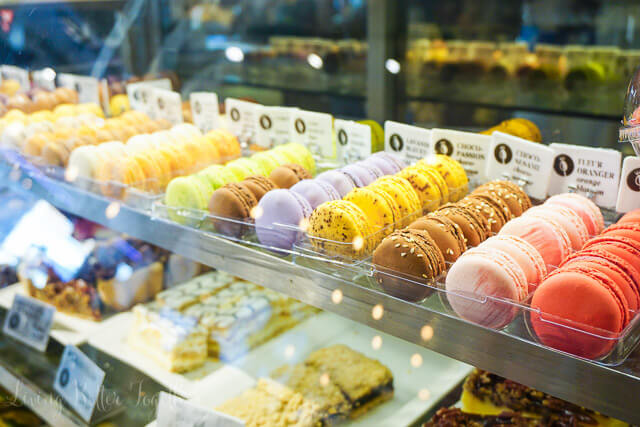 Once we were in the city, it was time to explore! Our friend Nicki and I had both been to Quebec before, but Matt and Justin never had. Of course, the top priority was finding French sweets and La Maison Smith's Macarons were at the top of my list! When you go, get a Choco-Passion one (or a dozen) for me, will ya?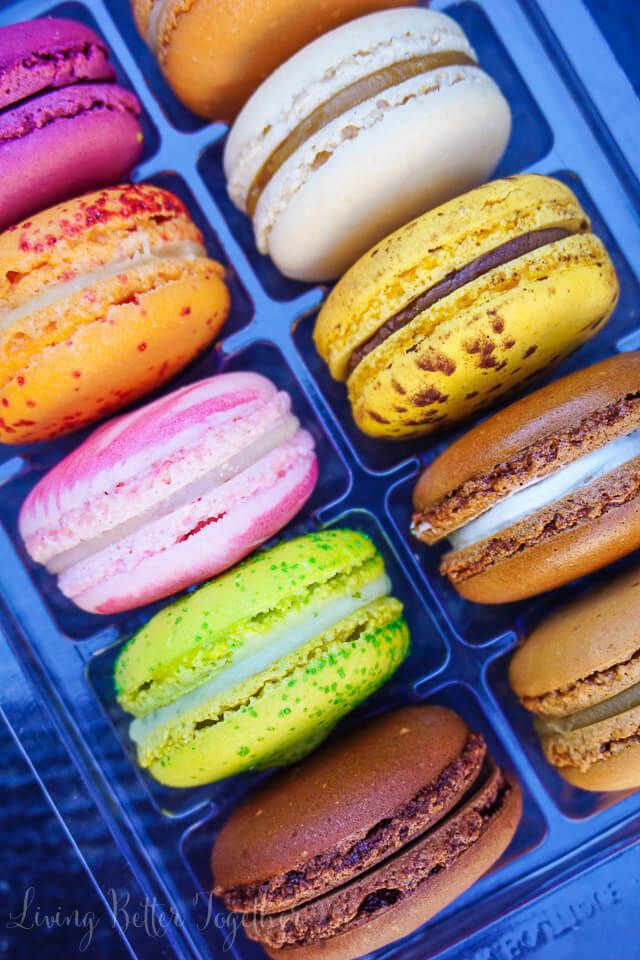 Smith's is in Place Royal, just down below the Old City wall. Also down there is the famous Fresque des Québécois on Côte de la Montagne, a mural painted with life sized proportions. There are other murals like this in other parts of the city, so keep an eye out (as if you could miss them)! You'll also find Notre-Dame-des-Victoires Church down there, not to be confused with the
You'll also find Notre-Dame-des-Victoires Church down there, not to be confused with the Notre-Dame Basilica in the old city. Both are quite beautiful, though the smaller church was closed for renovations/maintenance when we were there and I didn't get any photos.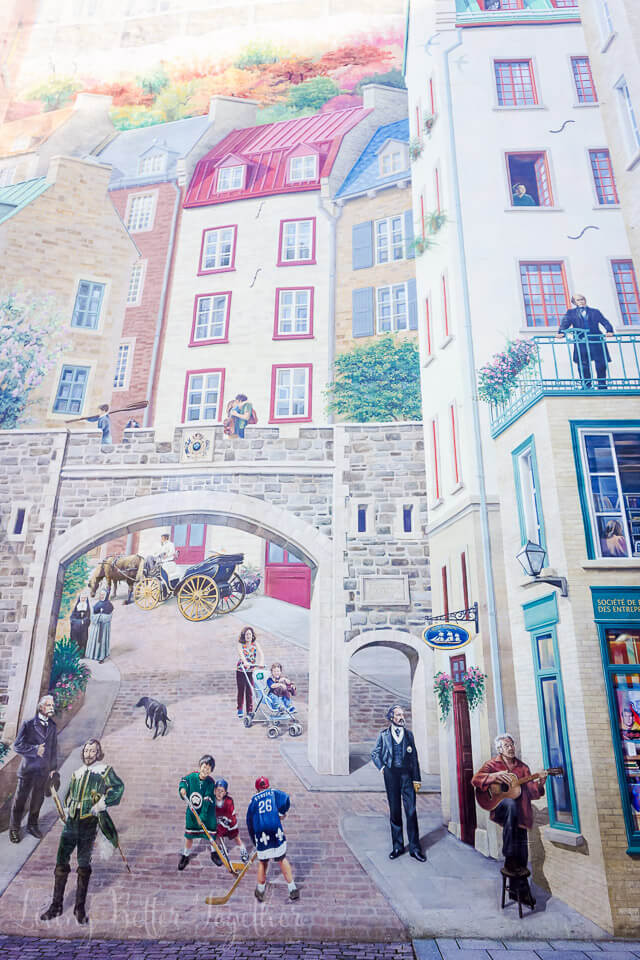 We pretty much just spent the afternoon walking around the city. There are tons of little shops and great restaurants. We grabbed lunch a Pub Saint-Patrick, get the Poutine with the pulled pork and thank me later! One thing you'll find in Quebec is that a lot of their food is raised, grown, and processed right in the province and it's something they're very proud of, and for good reason too!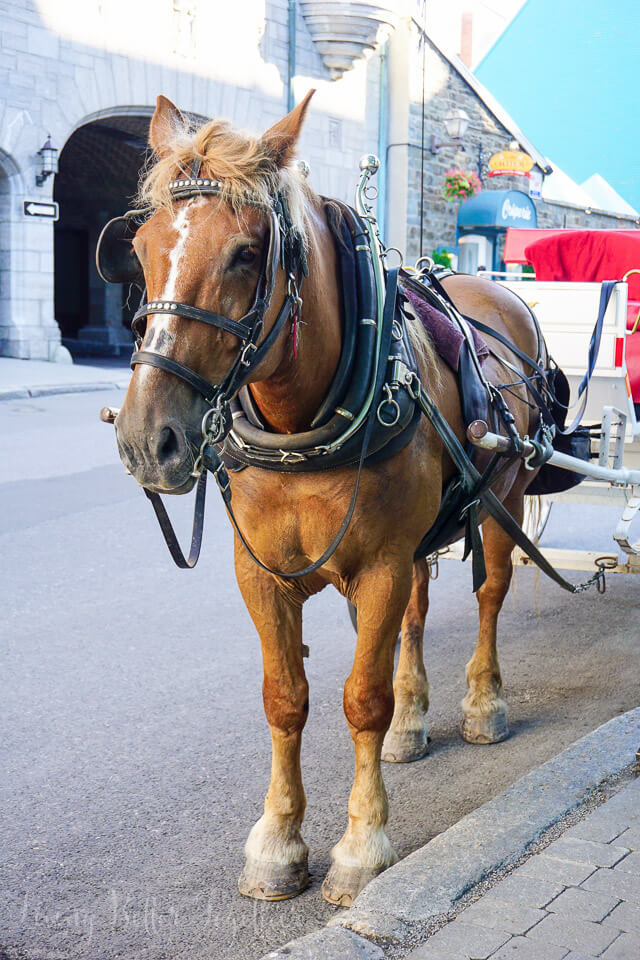 There are independent performances almost all day long in the city squares in front of the Norte-Dame Basilica and the Château Frontenac.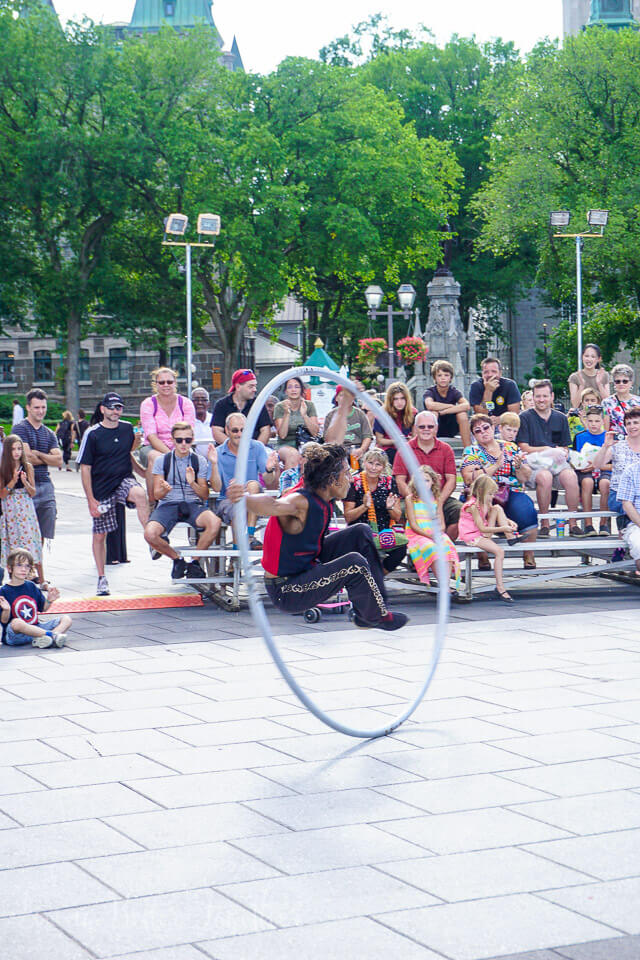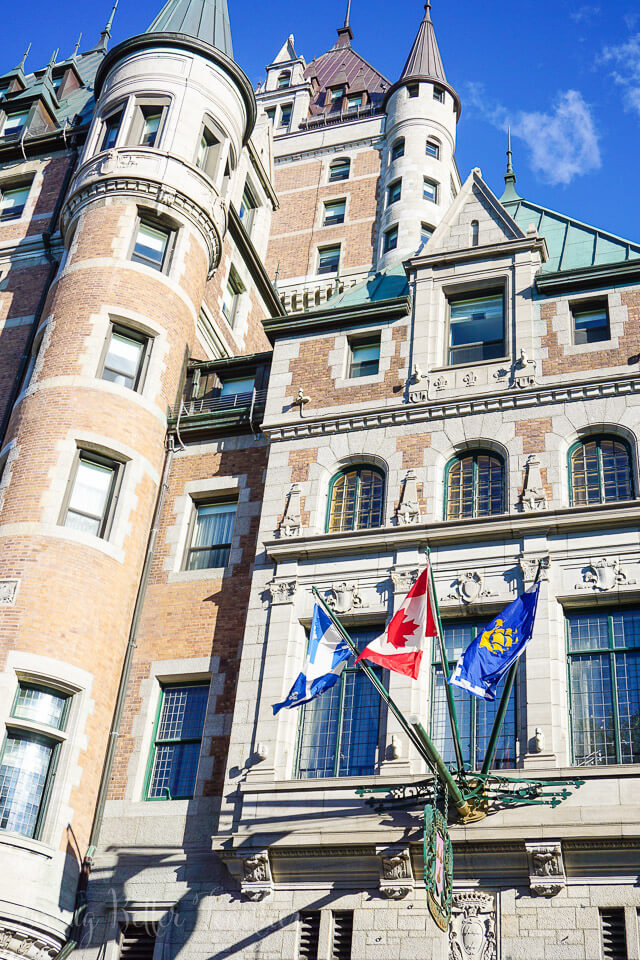 We had dinner at Les Trois Garcons. We all go burgers which were good and hand cut fries, I was the winner of picking the best dipping sauce, the Maple Rosemary, it wasn't long before the rest of the table admitted defeat and swapped their poor decisions out 😉 Martin, our waiter, was a hoot and made for a really enjoyable dining experience for our first night in the city. There was definitely a language barrier when I said adult movies, but it made for some good laughs!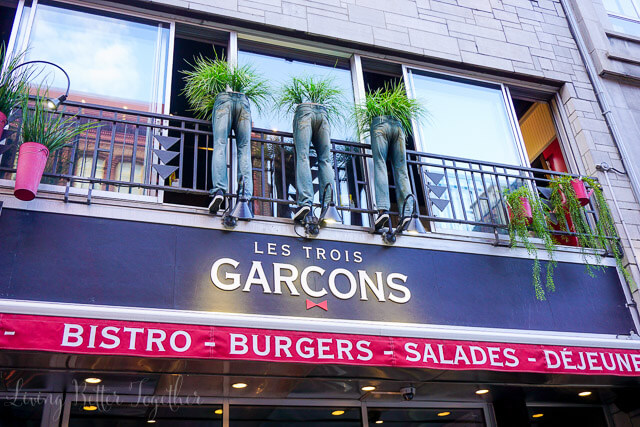 Old Quebec is much younger than Europe, but it has a distinct cultural resemblance. Beautiful architecture, horse drawn carriages, and street performers all bring the city to life making it hard to believe it's just a few miles from nature!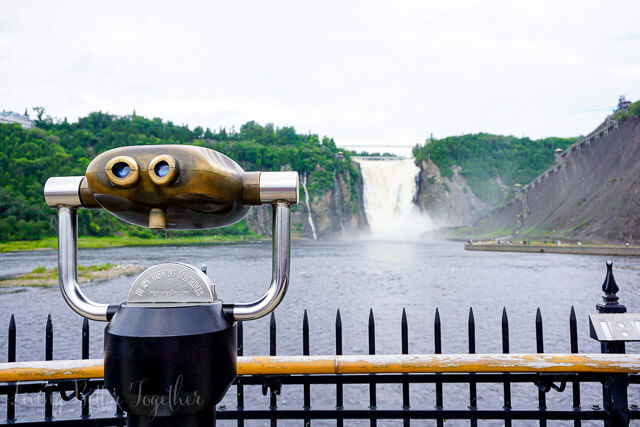 On Saturday morning we decided to hit up some attractions outside the city. Our first stop was Montmorency Falls, just a 5 minute drive or so for where we were staying. It was $12 CAN for a car to get in the gate. To get to the top you can take the stairs… yeah, you see those on the right hand side of the photo above? Or you can pay $35 CAN a couple to ride the gondola up. I had been as a kid and had gone up and across the bridge and visited the manor at the top. Ultimately we decided to stay at the bottom. There are also options for zip lining and rock climbing around the falls.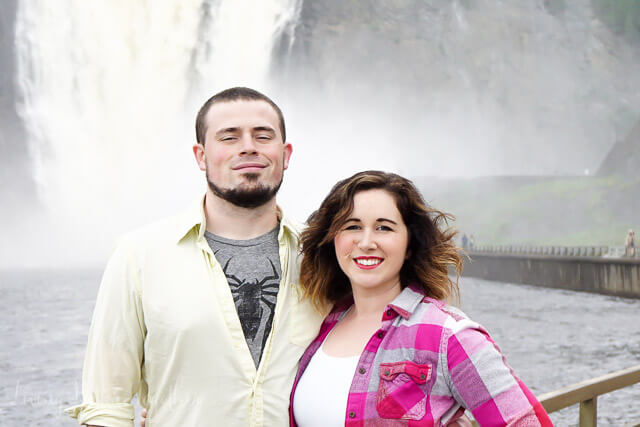 It was a little gloomy that morning, but it's still quite a sight! It's 30 meters higher than Niagara Falls.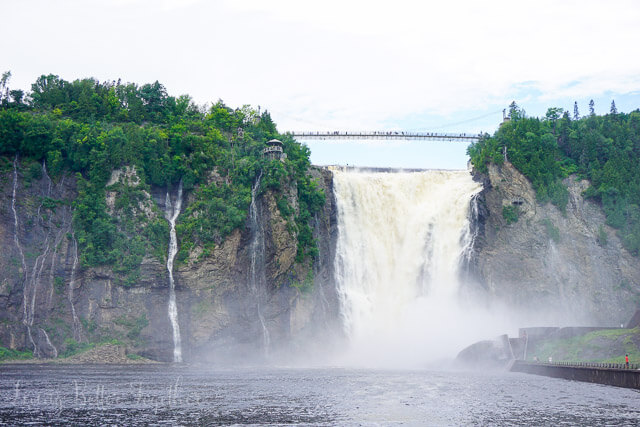 Our friends, Nicki and Justin.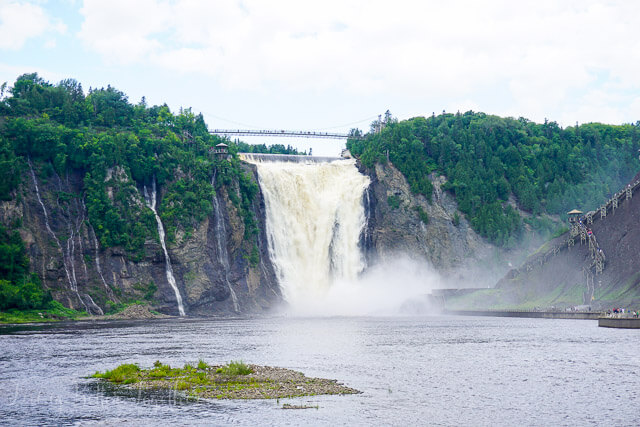 Our next stop was The Basilica of Sainte–Anne-de-Beaupré. It was simply stunning, I don't recall visiting it when I was younger, but it sure is a sight. There was a funeral going on, so I couldn't take pictures of the inside, but the ceiling was just amazing! A must see regardless of your religious beliefs, the architecture itself is just beautiful.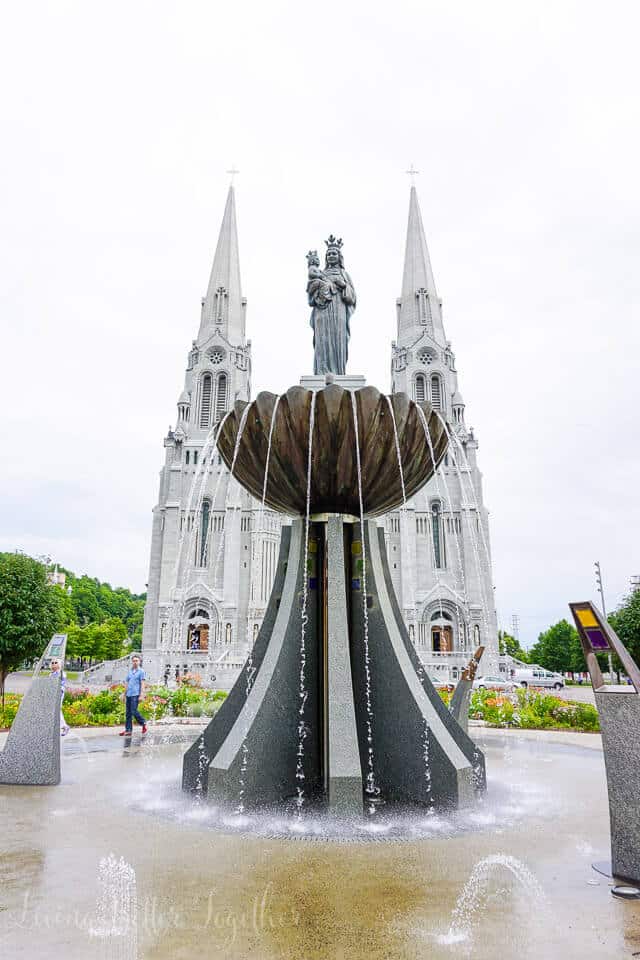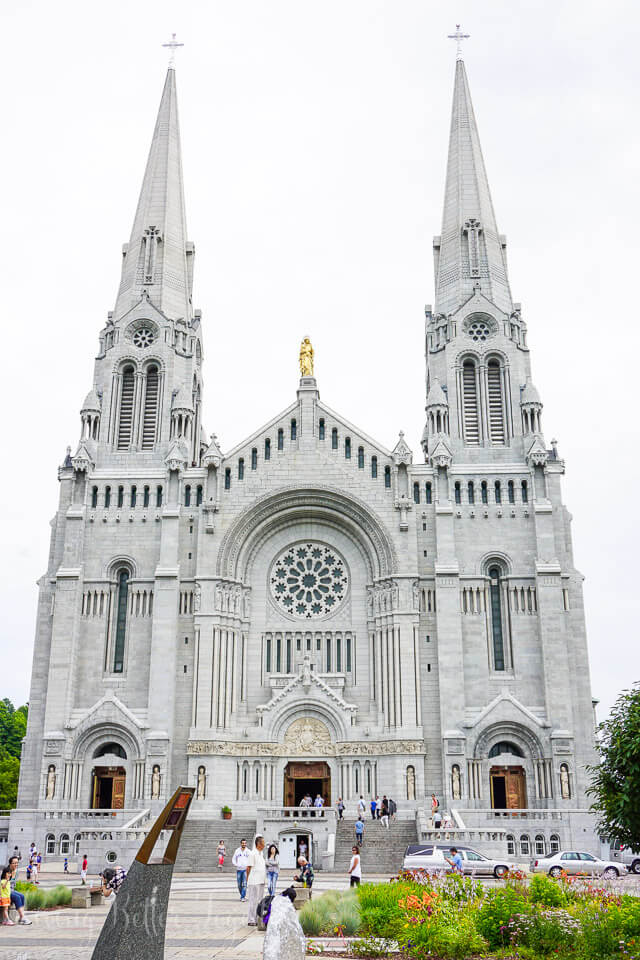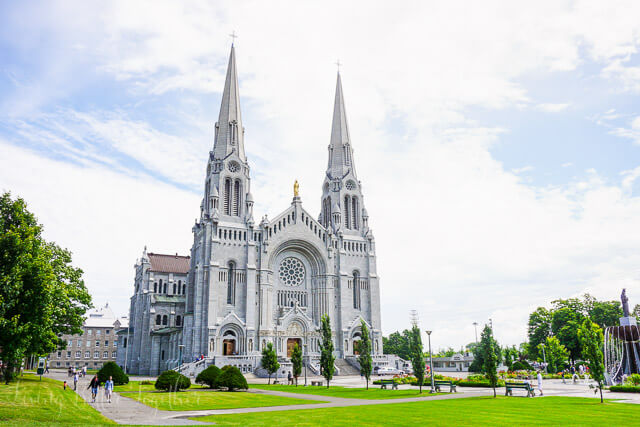 There's a few little shops and restaurants across the street too, and I loved the vibrant colors of this building!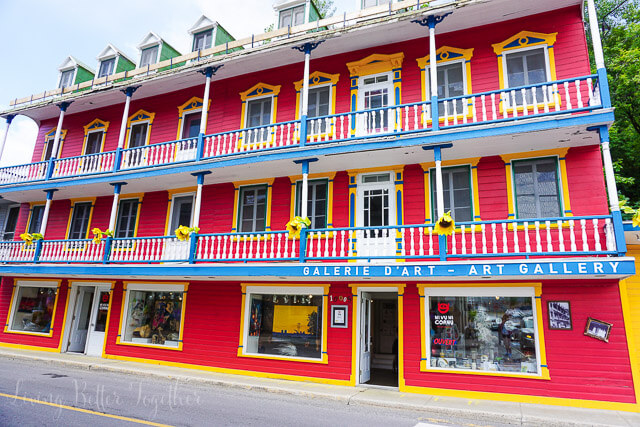 Our next stop was Canyon Sainte-Anne, a beautiful hike around the gorge and waterfall and across three bridges. It's $13 CAN for an adult, other rates can be found here. This is a great family hike and it doesn't take very long at all to do. You can also zip line over the gorge about half way through the hike if you'd like for a small fee.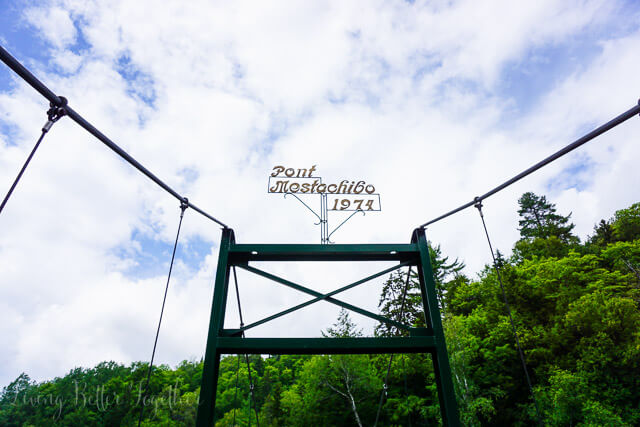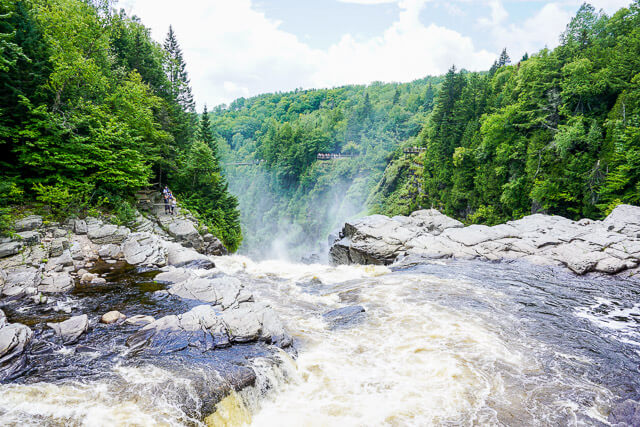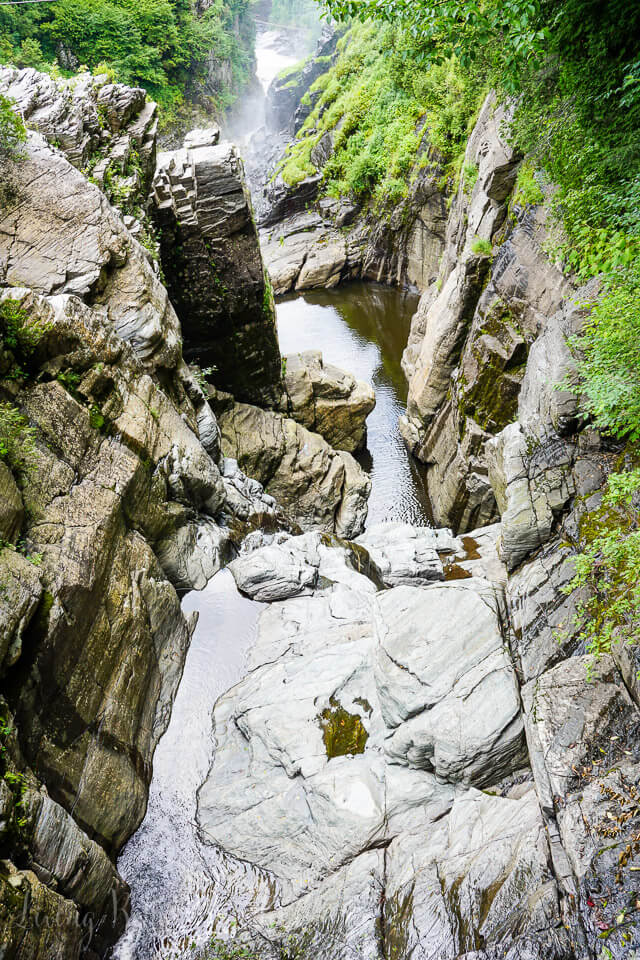 These falls are also higher than Niagara, and you know what I'm thinking, Niagara isn't all that high. I've never seen them in person, but all of the falls I've seen this year have been taller. We did see a pretty little rainbow on our way back up the hill.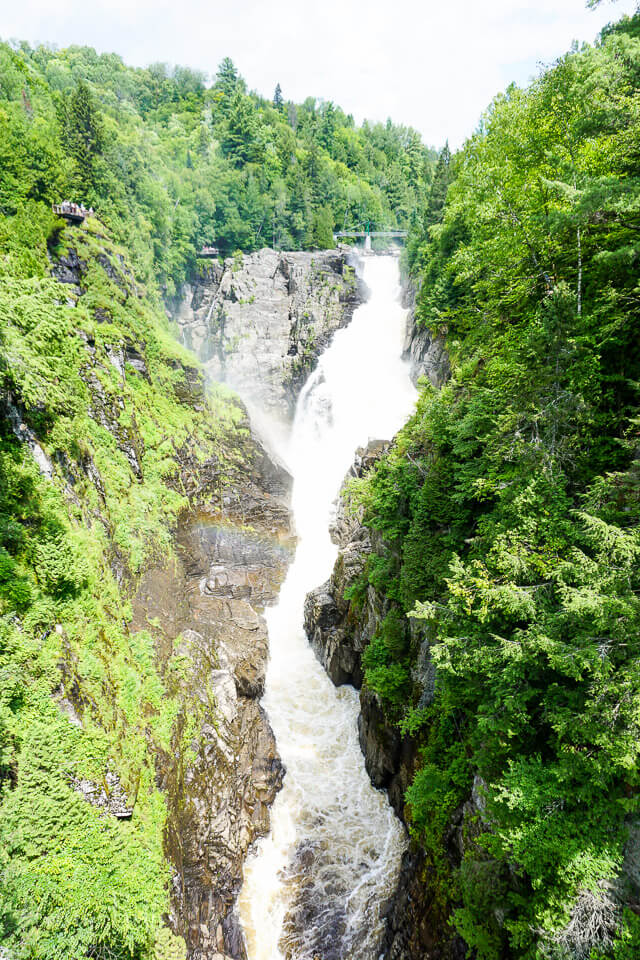 Sights like this make my soul feel rested.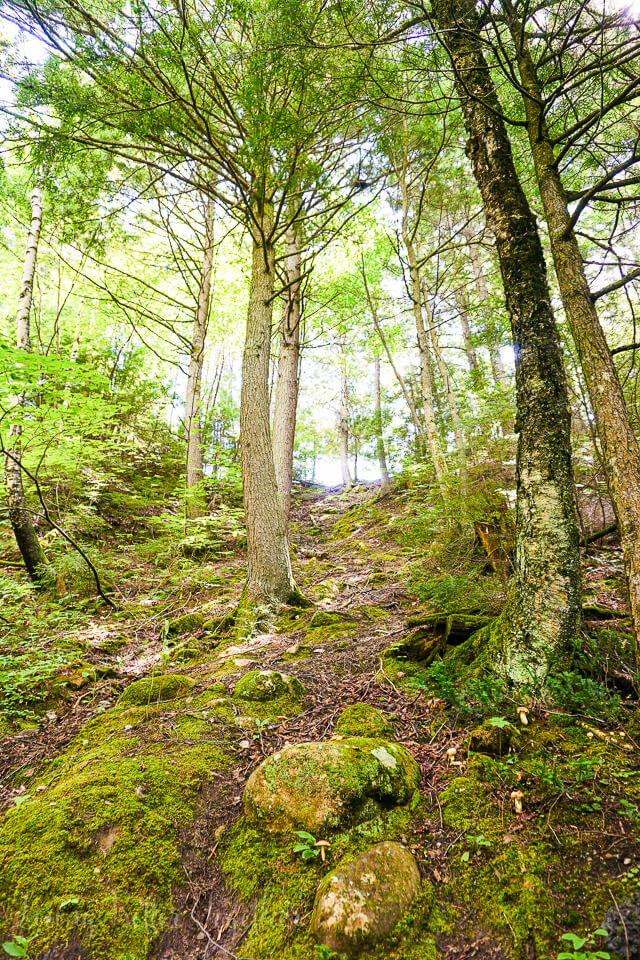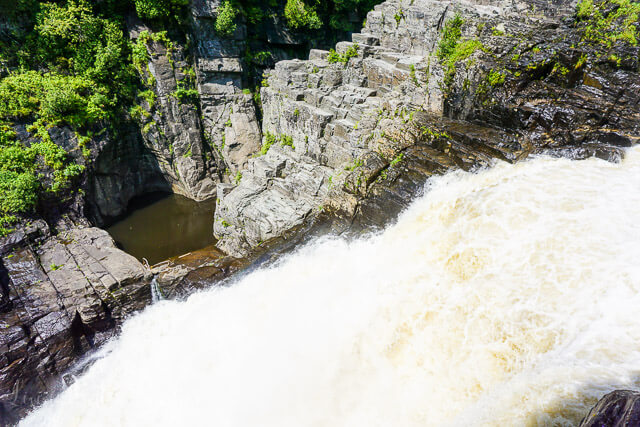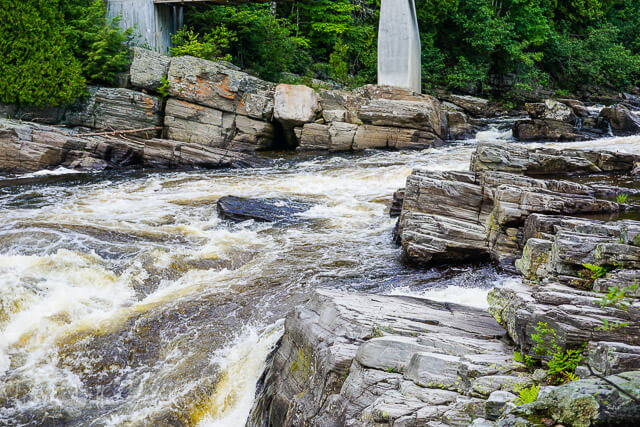 Our last stop outside the city was île d'Orléans. A little island in the middle of the St. Lawrence just a few miles outside of the city. Many say it's what most of Quebec looked like a hundred years ago. They're holding on tight to their heritage with lots of farms and wineries. We did the loop around the island and it was just so peaceful and beautiful. There are plenty of little cafes and food trucks to swing by for a bite while you're on the island. If you're there in early to mid July, you can see the lavender fields in full bloom, we just missed them.
There are plenty of little cafes and food trucks to swing by for a bite while you're on the island. If you're there in early to mid July, you can see the lavender fields in full bloom, we just missed them.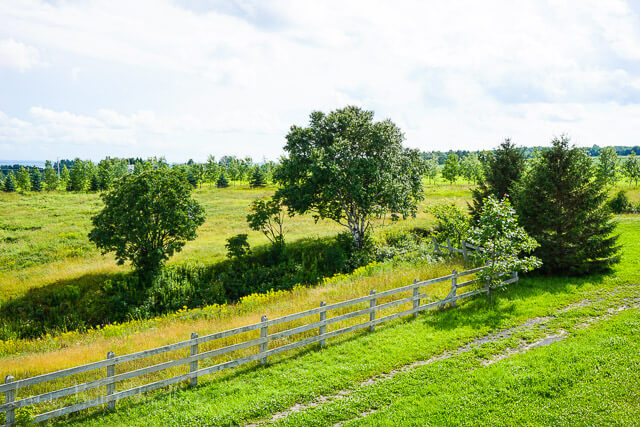 We went back to the apartment for about an hour or so to nap, we were all exhausted. Afterwards we went to Fistons, a place where you won't find English translations on the menu. The waiter was kind enough to help us where we needed it, and of course I picked the one thing on the menu with pineapple, which I'm allergic to. I guess that will teach me to assume the one word I can't read on the menu is probably okay. Get pizza!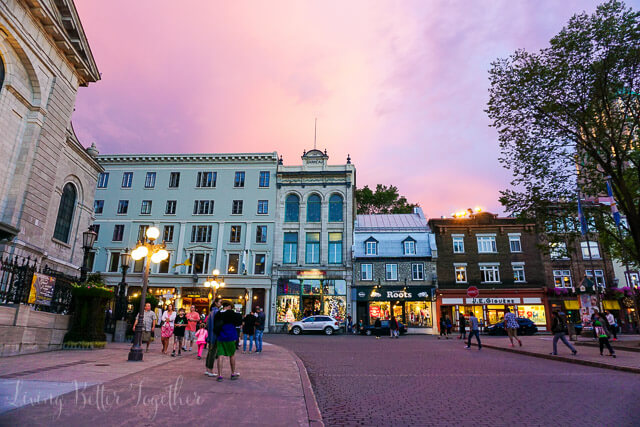 After dinner we drove back up into the city where we caught one of the most beautiful sunset skies I have ever seen! These skies have not been altered, it literally looked like a cotton candy sky!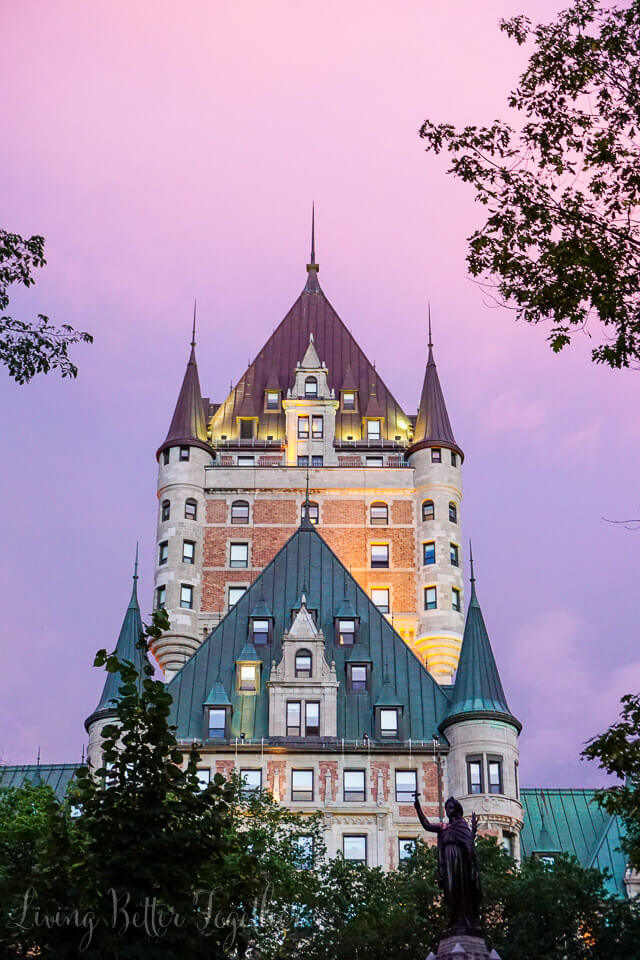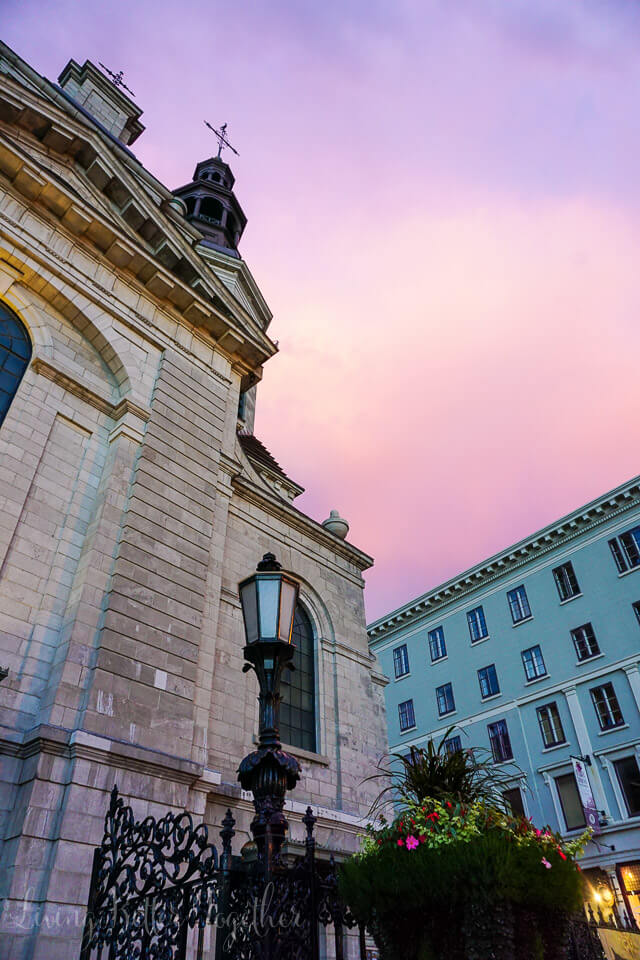 We came back into the city mainly for the famous Loto-Québec fireworks show! This show is an annual even that happens in early August on Wednesday and Saturday nights. The fireworks are shot off a barge in the river in front of the castle at 10 pm.
Now, this was the best fireworks show I have seen in my life! It was incredible, an actual show set to a live orchestra on the waterfront. We watched from the boardwalk. It was pretty cool to watch the orange moon come up across the river while we waited too.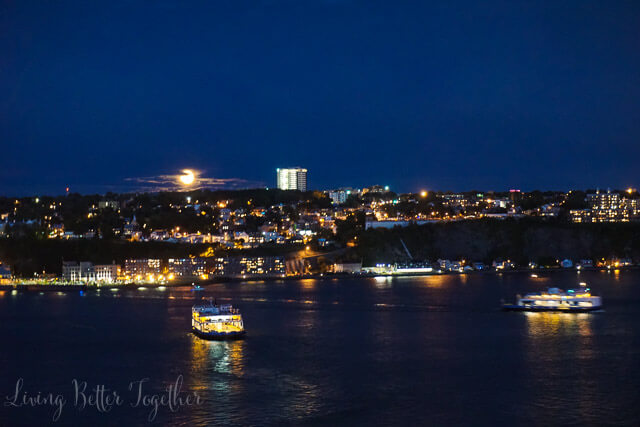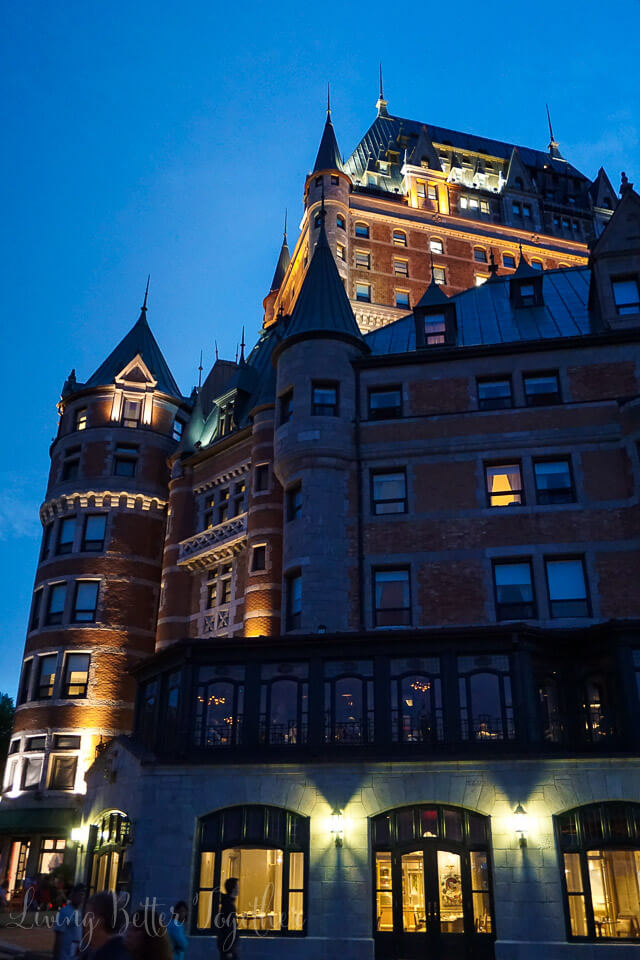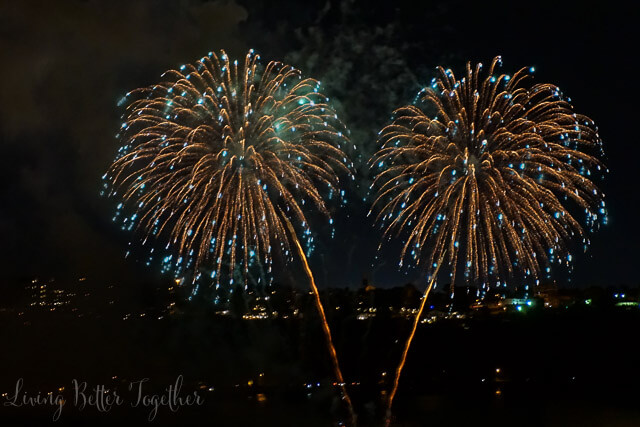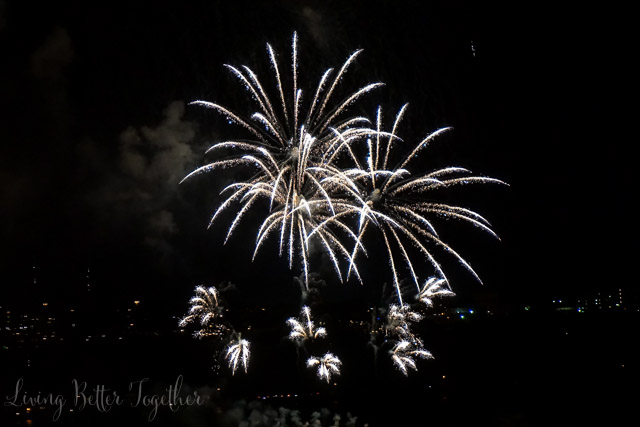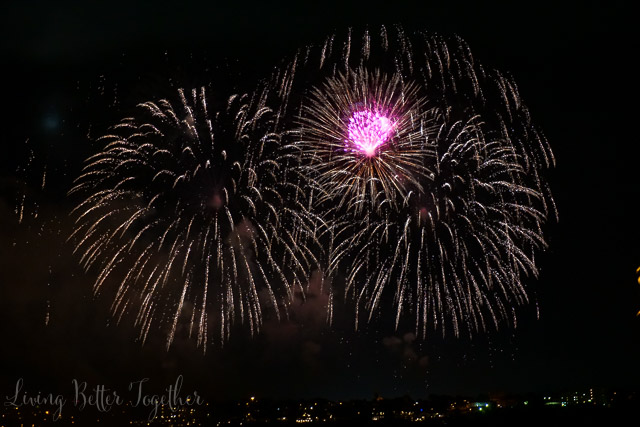 On Sunday morning we headed into the city for a few hours before heading home. We grabbed breakfast at Creperie le Petit Chateau right below Château Frontenac and stopped into the Norte-Dame Basilica. It's such a gorgeous-gorgeous cathedral!
Then we walked around some of the streets we hadn't gotten to to check out all the cuteness that is Quebec City.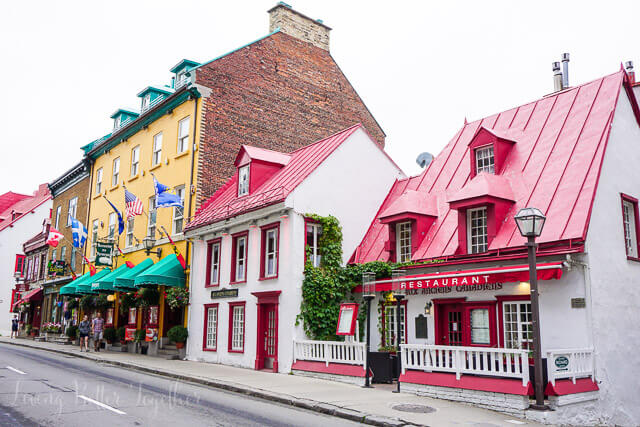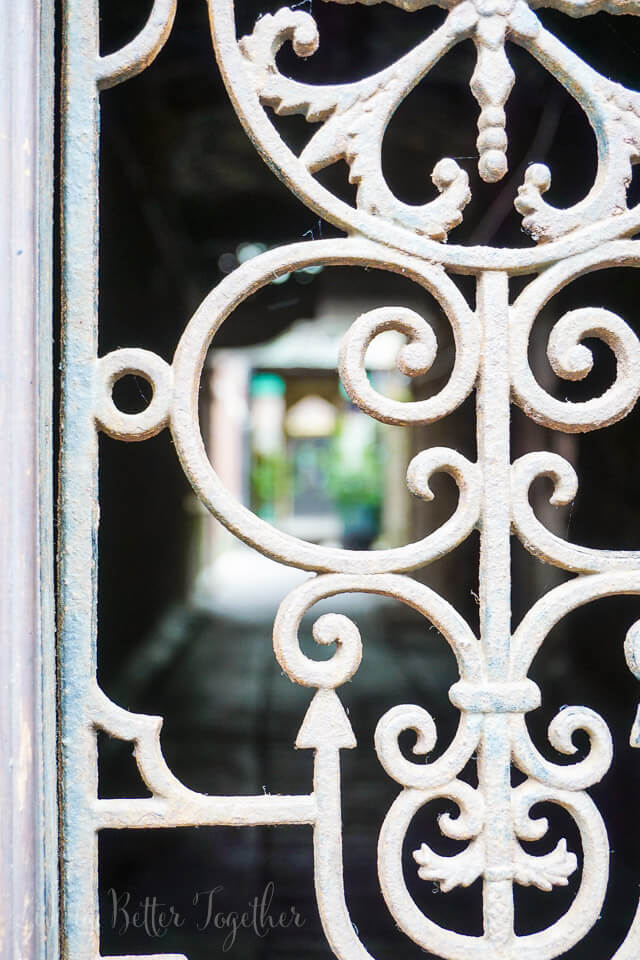 The flowers on all the sills were just beautiful, so much charm and care.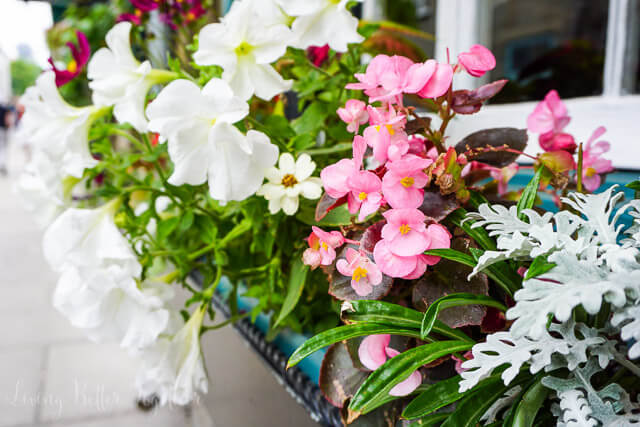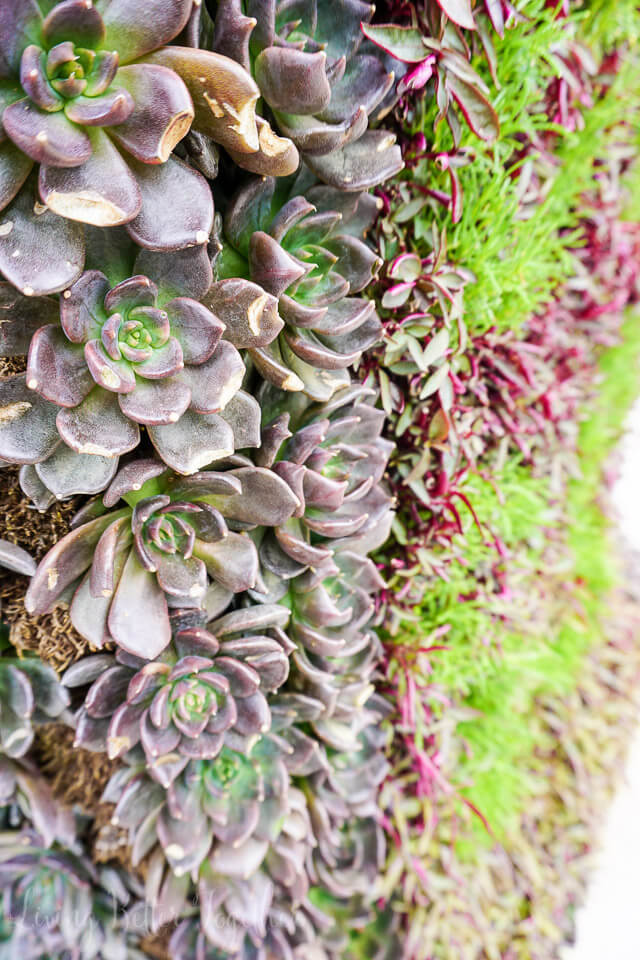 Where Old Quebec ends and Quebec begins.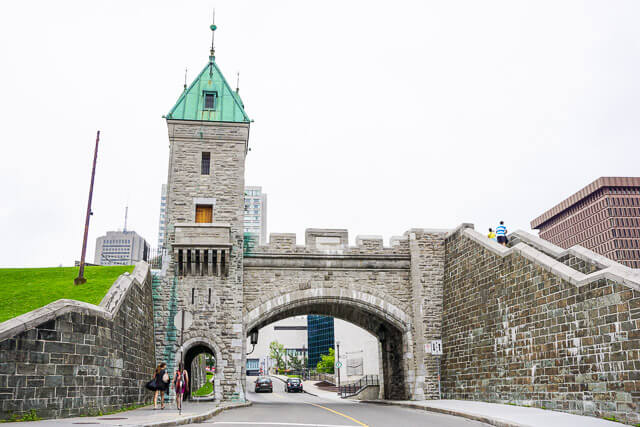 Our final stop was gelato, because I can't travel without getting myself some where I go! Tutto Gelato is the best in the city. It's actually not in the old city, but beyond the wall (with the white walkers). But the little trek is so worth it!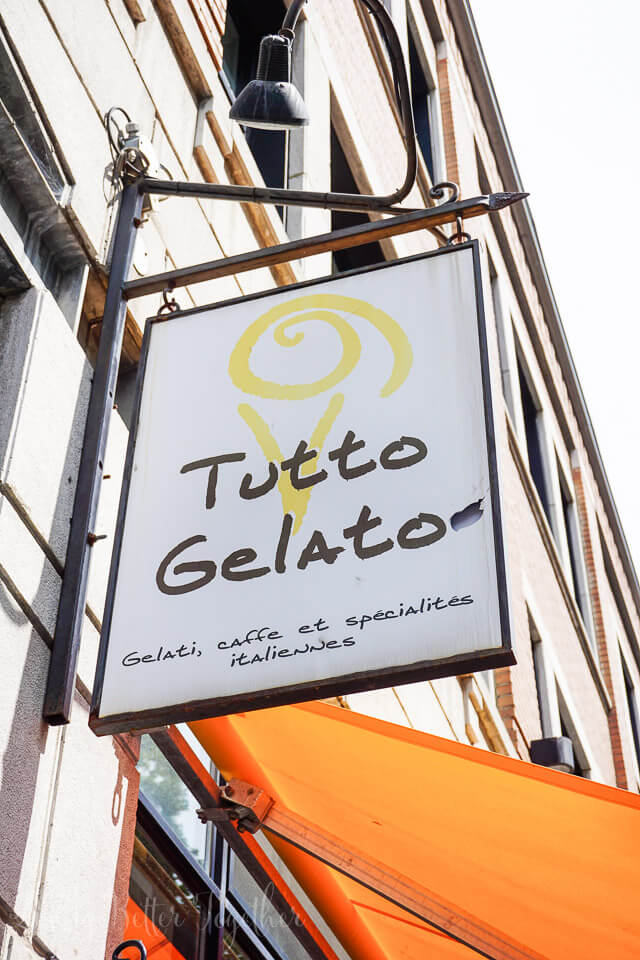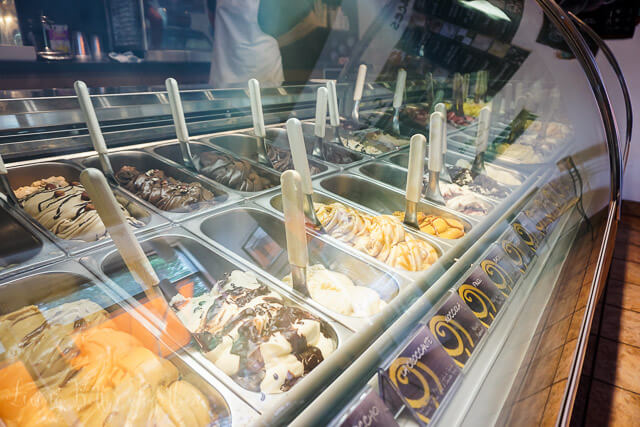 I got four flavors on my cone: Milk Chocolate, Field Berries, Mango, and Whiskey Cream. They were all amazing!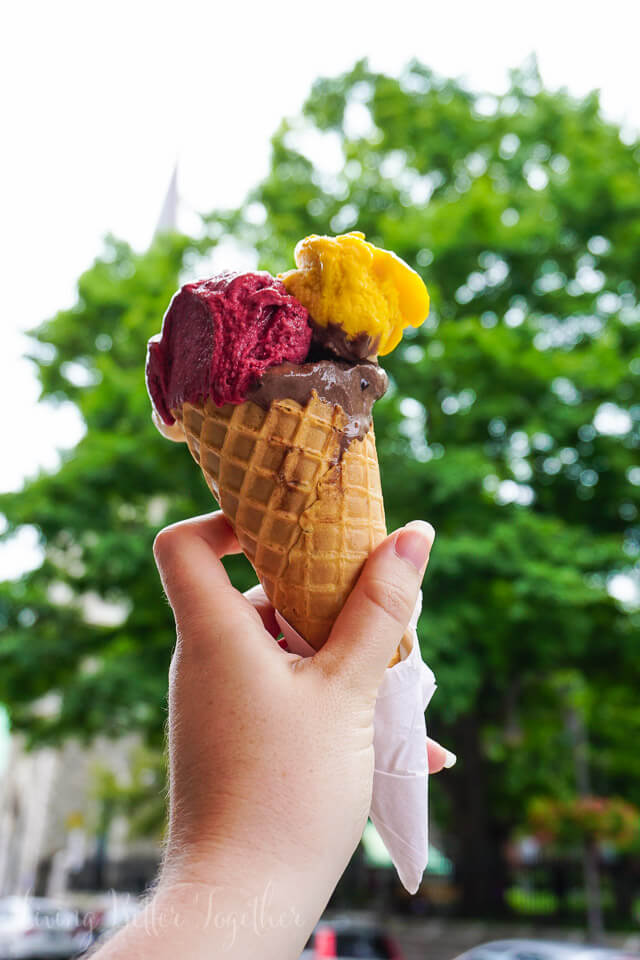 So there you have it: Our 48 hours in and around Quebec City!