Let me start off by saying that I'm not a doctor and I have no medical training. I am only sharing my honest and personal experience about how I quit my birth control and it lead to a happier life and a healthier marriage.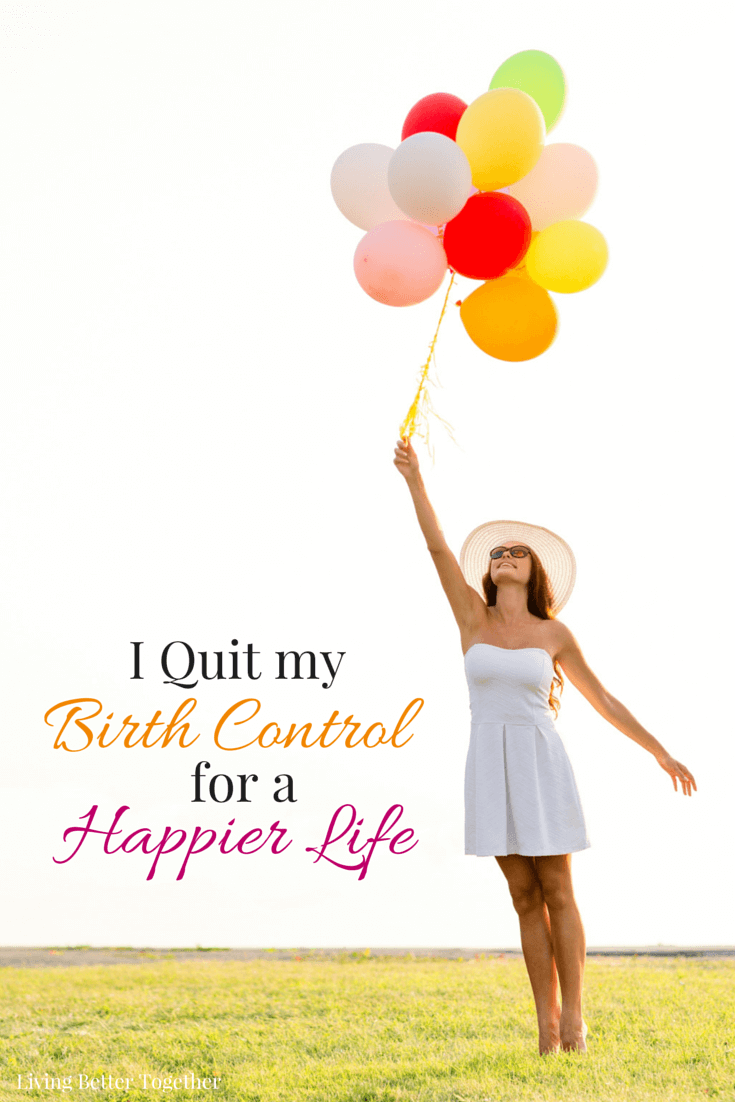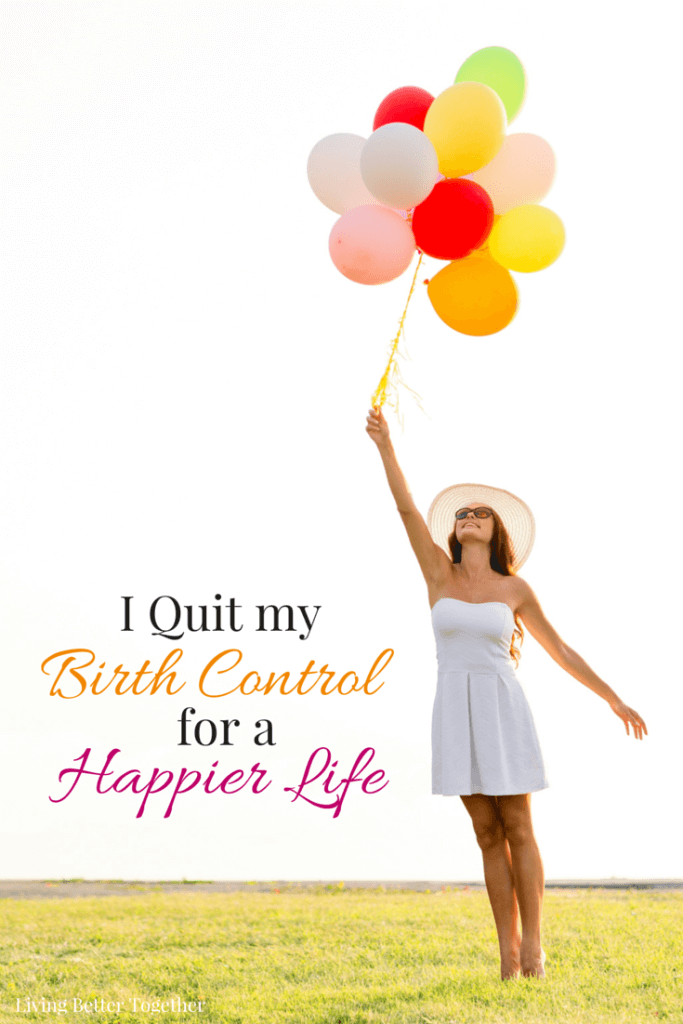 Today's post is a little different than most, there won't be any book suggestions, cookie recipes, or travel photos. Instead, I'm getting personal. I've been afraid to share this part of my life because it IS so personal. I've been afraid that some of you might judge me, say unpleasant things in the comments, and maybe even stop following this site. At the same time though, I've felt compelled to share it with you for a long time now and I've finally worked up the courage to press the publish button.
So today I'm being honest and vulnerable and maybe sharing just a little too much information, but I feel like it's something that needs to be said. It needs to be said because I know I'm not alone, and I know that some of you have been there or are going through something similar right now and I want you to know you're not alone either. This was my struggle and I shouldn't hide it or be ashamed of it anymore, so here goes…
A little history. When I was 14, my periods began to bring extreme cramps with them. My doctor started me on the pill to help ease the cramping and make my periods more manageable. When I was 16, my periods brought sharp pains that could drop me to my knees. After a trip to the ER and a consult with a specialist, I had laparoscopic abdominal surgery which confirmed and removed early stages of Endometriosis.
Endometriosis is a disorder in which tissue that normally lines the uterus grows outside the uterus it thickens, breaks down and bleeds with each menstrual cycle. Because this displaced tissue has no way to exit your body, it becomes trapped. When endometriosis involves the ovaries, cysts called endometriomas may form. – The Mayo Clinic

The pain that shot through my abdomen were rupturing cysts. Fun stuff, I tell ya. Endometriosis is fairly common, 3 million people are diagnosed each year and many others go undiagnosed their whole lives. It's also hereditary and I guess since my grandmother and mother both had it, I probably didn't stand a chance. Birth control helped make my periods easier to handle, I couldn't miss days of school at a time because my lower body hurt too much to move.
When Matt and I's relationship became intimate, the birth control provided multiple benefits. It took a while to find one that didn't make me sick and for a few years things were good. However, like most teenagers, I was absolutely terrible with taking my pill at the same time each day and after a pregnancy scare (really me just being a paranoid product of teen parents), it was time for a change and something easier to manage.
In the fall of my freshman year of college, my doctor introduced me to the NuvaRing. It was like a dream come true. You put it in, you forget about it for a few weeks and then you take it out. My periods were short and relatively painless. Within a few months though, I started gaining weight, I was irritable beyond belief, and my sex drive dropped to zip, zero, nothing. My dream come true changed my personality in a pretty drastic way and put a serious damper on our relationship.
When you're in your late teens and early twenties, relationships and sex are supposed to be fun. They're not supposed to cause major fights that leave both parties feeling at odds. the worst part was that I didn't really have anyone I wanted to talk to about it. I was embarrassed, this wasn't normal, something was wrong with me. Sex shouldn't be this painful and I should WANT it. I was attracted to Matt and I loved him, that's really all there is to it, right? Something had to be wrong with me, it was the only explanation.
For years I would go to my annual check up and ask what I could do to fix this. I knew our relationship was strong enough to sustain the issue, but I didn't want it to have to fight this battle each and every day. I didn't want to just be roommates with my husband, like ships passing in the night who occasionally ate dinner together on the couch watching Dexter. I also didn't recognize myself anymore, I was a bomb that could go off at any moment.
Each visit, my doctor would tell me everything looked normal. I'd ask about hormonal imbalance and she said it wasn't likely but she could give me some testosterone cream if I'd like, though it might give me a mustache. I didn't think a mustache was going to help in the bedroom or in the self-confidence department. I tried taking Niacin to help with my mood, and while it did, the angry and unhappy me would always find it's way back. I really didn't have anything to be upset about, all in all life was pretty good. I just wasn't myself.
The years went on, five to be exact. Five years that had more miserable moments than happy ones. In general, I wasn't a nice person to be around, and the worst part was that I knew it and couldn't stop it. There's nothing worse than hurting the people that just want to love you and support you. I'm blessed and forever grateful that Matt fought both with and for me over the years, I was not an easy person to live with, let alone love.
Birth control can effect women in a number of different ways and not everyone has as "disruptive" of an experience as I did. It was during my research for a solution that I came across this Vanity Fair article, the lawsuit against Nuva Ring that had settled in February 2014, and a list of NuvaRing side effects (which I probably should have looked at long before). All of the changes I had experienced were on that list and since I didn't want to risk any further side effects, it was time for a change.
Finally, in March 2014 after a chat with my new doctor, I cut the ties with my birth control. I was ready to have my life and my relationship back in good standing. We were at a point where if kids did happen, it would no longer seem like the end of the world. I was tired of being depressed and not recognizing the person in the mirror. I wanted to be me again. I wanted to be happy.
It can take a full year for the effects of birth control to leave your system and allow your body and hormones to regulate themselves. Within a month I started feeling better and I would say it was about 9 months before I felt fully normal. I was happy, and my marriage was reaping all the benefits. My sex drive returned almost immediately and the weight loss came easier than it had before.
While quitting my birth control strengthened my marriage, I think that being on it strengthened it as well. We survived what was a really long and rough patch, and we're on the other side now, better because of it. I almost titled this post "How Quitting my Birth Control Strengthened my Marriage", and like I said, it did, but the truth is quitting my birth control saved me.
I missed the fun and ambitious girl I once was and I needed to find her again. This was a huge step in that process, it was like having the fog lifted and seeing myself for the first time in years. Suddenly, I had more motivation, I had dreams again, and I had myself. I am not even remotely close to the woman I was more than a year ago. Now I'm 25 and I've found my passion for life again and even on the bad days, I'm still happy. I took control of my life and it felt good – it feels good. Regardless of what your struggle is, meet it head on and don't let it steer your life.
I'm not against birth control, many women use it without any side effects. But I know that there are plenty of you out there just like me, Google searching to figure out what's wrong with you with WebMD telling you it's cancer or he's just not the right one. The truth is, you're normal, what your going through is not your fault. It's amazing how many people I have encountered that have gone through similar experiences since I've opened up about mine.
If this story sounds familiar, I urge you to talk to your doctor and see if quitting your birth control might benefit you. If you don't feel comfortable with what they have to say, seek a second opinion, I wish I'd done that sooner.