This post is part of a social shopper marketing insight campaign with Pollinate Media Group®, All You® and Real Simple® but all my opinions are my own. #PMedia #NewYearMeTime https://my-disclosur.es/OBsstV
 How One Little Word can change your life. Discover your passion, your dreams, and yourself and grab a bowl of Raspberry Clementine Coconut Rice Pudding while you're here.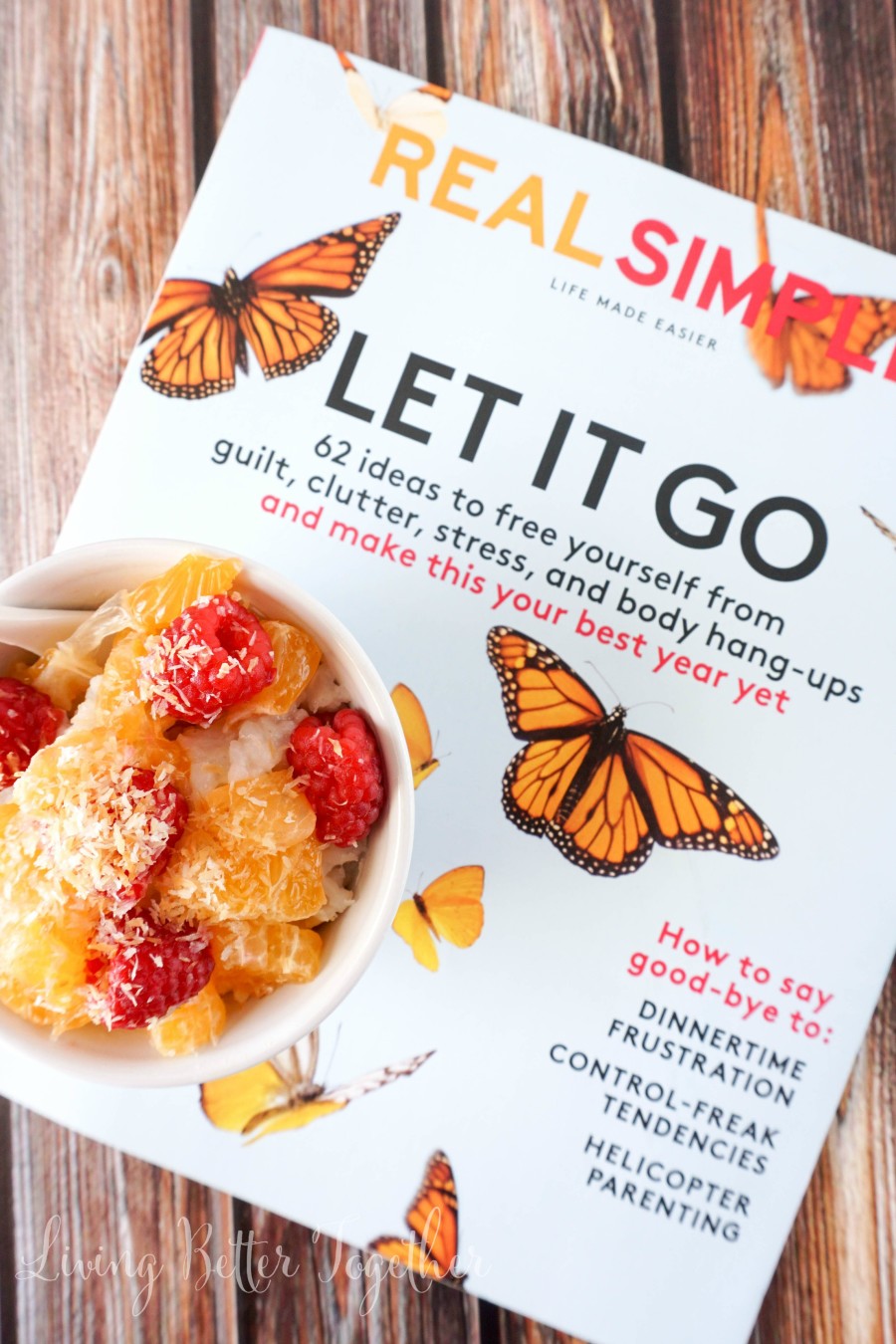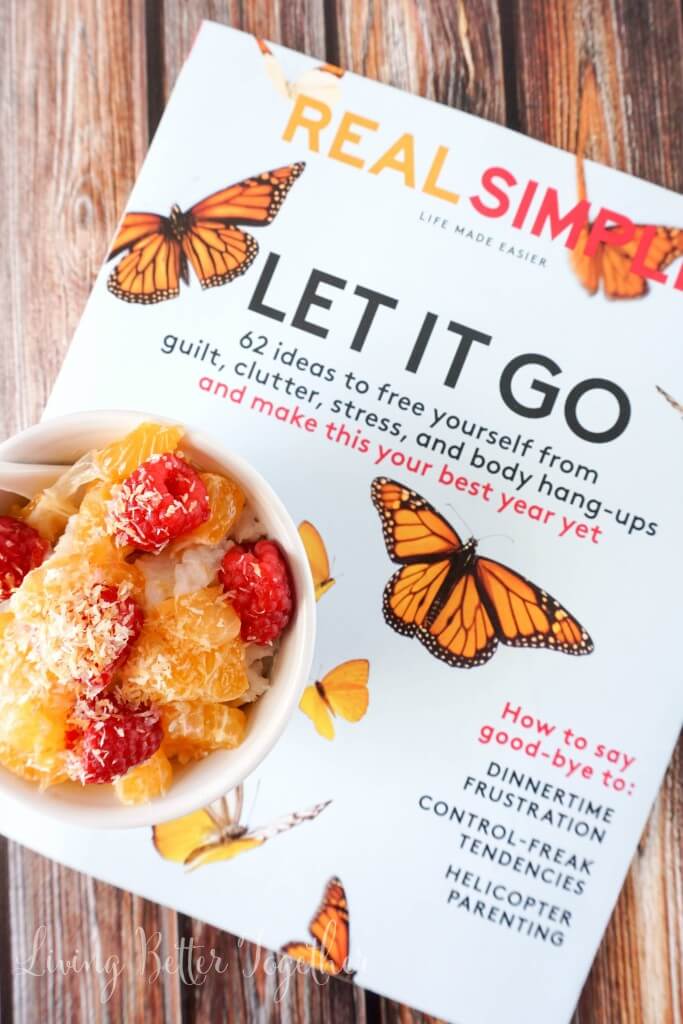 I've never really been one for New Year's resolutions, but I do believe that January is the best time to be inspired and refocus when it comes to yourself. I talked a little about it on my birthday, that I'm going to make this year the best yet. One of the ways I'm going to do that is by joining in on the One Little Word tradition. The idea is that in January of each year, you pick a word that keep you focused throughout the year. A word that empowers you, drives you, and hopefully, liberates you. I know we're a few weeks into the year already, but today I'm finally ready to share my One Little Word with all of you. Discover.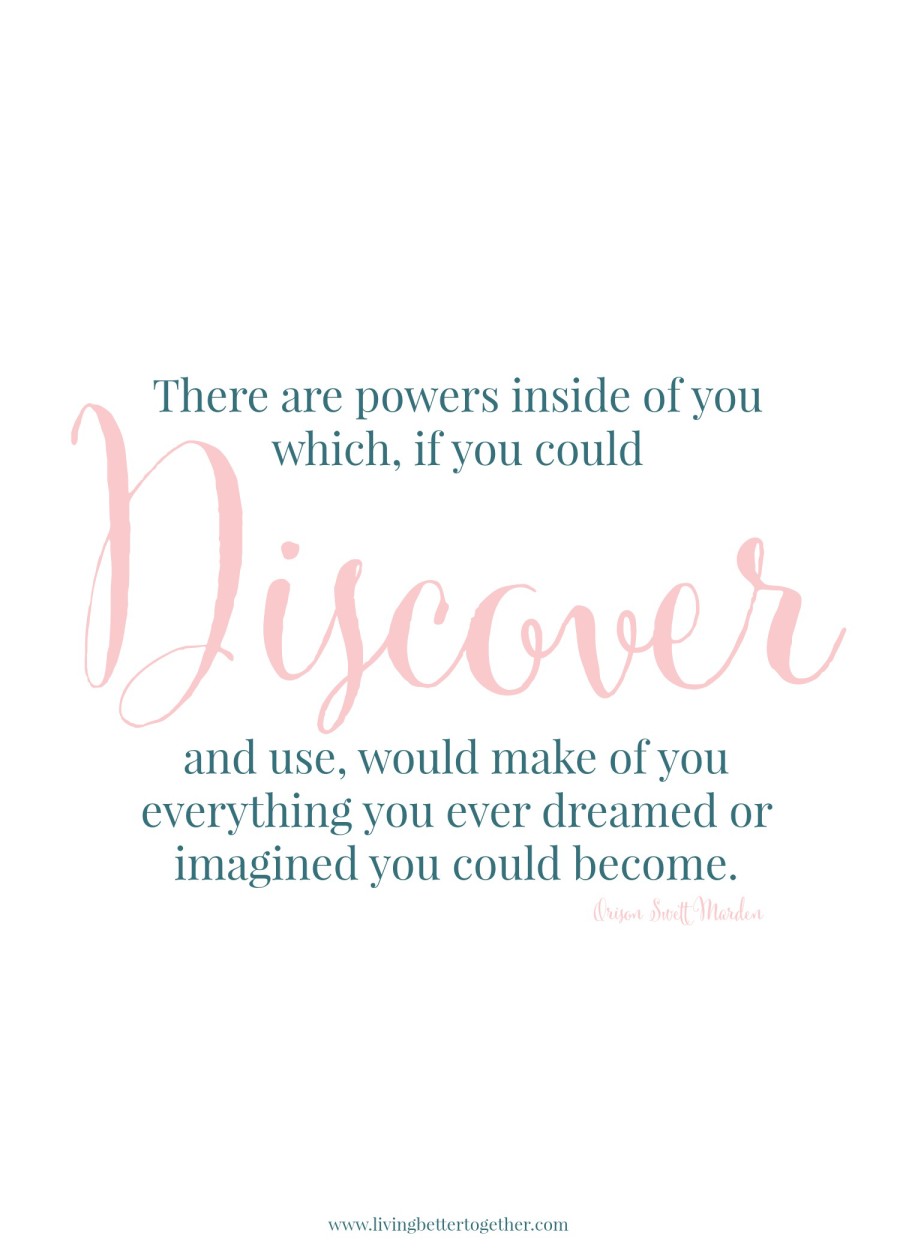 I think often times, we mostly associate the word Discover with travel, which is definitely on the agenda this year. But there's so much more to discover than new places. This year is going to not only be about discovering the world, but also about discovering myself. Who I am, who I want to be, and how to get there. I want to discover deeper aspects of my marriage. I want to discover amazing food and photography. I want to discover new things, new concepts, new passions. I want to discover MY world.
It took a little while for me to decide what my word of the year would be. Matt thought it should be "Awesome", I liked awesome, and I'm definitely planning on making this year just that. However, DISCOVER seemed much more fitting. I just feel like there's so much both outside and within me that I have yet to uncover, explore, and discover. So that's what I want this year to be about. I want to take some risks while it's still okay. I want to discover size 2 jeans again. I want to discover "me time" again. I want not only to find myself, but to create myself, to discover my full potential and go after it.
One of my favorite and inexpensive ways to discover new things and take a little me time is through magazines. I'm always inspired by or learn something when I read them. It's amazing how little tips and tricks can help you discover ways to save time, money, and sanity while encouraging you refocus and build a better life.
As someone who works full time at a law offices and also blogs full time, I'm always trying to discover simple recipes for weeknight dinners. I rely on All You® magazine for this. Every month I pick up a copy from Walmart and find great dinner recipes that are perfect for a budget. Not that I mind spending money of food, but obviously I like to allocate most of it to dessert rather than dinner. Who's with me on that one?
So what might seem like one little word to you is actually everything to me. It will guide me through the year and encourage me to do more, to be more, and to dream more.
What do you hope to discover this year? Have I inspired you to pick a word of the year to refocus and pursue what you want?
Save $1.00 on ONE (1) PEOPLE®, InStyle®, PEOPLE StyleWatch®, All You®, or Real Simple® magazine. The Walmart digital coupon is available 1/14/15-2/16/15 (while supplies last). Get the coupon here.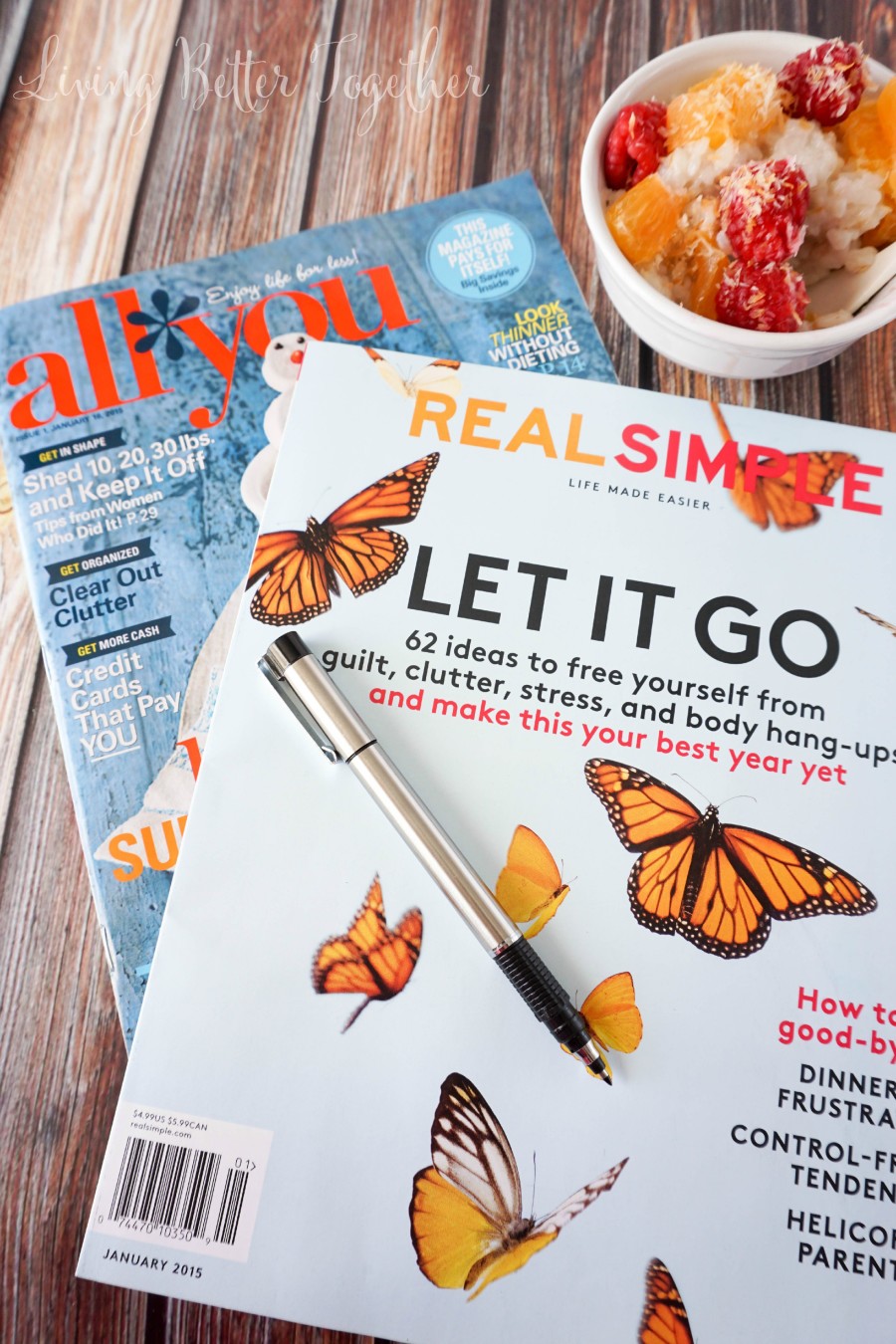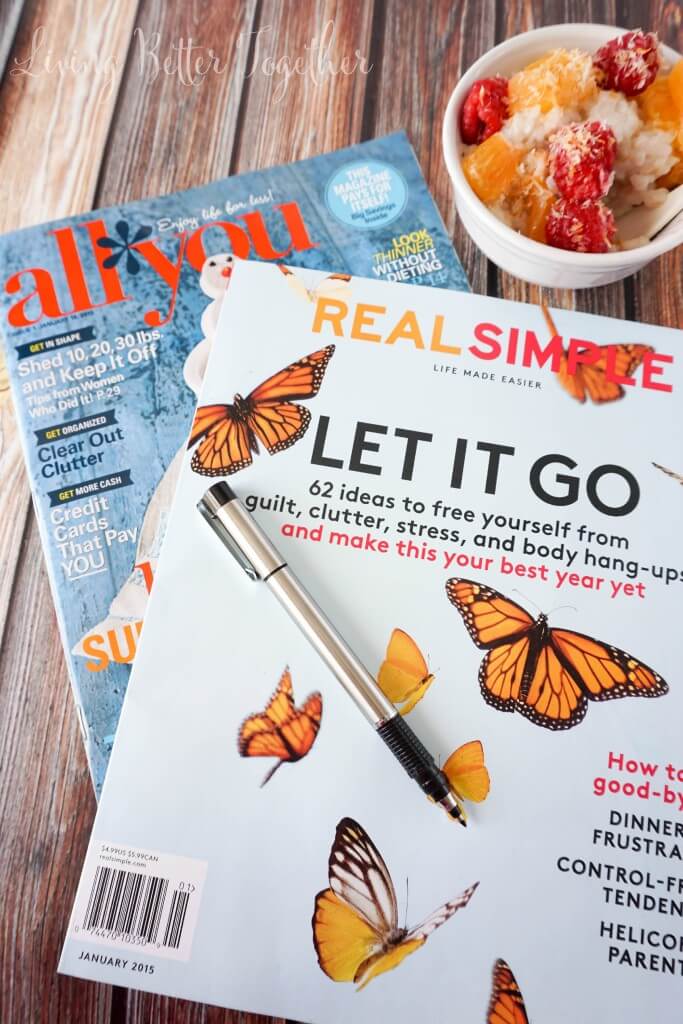 Another one of my favorite magazines is Real Simple®, it's such a clean publication that I can grasp the information without feeling like my brain is overwhelmed. It's short and sweet and to the point, kinda like me. It was in the January issue that I discovered clementines again. It's been years since I've had one, but it looks like they're "in", and why did I ever stop eating them, they're just so good!
I decided to adapt a recipe from the issue to share with all of you. This Coconut Rice Pudding with Macerated Clementines caught my eye immediately. I knew I had to add my own personal twist on it, plus I've never had rice pudding so I'd be discovering something new.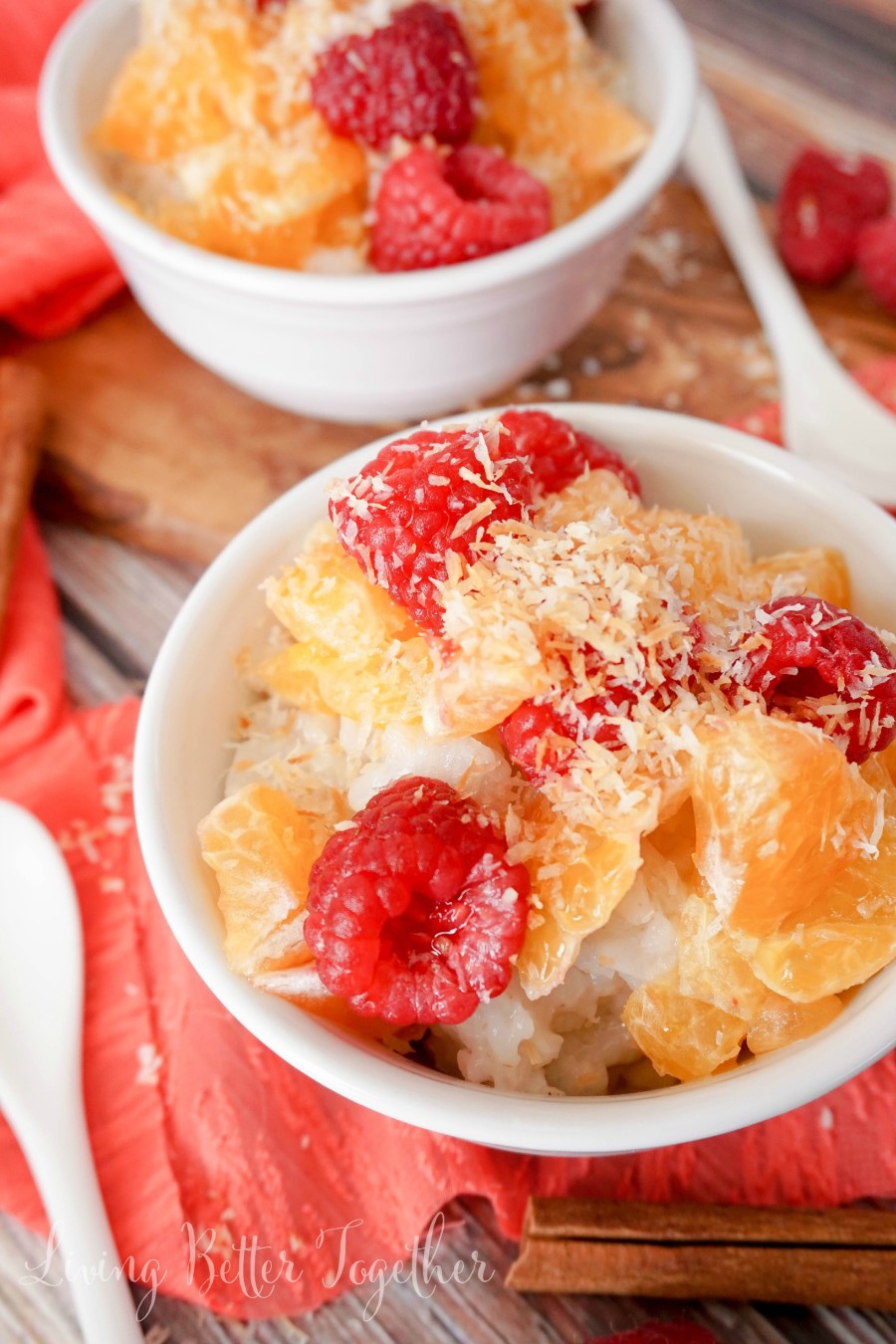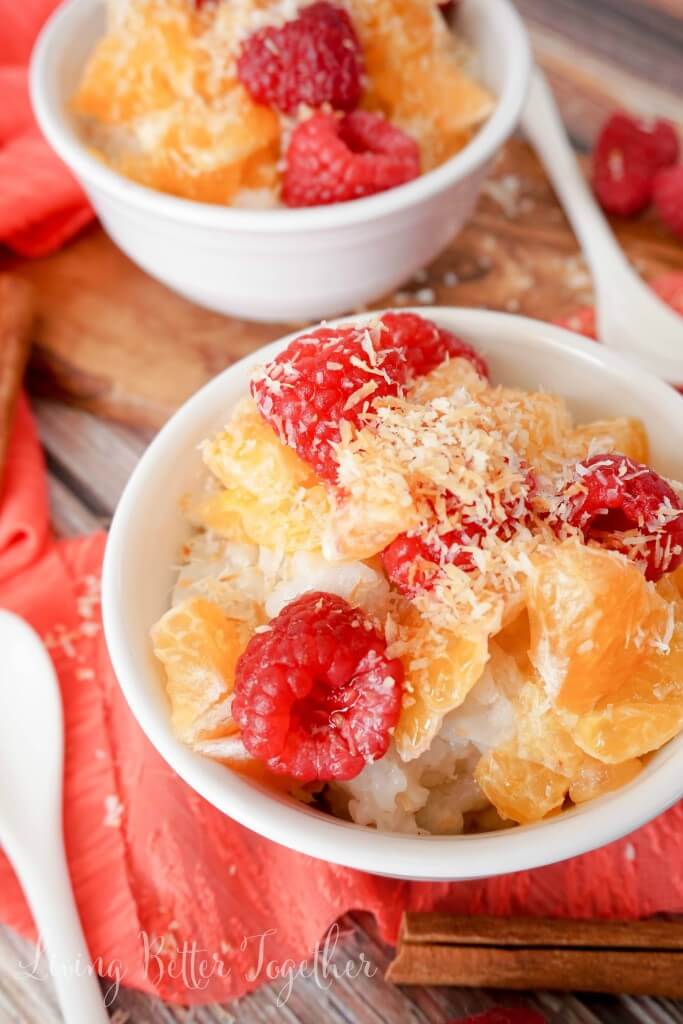 I started with halving it because it's just the two of us. I left out the granulated and brown sugars and substituted with pure cane sugar instead. I added in some raspberries and toasted coconut and was well on my way to something that I can't quite decide if it's breakfast or dessert. I say you choose!
The tart raspberries and bright citrus of the clementines combine for an eruption of flavor and freshness above a mound of sweet coconut rice pudding. Top with a little toasted coconut and you mine as well be in the islands.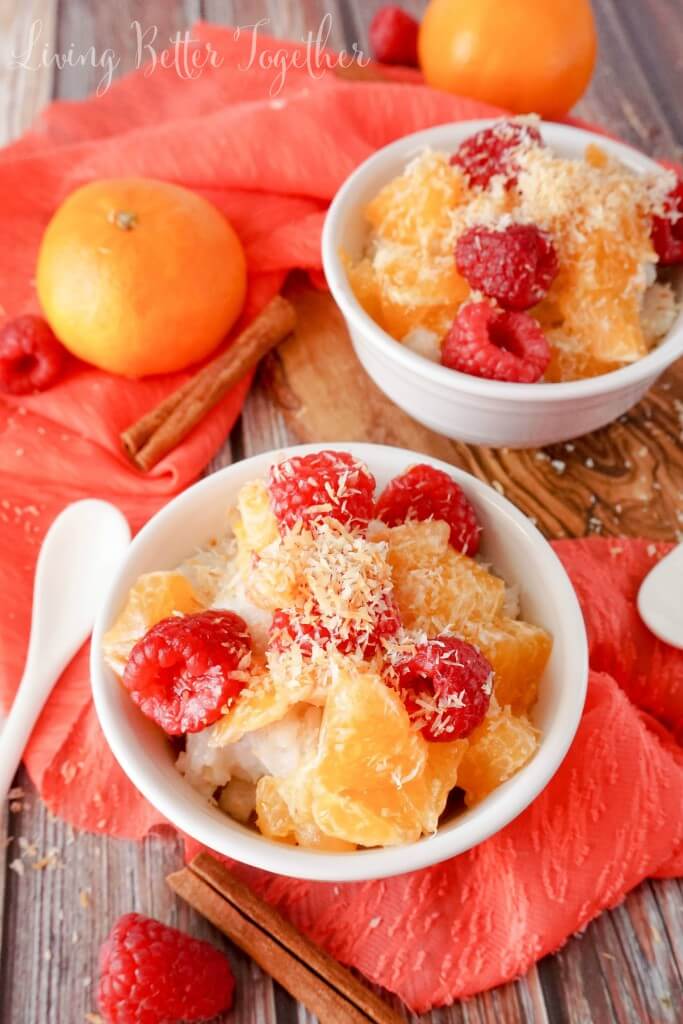 I think what I love most about this recipe is that it's really healthy but doesn't at all lack for flavor. Did I mention its gluten and dairy free and vegan to top it off! You seriously can't go wrong with this dish! I'm so glad I discovered rice pudding and I hope you are too, because there's going to be more coming at ya this year!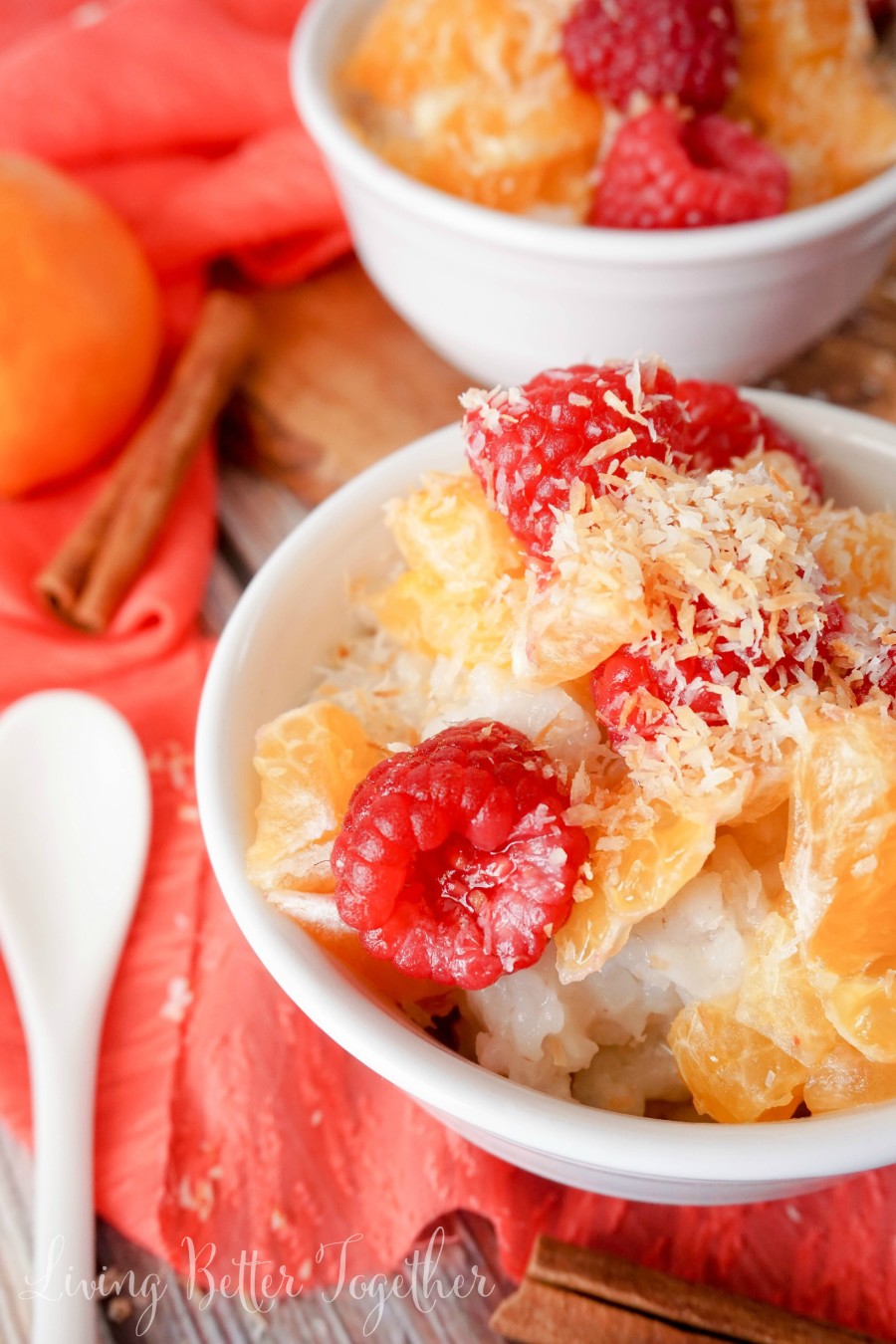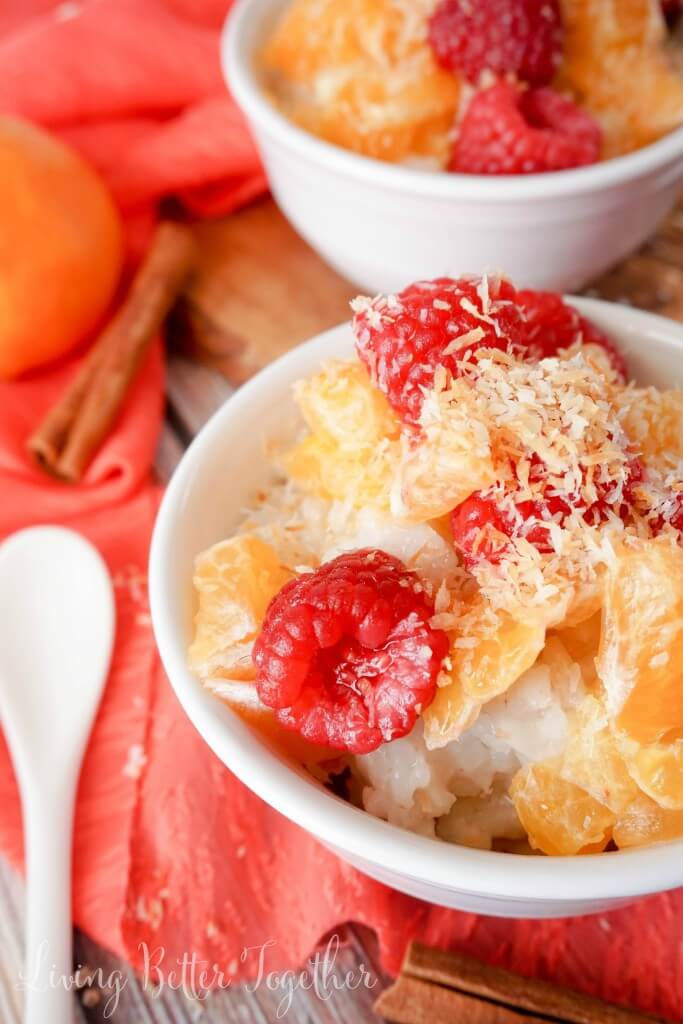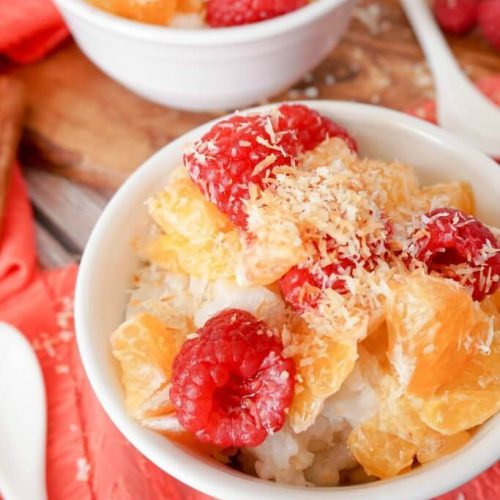 Raspberry Clementine Coconut Rice Pudding & One Little Word
The tart raspberries and bright citrus of the clementines combine for an eruption of flavor and freshness above a mound of sweet coconut rice pudding. Top with a little toasted coconut and you mine as well be in the islands.
Print
Pin
Rate
Ingredients
Rice:
1/2

cup

Arborio Rice

2

tbsp

Pure Cane Sugar

I use Zulka

1/2

tsp

Vanilla Extract

1/4

tsp

Ground Cinnamon

1 1/2

cups

Water

Dash of Salt

3/4

cup

Canned Coconut Milk

full fat
Topping:
1/2

cup

Fresh Raspberries

1

Clementine

1

tbsp

Pure Can Sugar

2

tbsp

Shredded Coconut
Instructions
Rice:
Combine rice, sugar, vanilla, cinnamon, water, and salt in a small sauce pan and bring to a boil.

Make sure coconut milk is well mixed before measuring as it can separate while being stored. Add coconut milk to boiling rice and simmer for about 25 minutes stirring occasionally so rice doesn't burn to the bottom of the pan.

Meanwhile, peel and chop clementine and add it to a small boil with the raspberries and sugar stirring so fruit is fully coated and set aside.

Spread coconut out on a small baking sheet and toast it under a low broiler until it turns golden brown and remove from oven.

Once rice is done, scoop into two bowls, top with macerated fruit and toasted coconut.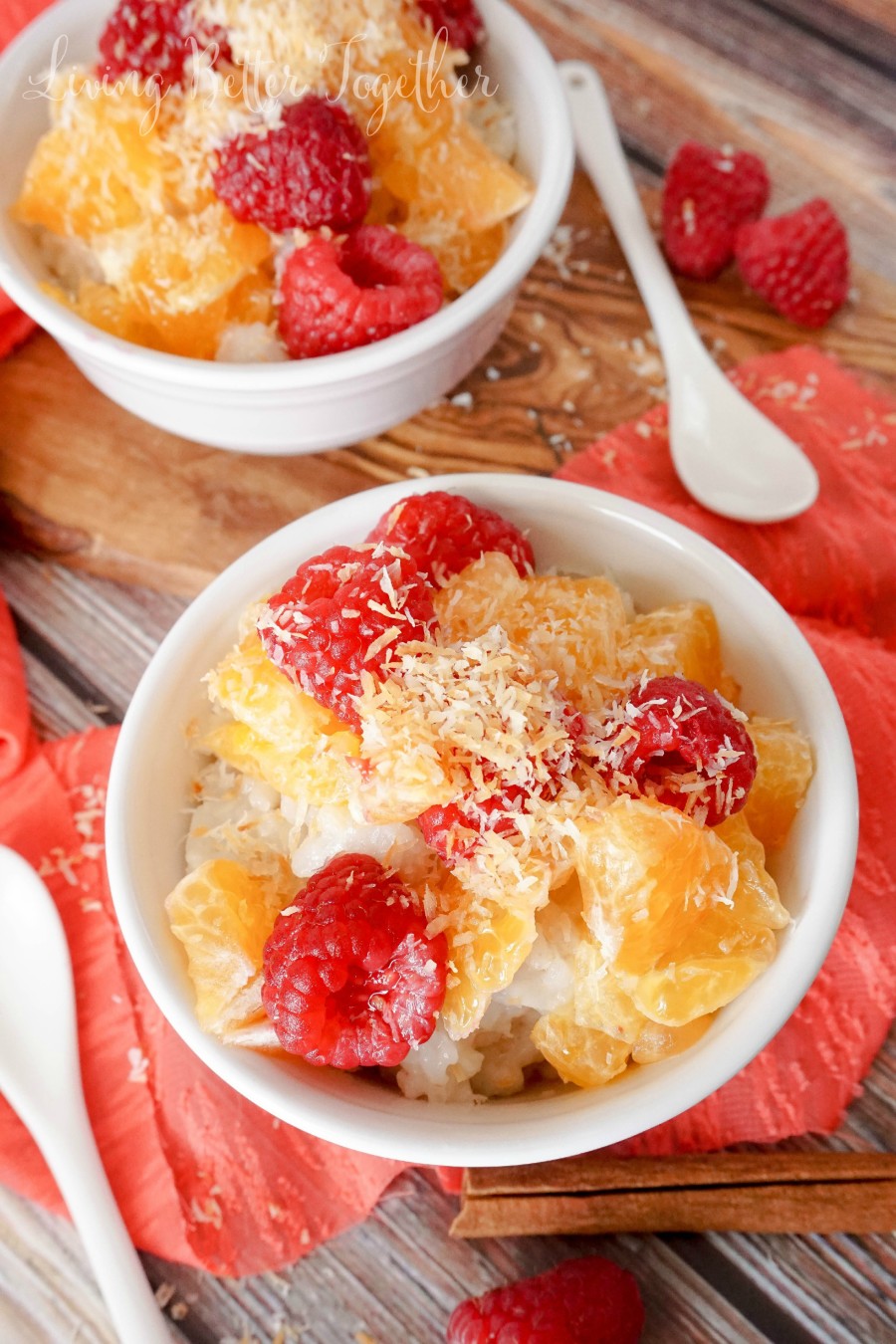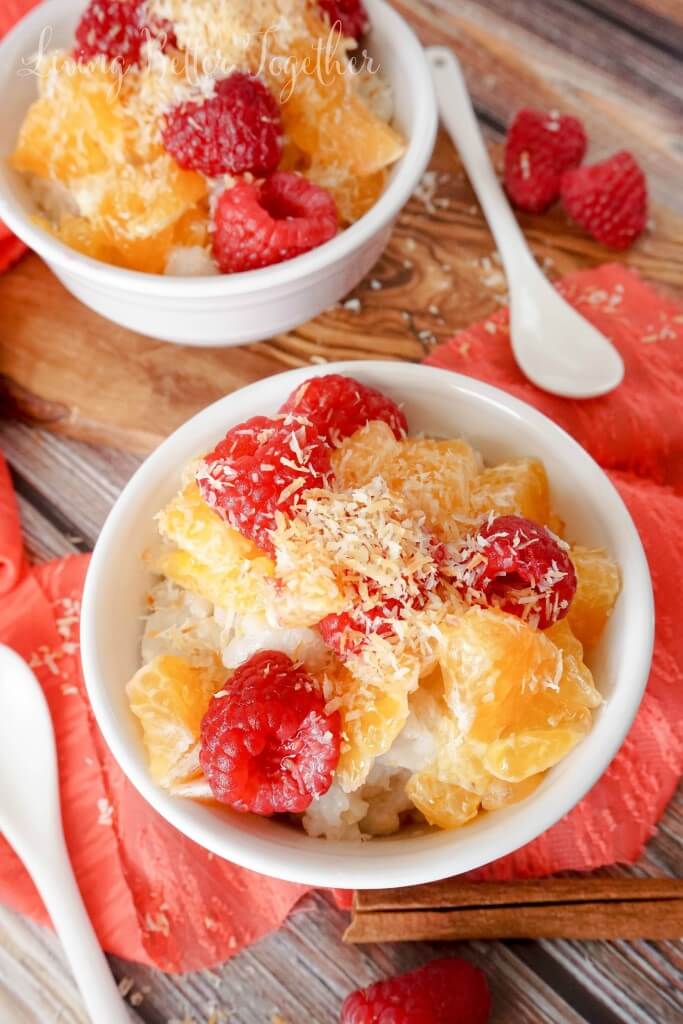 To save this recipe for later, pin the image below!