What to see and do in a day in the south of the Isle of Skye.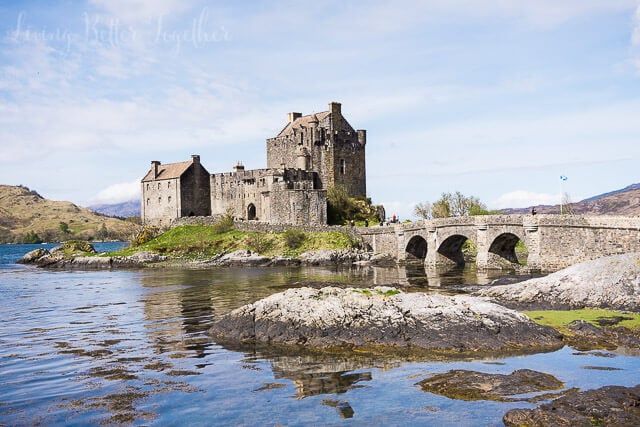 When I left off in our Scottish travels, we were in Inverness, now it's time to head to the Isle of Skye and boy is she a BEAUT!
We had originally planned to go kayaking on Loch Ness on the morning of May 9th and head to Skye in the afternoon, about a 2 1/2 hour drive, and spend the next day exploring the isle.
After a quick look at the weather, the following day wasn't looking too pretty, especially not for the hiking and views that Skye offers. So we figured Nessie could find something else for breakfast and we headed to Skye early.
So let me tell you, my favorite part of this entire trip was the "Road to Skye" and I didn't take any photos on my camera, just a few from my phone.
You start on the A82 surrounded by lochs and ledges full of color, then once you get a little ways onto the A87, you're going to enter what is called Kintail.
Kintail is an area of mountains in the northwest highlands of Scotland, known mostly for the Five Sisters of Kintail. I promise, once you see them, you'll never quite be the same.
Never in my life have I felt the way I did when we were driving through these magnificent mountains. I was in awe and they brought me to tears.
It was the perfect introduction to Skye, because the whole place was a reminder of how grand this world is and how blessed I am to be able to take it in and explore it!
This photo doesn't do this area any justice AT ALL, but I loved that you would drive for miles through these mountains and suddenly there would be a small set of trees with a couple of houses. Can you imagine how amazing it would be to live there?
Just a few miles before crossing Skye Bridge, we stopped at Eilean Donan Castle. It's considered to be the most beautiful castle in Scotland and one of the most photographed in the world.
I think it's obvious why, right? It's simply gorgeous! This castle was not included in the Explorer Pass I mentioned in my first post.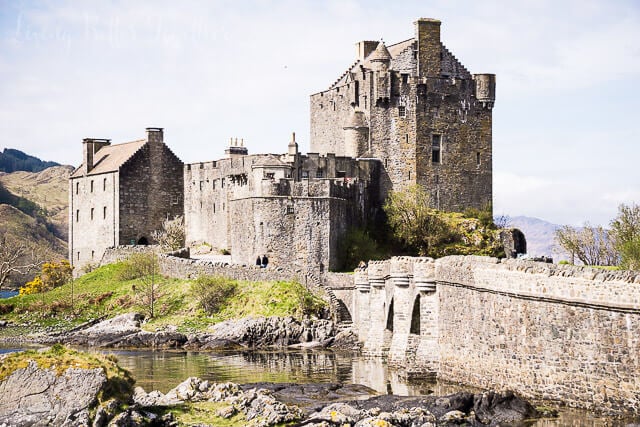 Once we arrived in Skye, we headed straight to the Point of Sleat for a hike to the white sand beach.
Unfortunately, we got there when the tide was up so it was just rocky, you can see the white sand under the really turquoise water in the photo below.
This was an uphill both ways sort of hike with some really stunning views. It takes about 50 minutes to an hour to hike each way.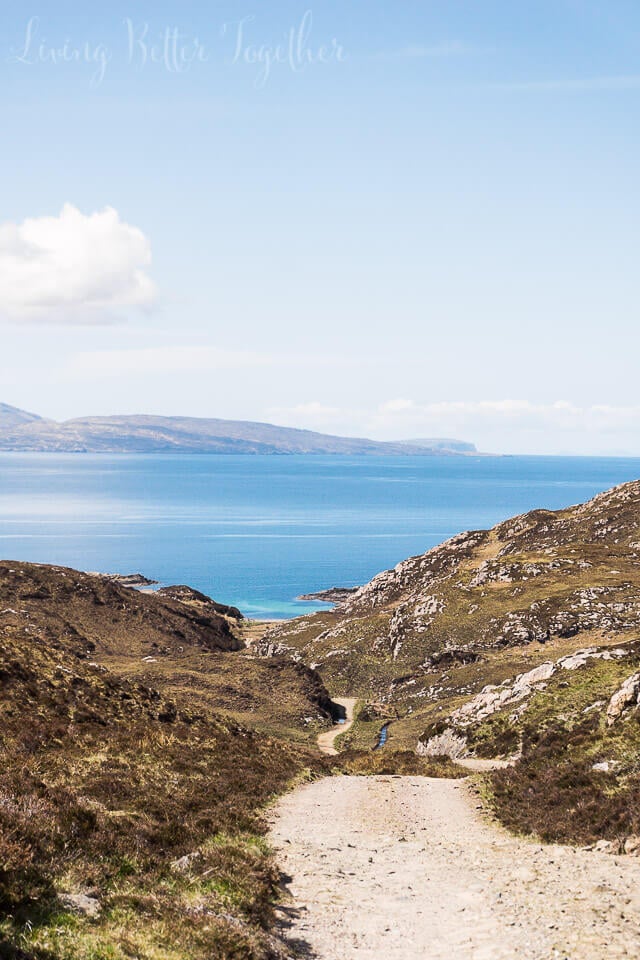 Matt decided to climb upwards for a panoramic of the area.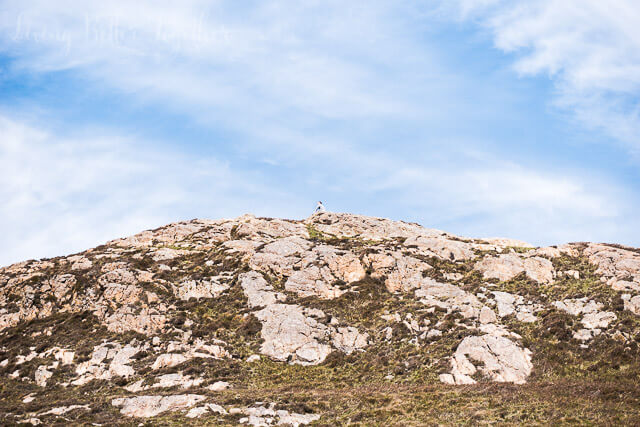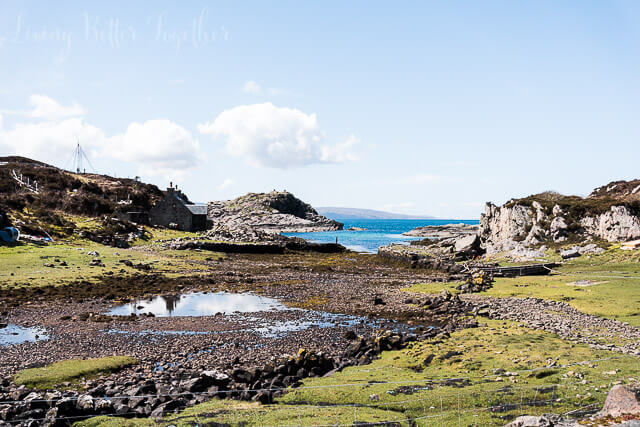 Even without the white sand beaches, it was still stunning and well worth the hike (and the fight that came along with it). Just be aware that signs and arrows aren't very accurate on this hike and your husband might get irritated when you decide to carve your own path over jagged rock and steep ledges like a mountain goat.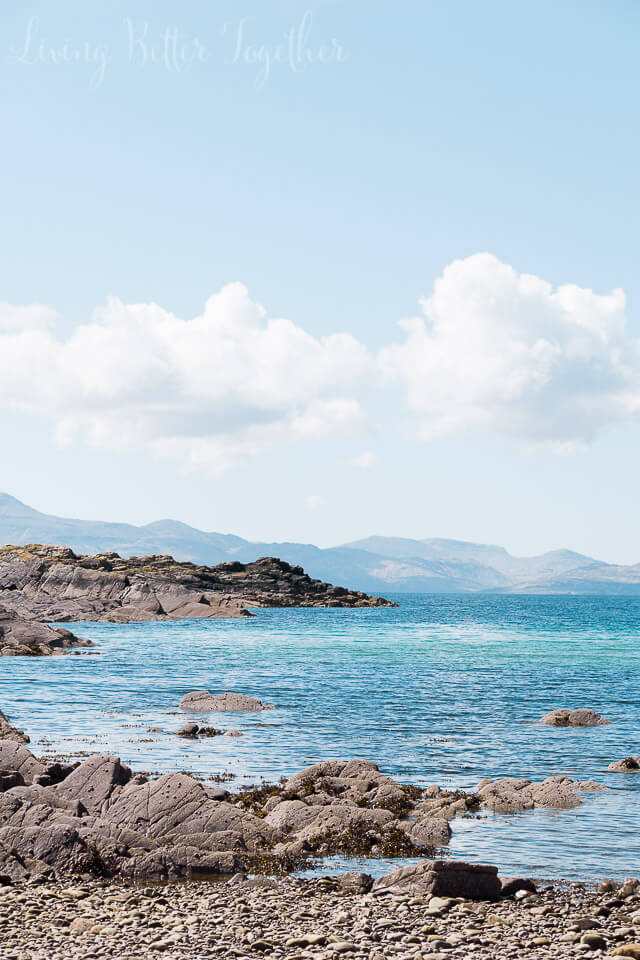 Once we got there though, everything was good.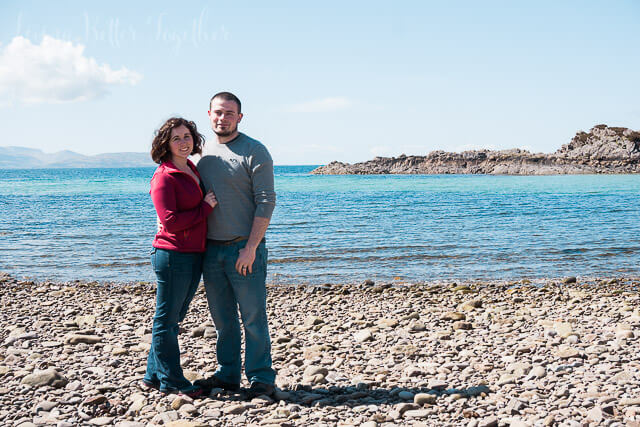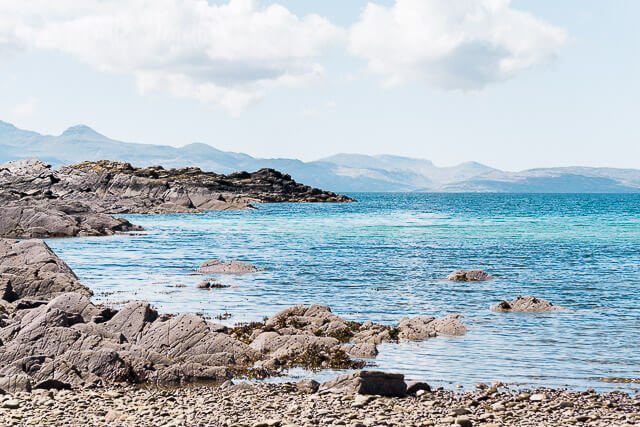 Then it was time for the long haul back. There are sheep and cattle everywhere, they'll even venture with you to the beach. There's also a bull in the area and Matt was a little paranoid when we had to pass by him. He minded his own business though, just be cautious.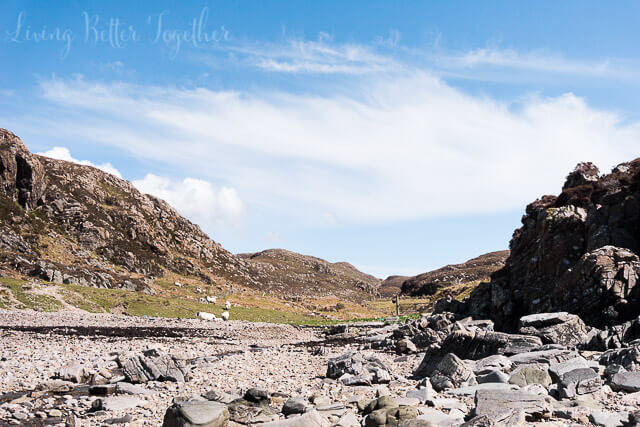 After our hike we checked into our Jedi Hut at the Skyewalker Hostel in Portnalong and then headed to the Fairy Pools! This was on my 25 Bucket List and I was really excited to check it off!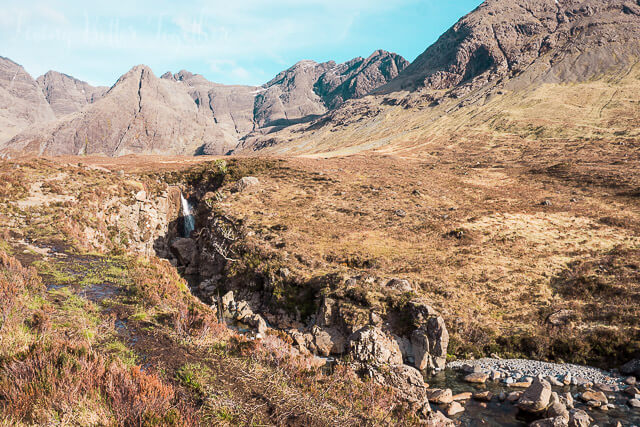 This was really close to the hostel, about a 15-minute drive to Glenbrittle and then a 20-minute hike out to the pools. It's an easy walk, not much of an incline, but I'd still recommend hiking boots or at least sneakers.
There are a lot of breaks in the path where you have to jump from rock to rock over streams. Okay, a normal size person can just step across, but I've got short little legs!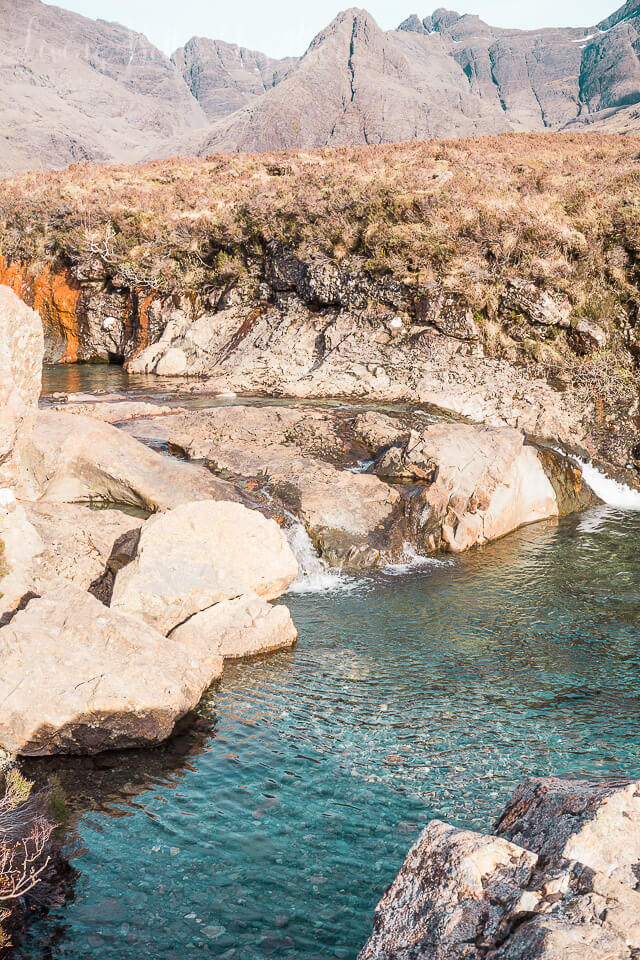 The blue and aqua of the pools were stunning and it was such a cool place. I kind of wish I had brought my bathing suit, though I dipped my feet in and it was ICE COLD! The pools sit at the bottom of the Black Cuillin Mountains <— aren't they pretty?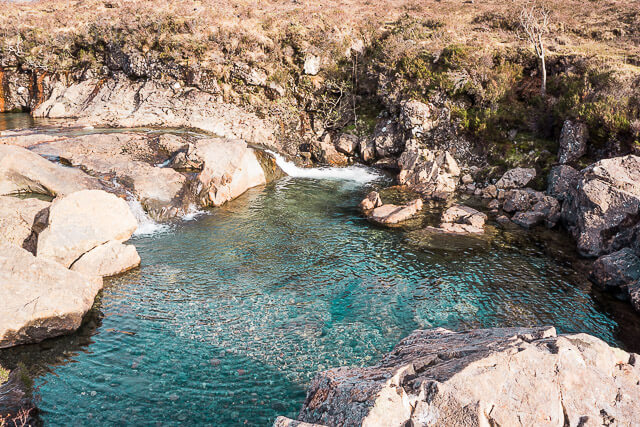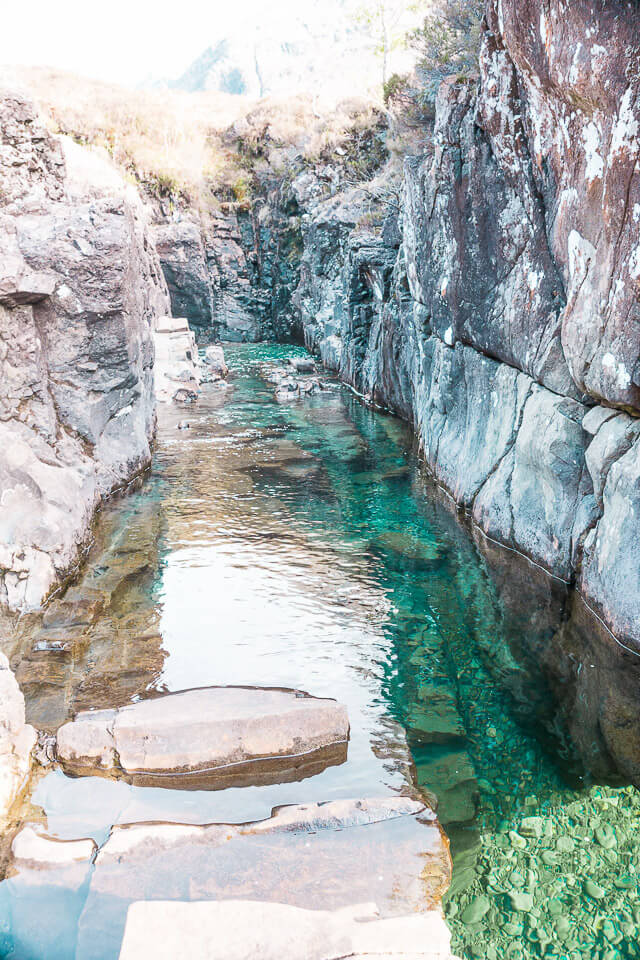 Then it was off to Talisker Bay to watch the sunset, another 10-15 minute drive to Talisker.
Can we talk about the towns on Skye for a minute, most of them seem to be made up of about 5 houses and lots of farmland, so don't make plans to gas up when you get there, plan to do those things on the main road.
You should also expect that your GPS won't identify these small towns, so grab an old-fashioned map.
I should also mention that most of Skye is made up of one lane roads (for both directions) with passing zones. It's super hilly so you'll want to drive really cautiously to avoid a head-on collision!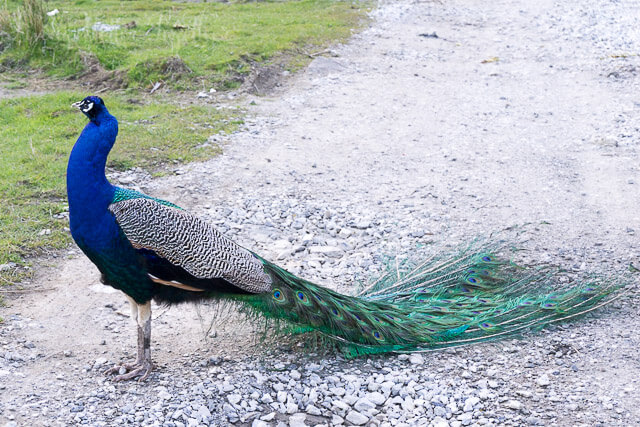 We even met a few of the friendly peacocks too!
Talisker is a pretty easy hike, about 25 to 30 minutes each way through fields of sheep who are no doubt plotting their attack on you. Seriously though, they were up to something.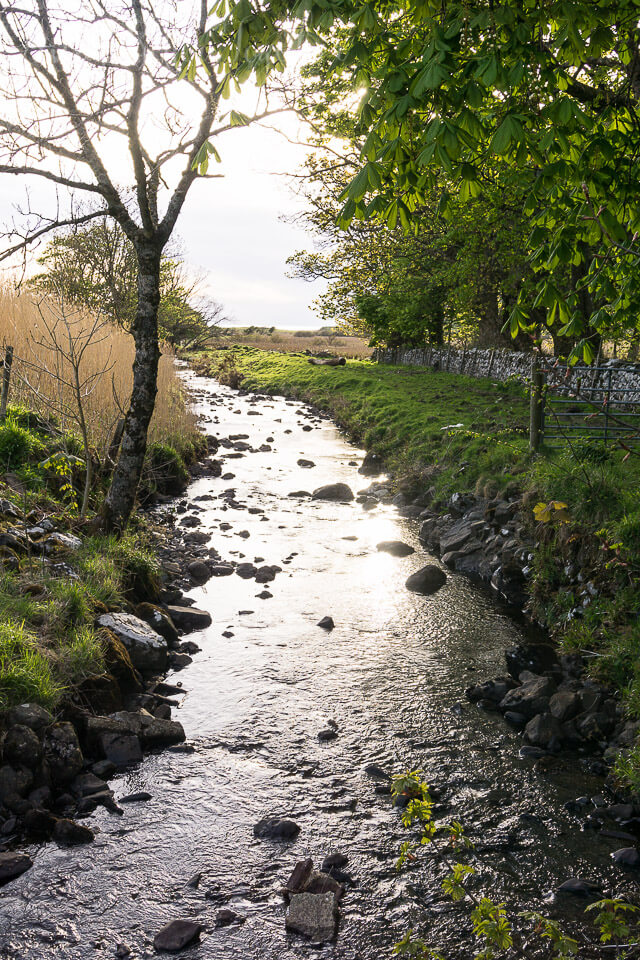 Here's one of my favorite on-the-go photography tips.
I took my old flimsy tripod to Scotland since my new one weighed 5 lbs and I was only allowed 15 lbs total on the plane, but I didn't trust it with the wind.
Plus, one less thing to carry!
I set my camera on a rock wall with a timer to grab this shot, sometimes you just got to let nature do the job for you!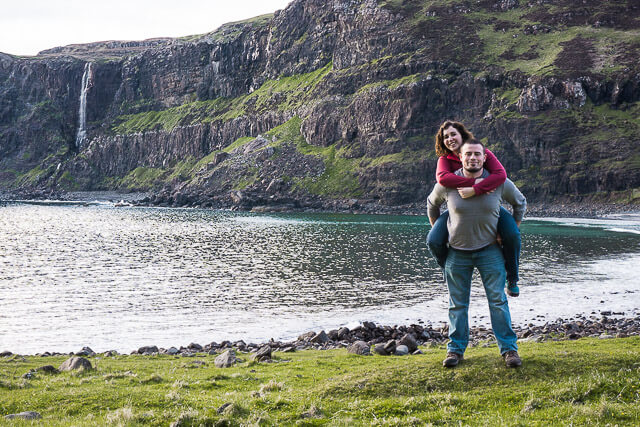 Talisker Bay was just gorgeous! It was like being in Tolkien's world, everything is so large and grand and beautiful. There's a free-falling waterfall in the cliffs over the bay and the sand is a mix of white and black.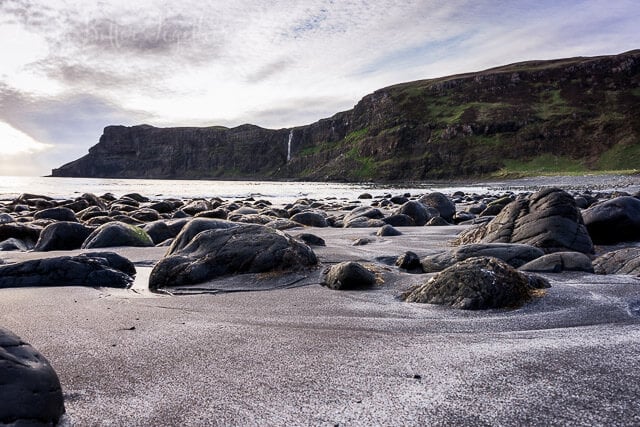 We actually didn't eat much while we were in Skye. We had a package of shortbread cookies and a bag of Kettle Sea Salt & Balsamic Vinegar Chips.
Speaking of those chips, they're insanely addictive and I wanted to cry when I left two full bags behind before boarding for Ireland. That flavor isn't available in the US and I'm pretty sure I could have lived off of them! SO GOOD! Best chips EVER! I miss them, can you tell?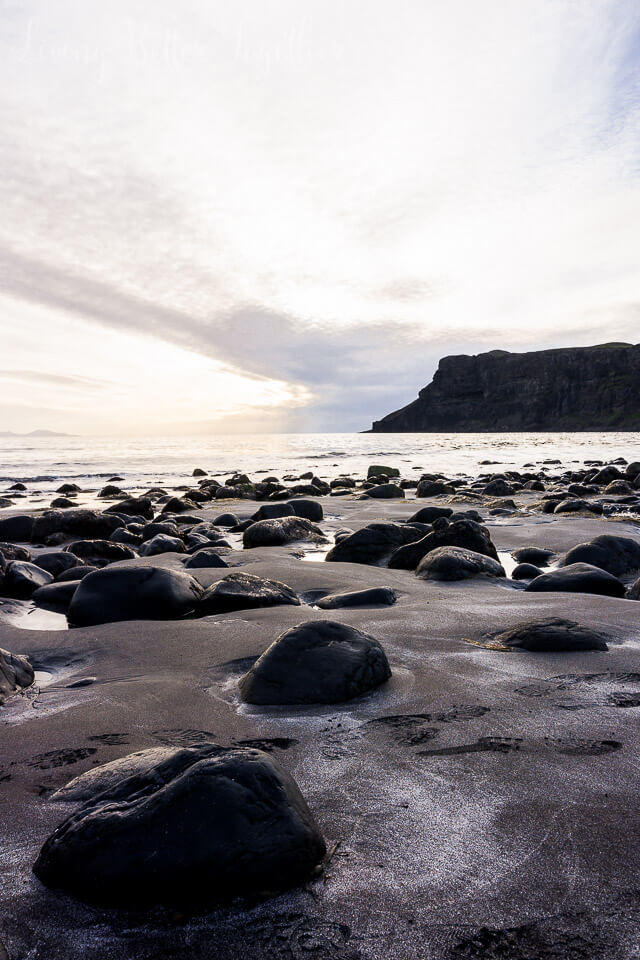 We would have eaten, but everyone stopped serving around 9 or 10 and we were still watching the sunset at that point. Have I mentioned that yet?
The sun didn't fully go down until around 10:30 or so while we were there. It was hard to get used to at first, but kind of cool to be hiking so late in the day.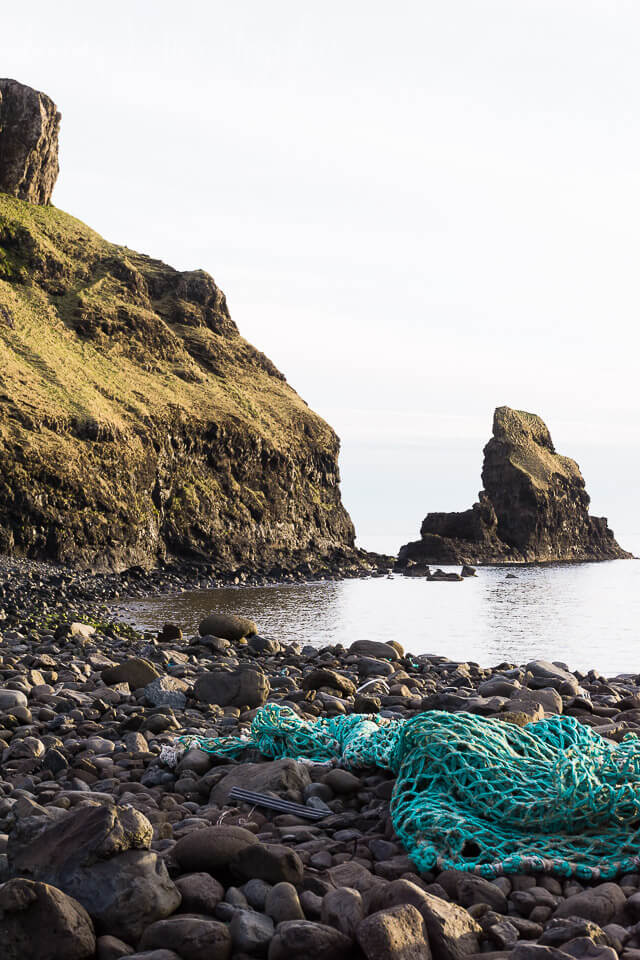 I'm so glad we made the decision to head to Skye early since the next day ended up being rainy and miserable and the day we had was absolutely gorgeous! I mean, you just can't pass up a view like this!
I would have loved to see a few other places on Skye, but the weather didn't really allow for it. But I went back in 2017 and you can read about that trip to the Isle of Skye too!
We would have spent some time in Portree, but it was Sunday and pretty much everything was closed, we had to wait until 10:00 am for the petrol station to open so we could make it to Oban. Read about the next leg of our Scottish journey!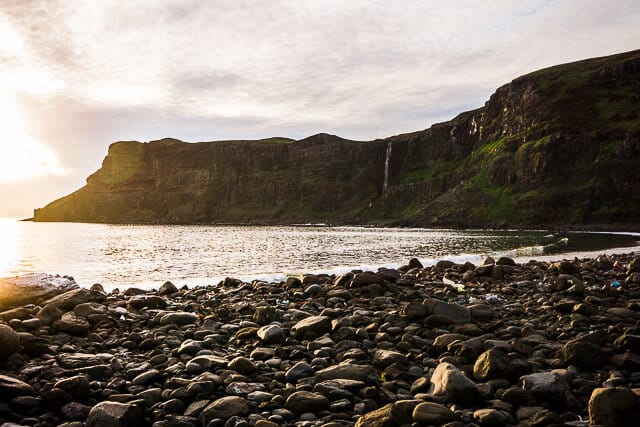 Read more about our trip to Scotland: