What to see, do, and eat in Edinburgh, Scotland!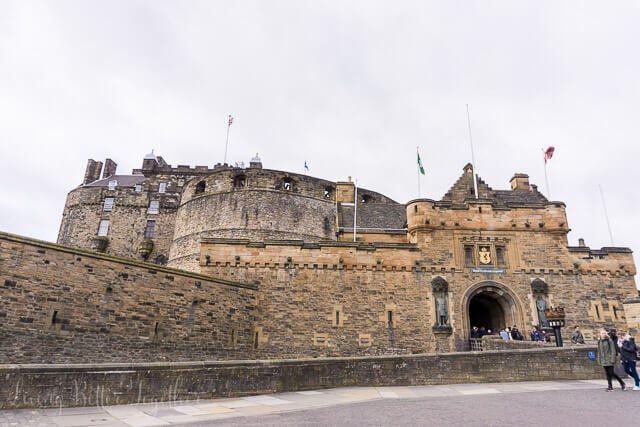 I can't believe we're finally on the last leg of our trip to Scotland, and it only seems fitting that we end it in the capital, Edinburgh. We left Dunblane early in the morning to head to Edinburgh, making it there around 10 am.
After parking the car in the Princes Street NCP Parking Garage, we stopped into our hotel, The Premier Inn to ask some questions and grab a map of the city. We couldn't check in until noontime, so it was time for some food.
Of course, being the geeks that we are, The Elephant House was our first stop. In case you don't recognize this place, it's the birthplace of Harry Potter so to speak. J. K. Rowling wrote the majority of the first few books in the series here.
Be prepared to share a table as it can get rather packed. We lucked out and had a table to ourselves. I got Scottish pancakes, bacon, and a slice of earl grey cake (so good)! Matt got a chorizo panini that was on special and quite delicious as well!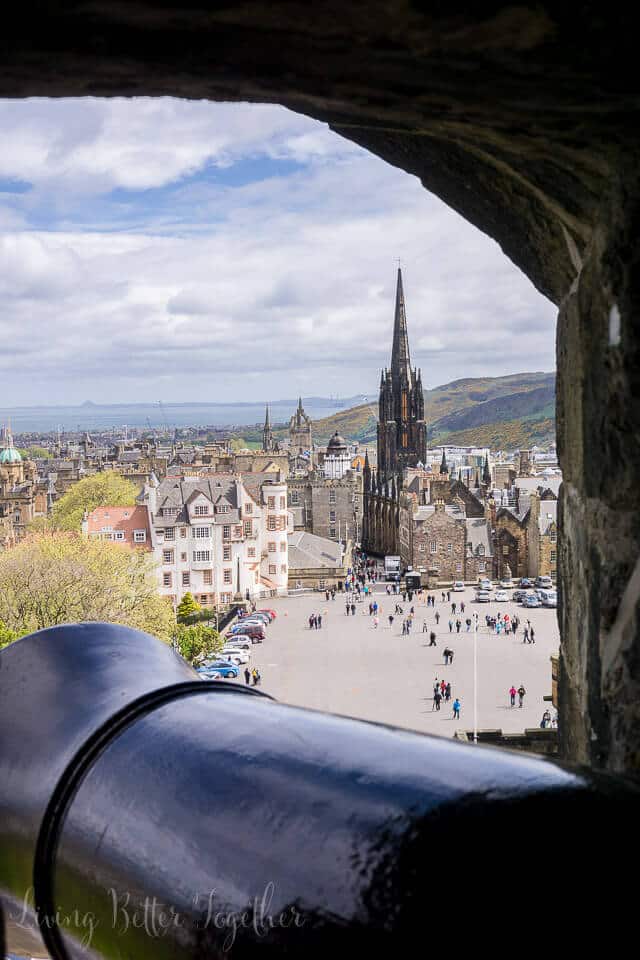 The Elephant House if right off the Royal Mile, but we decided to stroll through the Princes Street Gardens back to the car to grab our stuff and check in before hitting up Edinburgh Castle. The gardens were beautiful in mid-May and I bet the only become more so as the summer continues.
We really enjoyed our stay at the Premier Inn on Princes Street, it was the perfect location and it was so nice to just be right there in the middle of everything. The rates were reasonable and the service was great! They also validate the car park parking for you, so bring your token in with you! After checking in, we were off again for more exploring!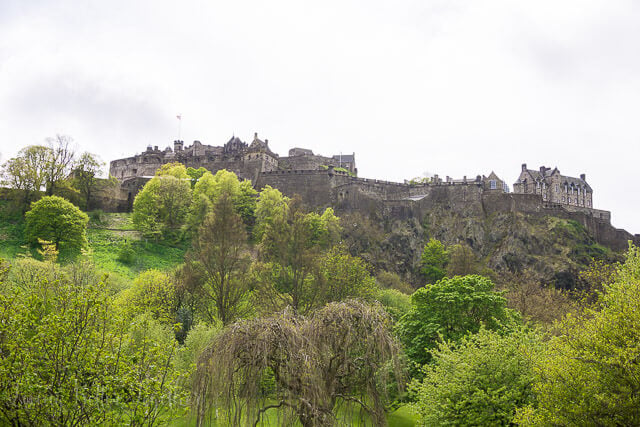 Edinburgh Castle was on our Explorer Pass that I mentioned in my first post, so we'd already paid for our entry fee. I really liked Edinburgh Castle, but we didn't do the audio guide or the guided tour and I'm pretty sure we got turned around and didn't see all of it. It was kept up nice and there were displays to help tell the stories of the past, but it wasn't as "Disneyfied" as Stirling.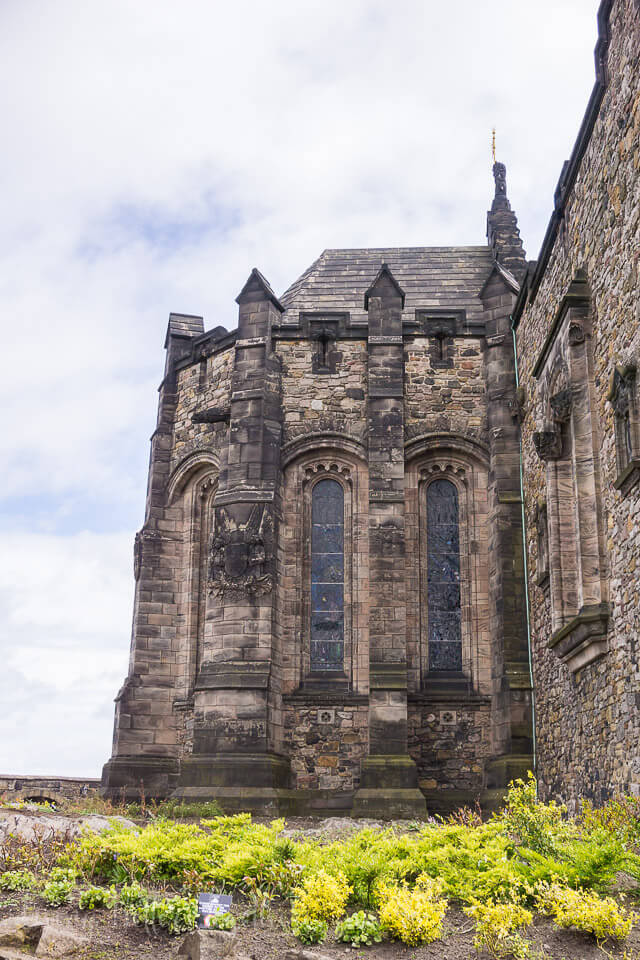 We did catch the 1 o'clock cannon from the castle and caught it the next day on Princes Street, it was neat to watch from both sides. We took a short stroll down the upper half of the Royal Mile, which most people say is a must, but I really didn't see the appeal.
It's a lot of touristy souvenir shops and restaurants. We walked to St. Giles Cathedral, which was also on our Explorer Pass, but if I remember correctly, it's free with Photography fee if you want to take pictures. I actually didn't take pictures inside, but I wish I had because the ceiling is gorgeous! Definitely worth the stop in you're in the city.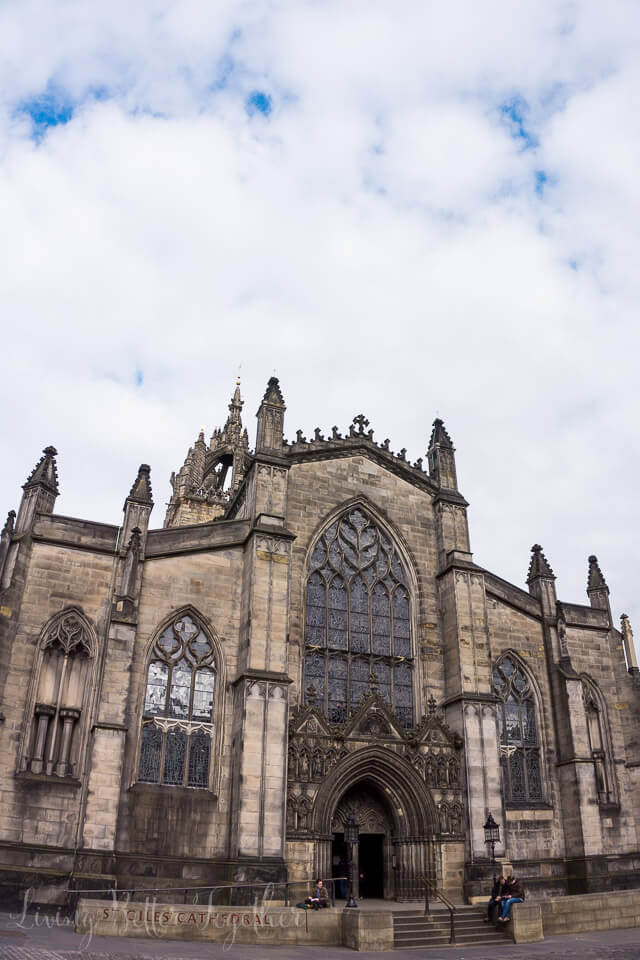 That night we decided to buy some last minute tickets to The Stand, a comedy bar just a few blocks from our hotel. Tickets are just $5.00 each and you can buy them right online and pick them up at the door. Get there early if you want a seat and don't sit in the front row unless you want to get picked on for jokes.
That night we had dinner at The Huxley at the recommendation of a friend. This place doesn't disappoint! The food is great, super reasonably priced, and the atmosphere is very casual but very nice. The best part is it was pretty much right outside our hotel!
We got the Frickles for our app (deep fried pickles & sweet guindilla chili, tempura batter, sriracha dip – £4) They were AMAZING, I seriously want a basket of them right this very minute!
Matt got the best thing of the night though, The Piggy (pulled pork, maple glazed bacon, pork scratching crumbs – £9.50) Guys, this thing was so good (and probably so bad for me), Matt only gave me one bite, but I'll savor the moment forever. Drizzle the dipping sauce over your fries and forget the ketchup!
I got the Vietnamese Dog (crispy pork belly, pickled carrot, and daikon, cucumber, sriracha mayo – £8), it was good, but not as good as Matt's. I got the Tempest Cocktail too (Beefeater gin, Aperol and fresh citrus mixed with sweet and tangy blood orange – £6.50), it was delicious and I'm definitely going to try and make a version at home for the blog soon!
For some reason, we didn't get dessert and I'm kicking myself for it now because I can only imagine how delicious it would have been!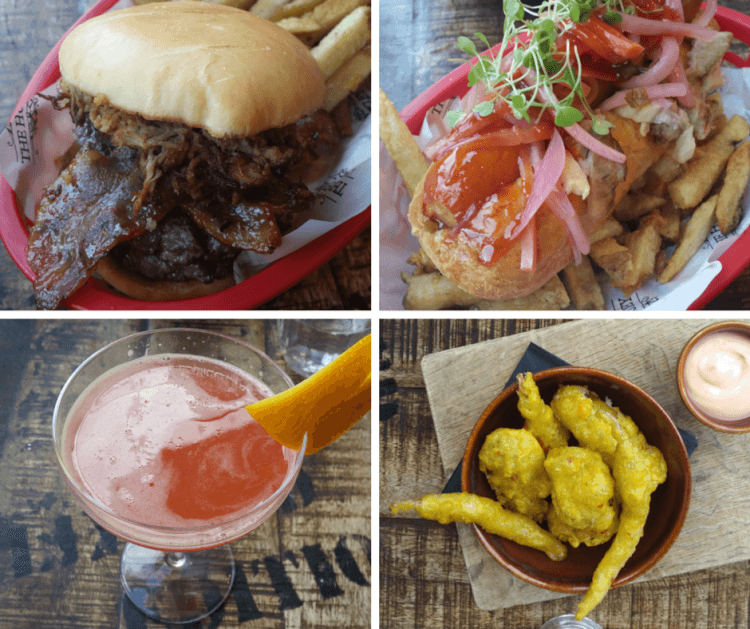 The next morning we walked to Leith, which was about a 2 1/2 mile walk each way. I had rolled my ankle the day before and this trip did it in, it still isn't the same.
We went to Leith because of the promise of how cute it was and the promise of how good Mimi's Bakery was, neither were that impressive.
We weren't interested in The Royal Yacht Brittannia, so it was a very long and tiring trip that really felt like a waste of time. That's just my personal opinion though, I know other who have loved Leith!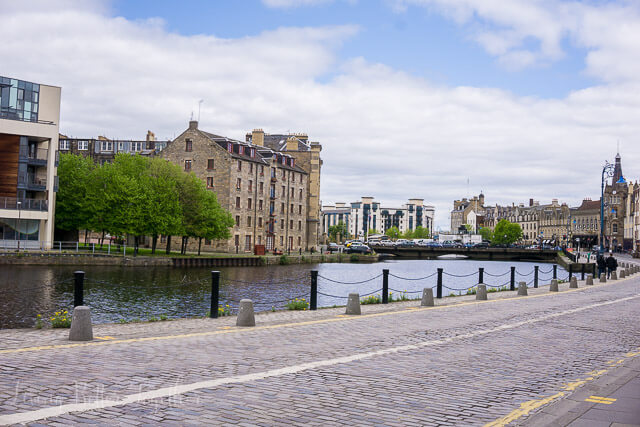 After that walk pretty much did me in, we headed back to the hotel for some rest before dinner. We did grab some Cookies at Ben's Cookies right on Princes Street, they're nice and warm and oh so good! Get the coconut, you won't be sorry!
After resting up, we decided to wander a little around the old town and we had to get dessert before dinner at Mary's Milk Bar, if you're in Edinburgh, you NEED to go here! I got Earl Grey and the Milk Gelato – SO GOOD!
Next we were off to dinner at Aizle. Let's just say we felt like we were tricked with this place. It was not what reviews made it out to be and we go stuck eating a lot of seafood for a very pretty penny. Basically there's a menu, and you don't get to pick or choose, it is what it is caviar, seaweed chips, scallop roe and all.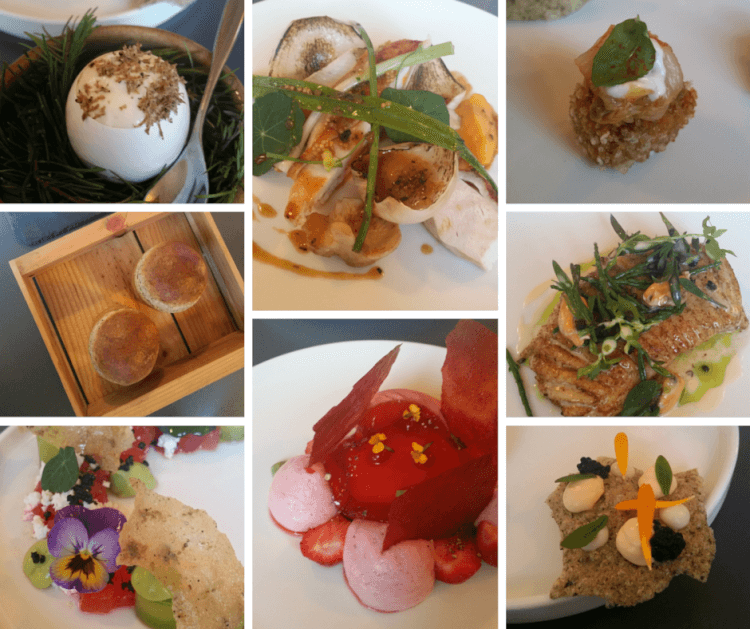 Although I consider myself a foodie and I love trying new things, neither Matt or I thought this was all that great. We had planned to hit up some of the nightlife in the city, but with my foot in a lot of pain and me refusing to skip the sunrise hike up Arthur's Seat the next morning, it was bed and ice for this girl.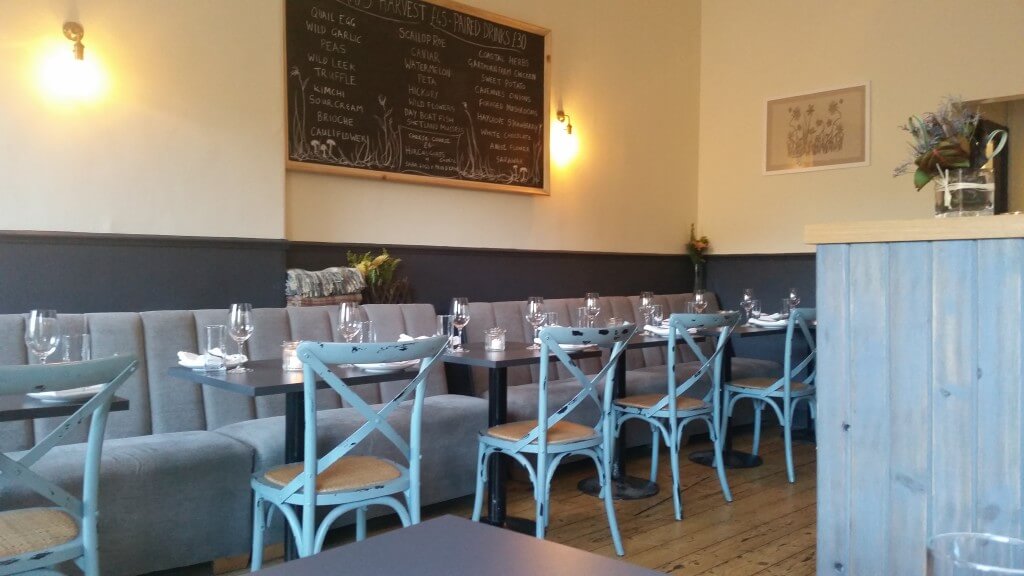 Arthur's Seat is a dormant volcano in the middle of the city. It's not a hard hike and it doesn't take that long to do. We had a taxi pick us up at the hotel around 3:30 am and drop us at the bottom near Dunsapie Loch. You can also hike up from behind Hollyrood Palace.
We walked on the sidewalk up the paved road that goes up about half of the hill, there's a car park and a little pond off to the right where the road ends and from there you'll turn left onto the grass and begin actually hiking your way up Arthur's Seat.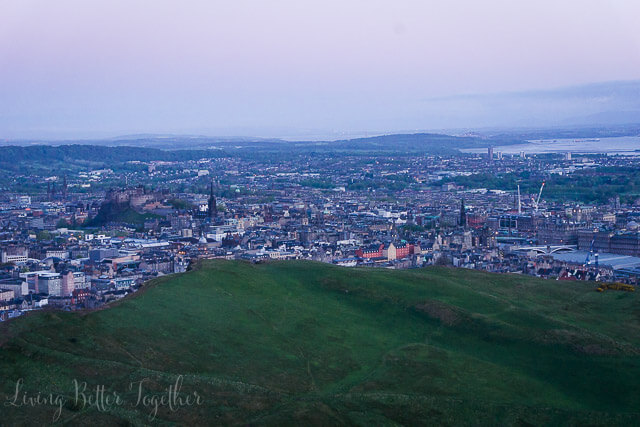 It's a fairly easy climb, but if you're hiking up for the sunrise, be aware that the smooth volcanic stones can easily become slippery with the morning dew. Once at the top, we waited for the sun to peek out over the ocean, thought it was a bit overcast and we didn't quite get the view we were hoping for, it was still beautiful.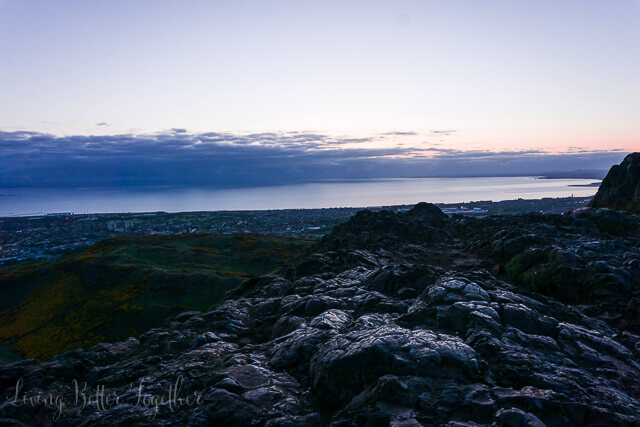 It's a bit cold and windy up there at that time of day, so make sure to dress accordingly. We sat huddled together and watched the sunrise over the city on our last morning in Scotland. It was a beautiful send off to such an amazing trip. There were only a few other people up there and it was nice to be able to sit in the quiet and reflect on our lives and this beautiful world we live in.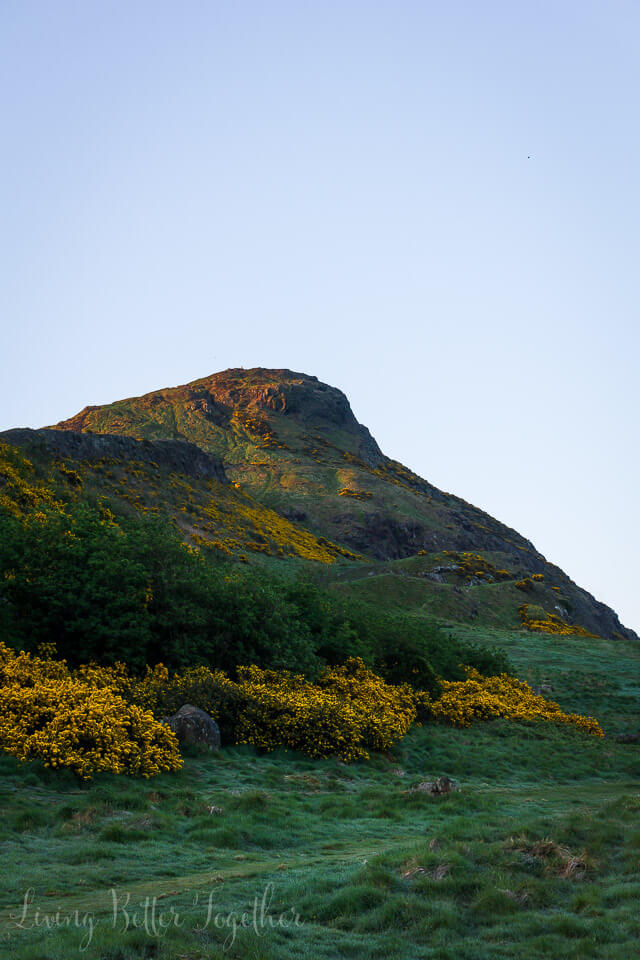 We decided to walk back via the Holyrood side. There's also a well-preserved fort and St. Anthony's Chapel (pictured below) on that side that you can check out on your trip up or down.
We came down off Arthur's Seat just behind Holyrood Palace and walked around it back to the Royal Mile. Holyrood was closed while we were there, so we missed out on it and the botanical gardens.
The Royal Mile is actually given its name because it stretched between Edinburgh Castle and Holyrood Palace; it's actually just a little more than a mile.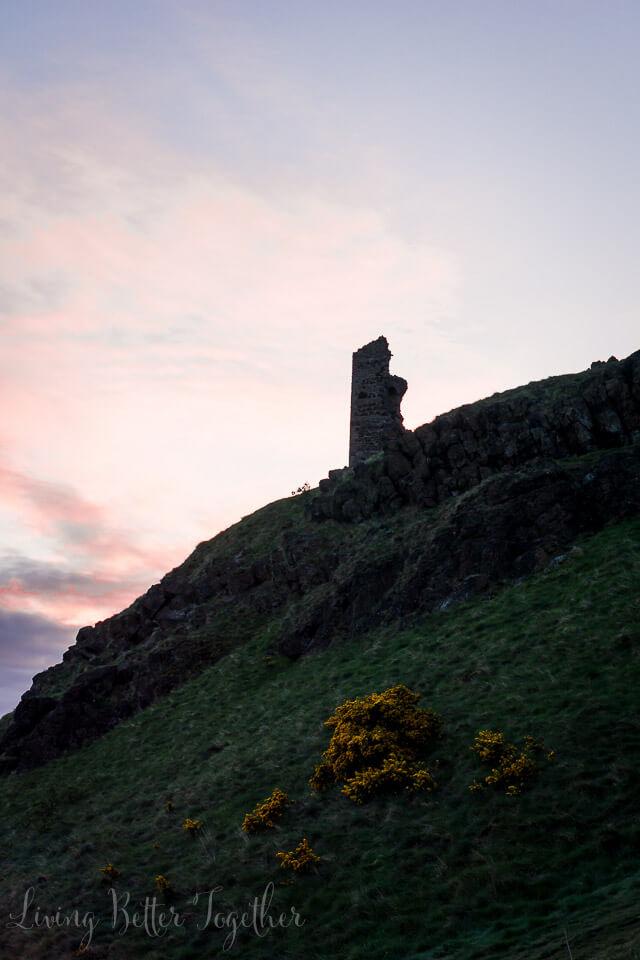 The sunset was even grander by the time we got back down, this is right behind Holyrood Palace.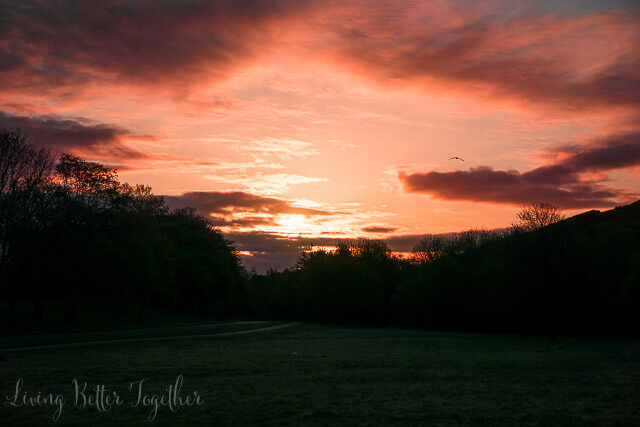 So, remember how I said I wasn't all that impressed with The Royal Mile, well, it was still pretty cool to walk up at 6:00 am with hardly a soul around. I think without all the people I was able to get more of an appreciation for the buildings and the beauty of the little stretch.
Next, it was time for breakfast at The Huxley, Matt got the Eggs Benedict and I got the Blueberry French Toast. Breakfast isn't as good as dinner, but it was still cheap and hit the spot.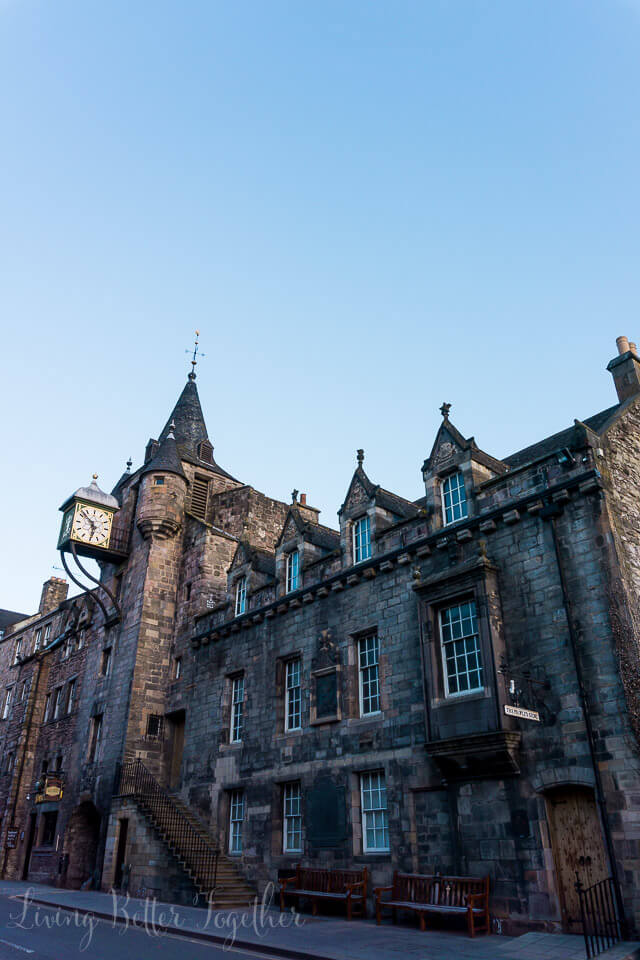 A few restaurants I wanted to get to while we were there but didn't get a chance were Wannaburger, Beer & Skittles, and Under the Stairs. Next time!
Whelp, this is it! This wraps up our road trip through Scotland, though I will be posting a separate post on tips for visiting this gorgeous country! I think that no matter where I travel in this world, Scotland will always hold a special place in my heart.
For its beauty, it's history, for its hospitality. It was my first overseas trip and I am so thankful it was such an amazing one. Now excuse me while I go resist the urge to buy a one-way ticket from Boston to Inverness tonight.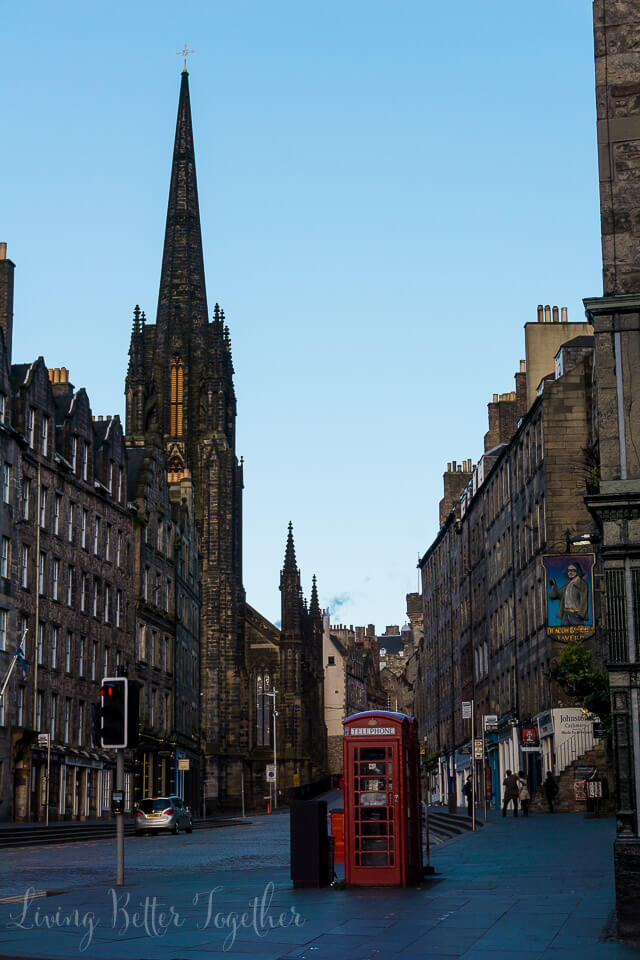 Read more about our road trip through Scotland: