The Sky Princess is the newest ship in the Princess Cruises fleet and it is by far the most luxurious and exciting for families, couples, and even girl's trips!
This state of the art Royal Class ship was built from the ground up with MedallionClass™ technology which makes it one of the most tech-forward vessels at sea!
If you're thinking about booking a cruise, here are 11 reasons you should book it on the Sky Princess!
In October 2019 I had the pleasure of sailing on the Inaugural cruise of the Sky Princess. I'm proud to be a Princess Cruises Ambassador and share my experiences and inspired recipes with all of you. All opinions are my own.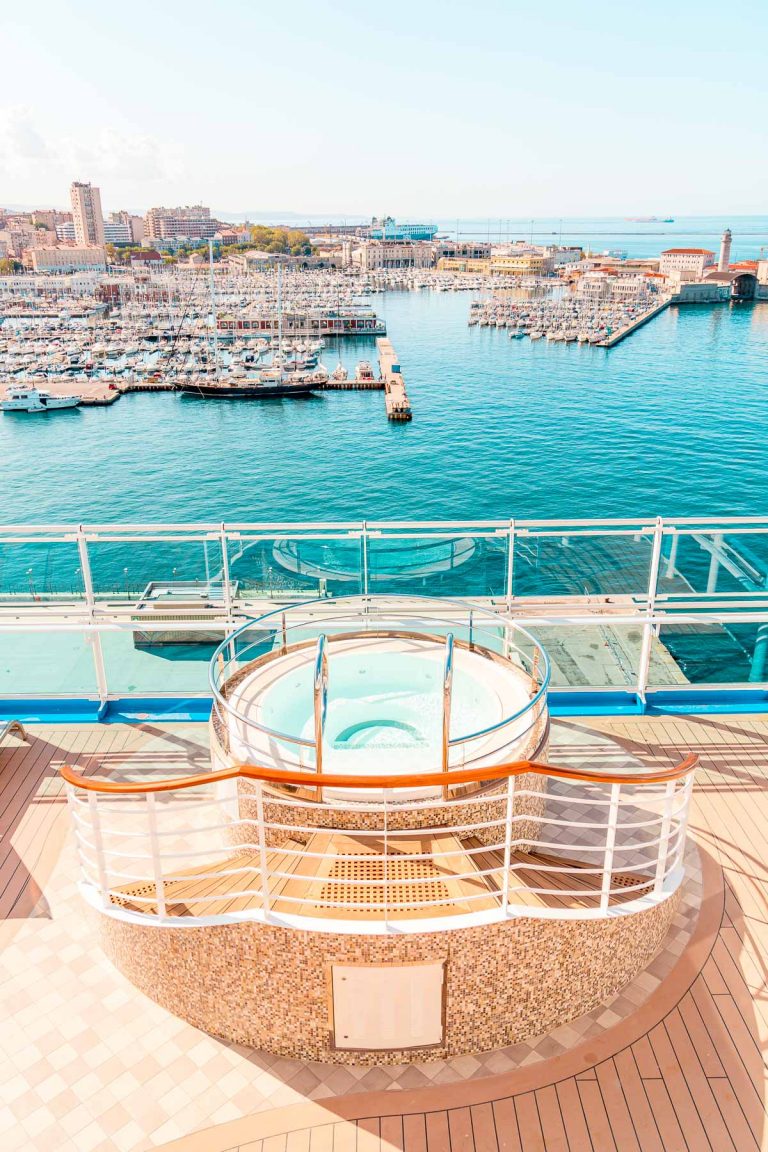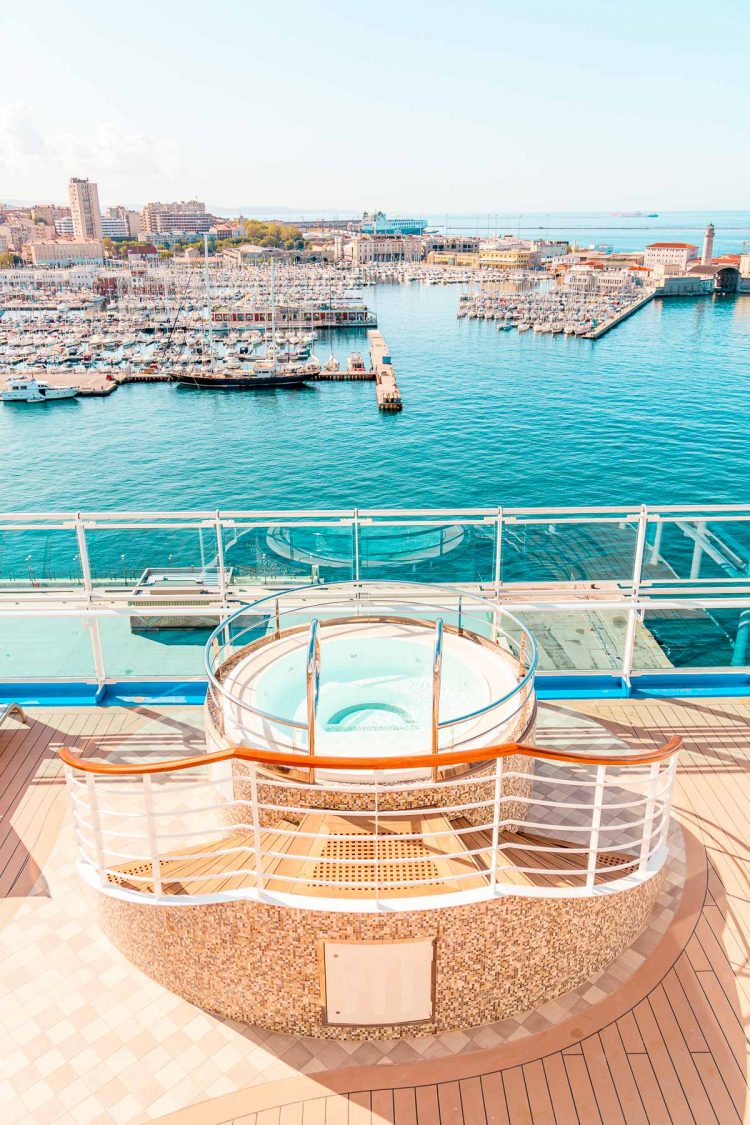 1. OceanMedallion At Its Best!
This was my third Princess Cruise and my second time sailing on a MedallionClass ship! And let me tell you, each one just gets better and better. The technological advances are incredible and there are many more to come!
You might think more technology means you're more distracted, but I found that to be the opposite. You can continue reading your book by the pool and order food and drinks right from your OceanNow phone app to be delivered to you.
Having fast internet means I can check emails quickly and easily touch base back home to see how my daughter is doing. On my first cruise, the internet was so slow and intermittent, checking email took forever!
This technology also allows you to easily find your shipmates with OceanCompass so you don't spend hours circling each other on the ship! Especially great when you're traveling with kids!
Your wearable OceanMedallion™ also acts as your room key, passport, and payment while aboard the ship!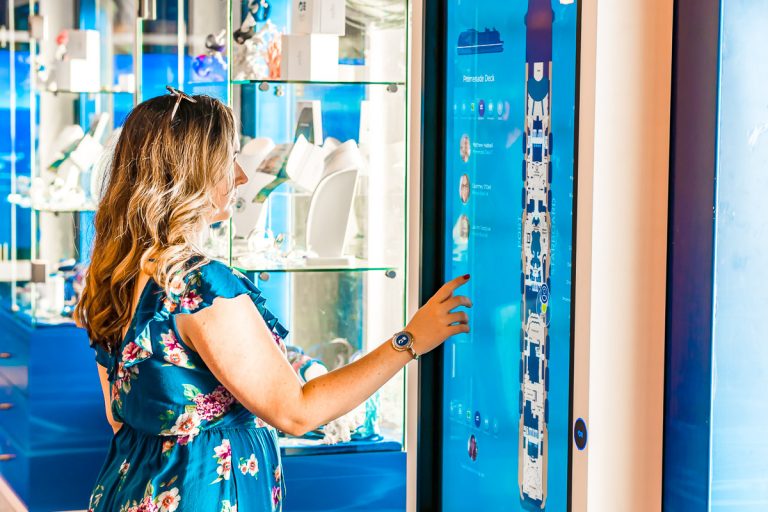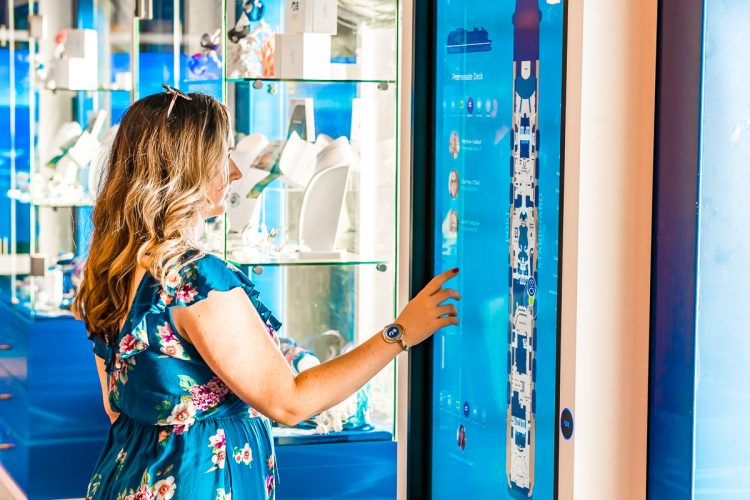 2. Best Pizza At Sea!
Yeah, okay, so Slice! Pizzaria is on every Princess ship and it REALLY good pizza! But Sky has taken things a step further and you can now find items like focaccia pizza and California toast on the menu! Slice is perfect for the pool go-ers and room service lovers!
Plus, this ship also features the specialty restaurant, Alfredo's Pizzaria. This is a casual eatery located in the Piazza. Here, you get a sit-down pizza-eating experience with Neapolitan style pizzas and a view of the sea! Alfredo's has quite the menu with everything from traditional Margharita pizza to salads and pasta.
There are tons of other amazing dining options like Crown Grill, Bistro Sur La Mer, and more. But the pizza will always be my favorite!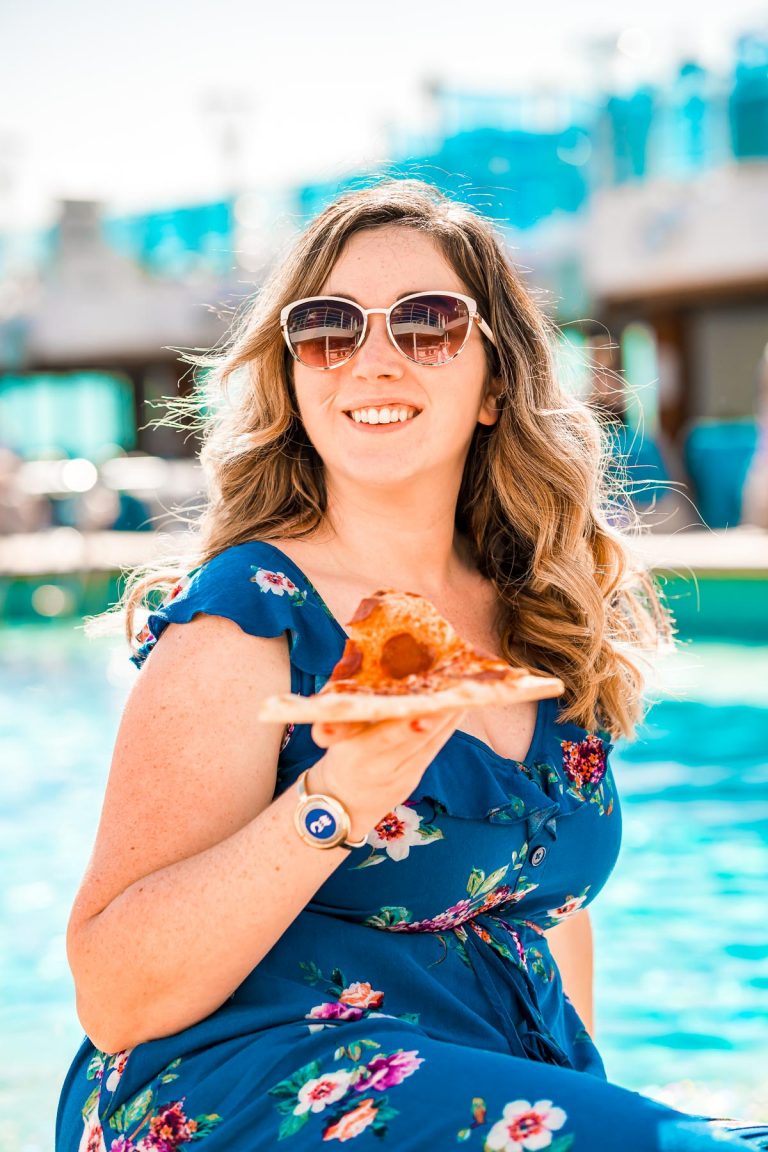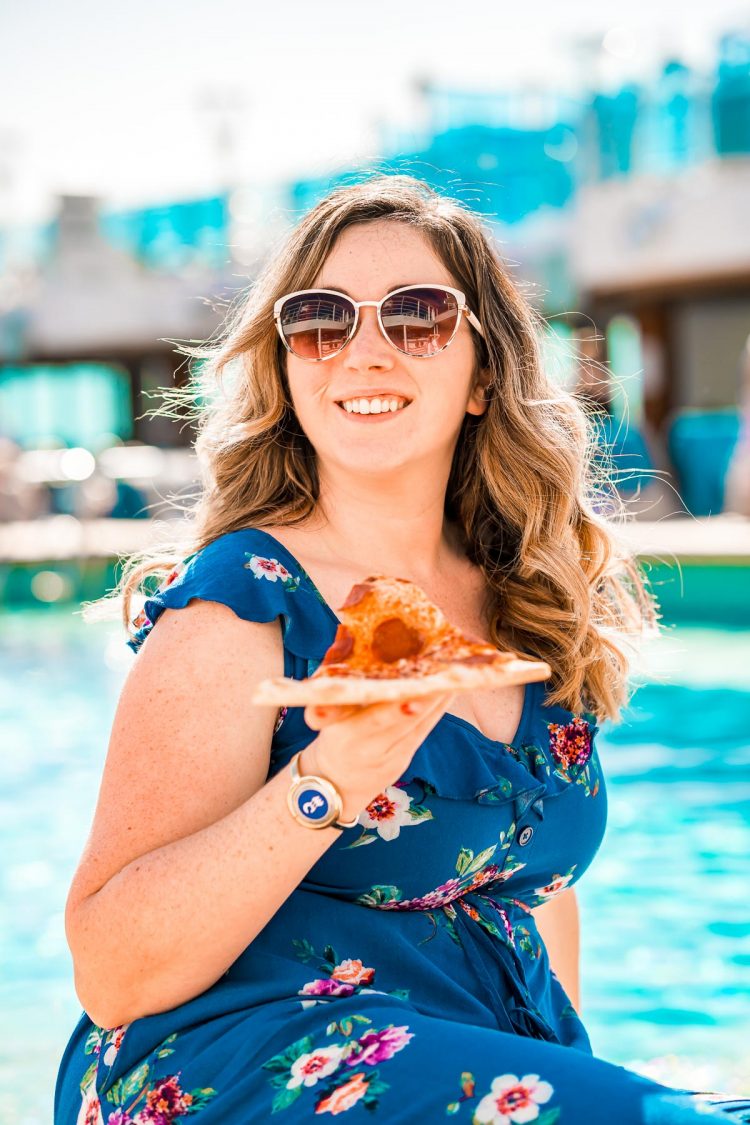 3. More Hot Tubs Than Ever!
If you love hot tubs, this is the only ship you should consider booking a cruise on! The best part is that many of the new hot tubs are along the upper decks so you can take in the views while sailing.
There are still a few by the pools as well if you want to relax in one while watching the big screen or enjoy being in the middle of the action!
You'll also find a hot tub in the adults-only Sanctuary and then there's The Enclave® at Lotus Spa®, a thermal suite – it's a bit of a splurge for both of those, but so worth it!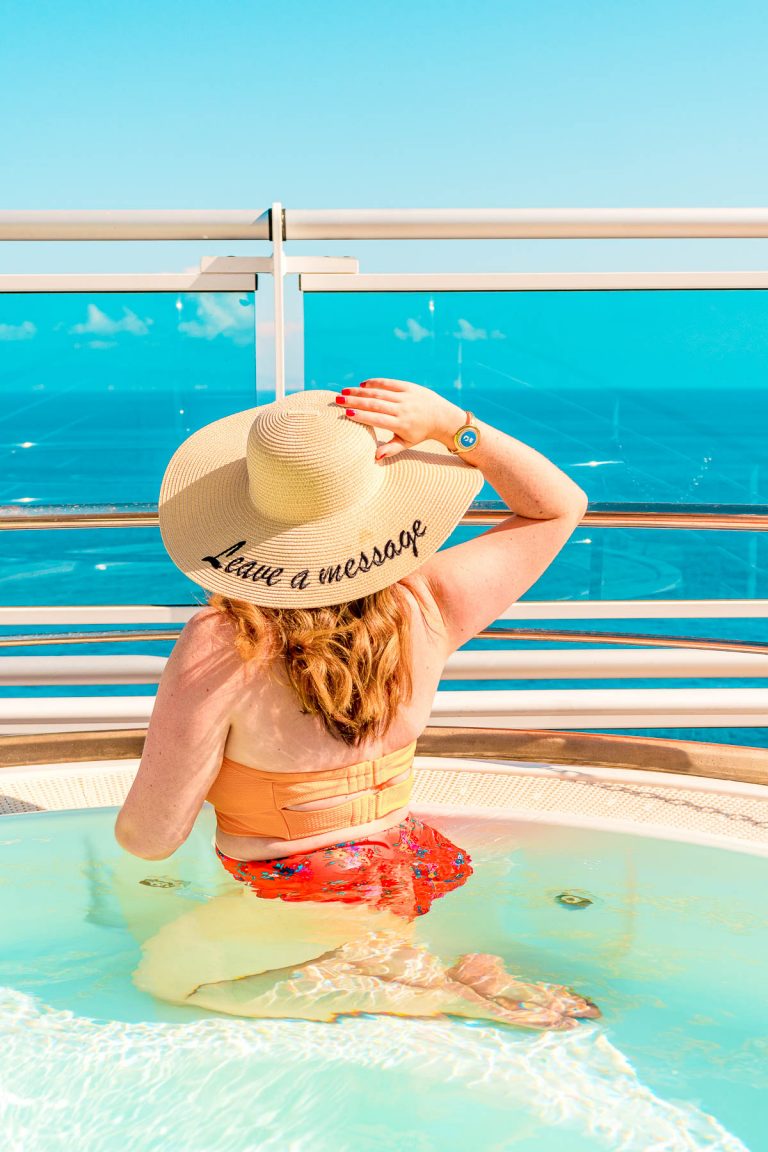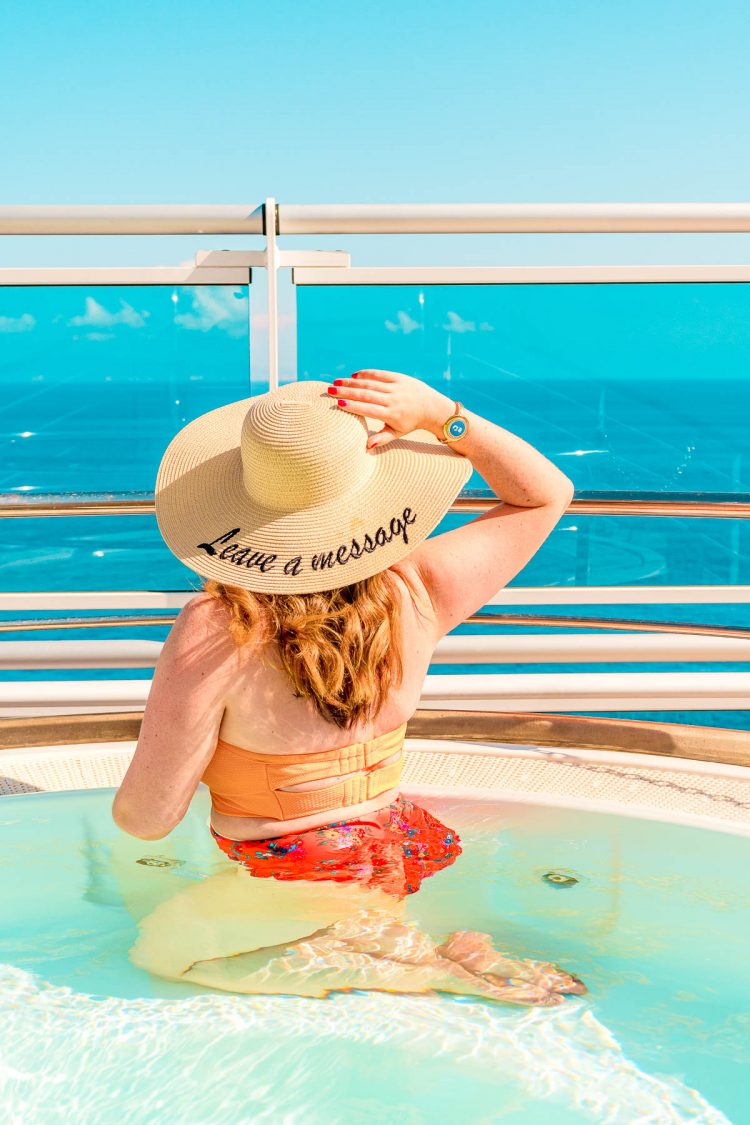 4. A Reimagined Sanctuary!
Speaking of the Sanctuary, it got a serious upgrade on the Sky Princess! This area of the ship has always been a retreat from the hustle and bustle of the rest of the ship. It's quiet and perfect for napping, reading, and quiet conversation.
Plus, they have their own spa-focused menu with smoothies, salads, and more! You can even book a massage here instead of in the Spa. I absolutely love the new design of the Sanctuary, it's much more inviting than other ships.
I love the different furniture options instead of the traditional lounge chairs. And it also features cabanas that you can reserve which feature a TV (not sure how much I dig that part) which looks really nice.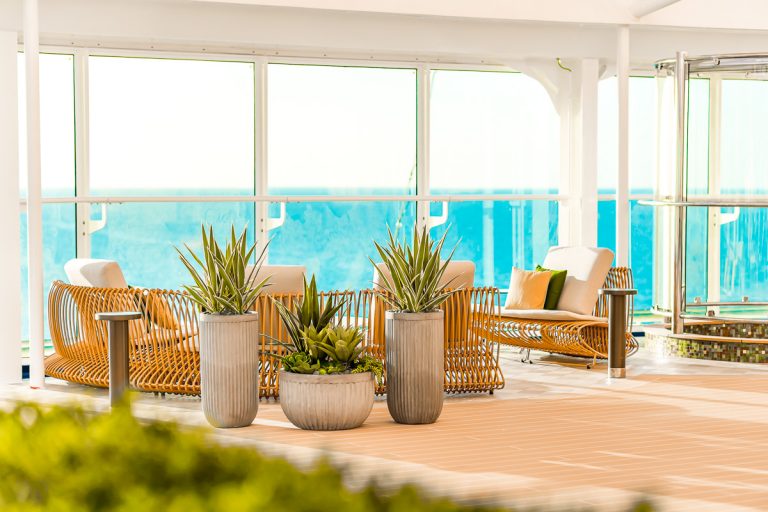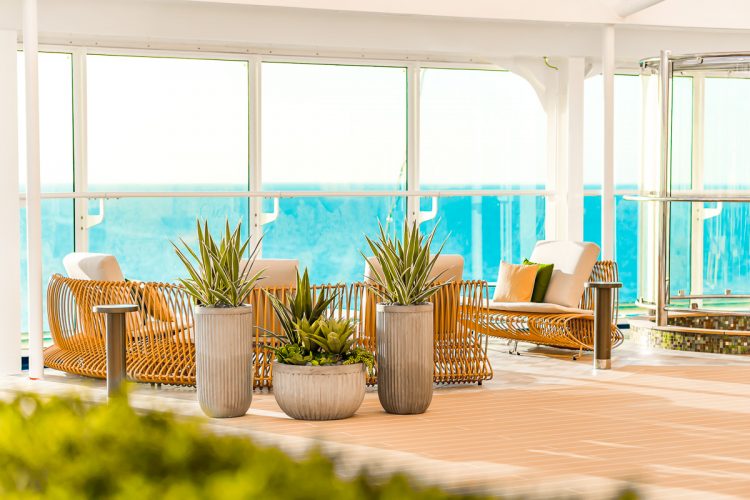 5. New Bars and Specialty Drinks!
For many people, one of the reasons they enjoy cruising is that all-inclusive aspect. When you purchase a Premium Drink Package on the Sky Princess, you now have more than 10 bars to choose from!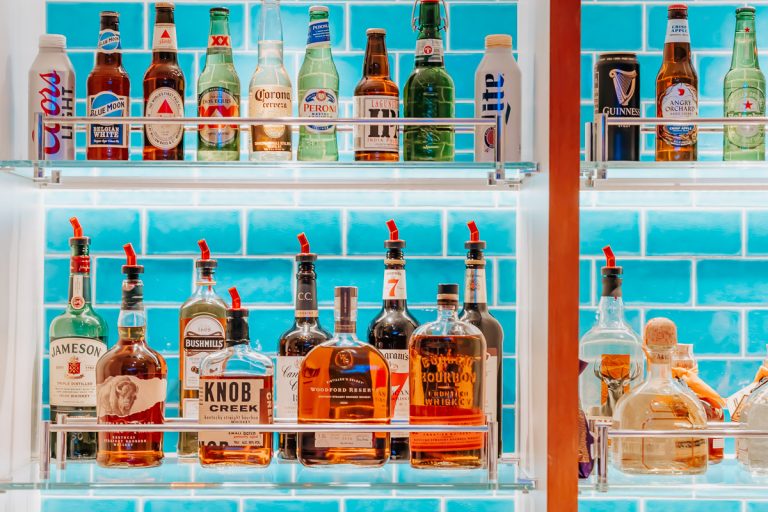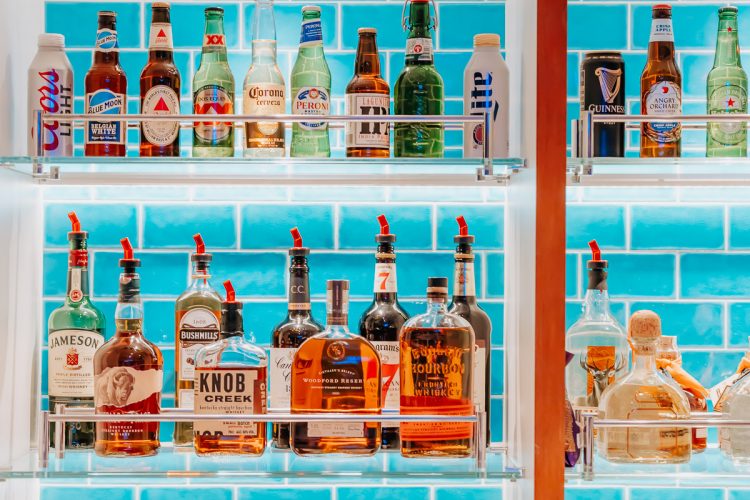 6. Modernized Staterooms!
Not that the rooms on previous Princess ships aren't nice, but these are NICE! The design is actually quite similar, but you'll find cooler tones throughout the rooms and ship!
Corner-mounted TVs that seemed to make the room smaller give way to larger wall-mounted TVs across from the ultra-comfortable beds! Seriously, the mattresses are amazing!
The bathrooms feel slightly bigger and there's *finally* more than one outlet plus some USB plugs! One of my favorite parts of the rooms was that each one features a large canvas print from the Sea To Sky Photo Contest! The corridors also feature winning images from past cruisers who submitted to the contest!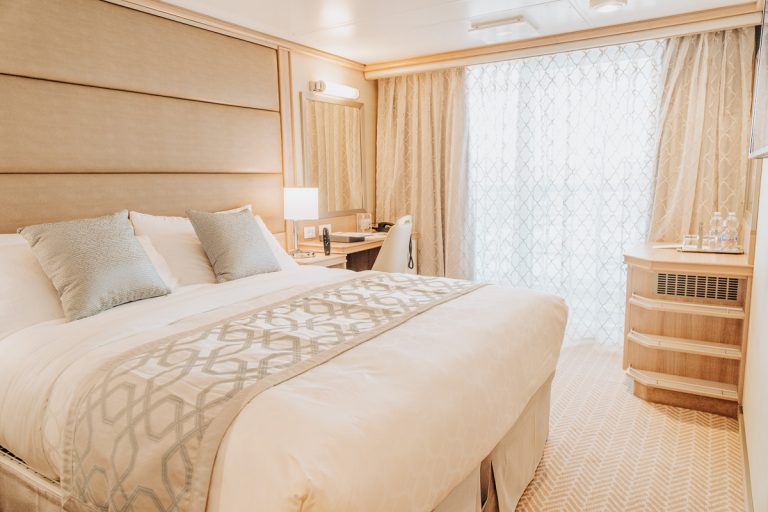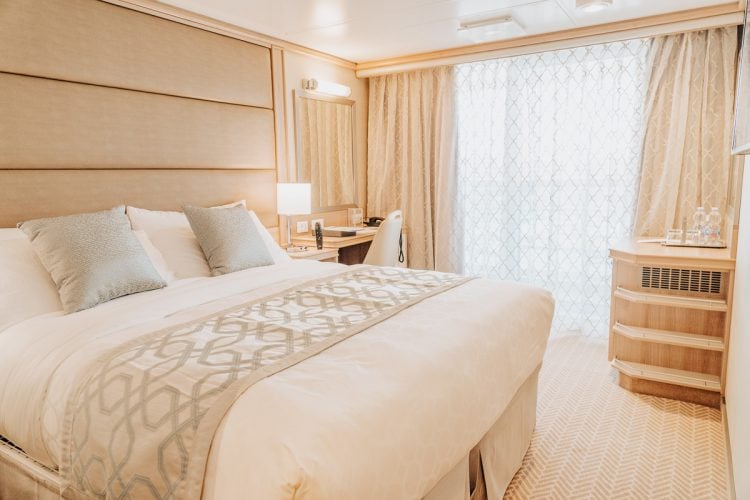 7. Endless Entertainment For Everyone!
The best part about this ship (yeah, there are a lot of best parts) is that there's something for everyone! And there's also nothing if you simply just want to escape to the Retreat Pool and read a book or get a tan!
But if you want to be entertained, you won't be disappointed! The Sky Princess is the first ship to feature Rock Opera, an incredible show that you'll likely go see twice and be singing the songs from the rest of the cruise!
There's also the NEW Phantom Bridge Escape Room, a sports court, Teen Center, Discovery At SEA Programs, Movies Under The Stars, and so much more! And if you're a fan of traditional cruise entertainment like singing, auctions, and the casino, you'll find all of those aboard the ship as well!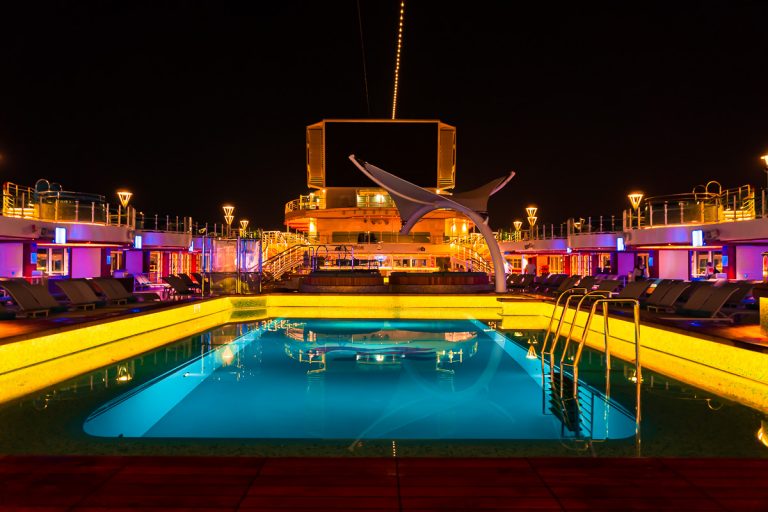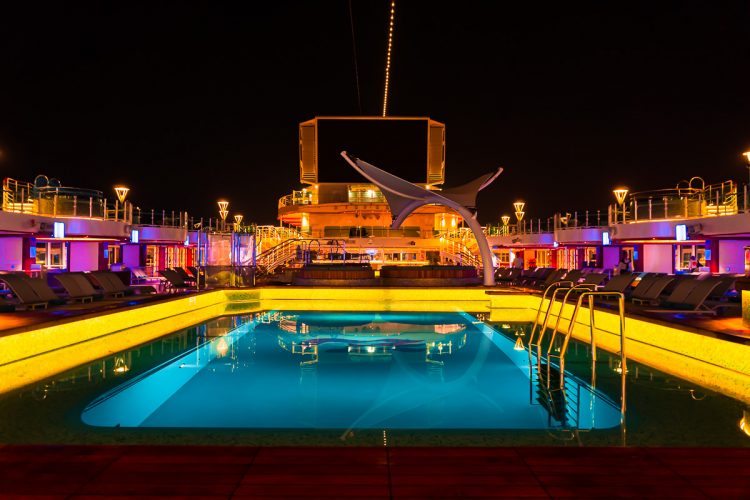 8. The Largest Balcony At Sea!
The Sky Suites are a brand new accommodation experience aboard Princess Cruises! You'll find two 1873 sq. ft. (that's almost as big as my house !) luxury suites featuring two bedrooms, two bathrooms, living room, dining area, and the largest balcony at sea!
The balconies wrap around the suites so you can overlook the Top Deck and watch movies or you can head to the back of the suite balcony where you'll find cozy loungers and gorgeous sea views!
Not to mention you'll have a dedicated steward, master bathtub for soaking, a Nespresso machine, and many other suite perks on and off the ship! These suites sleep five and are perfect for families!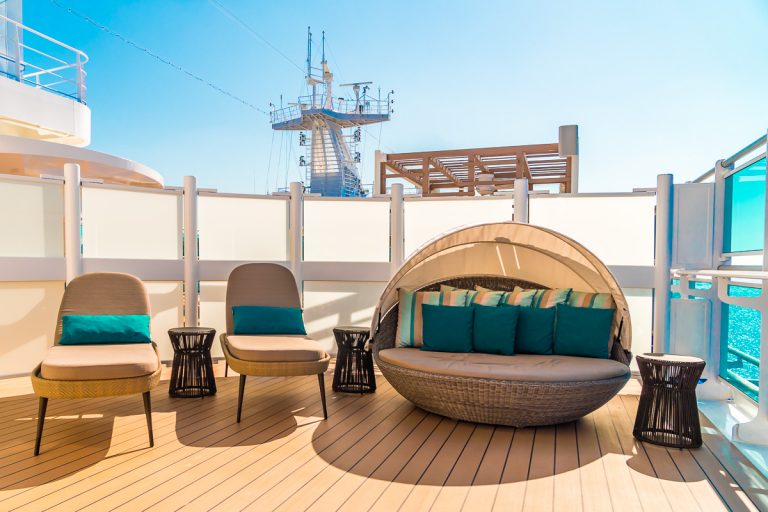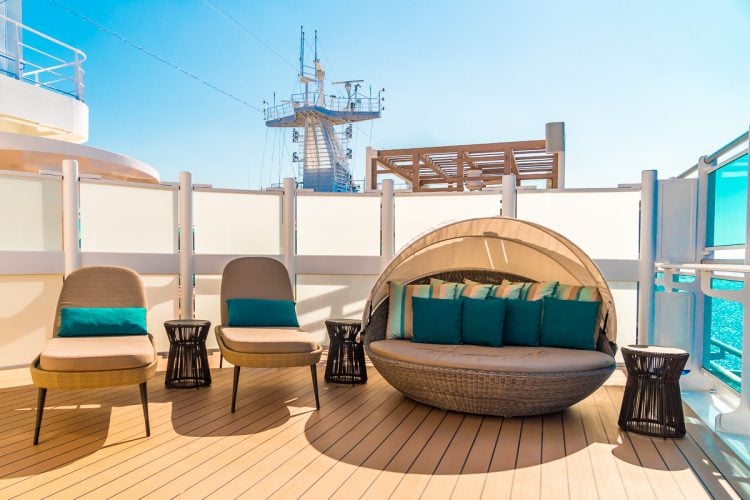 9. Pristine Pools and Lounge Areas!
I've always loved the pools aboard Princess Cruises ships, but the ones on the Sky Princess are stunning! Especially the infinity Wake View pool in the back of the ship!
You'll still find a retreat pool back near the spa. And the two deep-tank pools on the Top Deck are in the same area, now divided by hot tubs and a sunken lounge. I love the different levels of each pool. You can sit on the bench around the pools and just dip your feet in. You can sit on the edge and just get your butt wet. Or you can fully submerge to cool down!
You'll also find a variety of comfortable couches, loungers, and chairs throughout the ship!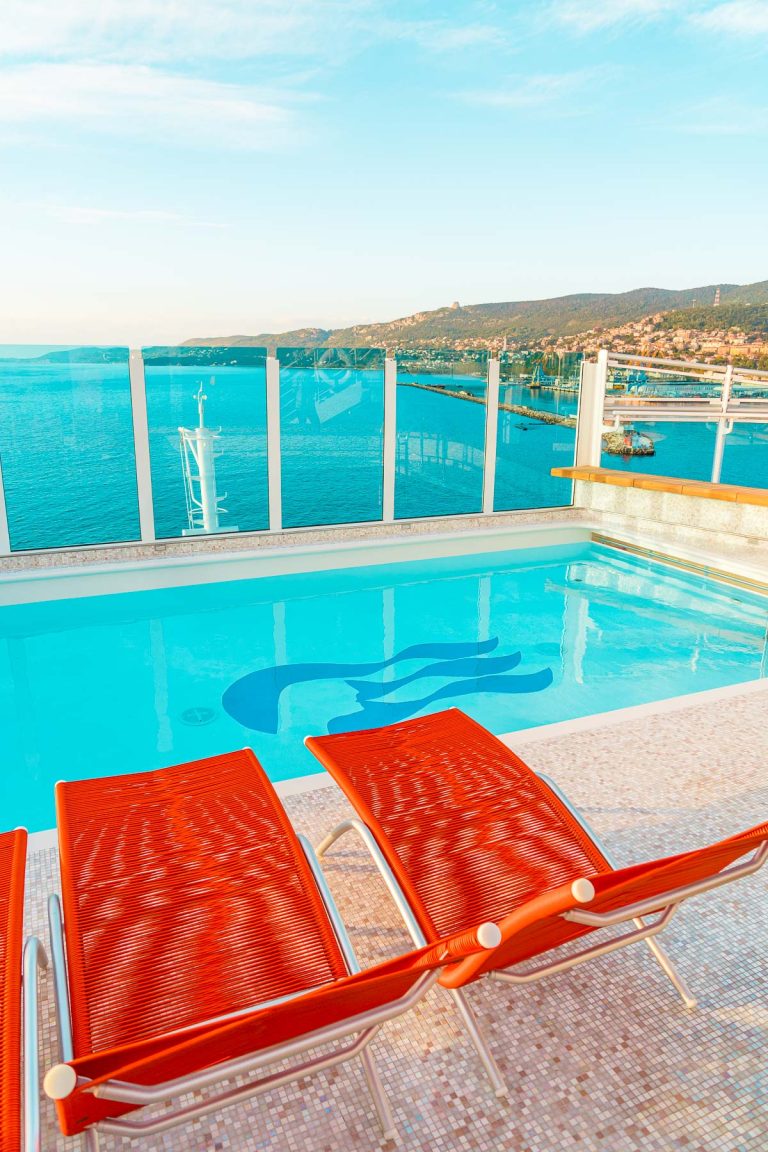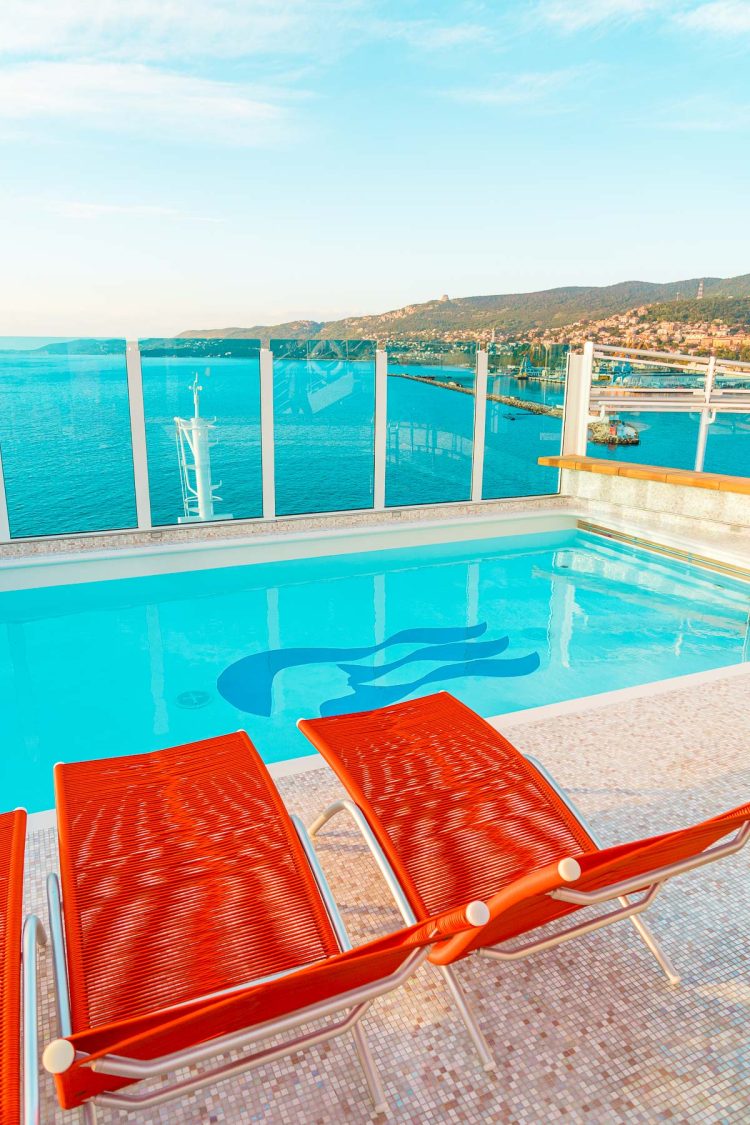 10. An Easy Way To Celebrate!
If you have a special occasion coming up, Princess Cruises knows how to help you celebrate! Cake options for Birthdays, Anniversaries, and even Gender Reveals are available!
Did you know that you could also get married onboard? Chocolate covered strawberries and champagne are the perfect way to celebrate a big milestone! Retiring, what better way to leave the 9 to 5 behind than kicking off the rest of your life with a fun-filled adventure somewhere exotic!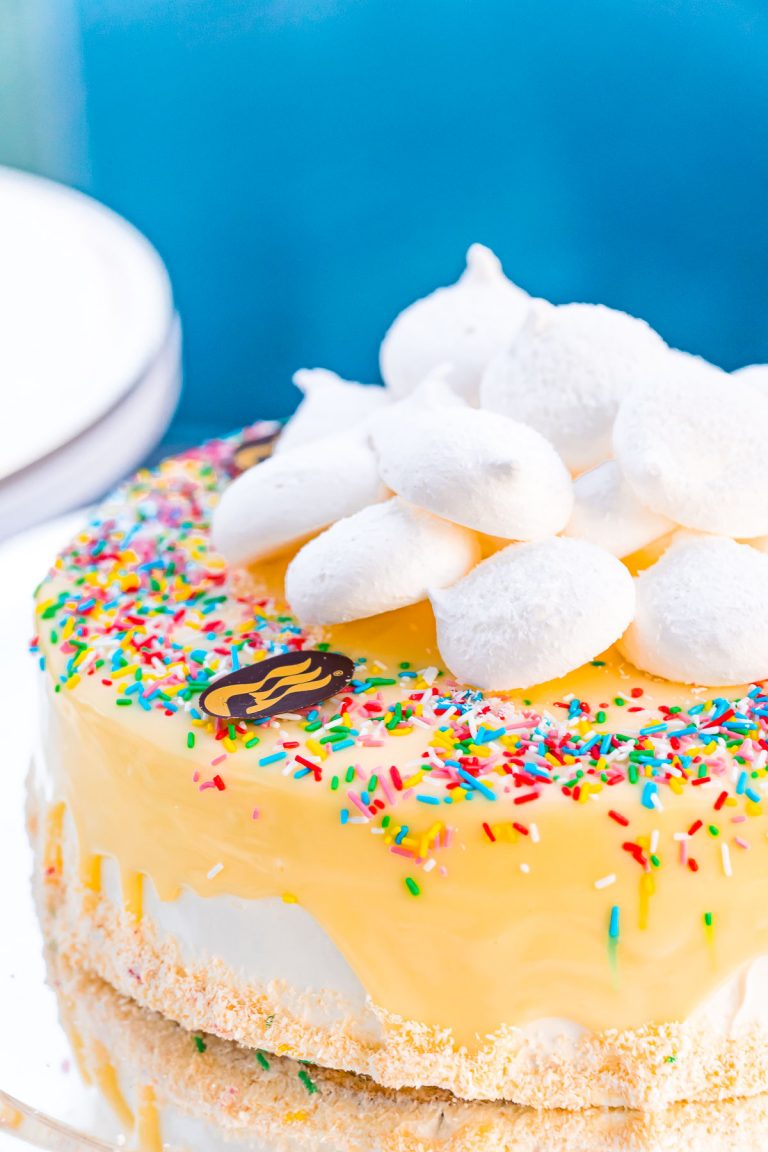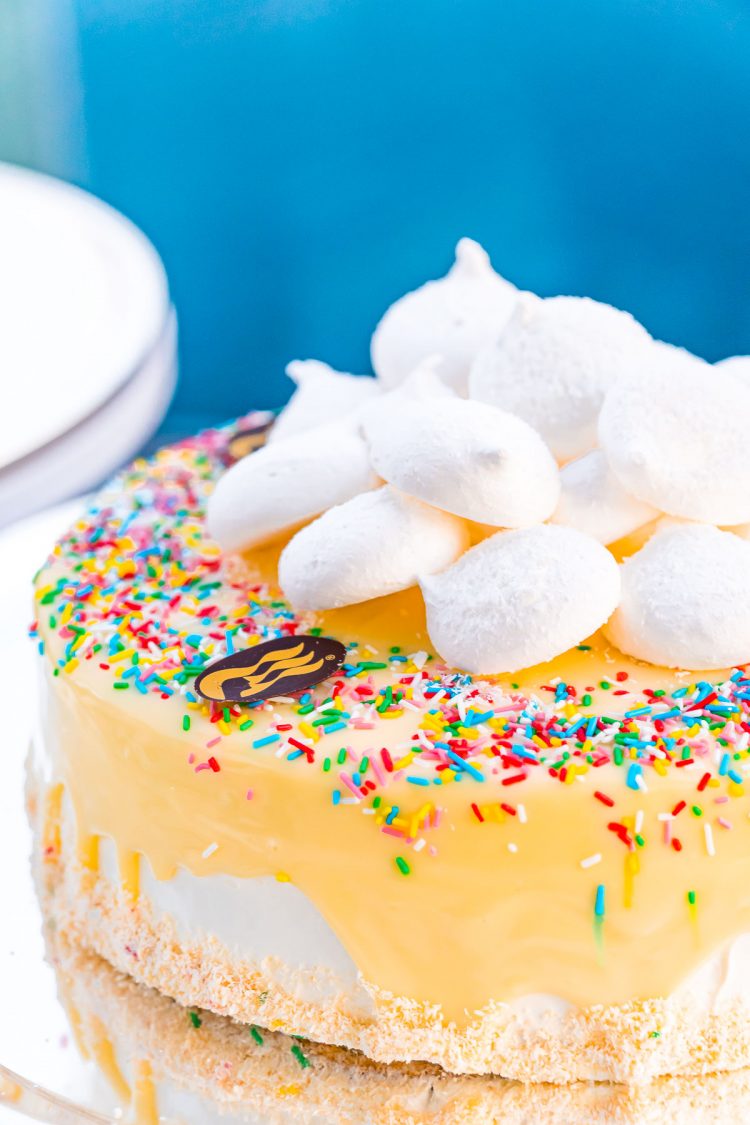 11. And Of Course, Exciting Destinations!
It's true, every Princess ship will take you to amazing places. But why not do it in style aboard the newest ship in the fleet! We visited Italy, Montenegro, and Greece during the inaugural shakedown cruise back in October!
This winter, the Sky Princess is sailing out of Fort Lauderdale, FL around the Caribbean before spending time along the Eastern Seaboard and Europe the remainder of the year.
It's the perfect time to Book a Cruise! I highly recommend the 7-Day Canada & New England cruise in September, it the most beautiful time of the year here in Maine and the surrounding region! And that Northern Europe Passage Cruise in April sounds amazing!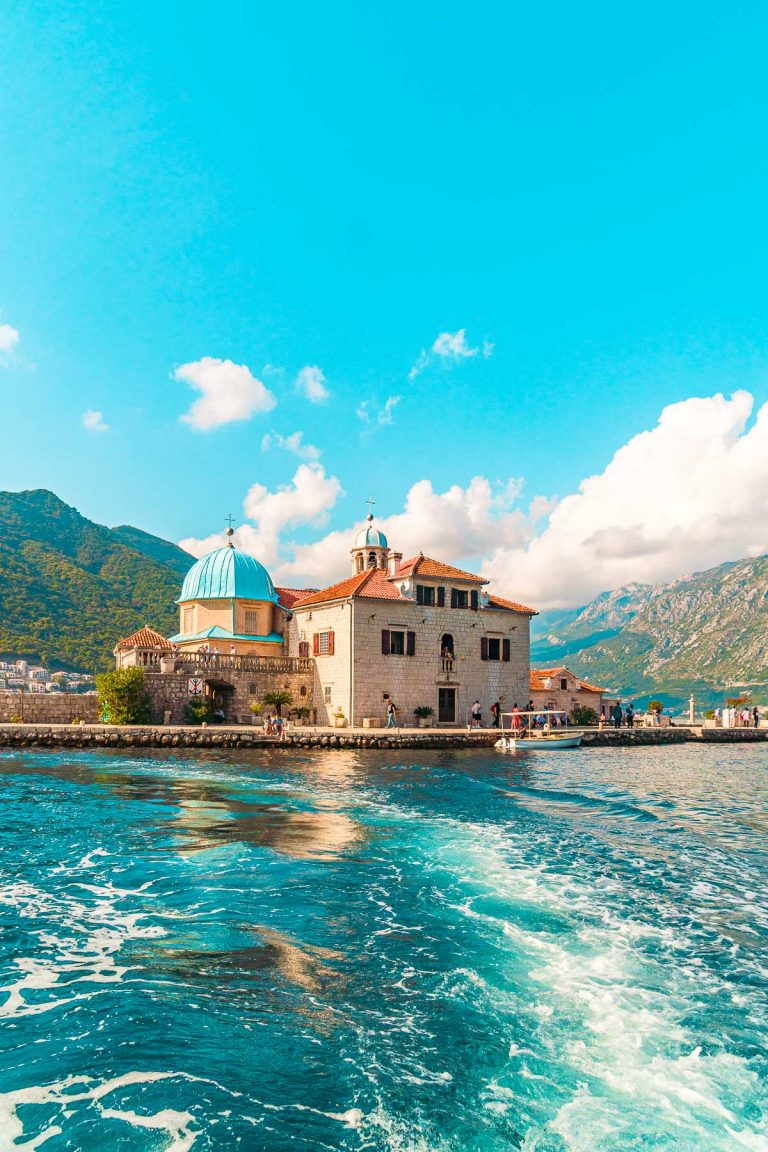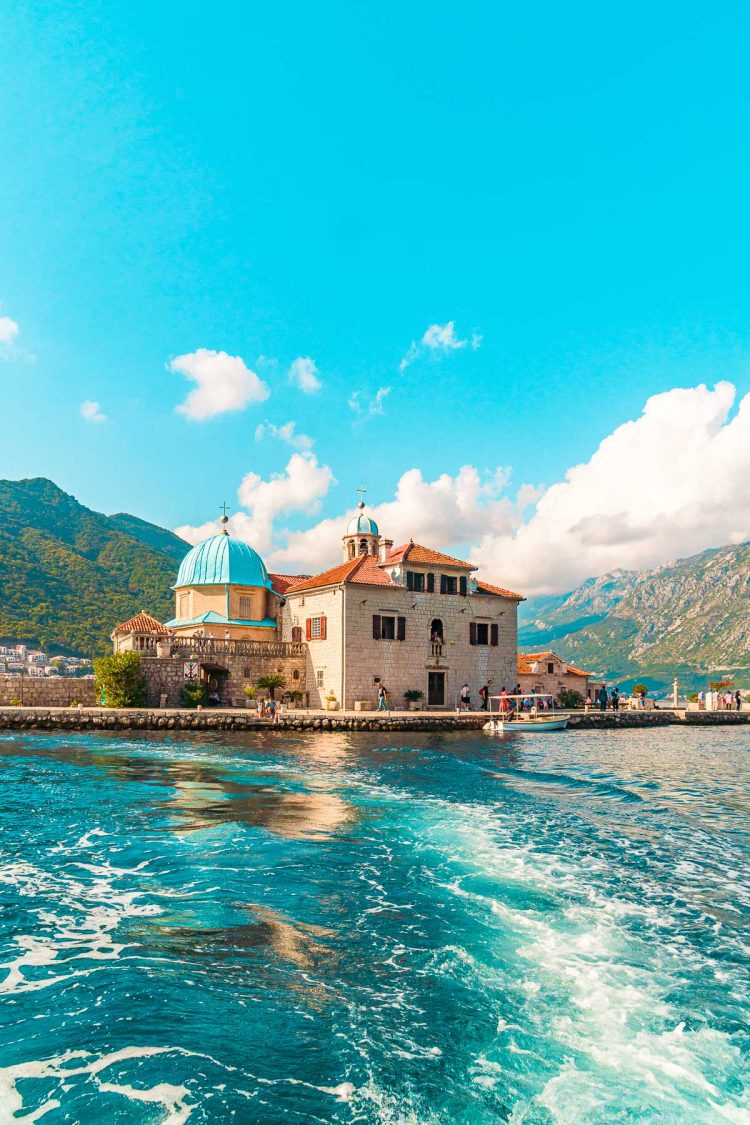 More Princess Cruises Posts!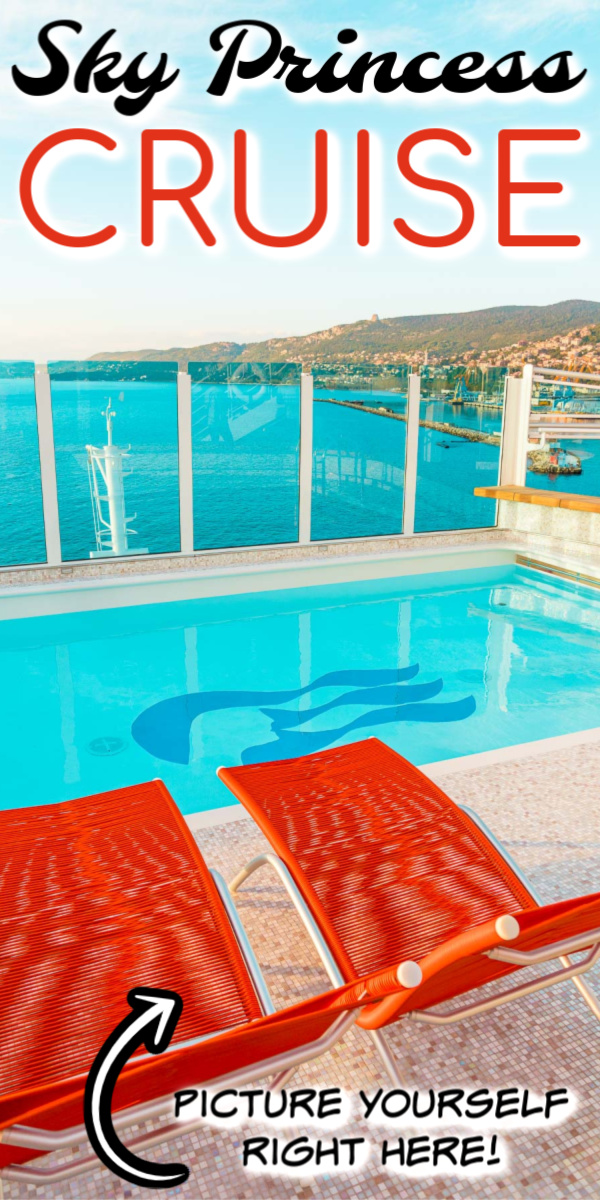 👋 Let's Connect!
If you've tried this recipe please let me know how you liked it in the comments below and leave a review, I love hearing from you! And don't forget to tag me – @sugarandsoulco – on Instagram and Pinterest with your photos!