This post has affiliate referral links, when you sign up for Stitch Fix under my referral, I receive credit towards my next fix. You can earn too once you sign up!
I'm excited to be sharing my Stitch Fix Review for February with all of you! I posted my first Stitch Fix review last month and you guys really seemed to love it! If you haven't heard of Stitch Fix yet, I'm excited to be able to share my experiences with you. One of my goals for the new year was to not clothes shop and to only buy items from Stitch Fix, this would help me cut some financial fat and fill my closet with designer items I truly love. I'm happy to say that other than the two items I kept from January's fix, I didn't purchase a single article of clothing! Heck I only went to TJMaxx once, that's gotta be some kind of record for me!
[line]
How it works:
Sign up for Stitch Fix here.
You pay a $20.00 stylist fee which you can put towards anything you keep from your fix. You can choose bi-monthly, monthly, or bi-weekly shipments.
Five pieces per fix ship right to your door. Try them on, decide what to keep, fill out your fix feedback survey and send the rest back in a prepaid package included from Stitch Fix.
Only available within the US.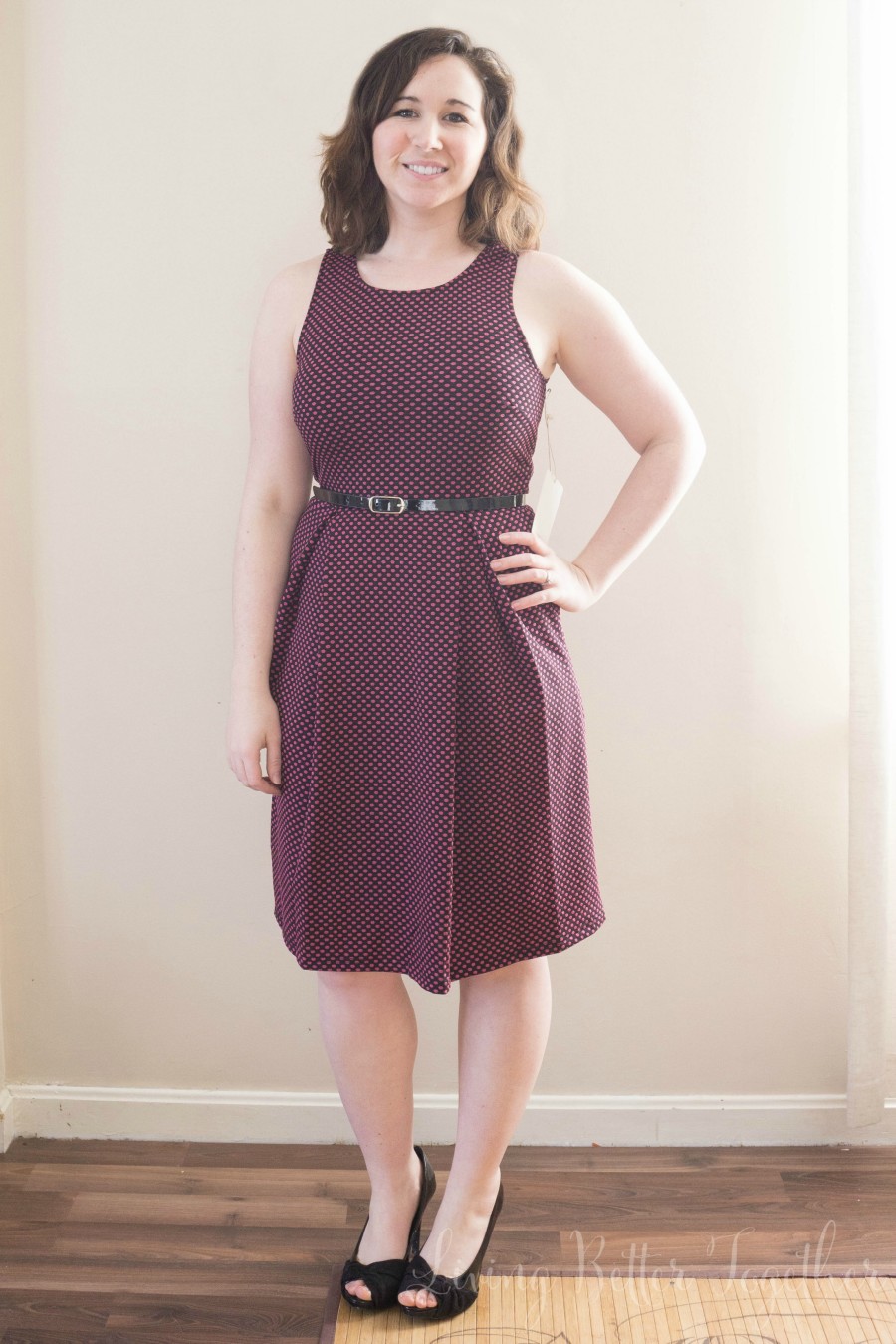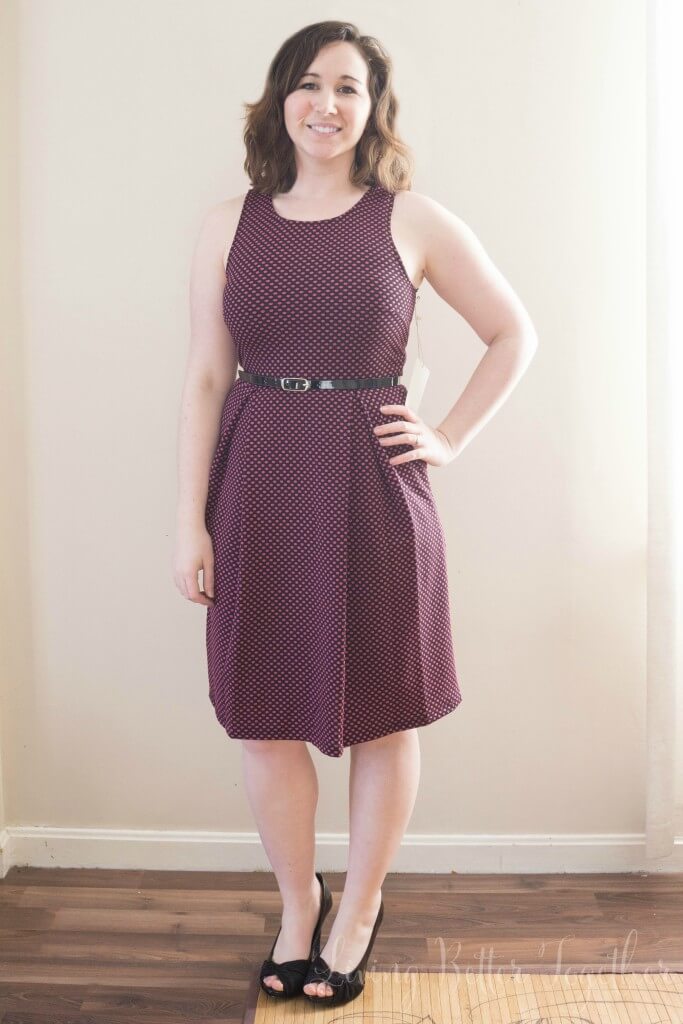 Look #1: 41Hawthorn – Jace Dot Print Fit & Flare Dress – $68
Thoughts: The dress was cute, I liked the cut and could easily wear it to work or for a night out with my husband. The material had a nice stretch which made it really comfortable. This dress was picked for me with Valentine's Day in mind, it's black with pink dots. I dressed it up with a skinny black belt and heels. It would have looked even cuter with a blazer.
Verdict: Returned. As cute as the dress was, I just couldn't see myself wearing it that often. As we head into spring and summer I want some brighter colors to fill my closet and I have plenty of black, navy, and brown already. I also felt like the pattern wasn't helping my bust, I was undecided between whether it made the girls look bigger or smaller than they actually are. Either way, it just wasn't working.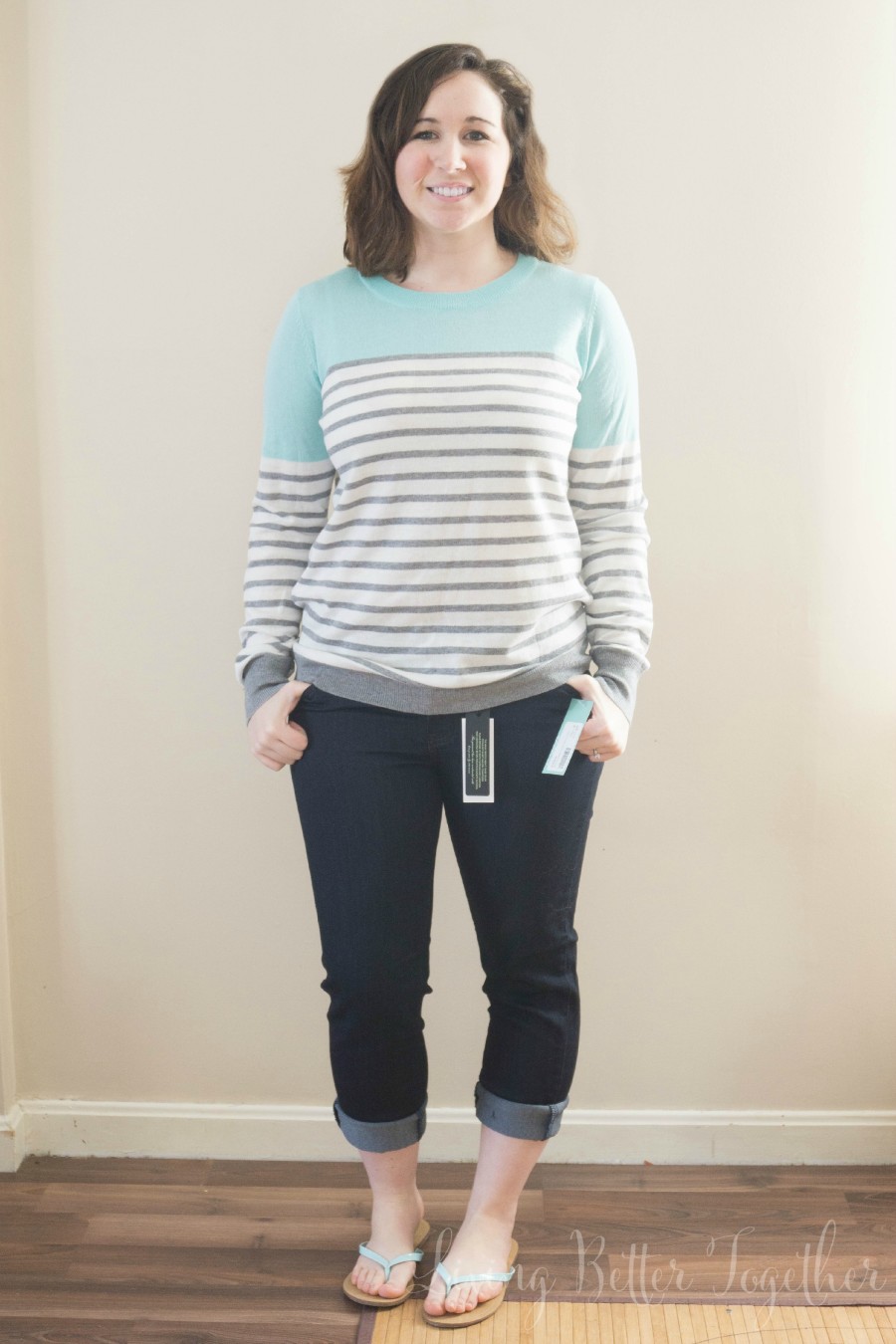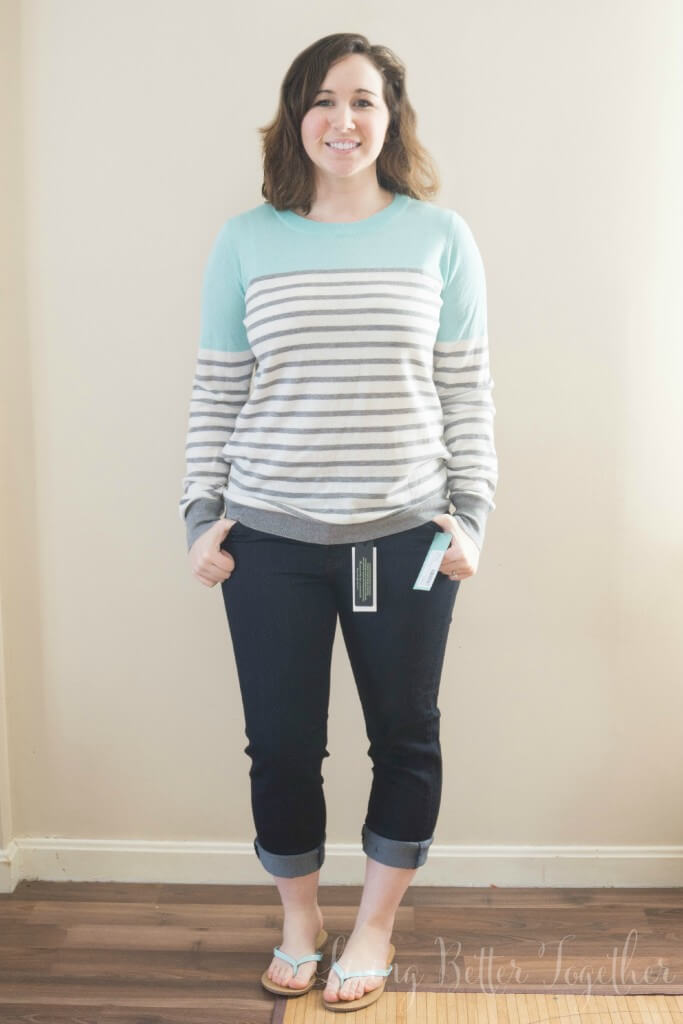 Look #2: 41Hawthorn – Rowson Colorblock Striped Sweater – $58 and Just Black – Adorra Ankle Length Skinny Jean – $88
Thoughts: So this is where things started to get really disappointing. As some of you know, I've been doing Weight Watchers since October and I've lost 14 lbs, well, I kinda forgot to follow my own Stitch Fix tips and didn't update my Style Profile with my new weight and sizes before this Fix shipped.
I really liked this sweater, but the medium was really big on me. I'm kinda in love with color blocking and I felt like I might actually be able to pull off these stripes. I think it's a great light weight summer sweater. The jeans were comfortable and the color was great, but I had to roll them up because these ankle length jeans were a couple inches too long.
Verdict: Returned both. I would love to see similar pieces in another fix but with more accurate sizing.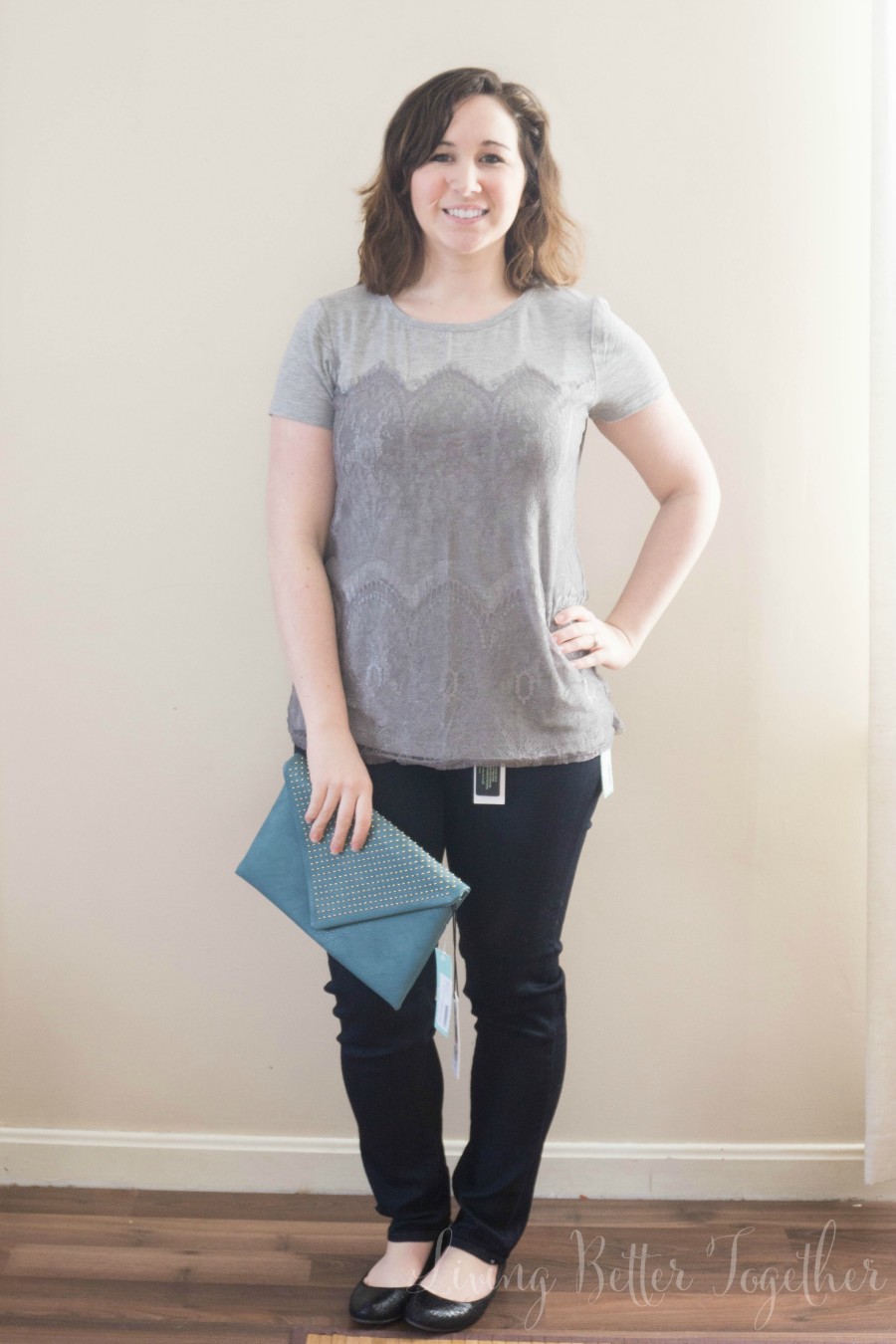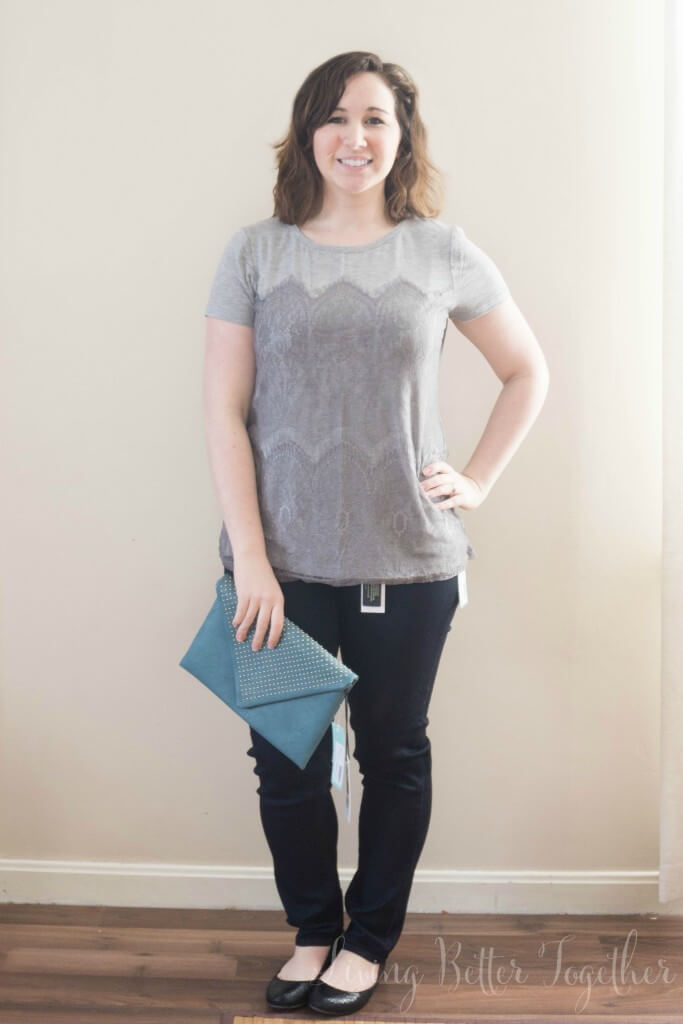 Look #3: Urban Expressions – Ayana Studded Envelope Clutch – $38, Market & Spruce – Memphis Lace Overlay Knit Shirt – $58, and Just Black – Adorra Ankle Length Skinny Jean – $88
Thoughts: I can't even tell you how much I hated this shirt. It was too big, the grey was super boring (and I LOVE grey), and the style/pattern looked so cheap to me. When I sat down the lace puckered out and the way it kinda fit around the shoulders but was huge around the waist made this shirt an all around FAIL.
I talked about the jeans above, but here you can see that they were too big as they're bunched up at the ankles and then at the knees. They don't fit anywhere as nice as my beloved Just Black Jeans you see here.
And finally, the clutch. The color was nice, but I'm really not a studs girl. This clutch came with a strap so you could make it a cross-body bag, but I'd probably never use it that way. I also just got a clutch this past week for a post I'll be sharing with you coming up next week.
Verdict: Returned all. None of these pieces were working for me.
[line]
As you may have noticed, I DIDN'T KEEP ANYTHING! Yup, I forfeited my $20 Fix Fee, but as my husband would say, I need to learn what a sunk cost is. I know why this fix was such a failure, first because I didn't update my style profile and secondly because I got a new stylist who doesn't quite know my style yet. I've already scheduled out my next fix because I know there are still great pieces to be had. Plus, I'm hoping that by not keeping anything, it will help me justify the day when I keep the whole box! If you're ready to take Stitch Fix for a spin, you can sign up here and schedule your fix! Don't forget to check out those tricks that I SHOULD have followed here.