This post has affiliate referral links, when you sign up for Stitch Fix under my referral, I receive credit towards my next fix. You can earn too once you sign up!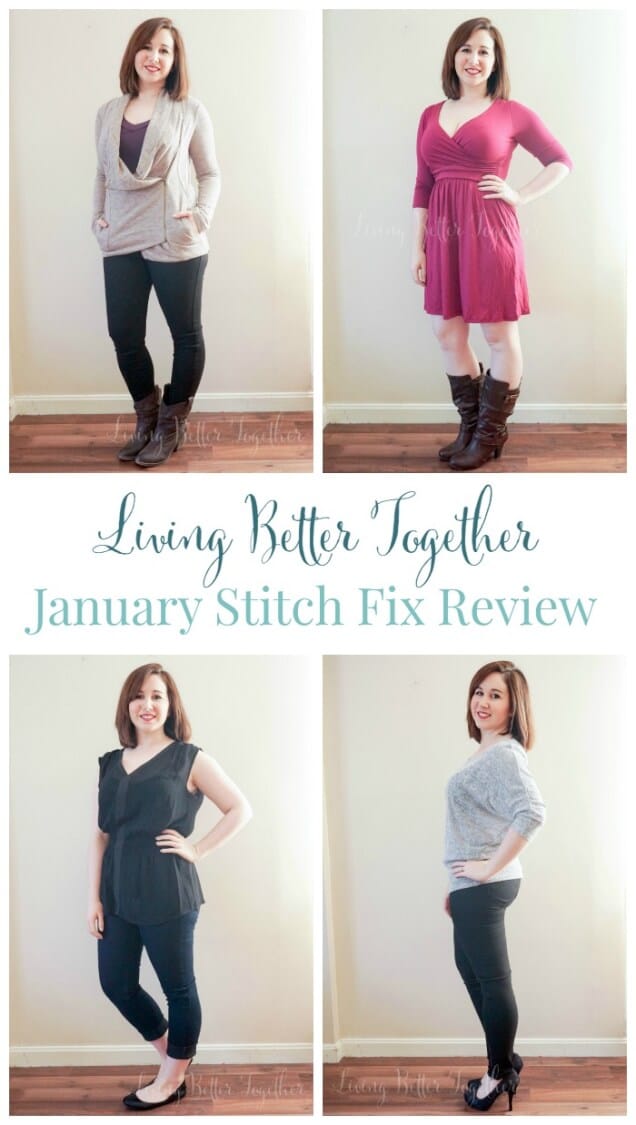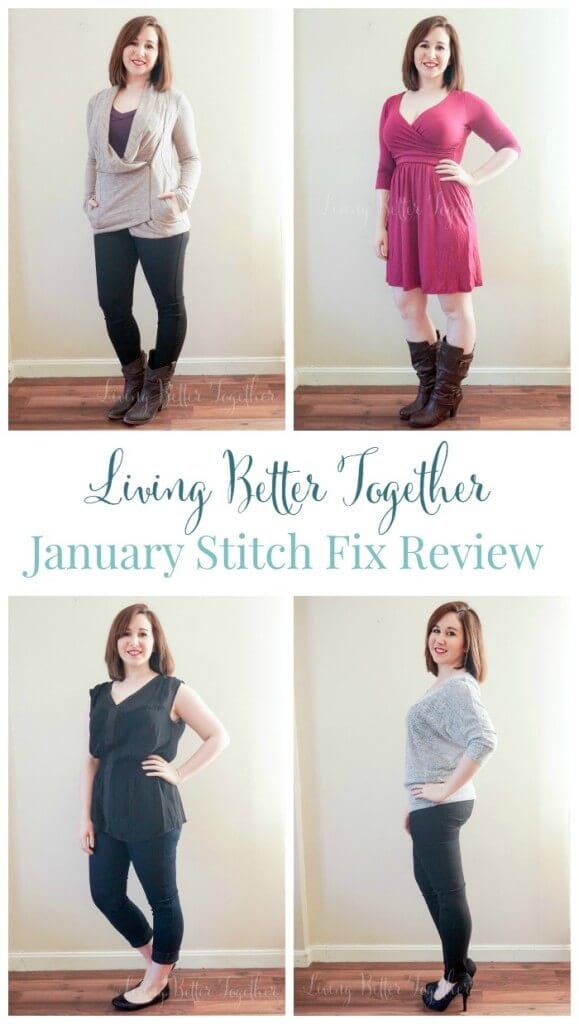 Have you ever heard of The Baader-Meinhof Phenomenon? That's basically what happened with me and Stitch Fix. The phenomenon is when you hear about something obscure and then suddenly you hear about it again and again. The best example of this is the Pilot of A to Z, it's actually probably the funniest part of the show.
Anyways, for those who are hearing of Stitch Fix for the first time here, I'm excited to share this awesome program with you! Stitch Fix is a subscription box of clothes and accessories, but not everyone gets the same stuff. Each fix is hand picked just for you by your very own stylist with the help of your style profile! How awesome is that!
One of my goals this year is to do less physical shopping, I love clothes, but I'm honestly so tired of wasting my time in stores trying on clothes and spending money on items that are just okay. I'm allowing myself to spend a little more on items I really love that are hand picked for MY BODY through Stitch Fix.
So today I'm sharing the deets on my second fix with all of you in hopes that you'll take a chance to lesson the pain of the dressing room and let someone else pick the perfect pair of jeans for you!
How it works:
Sign up for Stitch Fix here.
You pay a $20.00 stylist fee which you can put towards anything you keep from your fix. You can choose bi-monthly, monthly, or bi-weekly shipments.
Five pieces per fix ship right to your door. Try them on, decide what to keep, fill out you fix feedback survey and send the rest back in a prepaid package included from Stitch Fix.
Only available within the US.
[line]
Look #1: Just Black Banks Skinny Jeans ($78) and Daniel Rainn Aveda Sheer Cinched Waist Blouse ($68) – Flats from Express November 2014
Thoughts: The jeans were the same brand as the jeans I fell in love with a kept in my last fix. They are a dark blue high waisted skinny jeans, they flared a bit at the ankle which I didn't care for, so I rolled them up. They fit like a glove and the stretch made them super comfortable.
I'm not a fan of cinched or thick shouldered tops that are sleeveless so I knew this was going back as soon as I pulled in out of the box. I made sure to tell my stylist this on my return survey so I never get pieces of those styles again.
Verdict: Both returned.  I decided to hold off on the jeans as I will probably lose another pant size thanks to Weight Watchers before I get a chance to wear cropped pants again. Had it been summer, I probably would have kept the jeans!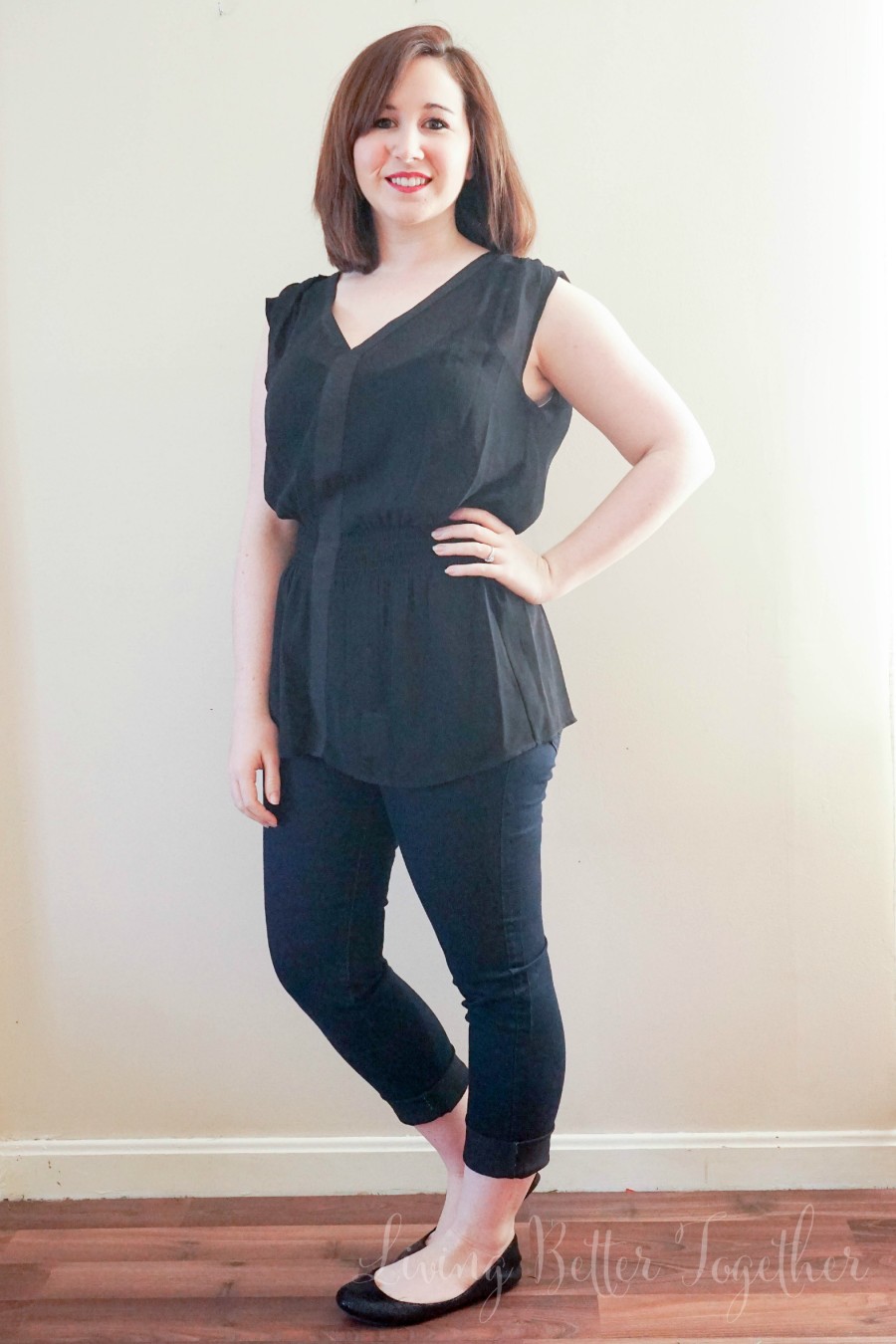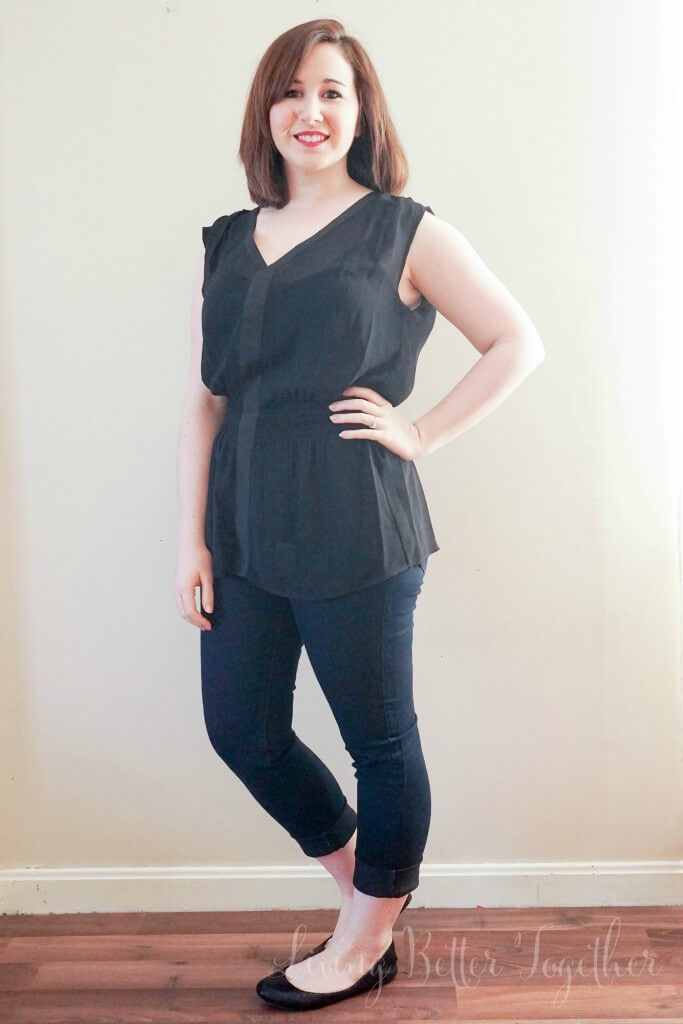 Look #2: Gilli Lauree 3/4 Sleeve Vneck Drape Dress ($68) – Boots from Maurices February 2014
Thoughts: I was in love with the color as soon I saw it, the photo doesn't do it justice. It's a gorgeous raspberry pink. The cut was flattering and the material was comfortable and great quality. I love this dress.
Verdict: Returned – I know, I know, I really did love this dress! I'm kinda kicking myself in the butt now, but it was too low cut to wear to work and I knew I wouldn't have many chances to wear it. I also have about a million dresses.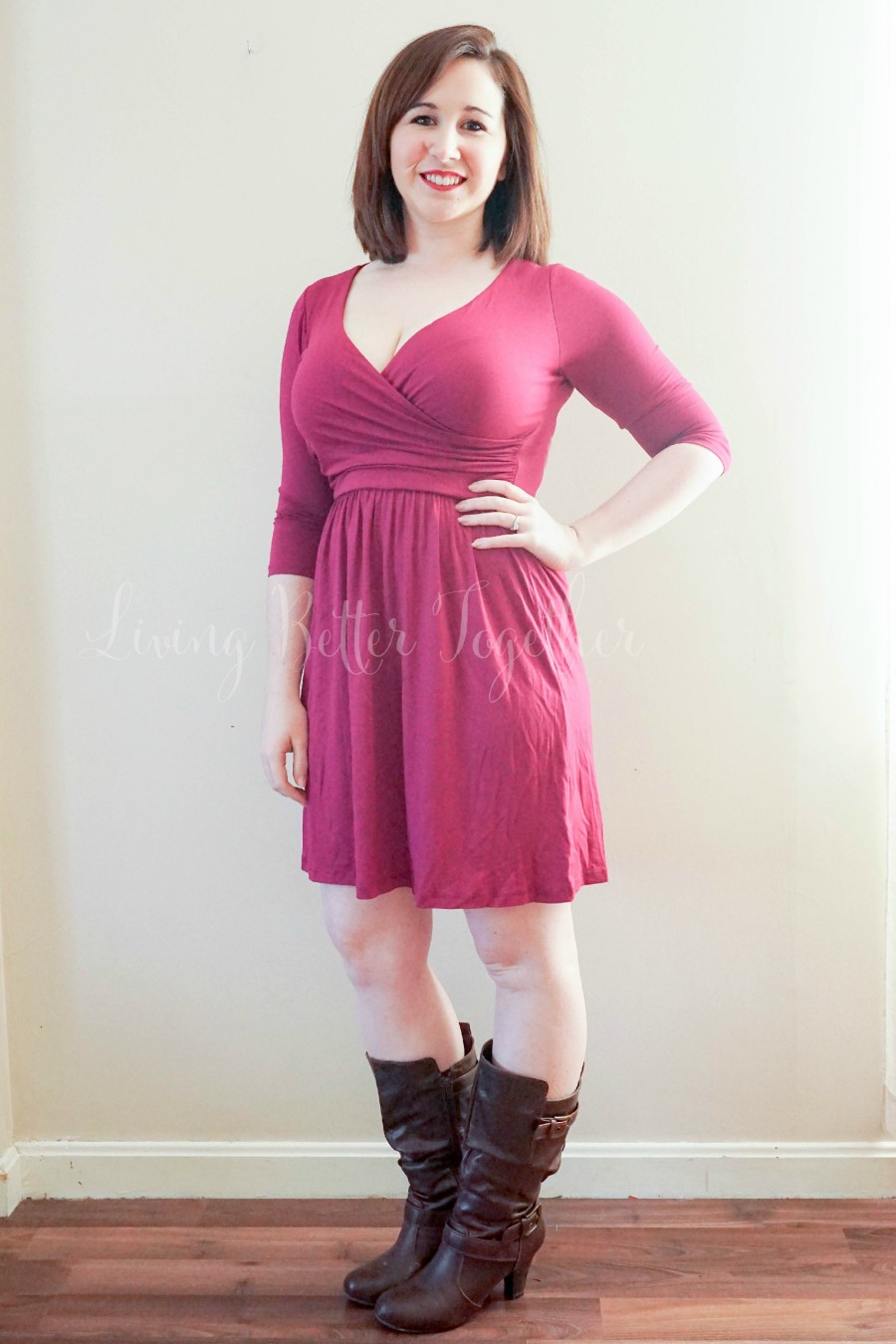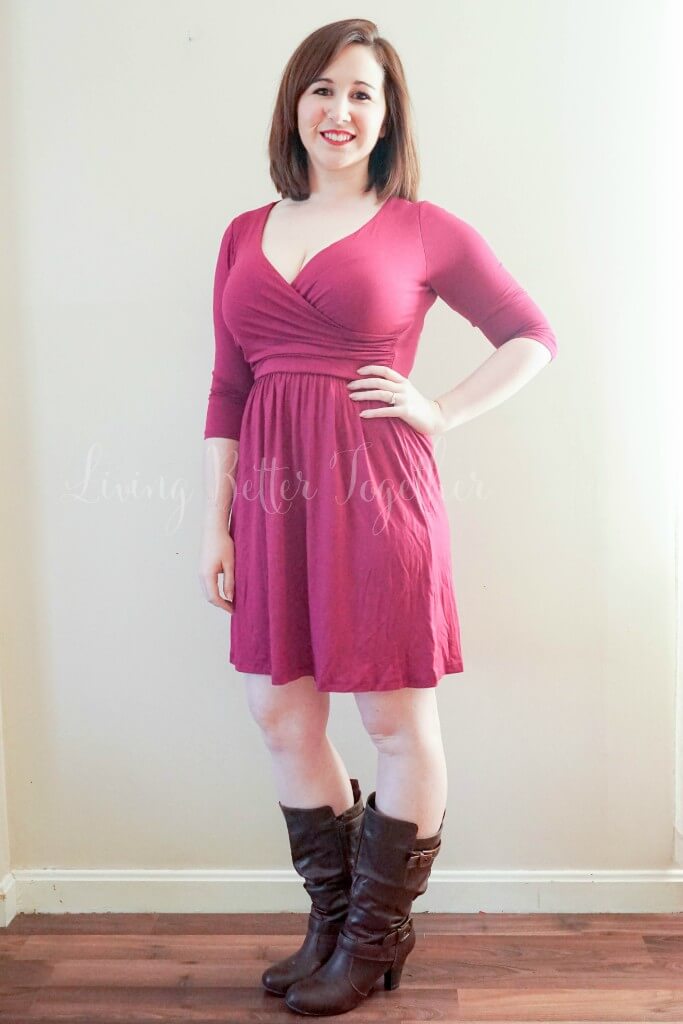 Look #3: Market and Spruce Alan Cowl Neck Asymmetrical Cardigan ($58) – Just Black Black Skinny Jeans with Zipper Ankles (Kept from 12/14 fix)  – Women's Favorite Vneck from Target in Berry Purple – Boots from Rocket Dog
Thoughts: I've tried on two cardigans like this one and hated both, I was pleasantly surprised when I tried on this one. The quality and color were great and it was super comfortable. I can wear it year round.
Verdict: Kept! Wore it yesterday!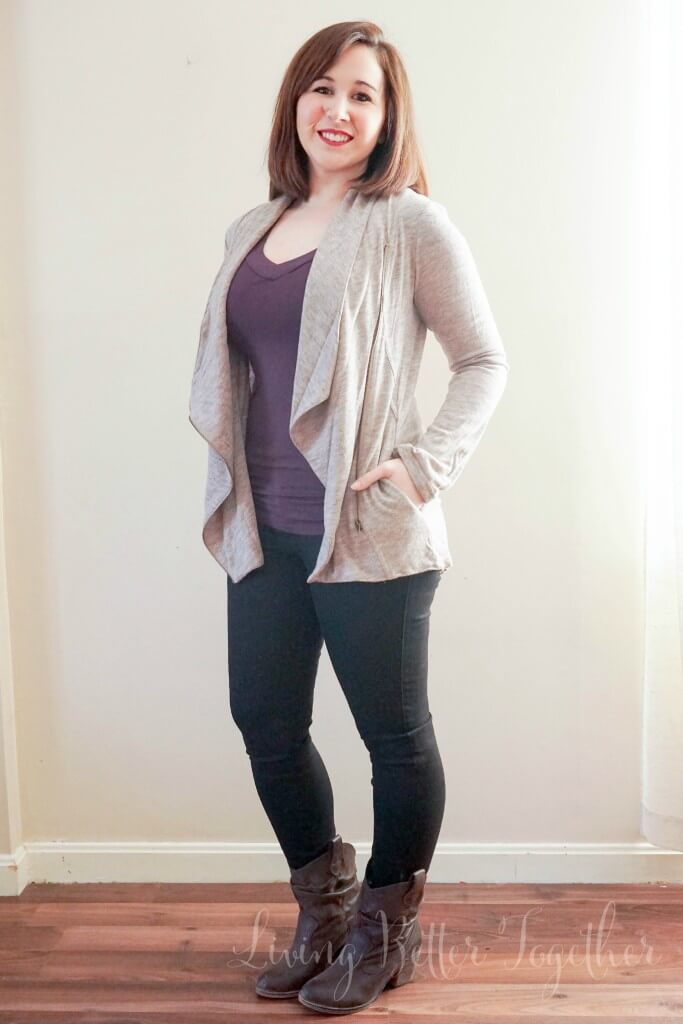 Another look so you can see how it zips up.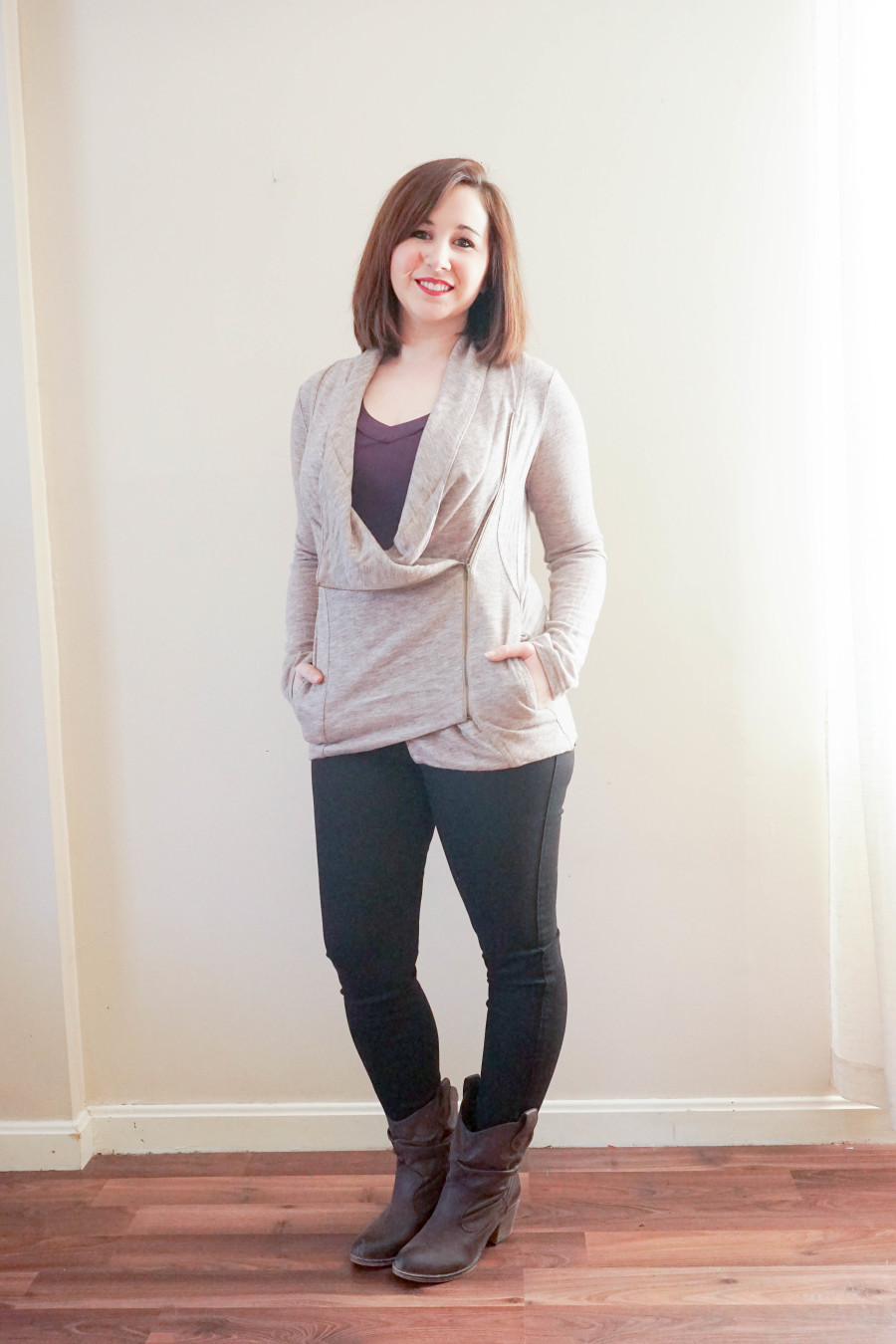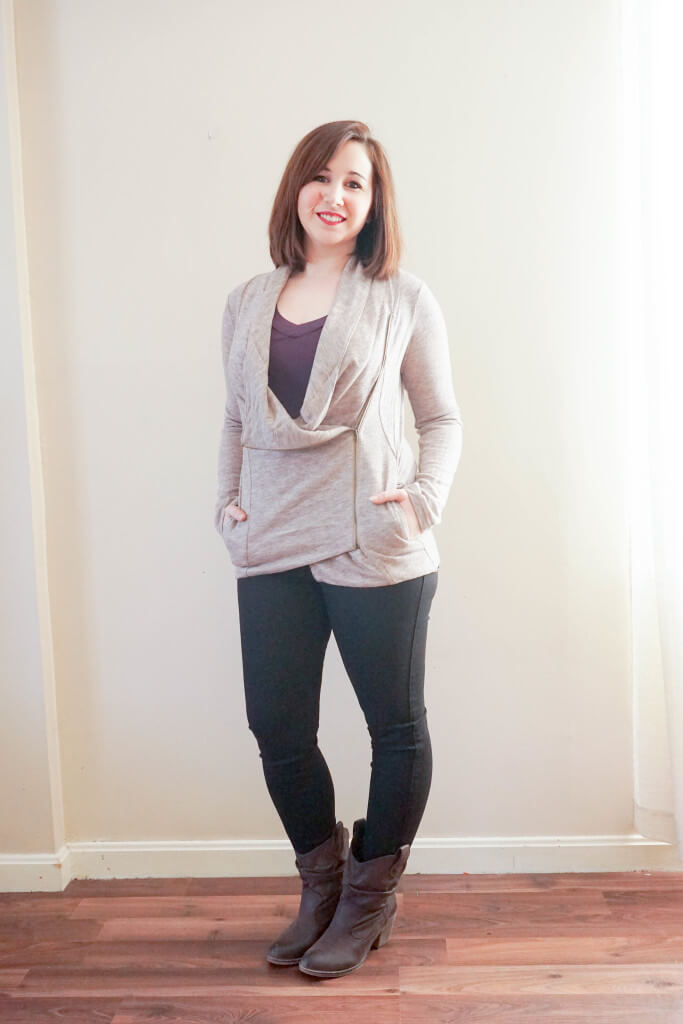 Look #4: Renee C Malcolm Dolman Sleeve Slub Knit Shirt ($48) – Just Black Black Skinny Jeans with Zipper Ankles (Kept from 12/14 fix) – Black Lace Heels from Maurices
Thoughts: This shirt really grew on me. It was more than I would normally pay for a shirt but I loved how it fit around my hips and I loved the wide neckline. It's super comfortable, hell, I'm wearing this very outfit right now. It's great quality and I'm a sucker for grey.
Verdict: Kept. I love that it can be dressed up or down and the more I thought about this shirt, the more I wanted it. Like I said, I'm not doing any shopping other than through StitchFix now so I allowed myself to spend a little extra and get it!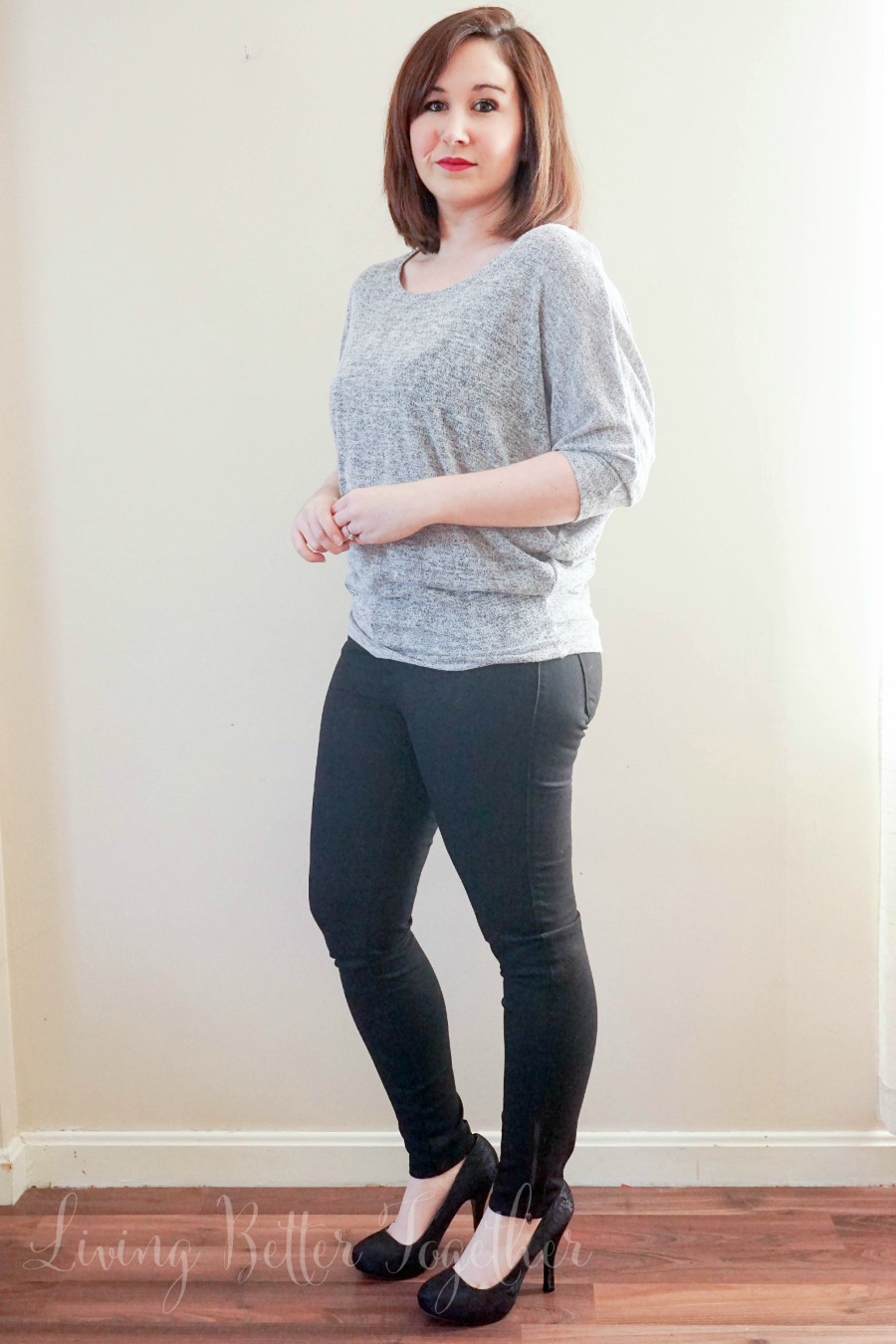 And let's talk about these jeans. First of all, I hate jeans shopping, I'm short and curvy and just can't win. I've been wanting a pair of black jeans forever, but haven't had any luck. When these arrived in my first box, I immediately thought, "oh no, she sent me jeans, they're not going to fit." Well, SURPRISE, they're the most amazing pair of jeans I've ever owned or tried on.
They were the perfect length and the stretch in them will allow me to lose weight and still wear them! They're downright comfortable plus the zippered ankles are adorbs. This is the first pair of jeans I've ever put on and thought, I look hot, so obviously I had to have them regardless of the $78 price tag. They were worth every penny, especially because my jeans last for years!
So, are you ready to get a personally shopper and have amazing hand picked designer products shipped right to your door?
Not everyone has as great of an experience as me, so here's some tips on getting the perfect fix.
Pinterest. Have a fashion Pinterest Board? Share the link to it with your stylist so they can keep up with what you're loving as the seasons change.
Details. Be very detailed on your initial survey when you sign up for your first fix. You also want to be detailed on your return survey about each piece. Like for the Raspberry dress, I told my stylist that I loved the color and material but the cut just wasn't ideal for my life.
Honesty. Sometime we're tempted to say we're a smaller size than we really are, but you need to give exact measurements to ensure a great fix. You look better in clothes that are the right size than when you try and squeeze into clothes that aren't.
Trends. Have a particular trend or style you're loving or a particular piece you're looking for? Let your stylist know and they'll try to hunt it down for you.
Events. Have an event coming up or going on vacation, let your stylist know so they can help you look your best!