The Golden Circle in Iceland is one of the most popular tourists routes that can be done in a day and is close to the airport making it a great excursion for those with just a layover as well as those enjoying the country for an extended stay.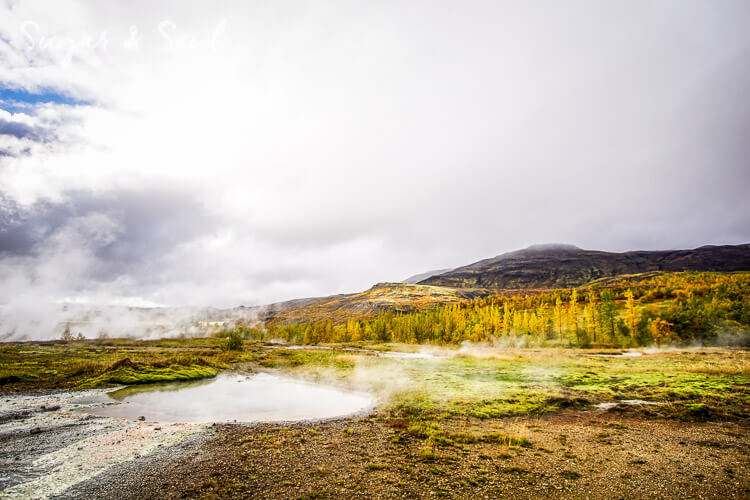 The Golden Circle in Iceland is the most famous tourist route. You could get around the whole thing in a day and see some pretty amazing landmarks along the way! One of the best parts about the drive, other than all of the killer sights, is that it's close to the airport, which means even if you're just doing a quick layover in Iceland, you can still take it in!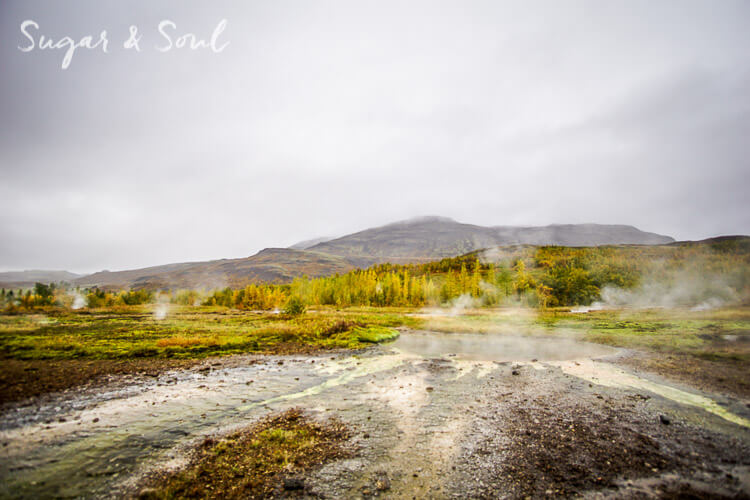 The Golden Circle actually covers a bit more than this post, it also covers Þingvellir National Park and Reykjavik which I'll be covering in separate posts in the coming weeks! But I do want to take a minute to thank my friends at SadCars for helping us get around this amazing country for the week! SadCars is a rental car company that gives old cars a new life, which pretty much means you don't have to worry about getting dust on it like most rental cars! Our '95 Rav4 SadCar treated us pretty well and I may or may not stalk the #sadcars on Instagram to see who's been adventuring with her since!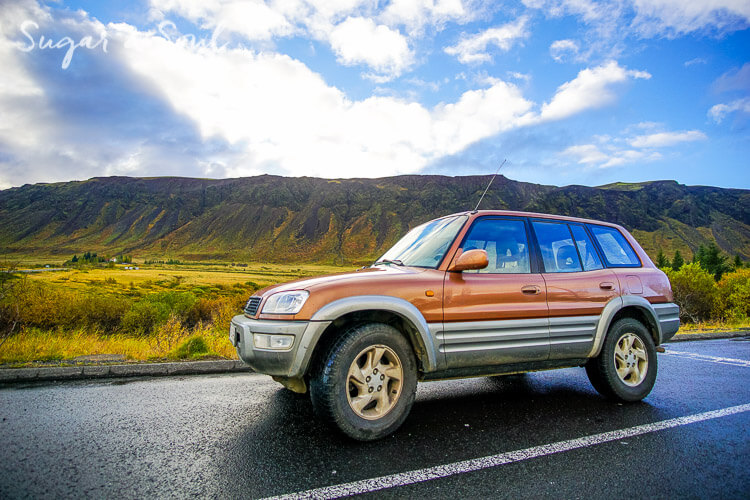 Anyways, day two of our trip started a little up in the air. It was raining in the morning and we were actually headed to Reykjavik when we decided to head up to Haukadalur, found on most Icelandic maps under Geysir, to check a few things off our list.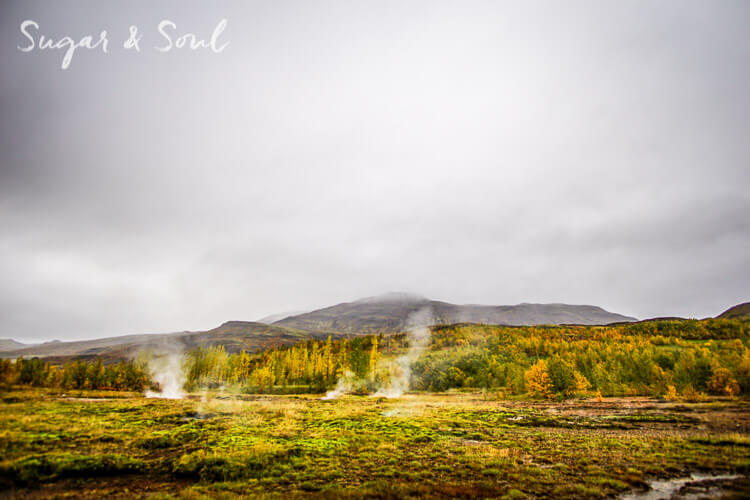 Geysir, spelled differently than its English counterpart Geyser, is pronounced the same and derived from the Icelandic word geysa, which means "to gush". While Geysir is the most well known in the world and is considered to be the original geyser, it's not active anymore. Years back people threw things into Geysir to activate its eruption and in turn has caused it to become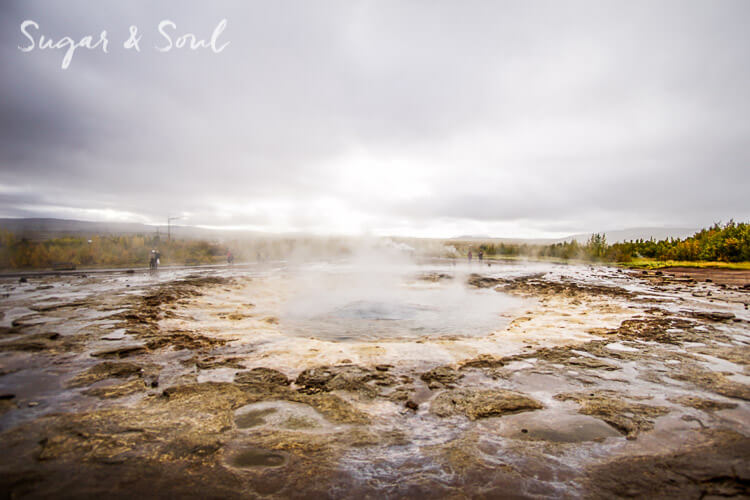 Strokkur on the other hand, is. At present time it erupts every few minutes. It's believed that the geysirs in the valley have been active for more than 10,000 years, but have had almost completely dormant periods during that time. Strokkur can reach up to 30 meters when it erupts. You could tell when it was about to erupt because it would begin to have a big dome bubble, but then sometimes it would psych you out! I got some great video of the eruption and can't wait to finish putting together my Iceland footage, but for now, I'll treat you to this fun little GIF I made!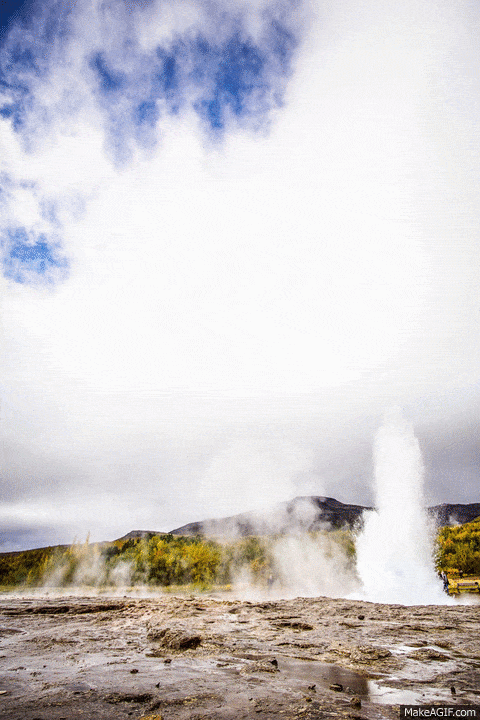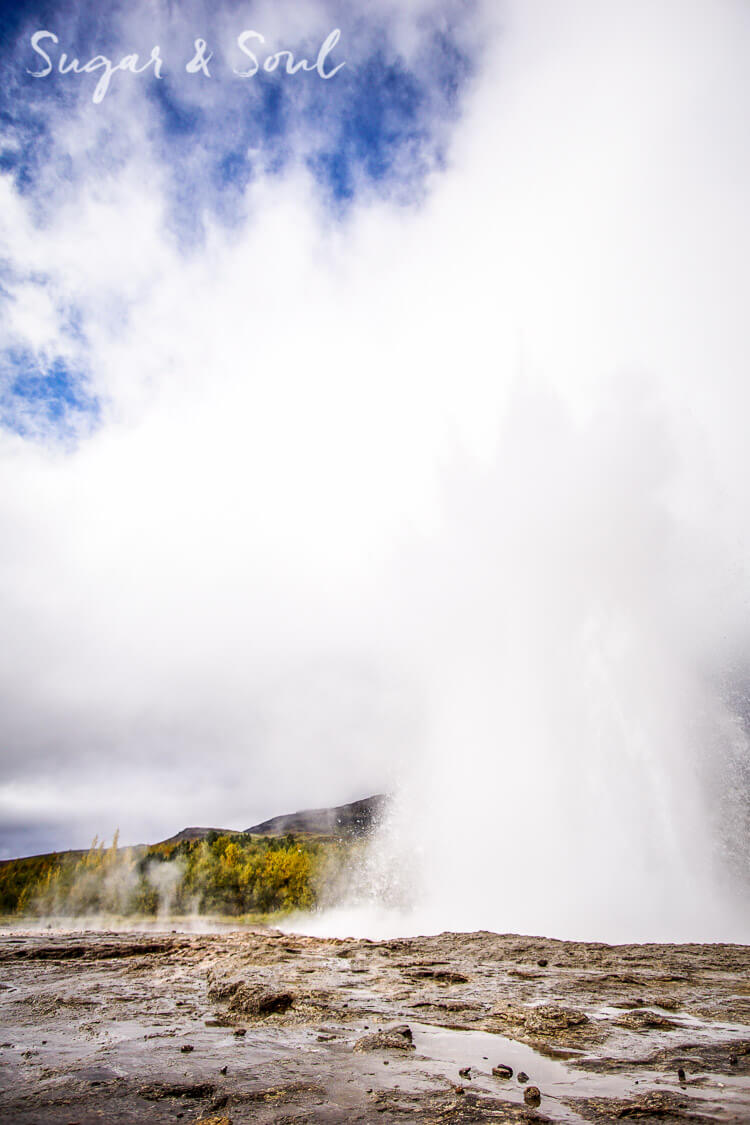 Before leaving Geysir, don't forget to grab some gelato inside, I highly recommend the blueberry and cherry sorbet – so good! They also have what was the largest gift shop we saw in our travels and a great exhibition covering the geysirs and volcanoes as well.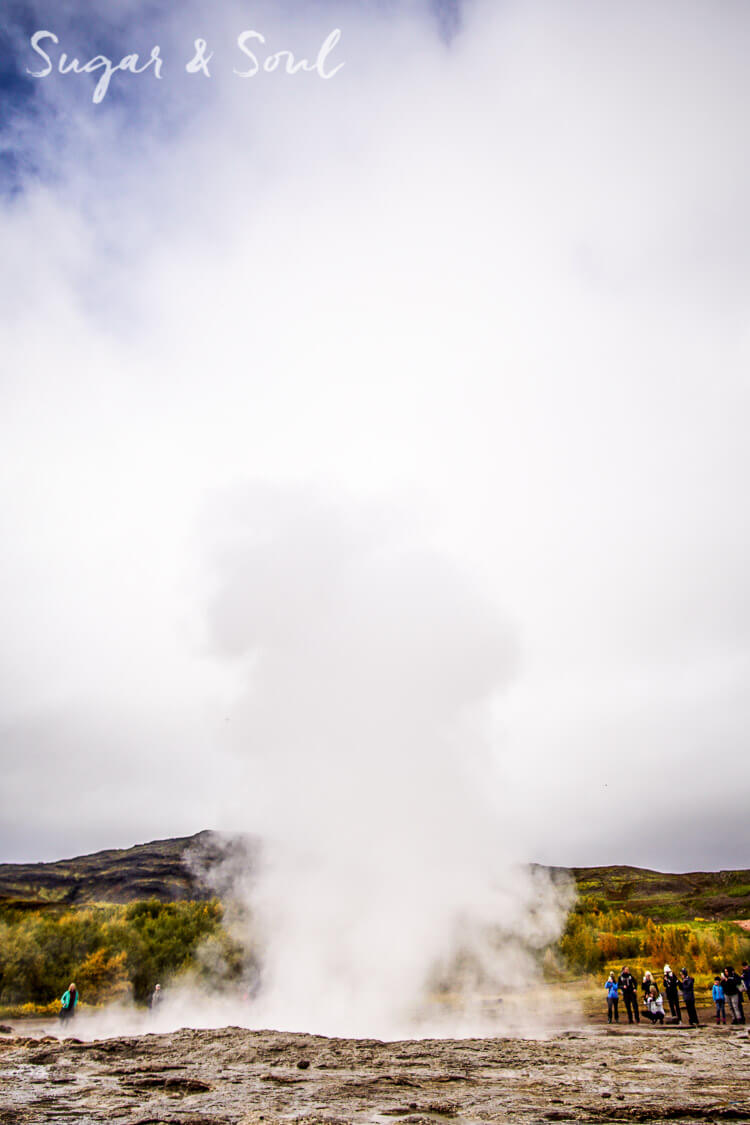 After hanging out in Geysir for awhile, we headed up the road to Gullfoss. Gullfoss, meaning Golden Falls in Icelandic, gets it's name from the glow of the mist during sunrise and sunset.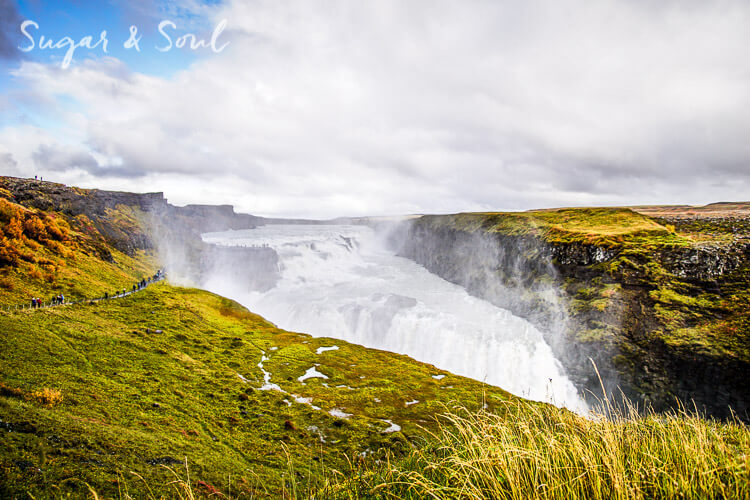 One thing I really loved about Iceland was how fast the weather changes. I mean yeah, sometimes you're looking at gorgeous blue skies and the clouds come rolling it, but it's also the other way around. I was pretty disappointed when we got to Gullfoss and it was completely cloudy and raining. Gullfoss is known for it's incredible rainbows and I was sad we were going to miss them. But check out the skies in the photo above and below and then scroll down to see what a few minutes can do.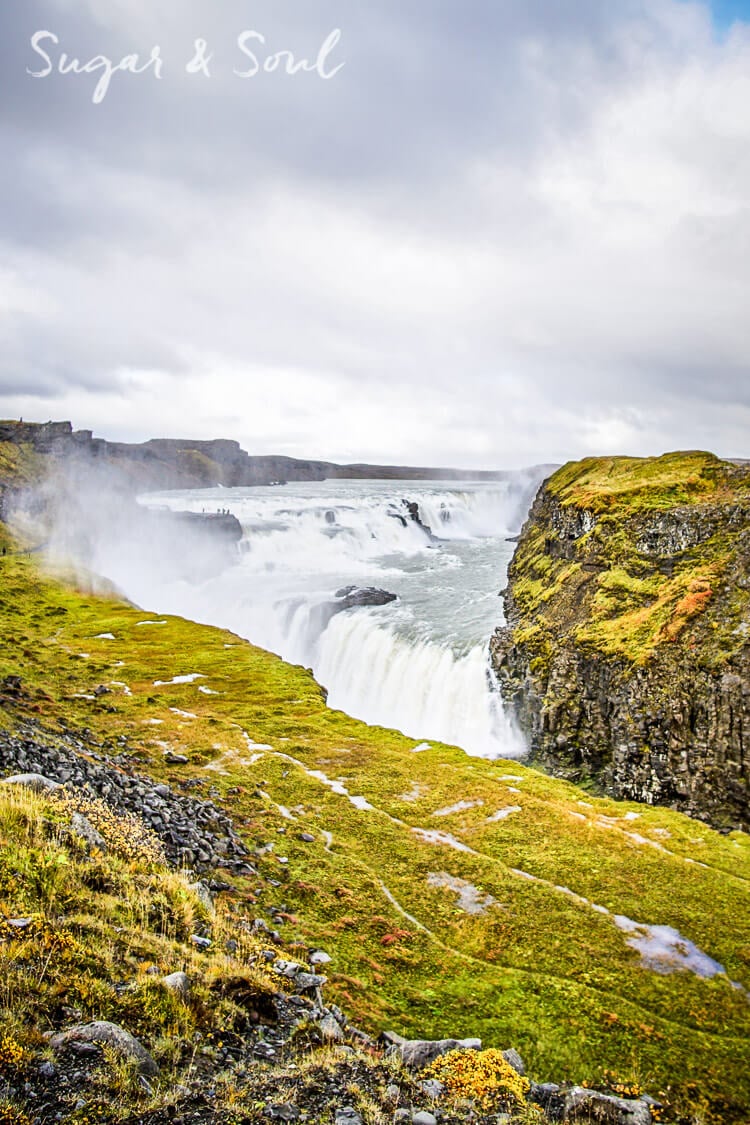 Gorgeous blue skies and rainbows!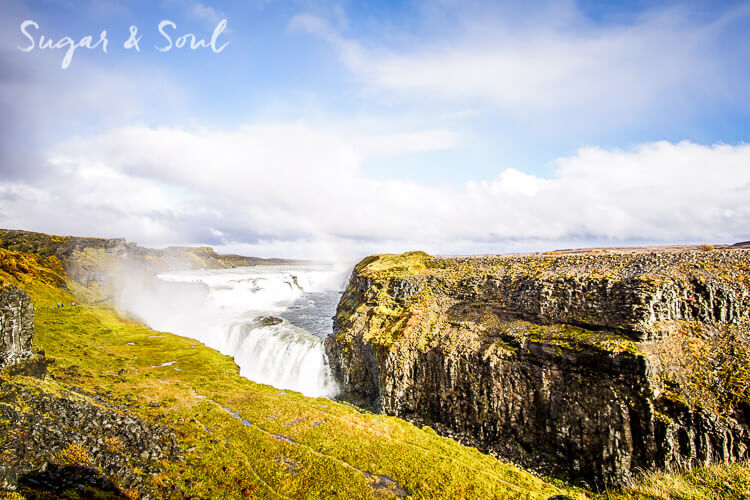 I know it's hard to see but the rainbow stretches all the way down into the gorge, like you could actually see the end of the rainbow in the water… but I wasn't going to go jumping of the ledge in the hopes of some gold 😉 The falls really are quite breathtaking, I mean they're so expansive and you can actually walk along them and walk through the dancing mist. I think it's pretty obvious why they're one of the top destinations in Iceland!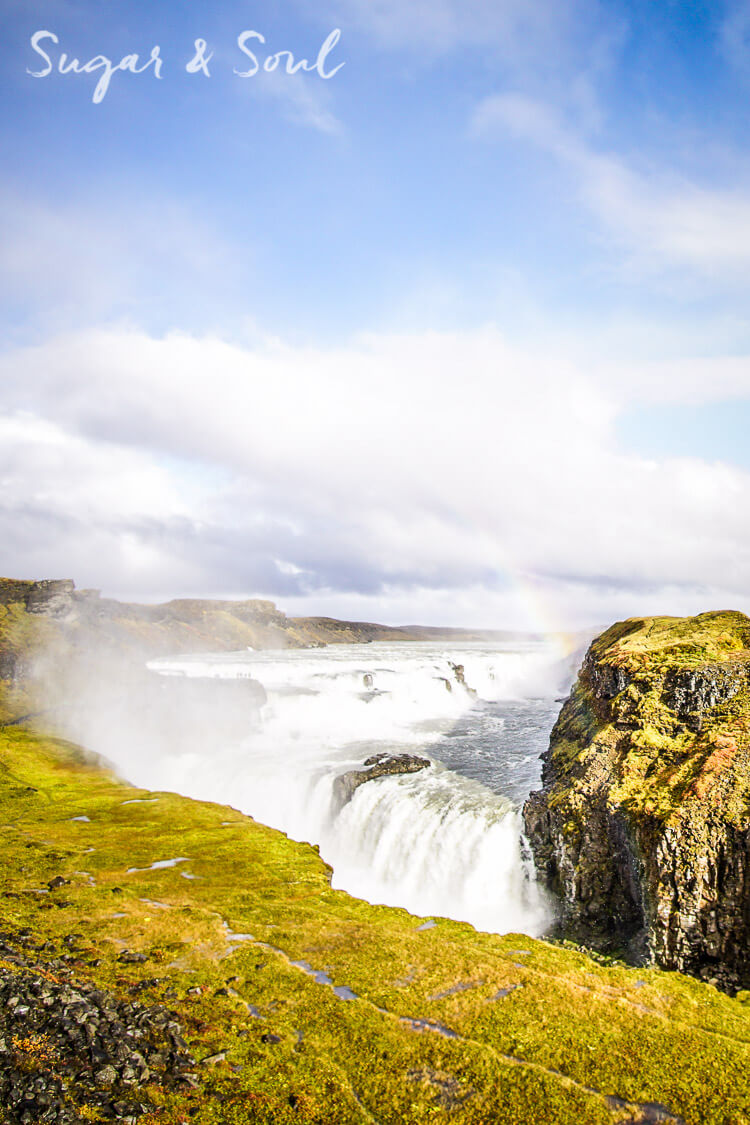 Our last stop of the day was actually one of my favorite places on the whole trip and the only place with an entry fee, only $3.00 USD though. That's one thing I really loved about Iceland, it doesn't really cost anything to go and see these beautiful bursts of nature. I swear we pay to get into everything in the US, Canada, and did so in Ireland and Scotland too, so this was a refreshing change.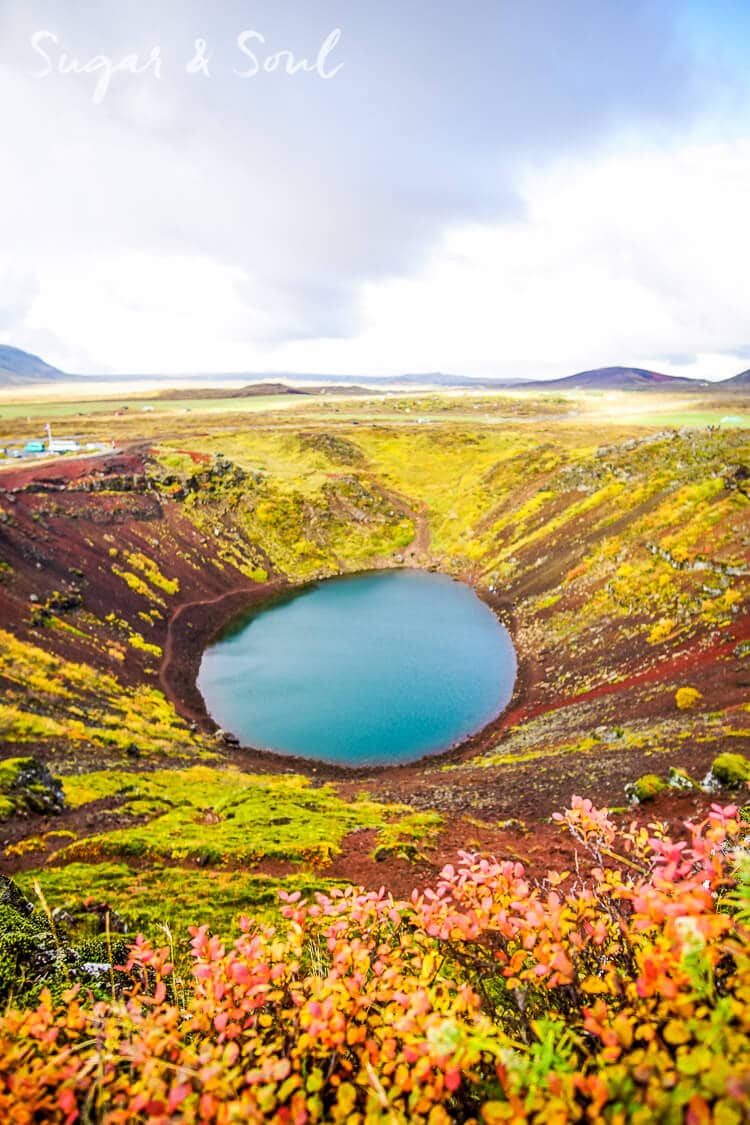 Kerið is a volcanic crater lake and is one of the most breathtaking places I have ever been. Formed 6500 years ago Kerið is believed to be a large scoria crater, which is a small volcano that does not give off ash, but just fragments or lava and usually have red oxidized interiors. Like many other scoria volcanoes, it's is believes that once the eruption was over and the magma chamber was empty, it collapsed in on itself causing the crater we see today.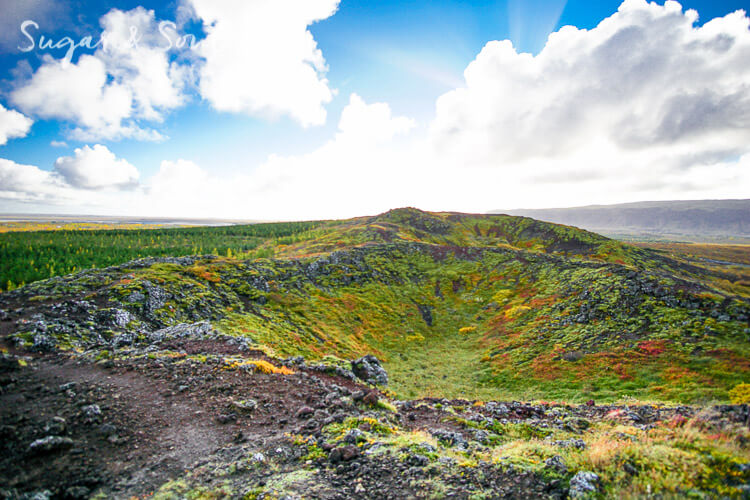 I could have sat here for hours, and as my mother quickly found out on this trip, I'm not one to sit. I'm more of a go-go-go person. But there was just something about this place, something that reminded me how grand and old and powerful this world is. Something that made me want to pause, to contemplate life, to give up on worry and fear and embrace all that life has to offer. Maybe it was sitting on the edge of something that was once dangerous, but it made me feel alive and it made me thankful that I was.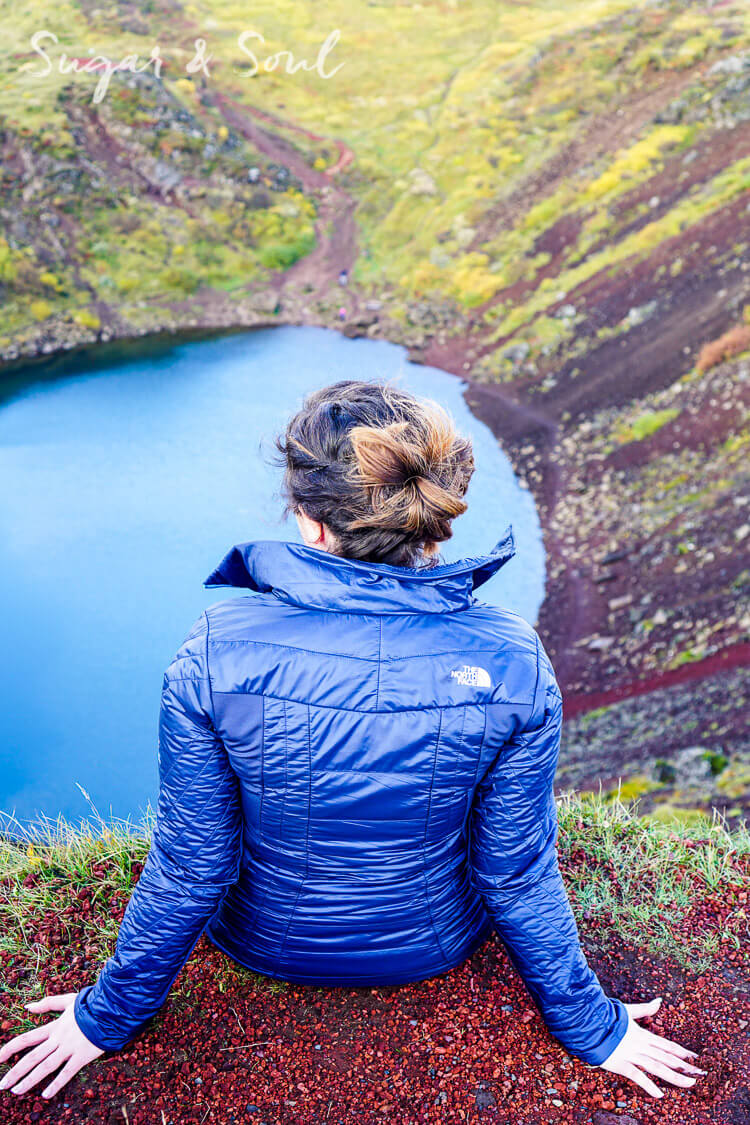 My mom could sit anywhere for hours… in case you're wondering…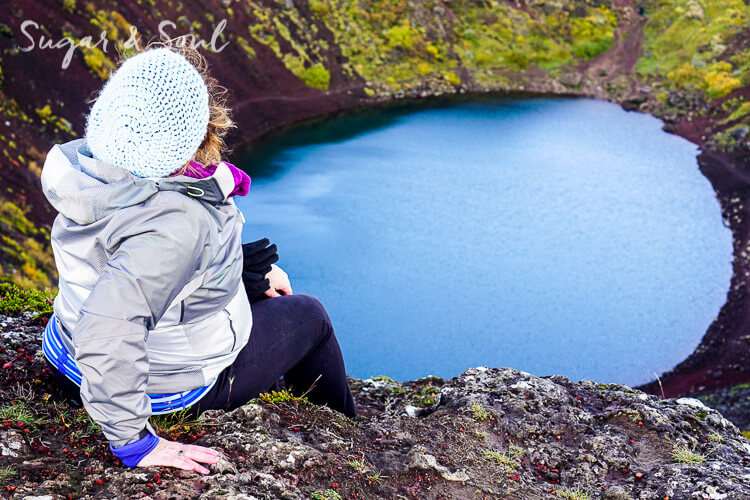 The flora in Iceland was so pretty and I absolutely loved the vibrant colors.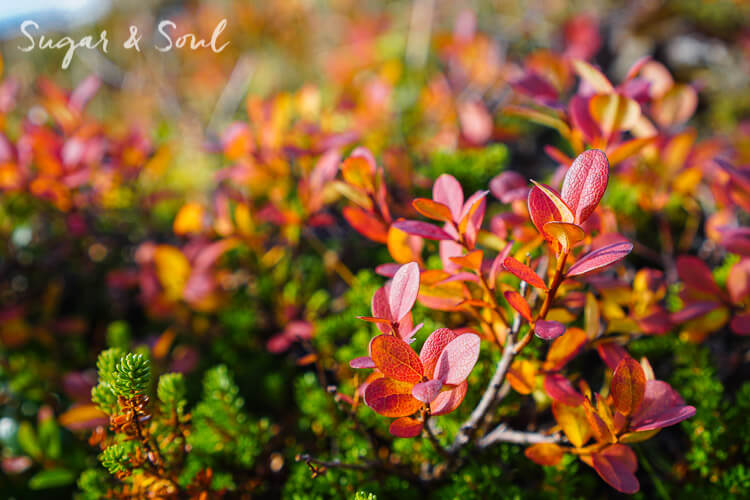 Kerið isn't as popular as the other stops on The Golden Circle, but in my opinion, it should be your priority.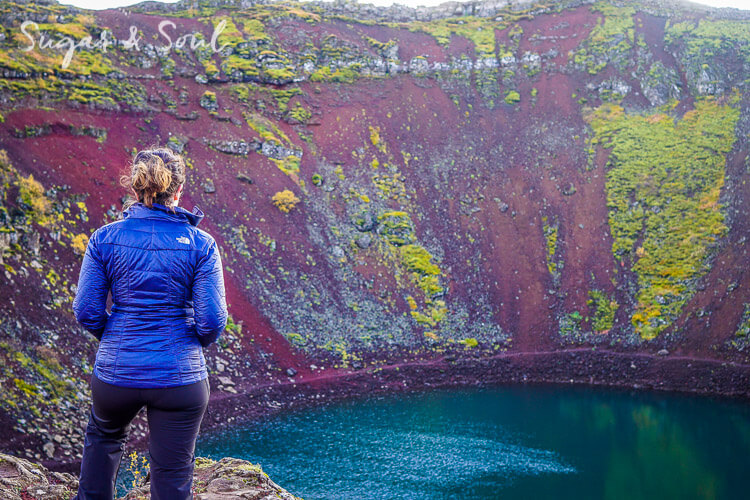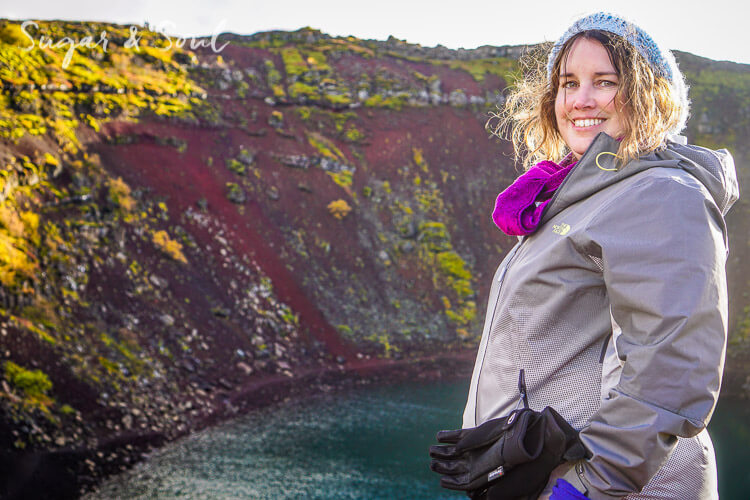 The aquamarine lake in the crater actually rises and falls with the ground water table and not with rain. The water is actually quite clear up close and is very shallow, only about 42 feet at its deepest.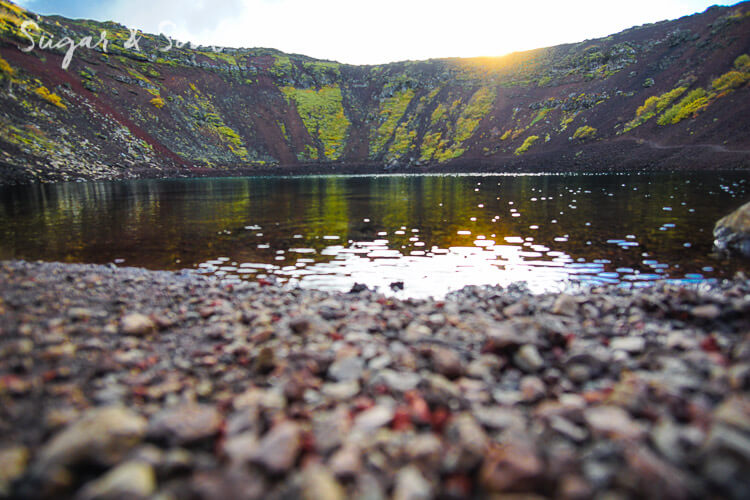 I thought this rock looked like a demon… so I took a picture!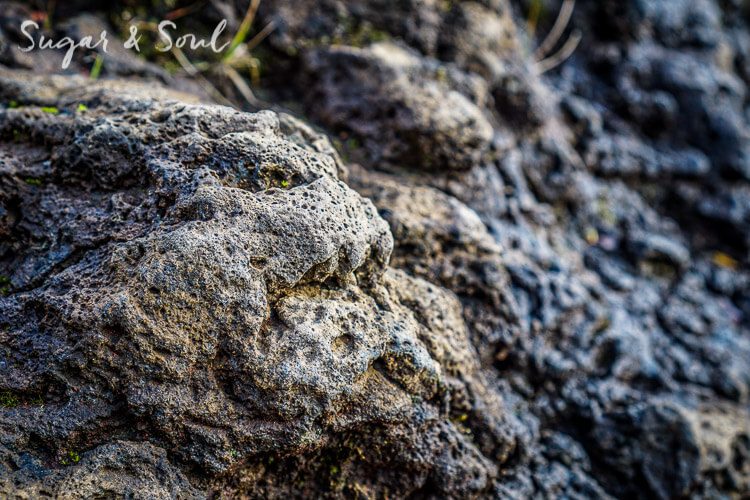 There's a walking path around both the top of the crater and the lake within. If you don't really stop, it probably only takes about 20 minutes to get around the top and then it's about 5 minutes down into the crater on the marked path near the parking entrance.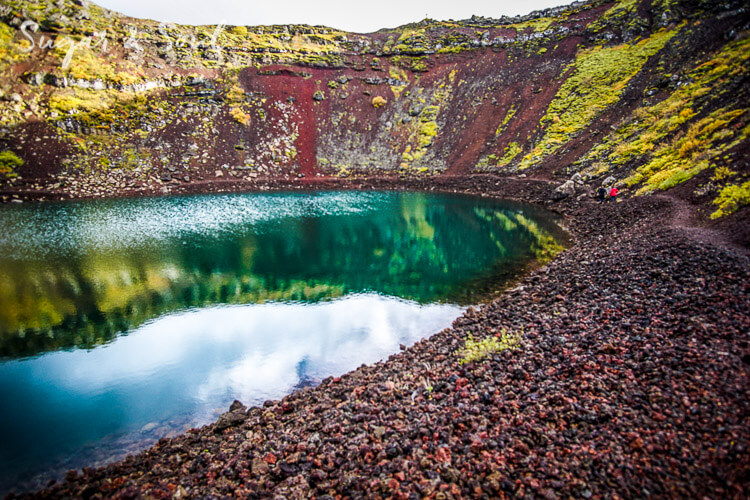 Oh! And did I mention I've teamed up with some friends to give one of you $500!!! That's almost enough to buy two round trip tickets to Iceland!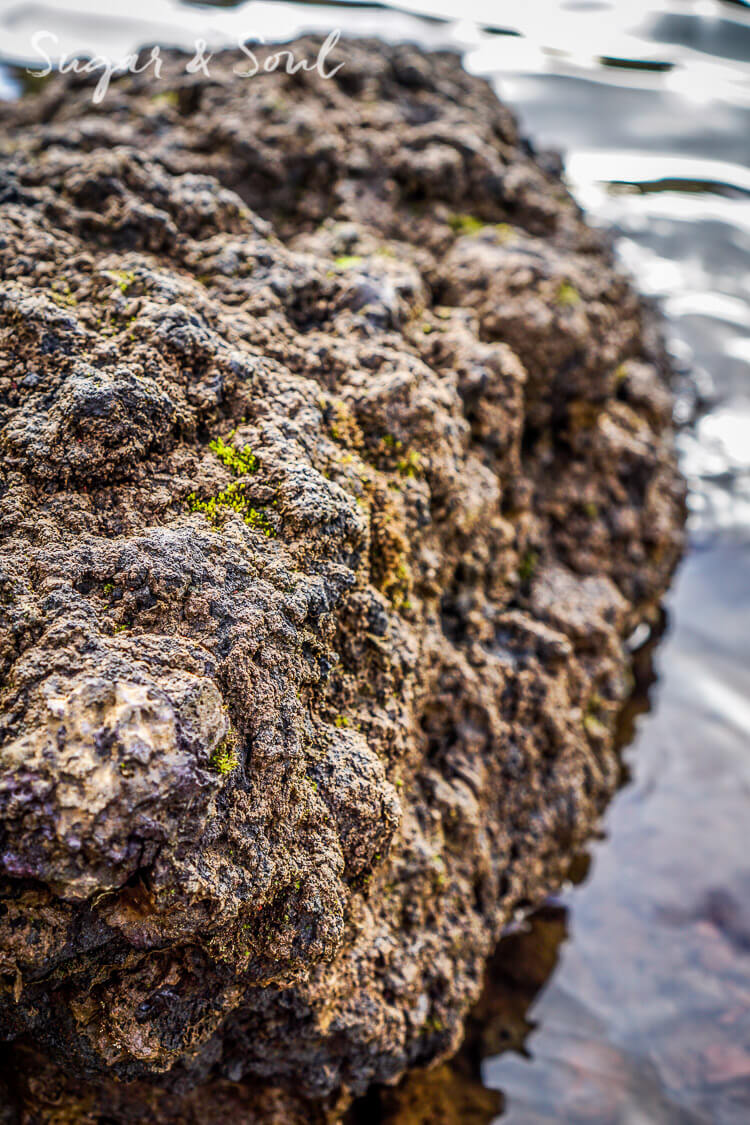 This is probably my favorite photo from our trip. We we're getting ready to get back in the car when I looked up and say this. There's was just something so tranquil about it, it was one of the moments where you look to nature and feel it fill your soul. I was so thankful to be able to capture it and actually ordered in on a canvas last week!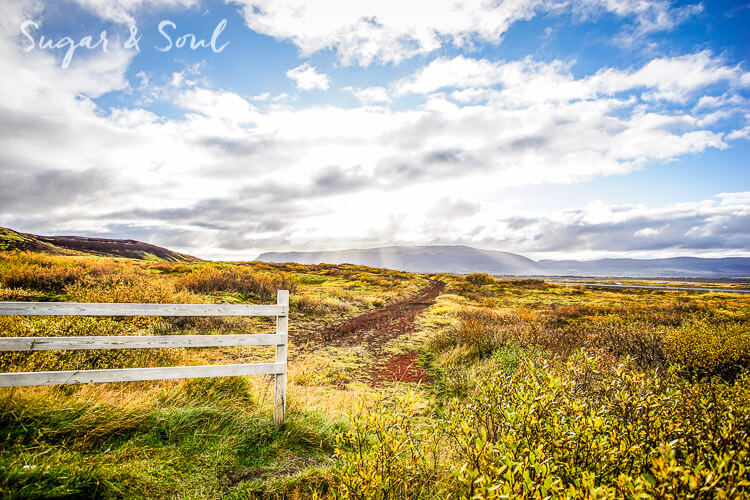 So that wraps up Day 2 of our trip to Iceland, we'll see you back here next week for Day 3!
Be sure to stop by the following blogs and thank them for sponsoring this amazing $500 Giveaway: A Dash of Sanity, The Love Nerds, Like Mother Like Daughter, Play Party Pin, Sugar & Soul, Tried and Tasty, Let's Dish Recipes, Cupcake Diaries, Cooking and Beer, That Skinny Chick Can Bake, Recipe Runner, Happy Food Healthy Life, Love Bakes Good Cakes, Lady Behind the Curtain, Bread, Booze & Bacon, The Lemon Tree Dwelling, Cravings of a Lunatic, Food Folks and Fun, , Our Mini Family, and Lemoine Family Kitchen.
You might also like: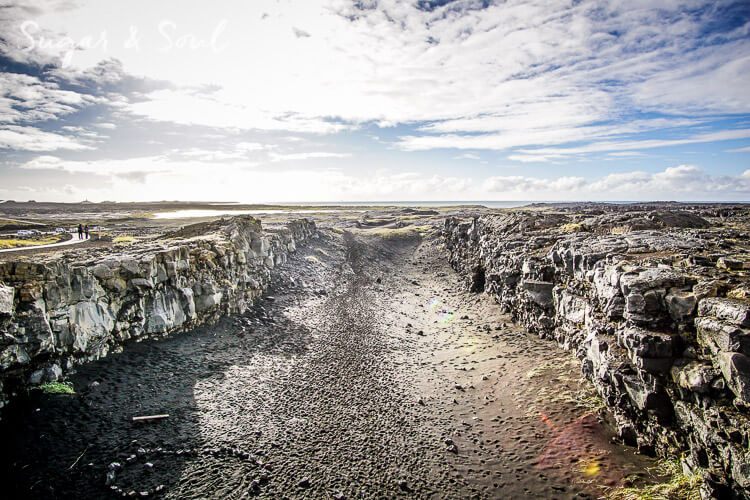 Iceland Day 1: Reykjanes Peninsula