Wrapping up the third trimester and sharing how I'm feeling, my favorite products so far, and answering some of your questions!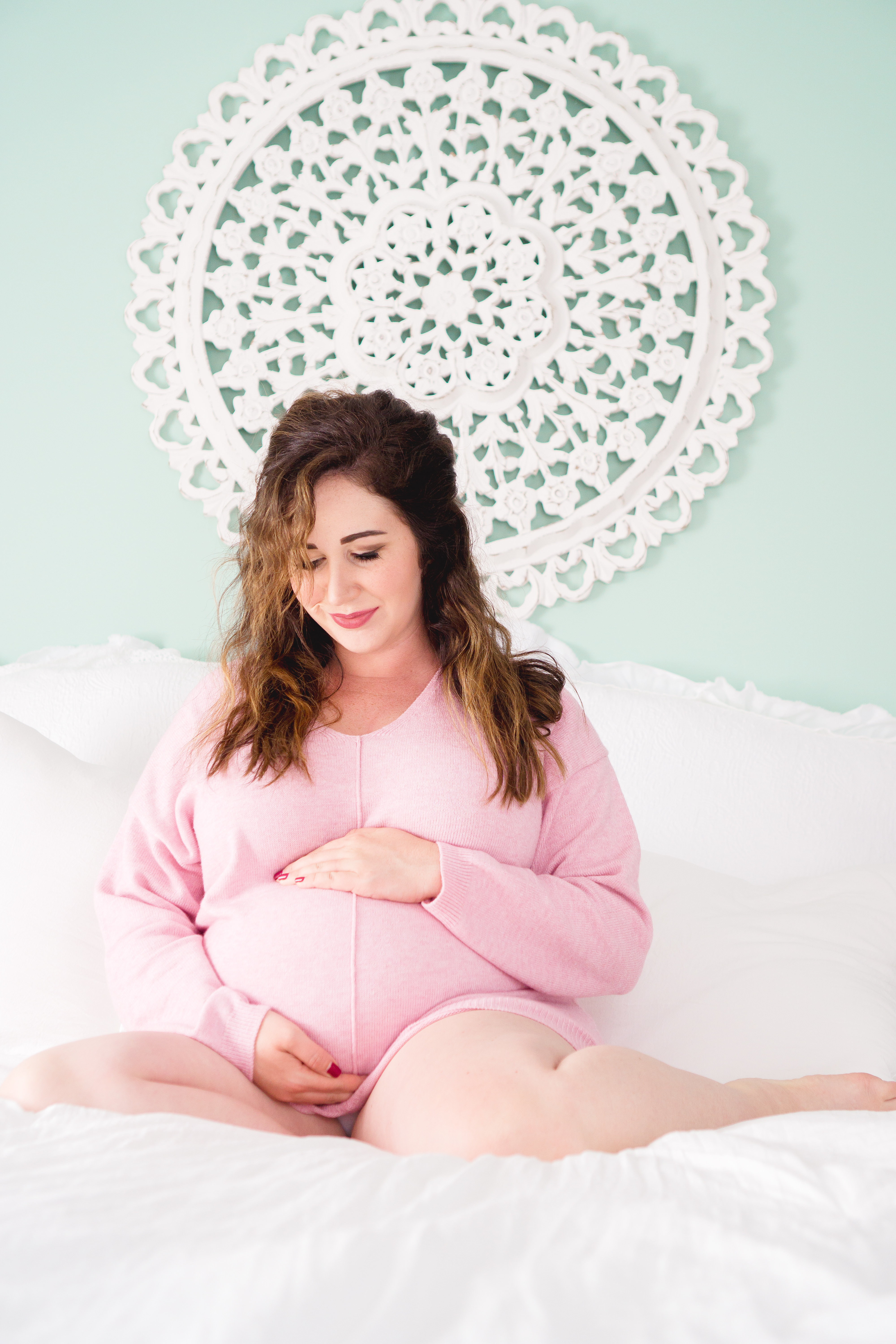 Technically my third trimester isn't over since Evie girl is still baking in my belly, but at 37 weeks she could arrive at any moment and I wanted to share how the last couple months of my pregnancy has gone for those who are interested.
I honestly can't believe how fast this pregnancy has flown. They say the last month is the longest and feels like forever, but so far that doesn't seem to be the case either.
Life is just hurdling along at light speed right now and it could slow down just a little because I still have a ton of work to do!
You might remember that I decided not to do maternity photos, but I did a few self-portraits earlier this week because I did want some nice photos to remember this special time in our lives and I'm so happy with how they turned out.
Thank goodness for camera timers and a dog that felt like cooperating for photos. Some of my favorites are scattered throughout the post 🙂 I shot these on my Sony a6000 with my 35mm and 16-70mm lenses, they were edited in Lightroom with The Pure Collection.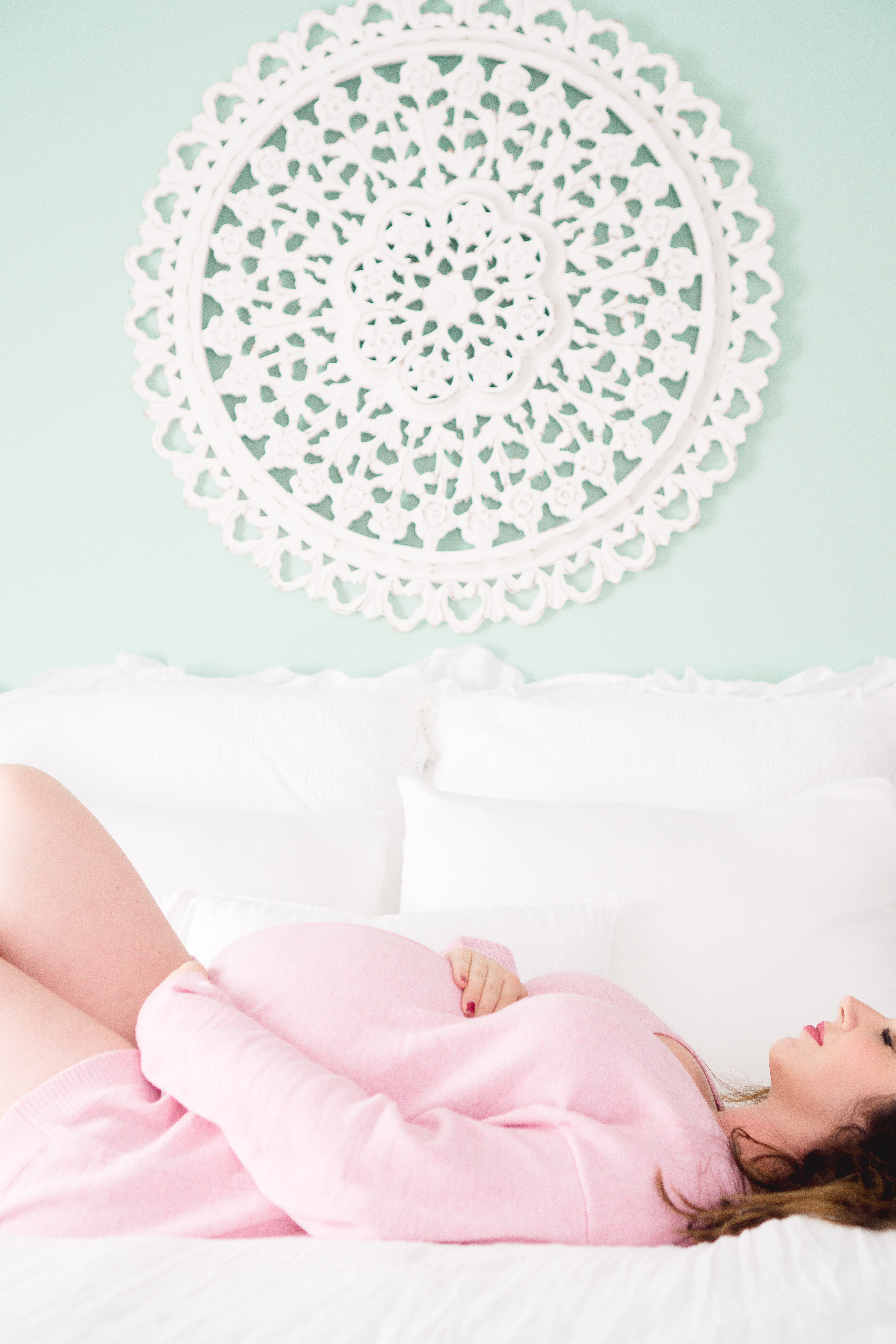 Last trimester you guys had a bunch of questions for me. This trimester that big question seems to be "How are you feeling?". Honestly, I'm feeling pretty good overall, I've definitely hit the point of constant discomfort and my feet hate me, but all in all, it could be worse.
The heat and humidity hit my lower legs and feet hard with the swelling. And I had a stretch of really bad Charley Horses that caused trigger points in the soles of my feet.
Luckily, my momma came and worked some magic last week and while the trigger points are still painful and there, I haven't had much swelling in almost a week.
However, my mom came to check my feet last week because we had a bit of a scare. I had a couple of days and nights where my feet and legs itched pretty badly and we had to have labs run to test for Intrahepatic Cholestasis of Pregnancy and of course, it took days to get the results so I spent them living in slight panic.
Luckily, the lab work came back negative and the itching what likely caused by oversensitive nerves from the swelling. Had it been positive, the doctor would have induced me this Thursday once I hit 37 weeks, hence the slight freak out.
But man, all the little things that can happen that you don't know about can be scary, the biggest lesson I've learned during this pregnancy is to do a lot of research, ask a lot of questions, and be a strong self-advocate.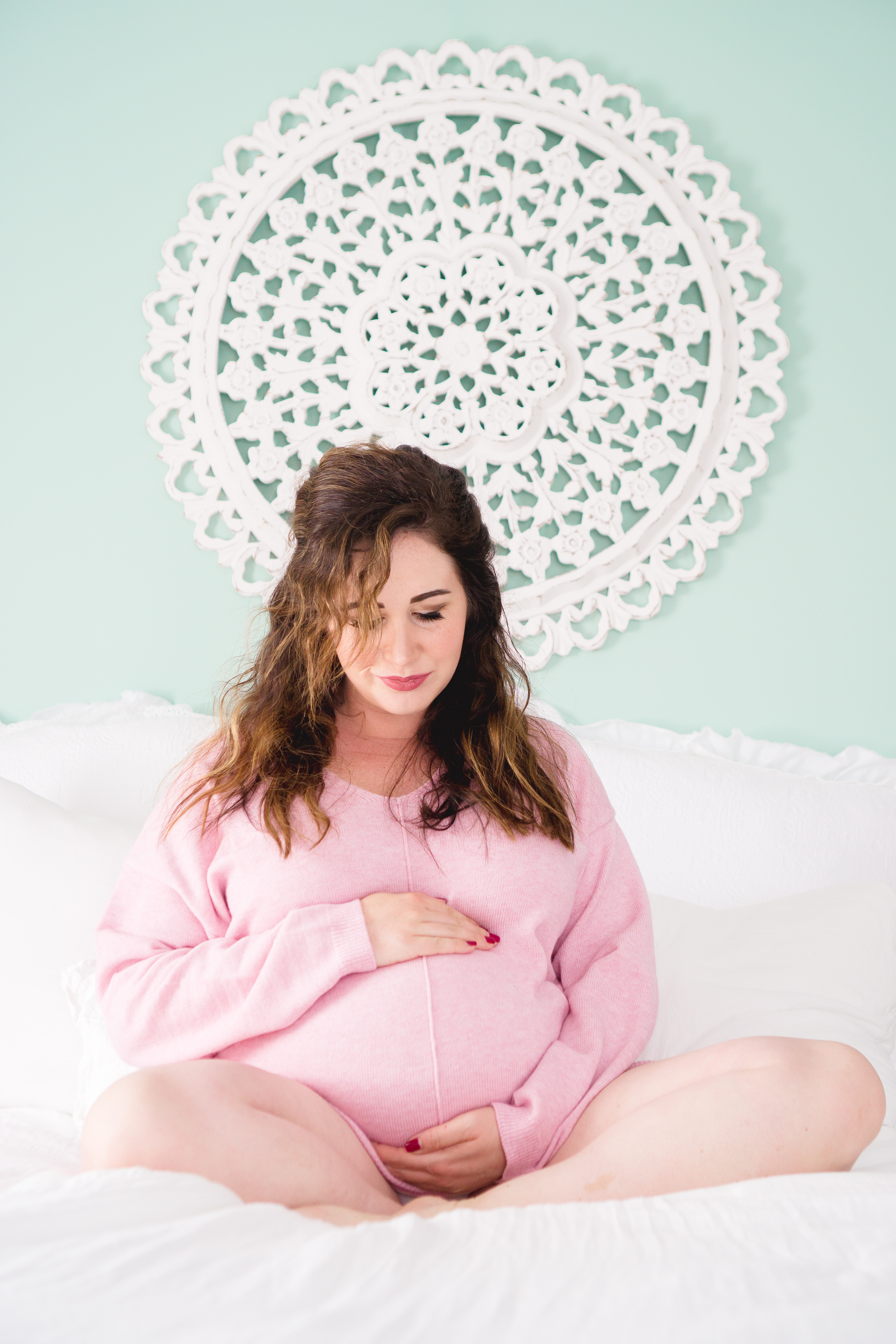 So let's pick up from where we left off with the Second Trimester Bumpdate.
Glucose Test:
I failed my 1-hour glucose test which meant I had to do that extra not fun 3-hour test. It was miserable. I've fasted for 30 hours before, but 18 hours and being pregnant was so much worse. Luckily, I passed and needles no longer bother me… so there's that.
I will say though, that when I failed the first test, it was a dark day. I know that it's not something that was in my control, but it still sucked to feel like I had failed my child and she wasn't even here yet.
I prompted me to do a lot of research and I'm grateful for the knowledge I have now, but I hope that all you mammas out there know that just because you have gestational diabetes, it doesn't make you a failure and you're not alone.
During my week of "unknown", I turned to my month board on The Bump where there was a GD Support thread and it helped to talk with other women in the same position and to educate myself on the topic.
So it's something I highly recommend doing if you find yourself looking for support and resources.
Does Evie Have a Middle Name?
Yep, Matt finally picked one. It's not my favorite, but I like it, and he gets the final say so it is what it is.
We originally said no family names and while the name we chose isn't technically a family name, it blends both of our mother's middle names together and we felt it was a nice tribute to the incredible women who raised us.
It also happens to be a foreign variant of Matt's grandmother's name, so it's really quite fitting.
A few middle names we toyed with but didn't end up choosing were Rue, Clementine, Lennon, Rowen, and Maru. We really wanted a middle name with Rue in it, but none of them felt right, but she'll still be our little Evie Roo even if it's not her given name.
Again, I won't be sharing her middle name on here to help provide some privacy for our little one.
Any Cravings?
Still no, that being said, my sweet tooth has come back with a vengeance in the third trimester and I'd be lying if I told you this kid wasn't at least 25% Chick-fil-A. And a local restaurant has an amazing salad I could probably eat every day, but I usually only get it once a week.
Weight Gain:
Unfortunately, I didn't stay on the track I wanted, but I'm still well within range for a healthy gain for my BMI which I'm pleased with. I gained almost 5lbs in 1 week a couple of weeks ago which had a lot to do with water retention and I think she had a bit of a growth spurt because my belly was noticeably bigger. I haven't really gained since then though, so I'm 20lbs up overall.
Stretch Marks:
Things were going so well and then they happened. I know they're hereditary and the lotions and oil or only deterrents, but they happened during a week when I got lazy with the lotion.
My mom said the same happened to her, she didn't get them with me and was religious with her lotion, but got lazy for a week during her pregnancy with my brother and there they were.
Those first couple of days after they appeared were a struggle, first of all, it's hard to see your body change like that, secondly, they freaking hurt. They were itchy with a burning sensation like a sunburn, I was not expecting that.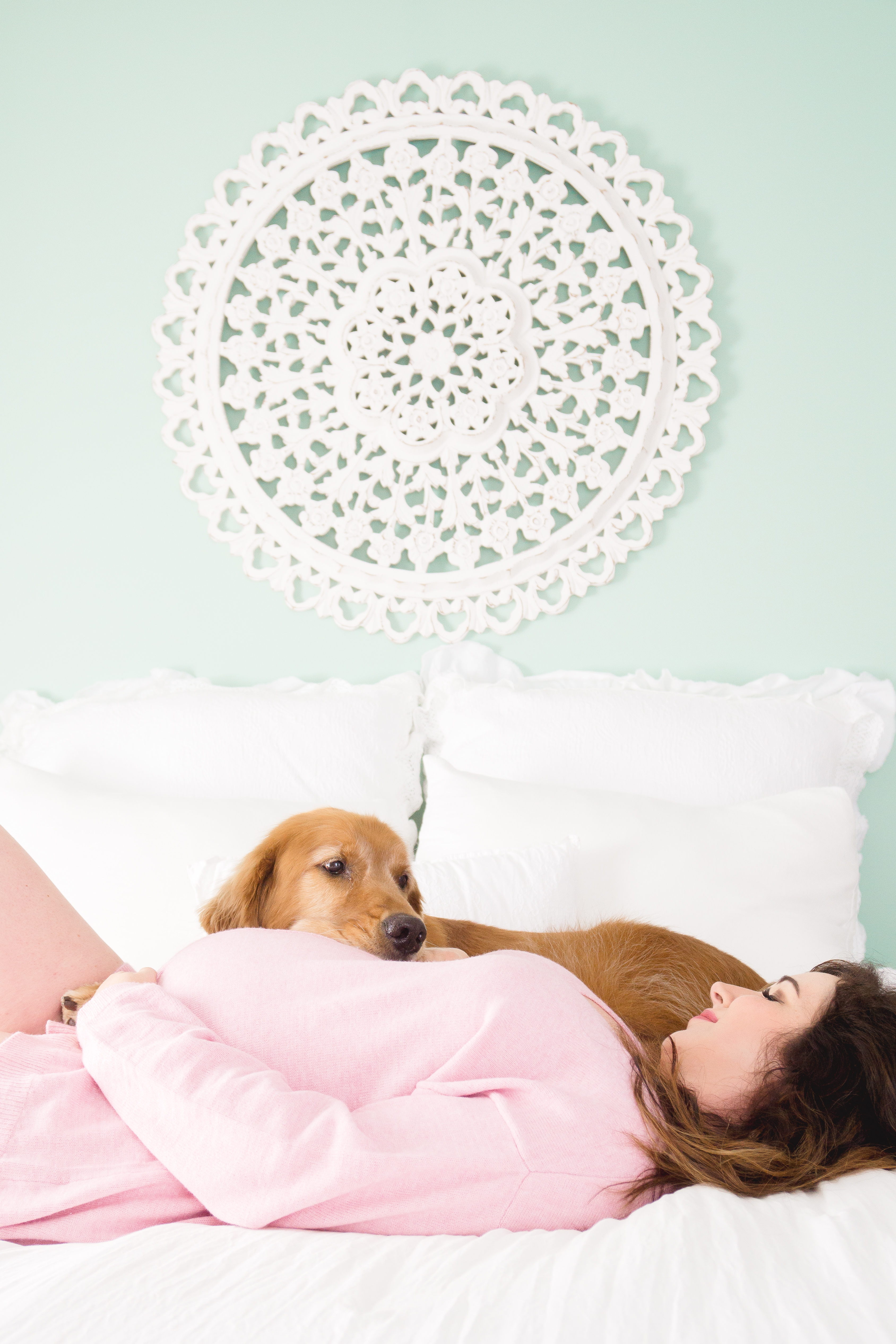 Products I'm Currently Loving:
Exercise Ball – This thing has been a serious help to my back pain and the bonus is that it helps your body prepare for labor by strengthening your pelvic floor and helping baby drop into position.
Red Raspberry Leaf – Many midwives and mothers claim that by drinking this tea or taking as a supplement, you'll have an easier labor and that it helps to reduce nausea during pregnancy as well. It's also commonly used to ease menstrual cramps, balance hormones, and increase fertility. Make sure to talk to your physician about it before making it part of your daily routine.
Silicone Rings – When my feet started swelling pretty regularly a few weeks ago, I knew there was a chance my hands wouldn't be far behind and that it was probably best to take off my wedding ring so I didn't risk it having to be cut off.
Plus it made for a great time for it to be sent away to be redipped. And then when we went out to dinner and the waiter asked if we wanted separate checks… I figured I'd invest in a few of these so I didn't look like the pregnant mistress since my husband still wears his ring.
Waterproof Mattress Protector – We put this on a few weeks ago as a precaution. Several friends recommended I get one and it's given me some peace of mind knowing that my memory foam mattress is a little more protected should my water break in bed or from post-partum recovery. It's not at all crinkly and fits over our 12-inch thick mattress, so I'm really pleased with it.
P.S. We seriously have the most comfortable and amazing mattress EVER and it's so cheap! We've owned 3 over the last 5 years for different beds and rooms and they're incredible! Check them out!
Native Deodorant – Getting pregnant was the final push I needed to quit my old deodorant and switch to one that was aluminum free. It isn't so much about the pregnancy as it is about my future and making sure I have a long one with my family.
Aluminum has been known to be a factor in developing breast cancer and Alzheimers, so for me, it was a no-brainer to switch. The Strawberry Rhubarb is my favorite and they just released their Pumpkin Spice Latte scent for fall!
Maternity Belt – I've had lower back pain for years and this belly sure hasn't been helping, so I picked up this belt a couple of months ago and wear it when I'm out running errands or on my feet a lot around the house to help reduce the stress that added weight is putting on my back.
Theraworx – I mentioned that I'd been having horrible leg cramps earlier on and my midwife recommended taking a calcium supplement and using a magnesium lotion. As long as I remember to use both and stay well hydrated, I don't seem to have any issues. But forget and it ends up being a very painful night.
---
I'm supposed to have about 3 weeks left which means that this will be my last Bumpdate and next time a post like this rolls around, I'll be introducing you to our sweet baby girl! Crazy!
I also plan to share some free printables from my travel themed Baby Shower, My hospital packing list, as well as Evie's Nursery Reveal in the coming weeks, so stay tuned!