This is a sponsored conversation written by me on behalf of Johnsonville. The opinions and text are all mine.
These 9 Tips for a Great Friendsgiving will help prepare you for both throwing and attending this casual, but fun occasion!
Thanksgiving is just a week away and I'm sure you're all excited to spend a day with your family, eating turkey, and fitting in a few naps here and there. But what about friends, we're thankful for them too, right? That's where Friendsgiving comes in, a newer trend or tradition in which friends get together and eat and drink and play games. This tends to be a little more low key than the pressurized family version.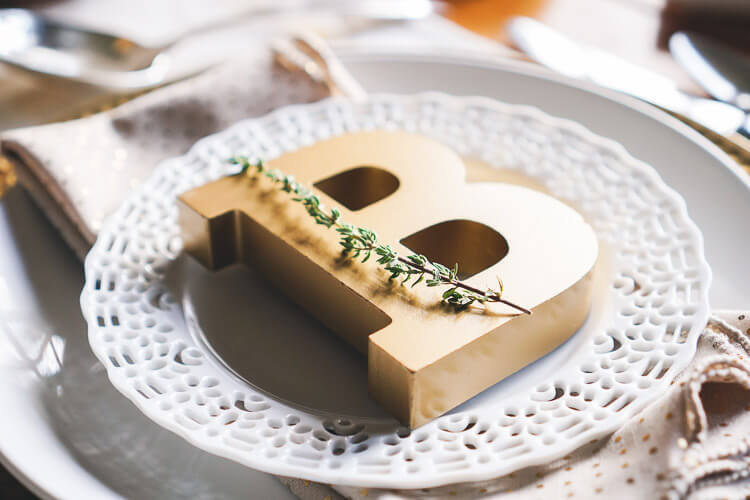 Originally the idea was for everyone to bring leftovers from their families big meal and go to a friend's house the following Friday for Friendsgiving. Recently though, Friendsgiving has morphed into a full-on occasion with fun menus and decor! So if you're planning one of your own, I want to share some tips with you to make it a success!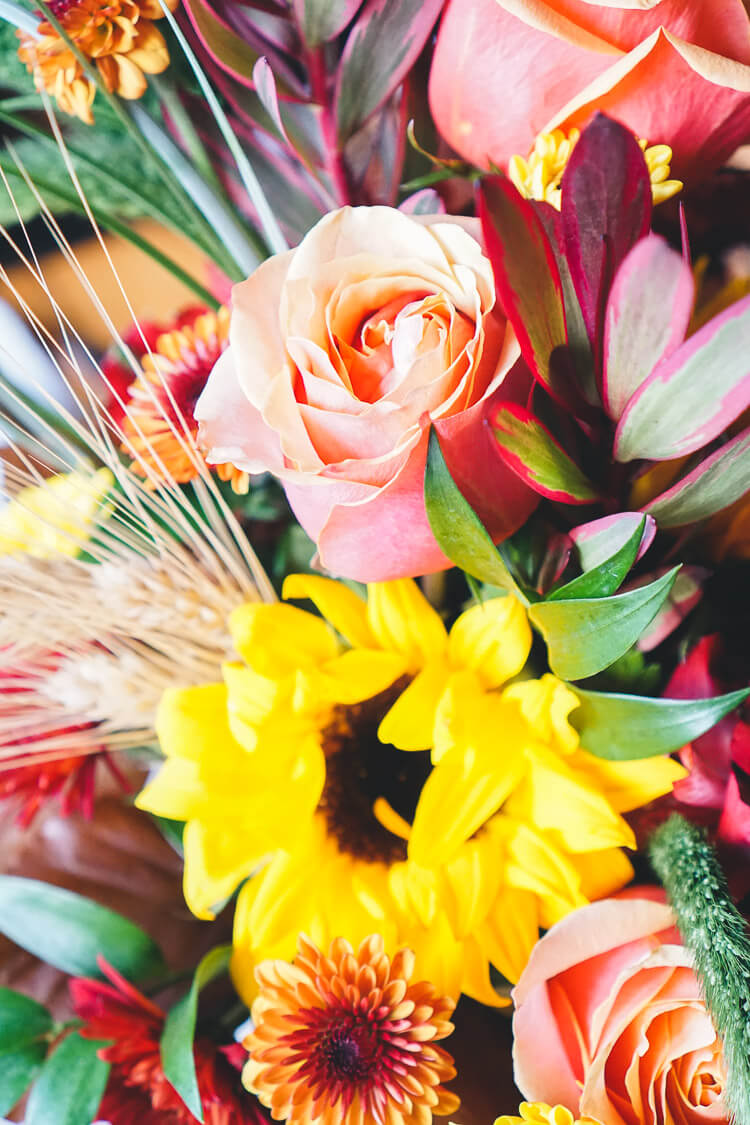 1. Flowers – Always add fresh flowers, even if it's just a small vase filled with carnations, it adds a little life and warmth to the table. Especially since some of us tend to have snow on the ground this time of year. If you're attending rather than hosting, flowers can double as a hostess gift too!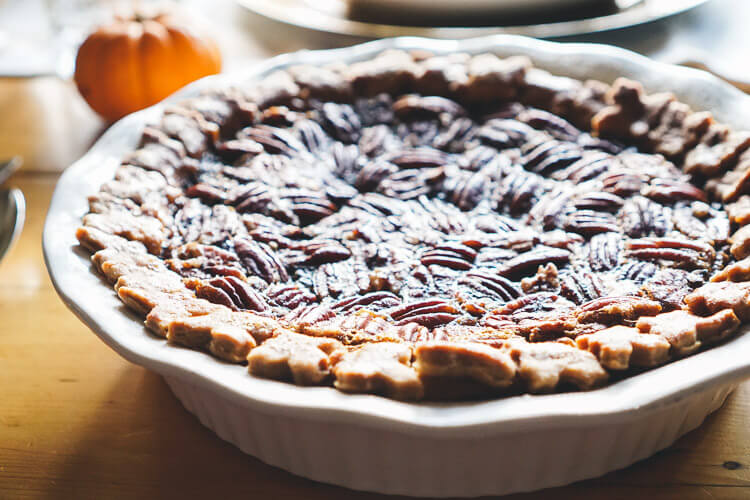 2. Place Settings – This really all depends on your style. My brother tends to do a buffet-style meal where everyone grabs their plates and silverware when they get their food. Personally, I like a table setting that locks in the feel of the occasion. For silverware, I stick with the basics, fork, knife, spoon. Fork on the left, knife on the right facing in and spoon next the the knife. Simple and classic. Chargers and layers also add a nice touch to the table, I went for a gold charger, white dinner plate, linen napkin, dessert plate, and name tag.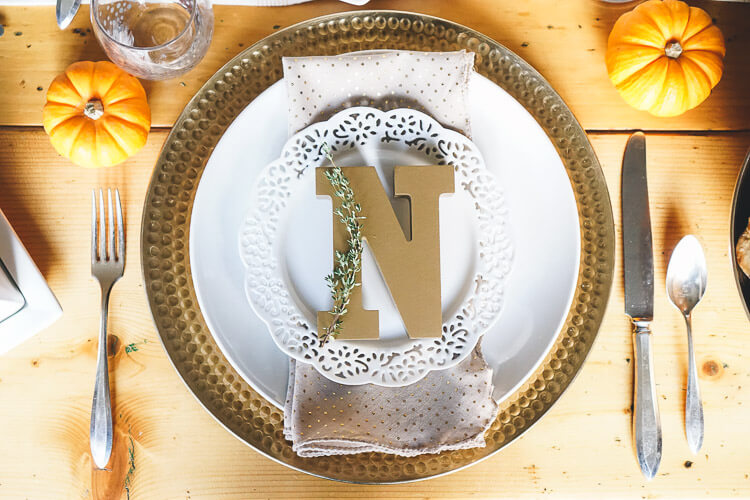 3. Classics – It's always a good idea to have a few classic menu items like buttermilk biscuits and mashed potatoes.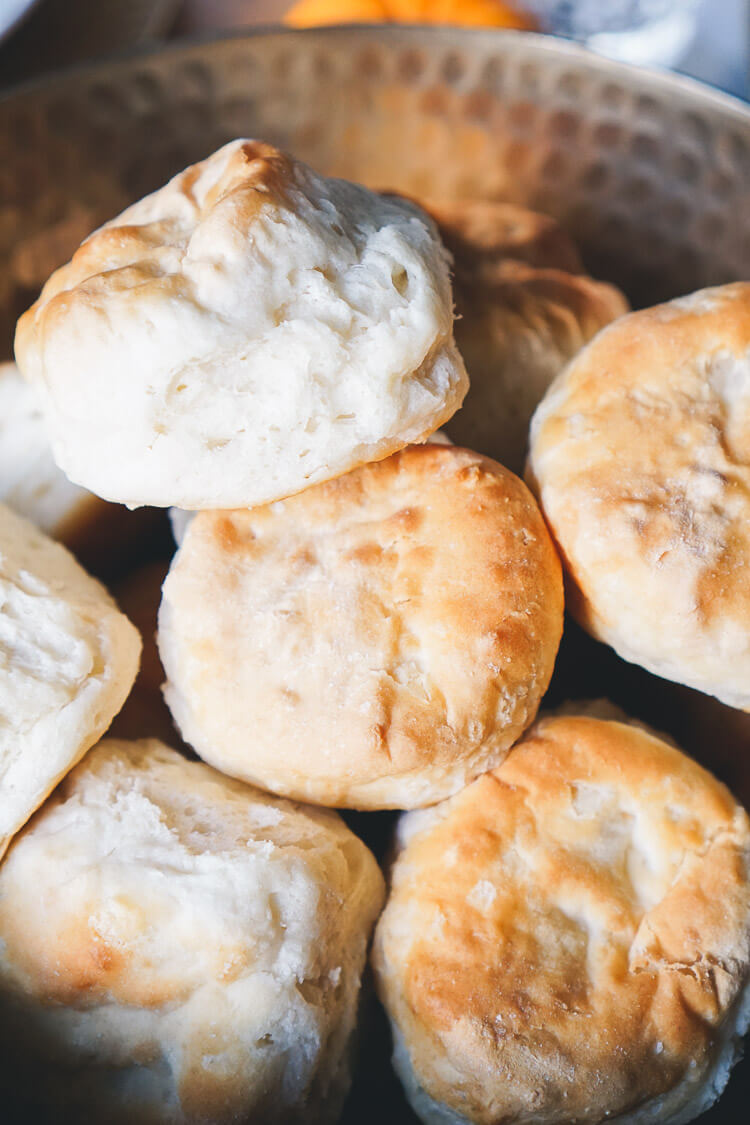 4. Be Adventurous – I mentioned the classics above, but Friendsgiving is a fantastic place to try new recipes. Maybe you want to spice up Nana's Mac n Cheese, but if you show up to her house with it she might shun you. Your friends will give you honest feedback on new recipe twists before testing them on the family. This year, I saw Johnsonville Italian Sausage at the grocery store and decided to swap it out with the beef in my shepherd's pie to see how it went over! It was a hit by the way and you can grab the recipe a little further down.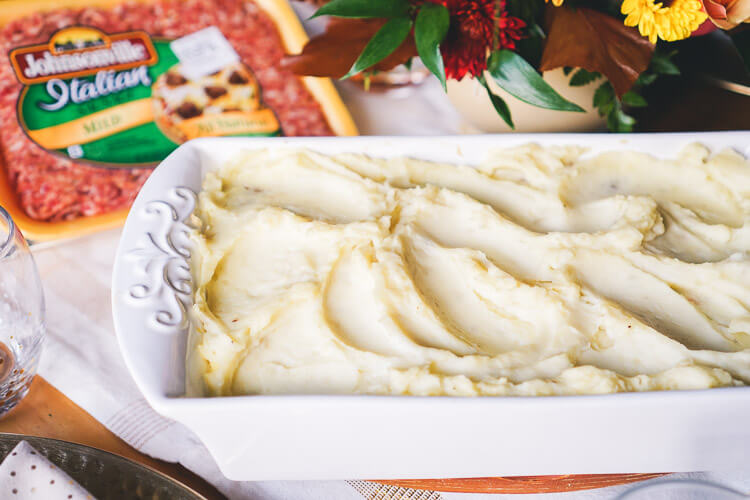 5. Skip the Turkey – I'm serious. Turkey's are so much work and honestly if you have to visit two families for Thanksgiving like we do then you're all turkey-ed out. Try something new as your main course, shepherd's pie, ham, a roast, whatever you want!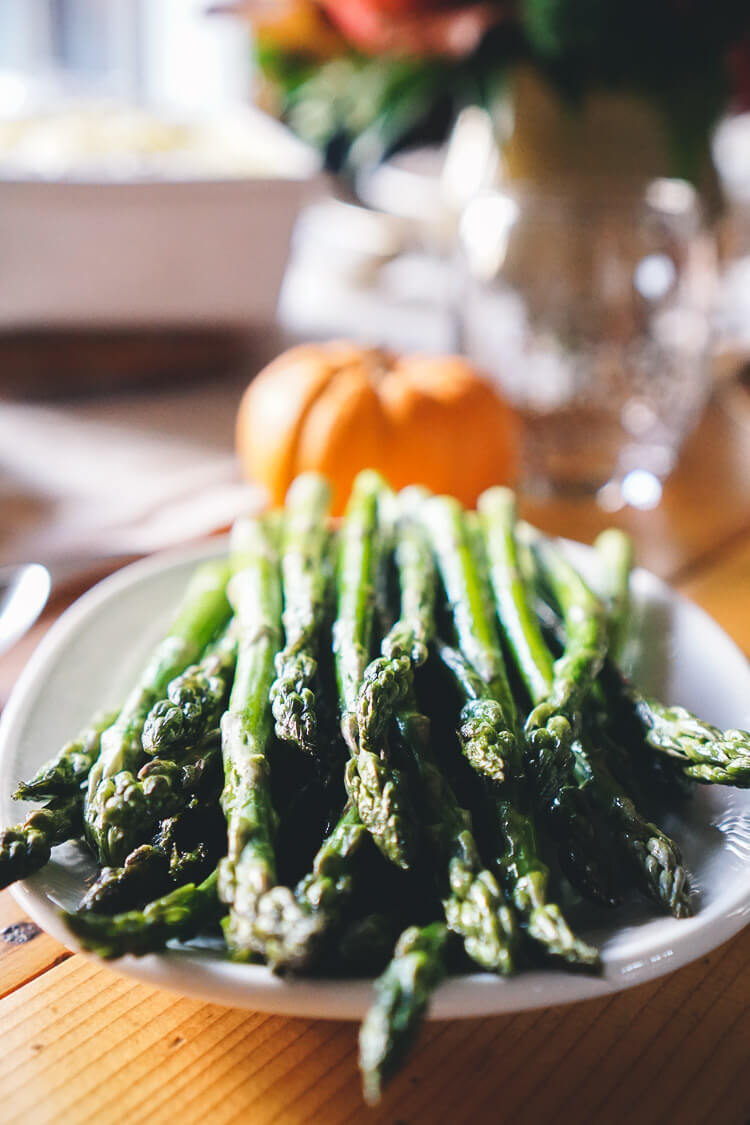 6. Vegetables – Make sure to serve at least one vegetable, it will make you feel better about that second piece of pie!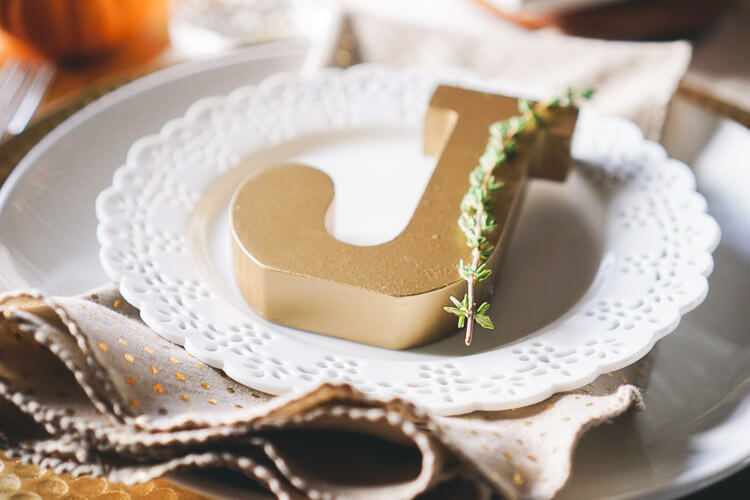 7. Name Tags – Whenever I go to a wedding, I always love to see how the couple has done their name tags up, you can get so creative with those things (you can check out ours here). I haven't been feeling overly crafty lately, but I saw these gold block initials and couldn't resist picking them up. I really think the worked right in beautifully, plus guests can take them home with them! I also love the touch fresh herbs add to a place setting!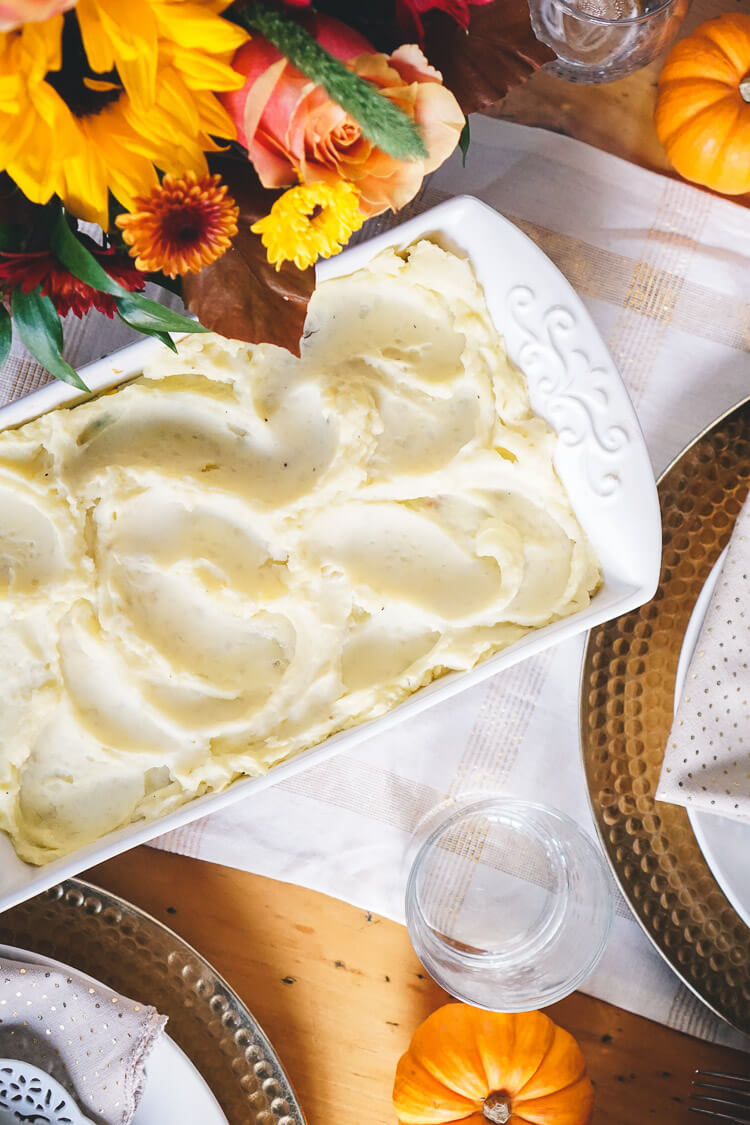 8. Keep it Simple – Don't overdo it, the idea is to keep it low key and fun. Have each guest bring a dish or drink for the occasion and have everyone pitch in when it comes time to clean up. This will get everyone hanging out and playing games faster and with minimal effort and stress.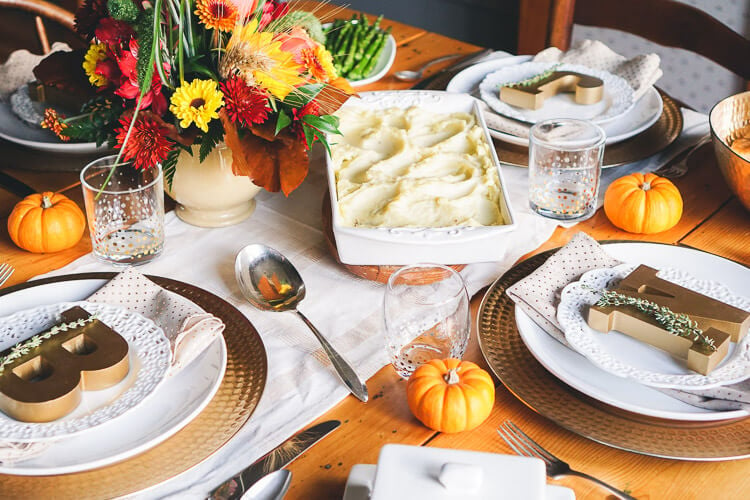 9. Drinks – PUT THE DRINKS ON THE TABLE!!! This is one of those things that has always bothered the crap out of me at dinner. Everyone is constantly up and down to get refills, why not just make it simple and dress them up and put them on the table. Whether it's soda or water in a pitcher with ice or a bottle of wine, keep it close at hand to reduce interruptions and spends more time together. This isn't just for Friendsgiving either, it's for all sit down occasions!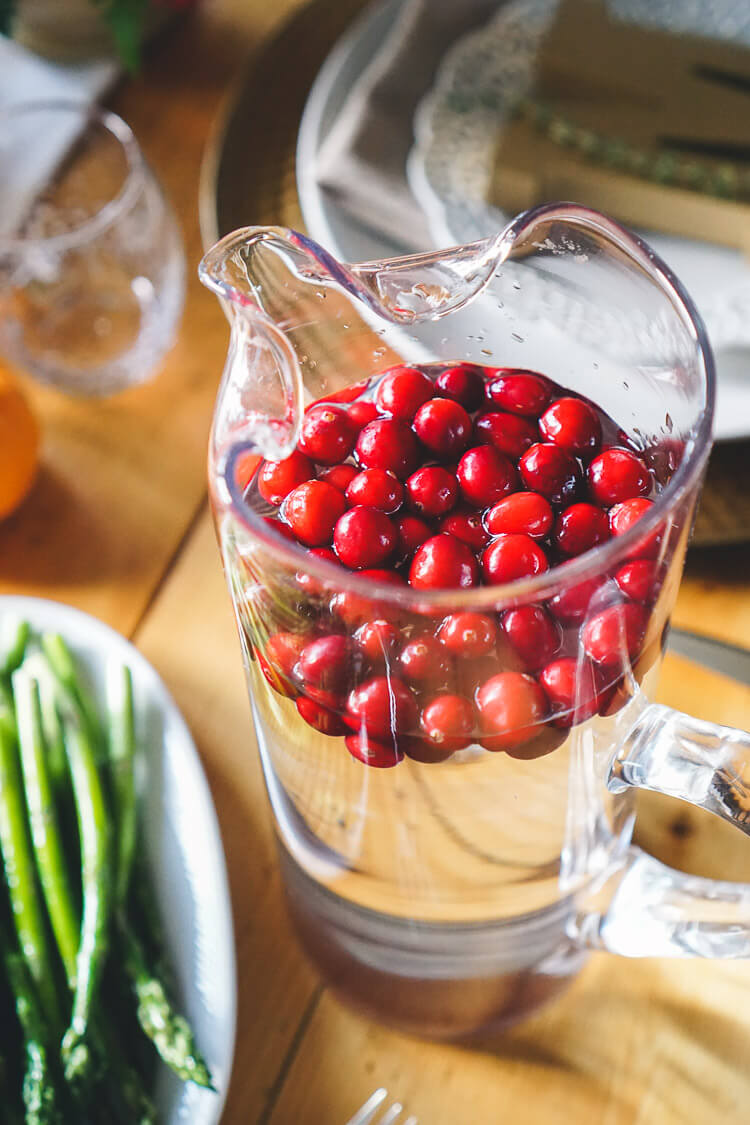 Bonus Tip: Add frozen cranberries to water instead of ice to keep it cool and festive!
I hope you found those tips helpful as you begin planning your friend filled holiday! But let's not forget that recipe I promised you, eh?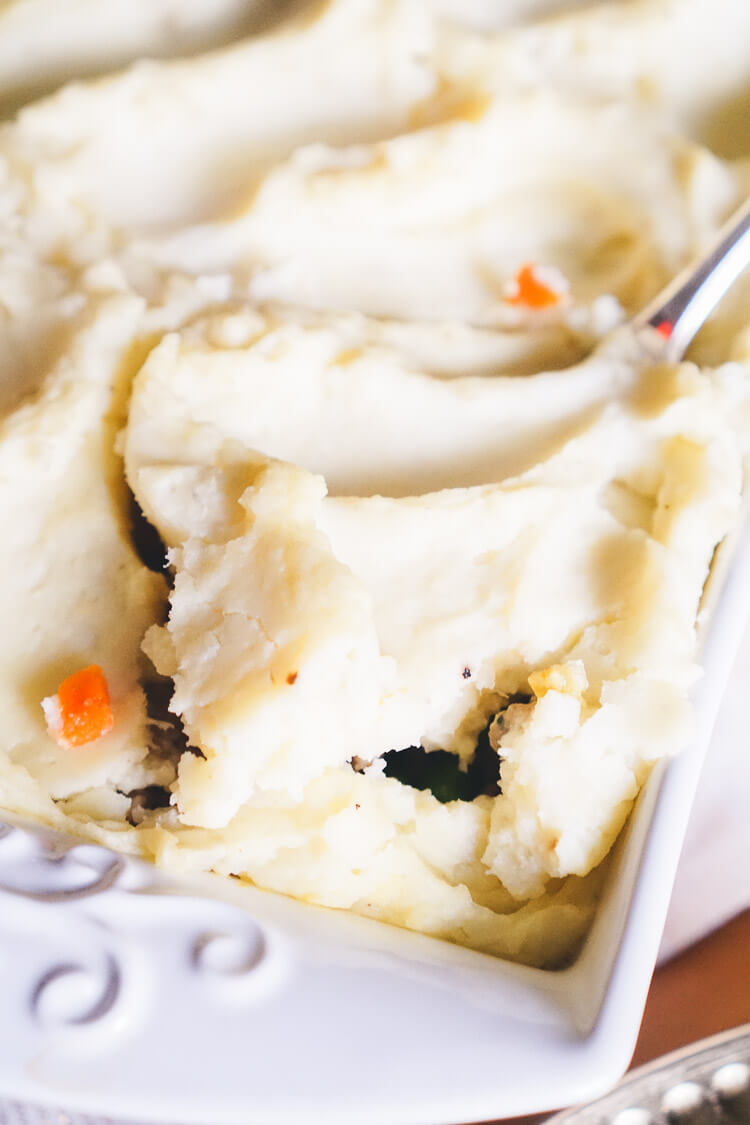 Shepherd's Pie is such a classic and comforting dish and it can be pretty versatile too! By substituting the beef with Johnsonville Italian Sausage with added a fun and delicious twist without changing much of the traditional recipe. It's still loaded with onions, peas, carrots, and corn and topped with fluffy mashed potatoes! Want to know what the key is to that perfectly textured potato layer? An egg yolk! It binds everything together and adds another level of rich flavor your guests won't be able to get enough of when combined with the great flavors of the Italian Sausage!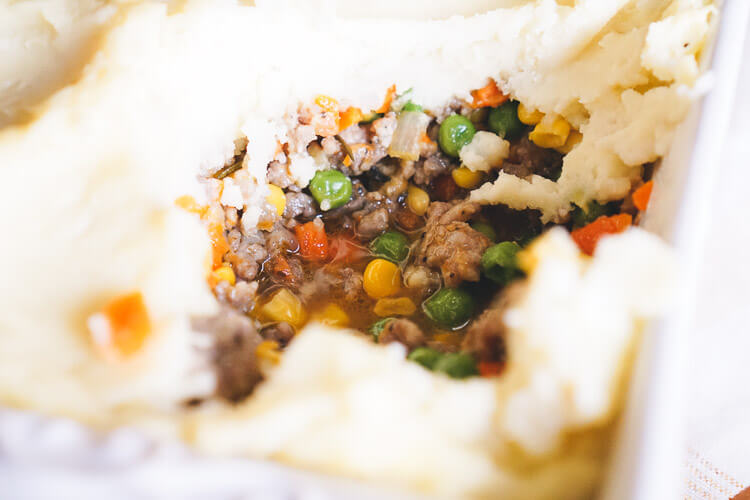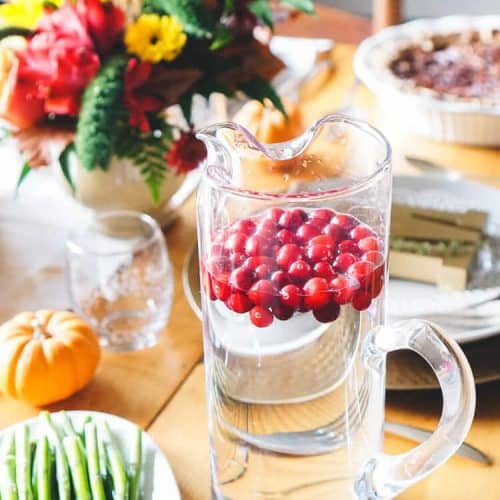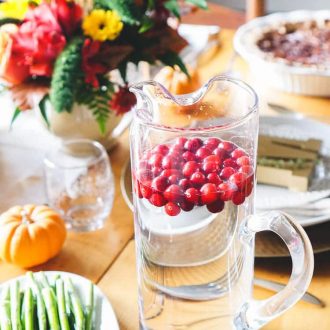 Italian Sausage Shepherd's Pie
A traditional and comforting dish with and Italian twist everyone will love!
Print
Pin
Total Time:
1
hour
30
minutes
Ingredients
Potatoes:
1 1/2

pounds

russet potatoes

1/4

cup

half & half

4

tbsp

unsalted butter

3/4

tsp

salt

1/4

tsp

black pepper

1

egg yolk
Filling:
2

tbsp

canola oil

1

cup

onion

chopped

2

carrots

peeled and diced small

2

cloves

garlic

minced

1 1/2

lbs

Johnsonville Italian Sausage Mild or Sweet

1

tsp

salt

1/2

tsp

black pepper

2

tbsp

all-purpose flour

1

cup

chicken broth

1

tsp

Worcestershire sauce

2

tsp

freshly chopped rosemary leaves

1

tsp

freshly chopped thyme leaves

1/2

cup

fresh or frozen corn kernels

1/2

cup

fresh or frozen peas
Instructions
Peel the potatoes and cut into 1/2-inch cubes and place in a large pot and cover with cold water.

Cover and cook over high heat and bring to a boil. Once boiling, uncover, decrease the heat to medium and cook until potatoes are tender, about 10 to 15 minutes.

Place the half & half and butter in a microwave-safe bowl and microwave until warmed through, about 35 seconds.

Drain the potatoes in a colander and then return to the pot. Mash the potatoes and add the half & half, butter, salt and pepper and continue to mash until smooth. Stir in the yolk until well combined.

Preheat the oven to 400 degrees F.

While the potatoes are cooking, prepare the filling by adding the canola oil to a 12-inch pan and set over medium-high heat.

Add the onion and carrots and saute just until they begin to take on color, approximately 3 to 4 minutes.

Add the garlic and stir to combine.

Add the sausage, salt, and pepper and cook until browned and cooked through to render the fat a little, approximately 7 minutes.

Sprinkle the meat with the flour and toss to coat, continuing to cook for another minute.

Add the chicken broth, Worcestershire sauce, rosemary, thyme, and stir to combine.

Bring to a boil, then reduce the heat to low, cover and simmer slowly 10 to 12 minutes or until the sauce is thickened slightly.

Add the corn and peas to the sausage mixture and spread evenly into an 11 by 7-inch baking dish.

Top with the mashed potatoes, starting around the edges to create a seal to prevent the mixture from bubbling up and smooth with a rubber spatula.

Bake for 25 minutes or just until the potatoes begin to brown. Remove to a cooling rack for at least 15 minutes before serving.
Do you have any tips for throwing a great Friendsgiving that I might have missed? I'd love to hear all about your traditions in the comments!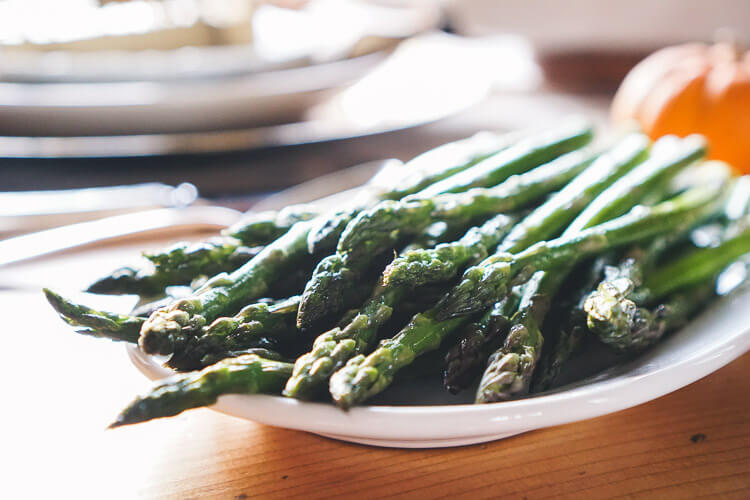 Oh and don't forget dessert! I made this Kentucky Pecan Pie!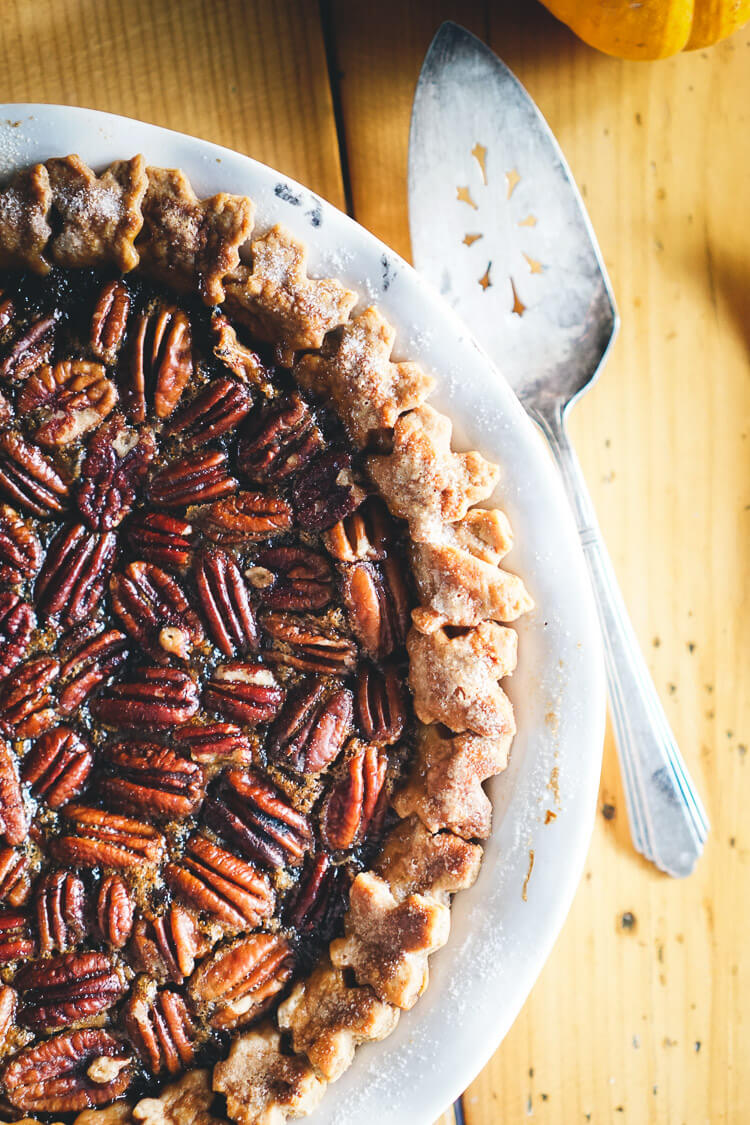 The details:
Flowers – Chapel Hill Floral – Bangor, Maine
Gold Letters – Michaels
Pie Plate – Target
Chargers – Target
Dinner Plates – Target
Bread Bowl – Target
Napkins – Pier 1
Dessert Plates – Pier 1
This is a sponsored conversation written by me on behalf of Johnsonville. The opinions and text are all mine.