When I started this blog two and a half years ago, my intentions were that a large section of it would be dedicated to travel. It's been a long time coming, but I'm happy to say that I'm finally checking destinations off and beginning to fill that Travel page up! And to me, nothing seems more fitting than starting things off with Scotland.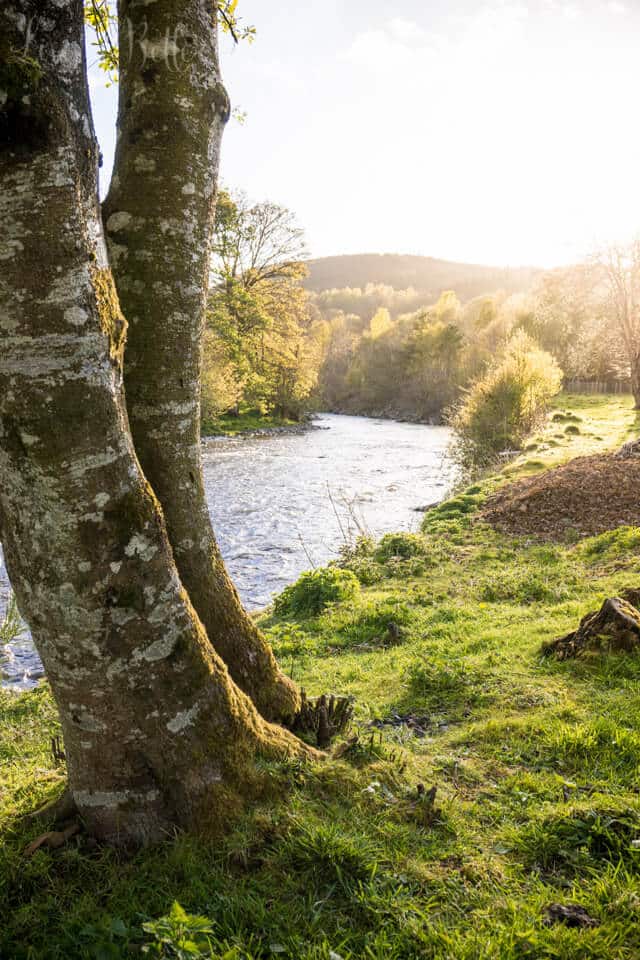 We were in Scotland May 7th – 14th, and pretty much bounced around the entire country taking in the sites. I can't believe we've already been home for a week. I'm definitely having post-vacation depression, good thing I'm jetting off somewhere new on Thursday! There were definitely places we missed, but I'll be making the trip back to see some of the Outer Hebrides and Orkney someday. But this trip began in Inverness after a flight from Boston to Dublin and a small connection to Scotland.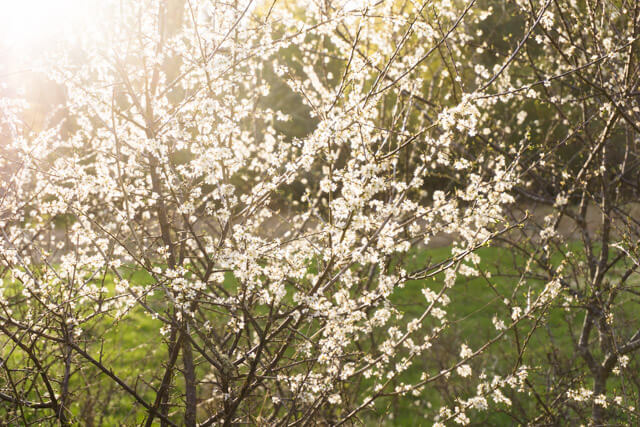 Flying over Scotland's northern terrain was incredible, unlike anything I've ever seen. Barren and bold. Matt asked me "What is that"? My response, "Beautiful". I was instantly captivated by this amazing place. My hope is that this series of travel posts will inspire you to plan your own trip to this gorgeous country.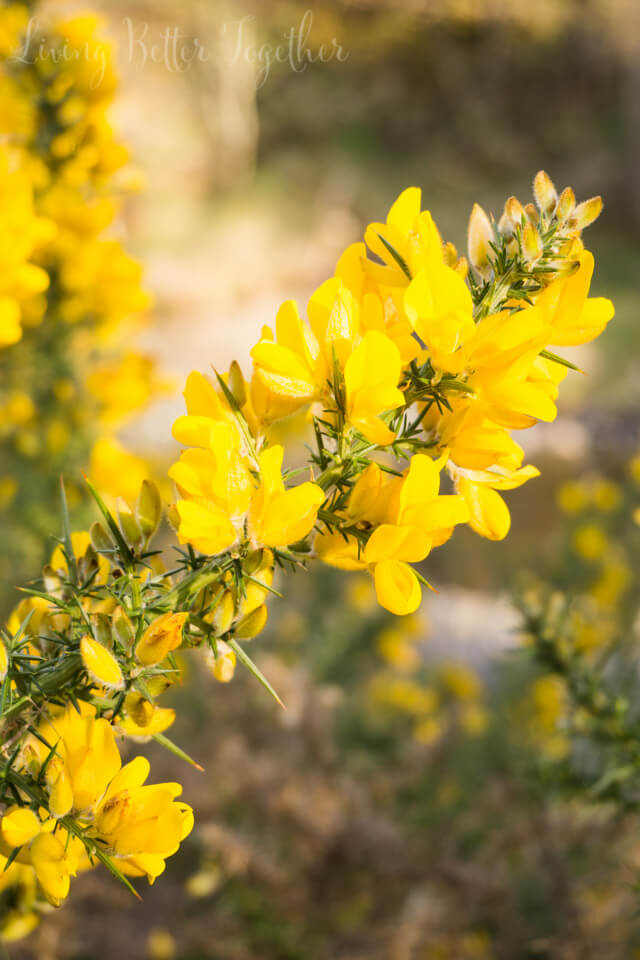 Let's get the worst part over with, though, shall we? We rented our car from EuropCar; the rates were pretty reasonable. Unfortunately, it didn't come with an instant download for feeling comfortable driving on the other side of the road and the other side of the car. Let's just say that it wasn't a fun experience; I was pretty sure we were going to die.
Scotland's roads are narrow, and they drive pretty fast on them too. So don't get too distracted while taking in the beauty of Loch Ness or you might end up in it. Lots of s-turns, hills, ledges, and backpackers… it's a good time.
While driving is scary at first, you will adjust. We joke about what it's like to drive on the other side of the road a lot:
Day 1: We're going to Die
Day 2: I can do this
Day 3: This isn't so bad
Day 4: Vroom vroom!
But in all seriousness, just be alert and cautious and you'll be okay. Pull over in the photo stops to let traffic by so you don't hold others up. After a few days behind the wheel, you'll be ready to take on this Ultimate UK Road Trip!
After a rough experience in Inverness Centre's rush hour traffic, we decided not to go back into the city. There are places I would like to have gone, but at the time, it wasn't worth the stress. We have a tendency to fight when we travel; The Amazing Race would love us. But I've learned to pick my battles, and a trip to Leaky's Bookshop & Cafe was one I decided not to wage. Even though we didn't spend much time in the actual city, everything in this post is considered the Inverness area. We were in Inverness the evening of the 7th and all of the 8th, leaving the area on the morning of the 9th.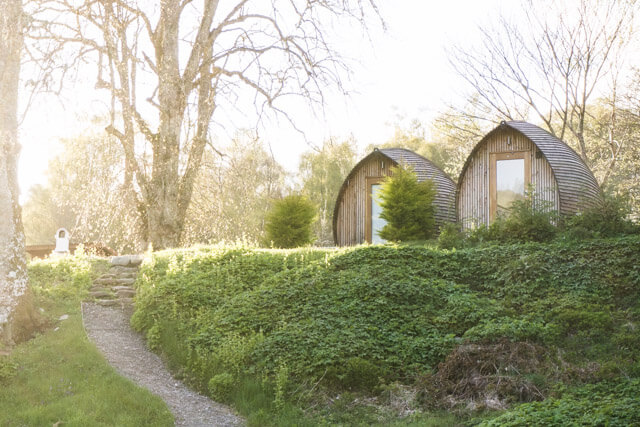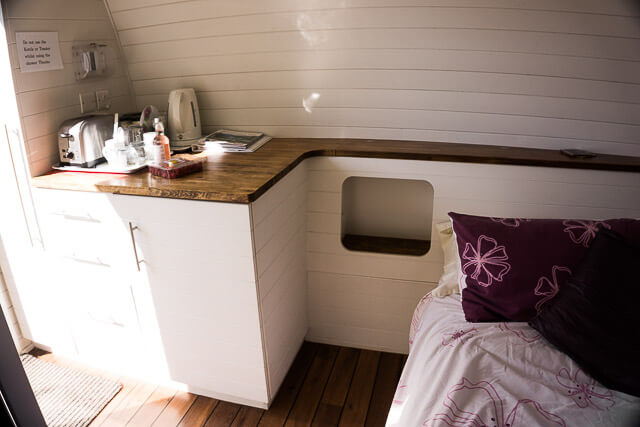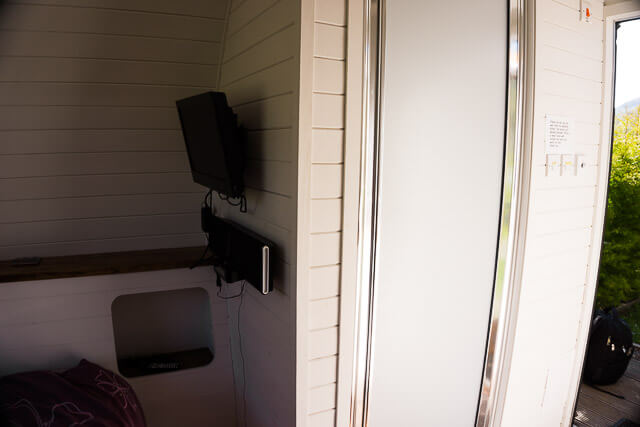 Okay, now on to the fun stuff! We stayed at Loch Ness Glamping/Great Glen B & B in these ADORABLE Armadilla huts. This was our favorite place that we stayed; it was like being on The Shire in a Tolkien book. Sonia and Graham were lovely hosts and made us feel right at home on their little farm about a 20-minute drive outside Inverness. These little huts were pretty impressive; they have radiant floor heating, full bed, shower, bathroom, fridge, closet. Plus, there's no need to set an alarm, the sheep got you covered. The cost: £58.00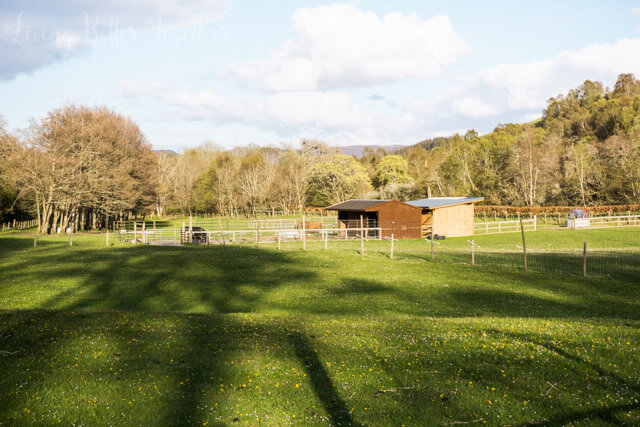 On our first full day in Scotland, we made Urquhart Castle on Loch Ness our first stop. We had driven by the day before (while lost), and it was a crazy town, so we decided to hit it up nice and early. We got there just as it opened and pretty much had the place to ourselves, by the time we left, though, it was starting to fill up. I highly recommend catching the video in the visitors center before venturing out into the ruins.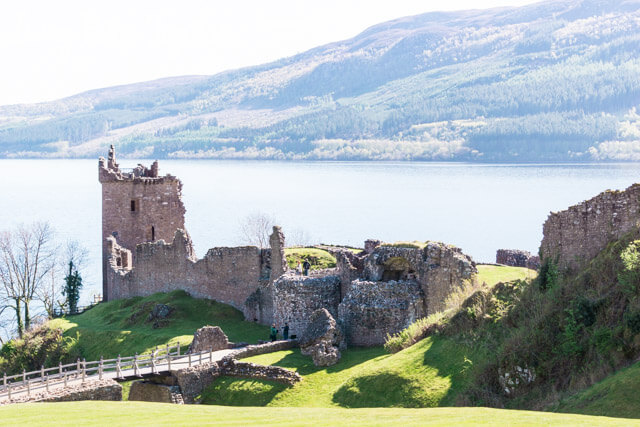 Since we had a few castles on the list, we ended up purchasing Scotland Explorer Passes which were £30.00 per person and gave us access to tons of historical sites, including the ones already on our list. We saved about £30.00 with the pass, so I highly recommend it, just make sure your itinerary lines up with your given days (5 or 14-day passes are available).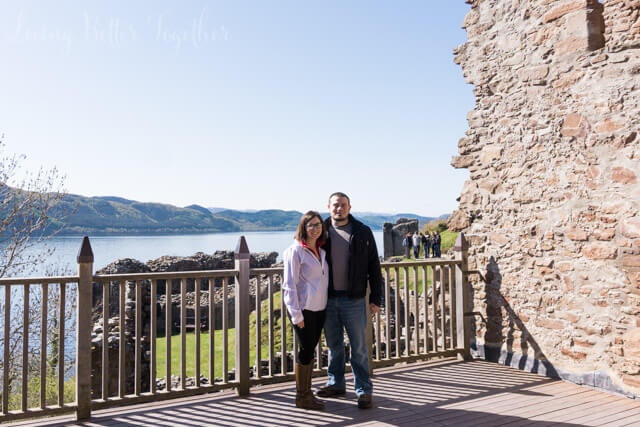 We didn't see Nessie, but her home sure is a beaut!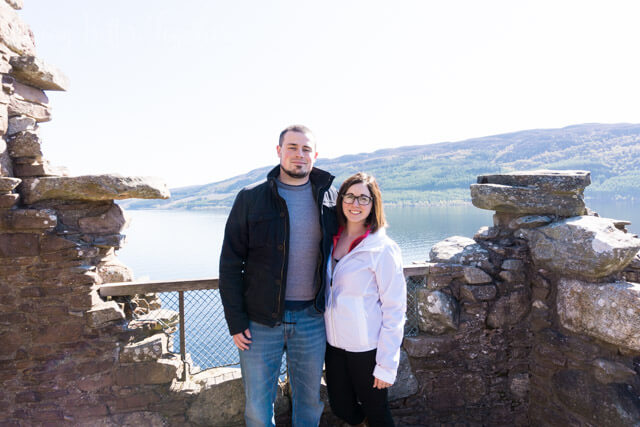 Next, we were off to Culloden Battlefield, also our first Outlander stop (you know I couldn't resist a few, right). Though the books may be fiction, the Battle of Culloden was a very real and significant one. It was the last battle fought on UK soil, and the Jacobite's last stand in their rising for independence from Great Britain. It was a short and bloody battle, and one that has fascinated me since I first read about it. To imagine how different Scotland, England, and even America would be had the Jacobites been successful on Culloden Moor.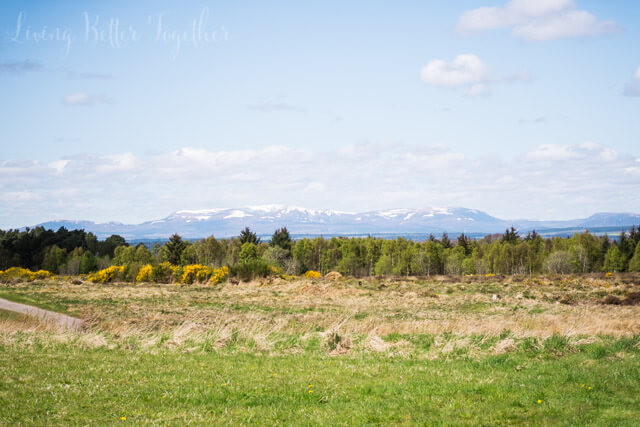 Culloden was such a solemn, yet a beautiful place. And while the loss of any life is tragic, and there were many lost that day, I think all of us would be okay if our final resting place had a view like this.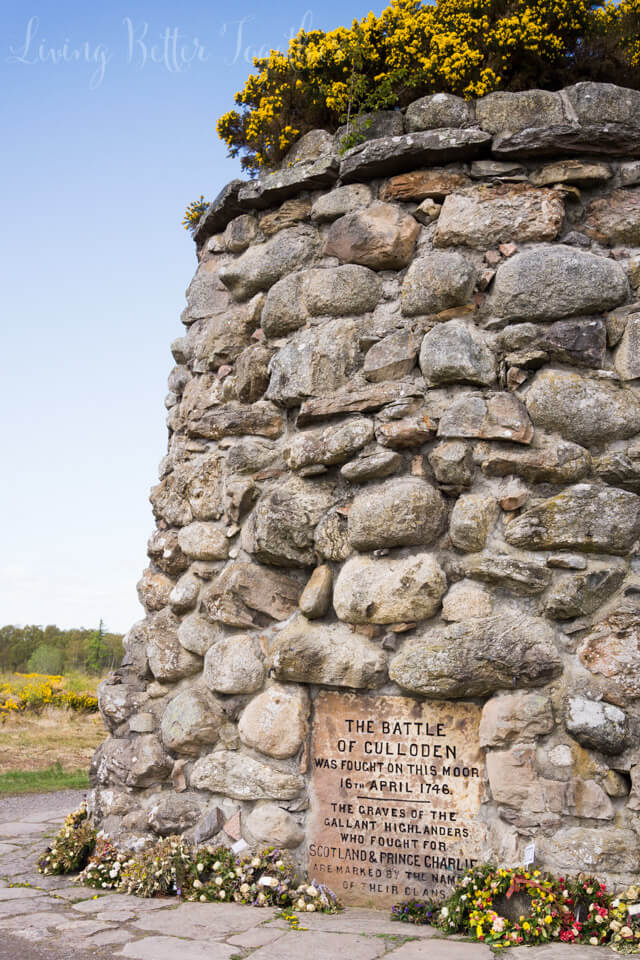 Very few names of those who died at Culloden made it on record. Because of that, the British buried the dead in mass graves by clan. Years later, these stone markers were placed on the graves. There is also a mixed clan grave stone and a stone for the British.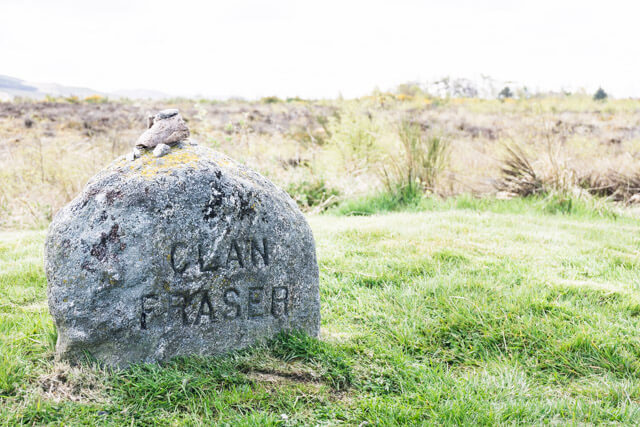 Outlander Spoiler: In the Outlander series, after the battle, many injured Jacobites sought refuge in a farmhouse on the edge of the moor. Jamie Fraser was one of these men, both in the books and in real life. That's actually where Diana Gabaldon got James Fraser from. He was the only man out of the 60+ in the farmhouse which the British allowed to walk away with his life. This house was believed to have been used as an infirmary for the British, the farmhouse in the books is no longer standing.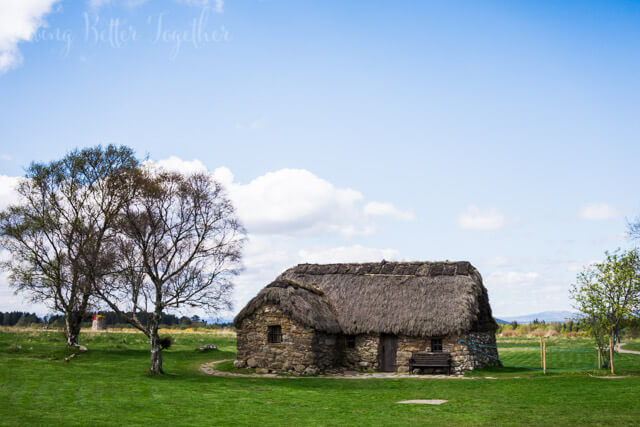 When we were visiting Urquhart in the morning and getting our Explorer passes, the woman recommended Fort George. She said it was beautiful and worth the trip out, especially since it was included in our passes. In all honestly, we felt a bit like intruders. It's still an active military base, yet tourists are allowed in.
The fort itself is pretty impressive, and I loved imagining what it would have been like during WWII. The fort sits on the shores of the Moray Firth, known for its 130 dolphins that live there. You see the dip in the mountains? That's where Inverness is, and the Moray Firth flows into the Beauly Firth and River Ness. Plus, the skies that day… GORGEOUS!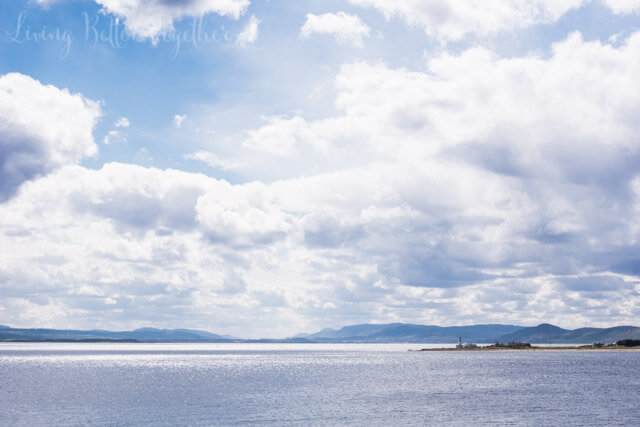 The route to Fort George was where we discovered one lane roads. Not one way, nope, both ways, just one lane. With passing zones every couple hundred yards. Matt was thrilled (enter sarcasm). Unfortunately, that wasn't the worst of it, but that's for the next post when we get to Skye!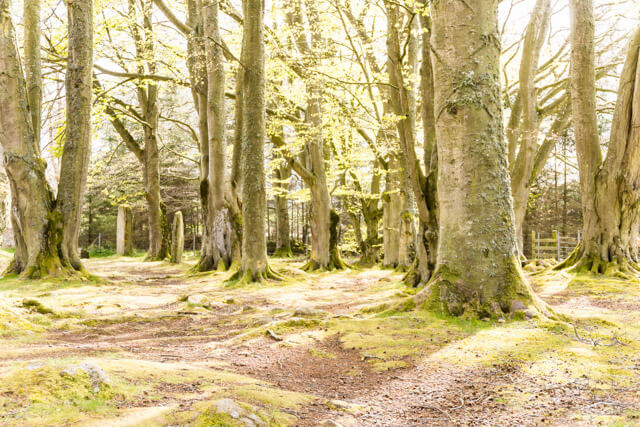 Anyways, our last stop of the day was the Clava Cairns. It's only a couple minutes away from Culloden, but we drove by it initially and asking Matt to do anything extra in the car was not in my best interest (seriously, driving was intense). So we hit it up on the way back from Fort George.
These burial cairns are around 4,000 years old, a cemetery of The Bronze Age, which includes passage graves, ring cairns, kerb cairn, standing stones in a beautiful setting and the remains of a chapel of unknown date. The Clava Cairns, though not a direct inspiration for Craigh na Dun in the Outlander series, does have the right geographical location in comparison to Culloden. Craigh na Dun is the hill of standing stones in which Claire passes through into the 18th century.
The 18th century didn't want me; I guess that means another week of scary car rides 😉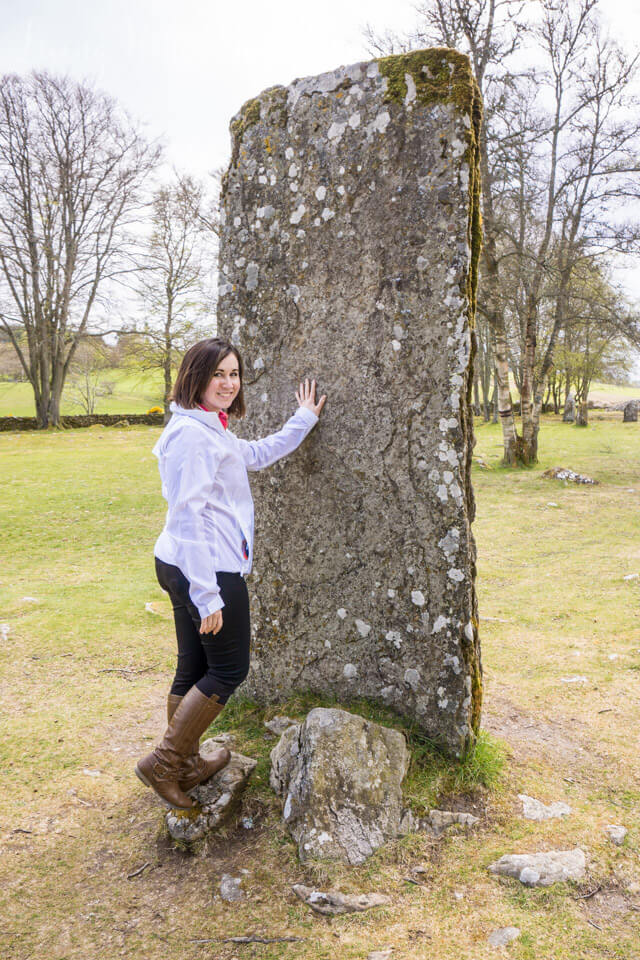 Can we talk about stone walls for a second, please? They're everywhere in Scotland, and they're beautiful, and I want them all! Okay, okay, they're not like a plate of cookies, I get it, but still. LOVE THEM! I'm so glad I could capture this one and share it with you; it was one of my favorites.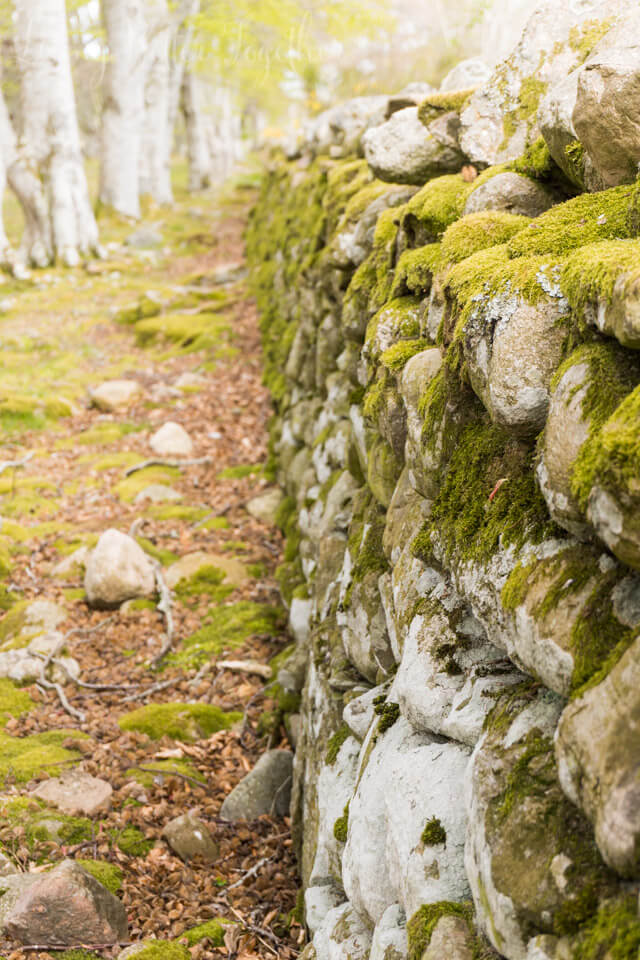 So we pretty much bought our groceries for the first couple of days but did eat out at the Loch Ness Brewery in the Benleva Hotel, about a 5-minute drive from where we were staying in Drumnadrochit. I got the Steak and Ale Pie, and Matt got the Fish and Chips, both were good and just the kind of cozy food we needed after a long couple of days. I didn't take any photos of the food that night, but there will be lots of food photos coming in future posts. See you next week with all the details on our time in the Isle of Skye.
Read more about our trip to Scotland: