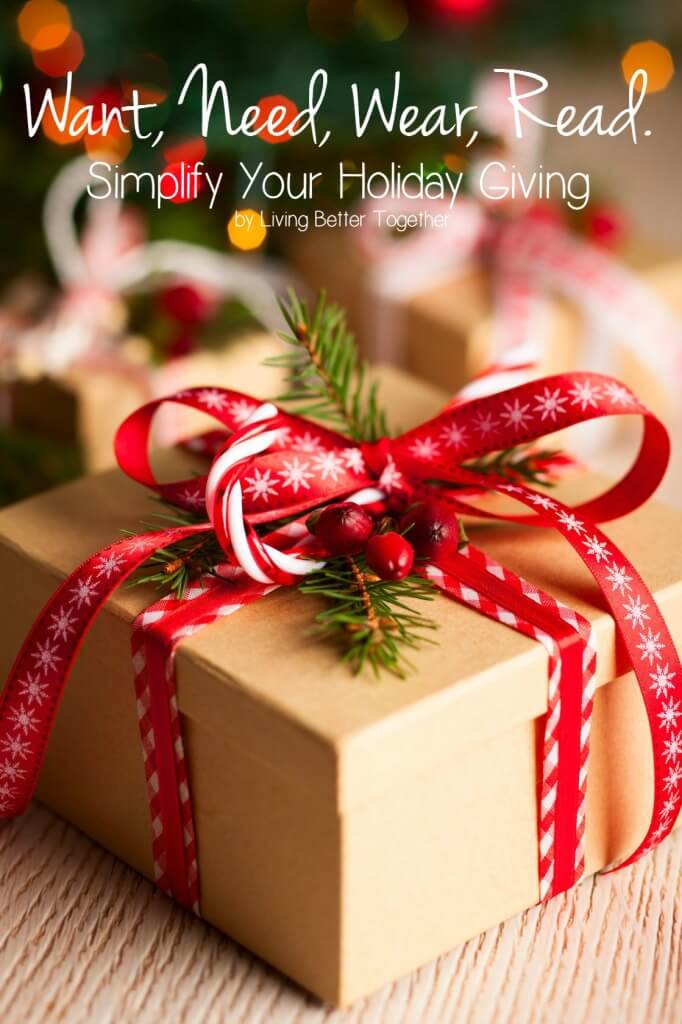 Before you head out to tackle people the big sales this weekend, take some time to simplify your shopping list. It's easy to get overwhelmed and in turn over shop and over spend. We've all been there, you can't find that perfect thing so you buy a bunch of other things to make up for it. So today I'm sharing a neat guideline to keep your shopping stress-free and under control.
This is an idea my mother-in-law used a couple of years ago, and after giving it some thought, it's pretty genius! For each person on your shopping list, get them four gifts:
Something they Want,
Something they Need.
Something to Wear,
& Something to Read.
and something to eat… okay, I added that part!
This idea can be applied to any budget, you can make it happen on a budget of $30.00 or $300.00. Don't believe this works for a $30.00 budget? Well, I've already done it this year! Shop clearance, make things, check out places like
Bull Moose
for used books. If they aren't a big reader, make a sign for them… you can still "read" it. There are a lot of ways to save and a lot ways to get creative with it.
This year Matt and I will be using this guide for each other, our parents, and our brothers. As for everyone else on our list we'll be doing the Want and Need, and keeping it low key. This guide will help me keep my gifts and my budget contained. I also plan on making homemade food baskets for each family. I'll be sharing a lot of the creations along the way and I hope it inspires you to make some homemade gifts of your own this holiday season.
If you are going out shopping, remember that the associates waiting on you sacrificed time with their family to better serve your shopping needs. So don't get upset with them when the ipods are gone or your favorite holiday fragrance isn't available this year, it's out of their control. Be kind to them, even bring them coffee or candy or something, and let them know you appreciate them being there for crazy hours so you get your shopping done. Trust me, it means more than you know.
Have a wonderful Thanksgiving!
And you should all listen to this Thanksgiving Parody, it's sure to put a smile on your face.
2014 Update: Our family loved this idea so much that we're all doing it this year and I've even gotten several of my coworkers on board!
Copyright: sarsmis / 123RF Stock Photo