This post is in collaboration with Bankrate, all opinions are 100% my own.
Do you have a savings account? Here's why it's important to have one!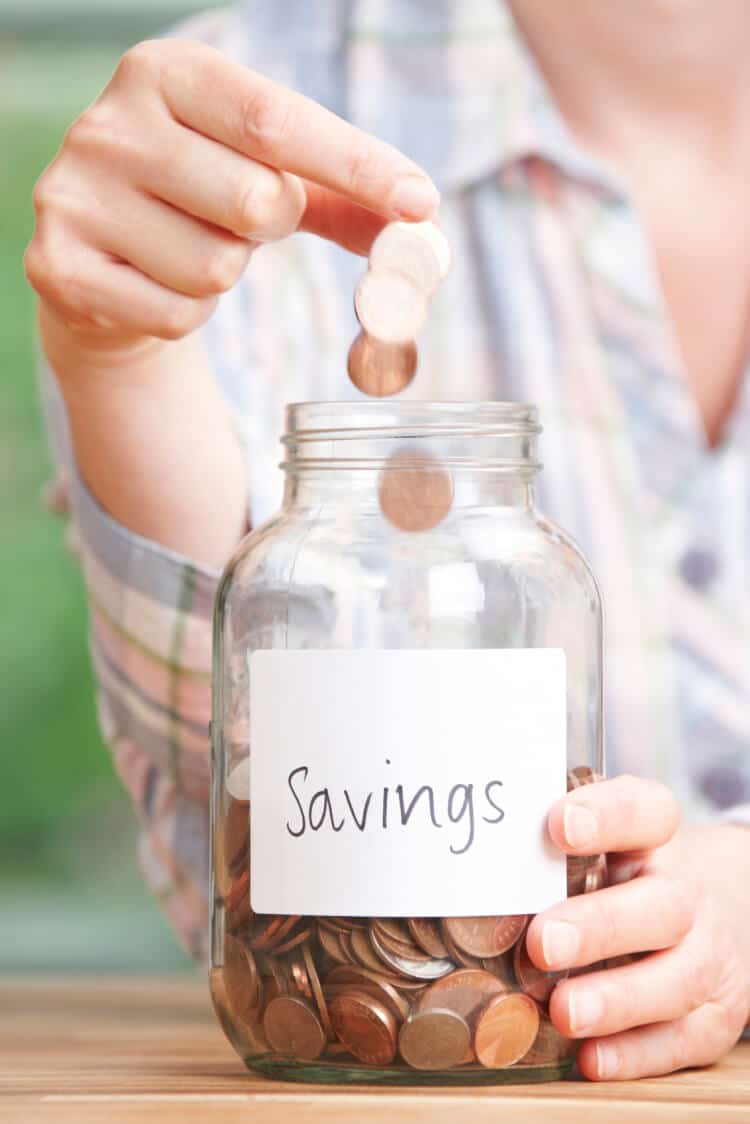 When I was in second grade, my parents took me down to the local credit union where I opened my first savings account. I put all twenty-five dollars in loose change into it that before then occupied a giant transparent coke bottle piggy bank in the corner of my room. Two weeks later I found out I won some contest for opening a new account and the credit union provided me with a big bucket of legos. Now I can't rule out the possibility that this specific sequence of events didn't hardwire a Pavlovian response into my eight-year-old brain, but even if it did I've never regretted having a savings account, and I've had one ever since.
Managing a savings account is the first step to taking charge of your financial well-being. That's because saving is a choice, and until you can make the commitment to set aside money that you could spend today for another, undetermined, time you're never really going to be in charge of your money. As I've gotten older, savings has been more like a game, I actually enjoy putting money in each week and getting a higher score (read: larger amount), and it seriously bums me out when I have to use it. I like having a nest egg; it allows me to live a relatively comfortable lifestyle while knowing my finances are secure.
Why Savings Account?
There are a million and one different places to put your money in today's world. So let's be real clear up front what your savings account is for, and be even more explicit about what it is not for. It is not a substitute for your checking account; banking regulations make it so that savings accounts are designed to take multiple deposits but are limited in their number of withdrawals. It is also not a place to park long-term investments, interest rates in traditional savings accounts are low enough to be effectively irrelevant to your finance decisions, and there is a litany of better options both in and out of retirement accounts that you can use to achieve much better rates of return.
What it is for is a designated place for you to stash away monies that you may need at a day's notice within the next six months to a year. I'll elaborate below on the specifics of how much to save and what for, but the bottom line here is that you don't want to put this money in something like an investment account because while they'll more than likely gain you a much larger return over a ten year period it can fluctuate wildly. So if you need this cash at a given moment, you risk losing money if the market is down at that time.
How to do it:
Make it automatic. Have money set aside out of every paycheck and sent directly to your savings account. Most employers who support direct deposit give the option to split deposits into multiple accounts all you need to do is tell them where and how much. It is exponentially harder to make the decision each week how much to split out and inevitably you'll make exceptions and end up saving less.
You might end up asking "How do I determine how much to set aside?". Here's how I do it. Pick an amount you won't miss out of each paycheck and then bump that up by 20%. Then do your best to forget about it. Next, do a little bit of math and add up all of the bills you have in a given month that are unavoidable. I'm talking about rent, car payments, groceries and such. Then multiply this by six. Keep saving until you reach this number. This becomes your "Emergency/Bad Stuff Fund". Bankrate has some great financial calculators you can use and their Simple Savings Calculator can come in real handy.
Bad Stuff Happens.
Sorry to be the bearer of bad news here folks but cars break down, people get sick, houses need repairs and jobs are lost. It stinks, I know, but we can temper the adverse effects here. Our first line of defense? A savings account. In an ideal world, one with approximately six months of vital expenses in it. It's a tall order, I know, but it's worth it, and you can do it. This amount, while different for everyone, is usually enough to downgrade unfortunate events from "life altering crisis" to "mild inconvenience".
Did you know that 1 in 5 Americans doesn't have a savings account? That means 20% of our population isn't prepared for when things get tough. For me, the idea of not having a savings account scares the crap out of me. I've had too many things pop-up and go sideways not to have an emergency fund. Heck, last year we went to Scotland and Ireland, a trip we'd saved for for quite some time, it was almost as soon as we booked the airfare, things around the house started breaking. That's why we save for the good stuff after we've put aside for the bad stuff.
Good Stuff can Happen too if you're ready for it.
So you've gotten your Bad Stuff Fund squared away? Great. Now you can start putting away for fun stuff. While the Bad Stuff Fund keeps you from getting behind this is where you start to get ahead. By putting away extra money now for future events, you can not only make it possible for you to get the things you want it can also save you money in the process. The best example I can think of is buying a house.
When you go to purchase a home there are a bunch of different loan options available that depend on your location and financial situation but in almost all cases the more money you can put down the better deal you will get. For example, say your house cost $100,000, and you were able to put $15,000 as a down payment rather than $10,000 and assume all other factors were equal (they wouldn't be by the way, but you know, for argument's sake). At a 4% interest rate on a 30-year mortgage, this saves you more than $3,000 in interest over the life of the loan and lowers your payment by $20 a month. Also, a larger down payment can let you avoid PMI (Private Mortgage Insurance) which depending on the size of the loan can be north of $100 a month until the bank says you have enough equity in your house.
Now I could drone on and on about the financial of home buying, but my point is cash makes things easier. You can also check out this post for 10 Tips for Millennial Homebuyers for more helpful information on that subject!
Savings accounts are also great ways to put aside money for that dream vacation, wedding, and kitchen remodel. Maybe you want a new camera or a new car, a savings account will help you make those things happen!
Now what?
Well, do all these things. Like right now. The longer you put it off, the less likely you are to follow through on your new savings habit. So got to Bankrate and start searching local banks, and talk to the payroll people at work. Do all of this for six months, and if you don't like it and wish to resort back the hedonistic spender you were before you read this article feel free. That's the beautiful thing about generic savings accounts, they're about as low risk as it gets. Providing your bank is FDIC insured your money will always be there as long the government is. And let's face it, if the government goes belly up, we've got bigger issues to worry about. Check out more Savings Stories on Bankrate! Good luck and happy saving.   
For shares that include a brand URL, please include the #ad hashtag in your social share.
Matt Hubbell is an accountant from rural Maine who has little to no business writing anything. His writing resume includes a D&D campaign and several high school and college papers that were deemed by four out of five teachers and professors as 'drastically off topic'. What Matt does bring to the table is a brain saturated in most forms of pop culture and no great attachment to the social contract when it comes to tact and/or sparing feelings. Matt likes to spend his spare time playing board games and enjoys pretending he knows how to cook. He also has an irrational fear/dislike of horses of all shapes and sizes sighting the fact they are an animal that could easily kill you and it wouldn't even make for a good story and that they "cannot be trusted".