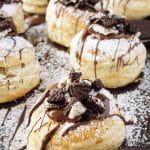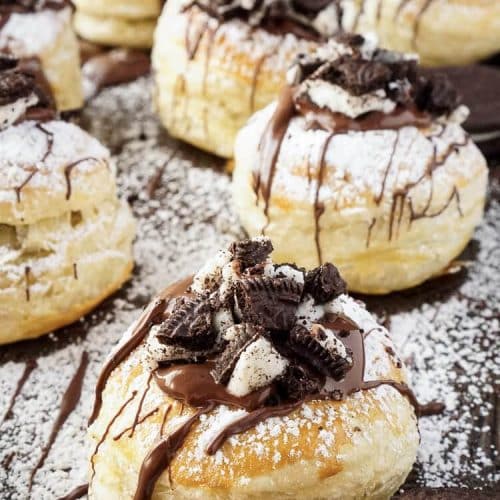 Print Recipe
The Croissookie
The Croissookie is a decadent pastry dessert that's so much easier to make at home than it looks!
1

large egg + a splash of water

1

package

2 sheets frozen puff pastry, thawed, but cold.

13

Double Stuf Oreos

divided

Confectioners' sugar

1/2

cup

chocolate chips or melting wafers
Preheat oven to 400 degrees F.

Line large baking sheet with parchment paper and set aside.

Whisk together the egg and water, unfold pastry dough on a clean surface and brush with egg wash.

Cut out 9 circles from each pastry sheet using a 2 5/8 inch round cookie cutter.

Place one Oreo on 9 of the pastry circles, then place a pastry circle, egg wash side down, on top of the Oreo. Pinch together the circles, I found that folding one edge up and the other down over it worked best, pinching together as I worked around the Oreo.

Place prepared pastry covered Oreos on the baking sheet at least 3 inches apart and brush the tops with more egg wash.

Bake for 15 minutes.

Remove from oven and dust with confectioners' sugar.

Chop the remaining Oreos into small pieces.

Melt the chocolate chips in the microwave on 15-second intervals, stirring in between, should take about 45 seconds to melt. Add a dollop of melted chocolate to the top center of each pastry, then drizzle more all over each one.

Add some of the crushed Oreos to each chocolate dollop so they stick. Enjoy warm.