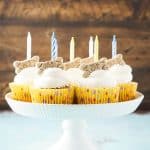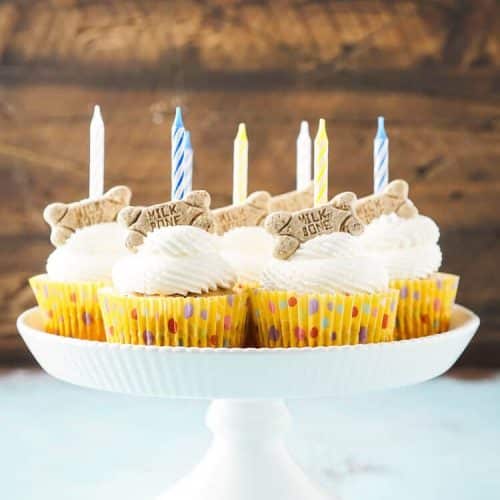 Print Recipe
Apple & Peanut Butter Pupcakes
These Apple & Peanut Butter Pupcakes are a great homemade treat for your dog's birthday!
Preheat oven to 350 degrees F.

Line a cupcake pan with liners and set aside.

In a large bowl or stand mixer fitted with a whisk attachment, beat together the flour, baking powder, eggs, yogurt, and applesauce and mix until combined.

Beat in peanut butter, honey, and grated apple.

Add a 1/4 cup of batter to each cupcake liner and bake for 20-25 minutes, until toothpick comes clean when inserted into the center. Allow to cool in pan for a few minutes before transferring to a cooling rack.

Once pupcakes have cooled, beat heavy cream until light and fluffy, about 3-4 minutes.

Pipe whipped cream onto the cooled pupcakes and top with a dog biscuit. Serve shortly after frosting or store in the fridge or freeze them. Dogs should only be given one a day.
Adapted from Little Epicurean.
Use a mini cupcake pan to make mini pupcakes for smaller dogs. Use 1 tbsp of batter per liner and make for about 10 minutes.