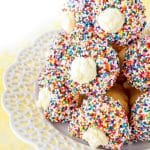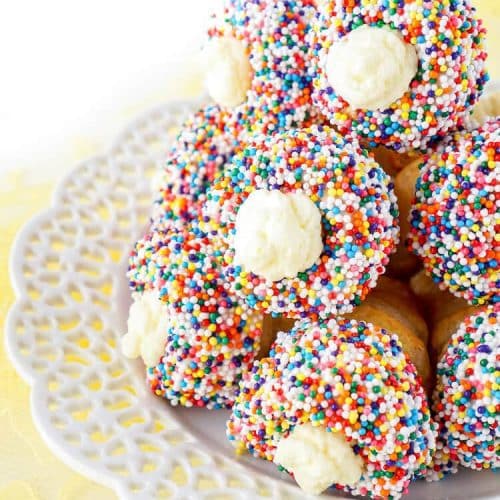 Print Recipe
Mini Birthday Cake Cream Horns
These Birthday Cake Cream Horns are a flaky pastry that's been dipped in white chocolate and nonpareils and filled with a whipped vanilla cream!
Servings:
36
mini cream horns
1 15-

oz.

package premade puff pastry dough

thawed

1

egg

1

tsp

water

12

oz.

white chocolate

1

cup

heavy cream

2

tbsp

instant vanilla pudding mix

dry

1/4

cup

confectioners' sugar

1/2

cup

rainbow nonpareils

You will also need cream horn molds

18+ is a great number to work with.
Preheat oven to 450 degrees F. Line a baking sheet with parchment paper and set to the side. Unfold one sheet of thawed pastry dough on a lightly floured surface and use a rolling pin to gently smooth out any creases. Use a pastry or pizza cutter to cut dough into ½-inch-thick strips. Repeat for the second sheet of dough.

Placing the end of one strip at the point of the horn mold, pinch it and begin wrapping the dough around the mold, slightly overlapping the layer before it, wrapping until complete and pinching to secure. Use one strip for each mold, and continue until all of the strips are gone. Depending on a number of molds you have you may have to make several batches. Place wrapped horns on the prepared cookie sheet and place in the freezer for 10 minutes.

Just before the freezer time is up, lightly beat together eggs and water to make an egg wash. Remove horns from the freezer and brush them with the egg wash.

Bake for 10 minutes and transfer to a cool rack to cool completely.

Add white chocolate to a small bowl and microwave in 30-second intervals, stirring in between, until completely melted. Place nonpareils in a small bowl.

Gently grip the cooled pastry in one hand and pinch the mold with the other, and carefully pull them apart. Dip mouth of pastry in the melted chocolate and then immediately into the nonpareils and place on wax paper to set.

While pastries and chocolate are setting, whip heavy cream and vanilla pudding mix and confectioners' sugar in a large bowl or stand mixer until stiff peaks form. Add filling to a pastry bag and pipe into the cream horns. Consume within a few hours or store in the refrigerator for up to 48 hours.