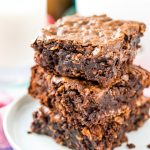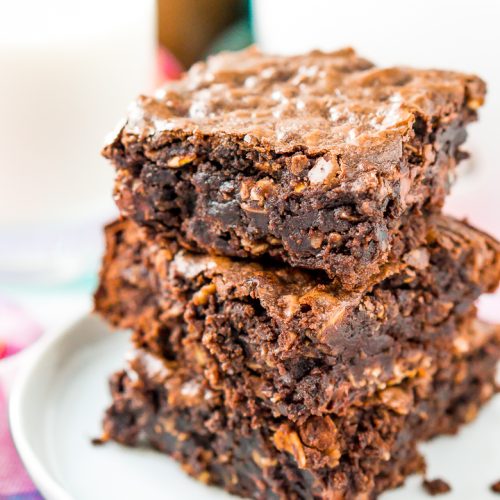 Print Recipe
Lactation Brownies
Lactation Brownies are an easy dessert that helps increase milk production with added ingredients like coconut milk, Brewer's yeast, and oatmeal!
Preheat oven according to package directions.

In a large mixing bowl, mix together all ingredients until fully combined. Pour brownie batter into a 9x9-inch baking dish and bake according to package directions.
Choose whatever boxed brownie mix you'd like. I've made this recipe with 5 different varieties, all with similar results.
Do not add water.
Coconut milk is the kind in the carton in the refrigerated section of the grocery store, not the canned kind.
You can use 2 eggs instead of 1 if you prefer more cake-like brownies.
Collagen peptides are optional.
Chocolate chips can be omitted in box mixes that already have them in it.
Ingredient Benefits:
Coconut Milk - Replace any called for milk or water on the box with a 1/2 cup of coconut milk (in the carton, not the can). Coconut milk is very hydrating and will assist with milk production.
Old Fashioned Oatmeal - A lot of lactation consultants recommend adding oatmeal to your diet, usually as a breakfast, but it doesn't hurt to sneak it into your dessert either.
Brewer's Yeast - This stuff has tons of health benefits from nutritional value to helping fight the baby blues.
Ground Flaxseed - Flaxseed has phytoestrogens that can influence breast milk production.
Collagen Peptides - Okay, so this product isn't a milk supply booster, it's more just another beneficial product for new moms. Collagen peptides contain the same amino acids as gelatin which is identical to the protein found in skin, nails, hair, bones, cartilage, and joints. I recommend taking this to help with postpartum hair loss.
Calories:
515
kcal
|
Carbohydrates:
62
g
|
Protein:
5
g
|
Fat:
28
g
|
Saturated Fat:
17
g
|
Cholesterol:
21
mg
|
Sodium:
189
mg
|
Potassium:
65
mg
|
Fiber:
1
g
|
Sugar:
40
g
|
Vitamin A:
1.6
%
|
Vitamin C:
0.3
%
|
Calcium:
3.4
%
|
Iron:
14.8
%