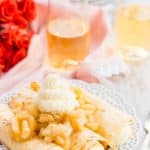 Print Recipe
Apple Cheesecake Crepes
Apple Cheesecake Crepes are a fun way to sweeten up brunch or to be enjoyed as a decadent dessert!
Crepes
Combine all ingredients in a blender and pulse for 10 seconds, make sure there are no clumps. Refrigerate for at least 1 hour and up to 48.

Once the batter has set, heat a small pan over low heat and add butter.

Pour about an ounce of batter into the center of the pan and swirl around to spread evenly.

Cook for about 30 seconds, then flip and cook for another 10 seconds.

Move them to a flat cutting board to cool and continue until batter is gone.
Topping
Combine chopped apples, apple juice, light brown sugar, and apple pie spice in a medium pot.

Cook over low-medium heat until the juice from the apple begins to boil.

Dissolve corn starch in water in a separate bowl and stir into apple mixture.

Bring to a boil again and allow mix to thicken.

Spoon over prepared crepes.