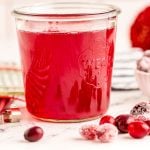 Print Recipe
Cranberry Simple Syrup
This Cranberry Simple Syrup will have any drink exploding with one of this season's most popular flavors! Before you even finish the first cupful, you'll already be thinking of mixing up your second!
Place the cranberries, water, and sugar into a small saucepan. Stir well and bring to a boil, reduce heat to a simmer and simmer for 15 minutes, until the cranberries have burst and softened stirring occasionally.

Pour the syrup through a fine mesh strainer into a large bowl. Do not press down, allow to cool completely and discard the leftover cranberry pieces.
This can also be made with frozen cranberries.
Once placed in the fridge, the syrup will slightly thicken due to all the pectin in the cranberries. It will turn back to a liquid at room temperature, or you can place it in a microwave-safe glass or bowl and microwave for 15 seconds and stir.
This syrup recipe keeps for two weeks in the refrigerator, giving plenty of time to dream up drink possibilities!