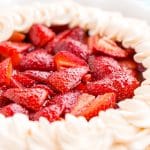 Print Recipe
Strawberry Pie With Jello
This Fresh Strawberry Pie is made with fresh, ripe strawberries, jello, and a few other simple ingredients for a delicious and easy summertime dessert! Just 10 minutes to prep!
Bake pie crust according to the recipe or package instructions.

Add strawberries to the baked pie crust and arrange in the crust as evenly as possible.

In a medium saucepan, combine the water, sugar, and corn starch and bring to a steady boil for about 2 minutes, then add in the jello mix and reduce the heat to medium, let simmer for 1 minute, whisking constantly. Pour the mixture slowly over the strawberries, try to run the sauce over the tops of all the berries but the berries do not need to be submerged in the sauce. If the volume of berries and crust size does not allow all of the sauce mixture to fit without spilling over, only add what does fit and discard the rest.
Do not use sugar-free or all natural jello mixes.
The original recipe was a Strawberry Margarita Pie and 1/2 cup of tequila was used in place of 1/2 cup of water.
Calories:
242
kcal
|
Carbohydrates:
45
g
|
Protein:
2
g
|
Fat:
7
g
|
Saturated Fat:
2
g
|
Polyunsaturated Fat:
1
g
|
Monounsaturated Fat:
3
g
|
Sodium:
105
mg
|
Potassium:
135
mg
|
Fiber:
2
g
|
Sugar:
29
g
|
Vitamin A:
9
IU
|
Vitamin C:
42
mg
|
Calcium:
17
mg
|
Iron:
1
mg