This post may contain affiliate links. Using these links, I earn a small commission at no additional cost to you!
Blueberry Pancake Muffins are a simple, portable, 4-ingredient breakfast or snack both you and your kids will love. Perfect for those crazy school mornings or weekends on the go or you can enjoy them at home with butter and maple syrup!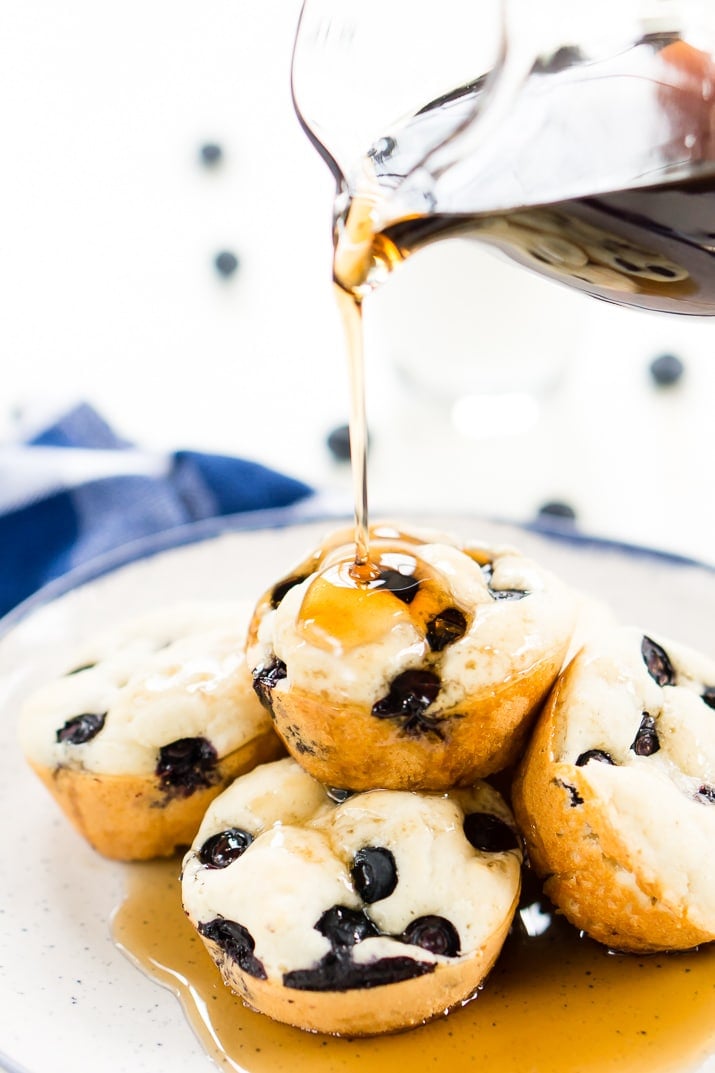 Blueberry Pancake Muffins
PIN IT TO YOUR RECIPES BOARD ON PINTEREST!
FOLLOW SUGAR & SOUL ON PINTEREST FOR MORE GREAT RECIPES!
Here in Maine, it's prime blueberry picking season, so naturally, I've been partial to recipes that highlight one of the state's most famous crops. In addition to baking blueberry pies and crumbles, I like to incorporate the antioxidant-rich berries into my breakfasts. With simplicity in mind, I concocted these Blueberry Pancake Muffins, a fun and easy way to eat the most important meal of the day!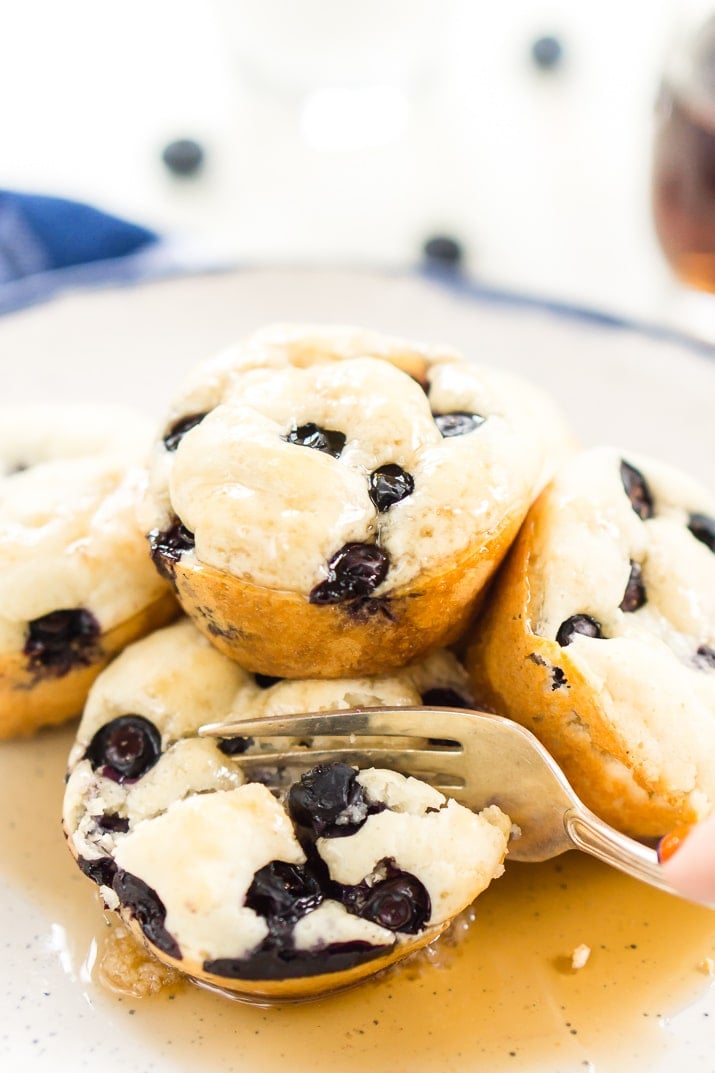 Blueberry pancake fans will love these petite, portable versions of the classic breakfast. Made with Bisquick, milk, blueberries, and syrup (that's it!), these yummy bites are baked in muffin tins for easy eating – no plates or utensils required unless you want to top them with butter and extra syrup! Pair these Blueberry Pancake Muffins with your morning cup of coffee, and I promise, they'll hit the spot. Plus, they're the perfect on-the-go breakfast for everyone in the family.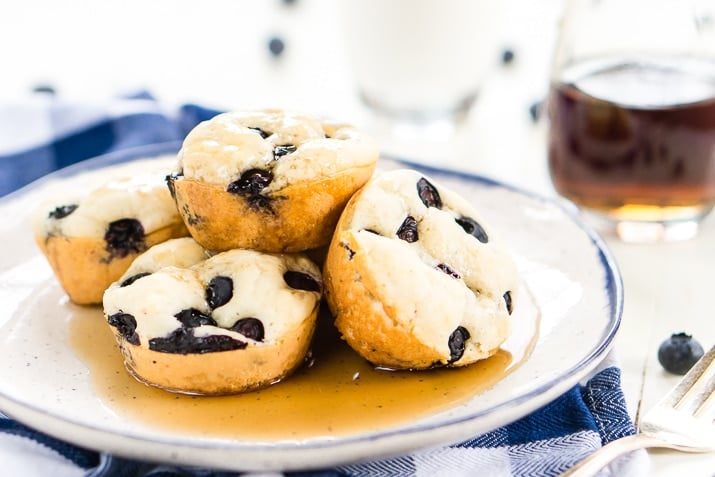 It's that time of year where I begin to wonder where the summer has gone. Maybe you've started the "back to school" countdown already. As a kid, I remember that doomed feeling that my freedom was ending and the homework load would begin.
But if you're a mom who's ready for some peace and quiet, the first day of school can't come soon enough! And what are you going to give those hungry, chronically late children as they run out the door with their backpacks full of fresh school supplies? Blueberry Pancake Muffins, of course! You can even get little containers to send them off with a bit of syrup for dipping.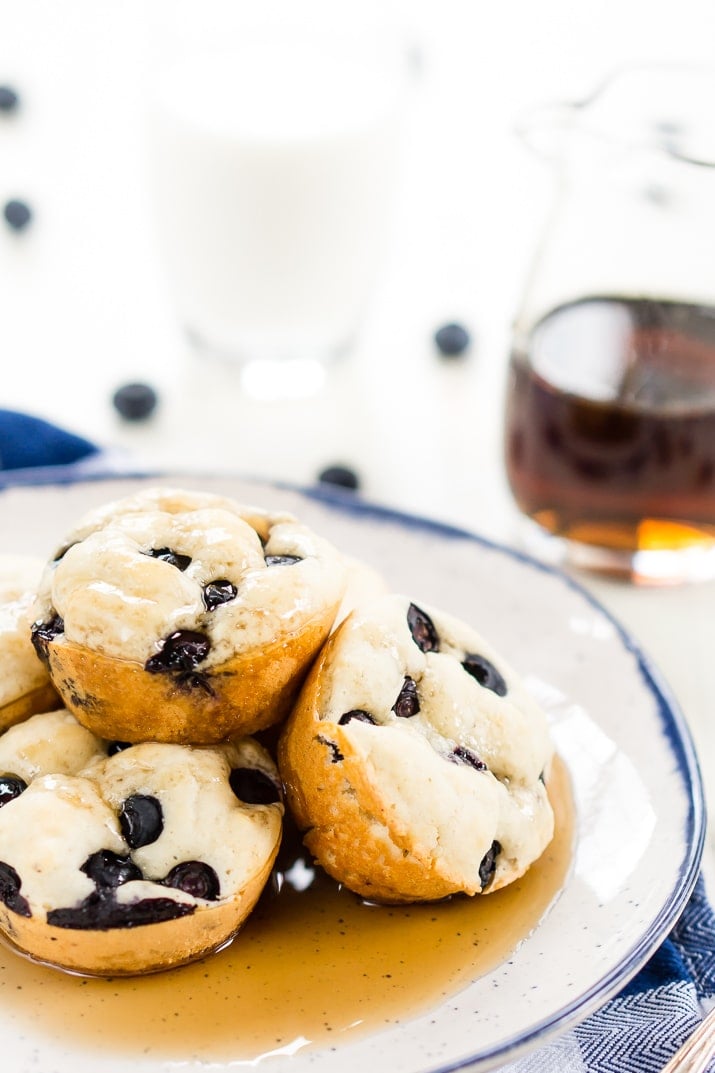 But they're not just for breakfast. You can make them in a mini muffin tin too for poppable little treats, pack them up to be enjoyed during the school or workday. They're a satiating afternoon pick-me-up to push you through the "midday slump," and they're perfect for kids who need an energy boost before after school sports practices. I like making a batch of these on Sunday evenings to save time on hectic weekday mornings. They're super easy to reheat.
Blueberry Pancake Muffins are a packable, portable way to enjoy a nostalgic breakfast favorite. They're satisfyingly sweet, and plump blueberries add a dose of vitamins and fiber for a snack that can be enjoyed any time of day. Life is busy, and the beauty of these muffins is that they're as easy to make and serve as they are delicious.
What you'll need for this recipe:
Bisquick – Any boxed pancake mix should work, and if you're out, you can make it right at home using my Homemade Bisquick recipe! You can also buy gluten-free Bisquick mix now!
Maple Syrup – The maple syrup is baked right into the muffins for a lightly sweetened flavor. I prefer 100% pure maple syrup because I'm from Maine it has way more flavor.
Muffin Pan – You can use either a standard-size muffin pan or a mini one. Just be sure to check the notes in the recipe for adjusted baking times.
Baking Cups – You can bake these muffins right in the pan as long as your grease it first, but if you're planning on taking these muffins on-the-go, I recommend making them in baking cups.
Condiment Travel Cups – If you're taking these to eat later on, you might want to pack some syrup to go with them. I love these little condiment cups, so easy to dip the muffins right in!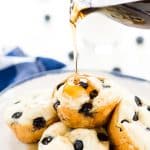 Blueberry Pancake Muffins
Blueberry Pancake Muffins are a simple, portable, 4-ingredient breakfast or snack both you and your kids will love. Perfect for those crazy school mornings or weekends on the go or you can enjoy them at home with butter and maple syrup!

Ingredients
2

cups

Bisquick

dry

1 1/2

cups

milk

1/2

cup

maple syrup

extra for topping if desired

1

cup

fresh or frozen blueberries
Instructions
Preheat oven to 350 degrees F. Spray the wells of a standard 12 ct muffin pan with non-stick spray or line with liners if planning to eat these on the go.

Whisk together pancake mix and milk and let stand for 3 minutes.

Pour batter into the wells and fill about 3/4 of the way full.

Pour about 1 teaspoon of maple syrup in the center of each well of batter, don't stir.

Top each well of batter with 5 to 7 berries.

Bake for 15 to 18 minutes until tops begin to turn a golden brown and toothpick comes clean from center.

Remove from pan with a rubber spatula. Eat right away with butter and syrup or pack them up to go or freeze them for a later date.
Recipe Notes
If you are using fresh blueberries, toss them with a teaspoon of all-purpose flour, this will prevent them from sinking to the bottom of the batter while baking. Frozen blueberries are more likely to sink. 
If making mini pancake muffin bites, only add 2 to 3 blueberries per mini well and a tiny bit of maple syrup. Bake for 6 to 8 minutes until golden brown and a toothpick comes clean from the center.