This easy Cream Horns recipe is made with puff pastry that's wrapped and baked until golden a flaky and filled with a sweet and fluffy cream filling!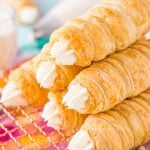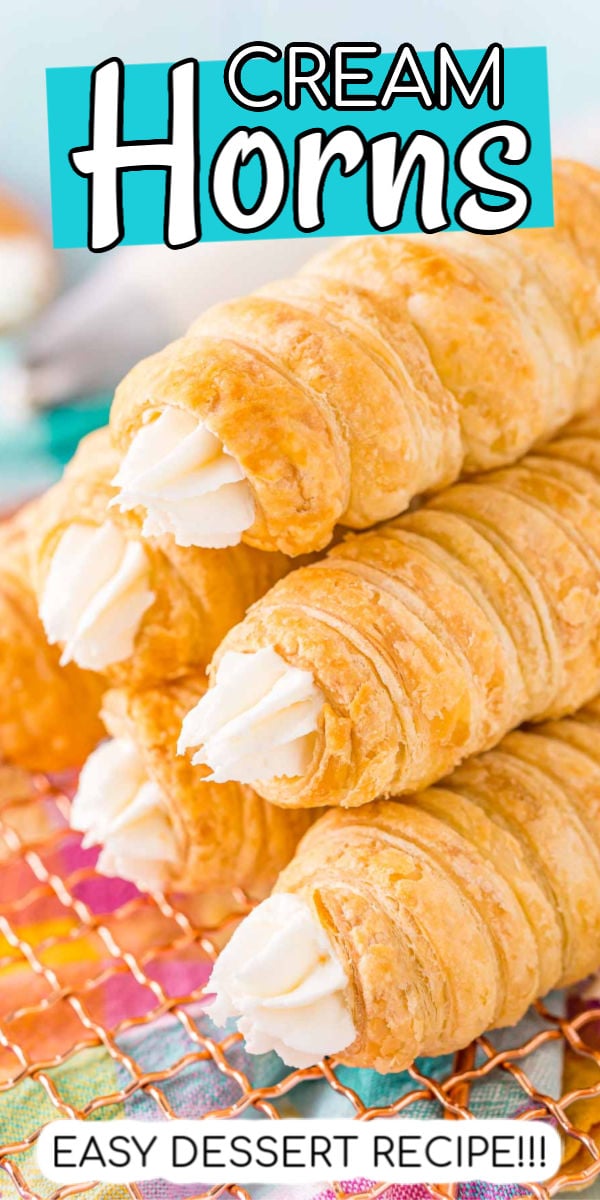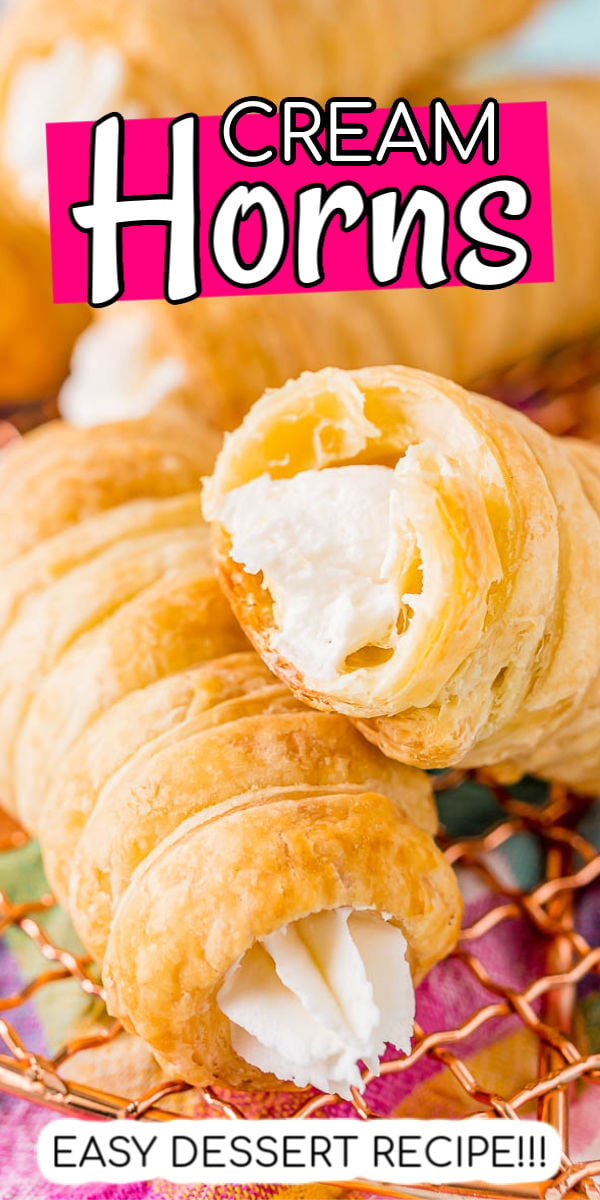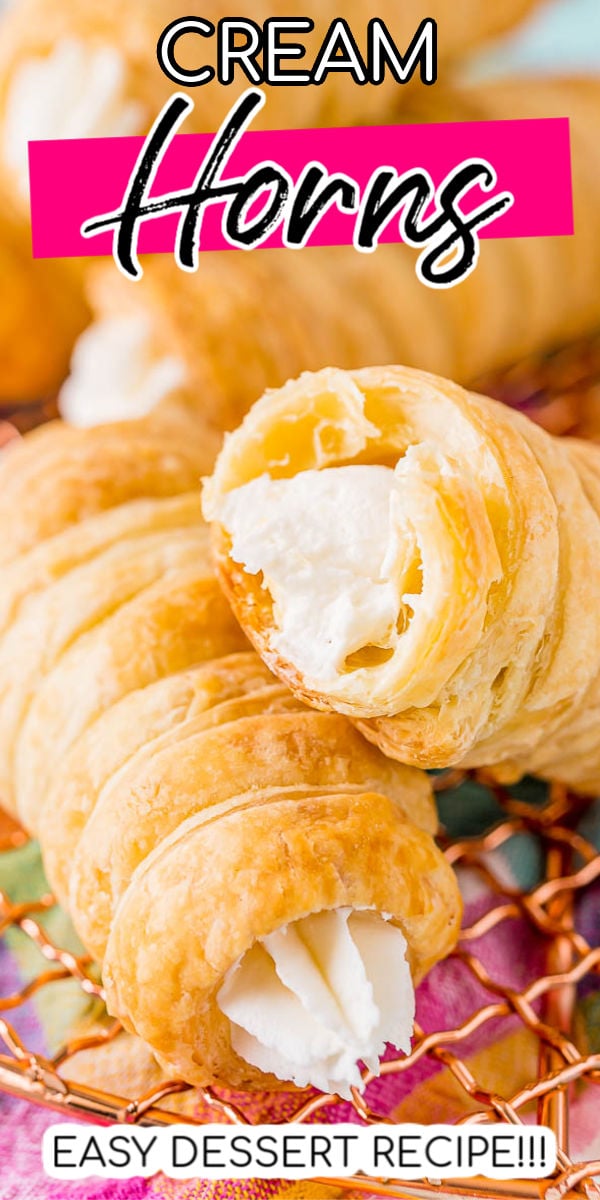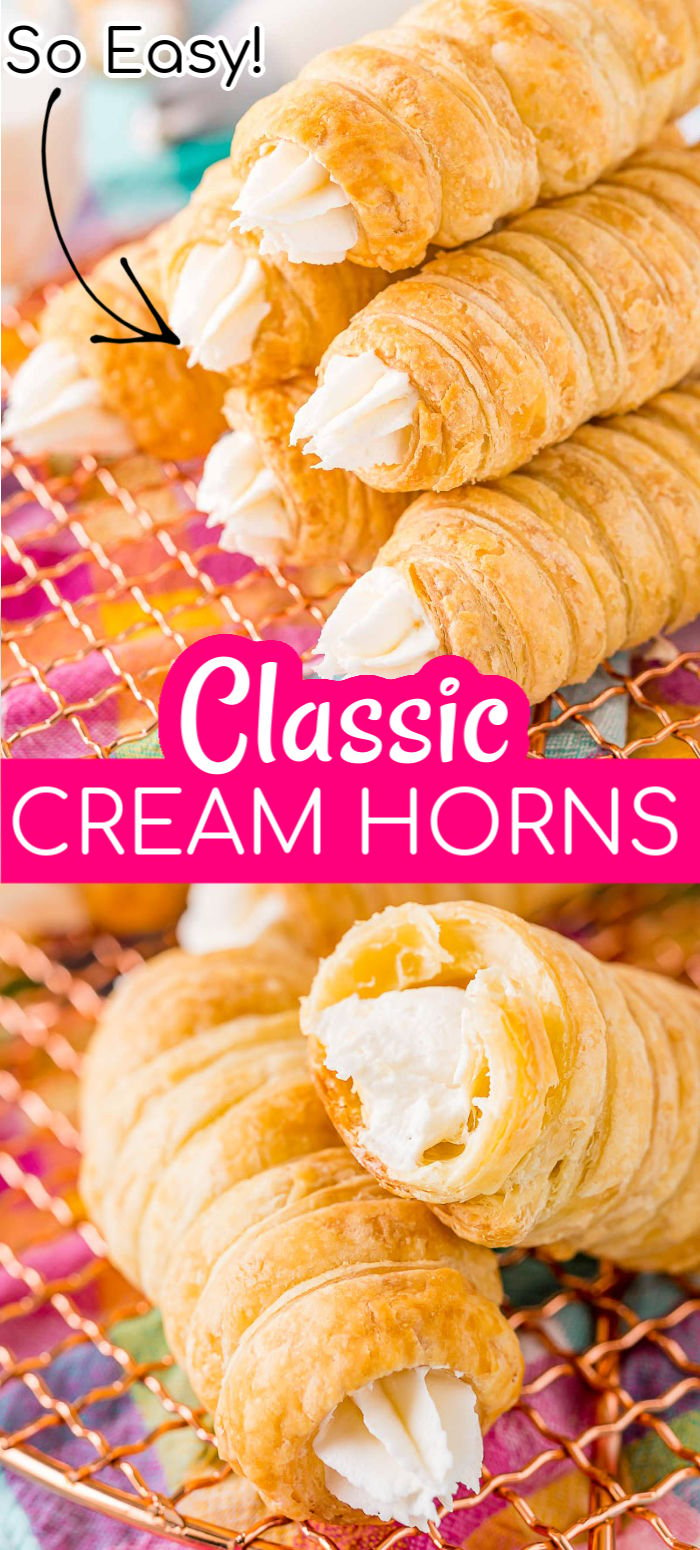 This easy Cream Horns recipe is made with puff pastry that's wrapped and baked until golden and flaky and filled with a sweet and fluffy cream filling!
These are a classic dessert treat that is perfect for holidays and gatherings. You can also dip or drizzle them in chocolate!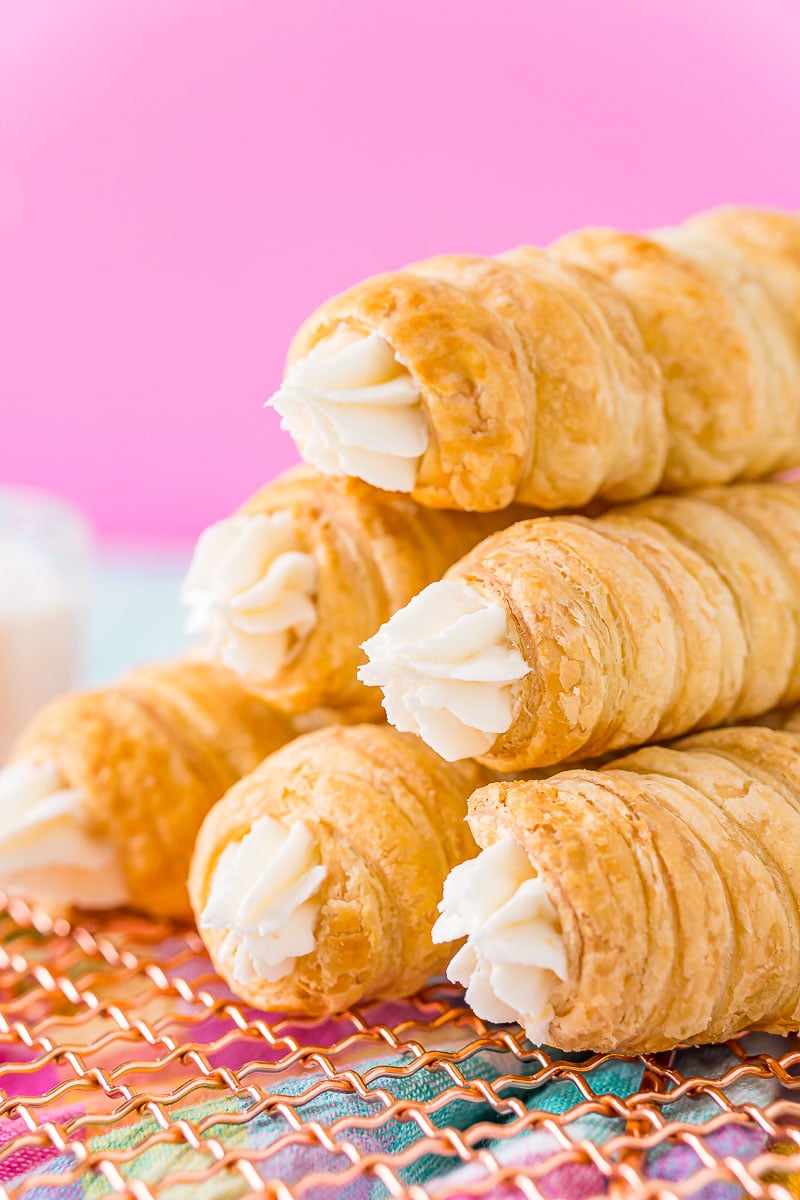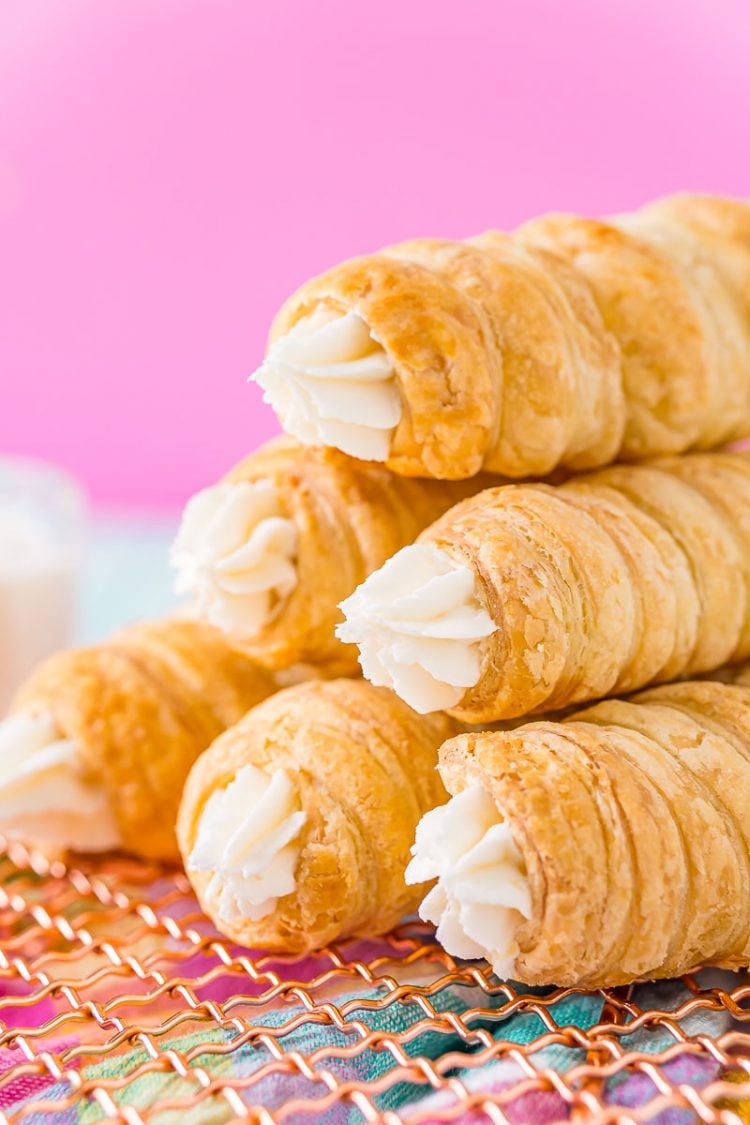 I love this easy Cream Filled Pastry!
Last week I had a serious craving for Cream Horns. If you've never had one before, you are missing out! The buttery puff pastry is baked to perfection and then filled with a sweet vanilla cream! They are AMAZING!
They are very popular in New England and you can find them shaped as a tube or as a cone/horn. I love this recipe because, with store-bought pastry dough, they are actually really easy to make!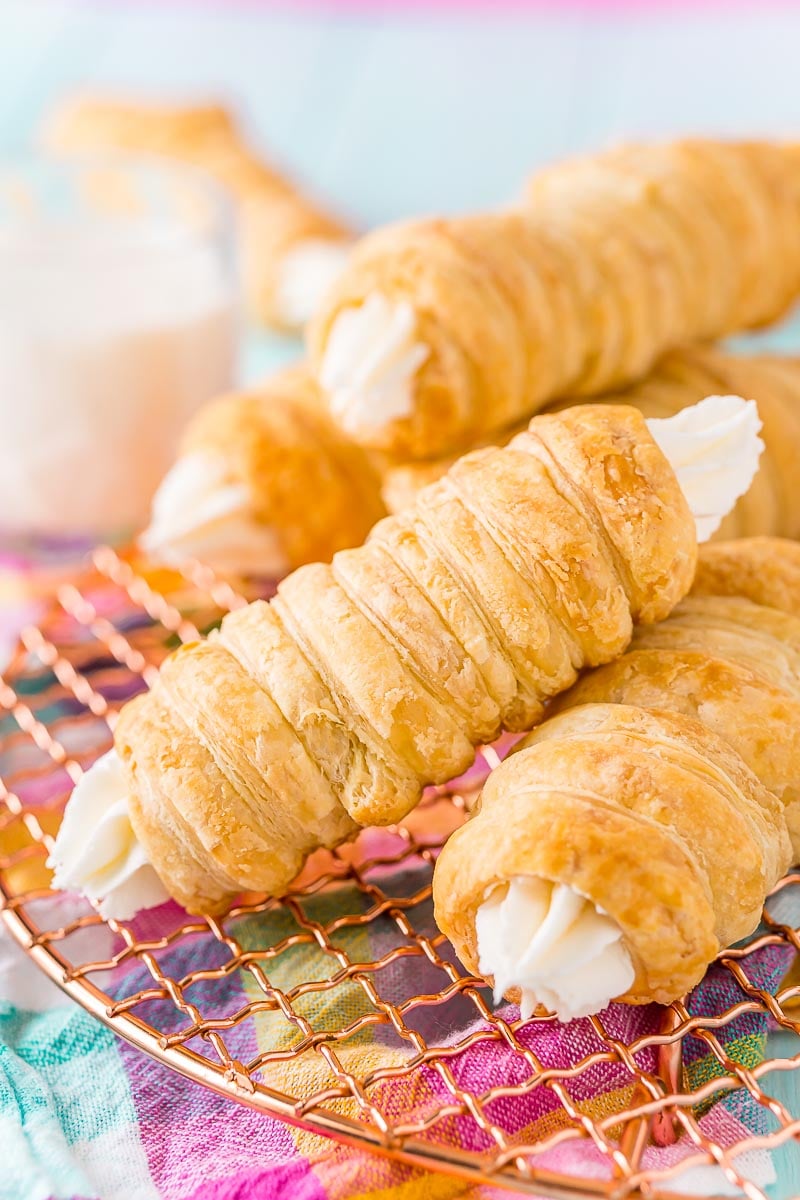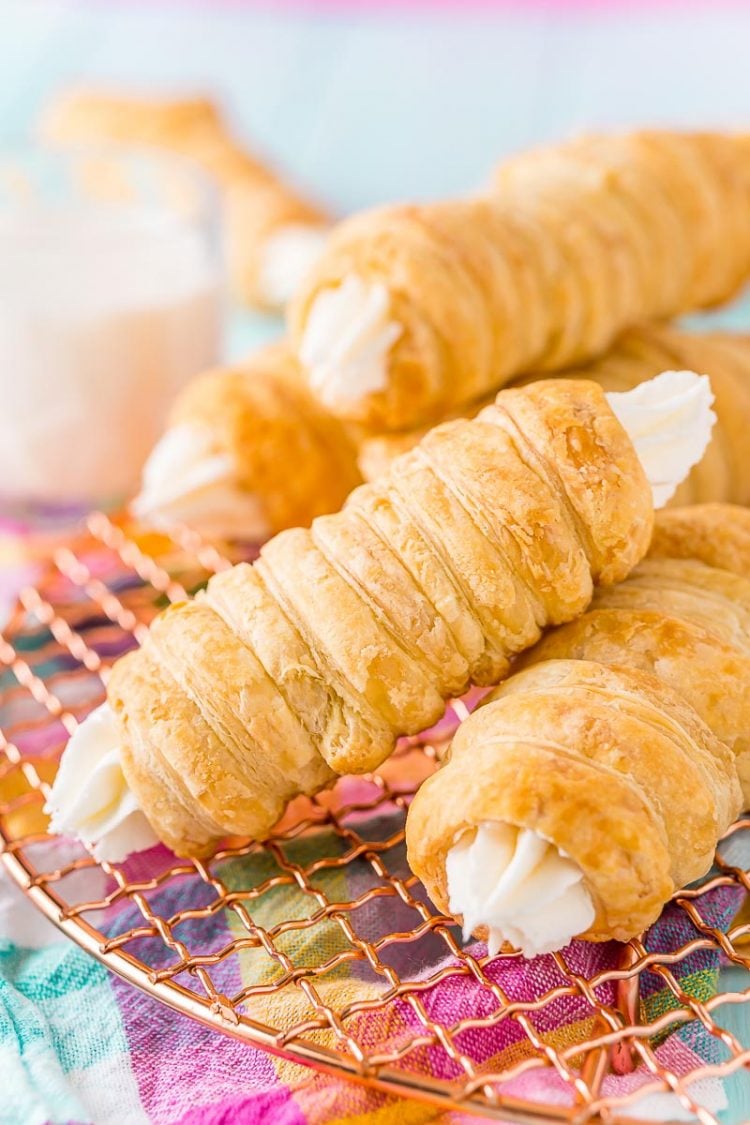 Cream Horn ingredients
The pastry is just store-bought puff pastry, there's nothing you need to add to it. The filling is a delicious mixture of:
butter
shortening
powdered sugar
marshmallow fluff
vanilla
heavy cream
Don't skip the shortening – it is key! And while the cream is optional, I highly recommend using it (or half & half) because it really fluffs up the filling for a lovely texture that doesn't make it feel greasy.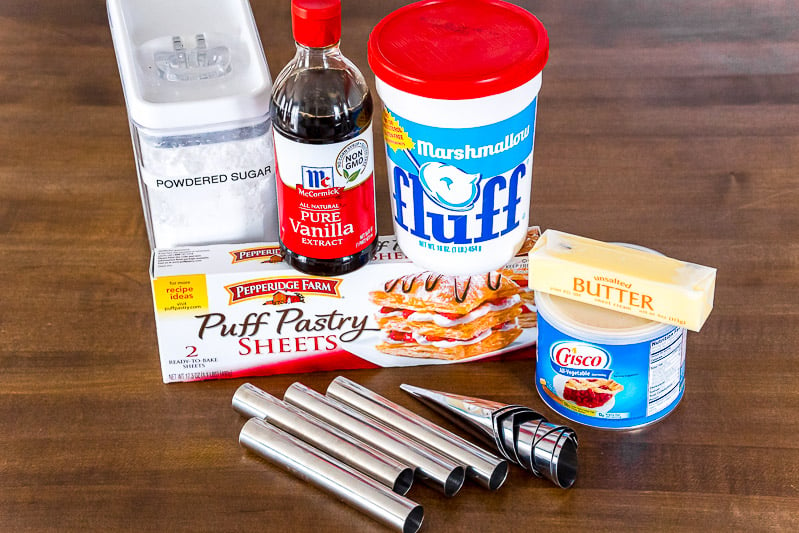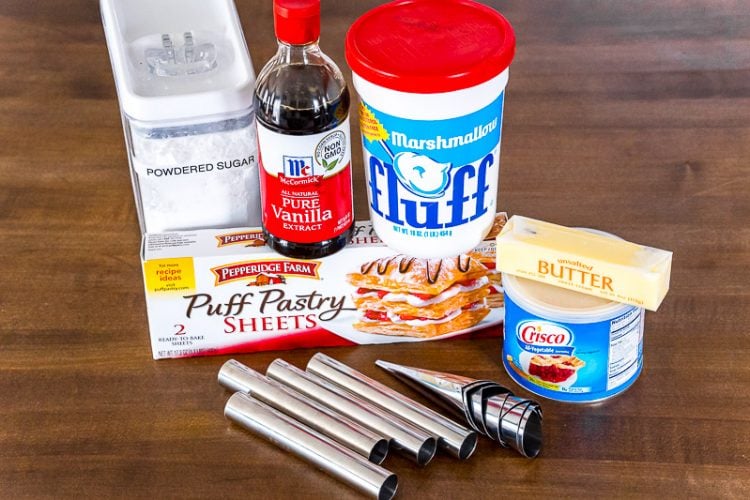 How to make Cream Horns
As I said before, Cream Horns are really simple to make! You'll need dough molds or you can also use sugar cones that have been wrapped in aluminum foil.
Step 1: Begin by unfolding your puff pastry dough on a lightly floured surface and rolling it out with a lightly floured rolling pin.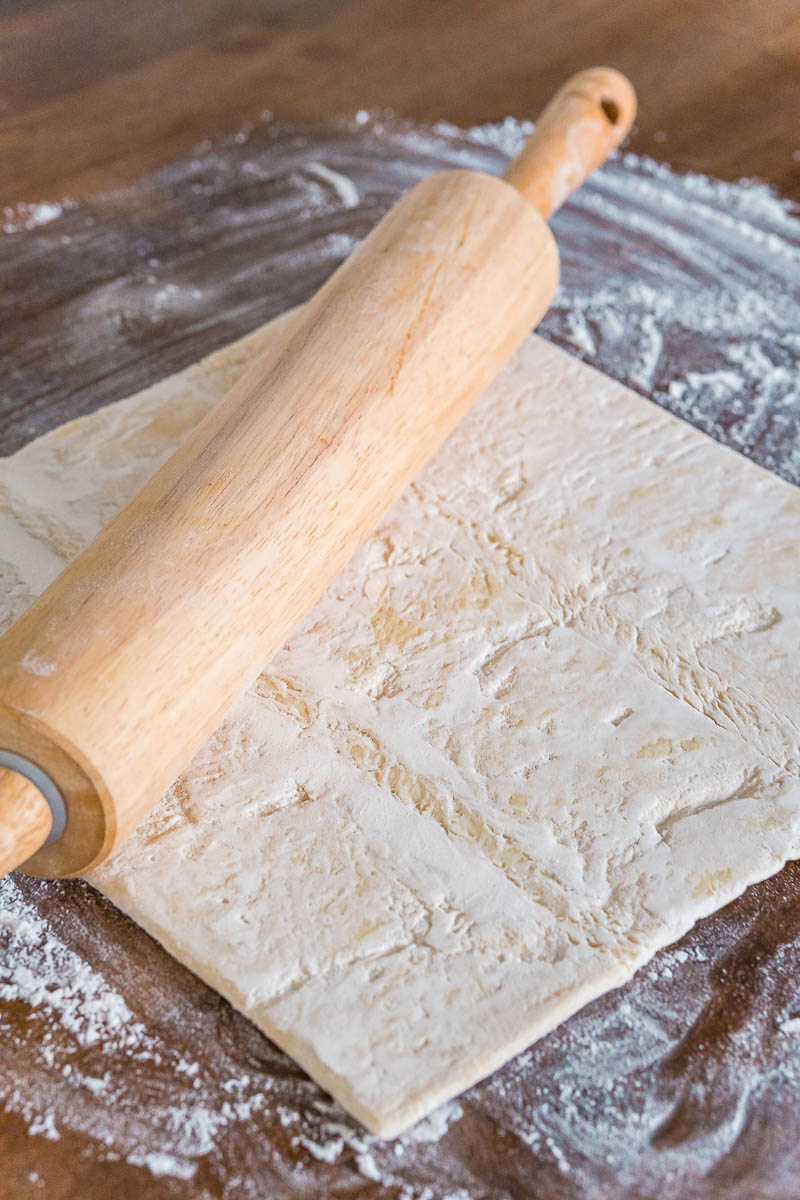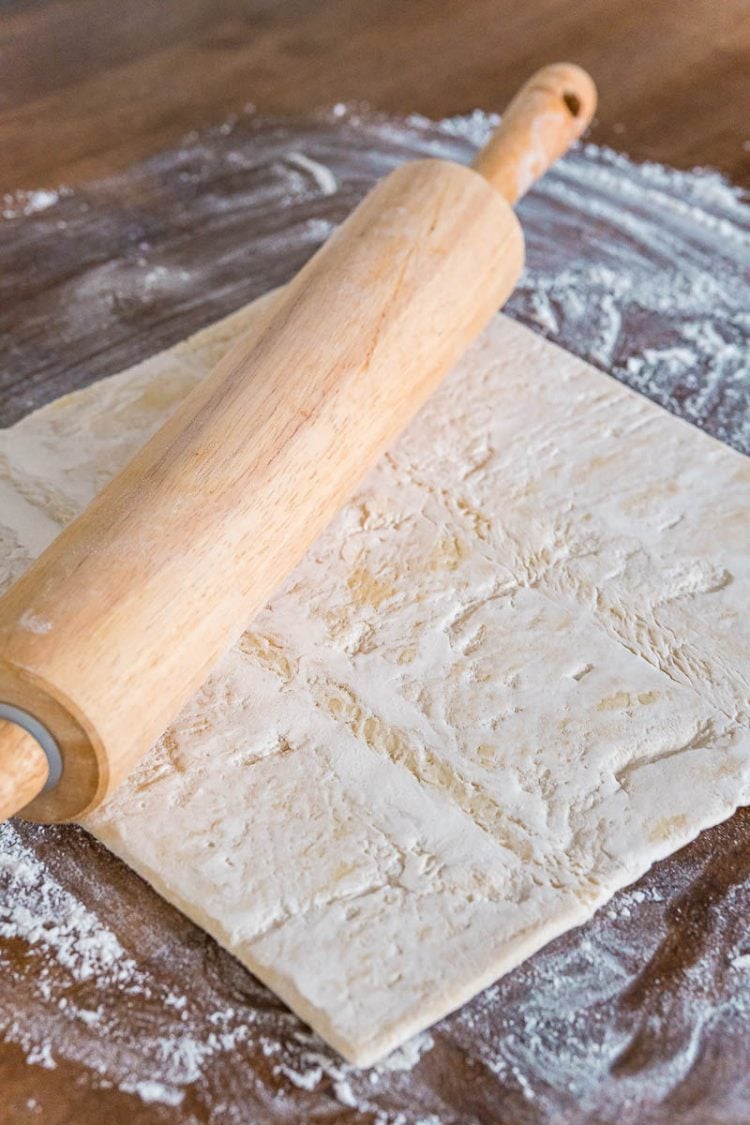 Step 2: You should still be able to identify where the fold lines were. Cut each section into 4 evenly sized strips with a pastry wheel or pizza cutter.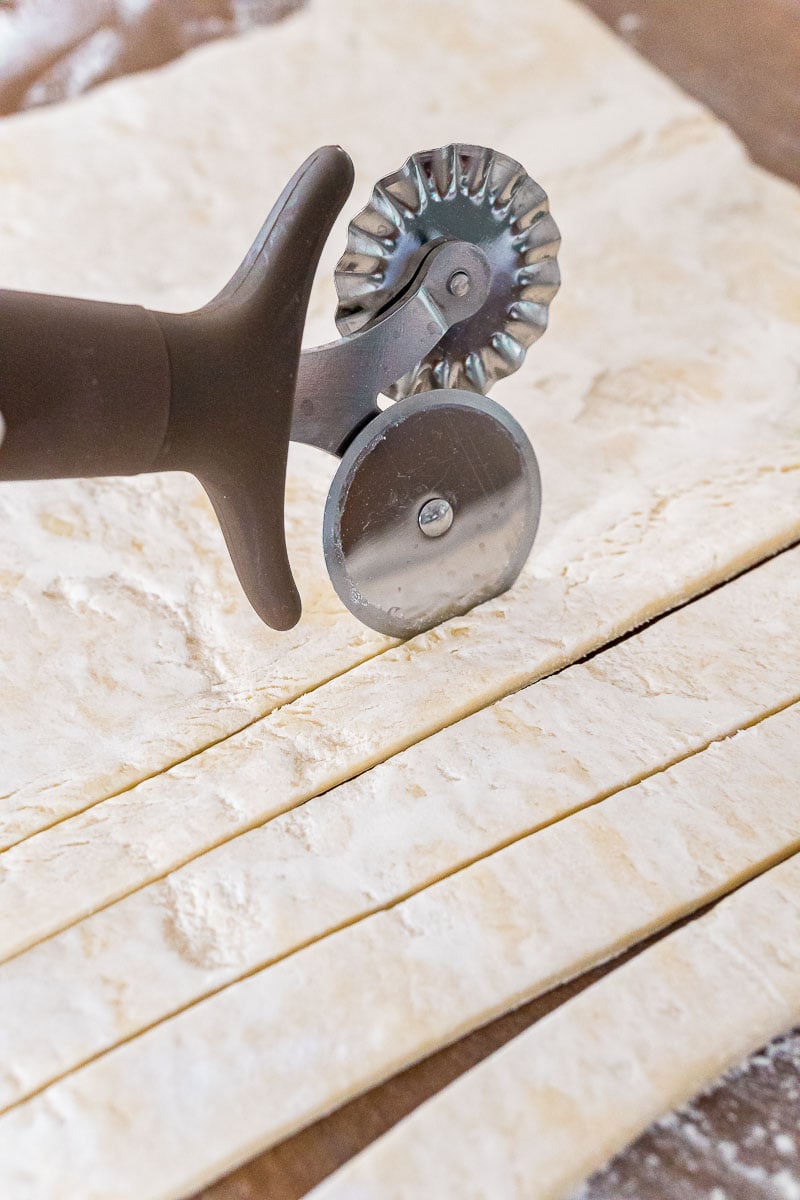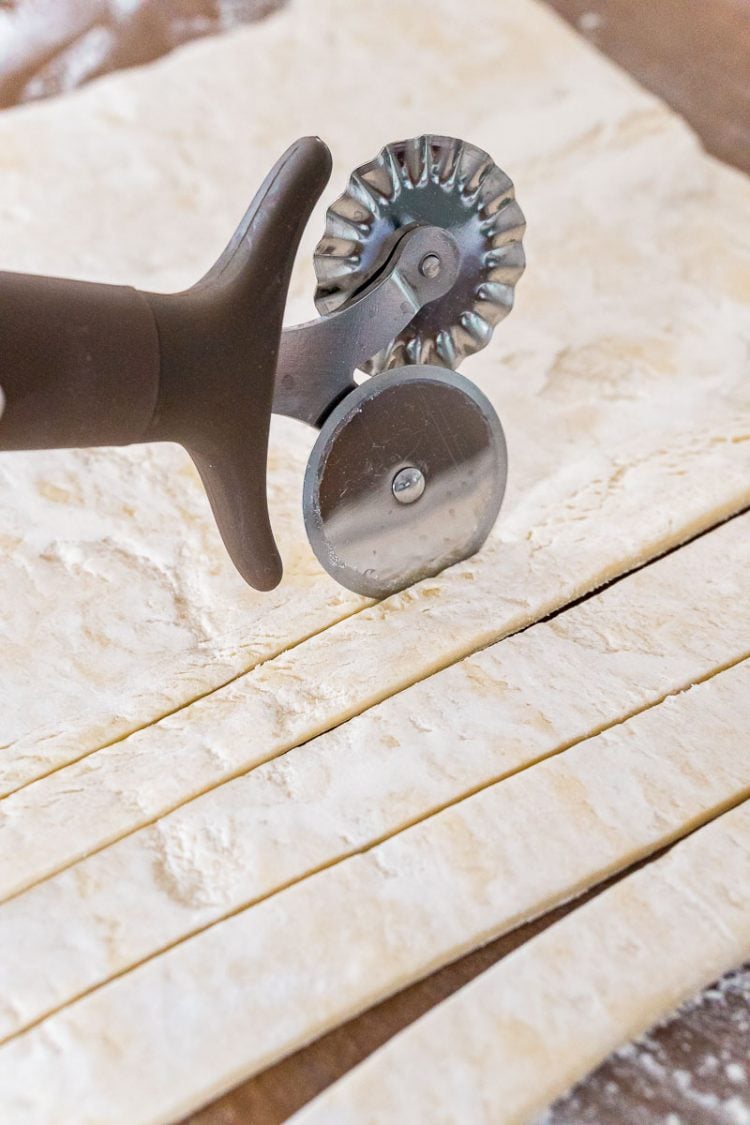 Step 3: Wrap your strips of dough around the molds, slightly overlapping the dough.
Expert Tip: Dip your fingers in water to soften the ends of the dough strips and make them sticky enough to adhere to each other.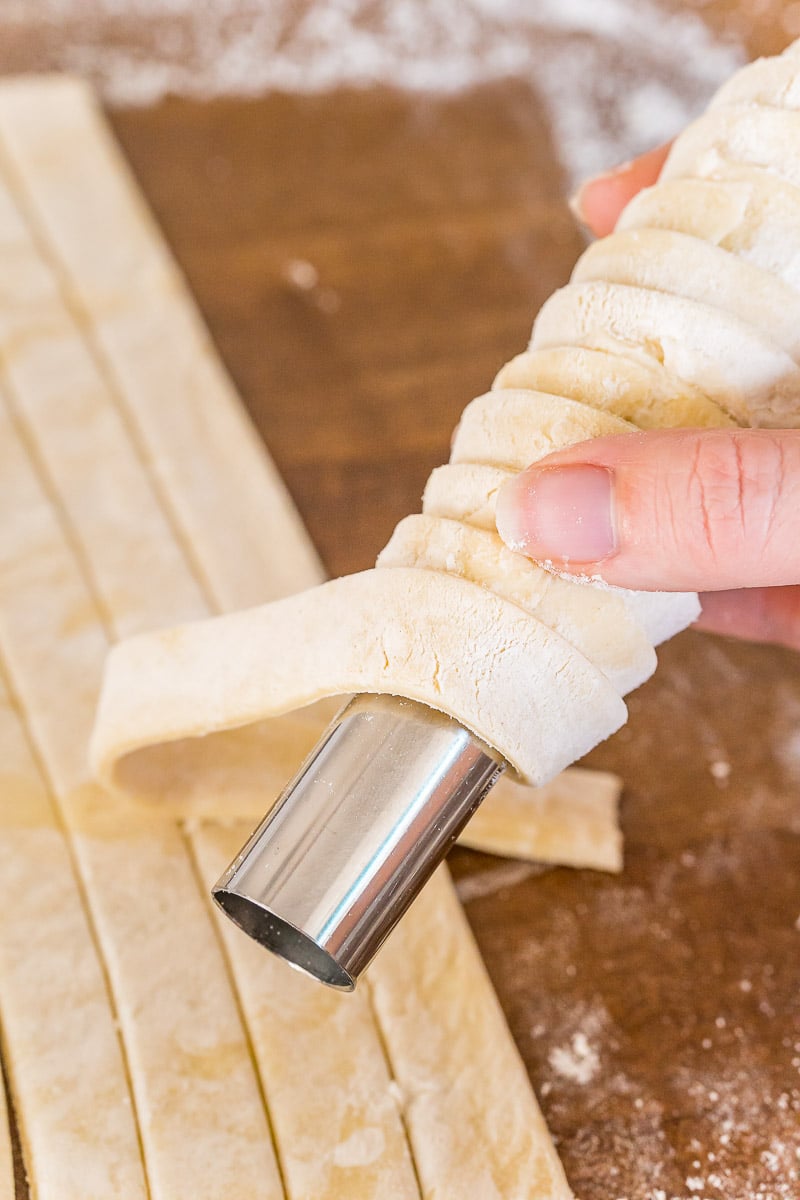 Step 4: Bake them on a baking sheet lined with parchment paper until golden brown.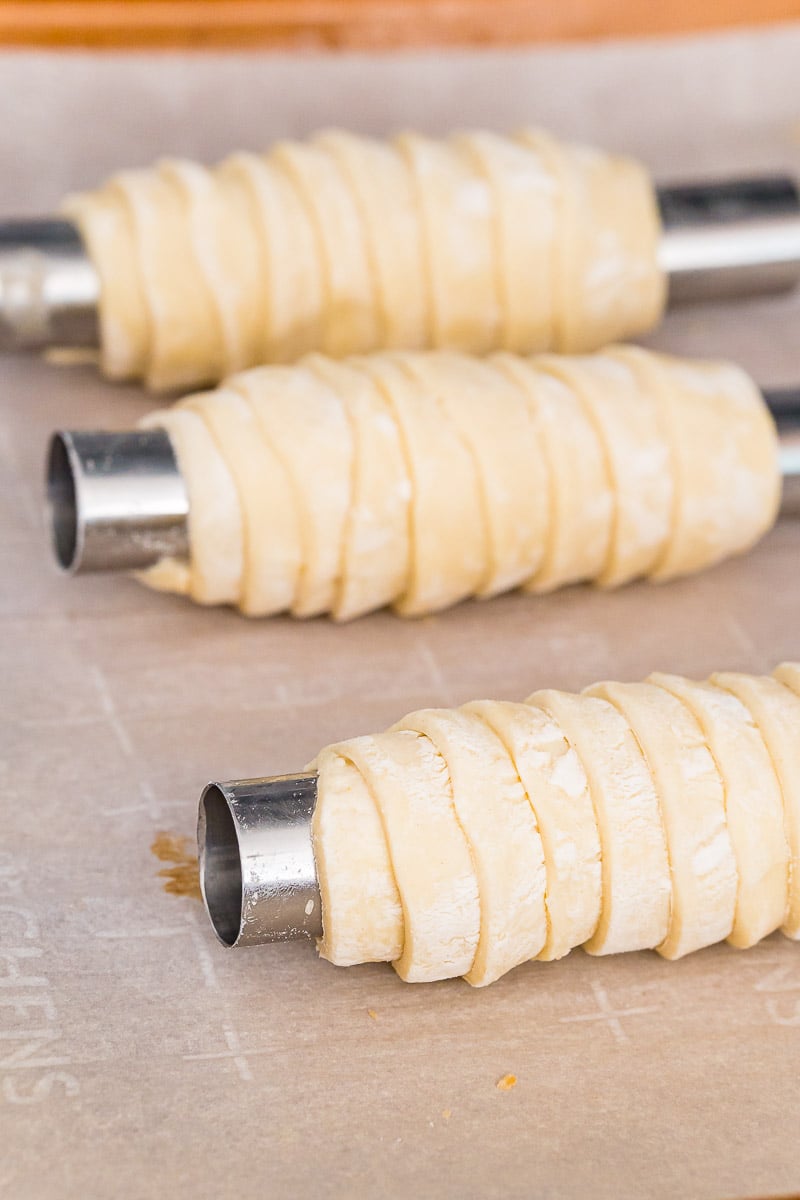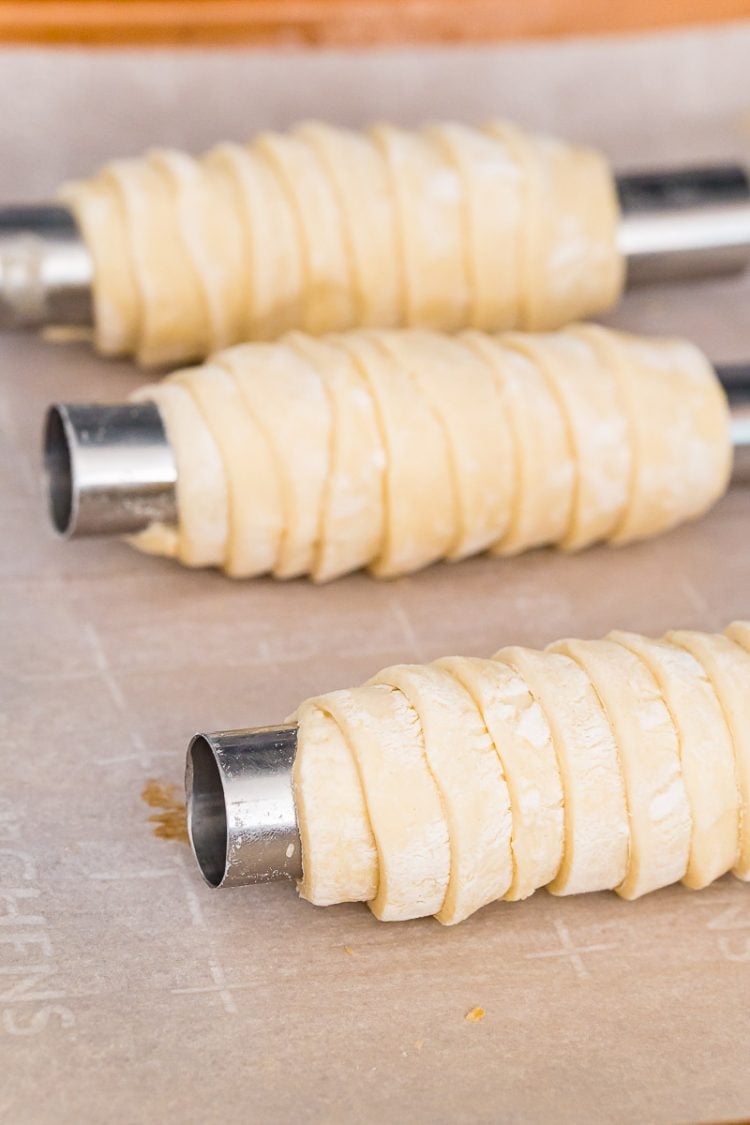 Step 5: Prepare the filling with an electric mixer, once baked and cooled, fill the pastry horns with cream! Enjoy immediately or store in an airtight container for up to 3 days at room temperature.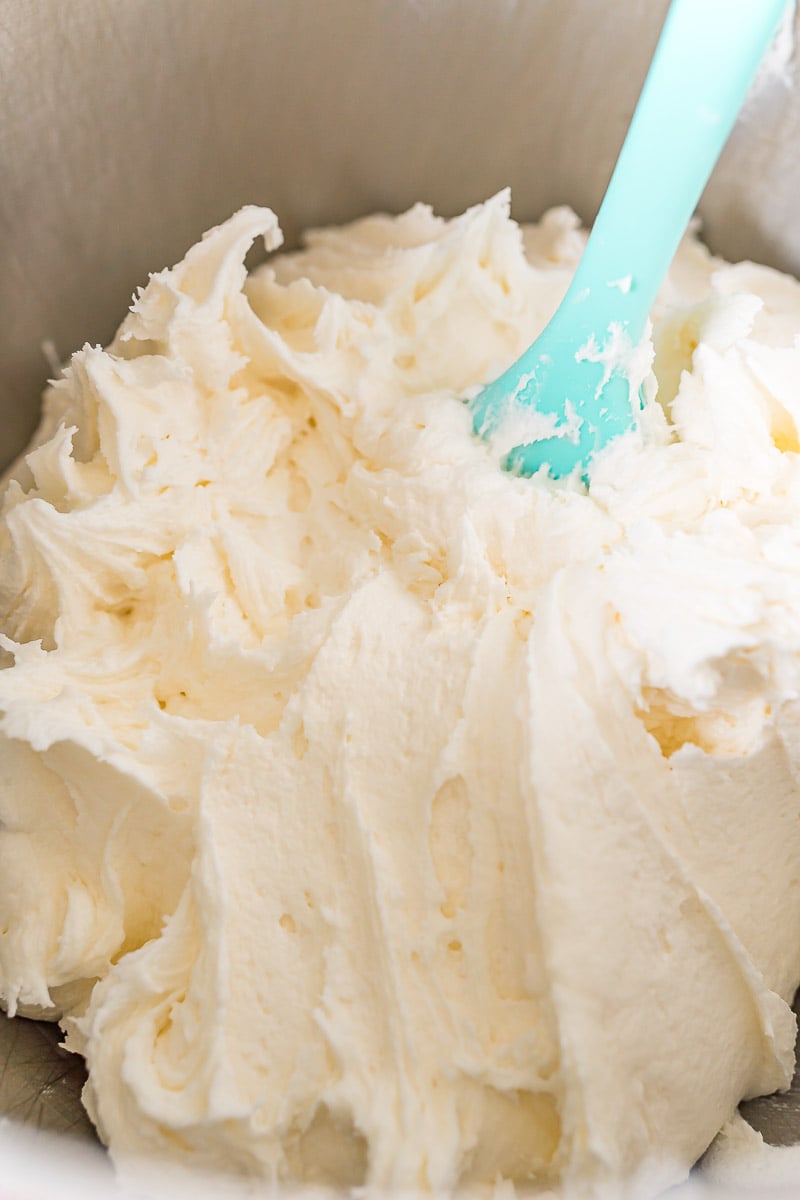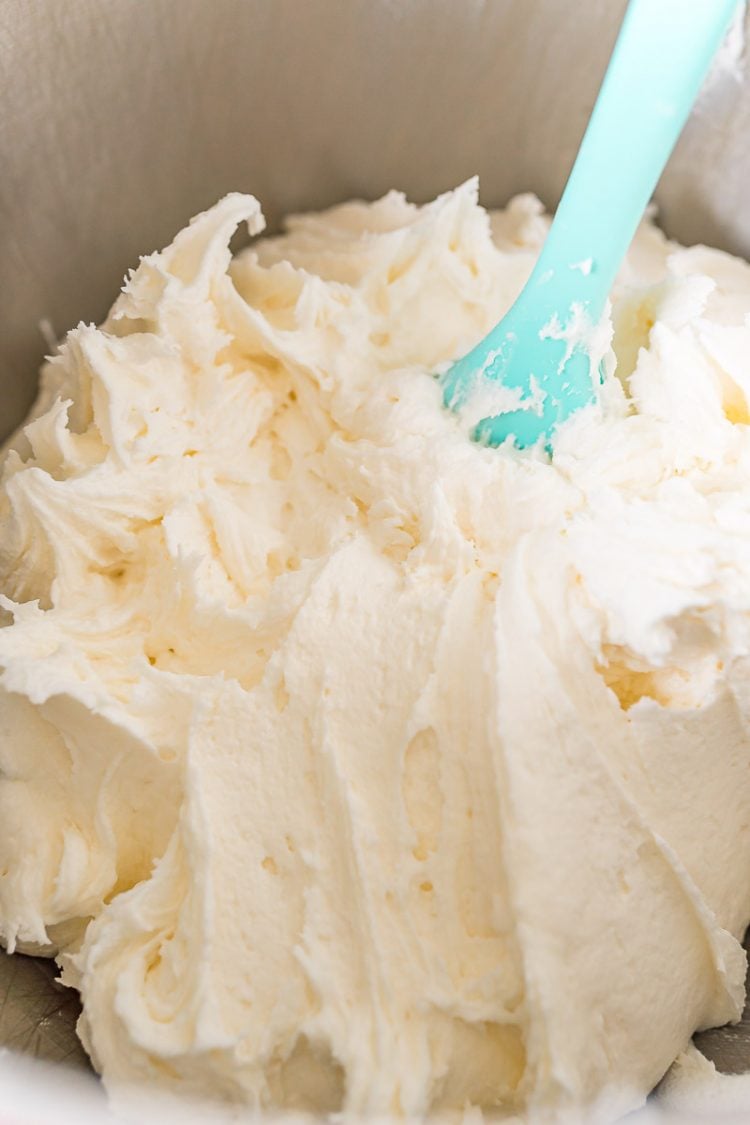 Cream Horn Recipe variations
Fruit: Add fruit preserves or Raspberry Filling to the inside of the pastry before filling it with cream.
Chocolate: Either dip the baked pastry in melted chocolate and allow it to cool before filling, or drizzle it with melted chocolate after filling.
Powdered Sugar: Dust with powdered sugar after filling for a pretty finish!
Frosting: Choose one of my frosting recipes like Chocolate, Nutella, or Peanut Butter as a filling instead of the traditional cream recipe!
How To Store Cream Horns
Cream horns are best stored in an airtight container at room temperature and enjoyed within a couple of days if including heavy cream or a week or so if omitting. The sugar content is enough to stabilize the heavy cream for a couple of days.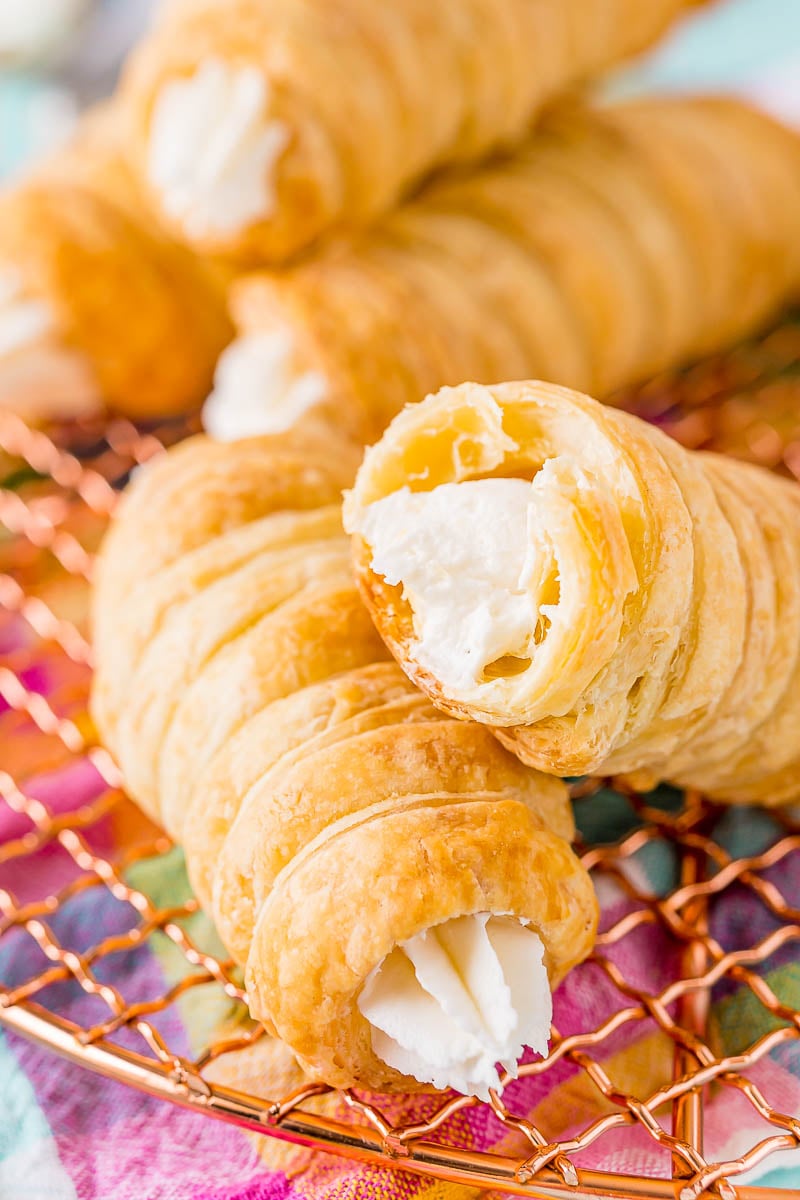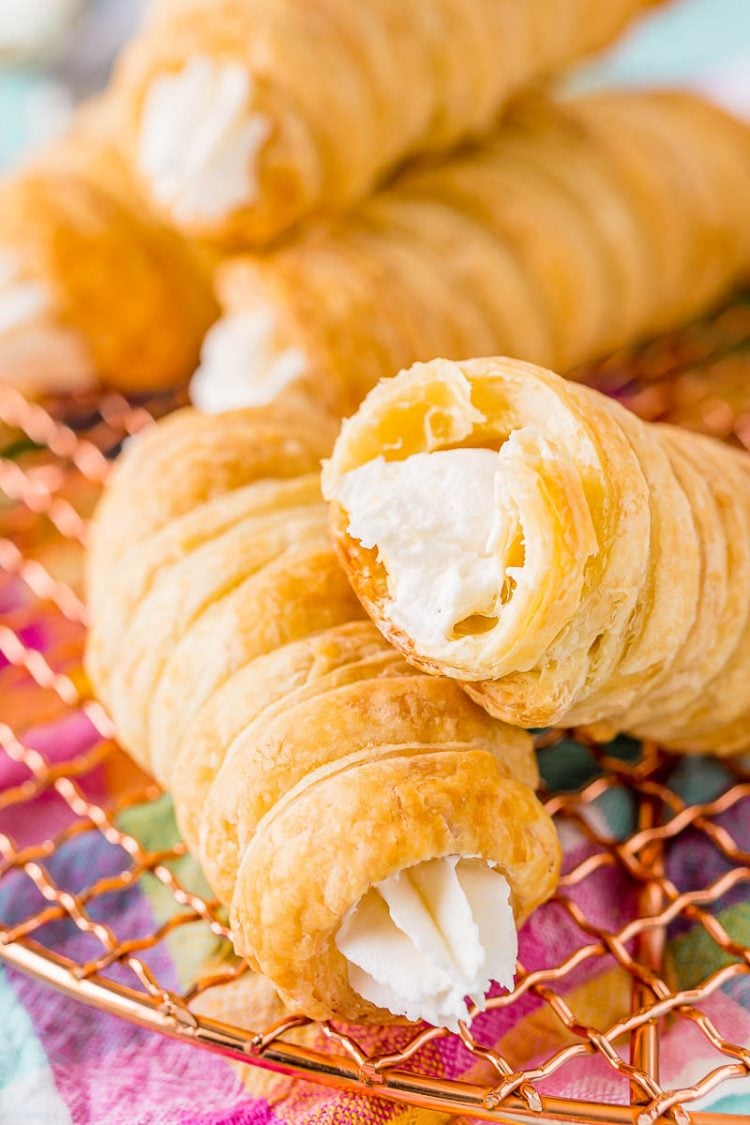 Cream Horn FAQs
What's the difference between a cannoli and a cream horn?
So much honestly, the only thing that's really similar about them is their cylinder shape – and sometimes, cream horns are more like horns/cones so even more different.
Cream horns are made with puff pastry dough and a fluffy and creamy filling usually made with butter, marshmallow fluff, and powdered sugar.
Cannoli are an Italian pastry made with a thin dough that's fried into a crispy shell and filled with a sweet ricotta filling.
A Cannoncini are Italian Cream Horn which are made with a puff pastry shell but a thick pastry cream filling.
What is the origin of cream horns?
They are believed to have been invented in Austria, which makes sense given that Chimney Cakes are another popular dessert in that region. They are also known as Schaumrollen or Schillerlocken.
What can I use instead of a cream horn mold?
You can wrap a sugar or waffle cone in aluminum foil and use that.
More Puff Pastry Recipes
More Recipes from Sugar and Soul
👋 Let's Connect!
If you've tried this recipe, please let me know how you liked it in the comments below and leave a review. I love hearing from you!
Don't forget to tag me – @sugarandsoulco – on Instagram and Pinterest with your photos or join our Sugar & Soul Show-offs Community and share them there, where you can join our recipe challenges!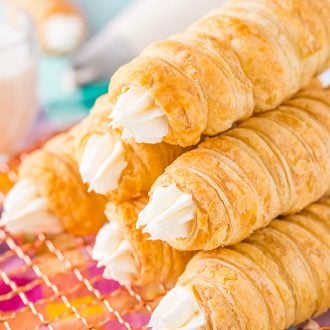 Cream Horns
This easy Cream Horns recipe is made with puff pastry that's wrapped and baked until golden a flaky and filled with a sweet and fluffy cream filling!
Equipment
Cream Horn Molds or Sugar Cones
Instructions
Preheat the oven to 400°F and line a large baking sheet with parchment paper and set aside.

On a lightly floured surface, unfold a sheet of pastry dough and gently roll it out with a lightly floured rolling pin.

You should still be able to see where the fold creases in the dough ware. Use a pastry wheel (or pizza cutter) to cut each section of the dough into 4 even strips.

Grab a strip of dough and begin winding it around the cream horn mold4. If you are using tube shape you can start at either end, if you're using a cone shape you will want to start at the point and wrap from there, slightly overlapping the dough as you wrap. Wet your finger in the water to soften the end of the dough strip and make it sticky enough to stick to the mold and the next strip of dough. 3 strips of dough should fit on each mold. Do not wrap too close to the edges of the molds or it will be difficult to get the baked pastry off.

Place the dough wrapped mold on the prepared baking sheet, about 2 inches apart. Bake for 12 minutes until light golden brown, remove from the oven and allow the dough to cool on the mold for 20 minutes.5 Gently slide the pastry off the mold6 and allow them to cool for an additional 10 minutes on a wire rack.

While the pastry is cooling, prepare your filling by creaming together the butter and shortening with an electric mixer. Add in the powdered sugar, fluff, and vanilla and mix on low speed until the sugar has combined, then increase the speed to high and whip for 2 minutes. If you choose to add the heavy cream (which I highly recommend) add it in before turning up the speed.

Transfer the filling to a pastry frosting bag fitted with a large piping tip and pipe filling into the pastry. If you are using a tube-shaped mold, fill from both ends. Store in an airtight container at room temperature for up to 3 days.
Notes
The dough will take about 2 hours to thaw or you can put it in the refrigerator the night before you want to use it.
The water does not go into the recipe, it is only used to wet your fingers and help you prep the dough.
I highly recommend adding the heavy cream because it helps the filling whip up into a light texture and makes it easier to pipe.
If you do not have mold and don't want to wait to order them, you can use sugar cones that have been gently, but tightly wrapped with aluminum foil.
If you don't have enough molds or not enough room on your pan, you can bake your pastry dough in two different batches.
Make sure to lightly grip the end that is opposite from the direction you're pulling the pastry off the mold from. Do not pull from the middle or there is a higher chance of the pastry breaking.
There is enough butter in the pastry dough that you do not need to spray your molds, this can actually make it hard for them to stay on the molds when prepping and baking.
Nutrition
Calories: 445kcal | Carbohydrates: 57g | Protein: 2g | Fat: 25g | Saturated Fat: 9g | Cholesterol: 18mg | Sodium: 79mg | Potassium: 19mg | Fiber: 1g | Sugar: 37g | Vitamin A: 209IU | Calcium: 6mg | Iron: 1mg