This Crockpot Turtle Candy has an ooey-gooey Rolo candy center that's hidden with chocolate-covered pecans, sea salt, and sprinkles! An easy holiday recipe that takes just 10 minutes to prep!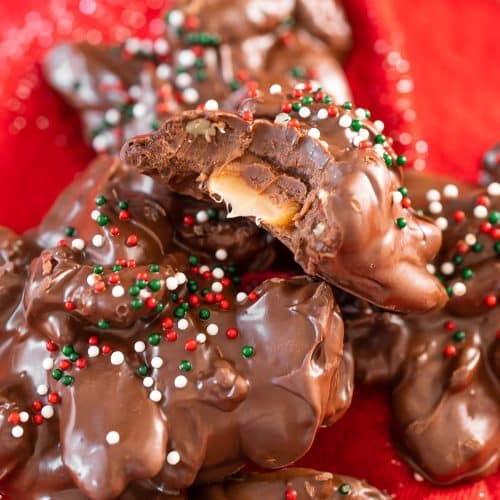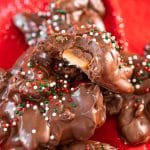 This Crockpot Turtle Candy has an ooey-gooey Rolo candy center that's hidden with chocolate-covered pecans, sea salt, and sprinkles! An easy holiday recipe that takes just 10 minutes to prep!
For more chocolate-covered goodies check out these Snickers Stuffed Dates or my Caramel Chocolate Dipped Oreos! Both are just as sweet and delicious as this crockpot candy!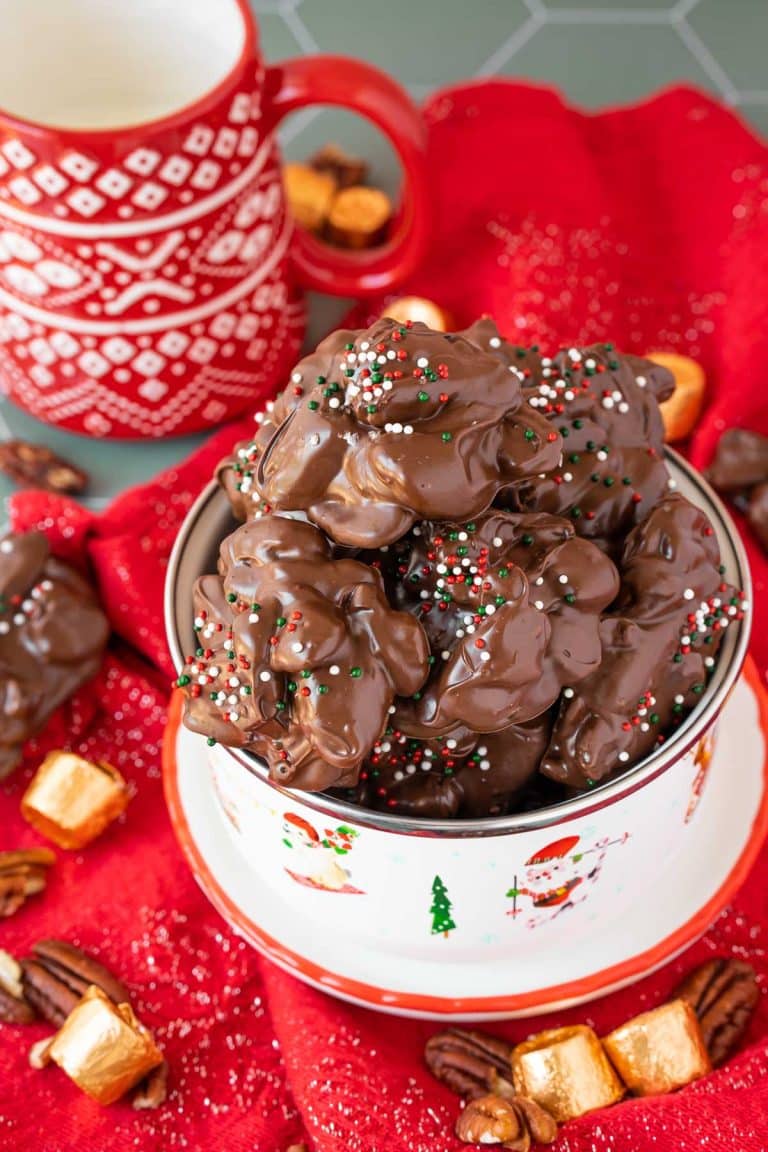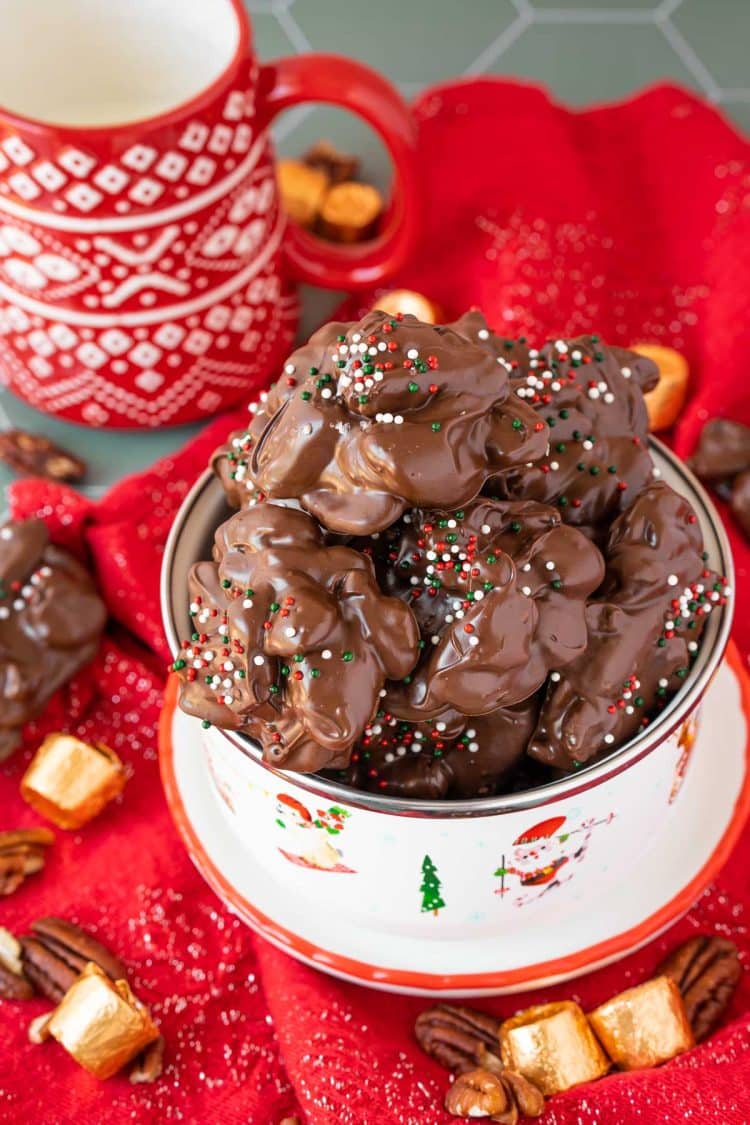 This Easy Crockpot Turtle Candy calls for very little hands-on time! Making it the perfect choice when the holiday season is already full of enough hustle and bustle!
Simply toss the 5 ingredients into the crockpot and then come back an hour later to stir! After that, your only job is to scoop the candy mixture out to allow it to set!
All About This Crockpot Turtle Candy
Taste: This crockpot candy covers nutty pecans with sweet chocolate before piling onto a buttery caramel-filled candy! Topped with sea salt, this candy gives off salty-sweet flavors that should be enjoyed at every holiday gathering this season!
Texture: The smooth melted chocolate coating gives way to crunchy pecans! Together, those smooth, crunchy texture combines with the gooey, sticky caramel center. Delivering a mouthwatering texture that's completely irresistible!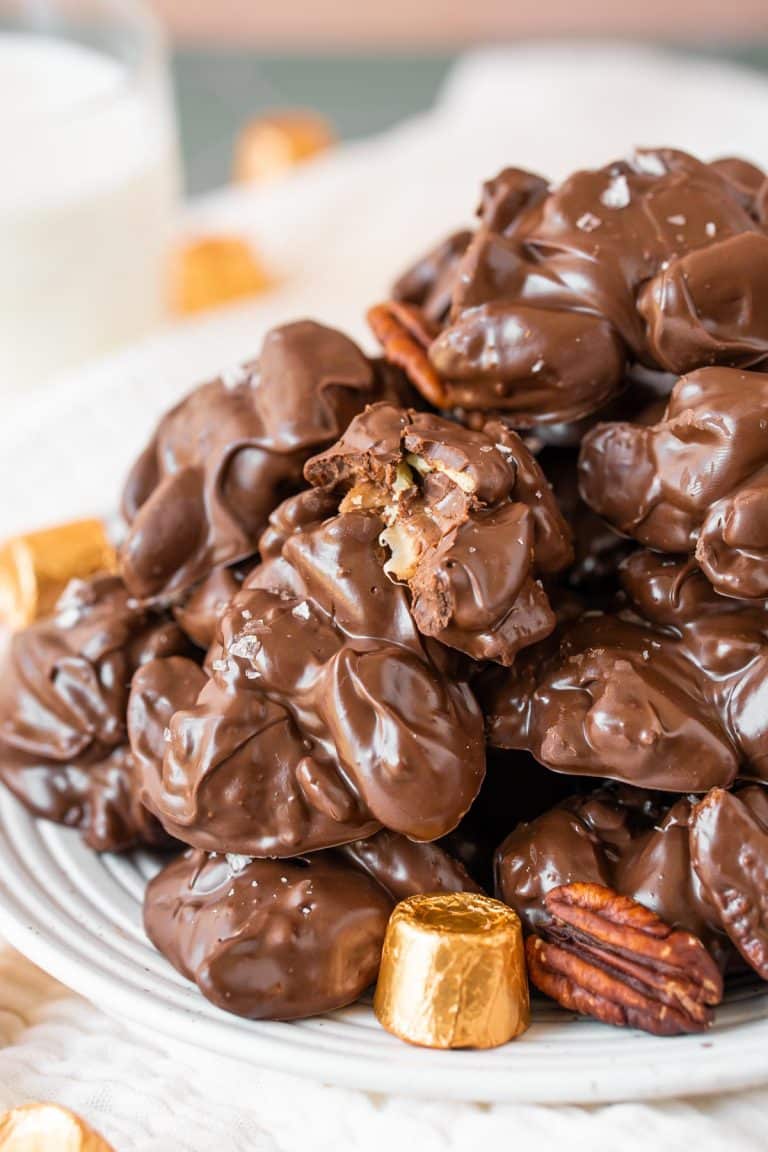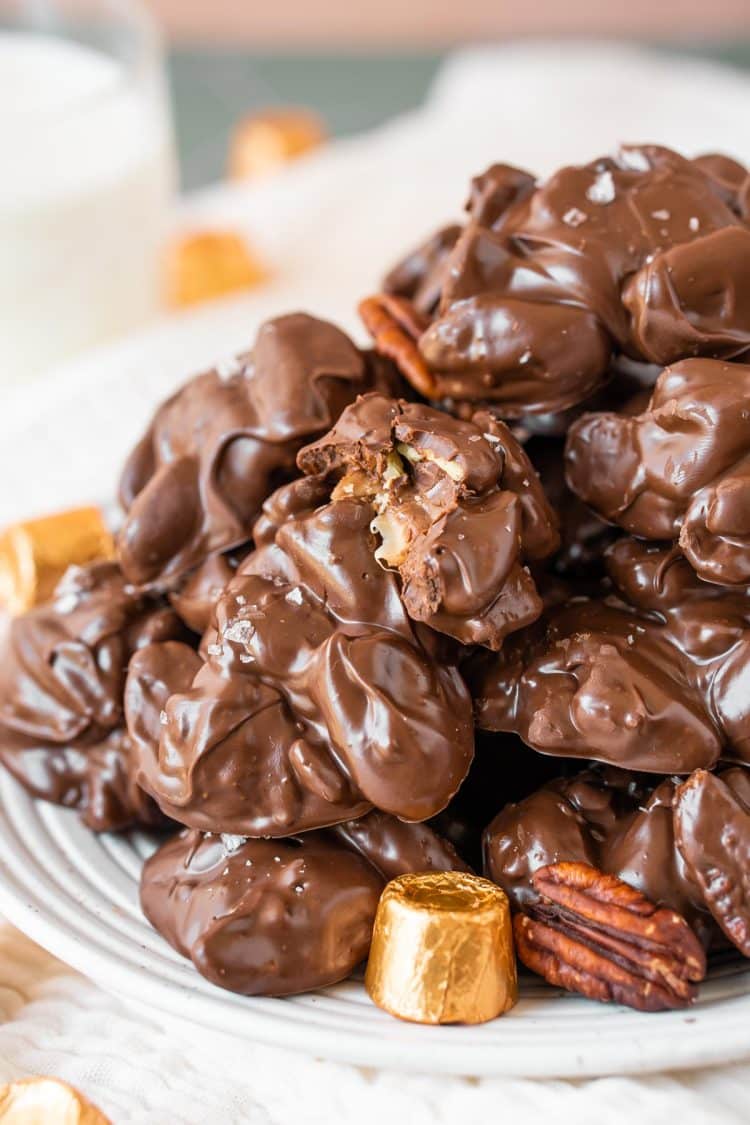 I love gifting easy-to-make candy and treats like this Crockpot Turtle Candy around the holidays! Once I make a batch, I just slide a few into cello bags (affiliate link) and tie them off with Christmas ribbon!
Then I'm left with grab-n-go edible gifts after hosting a holiday party! It'd also be great to pass them out at work to co-workers, potlucks, or the staff at your kid's school.
You could also do this with Reindeer Christmas Bark or Easy Mint Chocolate Muddy Buddies! Even these Adorable Snowman Cake Pops and Festive Christmas Oreo Balls would be fun to gift too!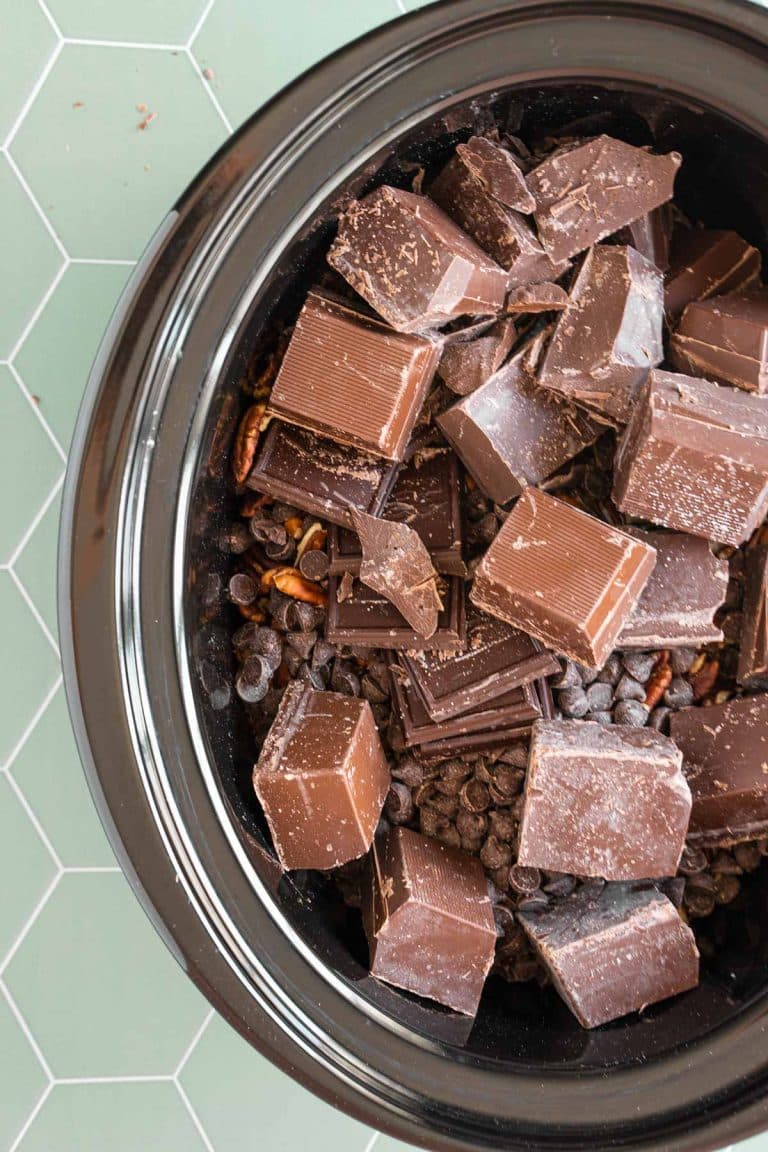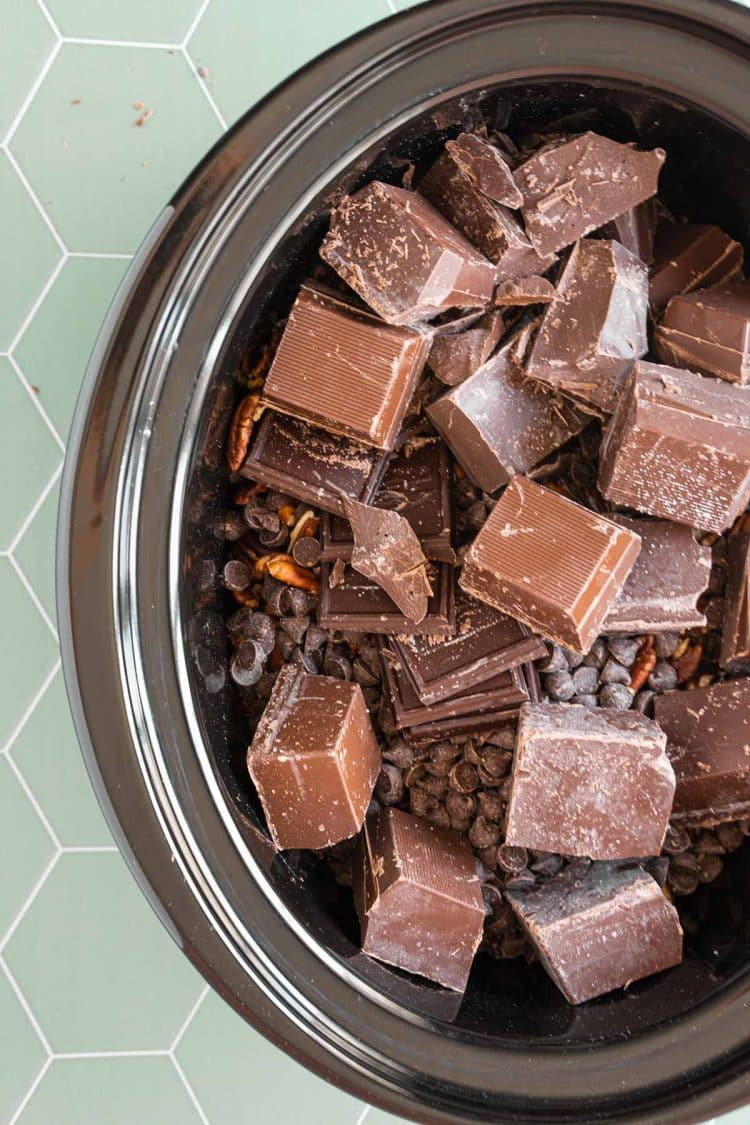 Tips When Making This Crockpot Turtle Candy Recipe
Consistency – You want a nice smooth chocolate consistency before scooping out portions to set! To accomplish this, allow the ingredients to cook on low for 1 hour before stirring. Afterward, cook for an additional 30 minutes. If the chocolate consistency isn't yet smooth, give it 15 more minutes.
Surface Workspace – To allow the candy portions to set, you want to line a large clean, and level workspace with wax paper. The countertop or kitchen table works great! Just make sure the crockpot is close by so that you don't leave a trail of chocolate!
Tablespoon Scoops – I found that a heaping tablespoon was the perfect portion size to cover the Rolo, I used a medium cookie scoop (affiliate link) for this! However, feel free to make them as big or as small as you prefer.
Adding Toppings – Make sure to add sea salt and sprinkles to the chocolate candy before the chocolate hardens. If not, the toppings won't stick to the candy!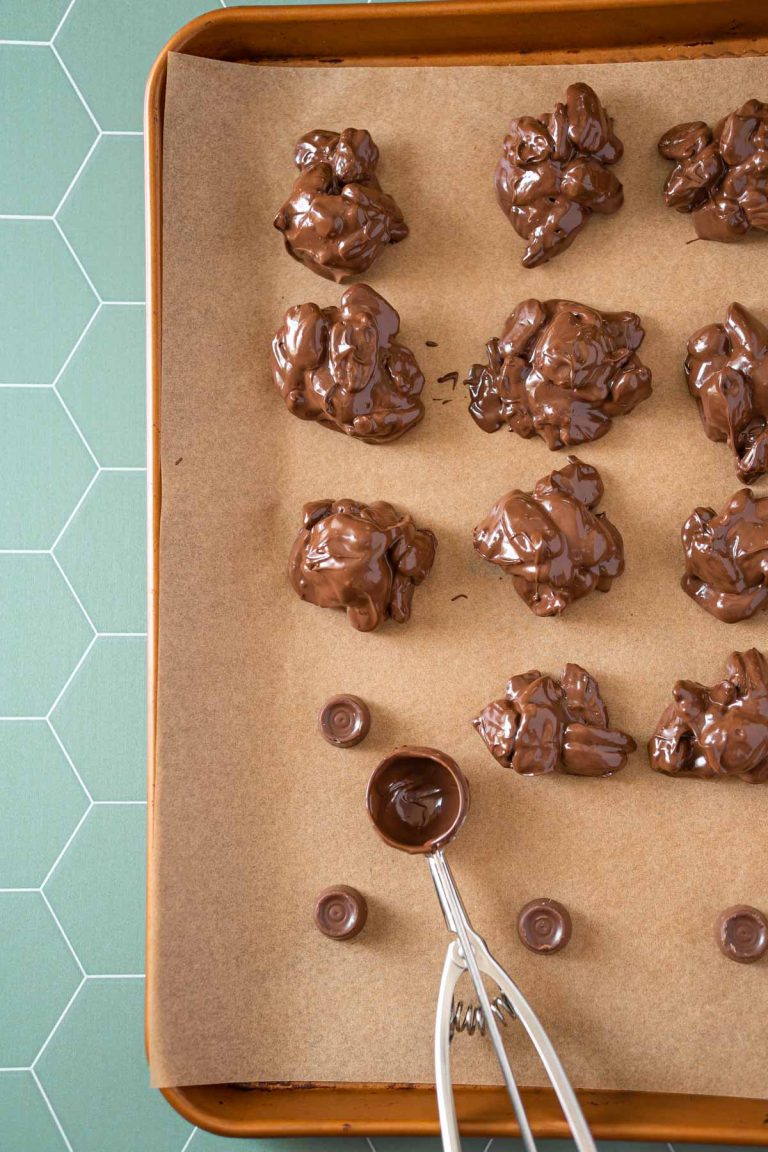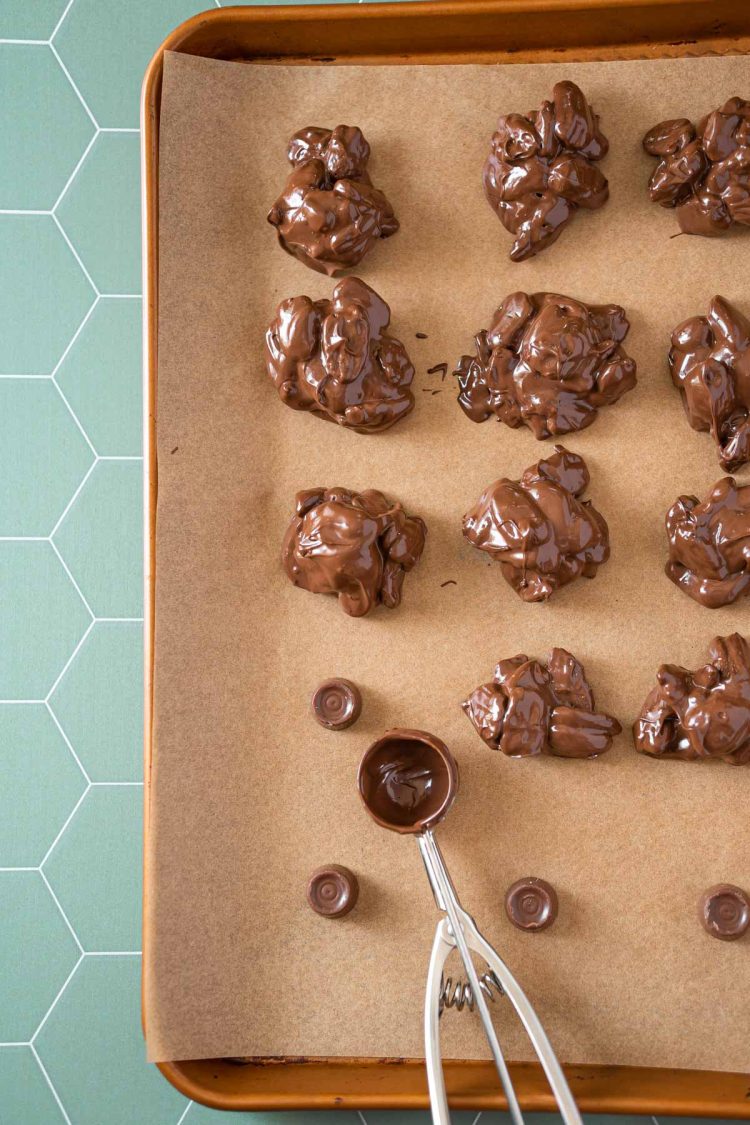 Fun & Tasty Crockpot Candy Variations
Sprinkles – I love using round colored sprinkles to top this candy with! However, feel free to use whatever festive sprinkles you want.
Chocolate – Exchange the semi-sweet chocolate for milk chocolate chips instead! The milk and dark chocolate blend really well together for a delicious taste!
Nuts – Though this recipe calls for pecan halves you can use any nut you'd like! Try using roasted peanuts, cashews, or even walnuts!
Nut Substitutions – You can totally avoid nuts altogether in this crockpot turtle candy! Just exchange them for Chex cereal or Rice Krispies cereal!
Mix-Ins – For added texture and flavor try adding in a cup of craisins!
Holidays – Make this recipe for any holiday simply by topping them with sprinkles that match the holiday! Red and pink for valentine's day, green for St. Patrick's Day, and so on!
Turtle Candy Storage Tips
Store the crockpot candy in an airtight container in a cool, dark place. I'd recommend placing wax paper between layers to prevent the candy from sticking together.
The crockpot turtle candy can then be enjoyed for 2 to 3 weeks!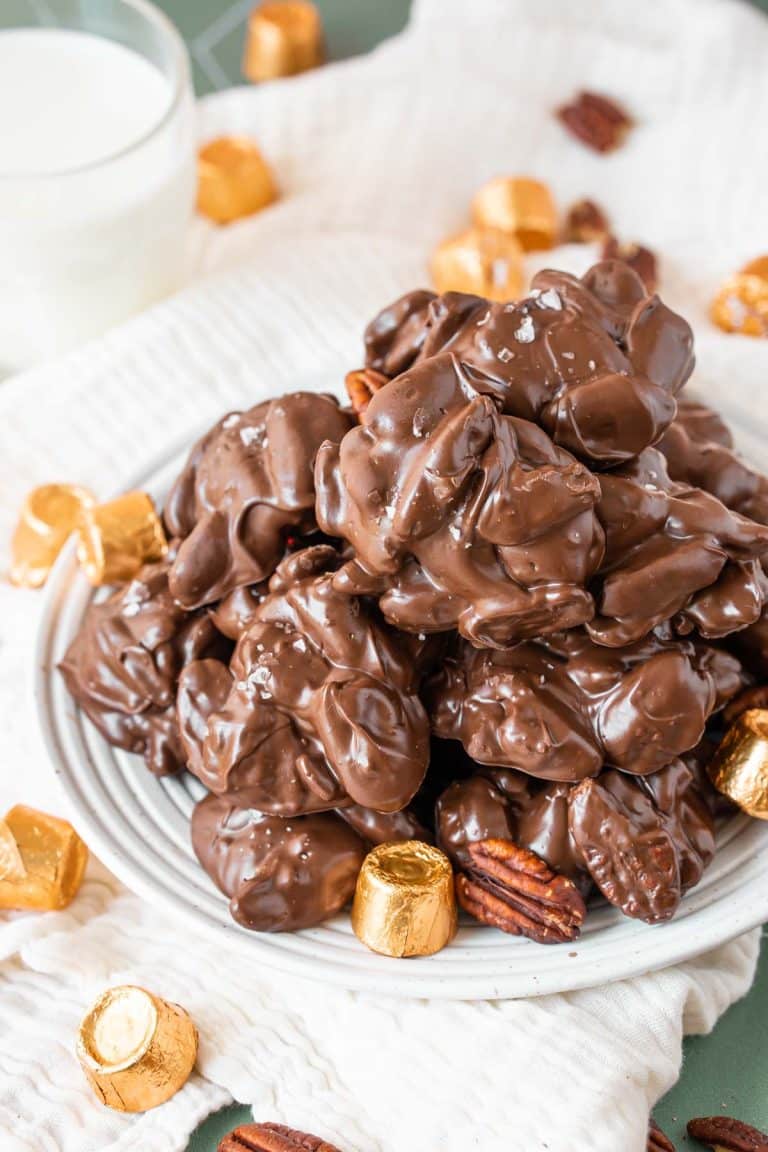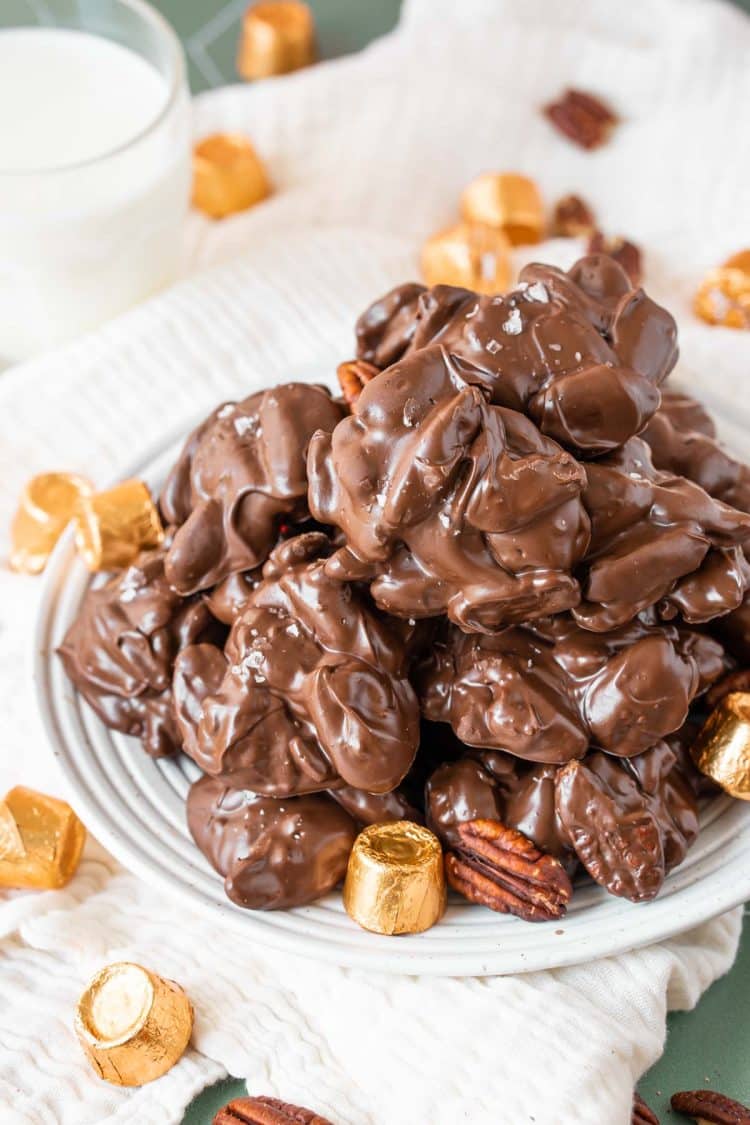 Do I Have To Use A Crockpot To Make This Recipe?
No, making this cany in the crockpot isn't necessary but it is the best way if you're looking for it to be a hands-off recipe!
This can also be made in the microwave! To do so, place the ingredients except for the pecans and Rolos into a large microwave-safe bowl.
Afterward, melt the ingredients at 30-second intervals. Once the chocolate has melted to a smooth consistency stir in the pecans. Scoop the mixture out on top of the Rolo candies and let set.
You could also make this recipe using a double boiler. Again, stir the pecans in once the chocolate is melted.
What Is Almond Bark?
Almond bark is a vanilla-flavored candy that's usually used to coat nuts and other treats! Though it's called almond bark, it doesn't actually contain almonds or nuts of any kind.
This ingredient can be found at your grocery store in the baking aisle or the seasonal aisle.
What Should I Use If I Can't Find Almond Bark?
Almond bark can be substituted for an equal amount of white chocolate and 1 tablespoon of shortening.
Does This Crockpot Turtle Candy Freeze Well?
Yes, this candy is great to make ahead to freeze and enjoy later! To do so, spread the candy out on a baking sheet and freeze them for 1 hour.
Then transfer the frozen candy into an airtight container or Ziploc bag with the excess air squeezed out of it. This method prevents the crockpot turtle candy from being frozen into one big lump!
Store the candy in the freezer and enjoy it for up to 6 months.
Can I Use Parchment Paper Instead Of Wax Paper?
I find wax paper works best for no-bake treats, but parchment paper does still get the job done!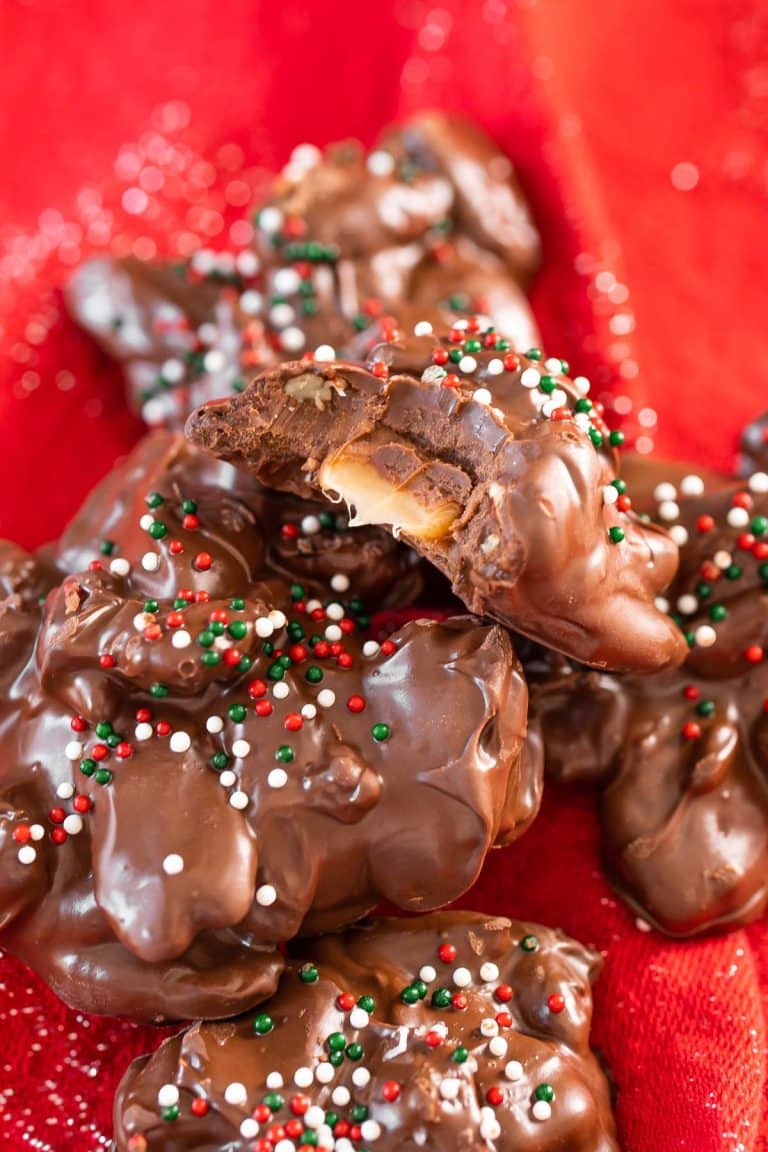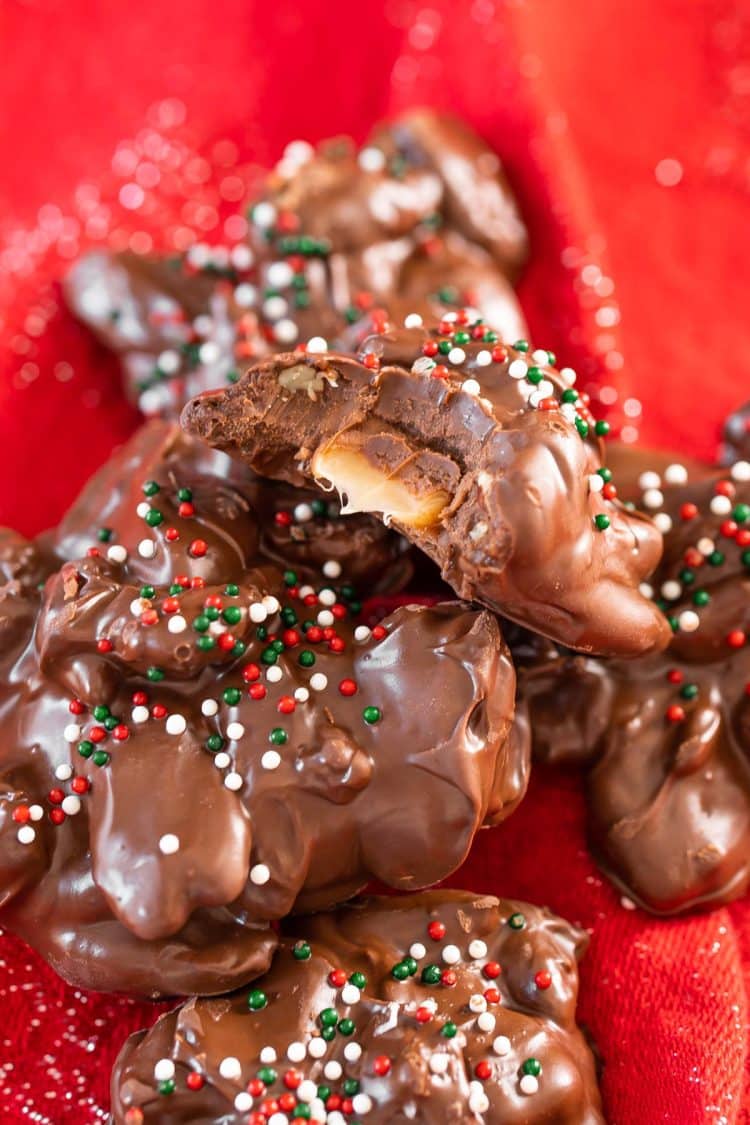 👋 Let's Connect!
If you've tried this recipe, please let me know how you liked it in the comments below and leave a review. I love hearing from you!
Don't forget to tag me – @sugarandsoulco – on Instagram and Pinterest with your photos or join our Sugar & Soul Show-offs Community and share them there, where you can join our recipe challenges!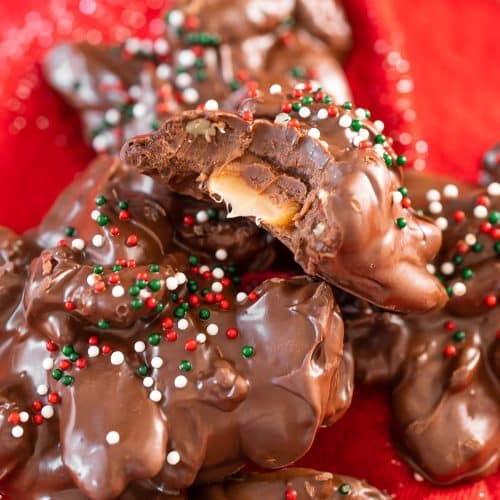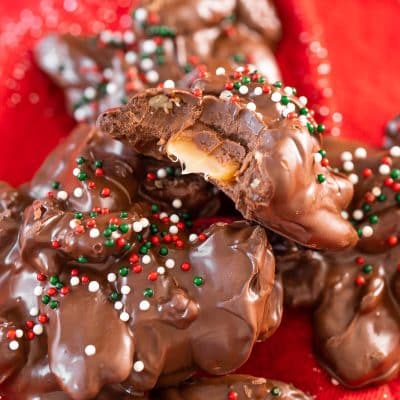 Turtle Crockpot Candy
This Crockpot Turtle Candy has an ooey-gooey Rolo candy center that's hidden with chocolate-covered pecans, sea salt, and sprinkles! An easy holiday recipe that takes just 10 minutes to prep!
Instructions
To a 4 or 6-quart crockpot, add the pecans, almond bark, chocolate, chocolate chips, and salt. Do not stir together. Cook on low for 1 hour.

32 ounces pecan halves, 32 ounces chocolate almond bark1, 4 ounces bittersweet chocolate, 12 ounces semi-sweet chocolate chips, ½ teaspoon salt

After 1 hour has passed stir the ingredients and cook on low for an addition 30 to 45 minutes and stir again. The chocolate and bark should be fully melted at this point, turn off the slow cooker.

Place two long strips of wax paper on a clean and level surface. Place unwrapped Rolo candies about 3 inches apart on the wax paper.

75 Rolo candies

Use a tablespoon to scoop out mounds of the chocolate-coated pecans and distribute them over the top of the Rolos. Sprinkle them with sea salt and sprinkles if desired. Allow to fully set before enjoying or packaging up.

sea salt, sprinkles
Notes
If you cannot find almond bark, substitute it with white chocolate and add 1 tablespoon of shortening.
Crockpot Candy will last up to 2 to 3 weeks in an airtight container and stored in a cool, dark place. You can also freeze it, and it'll stay good for up to 6 months
Crockpot Candy Variations:

I like using round colored sprinkles during the holiday season to make this Slow Cooker Candy look extra festive (for instance, try orange and black for Halloween and green and red for Christmas!).
You could also use milk chocolate chips instead of semi-sweet. Milk and dark chocolate blend really well!
You can use any nut you'd like or if you're looking to avoid nuts altogether, try using Chex or Rice Krispies cereals.
People also love adding a cup of craisins to the mix for added flavor and texture.
Nutrition
Calories: 174kcal | Carbohydrates: 14g | Protein: 3g | Fat: 12g | Saturated Fat: 6g | Cholesterol: 1mg | Sodium: 102mg | Potassium: 118mg | Fiber: 2g | Sugar: 11g | Vitamin A: 2IU | Calcium: 11mg | Iron: 1mg