Snickers Stuffed Dates are a fun spin-off from the classic candy bar that's trending on TikTok for being a deliciously sweet yet salty treat! Make a batch in just 30 minutes!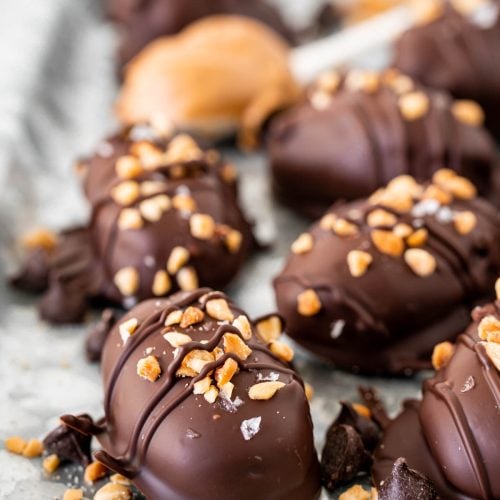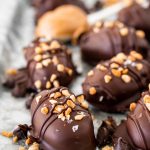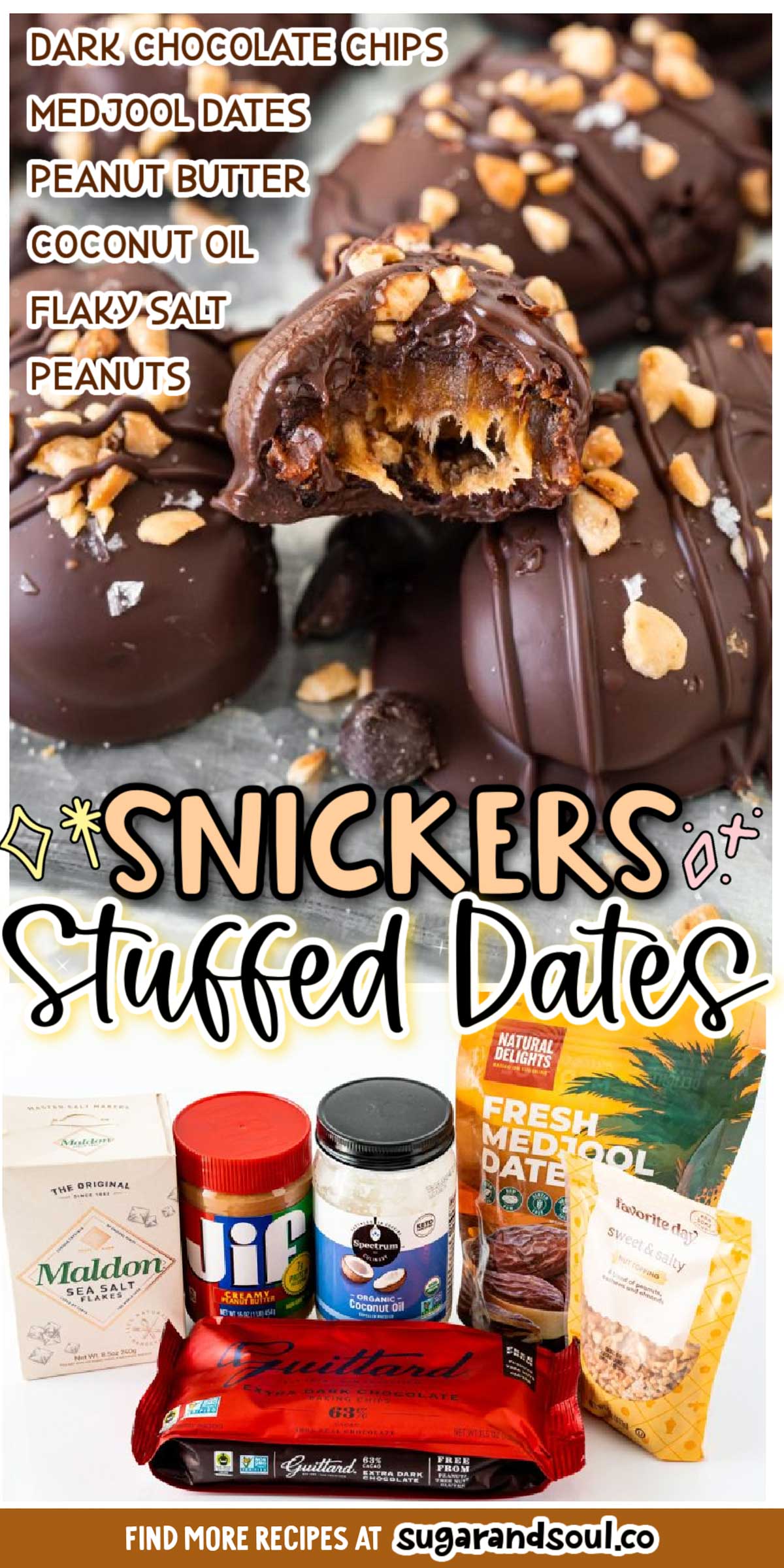 Snickers Stuffed Dates are a fun spin-off from the classic candy bar that's trending on TikTok for being a deliciously sweet yet salty treat! Make a batch in just 30 minutes!
Grab some extra dates and make these Bacon-Wrapped Dates With Feta for another salty yet sweet date recipe!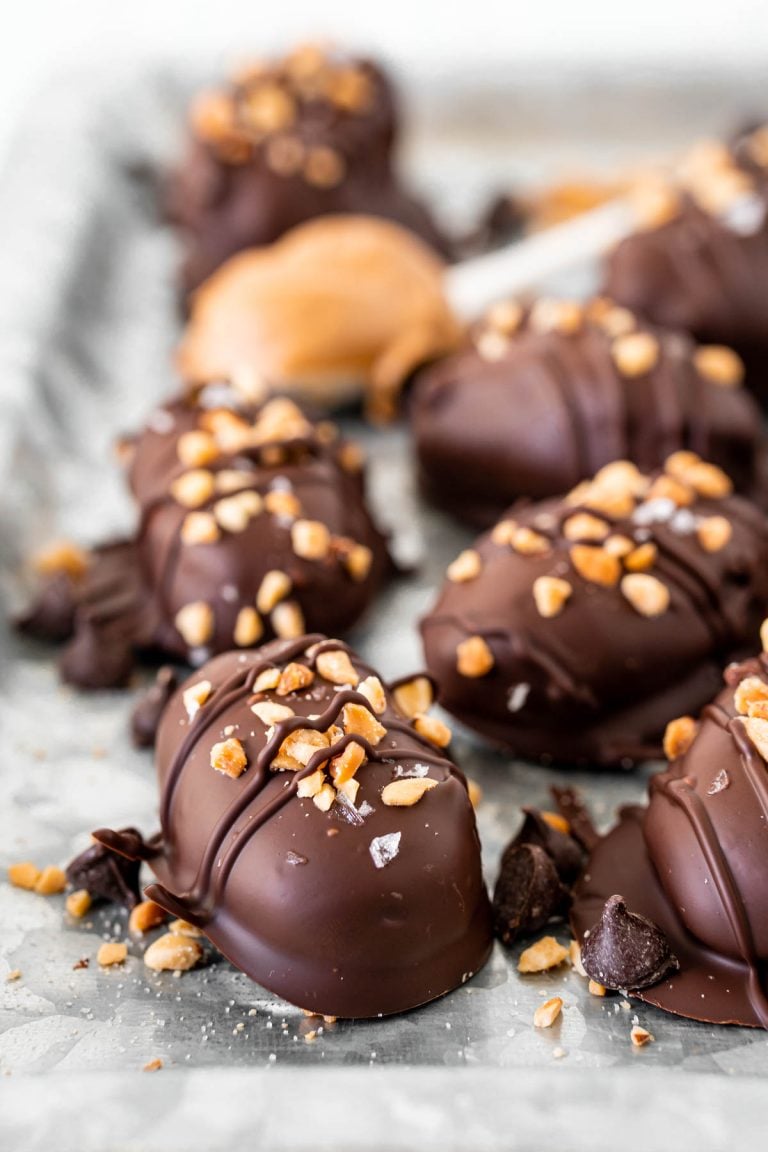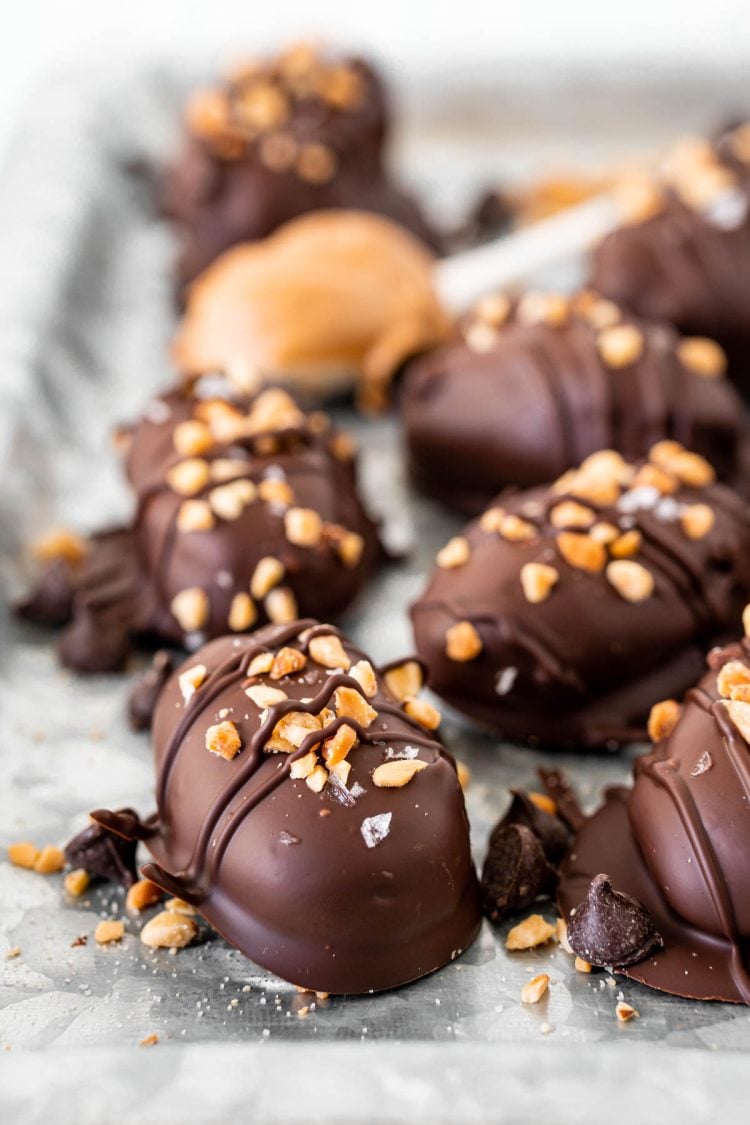 Popping a Snickers Stuffed Date into your mouth is a sweet experience that's similar to the classic candy bar! They're chewy yet crunchy and sweet with just the right amount of saltiness!
When I came across this TikTok Video for these Chocolate Covered Dates I knew I had to make them ASAP! And after a little digging, I think the credit for this genius recipe belongs to Eating Bird Food!
Once I watched the video and read the original recipe, I decided to slightly tweak these dessert dates by adding flaky salt to them! I find that doing so gives them a huge flavor upgrade, making them truly taste like a snickers bar!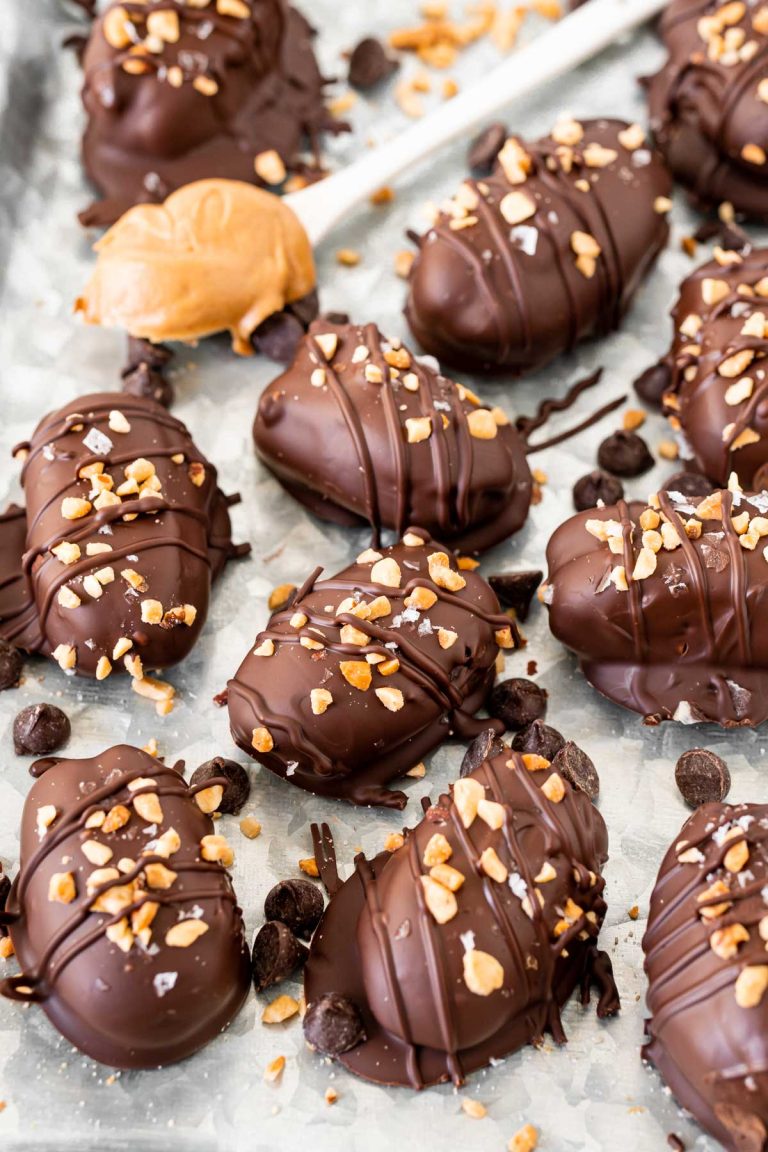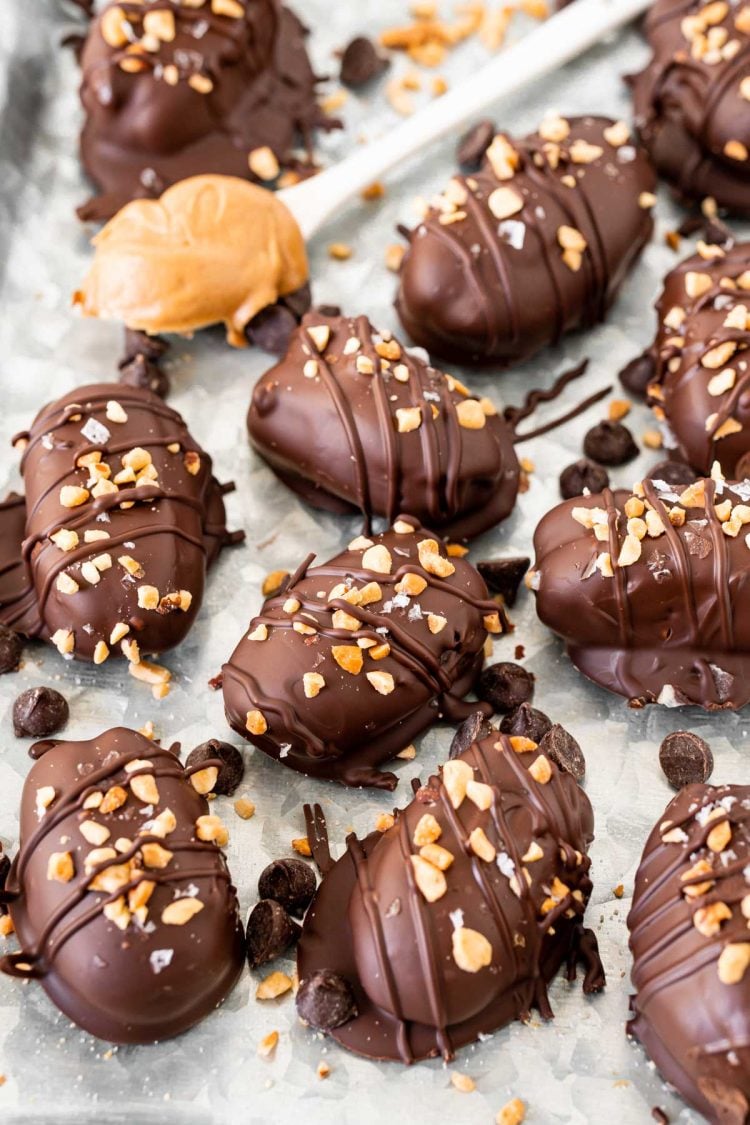 What To Expect When You Bite Into These Chocolate Covered Dates!
Taste: The peanut butter, crushed peanuts, and flaky salt please your palate with their saltiness! Meanwhile, the chocolate and date balance it out with their sweetness! Together they bring the traditional snickers flavor to your taste buds in a fun, new way!
Texture: Half the fun of eating a candy bar is its satisfying crunch and chewiness! And these Snickers Stuffed Dates make sure that you still get that! The peanuts give them their crunch while the dates make them perfectly chewy!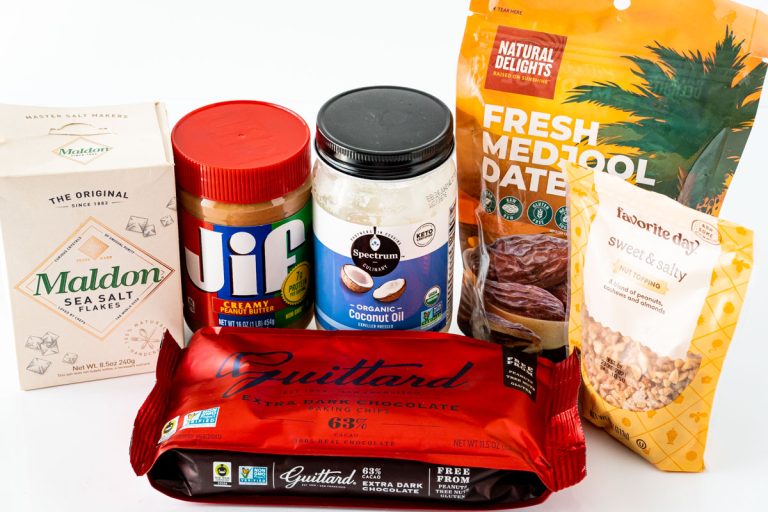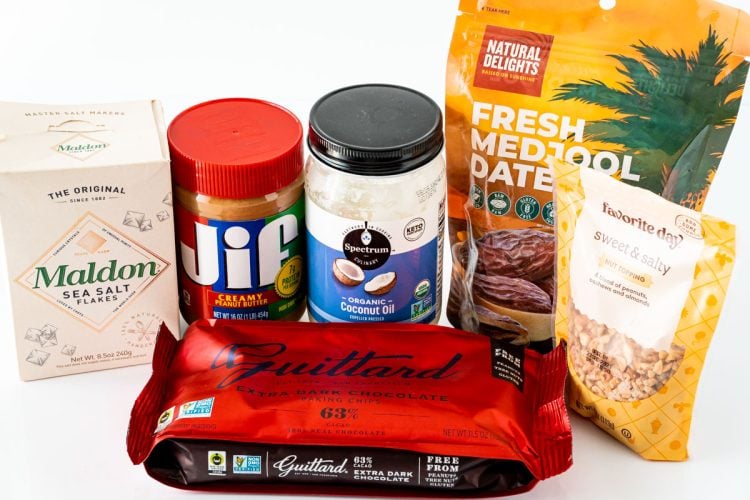 Helpful Tips To Make The Best Snickers Stuffed Dates!
Pitting The Dates! If the dates you bought aren't already sliced you'll need a sharp paring knife to carefully do so. After the pit is removed, there's room for creamy peanut butter and crushed peanuts!
Piping Bag! Using a piping bag to pipe the peanut butter into the dates makes for a much cleaner, quicker process!
Toothpicks! I love using these to secure the dates once they've been filled with peanut butter and crushed peanuts. They also make dipping them in melted chocolate much easier as well!
Chilling The Dipped Dates! Once the dates are dipped in chocolate and sprinkled with more nuts they get placed into the freezer to chill. This quick and simple step ensures that the chocolate sets up nicely!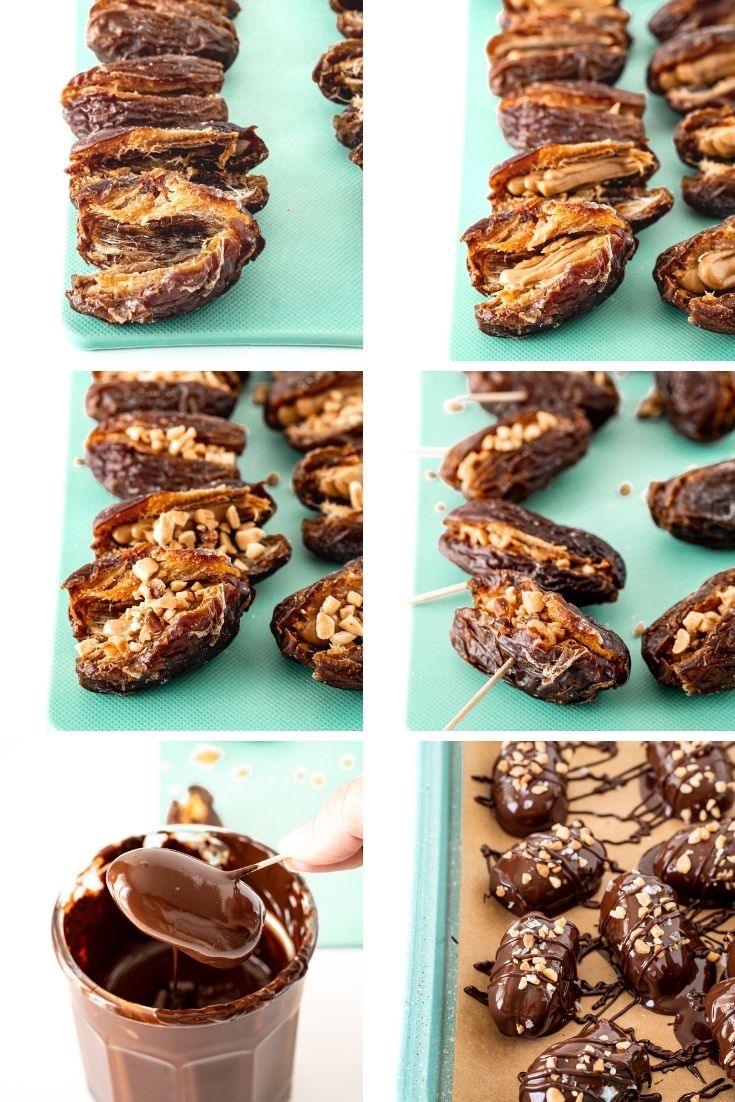 Variations And Substitutions!
For a vegan variation, you can use dairy-free chocolate chips! Enjoy Life has a line of vegan chocolate chips that would work really well in this recipe.
You can swap the peanut butter out for any nut or seed butter that you prefer.
Cut back on the sugar by using sugar-free peanut butter and sugar-free chocolate chips!
Feel free to swap out the crushed peanuts for any crushed nut of your choice! Almonds, walnuts, cashews, or even pecans would be fun to try in this recipe!
The chocolate chips and coconut oil can be replaced with melting wafers if needed.
Storage Instructions
These Peanut Butter Dates disappear into hungry bellies as soon as they're finished! However, in the rare case that you have some leftovers, you can place them into an airtight container.
The Stuffed Dates can then be kept in the fridge to be enjoyed for up to a week. They can also be stored in the freezer for up to 2 months.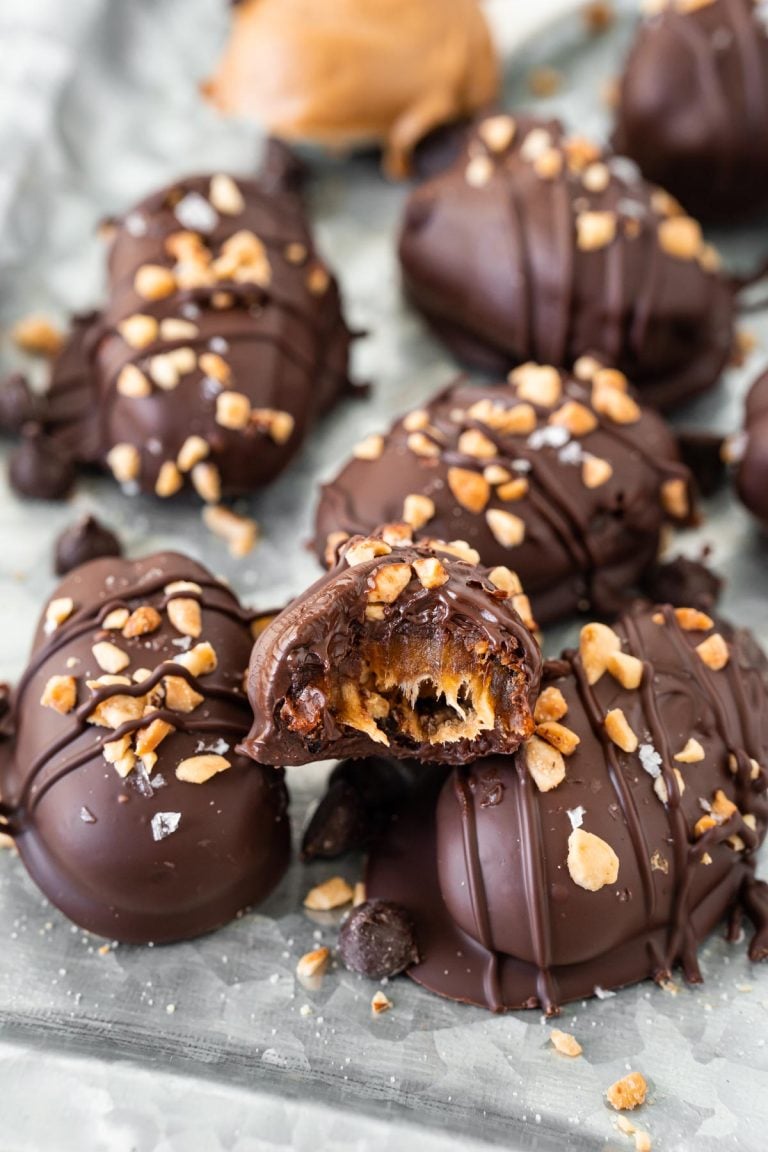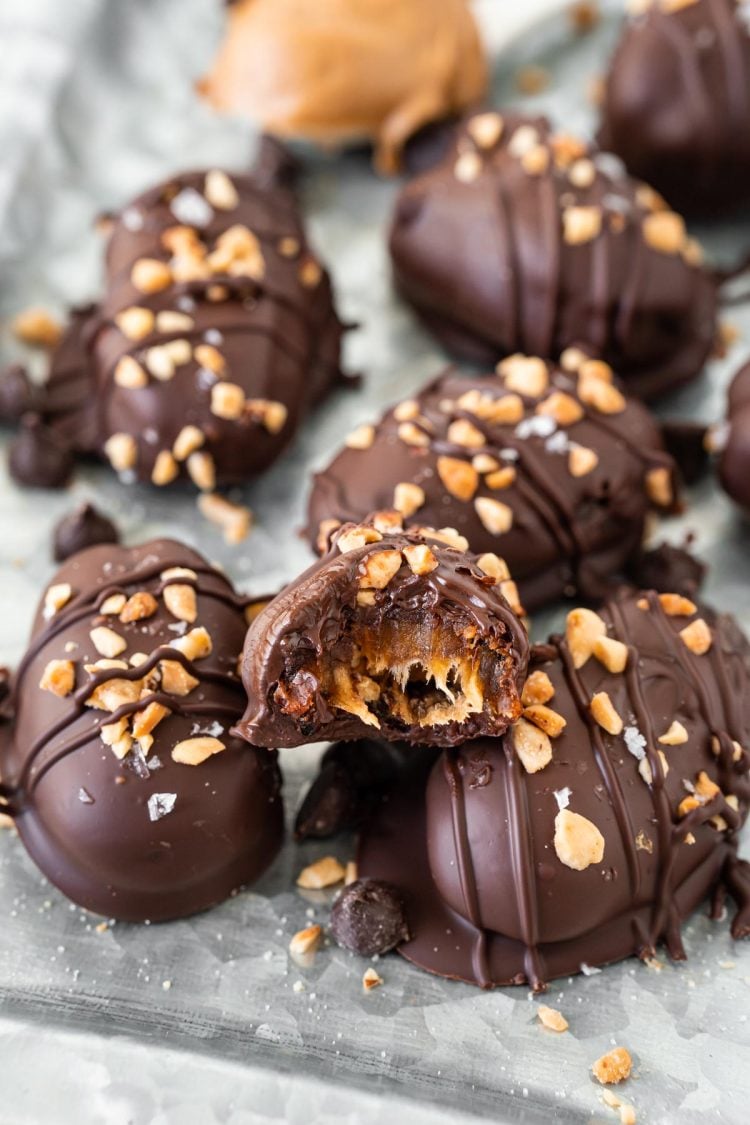 Trendy TikTok recipes like these Snickers Stuffed Dates are a fun way to discover new treats that quickly turn into favorites! Here are more tasty recipes to try that have also been trending on TikTok!
👋 Let's Connect!
If you've tried this recipe, please let me know how you liked it in the comments below and leave a review; I love hearing from you! And don't forget to tag me – @sugarandsoulco – on Instagram and Pinterest with your photos or join our Sugar & Soul Show-offs Community and share them there, where you can join our recipe challenges and win prizes!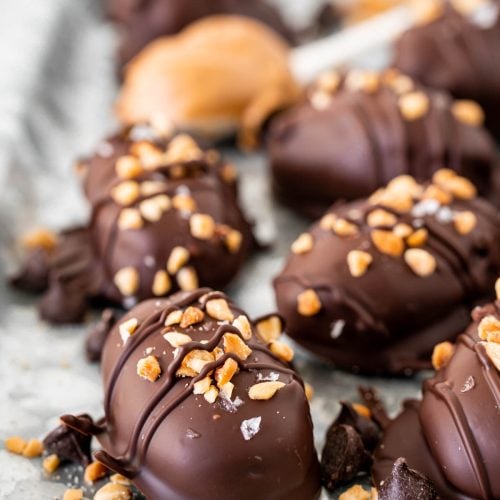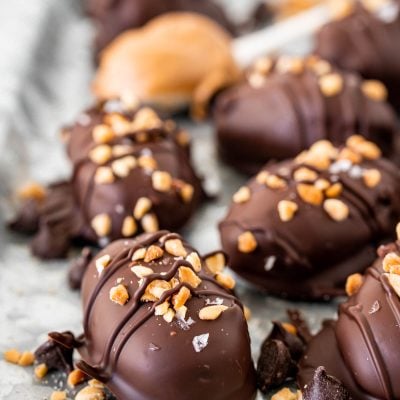 Snickers Stuffed Dates
Snickers Stuffed Dates are a fun spin-off from the classic candy bar that's trending on TikTok for being a deliciously sweet yet salty treat! Make a batch in just 30 minutes!
Equipment
Piping bag

Toothpicks

Rubber Spatula

glass bowl or cup

parchment or wax paper

small baking sheet or plate
Ingredients
12 Medjool dates pitted
3 tablespoons peanut butter
3 tablespoons chopped peanuts plus more for topping if desired
11.5 ounces extra dark chocolate chips
2 teaspoons coconut oil
flaky salt for topping
Instructions
Line a small pan or freezer-safe plate with parchment paper and set aside.

If the dates are not already sliced when purchased, use a paring knife to slice down one side and butterfly them open.

Add the peanut butter to a piping bag and cut off the tip. Pipe the peanut butter into one side of the date.

Top the peanut butter with crushed peanuts then close up the dates and secure with a toothpick.

Add the chocolate chips and coconut oil to a deep wide-mouthed glass and melt at 30-second intervals, stirring between each one, until fully melted.

Use the toothpicks to dip the dates into the chocolate and transfer to the parchment to set. Use another toothpick to help slide the original ones out.

Sprinkle with additional chopped nuts and flaky salt and drizzle with extra chocolate.

Chill in the freezer for 15 minutes until the chocolate has set.
Notes
Chocolate melting wafers may also be used in this recipe, if used, you do not need to add coconut oil.
Sugar-free peanut butter can be used, the dates add enough natural sweetness.
A dairy-free chocolate chip can be used to make this recipe vegan.
In my opinion, the flaky salt is a MUST. This changes the whole flavor of the treat and really makes it taste like a snickers bar. Otherwise you really just get sweet with a note of bitterness from the dark chocolate.
Nutrition
Calories: 257kcal | Carbohydrates: 35g | Protein: 4g | Fat: 13g | Saturated Fat: 9g | Polyunsaturated Fat: 1g | Monounsaturated Fat: 2g | Cholesterol: 1mg | Sodium: 47mg | Potassium: 380mg | Fiber: 3g | Sugar: 26g | Vitamin A: 38IU | Vitamin C: 1mg | Calcium: 102mg | Iron: 1mg