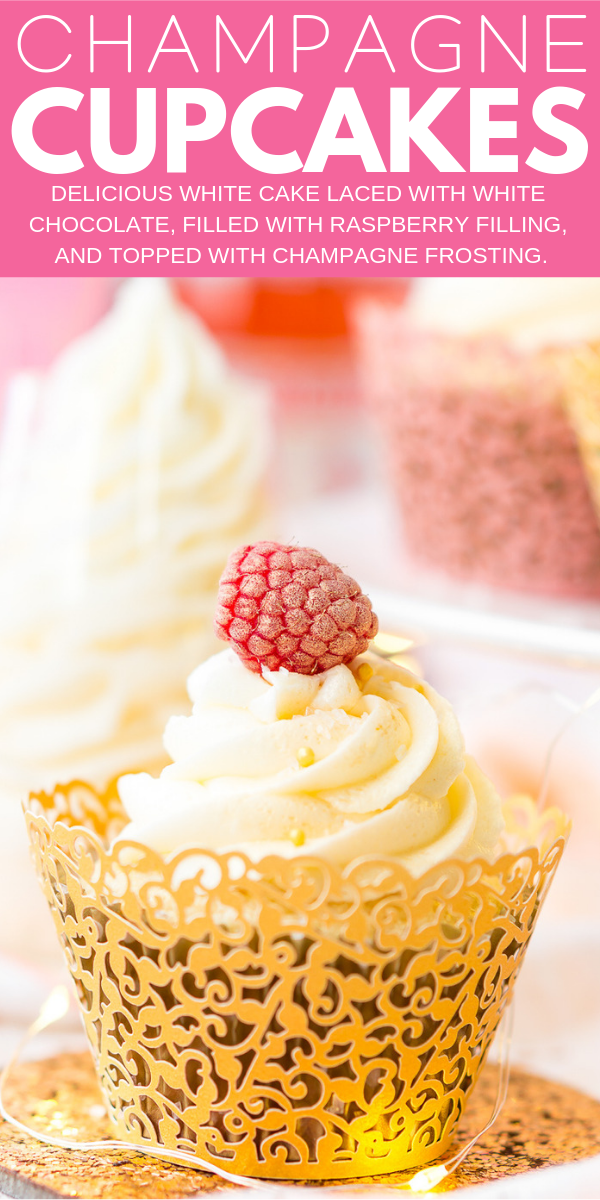 These White Chocolate Raspberry Champagne Cupcakes are light and fluffy white chocolate cake filled with raspberry filling and topped with a luscious champagne buttercream!
They are perfect for New Year's Eve, Bridal and Baby Showers, and Valentine's Day! Serve them up with a Champagne Cocktail!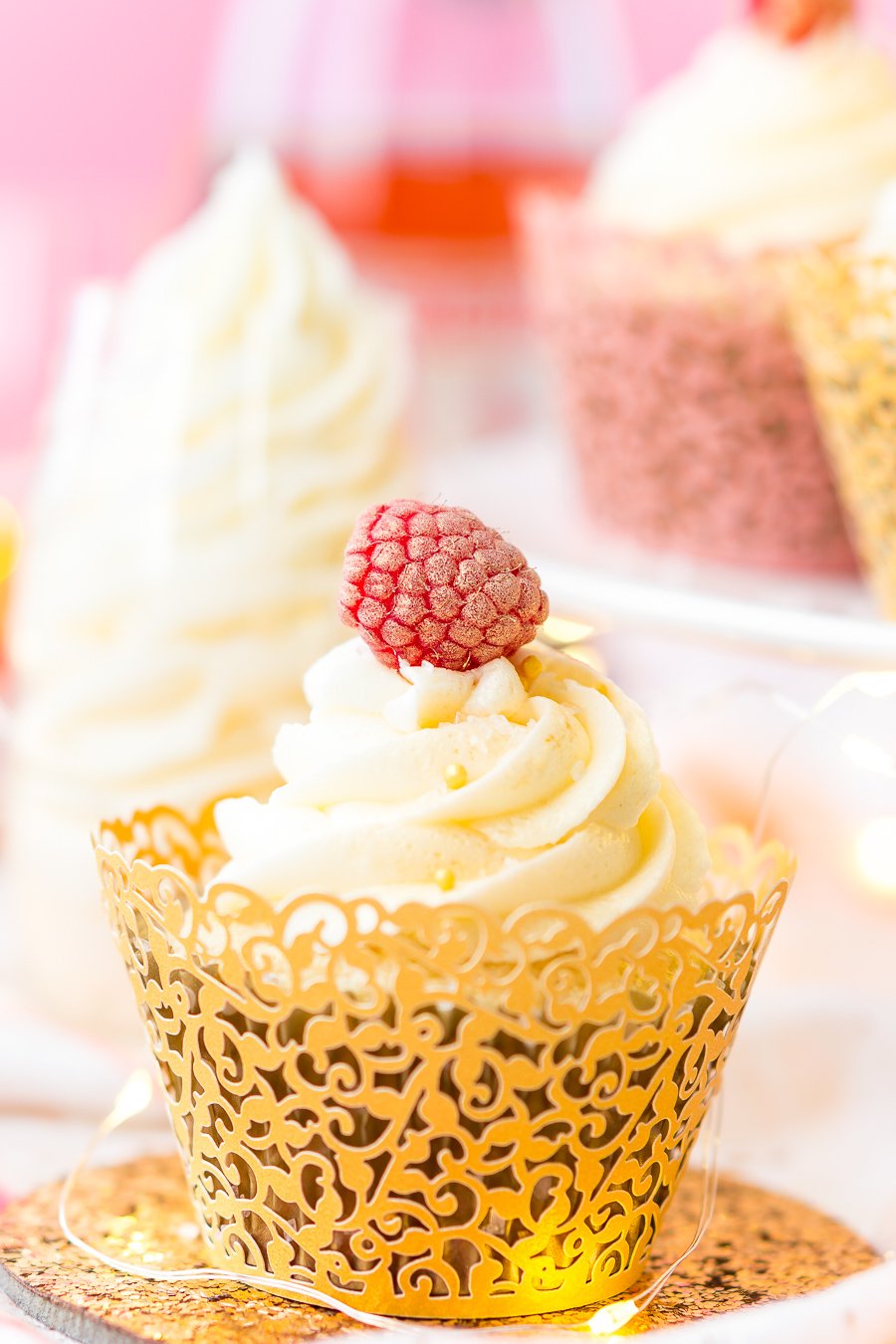 These White Chocolate Raspberry Champagne Cupcakes are absolutely delicious! Made with a fluffy cake with a hint of white chocolate, homemade raspberry filling, and amazing champagne buttercream.
They are the ultimate celebratory cupcake – perfectly sweet with a yummy blend of flavors!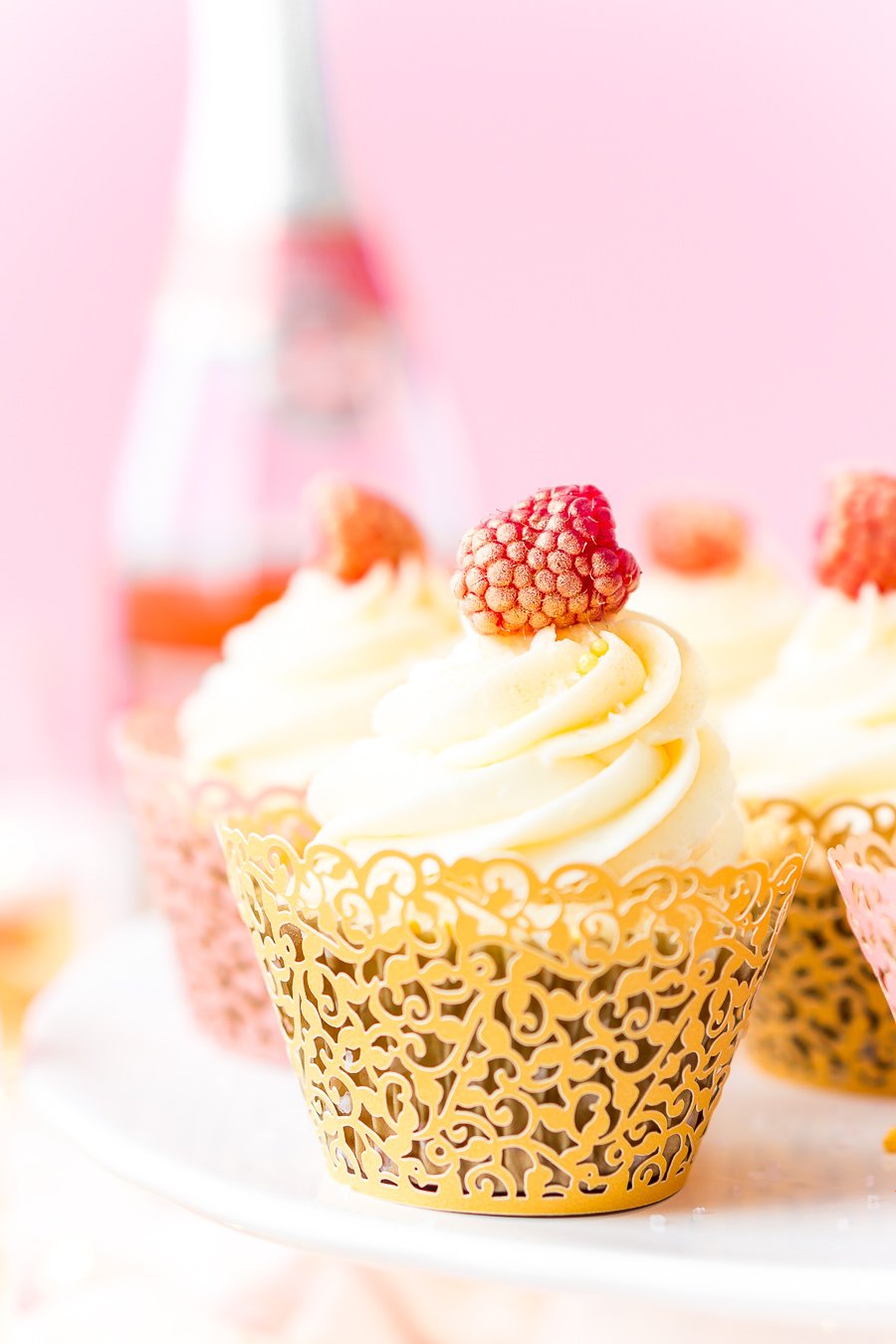 We tend to make these every year around the holidays, they're a nice break from all of the chocolate confections, and the champagne makes them perfect for new years.
But I've also used this Pink Champagne Cupcakes recipe for weddings and showers too!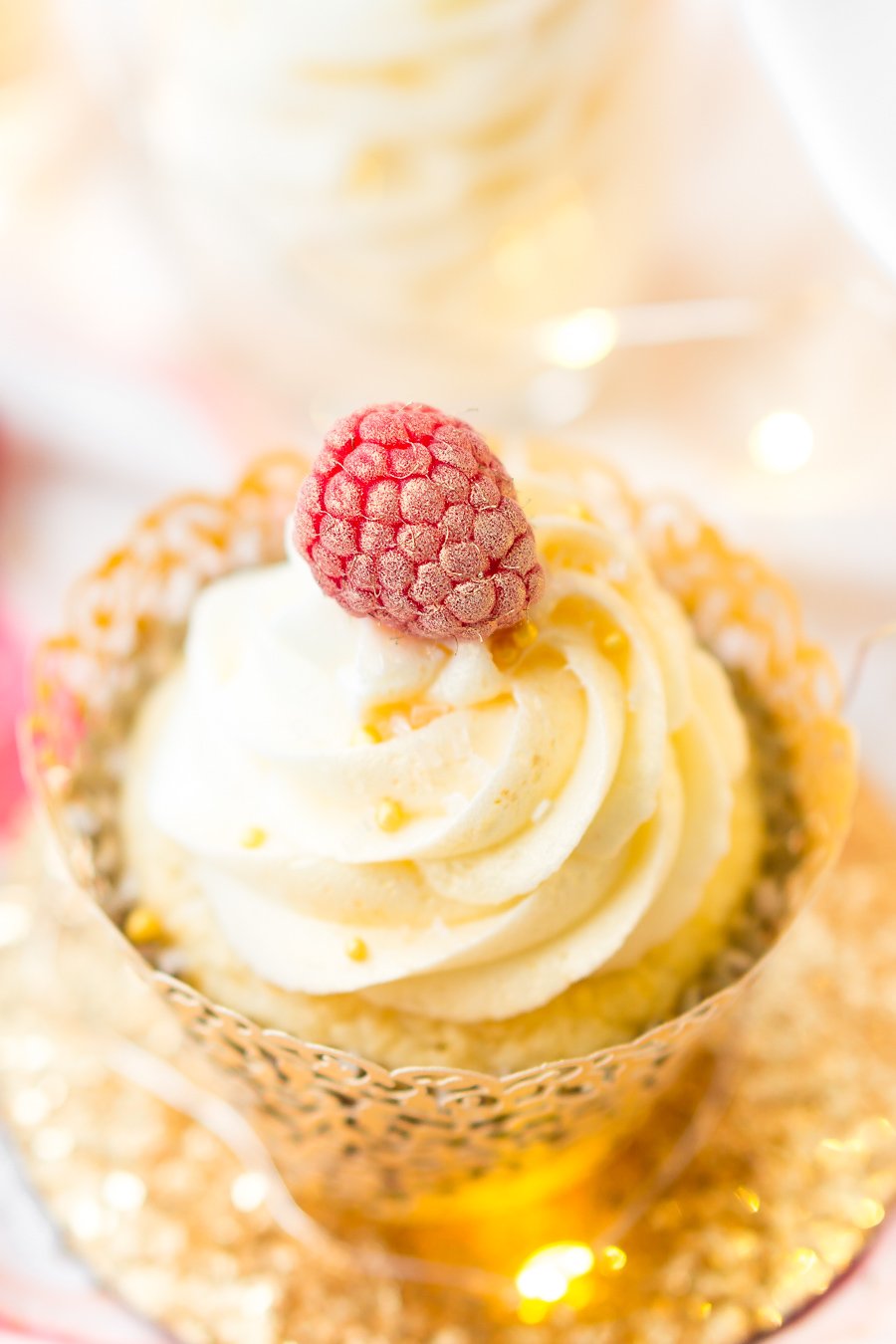 I chose to use Barefoot Bubbly Pink Moscato Champagne because of the hints of candied cherries. I thought it would pair nicely with the raspberries, and boy was I right.
I think champagne buttercream is my new favorite, I love the depth of flavor, yet it's still light and silky. These are always a hit at parties and oftentimes a few guests take them home for breakfast.
Okay, I admit it, I might have had one for breakfast too, they were just too good!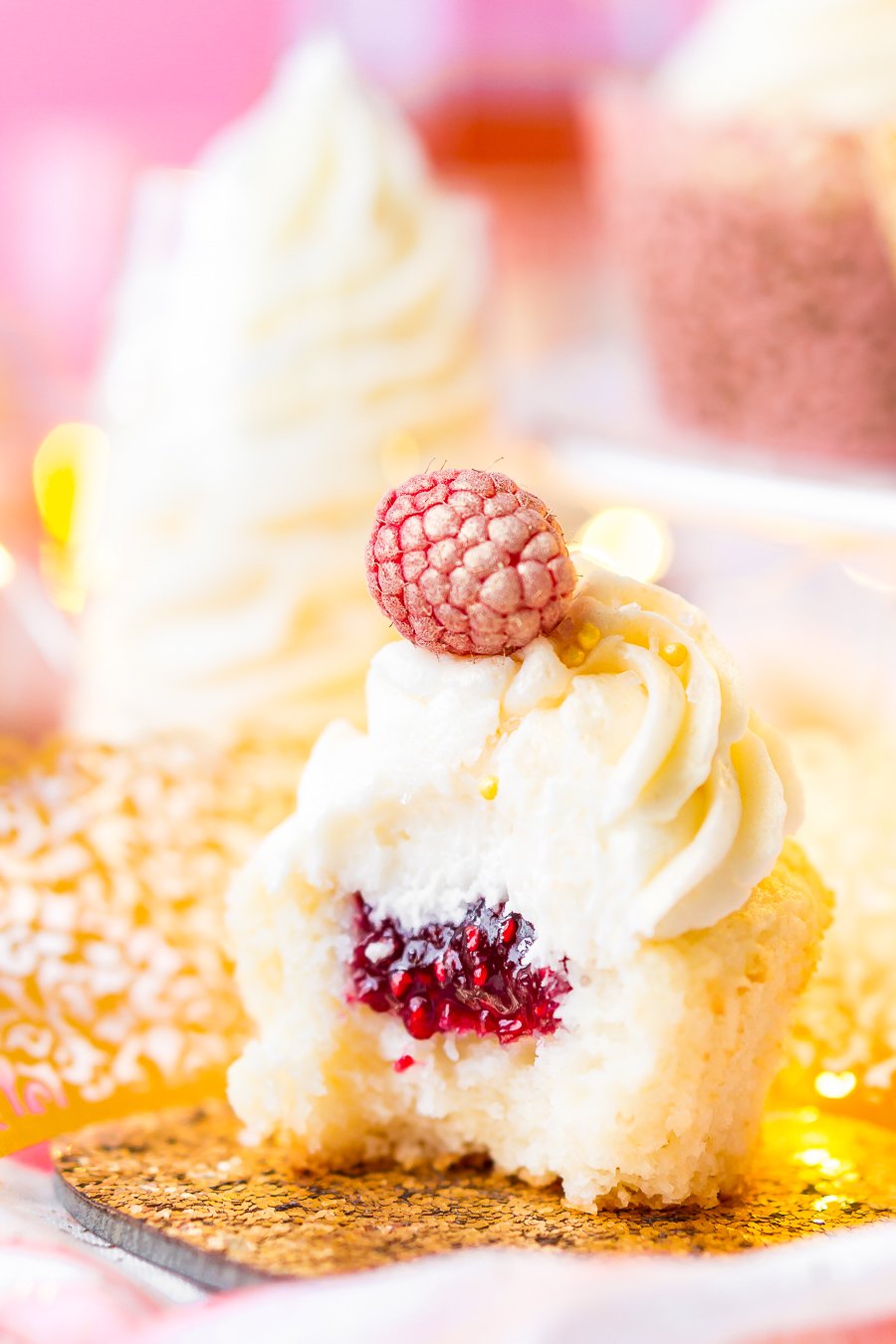 These cupcakes are fancy and sophisticated, but you don't need a whole lot of skill to make them, you just need the right tools!
Here are a few of the helpful tools I use to make and assemble these cupcakes!
A cupcake corer is so much easier than trying to core your cupcakes with a pairing knife (Also, I highly recommend dipping the center pieces in the leftover raspberry filling – YUM)!
This is my favorite piping tip, whether you want a low even frosting or you want to pile it high (make 1.5 batches of frosting if you want to pipe it high), this tip yields beautiful results!
While there are a lot of hacks out there, I think that a disposable piping bag is the easiest way to decorate cupcakes! I recommend using 16-inch bags as these should fit one full batch of frosting.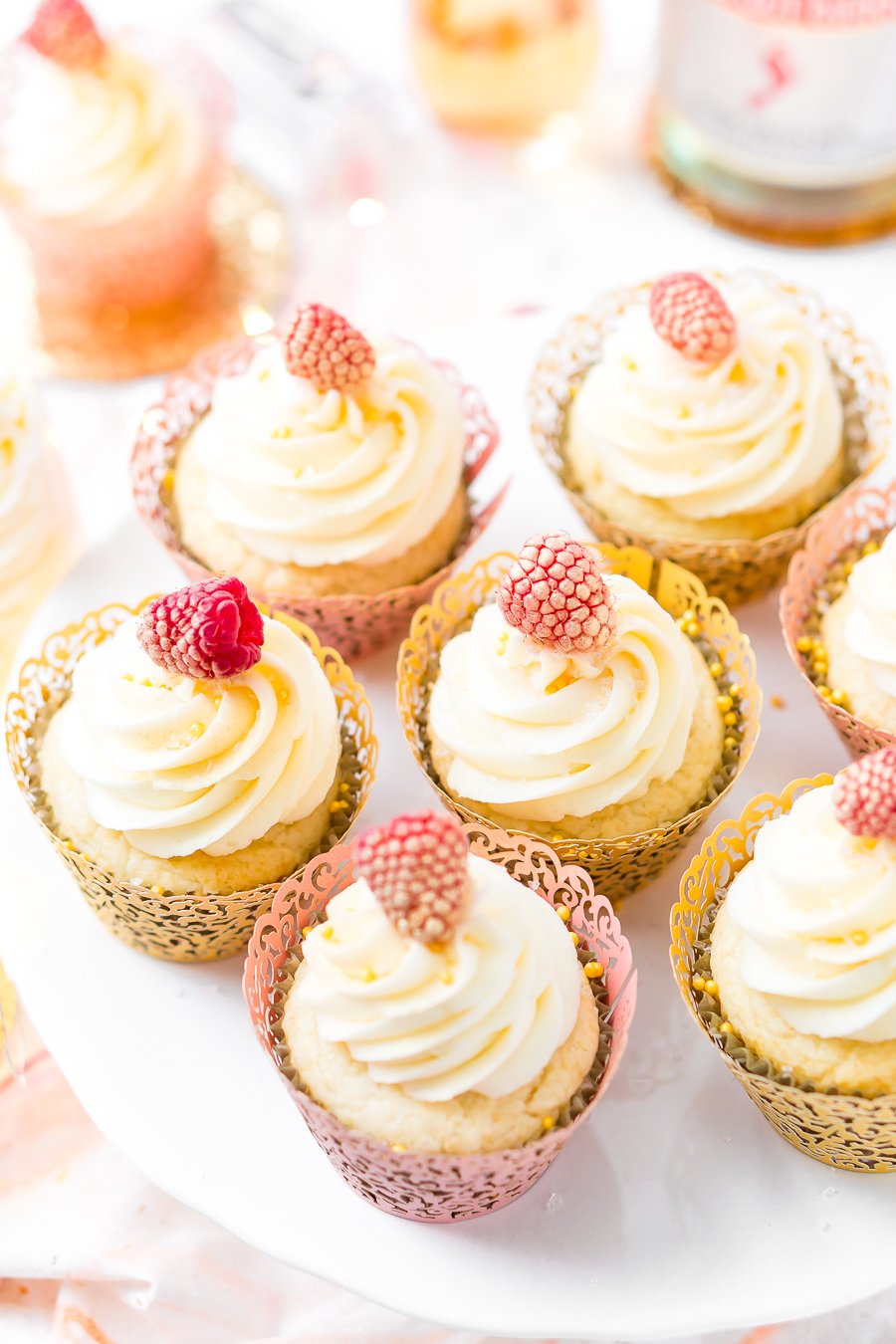 When you're serving up these cupcakes, chances are you're going to want to jazz them up a bit! Here are a few things I like to use to make them all fancy for parties!
These cupcake wrappers come in a set of gold, pink, purple, and pearlescent white or you can do all white or all pink!
Wilton Gold Color Mist is a fun way to add shimmer to the piped frosting as well as the raspberries on top!
Sprinkles are a must when it comes to cupcakes, you can go simple gold sprinkles or you can get really fancy with these edible stars!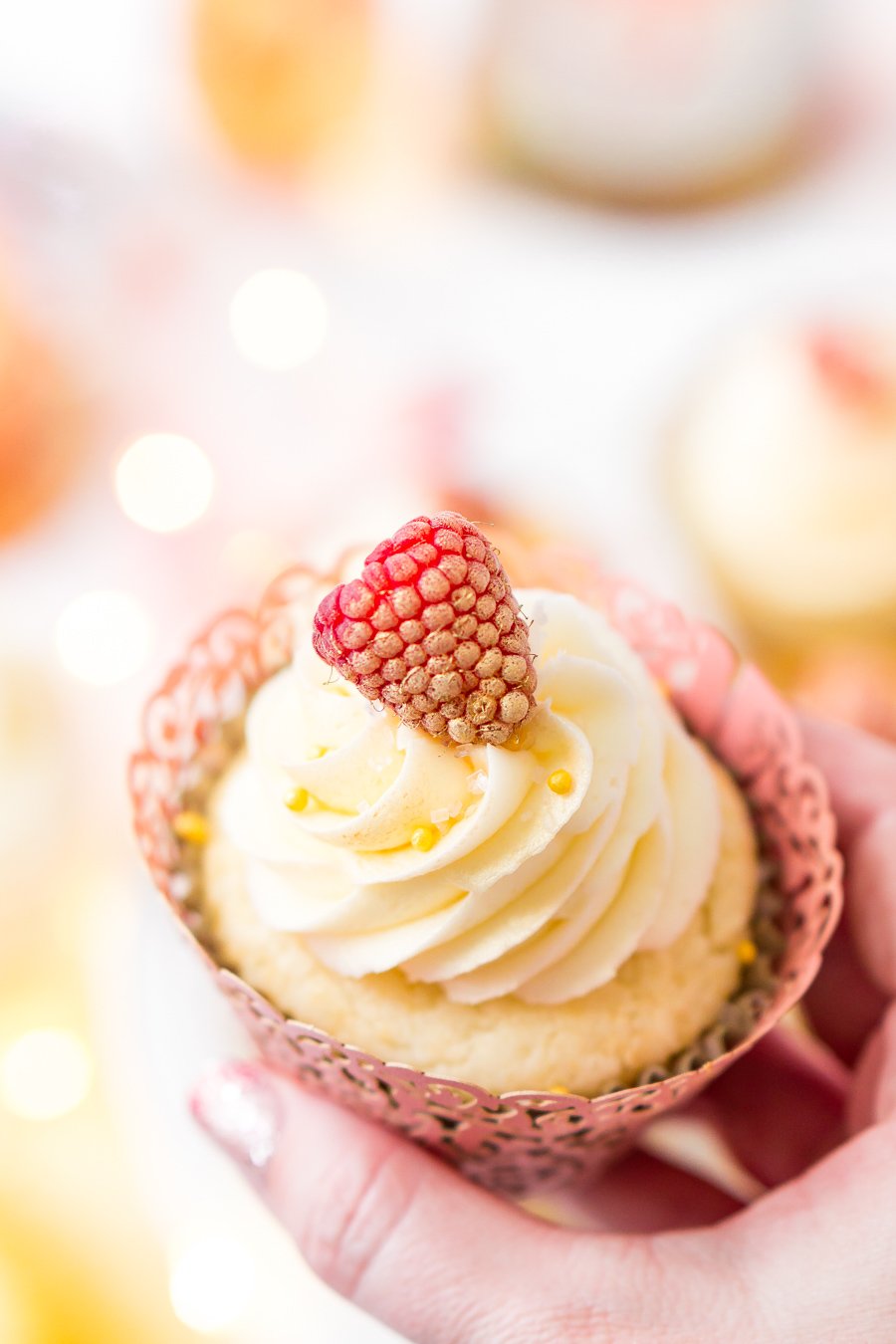 Update: This Champagne Cupcakes recipe is one of the most popular posts on Sugar & Soul and in my personal life. I've made a wedding cake with this recipe that everyone loved and I've made the cupcakes many times over the years.
The champagne buttercream is absolutely amazing. I love the gorgeous pearl sheen it gives the frosting making it perfect for any special occasion! Not to mention the flavor!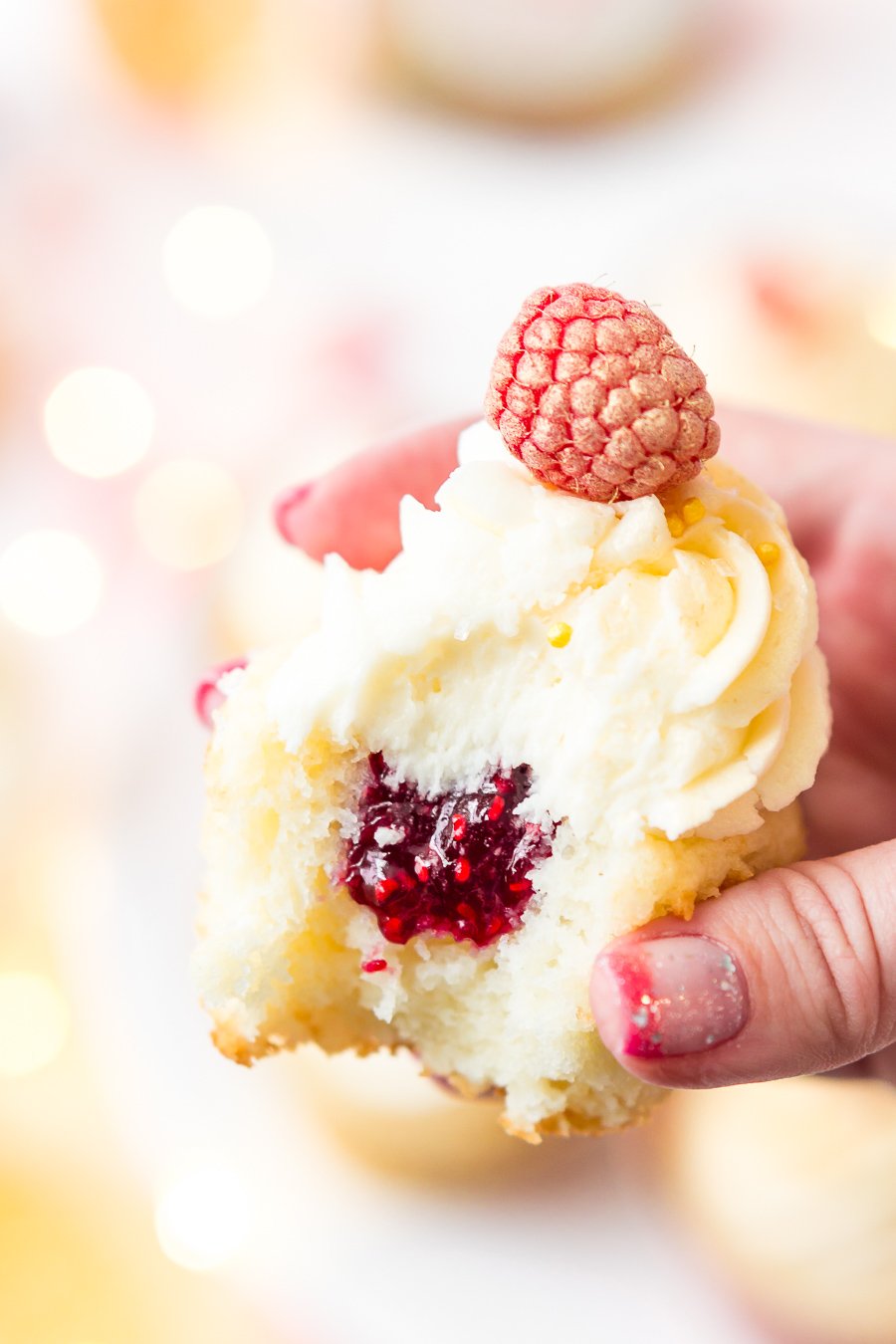 One of my favorite things about this frosting is that you know it's ready based on the flavor… once you have enough champagne in the buttercream it has a fruity flavor that just sings!
One second it's sugary and the next it's fruity in a sophisticated and decadent way! I hope you all enjoy this recipe as much as those who have checked it out and pinned it before you!
White Chocolate Raspberry Champagne Cupcakes
Click the button above to save this delicious recipe to your board!
👋 Let's Connect!
If you've tried this recipe please let me know how you liked it in the comments below and leave a review, I love hearing from you! And don't forget to tag me – @sugarandsoulco – on Instagram and Pinterest with your photos!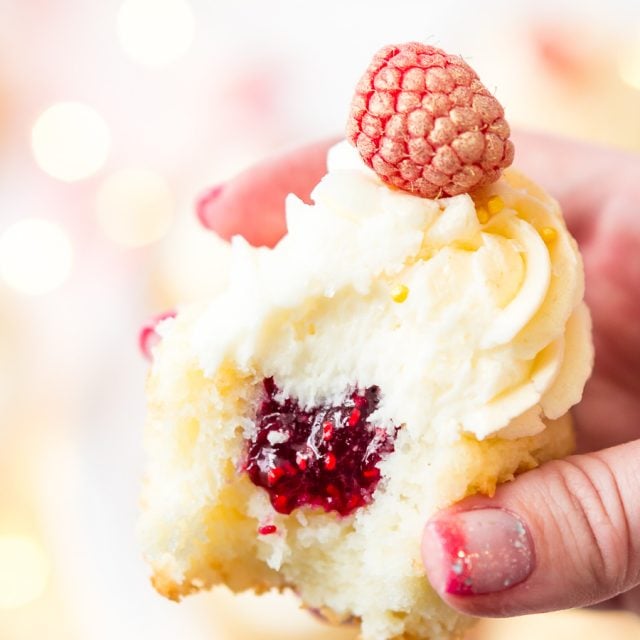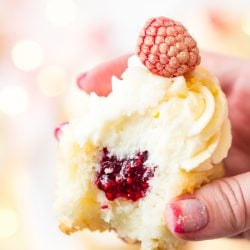 White Chocolate Raspberry Champagne Cupcakes
These White Chocolate Raspberry Champagne Cupcakes are perfect for New Year's Eve, Bridal and Baby Showers, and Valentine's Day! Light and fluffy white chocolate cake filled with raspberry filling and topped with a luscious champagne buttercream!
Ingredients
Frosting:
1

cup

unsalted butter

softened

4 – 5

cups

powdered sugar

3

tablespoons

Barefoot Bubbly Pink Moscato Champagne
Instructions
Cupcakes
Preheat oven to 375°F and line a cupcakes pan with liners and set aside.

In a large bowl or stand mixer fitted with a whisk attachment, beat together all of the cake ingredients until smooth.

Fill each of the liners with about 1/4 cup (leveled off) of batter.

Turn oven down to 325°F and bake the cupcakes for 20 to 24 minutes, the tops should spring back when touched once done or test with a toothpick to make sure the centers come clean.

Allow the cupcakes to cool in the pan for a couple of minutes before transferring to a cooling rack to cool completely. While the cupcakes are cooling, prepare the Easy Raspberry Filling.

Once cooled, use a

cupcake corer

to make a hole in the center of each cupcake, then fill each hole with raspberry filling.
Frosting
Add the powdered sugar a 1/2 cup at a time, beating the sugar into the butter and scraping down the sides of the bowl as needed.

Once all of the sugar has been added, beat the frosting on high for about 3 minutes, frosting should be fluffy and smooth.

Add champagne and beat for 2 more minutes.

Frost cupcakes and top with raspberries and sprinkles.
Notes
You should plan to frost the cupcakes immediately after the frosting is made as it will begin to crust quickly. If making the frosting in advance, store in the fridge and rewhip it before piping.
This recipe has only been tested and made with whole/full-fat products so I cannot speak to how they would turn out with light sour cream, skim milk, etc.
Nutrition
Calories:
203
kcal
Carbohydrates:
22
g
Protein:
1
g
Fat:
11
g
Saturated Fat:
7
g
Cholesterol:
26
mg
Sodium:
225
mg
Potassium:
44
mg
Sugar:
13
g
Vitamin A:
315
IU
Vitamin C:
0.1
mg
Calcium:
66
mg
Iron:
0.4
mg