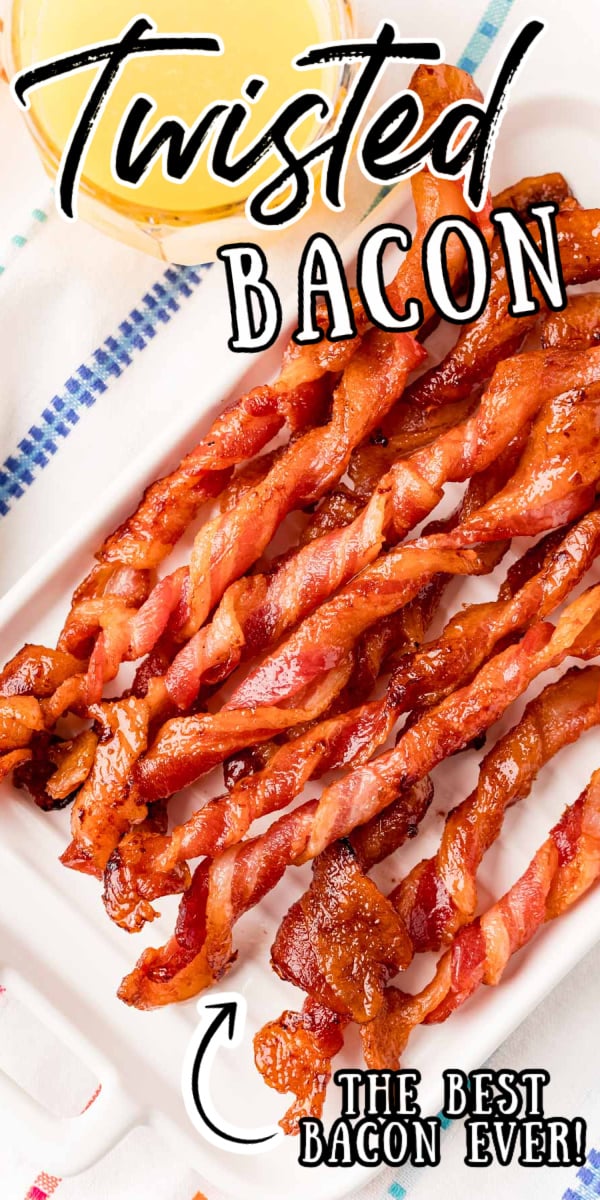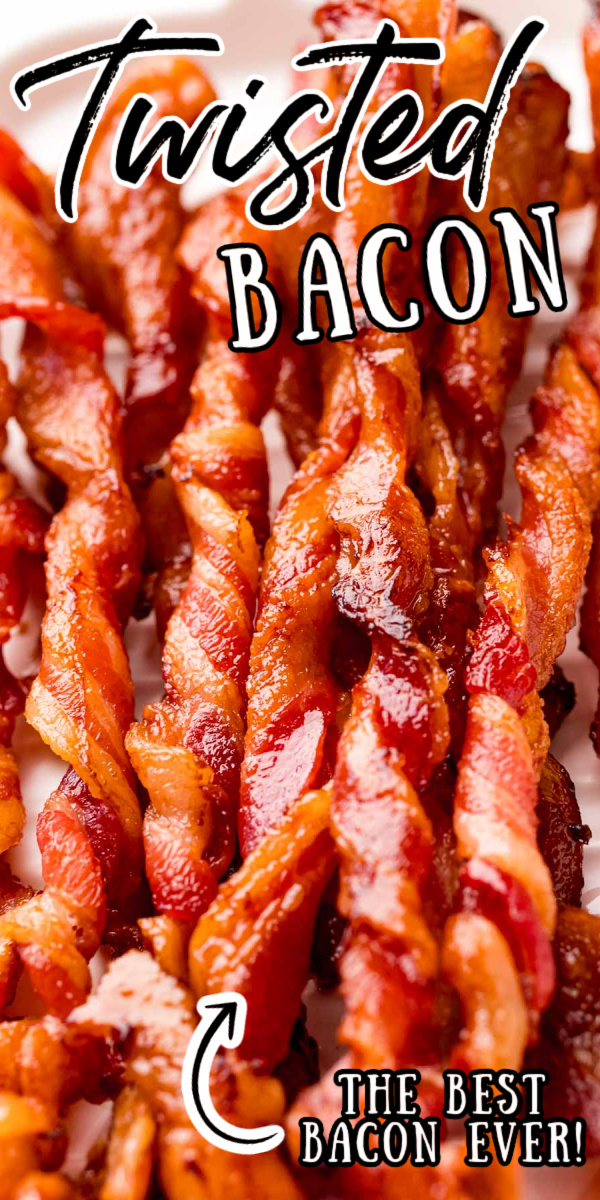 Twisted Bacon is taking over the internet as the BEST method for cooking bacon – it's the perfect mix of soft and crispy! This viral TikTok trend is so easy to make and everyone will love how delicious and juicy it is!
For more tasty TikTok recipes try this Smoked Queso Dip (Viral TikTok Recipe) or Hawaiian Mimosa (Viral Tiktok Recipe)!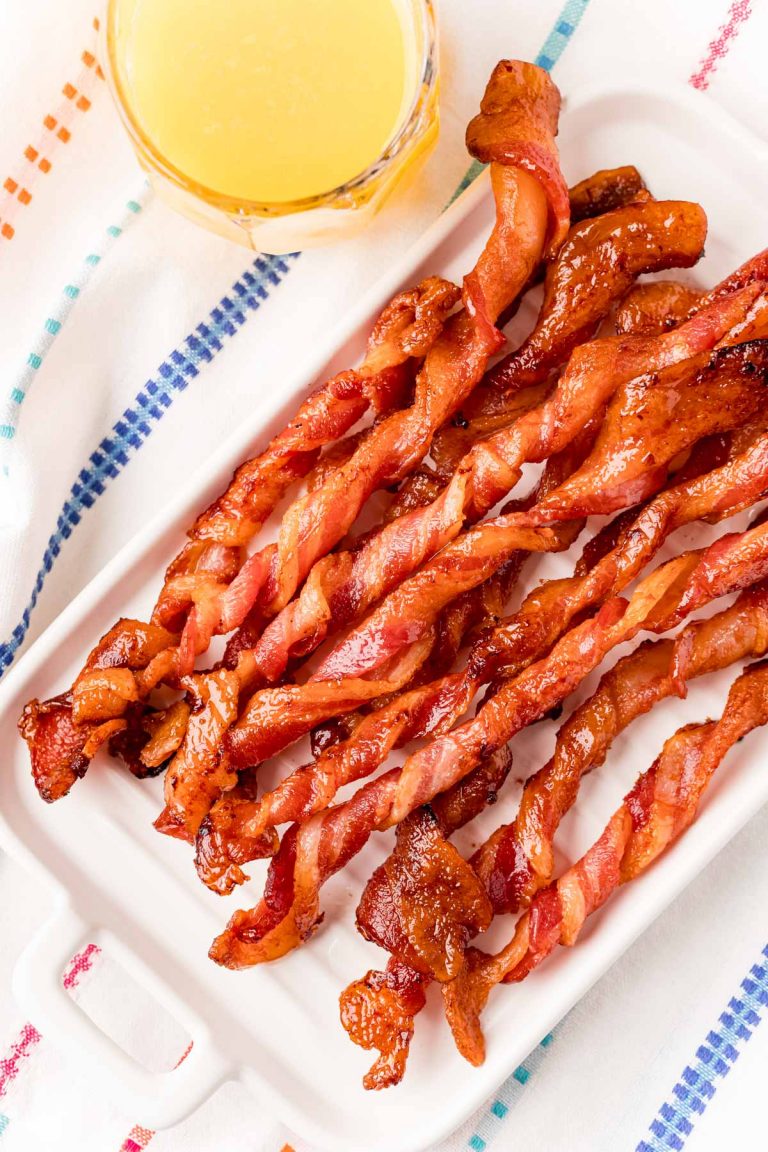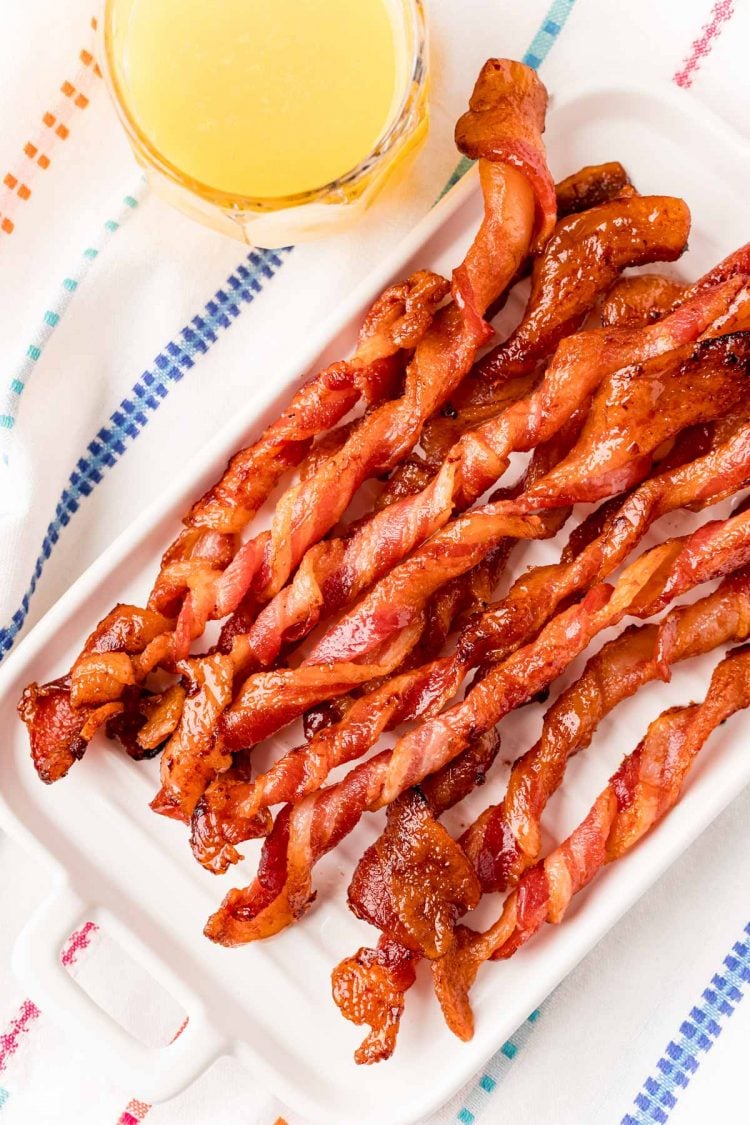 This Twisted Bacon will have you thanking the internet for creating the app that thought up your new favorite way to make bacon! With this recipe and method, you get incredibly juicy and flavorful bacon in a super-easy way every single time!
Serve this bacon at breakfast with your family, hanging off your Bloody Mary at brunch with friends, or just as a stand-alone snack! Regardless of how you serve it or when, you'll look forward to biting into a slice of this savory, crisp twisted bacon!
Why I Love This Recipe!
Easy To Make! Simply twist and bake! Who knew making bacon could be so easy!
Easy Cleanup! Since the bacon isn't cooked in the frying pan you get to skip the grease splatter and messy cleanup! Simply roll up the parchment paper after it's cooled and toss away the mess!
Hands Off! When you think of making bacon you probably think of putting the bacon on, flipping it, moving it, taking it off, and putting more on to cook. With this recipe, the only hands-on part is twisting it before you put it in the oven and then flipping it halfway through!
Twisted! Twisting the bacon creates a tunnel that locks in some of the bacon grease, leading to a super juicy and tender bite of bacon!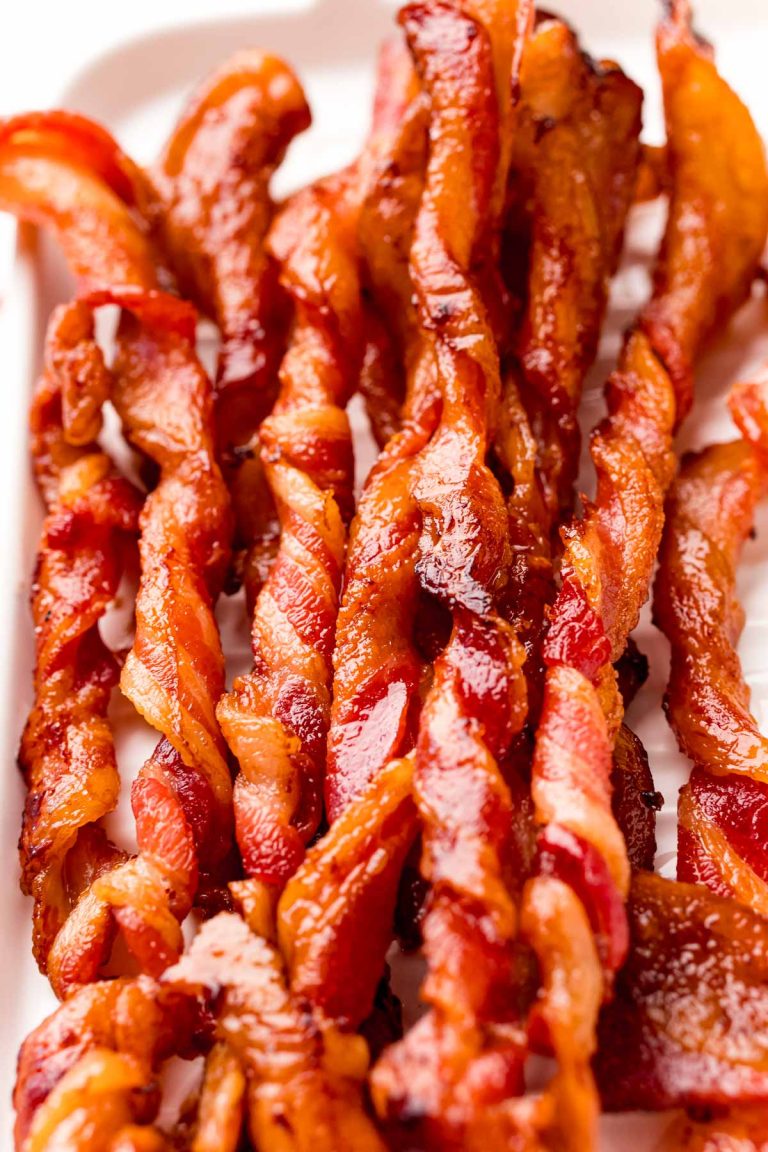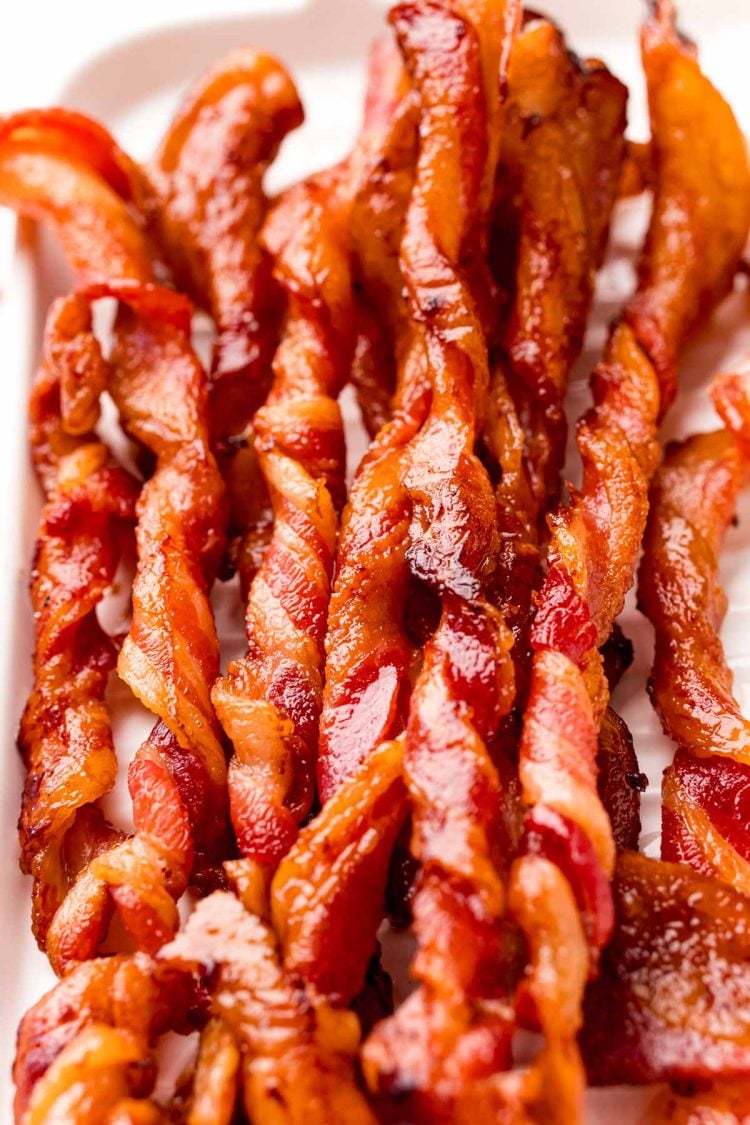 Ingredient Notes
The only ingredient you need to make Twisted Bacon is a pound of thick-sliced bacon! Chances are you have bacon in the line-up for a big Saturday breakfast so you might as well go the extra mile and make it twisted!
To add a sweet but spicy kick to your breakfast, mix together some brown sugar and cayenne pepper. Then just sprinkle the brown sugar mixture over the bacon before baking, it's SO good!
If a bit of spice scares you, try candied bacon for a sweet and savory take on this Twisted Bacon! Simply sprinkle brown sugar over the bacon before baking or even drizzle maple syrup over it!
At the end of baking, you'll have perfectly caramelized bacon that you'll quickly become addicted to!
For another sweet meets salty treat dip the cooked and cooled bacon in melted chocolate. Then top it with flakes of sea salt! It sounds crazy but it's absolutely worth trying!
This might seem like a long cook time for bacon, but it's worth it! The reason that this recipe (the original one) cooks at 350 instead of some others than cook at 400, is that the smoke point for bacon is around 370 degrees F. Plus it results in a much better texture this way, in my opinion.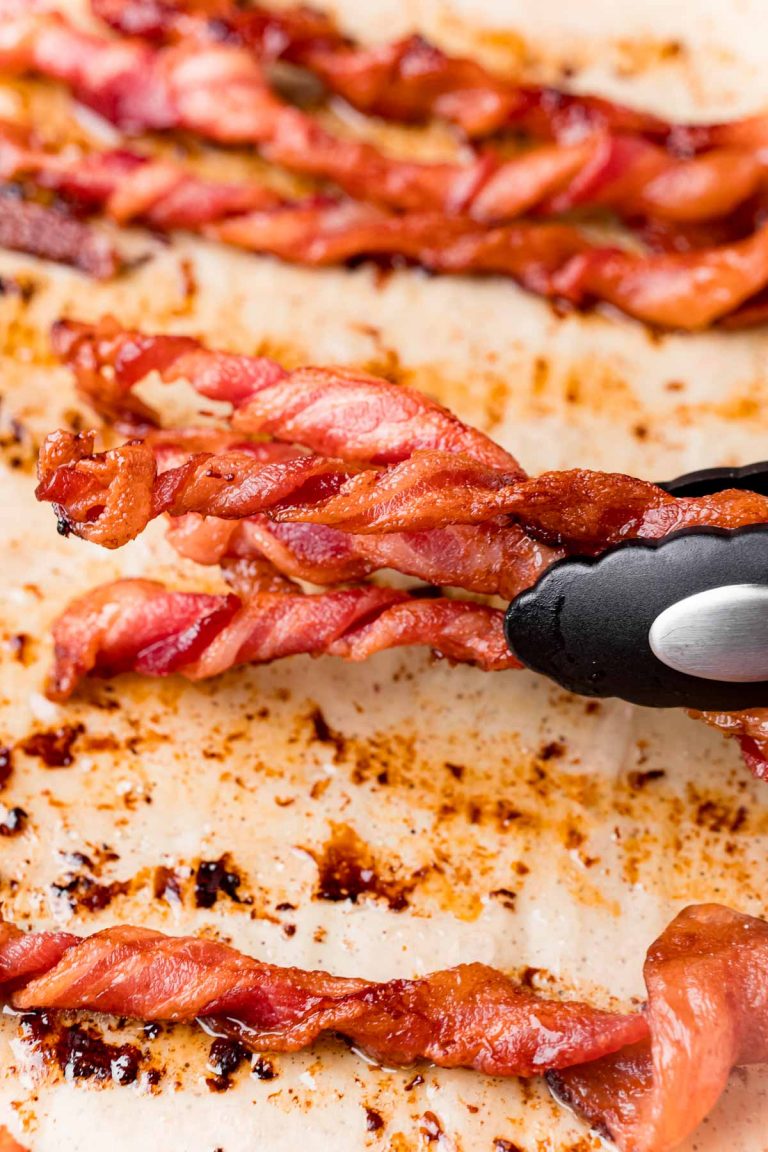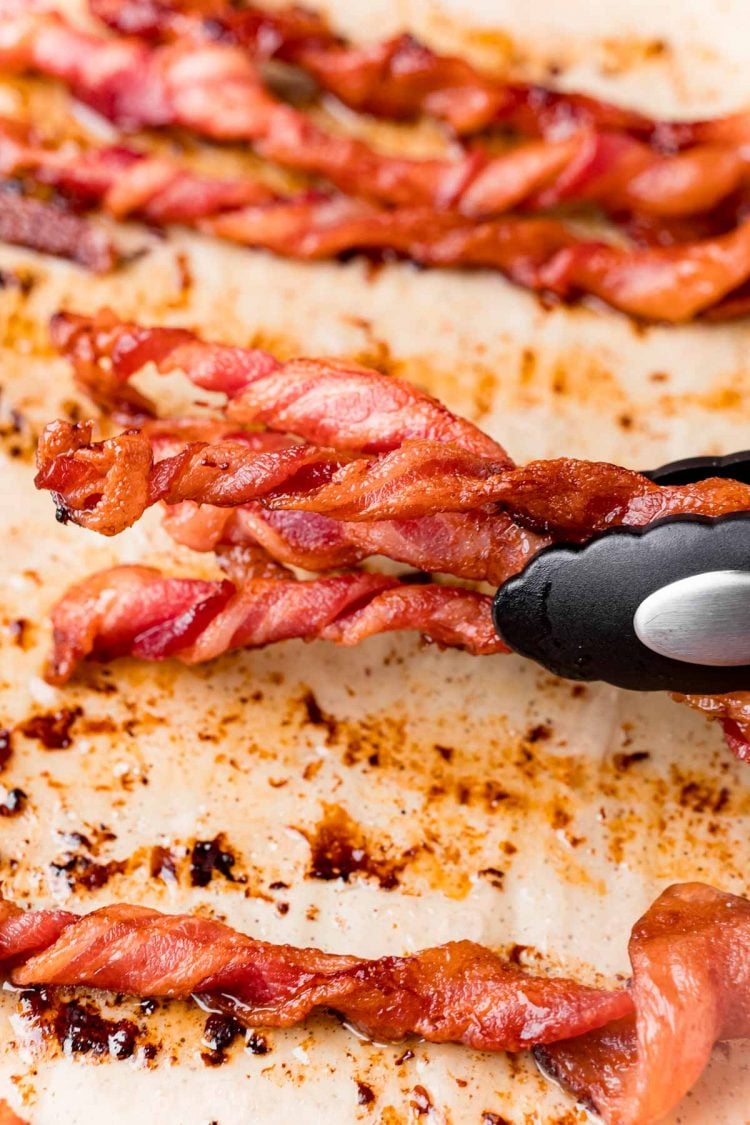 How To Make Twisted Bacon
Line a rimmed baking sheet with parchment paper and preheat the oven to 350 degrees F. Twist each strip of thick-cut bacon tightly and then place it on the lined baking sheet.
Bake for 40 minutes, flipping the bacon halfway through the cooking time.
Once cooked, place the cooked bacon on a paper towel-lined plate to absorb any extra grease.
Place the strips of bacon on a cooling rack and then place the rack onto the lined baking sheet. That's what I do in my original How To Bake Bacon recipe. This will allow the bacon grease to drip down onto the pan while baking!
Twisted Bacon In The Air Fryer
Since publishing this recipe, we've also made it in the air fryer and it does significantly cut down on the cooking time with a similar texture result.
Preheat the air fryer to 350 degrees F for 5 minutes.
Add 1/4 cup of water to the bottom of the air fryer.
Add the twisted bacon to the air fryer basket then air fryer for 8 to 15 minutes. The amount of time will vary depending on how thin or thick the bacon is. The difference with the air fryer is that you will need to leave a little bit of room around the pieces of bacon so that the air can fully circulate.
Transfer to a paper towel to rest, the bacon will continue cooking slightly.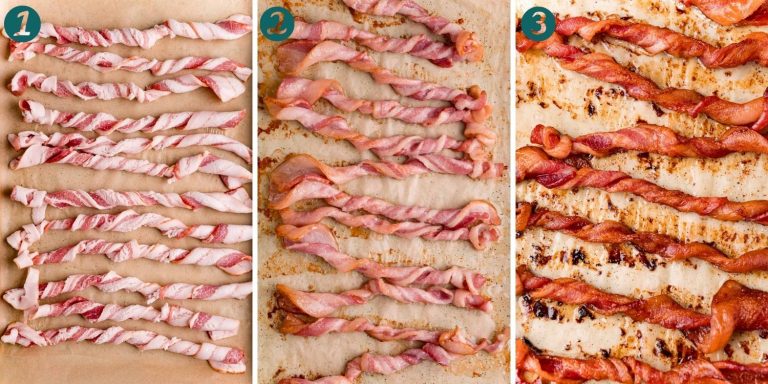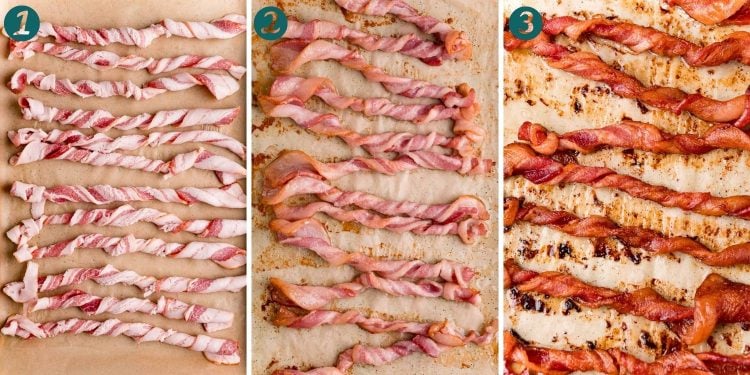 How To Store
In the slim chance that you have leftover bacon, you can store it in the refrigerator in an airtight container or wrapped tightly in plastic wrap or in aluminum foil. Enjoy it within 4 to 5 days.
Can I Use This Bacon In Other Recipes?
Absolutely! This Twisted Bacon would be delicious when added to all of your favorite bacon recipes like casseroles, salads, and even soups!
How Do I Make This Bacon Even Softer?
If you prefer softer bacon you can skip placing the bacon on the cooling rack and just place it right onto the lined baking sheet.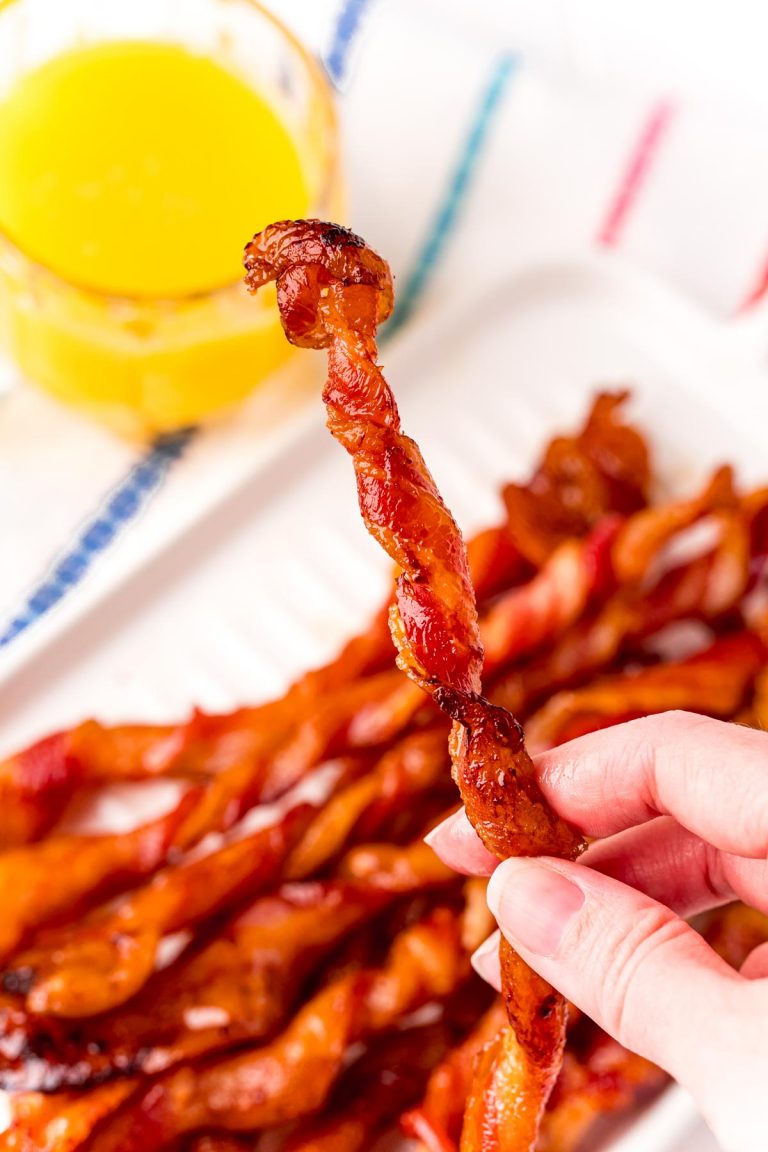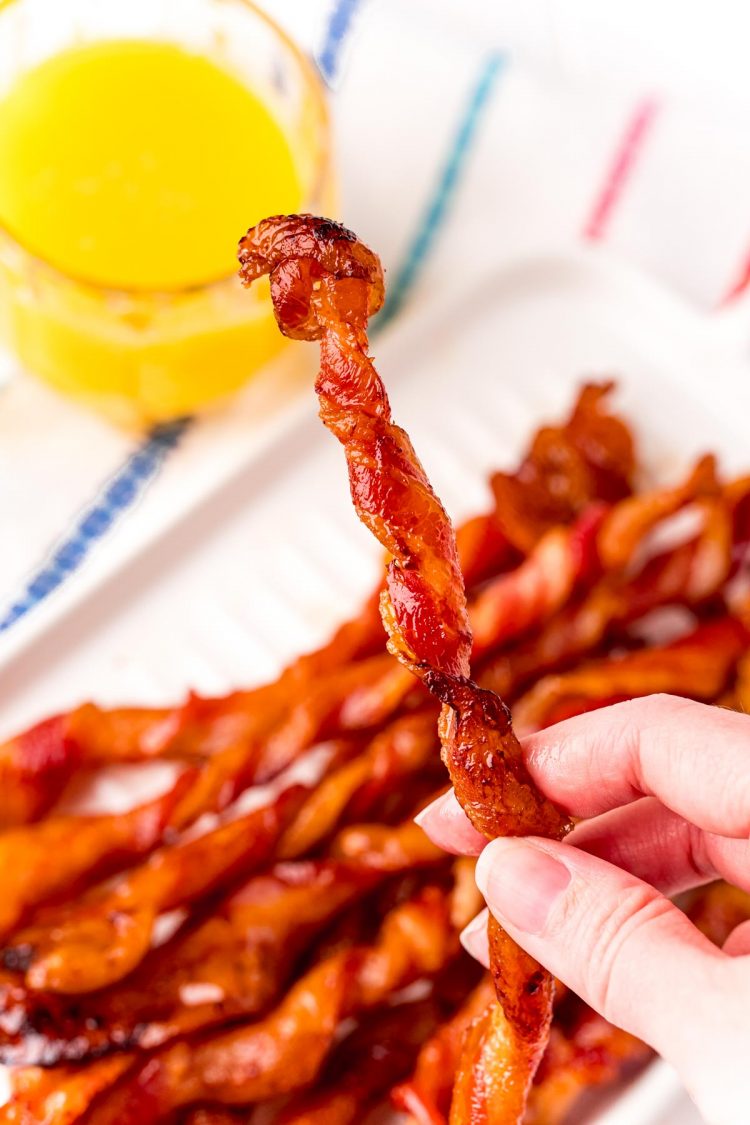 Bacon recipes like this Twisted Bacon are always a hit at our house! Check out more delicious bacon recipes that I think you and your family will love just as much as we do!
Twisted Bacon
Pin For Later
CLICK THE BUTTON ABOVE TO SAVE THIS DELICIOUS RECIPE TO YOUR BOARD!
👋 Let's Connect!
If you've tried this recipe please let me know how you liked it in the comments below and leave a review, I love hearing from you! And don't forget to tag me – @sugarandsoulco – on Instagram and Pinterest with your photos or join our Busy Family Recipes Facebook Community and share them there!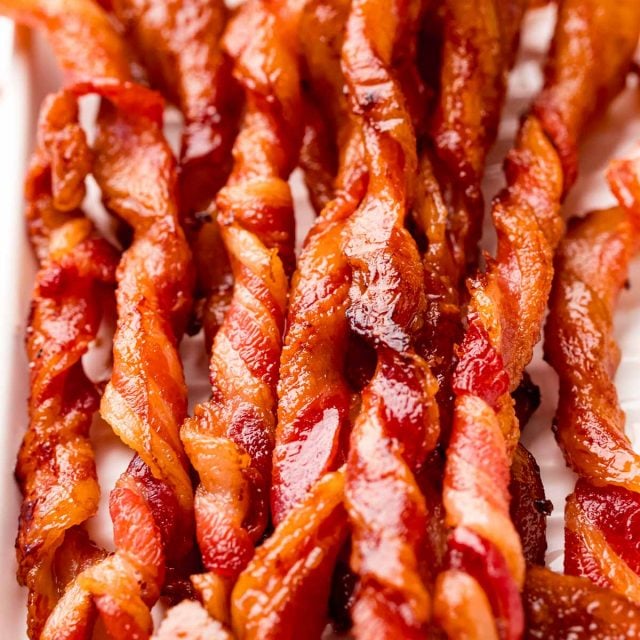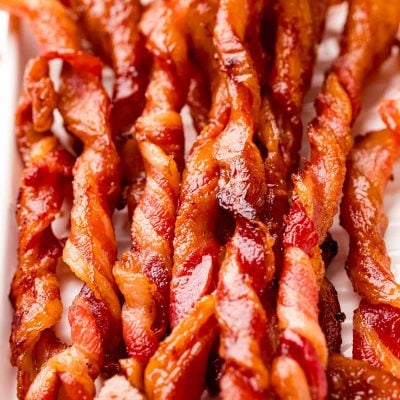 Twisted Bacon
Twisted Bacon is taking over the internet as the BEST method for cooking bacon – it's the perfect mix of soft and crispy! This viral TikTok trend is so easy to make and everyone will love how delicious and juicy it is!
Instructions
Preheat the oven to 350°F and line a rimmed baking sheet with parchment paper.

Twist each slice of bacon tightly then lay the on the parchment-lined baking sheet, the pieces can be touching.

Bake the bacon for 20 minutes, then remove and use tongs to flip the bacon, then bake for an additional 20 minutes.
Notes
This makes THE BEST bacon! It's the perfect mix of soft and crispy.
The twist creates a tunnel in the middle of the bacon that holds onto some of the bacon grease while baking and leads to a super juicy, tender, and flavorful bite.
You can bake up to 2lbs at a time on the baking sheet since the pieces can touch without issue.
Nutrition
Calories:
315
kcal
Carbohydrates:
1
g
Protein:
10
g
Fat:
30
g
Saturated Fat:
10
g
Trans Fat:
1
g
Cholesterol:
50
mg
Sodium:
500
mg
Potassium:
150
mg
Vitamin A:
28
IU
Calcium:
4
mg
Iron:
1
mg