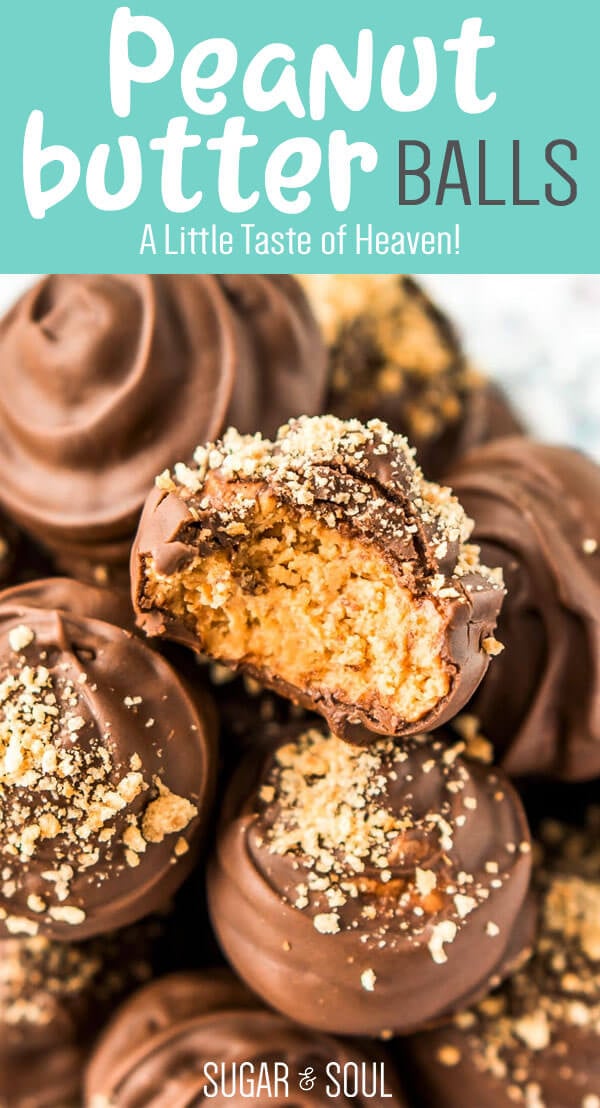 Peanut Butter Balls are a classic no-bake treat made with graham crackers, creamy peanut butter, powdered sugar, and chocolate! Perfect for the holidays!
I love packaging these holiday truffles up with my Peanut Butter Fudge, Mint Cookie Truffles, and Cookie Dough Truffles and giving to friends!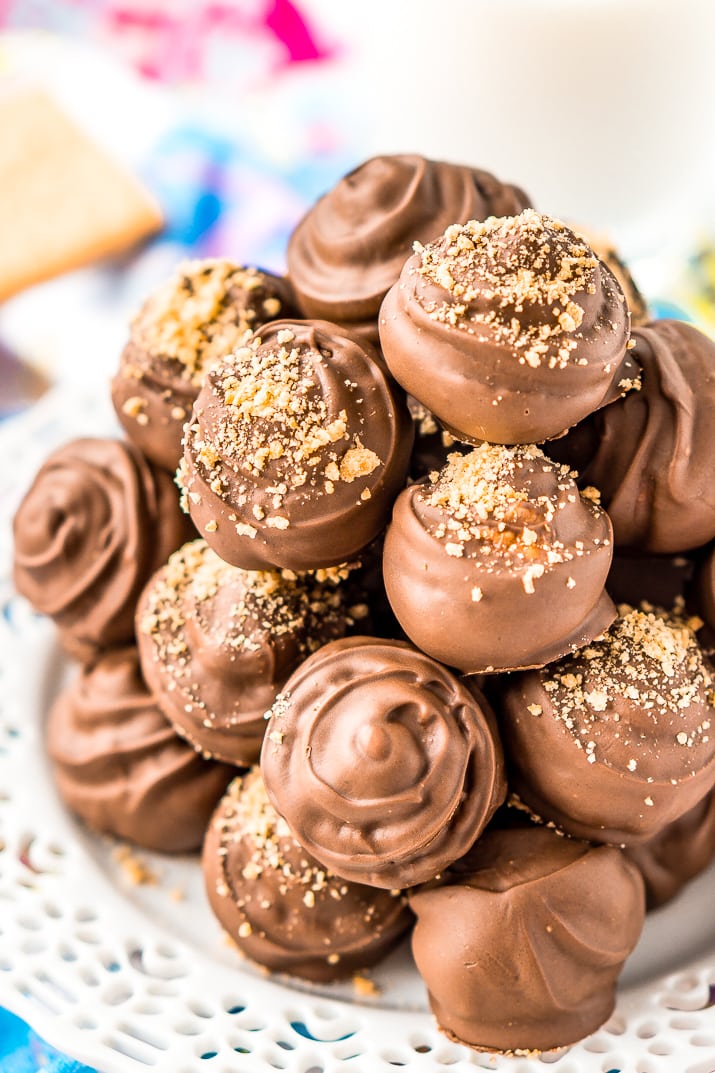 It just isn't the holidays around here without these amazing Peanut Butter Balls! This is a recipe my mother-in-law shared with me years ago but is a traditional holiday staple in households everywhere!
Once you've had these delectable no-bake treat, there's a good chance they will become part of your holiday traditions too! Three dozen of these treats whip up using only 4 ingredients in just 30 minutes!
All About These Homemade Dessert Balls
Taste: Filling made of sweet graham cracker crumbs, salty peanut butter, and powdered sugar gets dipped in melted chocolate! Altogether each dessert ball tastes a lot like a peanut butter cup!
Texture: The smooth chocolate coating gives way to a creamy peanut butter filling that's studded with crunchy graham cracker pieces!
Ingredient Choices
When it comes to this easy-to-make treat, you do have a choice with a few ingredients! In this recipe, I chose to use creamy peanut butter since the graham crackers gave texture to the filling already.
However, you can choose to use extra crunchy peanut butter if you'd like! That would give an even more delicious texture to the filling!
Another ingredient you can customize to your taste buds is the melted chocolate! My family and I love these peanut butter balls with graham crackers to be dipped in milk chocolate.
Though you can also make them with semi-sweet, or dark chocolate to suit your taste! Even white chocolate would be delicious as well!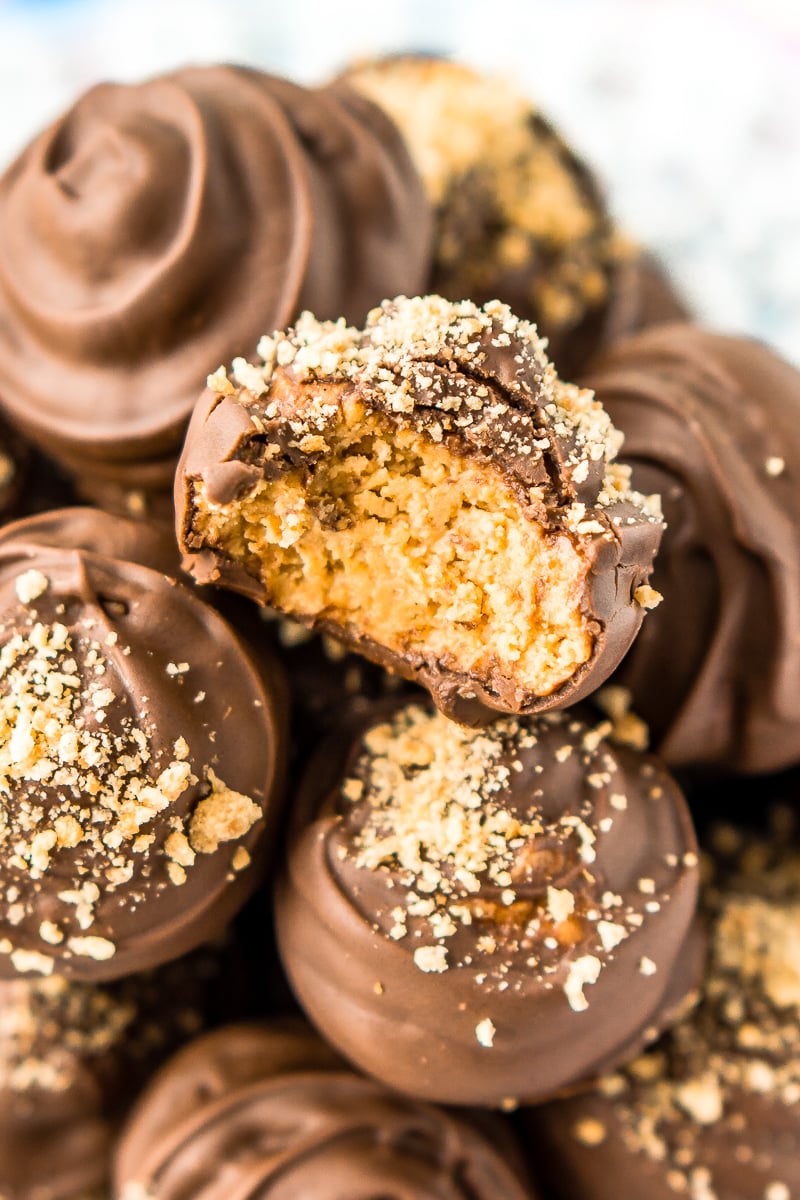 How To Make Peanut Butter Balls
Preparing The Graham Crackers – The best way to prepare the graham crackers for this recipe is to use a food processor. Process them until fine crumbs form to give these balls the best filling texture.
Portioning Out The Filling – I've found that using a medium cookie scoop is a good portion size. Once I scoop the filling out, I roll it into balls to give them their 1-inch ball shape.
Melting The Chocolate – You can melt the chocolate at 30-second intervals in the microwave or use a double boiler on the stovetop.
Dipping The Peanut Butter Balls – When dipping peanut butter balls in chocolate I prefer to use my favorite candy dipping tool! However, you can also use a fork or spoon if you need to! Just be sure to let any excess chocolate drip away before placing them onto the wax paper to set.
Adding The Topping – Sprinkle the peanut butter balls dipped in chocolate with graham cracker crumbs right away! That way the crumbs stick to the balls before the chocolate sets up.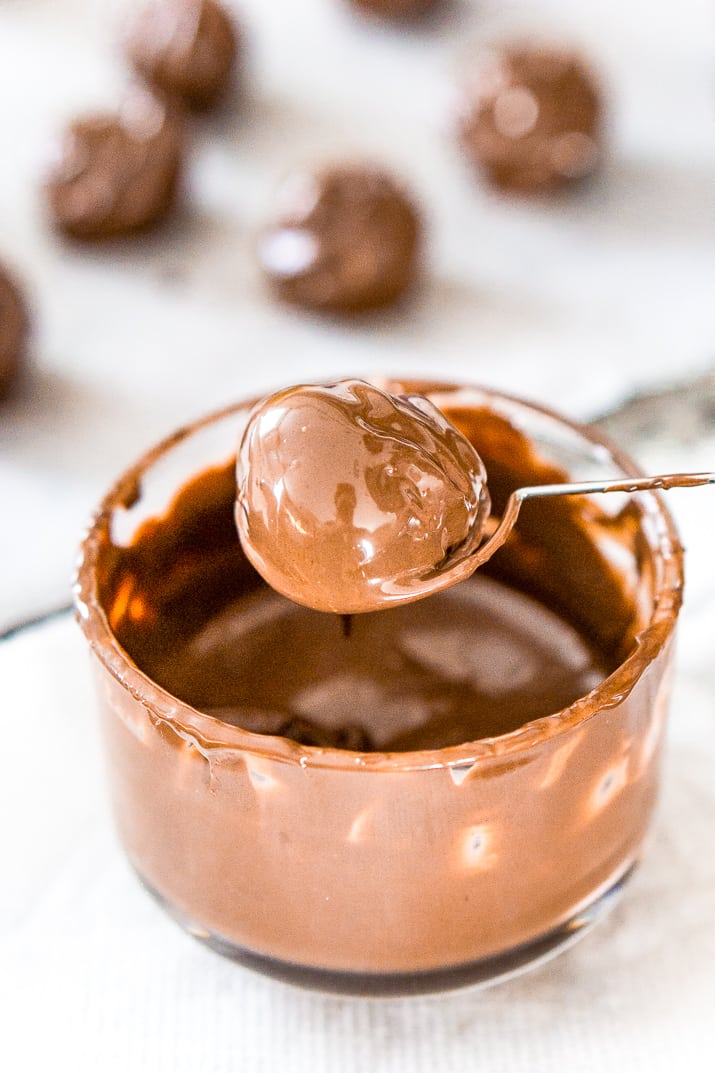 Make sure you get a chance to try these tempting little treats this holiday season! While I love chewy cookies, a big slice pie, and dessert bars as much as the next person, truffles really are next level good!
And while peanut butter is always a good idea, these Cookie Butter Balls are pretty amazing too! And my Buckeyes are another favorite!
My 4-ingredient Homemade Chocolate Truffles and my sweet, minty Easy Peppermint Oreo Balls Recipe are also both known to draw a crowd!
Frequently Asked Questions
How To Freeze Peanut Butter Balls:
1. Prepare your balls according to the recipe directions and let the chocolate fully set before freezing.
2. Freeze in an air-tight container or bag for up to 3 months.
3. I recommend putting wax paper between the layers of balls.
Are Peanut Butter Balls Vegan?
This particular recipe is not vegan, but you can easily adapt it to be. Simply substitute the graham crackers with a vegan sweet cracker or cookie and use a vegan chocolate!
Where Did You Get The Dipping Tool From The Video?
What's The Best Way To Store These Easy Peanut Butter Balls?
These dessert balls are best stored in an airtight container in the fridge. They can then be enjoyed for up to 3 weeks. But I bet they won't last that long!
How Do I Crush The Graham Crackers For This Chocolate Peanut Butter Balls Recipe If I Don't Have A Food Processor?
No worries, you can just add the graham crackers to a large Ziploc bag with the excess air squeezed out of it. Then use a rolling pin to crush them into a fine crumb.
You can also buy the graham cracker crumbs in the box at the store for an even simpler prep!
What Can I Use Instead Of Chocolate Melting Wafers?
I find that chocolate melting wafers give these dessert balls a nice, smooth coat! However, you could use chocolate chips instead, but I would recommend adding a teaspoon of shortening to them if you do!
What Other Toppings Can I Add To These Old Fashioned Peanut Butter Balls?
Instead of crushed graham crackers, you could use fun sprinkles, crushed peanuts, crushed pretzels, or even a fun drizzle of melted chocolate!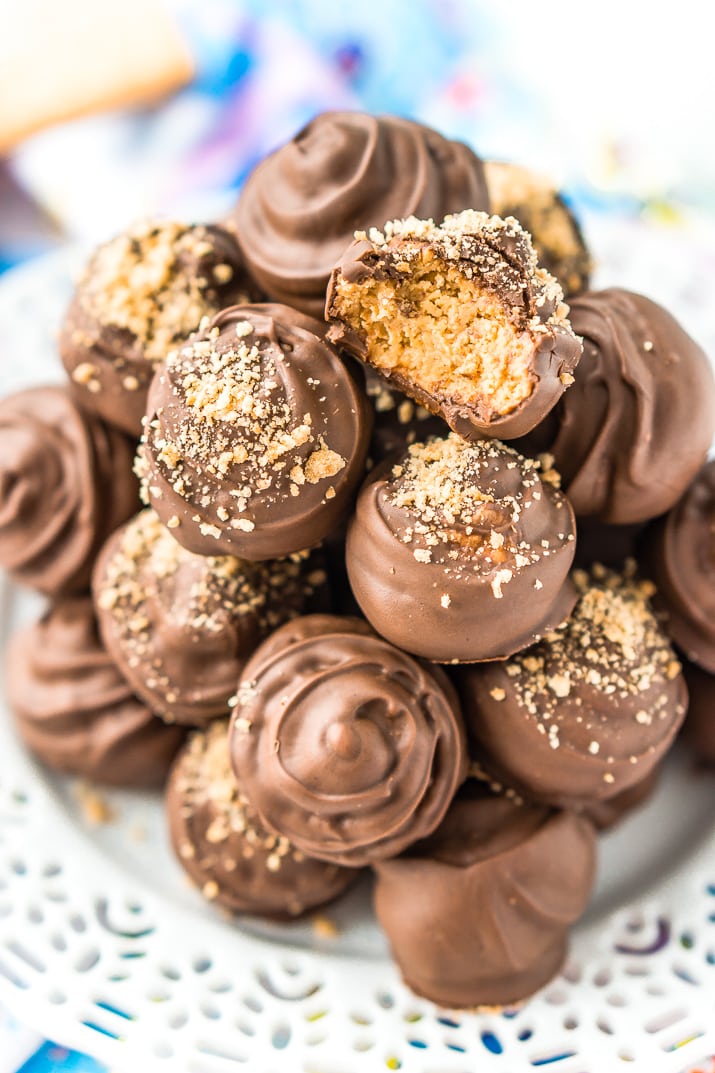 Peanut Butter Balls
Click the button above to save this delicious recipe to your board!
Let's Connect!
If you've tried this recipe, please let me know how you liked it in the comments below and leave a review; I love hearing from you! And don't forget to tag me – @sugarandsoulco – on Instagram and Pinterest with your photos or join our Busy Family Recipes Facebook Community and share them there!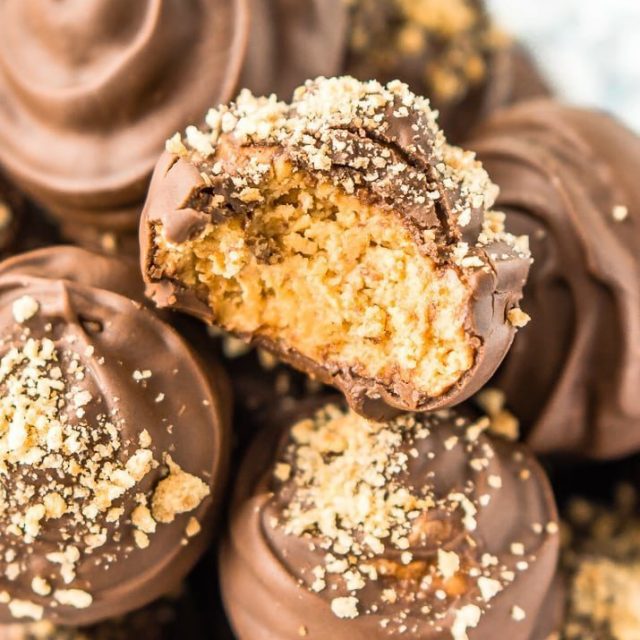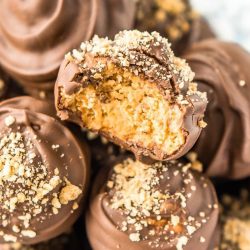 Peanut Butter Balls
Peanut Butter Balls are a classic no-bake treat made with graham crackers, creamy peanut butter, powdered sugar, and chocolate! Perfect for the holidays!
Instructions
In a large bowl, mix together the peanut butter, graham cracker crumbs, and sugar until fully combined.

Use a medium cookie scoop, about 1.5 tablespoons, to measure out even amounts of the peanut butter mixture. Roll the mixture between your palms to form balls.

Melt the chocolate in the microwave on 30-second intervals, stirring between each one until fully melted.

Dip the peanut butter balls in chocolate and place on wax paper to set, sprinkle the tops with extra graham cracker crumbs or sprinkle, if desired.
Notes
Crunchy peanut butter may also be used.
Store in an airtight container in the fridge for up to 3 weeks or in the freezer for up to 3 months.
Nutrition
Calories:
122
kcal
Carbohydrates:
11
g
Protein:
3
g
Fat:
7
g
Saturated Fat:
2
g
Sodium:
73
mg
Potassium:
94
mg
Fiber:
1
g
Sugar:
8
g
Calcium:
9
mg
Iron:
0.5
mg