This Easy Peanut Butter Fudge is a simple recipe to make and is the perfect balance of sweet and salty. It's soft and creamy and great for the holidays and special occasions or just because!
This fudge makes a great addition to treat tins alongside Peanut Butter Balls, Nutella Rocky Road Fudge, and Shortbread Christmas Crack for the holiday season.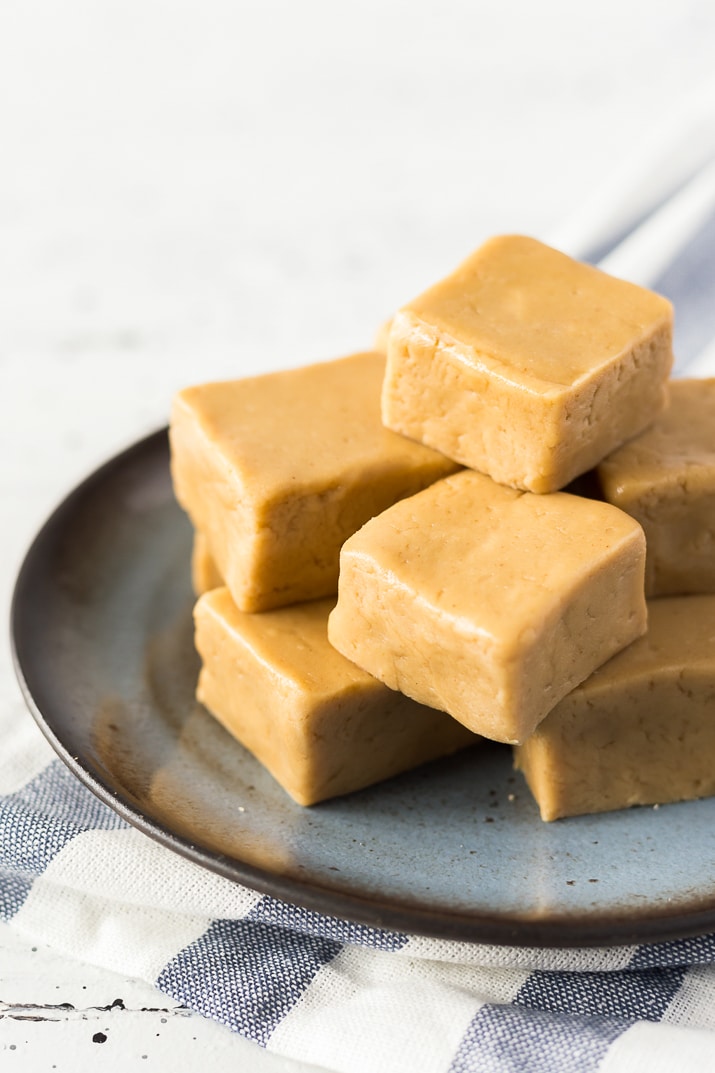 One of my greatest indulgences, when I was growing up, was Peanut Butter Fudge. I worked at a grocery store throughout most of high school and there was a local company that sold their confections there and the peanut butter fudge was to die for.
Otherwise, I've never really been a huge fudge fan, you'll never see me picking up a piece of chocolate fudge and I hate when fudge is crumbly.
But this peanut butter fudge recipe is creamy, peanut buttery, perfection. It's soft and flavorful and just melts in your mouth!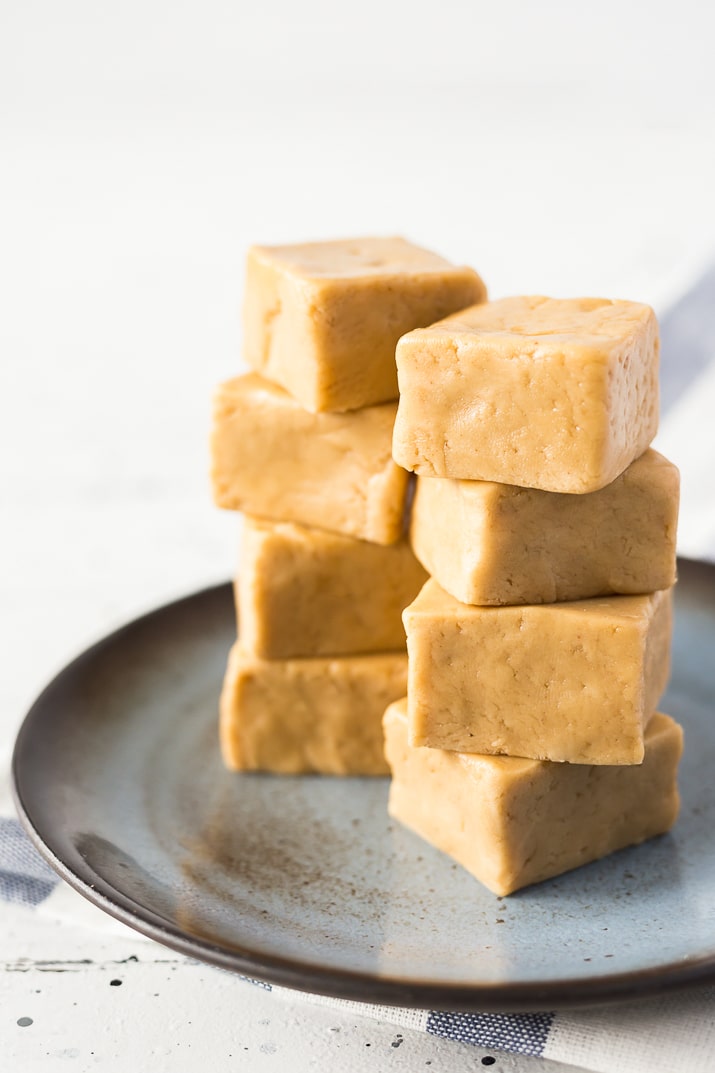 Unlike many fudge recipes, this recipe uses half and half instead of regular milk. This helps add to that rich flavor and creamy texture that I've come to love so much about peanut butter fudge!
I also use powdered sugar instead of granulated sugar because you get a smoother fudge.
You don't need any special equipment to make this delicious fudge recipe, it's a really easy recipe and there's no candy thermometer required!
Important Items for this Peanut Butter Fudge Recipe:
– Creamy Peanut Butter – You'll want to use creamy for best results, I prefer Jif Creamy.
– Vanilla Extract – I'm a firm believer that you should never go cheap when it comes to vanilla and you should NEVER use imitation, real quality vanilla can add so much to a recipe!
– 8×8-inch Baking Pan – I love my Simply Calphalon baking pans because they have straight sides and do a wonderful job, but any 8×8-inch pan will do since you're not actually making this recipe.
– Medium Saucepan – I also love the Simply Calphalon Saucepans because they're non-stick and heavy-duty pieces of cookware.
– Hand Mixer – I love my KitchenAid hand mixer for quick recipes, my stand mixer is great, but not always necessary and this keeps things easy.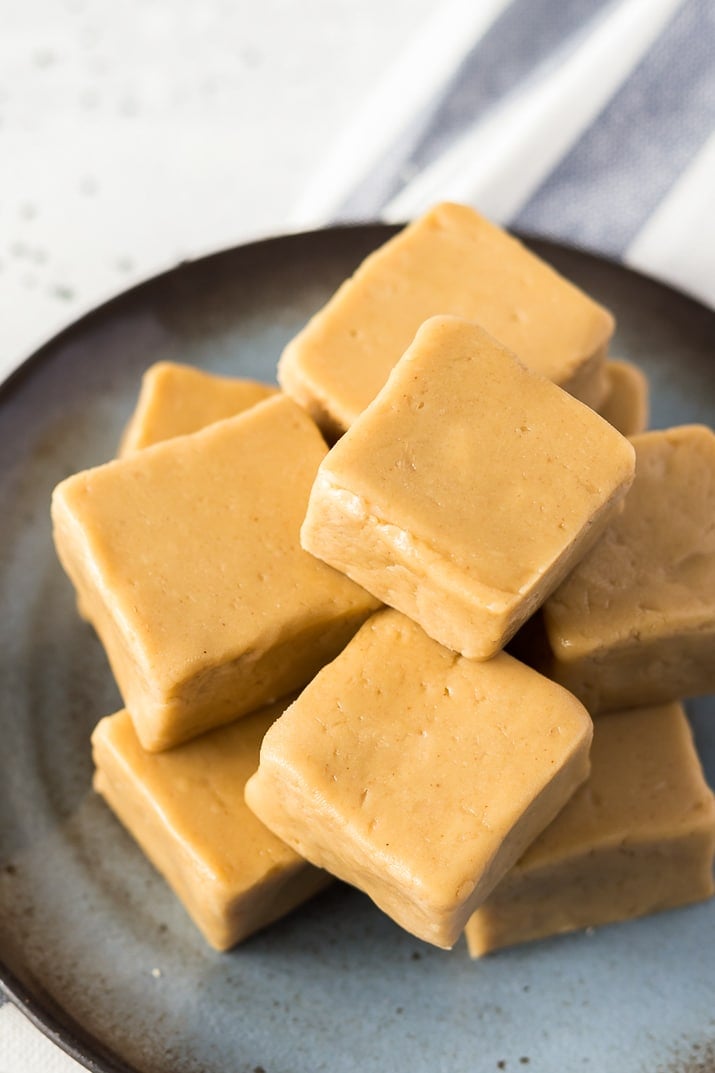 Tips For How To Make Homemade Peanut Butter Fudge:
1. Do NOT use all natural peanut butter, this has a higher amount of oil in it and can cause the fudge to separate. However, you can use crunchy peanut butter if you'd like.
2. Grease your baking pan with cooking spray, not butter.
3. Using confectioner's sugar over granulated sugar yields a smoother, creamier fudge.
4. If your powdered sugar is lumpy, make sure to sift it or whisk the lumps out of it before adding to the peanut butter mixture.
5. Make sure that once the mixture comes to a boil, you boil for 2 MINUTES ONLY, no more, no less. Like no-bake cookies, this timing is important to the final texture of the fudge as we want to be able to control the water content of the mixture.
6. In follow up to the last tip, it's possible that if you're making this on a day when it's raining or very humid, the water in the air can impact the final results of the fudge. Generally, it will have a harder time setting and may have a grainier texture.
7. You can mix the fudge mixture by hand when called for, but a hand mixer will help keep things quick and smooth.
8. Wait until the fudge has cooled to room temperature and fully set before slicing.
How Long Will Peanut Butter Fudge Last?
Not long because you'll likely eat it all 😉 but if you want to make it ahead or do have some leftover, store in an airtight container for up to 2 weeks in a cool area.
More Delicious Peanut Butter Recipes:
Peanut Butter Fudge
Pin It For Later
Click the button above to save this delicious recipe to your board!


Let's Connect!
I created a fun little group on facebook and I'd love for you to join in! It's a place where you can ask questions and see what's new with Sugar & Soul! If you'd like to check it out, you can request to join HERE.
Be sure to follow me on Instagram and tag #sugarandsoulco so I can see all the wonderful recipes YOU make from this site! You can also Subscribe to my Newsletter so you never miss a delicious recipe again!
This post was originally published in December 2017.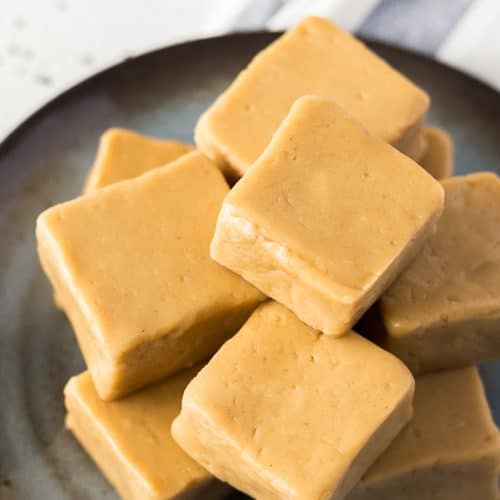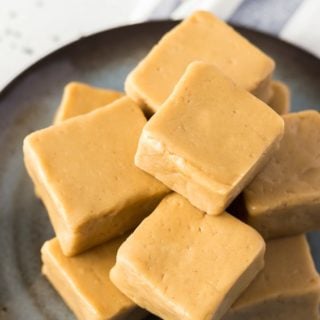 Creamy Peanut Butter Fudge
This Easy Peanut Butter Fudge is a simple recipe to make and is the perfect balance of sweet and salty. It's soft and creamy and great for the holidays and special occasions or just because!

Instructions
Grease an 8×8 pan with cooking spray and set aside.

In a medium-sized saucepan over medium heat, melt the butter. Stir in the brown sugar and milk and bring it to a boil. Once boiling, allow to sit untouched for 2 minutes. Remove from heat, then stir in the peanut butter and vanilla extract until smooth and creamy.

In a large bowl, add the powdered sugar. Pour the hot peanut butter mixture into the bowl with the powdered sugar, then beat by hand or an electric mixture until completely smooth, around 2 minutes. Pour into greased pan and let sit until completely cooled and set. Slice into squares and enjoy!

Nutrition
Calories:
348
kcal
Carbohydrates:
52
g
Protein:
4
g
Fat:
14
g
Saturated Fat:
5
g
Cholesterol:
18
mg
Sodium:
86
mg
Potassium:
151
mg
Sugar:
50
g
Vitamin A:
205
IU
Vitamin C:
0.1
mg
Calcium:
39
mg
Iron:
0.5
mg