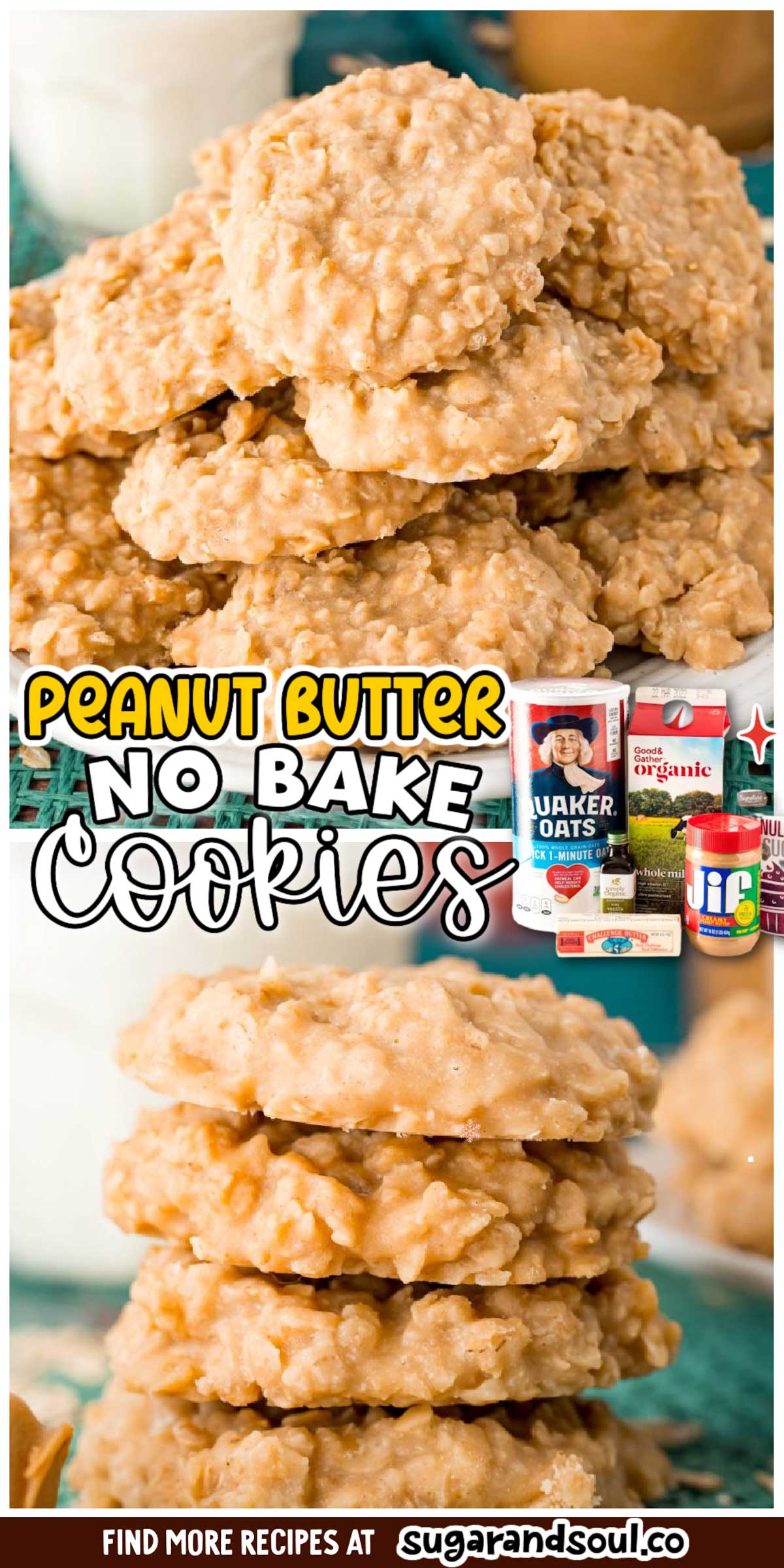 Peanut Butter No Bake Cookies are so easy to make with just 6 ingredients and only take a few minutes of prep! You'll love every bite of these sugary peanut butter and oatmeal cookies and the best part is you don't even have to turn on the oven!
Check out my Rice Krispie Treats or No-Bake Peanut Butter Cheesecake for another delicious dessert that also doesn't require turning the oven on for!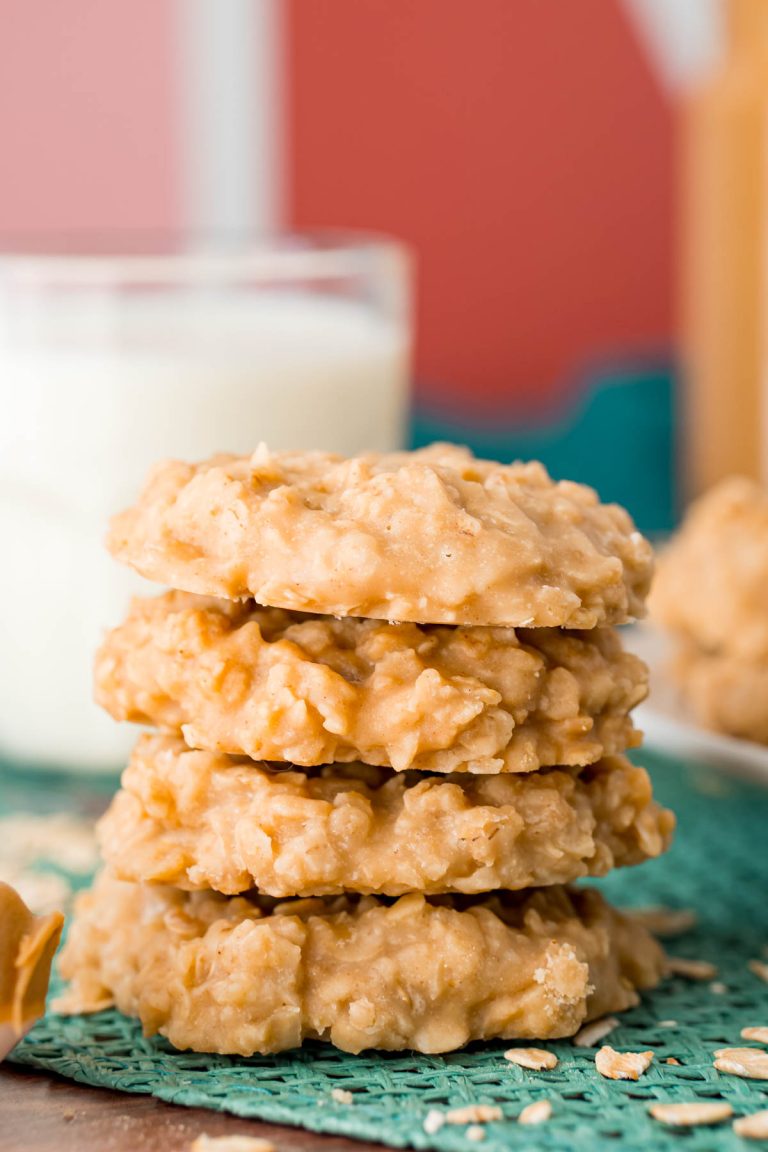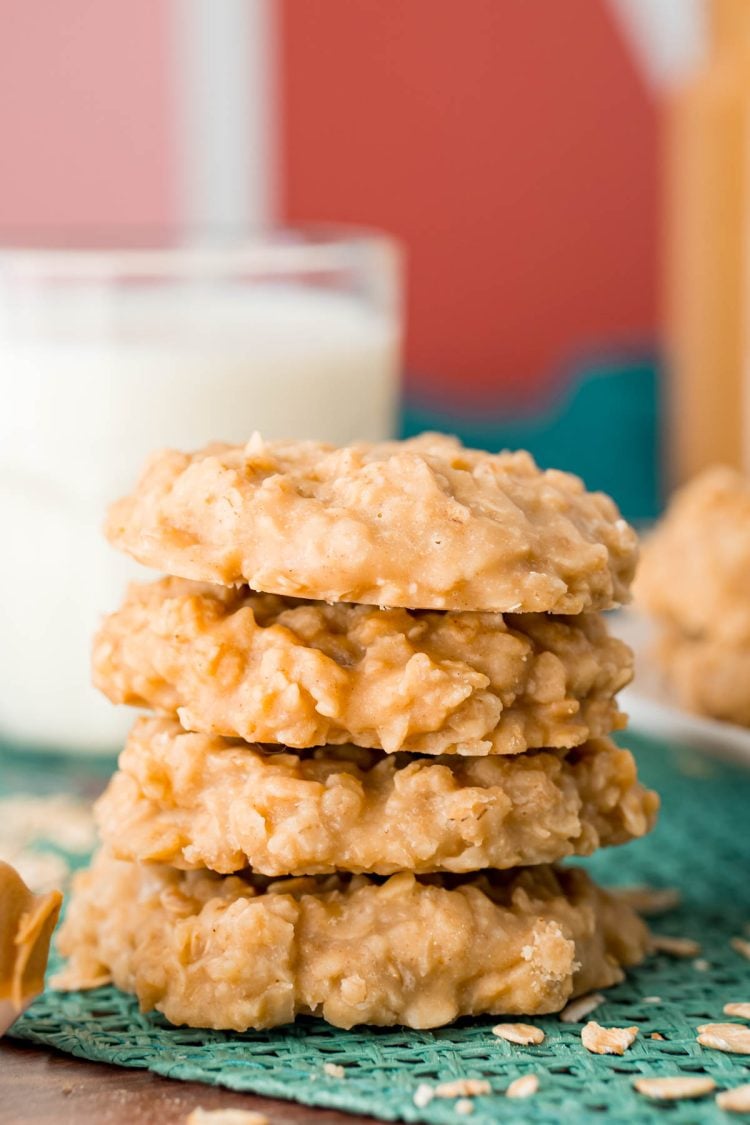 Peanut Butter No Bake Cookies are a tasty dessert that will have you reaching for one right after another! There's just something about the mix of hearty oatmeal and sweet sugar with salty peanut butter!
They're the perfect take-along treat to bring to work or share with loved ones around the holidays! More often than not though, I just enjoy them as a weekday pick-me-up when the craving hits!
This is super easy to do since these cookies take just 20 minutes of hands-on time to make! Simply cook the ingredients on the stovetop and then scoop the cookie mixture out onto wax paper.
By the time the kitchen is cleaned up or your favorite show is over it'll be time to bite into one!… or two, or three!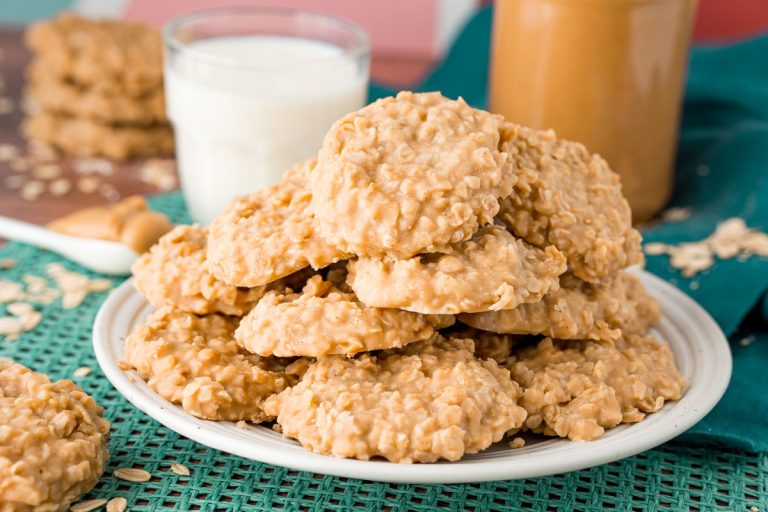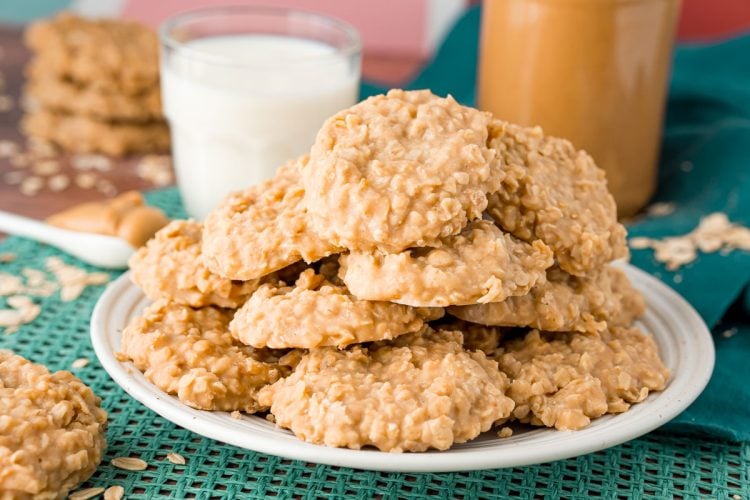 Ingredient Notes
This Peanut Butter No Bake Cookies Recipe uses minimal ingredients yet still delivers tasty cookies that everyone will love! To start, you'll need the base ingredient for these cookies, oats!
It's important that you grab the right oats to be sure that your cookies turn out chewy and tender! Old-fashioned oats yield hard and dry cookies since they don't cook in time with this recipe.
Whereas, instant oatmeal cooks too fast and produces cookies that are way too soft. So for the perfect chewy no bake cookies, you'll need to grab the 1-minute oats in the canister.
From there the oats will combine with the remaining cookie ingredients: granulated sugar, salted butter, whole milk, vanilla extract, and peanut butter.
I recommend avoiding all-natural peanut butters. I like to use classic Jif cream (or crunchy) for this recipe. All-natural peanut butters may have a hard time setting up when they cool.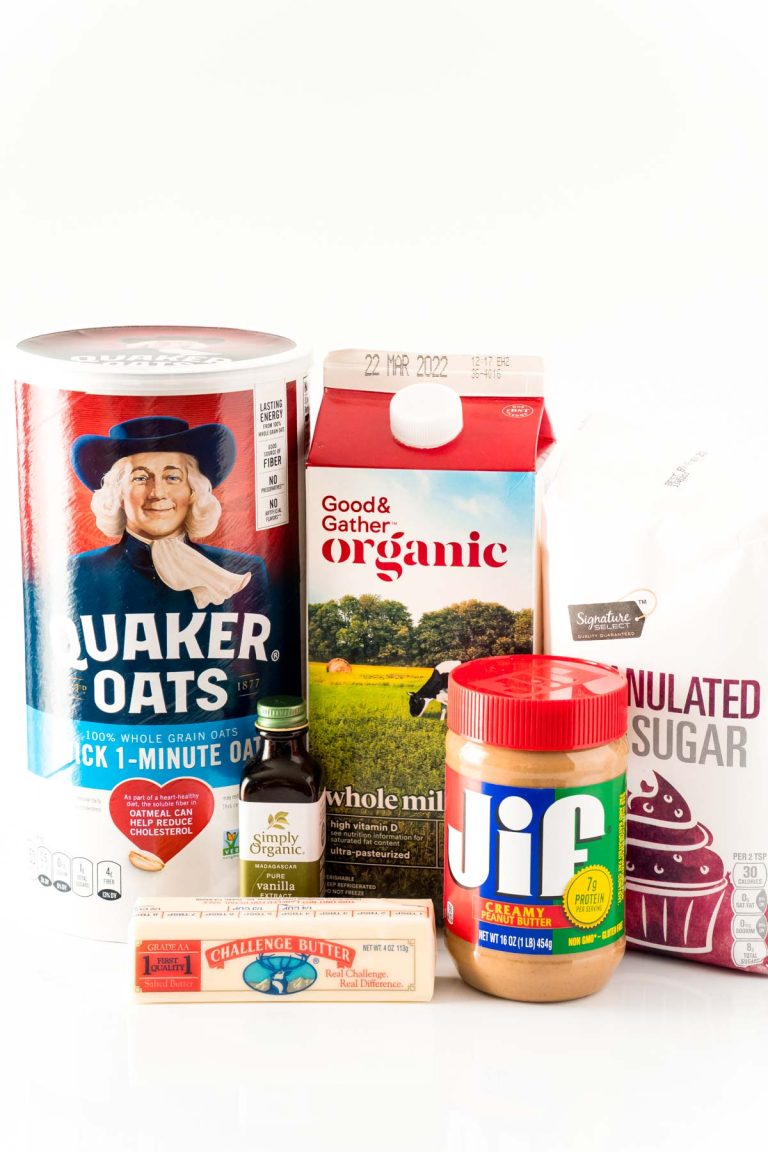 How To Make No Bake Peanut Butter Oatmeal Cookies
1. Prepare baking sheets by lining them with wax paper.
2. Heat the sugar, butter, and milk together in a large saucepan until the butter has melted.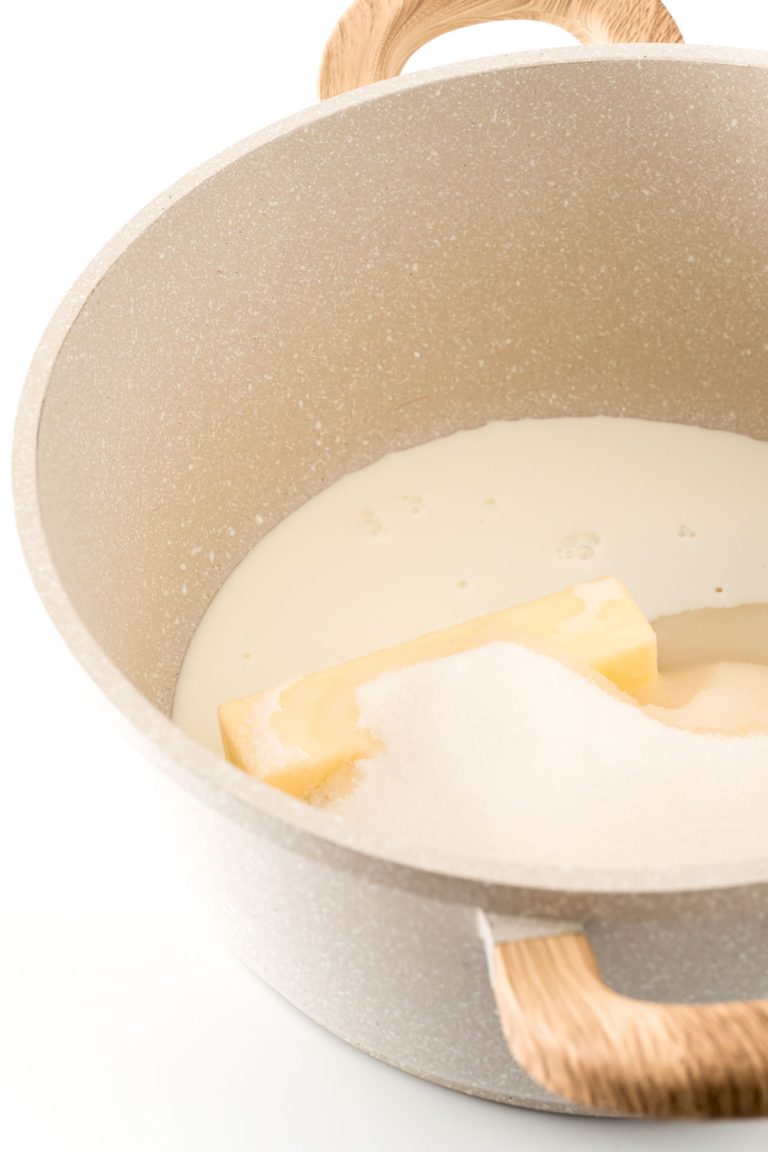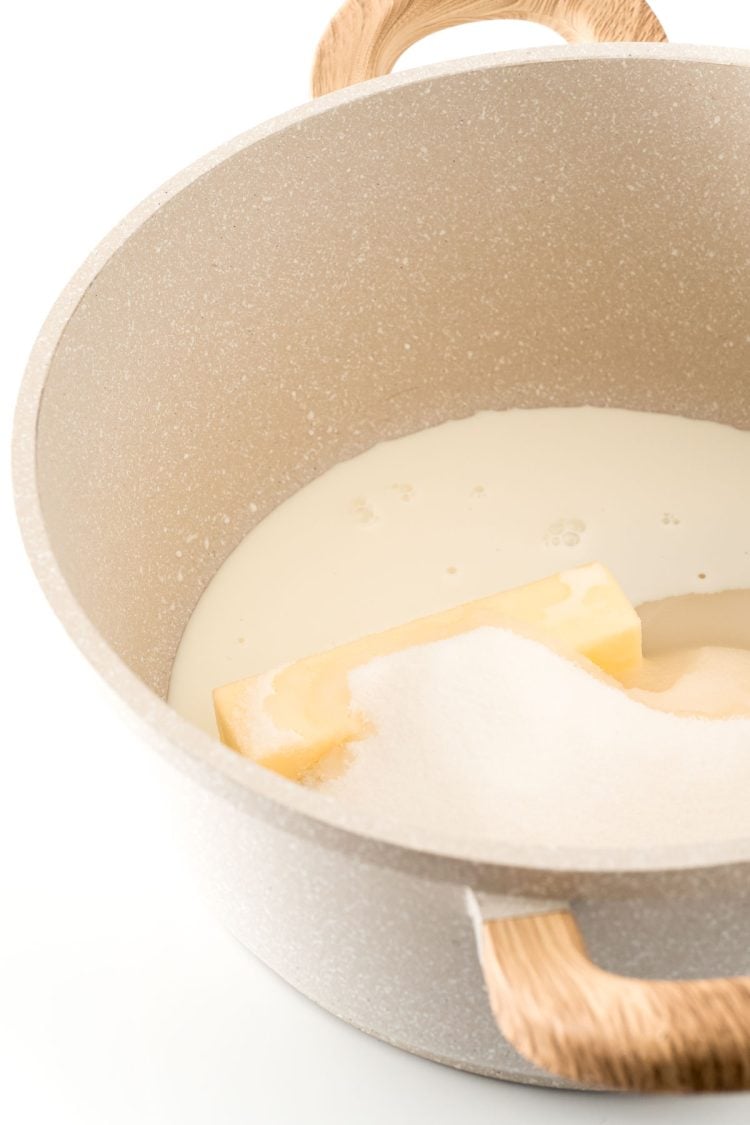 3. Set a timer once the mixture starts to bubble in the middle. Then allow it to come to a rolling boil to cook before removing the pan from the heat.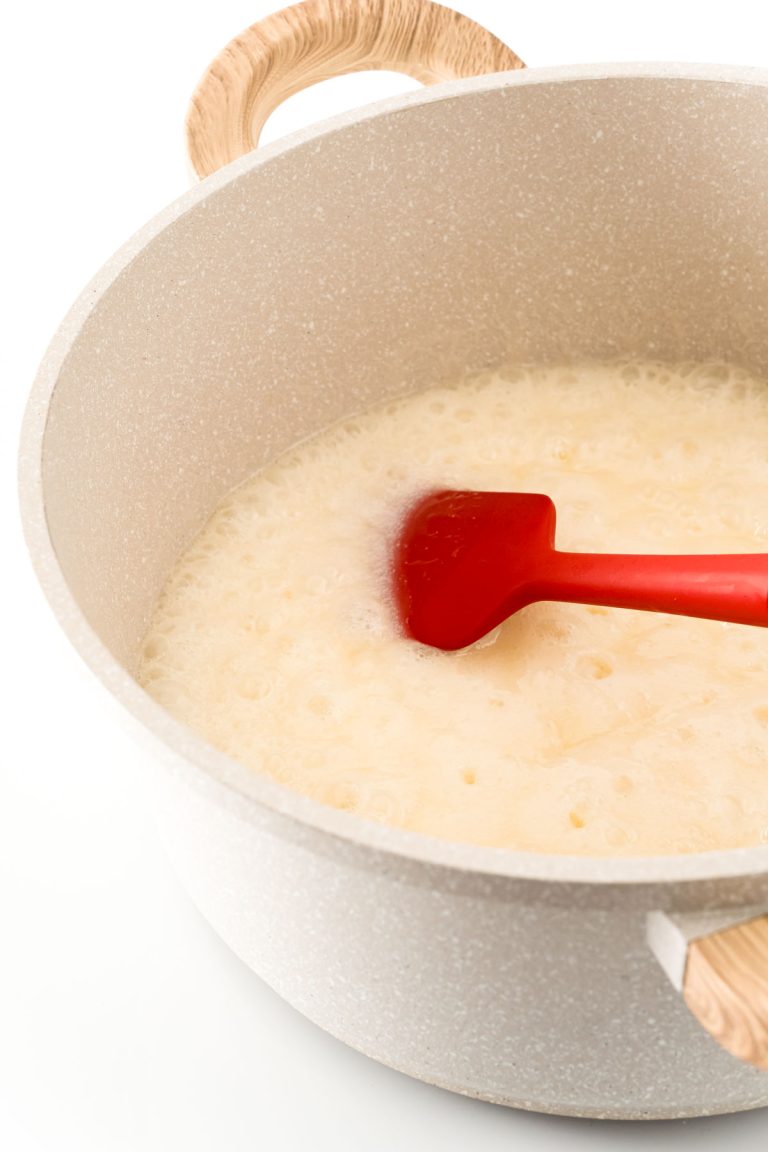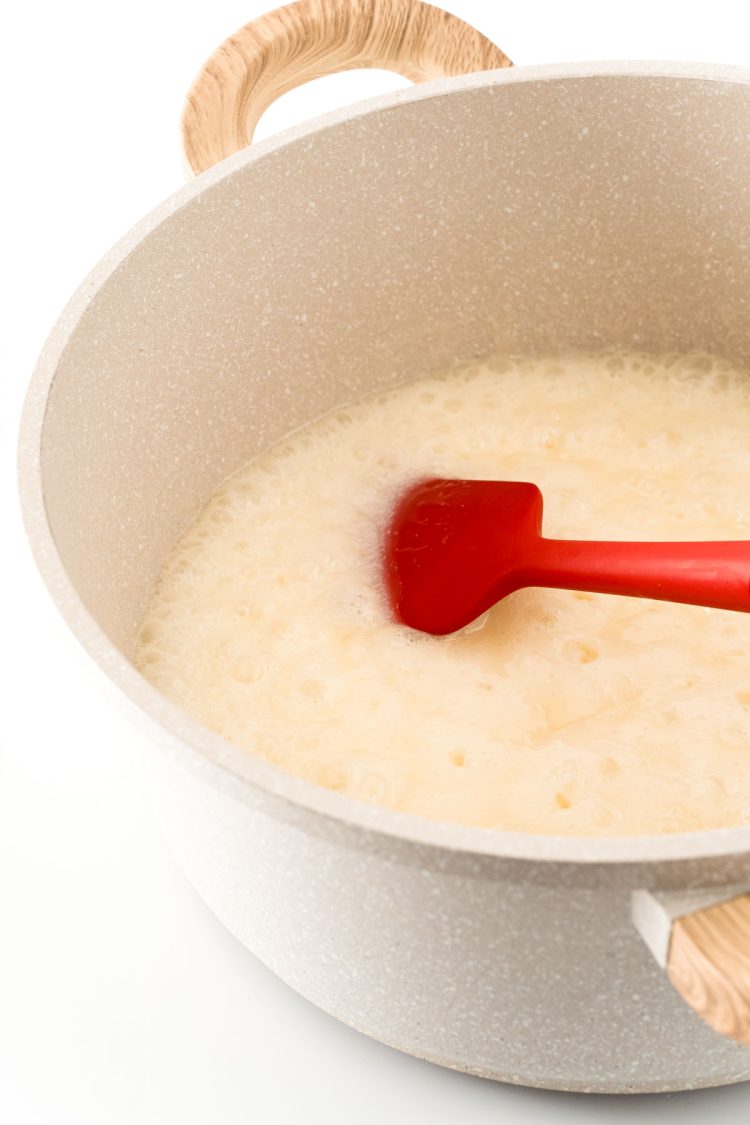 4. Mix in oatmeal, peanut butter, and vanilla until completely incorporated.
Placing parchment or wax paper on a baking sheet makes cookies easy to move around the kitchen. It also prevents the oils from the cookies seeping through the paper and sticking to the counter.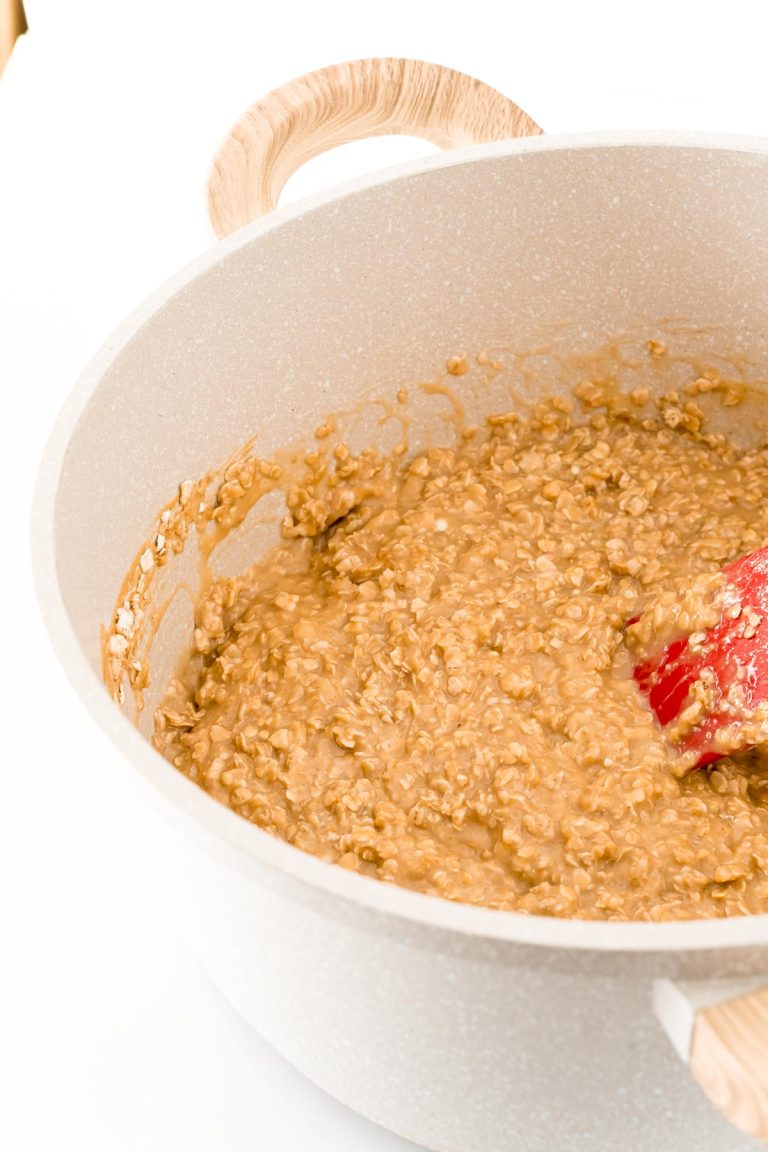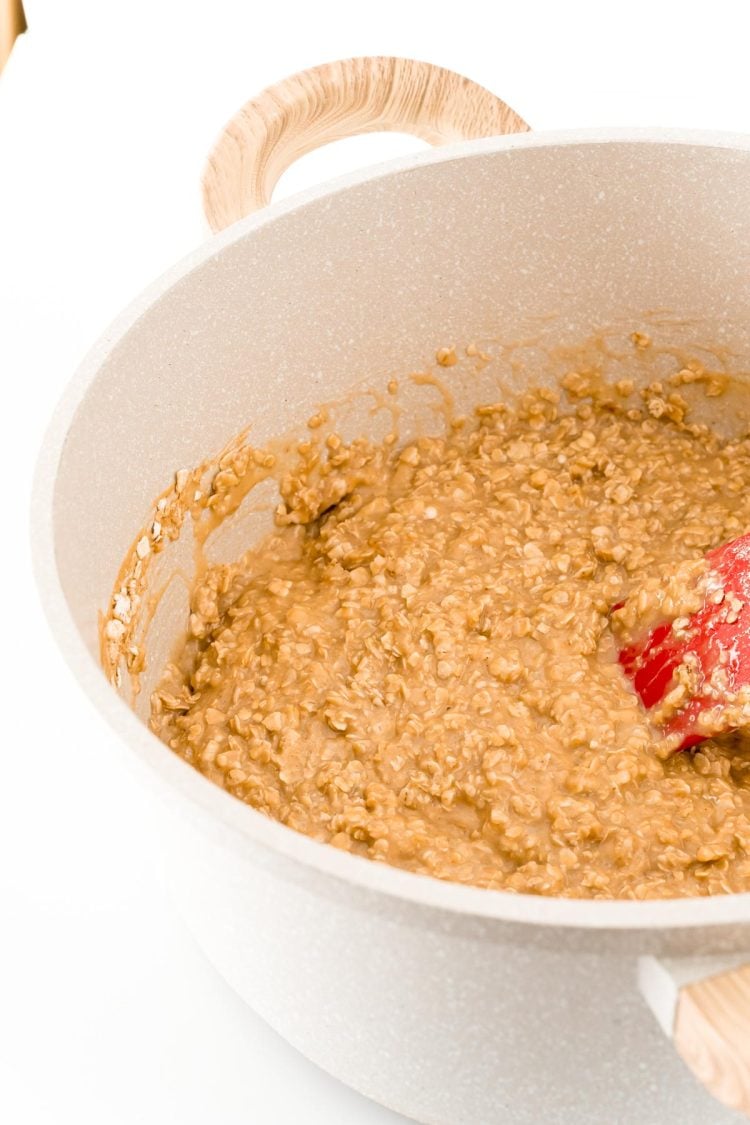 5. Drop scoops of the cookie mixture onto the lined baking sheets. Then allow them to set and cool before enjoying!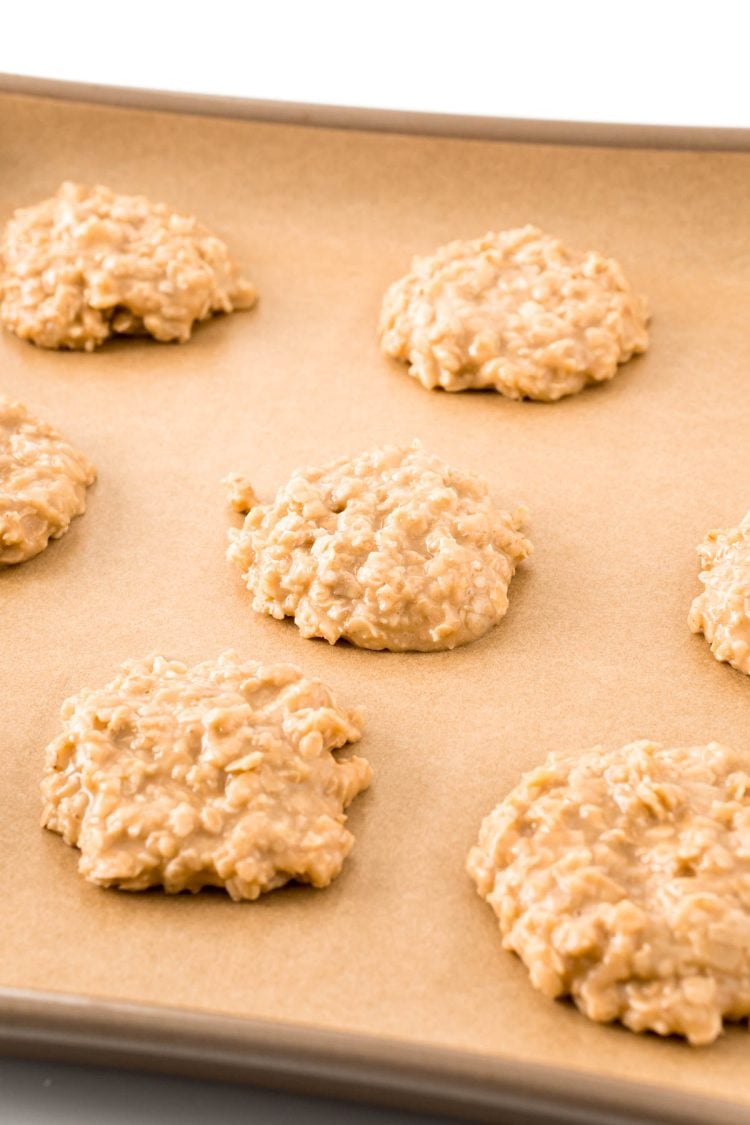 Frequently Asked Questions
How Do I Store These Homemade Cookies?
Place them in an airtight container or Ziploc bag with the excess air squeezed out. Then store them at room temperature for up to one week.
Can I Use Aluminum Foil For No Bake Cookies?
No, I wouldn't recommend using aluminum foil. There's a high chance that the cookies will stick and rip the foil. Leading to the possibility of having tiny pieces of aluminum foil stuck to the bottom of your cookies.
Why Are My No Bake Cookies Dry And Crumbly?
If the cookies turned out dry and crumbly then the cookie mixture was likely overcooked. It's super important to set the timer for just 60 seconds of bubbling time.
Then for another 60 seconds of rolling boil time. Also, be sure that the time starts as soon as the middle of the mixture begins to boil!
Can You Freeze No Bake Cookies?
Yes, these No Bake Oatmeal Cookies actually freeze really well! Just make the cookies as directed on the recipe card and then allow them to completely set.
Afterward, place them in a freezer bag and squeeze out the excess air. Then store them in the freezer for up to 3 months.
When you're ready to enjoy them just leave the bag of cookies at room temperature.
How Come My Cookies Turned Out Soft And Didn't Set Up?
Most likely the weather was not on your side! To help the cookies set up you could pop them in the fridge.
It's best to avoid making no bake cookies on rainy or humid days because the moisture in the air can prevent them from setting up properly.
The next time you make this recipe on a humid and rainy day just cook the mixture for an additional 5 to 10 seconds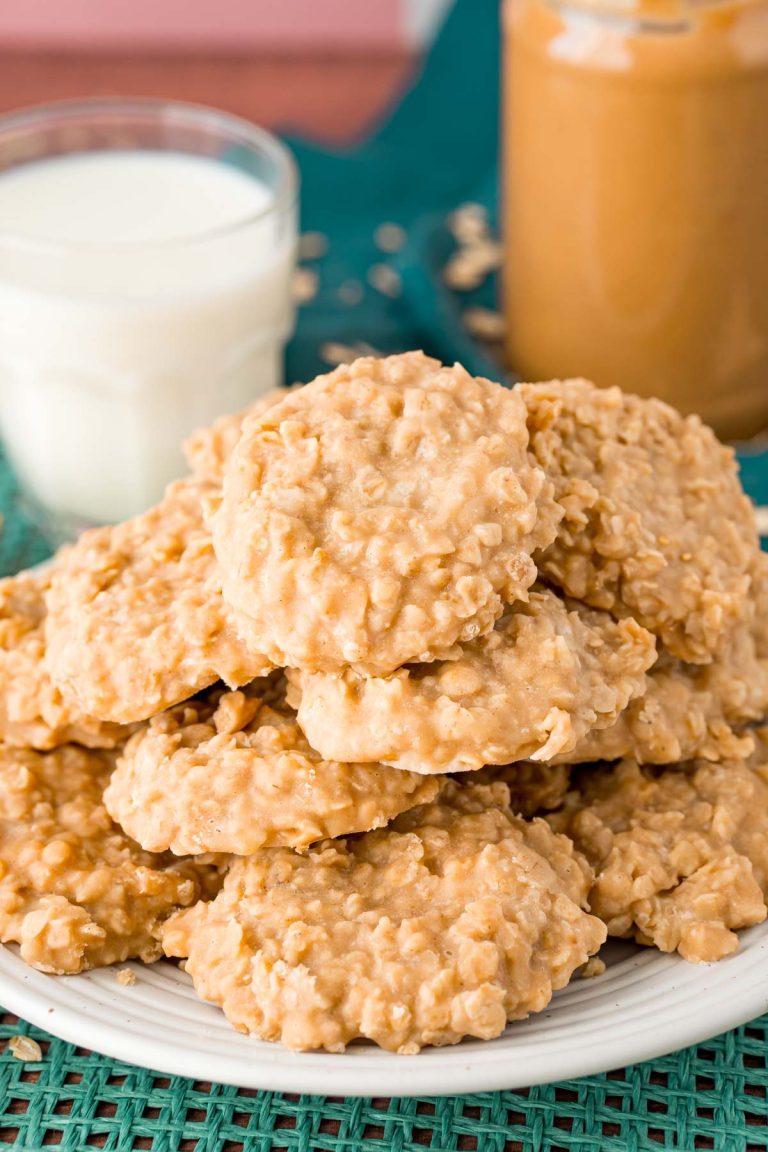 Tips for Making This No Bake Cookie Recipe:
Minute Oats! Regular Old Fashioned Oats will not yield great results, you need to use 1-minute oats in order to have a more tender and chewy cookie.
Add the vanilla AFTER boiling! You want that vanilla flavor, so don't cook it off during the boil, add it at the end!
Rolling Boil! You need a rolling boil for about 1 minute, not a simmer, don't start the timer until it's bubbly in the center of the butter mixture!
Creamy OR Chunky! You can make this with chunky peanut butter too for extra peanut crunch!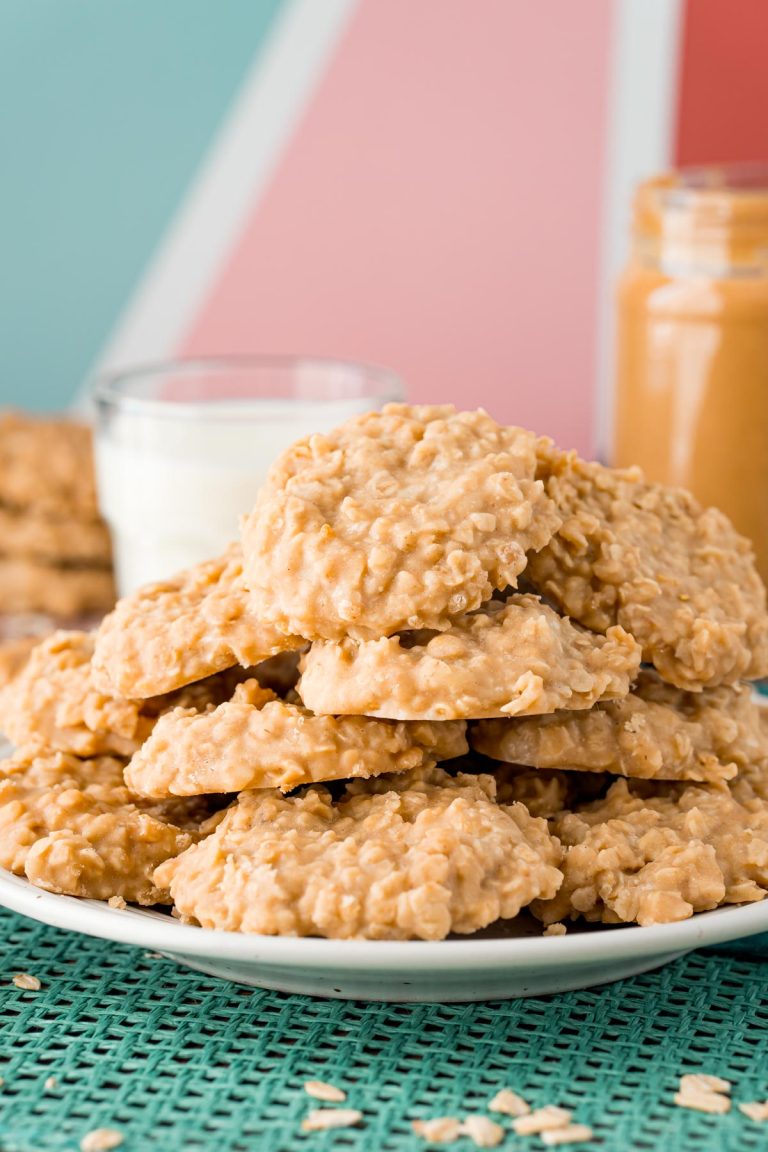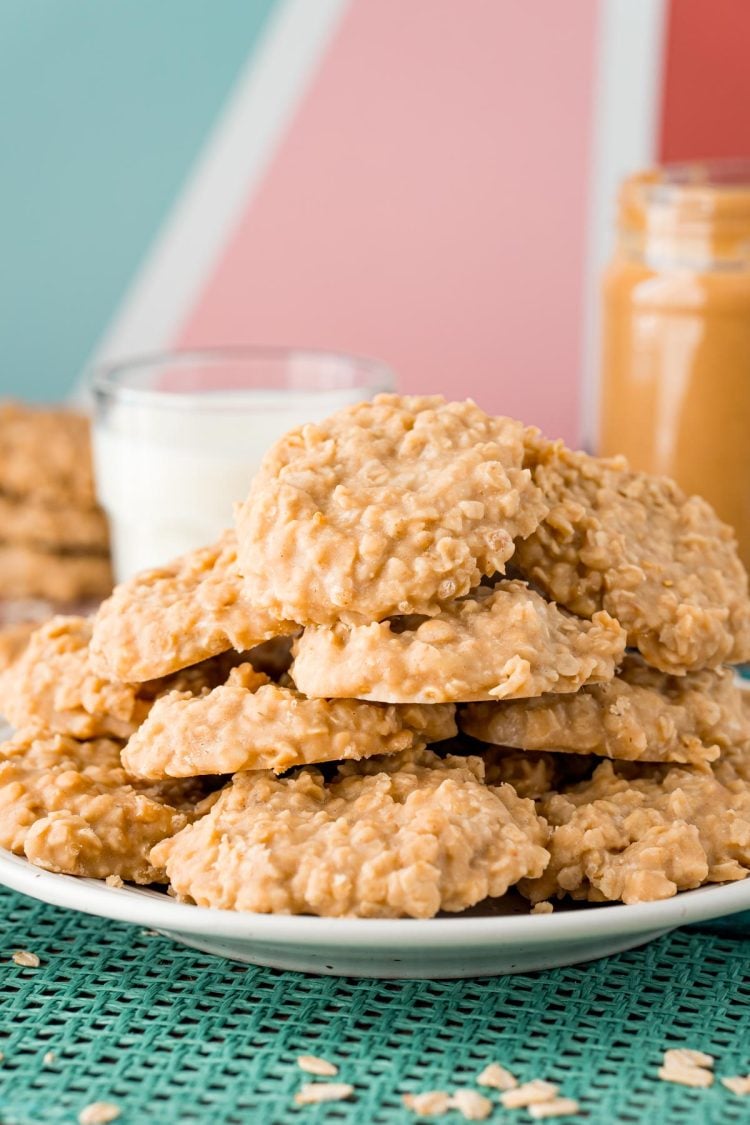 Homemade treats like these Peanut Butter No Bake Cookies are always a win in our house! Mix up another batch of Easy No Bake Cookies by grabbing another yummy recipe to try!
Peanut Butter No Bake Cookies
Pin For Later
CLICK THE BUTTON ABOVE TO SAVE THIS DELICIOUS RECIPE TO YOUR BOARD!
👋 Let's Connect!
If you've tried this recipe please let me know how you liked it in the comments below and leave a review, I love hearing from you! And don't forget to tag me – @sugarandsoulco – on Instagram and Pinterest with your photos or join our Busy Family Recipes Facebook Community and share them there!
This recipe was originally published in January 2016 and was updated in February 2022 with new photos and a retested recipe.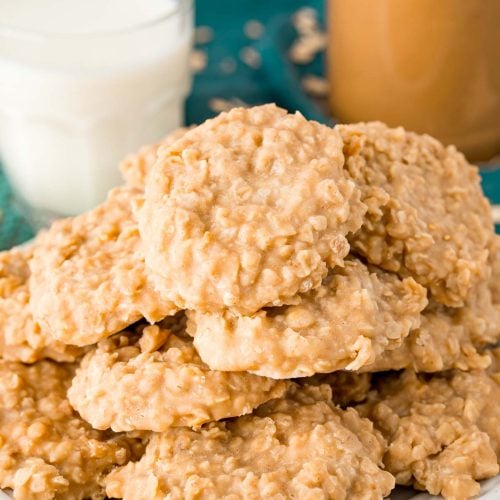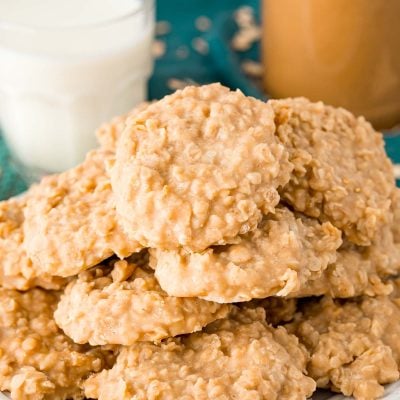 Peanut Butter No Bake Cookies
Peanut Butter No Bake Cookies are so easy to make with just 6 ingredients and only take a few minutes of prep! You'll love every bite of these sugary peanut butter and oatmeal cookies and the best part is you don't even have to turn on the oven!
Instructions
Place sheets of wax paper on two baking sheets and set aside.

Combine sugar, butter, and milk in a large saucepan over medium heat. Stirring frequently until the butter has melted.

As soon as the mixture starts to bubble in the middle, set a time for 60 seconds. Let the mixture come to a rolling boil and cook for 60 seconds, then remove from heat.

Immediately stir in the oatmeal, peanut butter, and vanilla until fully incorporated.

Quickly drop the mixture onto the wax paper-lined baking sheets using a medium cookie scoop or wooden spoon.

Let cool for at least 30 minutes to set.
Notes
Creamy or crunchy peanut butter can be used.
Do not overcook the butter mixture or the cookies will be dry and crumbly. 60-seconds from center bubbles forming is key. I highly recommend setting a stopwatch timer.
Store in an airtight container for up to 1 week.
Make sure you use 1-minute/quick-cooking oats in this recipe. Old fashioned oats will be too firm.
This recipe makes about 24 to 26 cookies when portioned out with a medium cookie scoop.
Nutrition
Calories:
188
kcal
Carbohydrates:
25
g
Protein:
4
g
Fat:
9
g
Saturated Fat:
4
g
Polyunsaturated Fat:
2
g
Monounsaturated Fat:
3
g
Trans Fat:
1
g
Cholesterol:
12
mg
Sodium:
74
mg
Potassium:
97
mg
Fiber:
1
g
Sugar:
18
g
Vitamin A:
136
IU
Vitamin C:
1
mg
Calcium:
16
mg
Iron:
1
mg