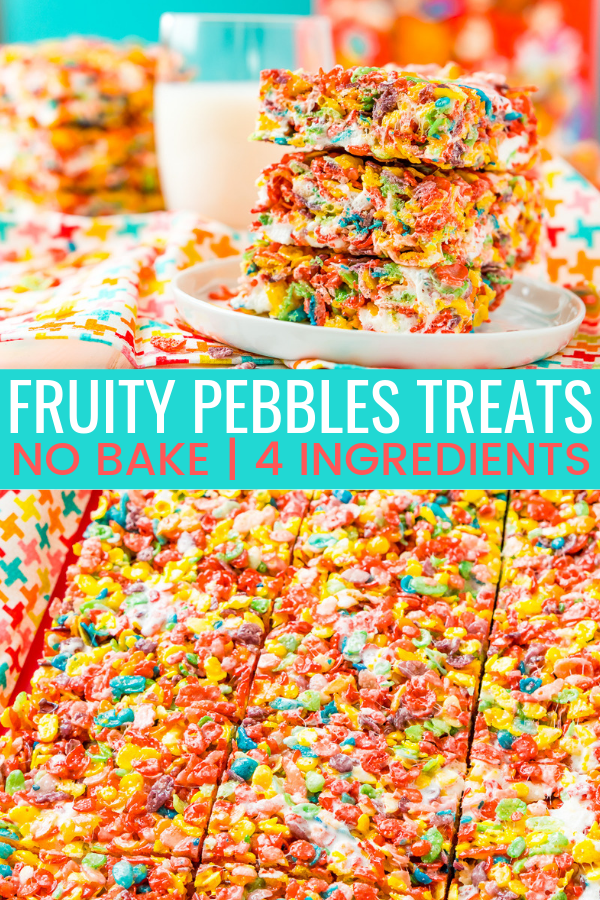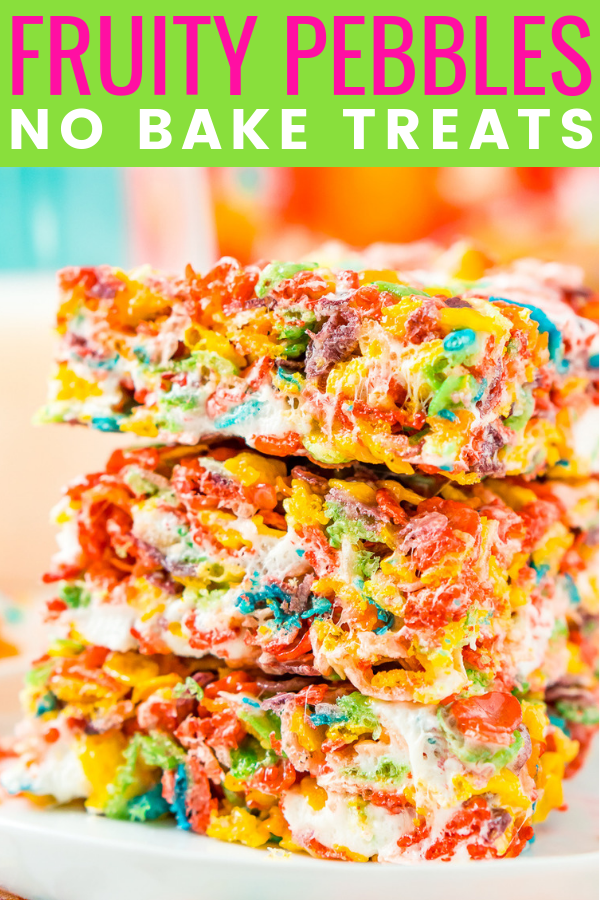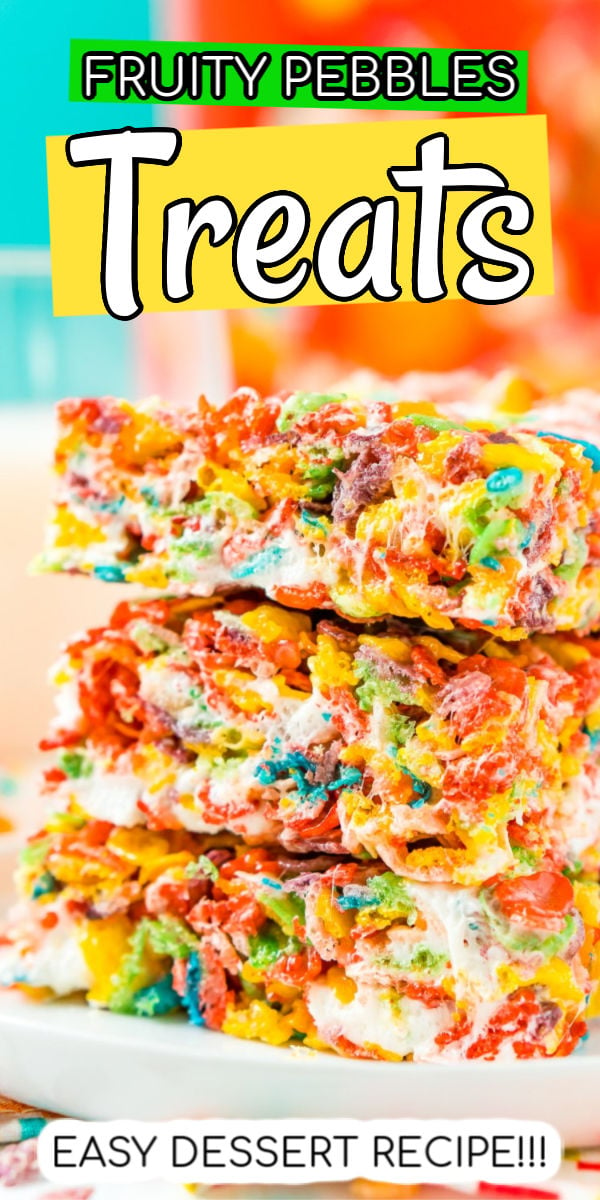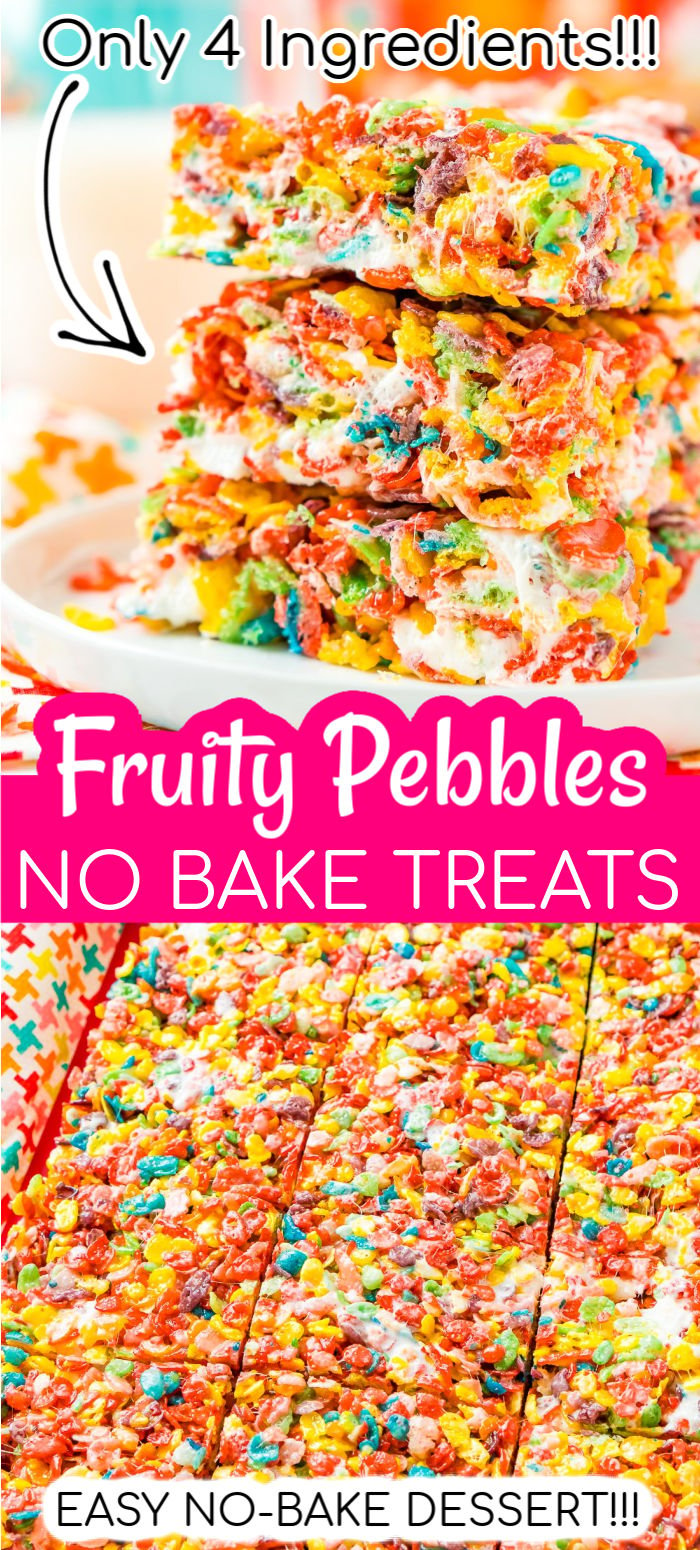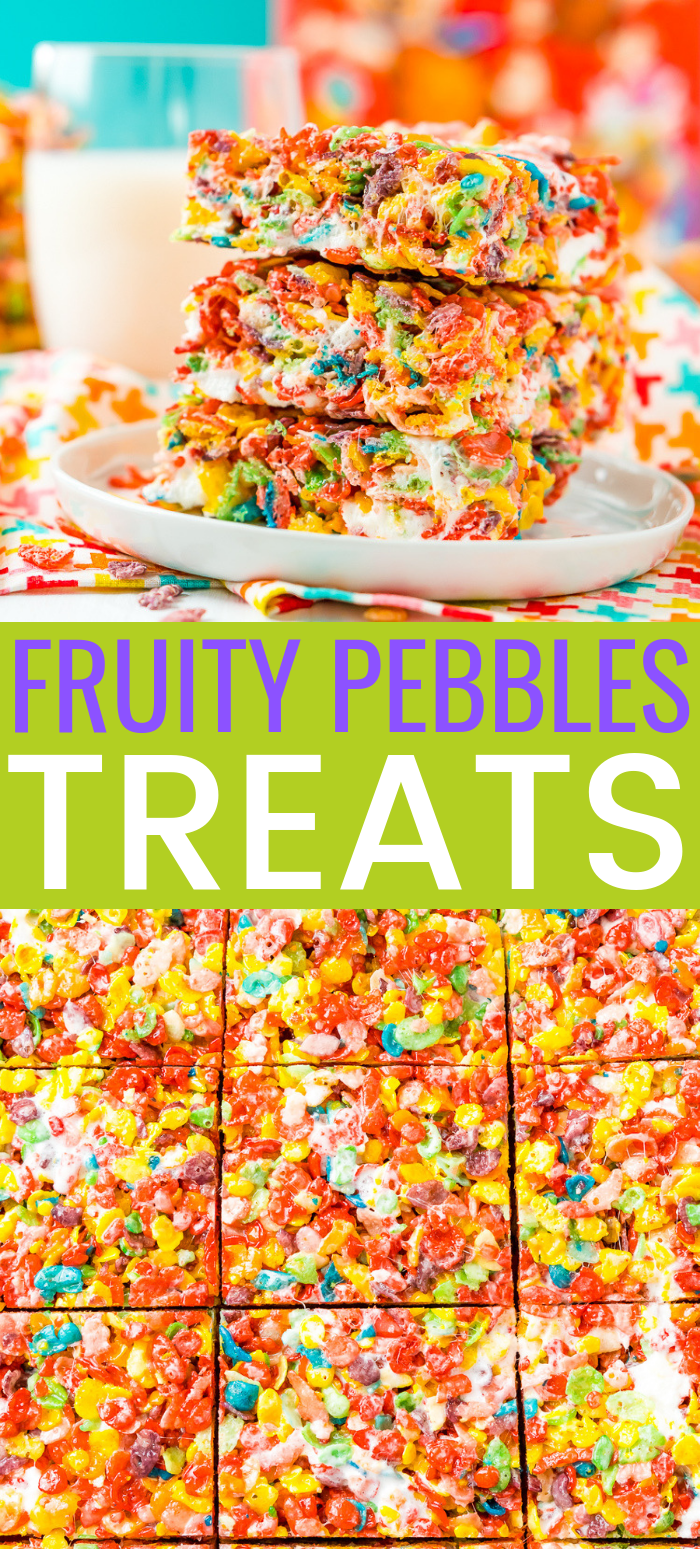 These Fruity Pebbles Treats are a fun and fruity twist on the classic no-bake dessert made with Rice Krispies cereal. They are made with the perfect blend of cereal, butter, and marshmallows and take just 7 minutes to prepare!
You cand use this base recipe to make Classic Rice Krispie Treats and Cocoa Pebbles Treats too!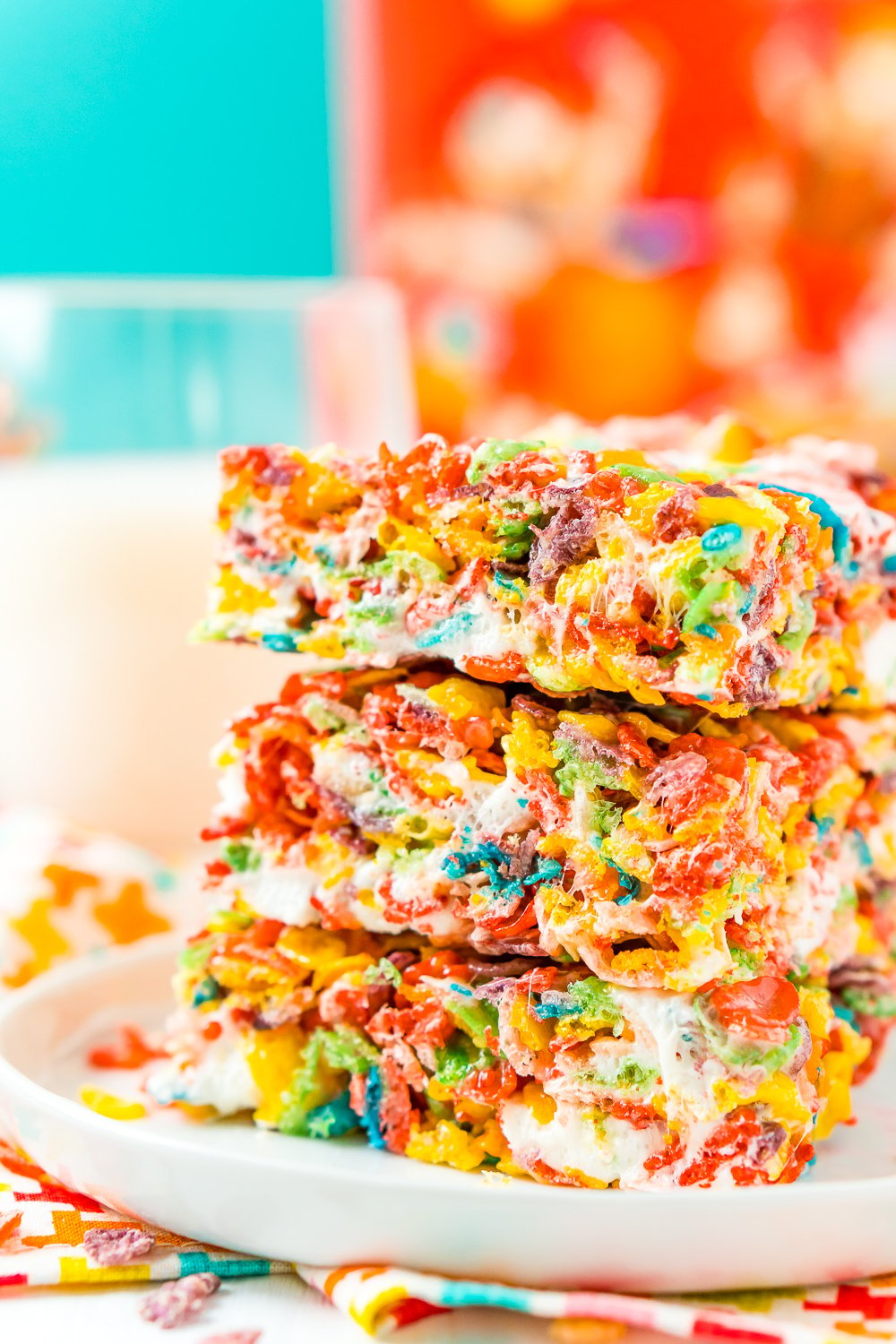 There's nothing like a nostalgic treat that's reminiscent of your childhood, and these Fruity Pebbles Treats definitely fit the bill!
Love Rice Krispie Treats? Love Fruity Pebbles? Yep, you're going to love these!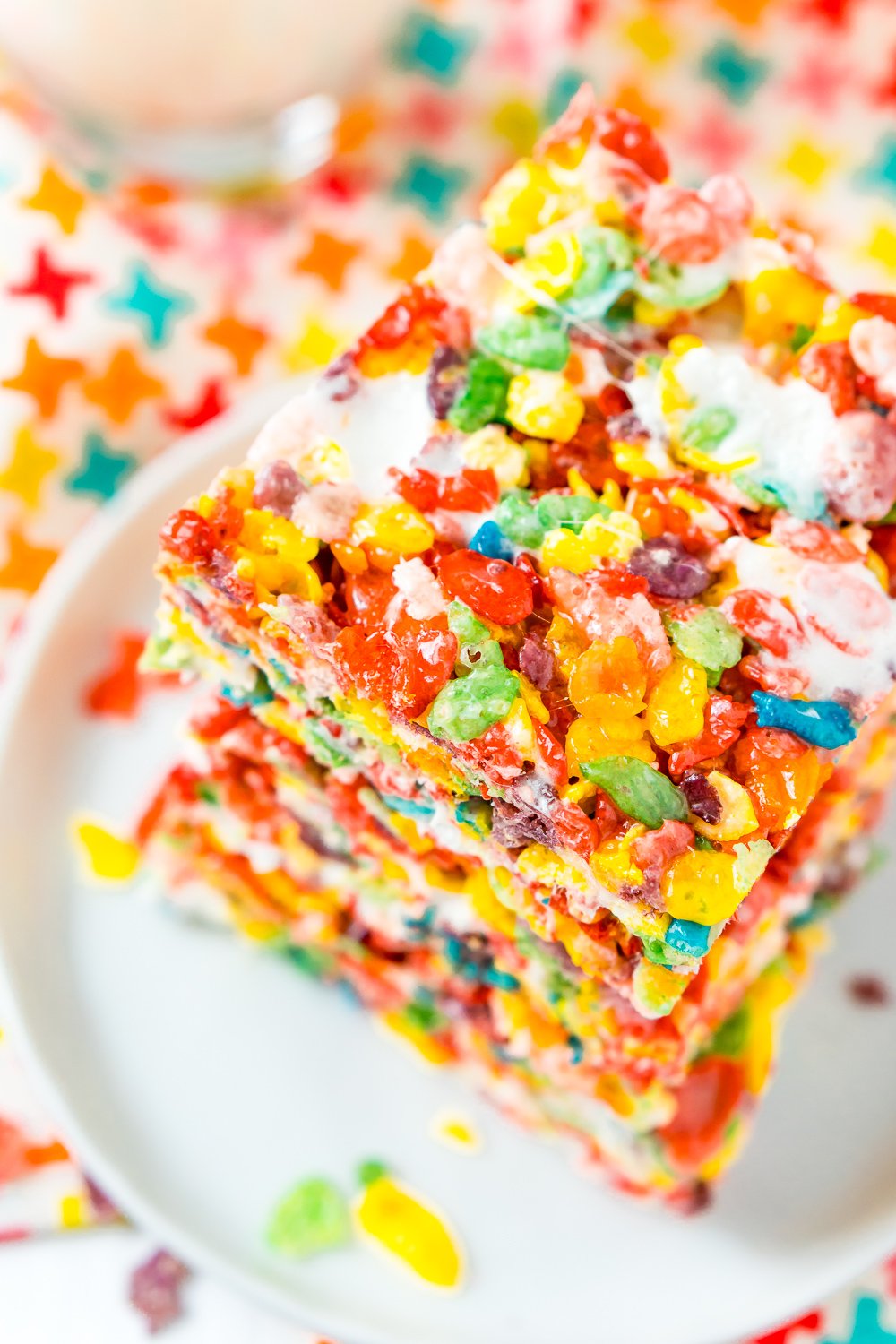 Personally, Fruity Pebbles were my favorite sugary cereal growing up. And when I was a kid, my Nana used to make Rice Krispie Treats for after school snacks.
Needless to say, these Fruity Pebble Rice Krispie Treats bring me right back to my younger days. If you have kids (or grandkids), you can start your own tradition, too!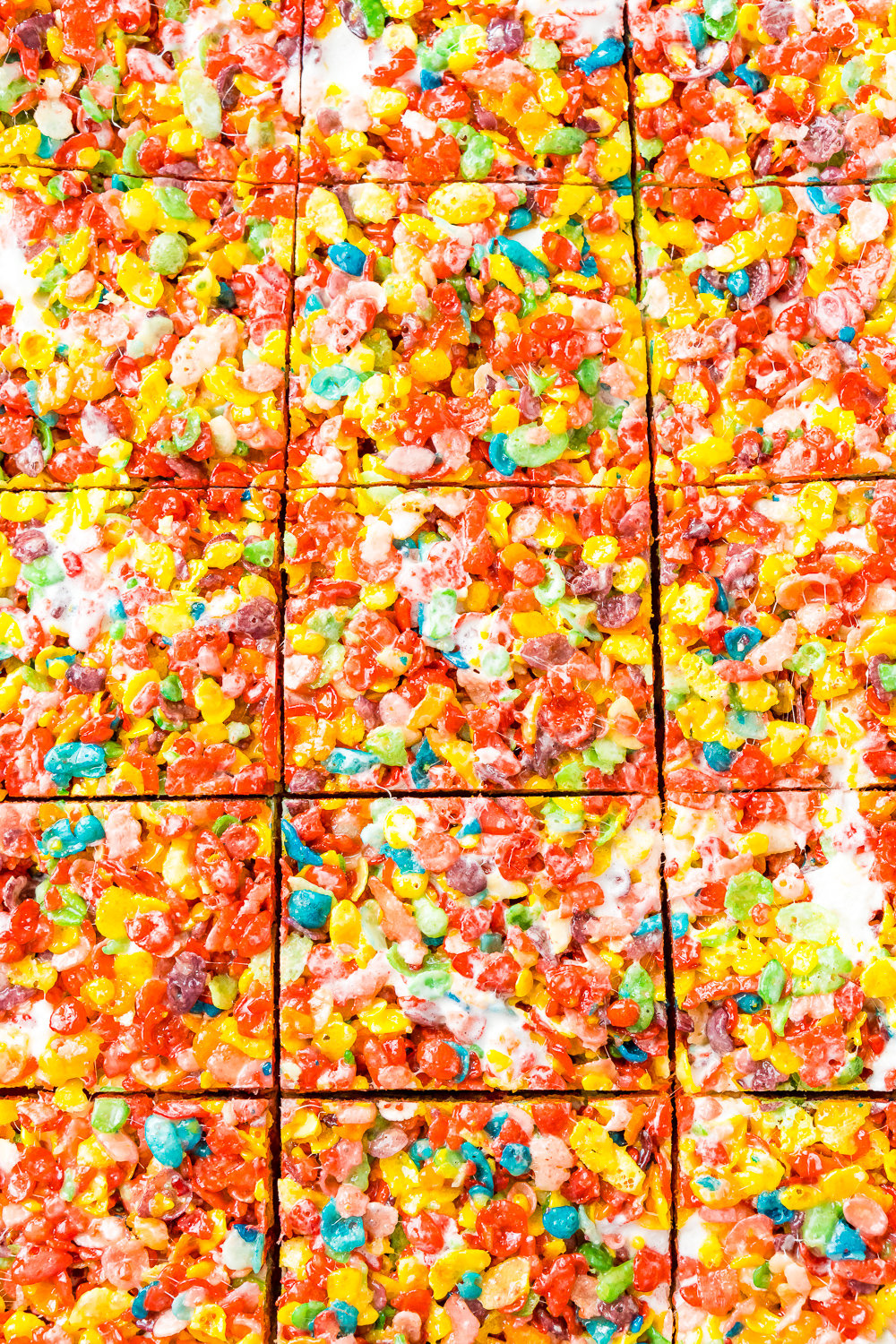 How To Make Them:
You only need four ingredients to make Fruity Pebbles Rice Crispy Treats, and they require no baking time. You can have them prepared in less than 10 minutes in just 3 simple steps!
Melt
Mix
Shape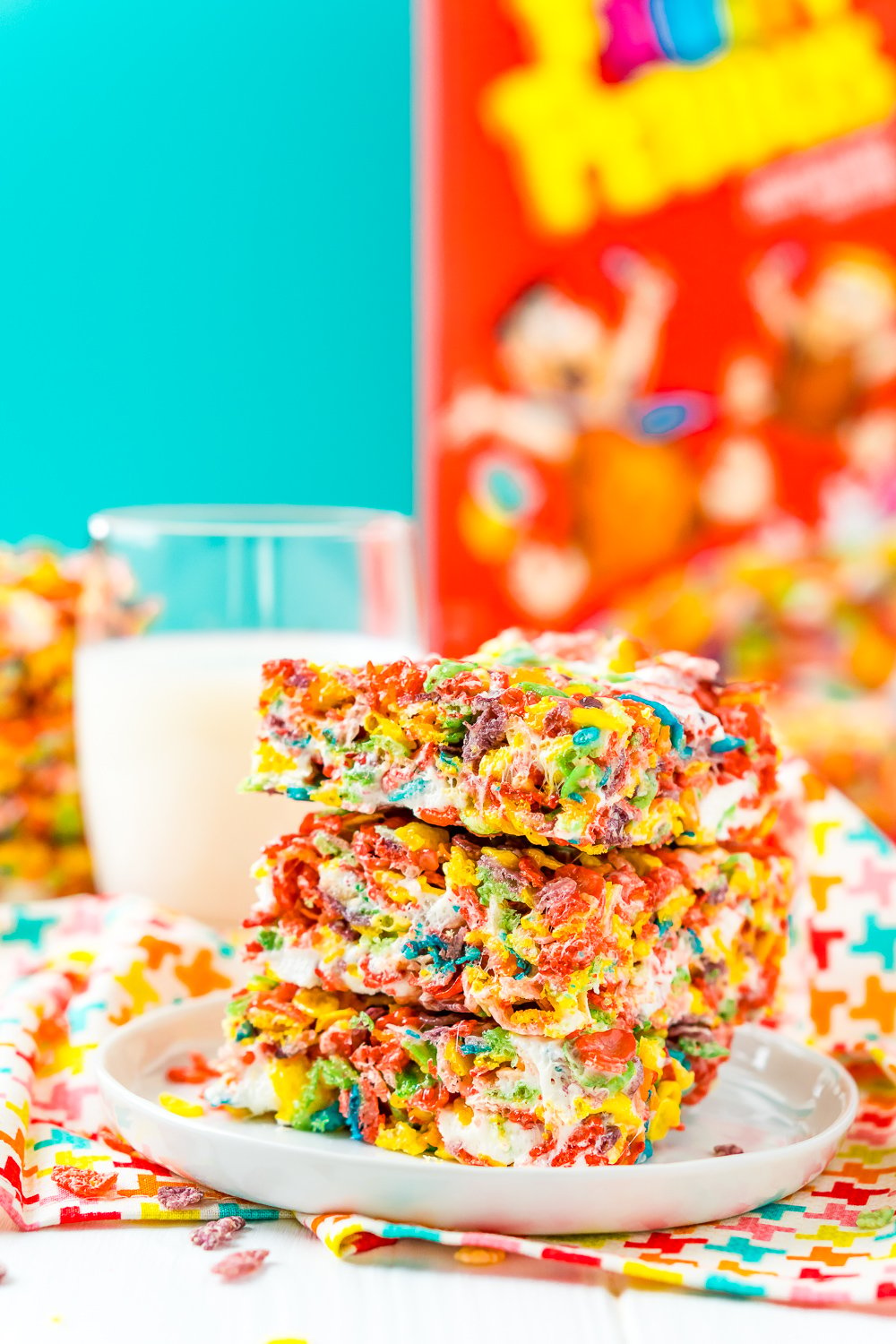 Expert Recipe Tips:
There are a few tricks to making Fruity Pebbles Marshmallow Treats come out perfectly.
1. Use Fresh Cereal: No Bake Cereal Treats are not a good way to use up stale cereal, so do yourself a favor and throw the stale box in the trash and use fresh cereal in this recipe!
2. Coat your Hands with Non-Stick Spray: This helps prevent your fingers from sticking to the treat mixture and makes it easier to handle when pressing it into the pan.
3. Don't Press Too Hard: You want your treats to be firm, but still chewy. Pressing too hard on the mixture when you put it in the pan will cause treats to become tough.
4. Pick Your Butter: Normally will sweet treats you use unsalted butter, but when it comes to no-bake cereal treats, I prefer to use salted, because half the deliciousness is from the salty buttery taste. However, you can use unsalted and add salt as needed or sprinkle the treats with sea salt just before serving.
5. Add Vanilla: This isn't an overly common ingredient in Fruity Pebbles Treats, but it should be because it amplifies the flavor of the marshmallows and makes them taste that much better!
6. Reserve Some Marshmallows: I don't like to melt all of my marshmallows into the mixture, I always reserve 2 cups to go in with the cereal because this leaves little pockets of marshmallow goodness throughout the treats. You can add in a couple more cups if you really want to load these babies up with marshmallows!
7. Slice Just Before Serving: To ensure that your treats to get dried out or crispy around the edges, slice them just before serving!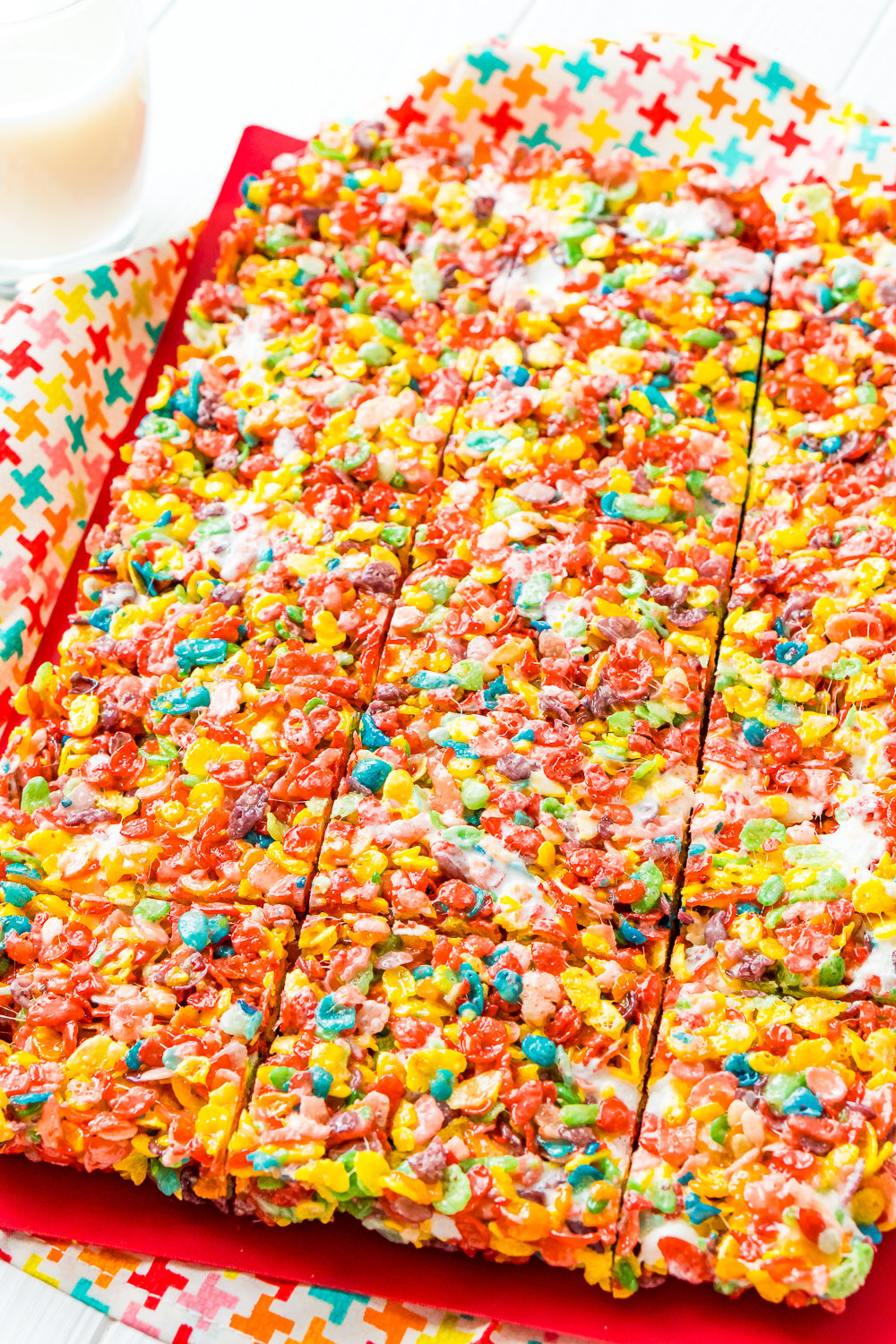 With warmer weather around the corner, these no-bake goodies are perfect to enjoy in the summertime. Plus, they're easy to grab and go, so you can serve them at get-togethers all season long.
Birthday parties, graduation parties, Fourth of July gatherings, as an afternoon pick-me-up… really, there's no wrong time to enjoy this Fruity Pebbles Treats Recipe.
Frequently Asked Questions
Are They Gluten Free?
Yes, as long as you use a gluten-free marshmallow, they are! Kraft Jet-Puffed is gluten-free, but if you use another brand, be sure to check the ingredients.
Why Are My Treats Hard?
Likely because the marshmallow mixture got overcooked or you pressed them too hard into the pan.
How Do I Prevent My Hands From Sticking?
Use non-stick spray to coat your hands before pressing the mixture into the pan or use a second sheet of parchment paper to press it down with.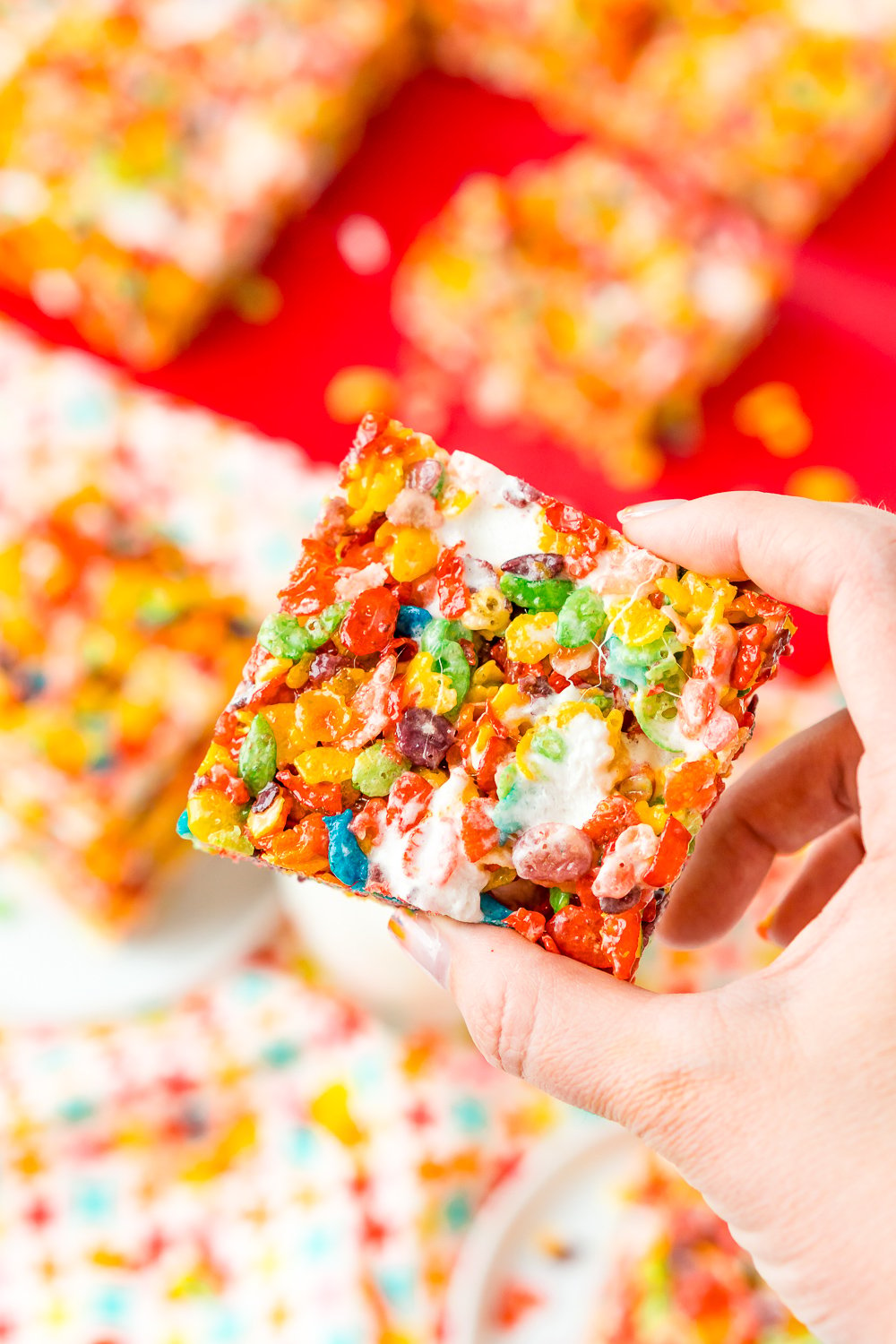 Kids love these fruity, chewy, crispy snacks because they're colorful and tasty. Adults love them because their favorite childhood cereal (and after-school snack) has been reimagined.
And speaking of reimagined cereal treats, you have to try these recipes for Cornflake Cookies, Cap'n Crunch Treats and Golden Grahams S'mores Bars, too!
If you're ever in need of a quick, easy, no-bake recipe that'll please crowds, make a batch of Fruity Pebbles Treats to share. In fact, you may want to double the recipe because they won't last long!
More Delicious No-Bake Desserts!
Fruity Pebbles Treats
Pin For Later
CLICK THE BUTTON ABOVE TO SAVE THIS DELICIOUS RECIPE TO YOUR BOARD!
Let's Connect!
If you've tried this recipe, please let me know how you liked it in the comments below and leave a review; I love hearing from you! And don't forget to tag me – @sugarandsoulco – on Instagram and Pinterest with your photos or join our Busy Family Recipes Facebook Community and share them there!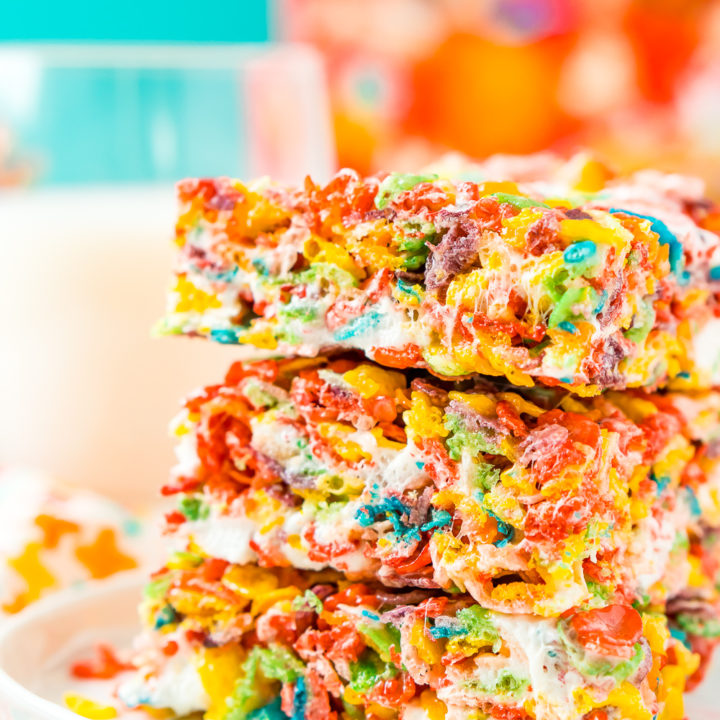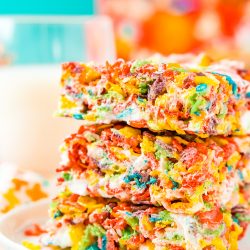 Fruity Pebbles Treats
These Fruity Pebbles Treats are a fun and fruity twist on the classic no-bake dessert made with Rice Krispies cereal. They are made with the perfect blend of cereal, butter, and marshmallows and take just 7 minutes to prepare!
Instructions
Line a 9×13-inch baking dish with parchment paper and set aside.

Melt the butter in a large pot, once the butter has melted, add in 8 cups of the marshmallows and stir continuously with a wooden spoon or rubber spatula until the marshmallows have melted.

Remove from heat and add in the cereal, vanilla, and the remaining 2 cups of marshmallows and stir until the cereal is evenly coated.

Transfer the mixture to the prepared baking dish, spray your hands with non-stick spray and gently press the mixture into the pan, don't press down too hard or you'll end up with hard treats. You can also use a second sheet of parchment paper to help press the mixture.

Allow the treats to cool for about 20 minutes before removing from the pan and slicing into 24 pieces.
Nutrition
Calories:
153
kcal
Carbohydrates:
28
g
Fat:
4
g
Saturated Fat:
2
g
Cholesterol:
10
mg
Sodium:
134
mg
Potassium:
8
mg
Sugar:
17
g
Vitamin A:
455
IU
Vitamin C:
2.6
mg
Calcium:
4
mg
Iron:
0.8
mg