This easy and Classic Baklava recipe is loaded with layers of cinnamon, nuts, and butter and saturated in a simple honey syrup! Everyone will love this sweet and sticky dessert!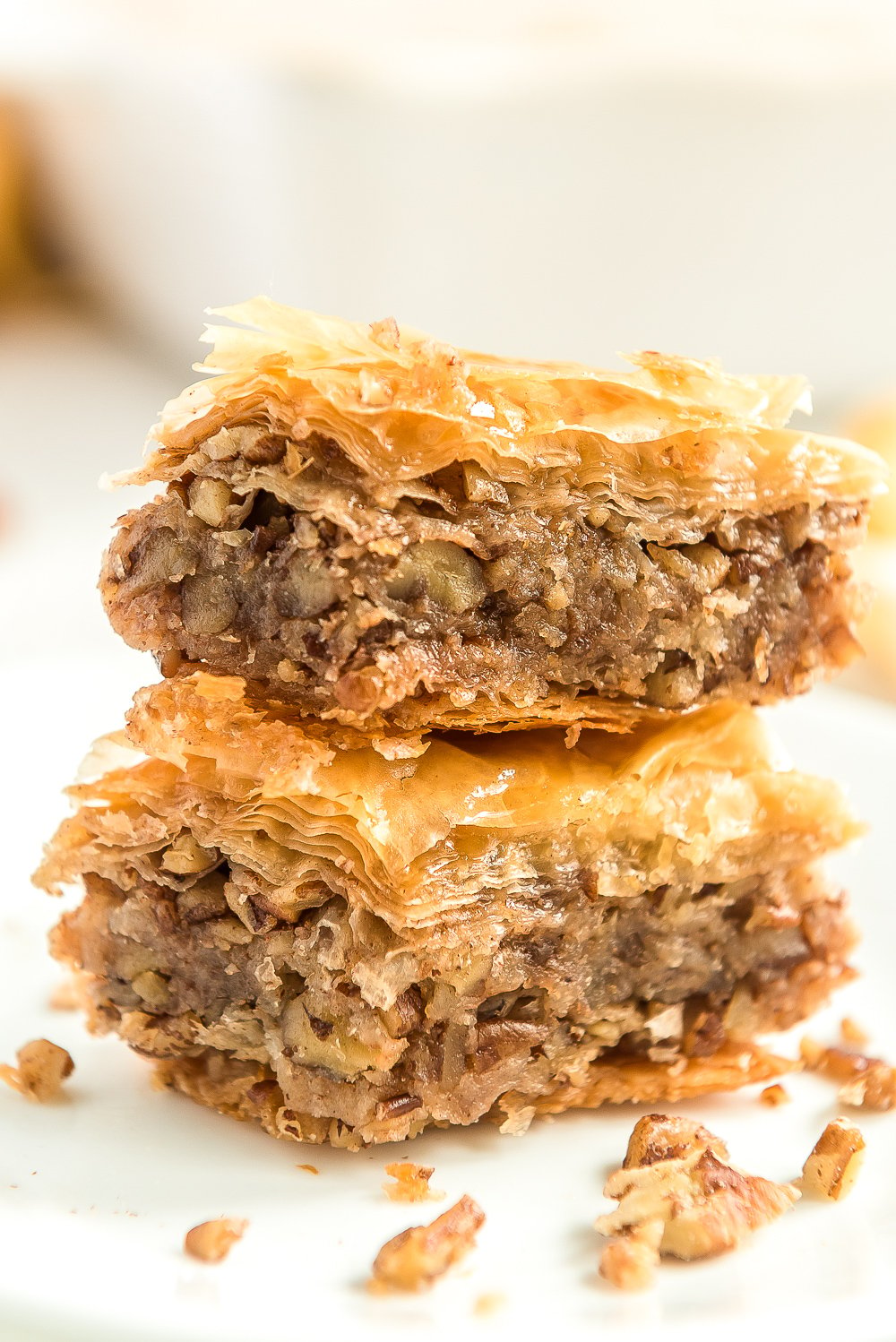 Baklava
I am SOOOOO excited about today's post! Because Baklava, people, BAK-LA-VA!!!
Right, glad we're all on the same page!
I can still remember the first time I had Baklava.
It was probably close to 20 years ago and I was maybe 10 or so. My mum and I were picking up dinner at this new pizza place one Friday night.
I remember looking at the counter and seeing this cake stand stacked with a strange treat that looked like a really sticky pastry, you know, the best kind.
When I asked my mom what it was, she said it was baklava, and then she bought me a piece!
This was a HUGE deal, guys! Growing up, there wasn't a lot of extra money, so when my mom bought me this $3 treat I was ecstatic!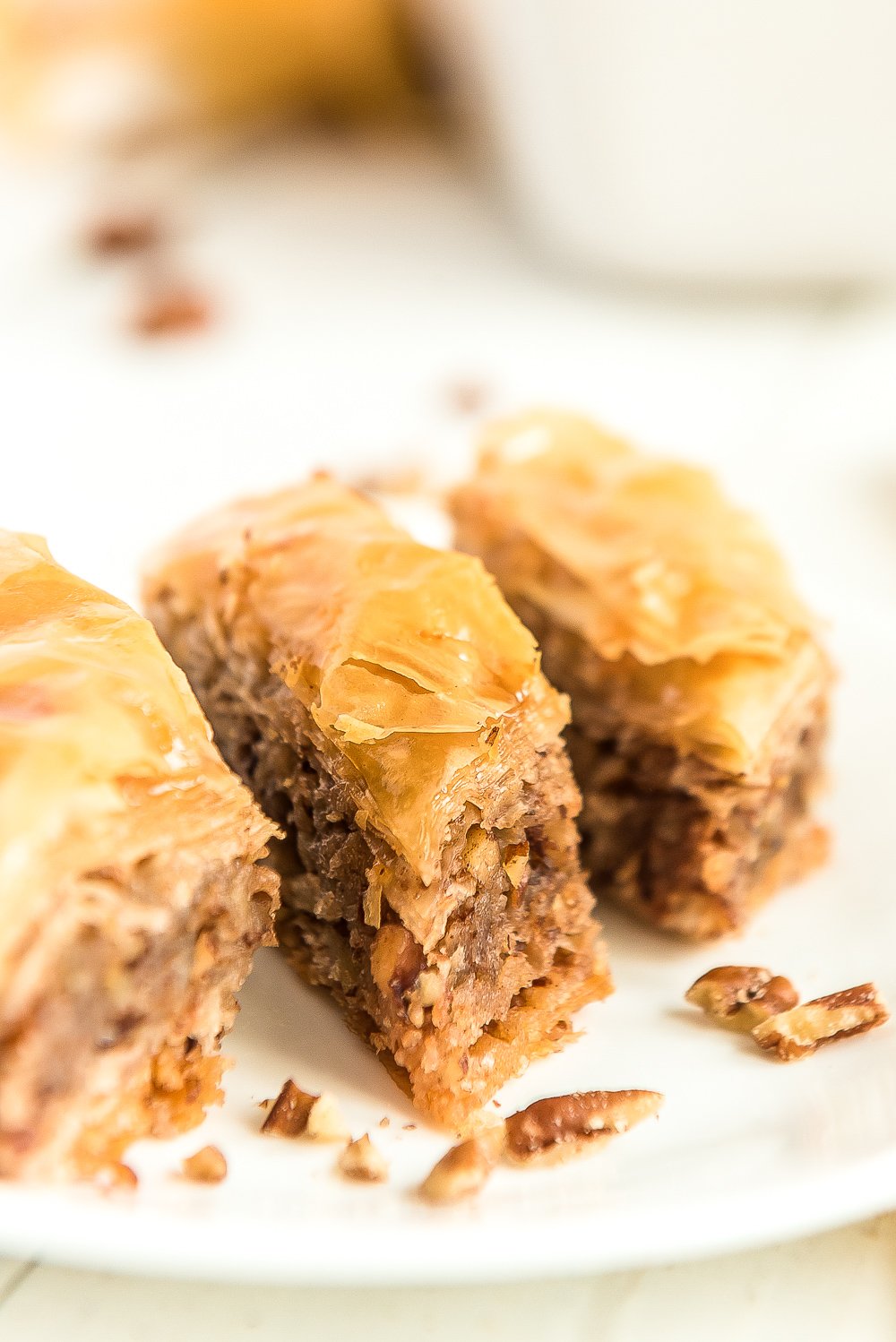 I was reading a book that took me on a tour of the streets of Istanbul where it mentions Baklava.
That's when it occurred to me that I hadn't had it in years.
Years, people!
I had to fix that issue, pronto!
So into the kitchen, I went.
It's funny how a book that takes place on the other side of the world can stir up such a dear memory from my childhood in central Maine. And at the same time give me the urge to jump on the next plane to Turkey.
That's what I love about reading, you can go anywhere in the world without leaving your house.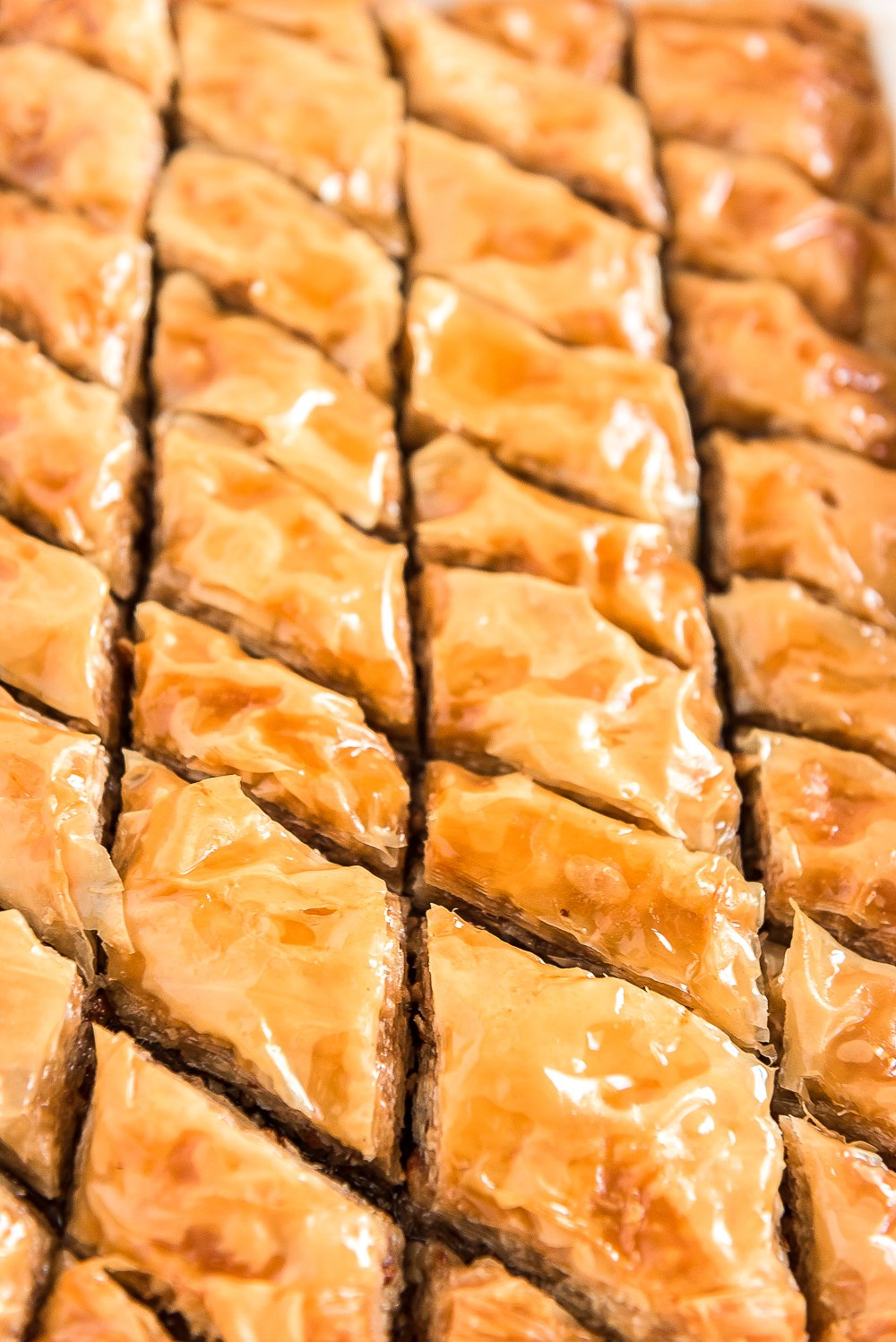 I'm updating this recipe now with new photos and content because Baklava has a soft spot in the hearts of people of many different religions and nationalities, but around Easter, it's a tradition treat for those with Christian beliefs.
What Is Baklava?
Baklava is a rich, sweet dessert pastry made of layers of phyllo dough filled with chopped nuts and sweetened and held together with syrup.
Where Did Baklava Originate?
No one can say for sure, but it is believed to have been derived from a second century dated recipe in the Ottoman Empire. The Greeks and Turks still argue over who made it first.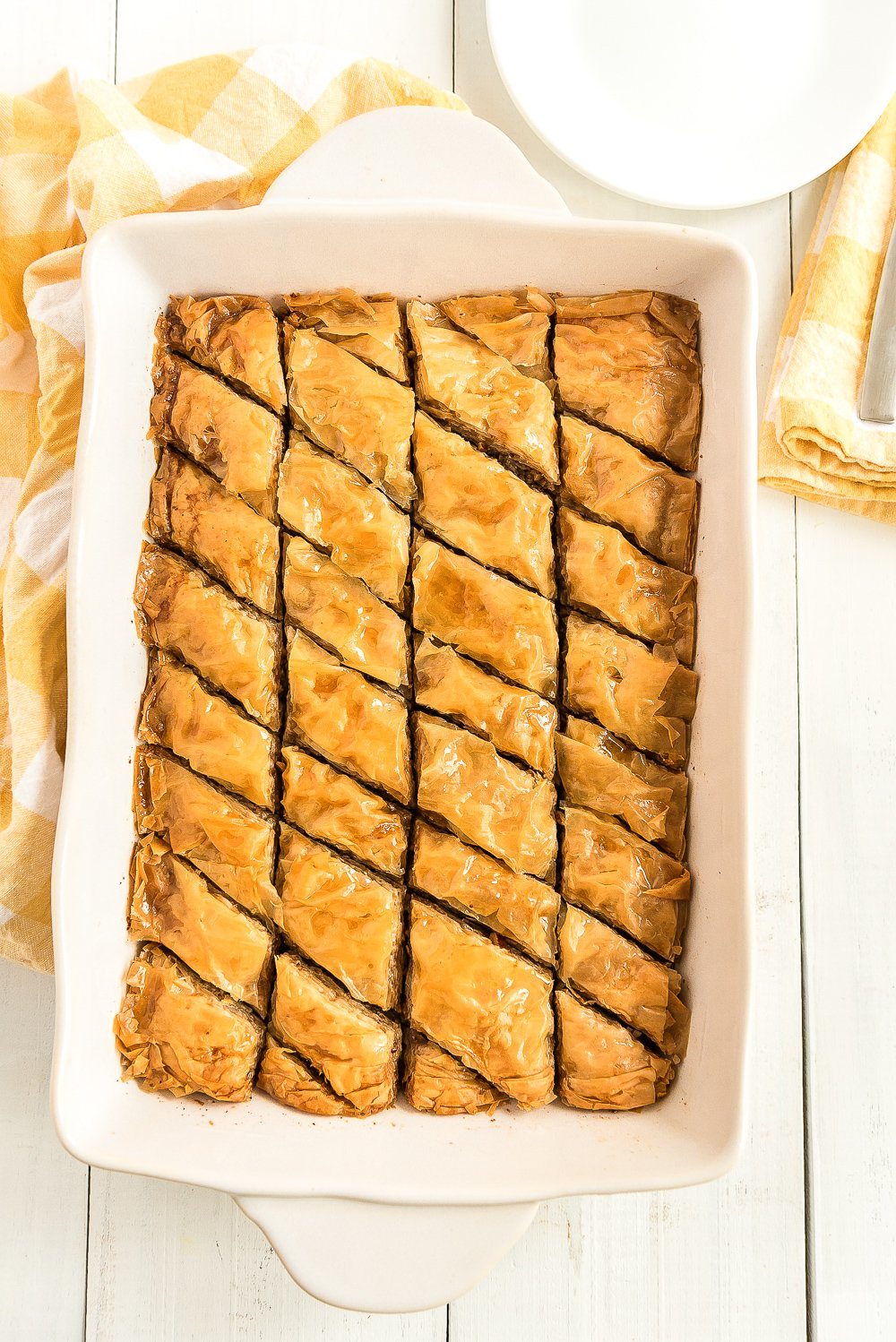 How To Make Baklava At Home:
For a dessert the looks super complicated with all those flaky layers, it's actually really easy to make right at home!
You'll begin with a 9×13-inch pan and melted butter. Butter pan using a pastry brush, then add two layers of phyllo dough and brush them all over with butter. Repeat three more times for a total of eight layers of dough.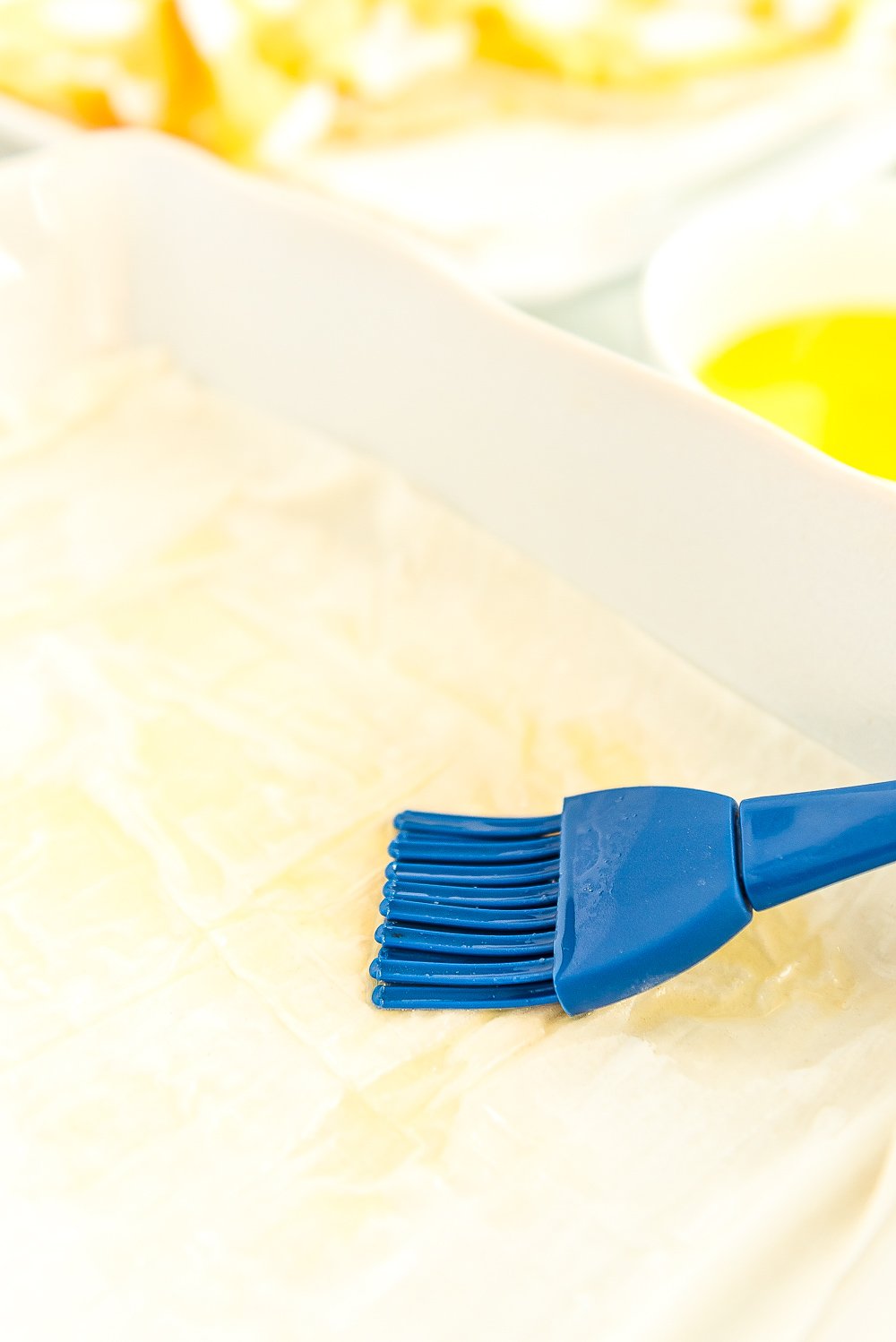 Next, combine the chopped nuts and cinnamon and sprinkle a few tablespoons over the top of the buttered dough.
Repeat your dough layers and nut filling layer several more times.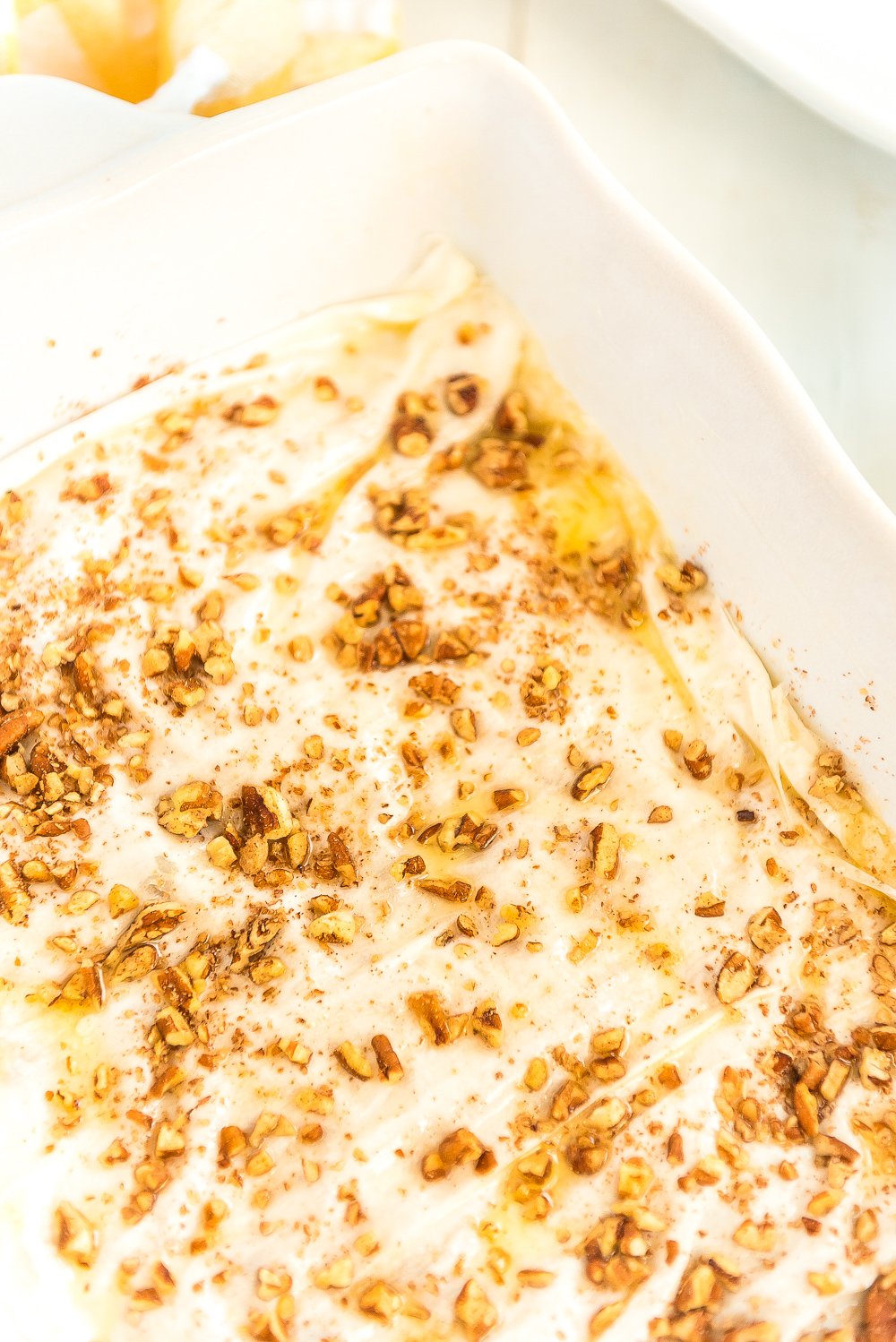 Once you have completed the layers, use a very large and sharp knife to cut the baklava before baking.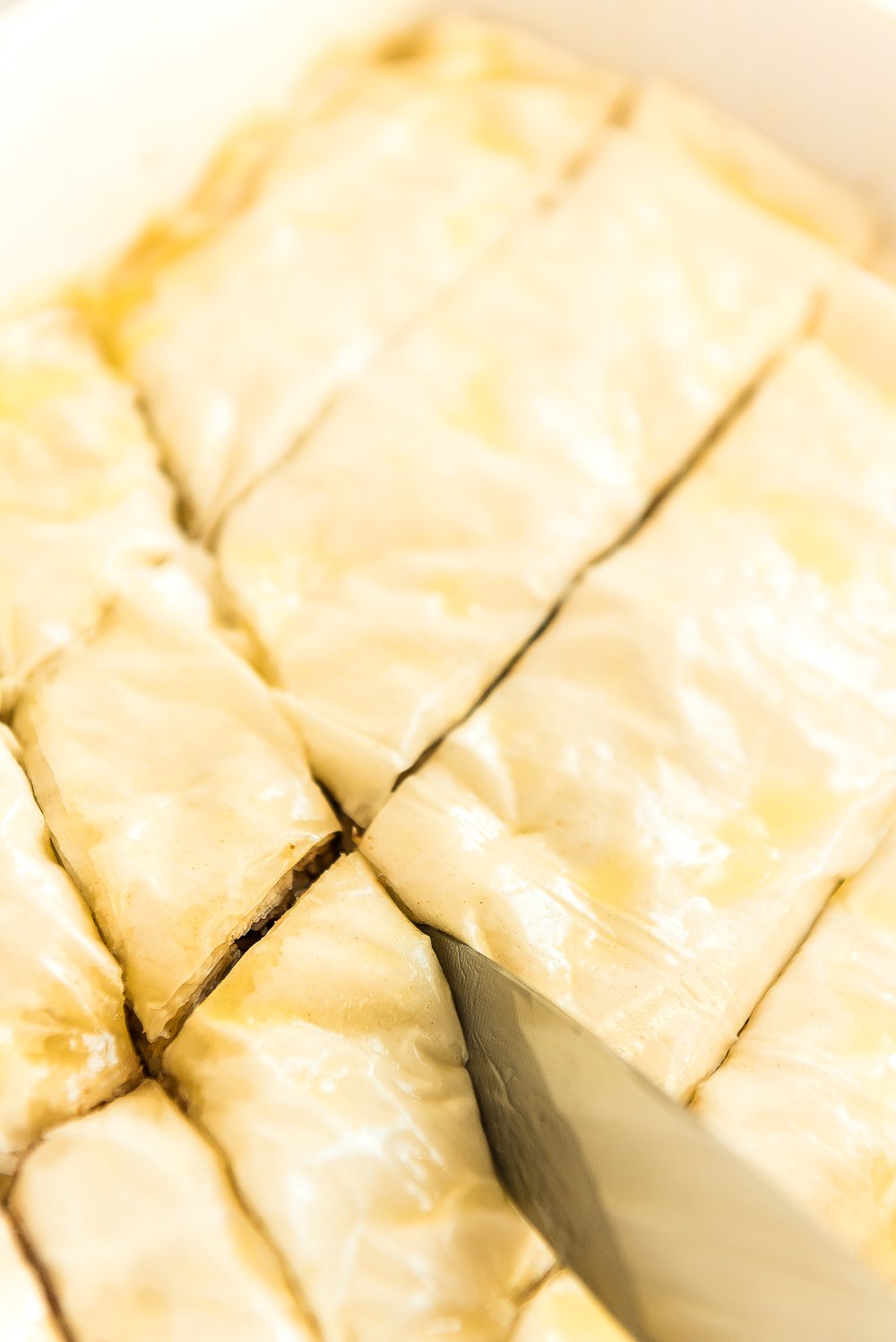 While baking, prepare your honey syrup. After cooking, pour the syrup over the hot pastry and allow to cool completely.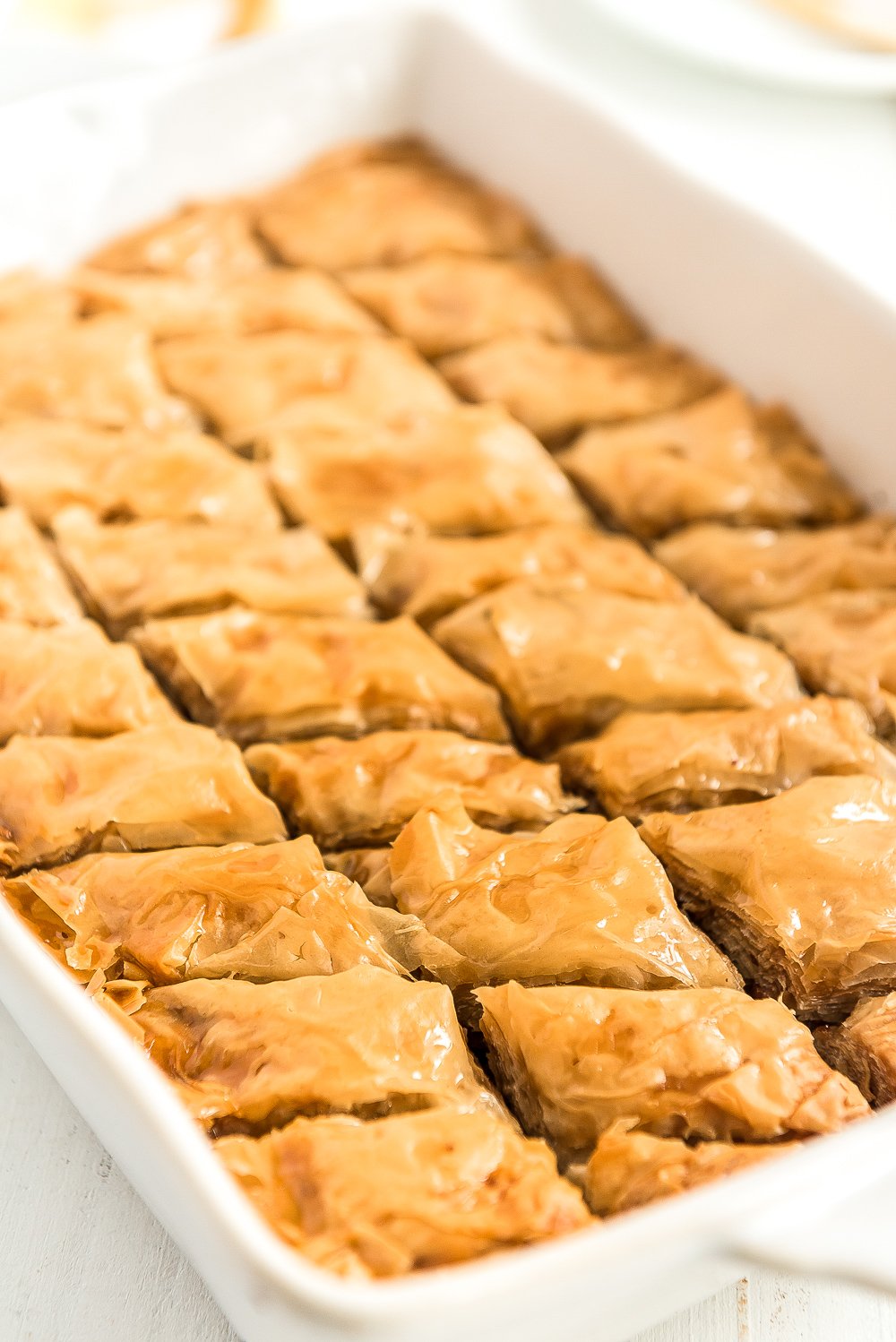 Once cooled, the baklava is ready to enjoy!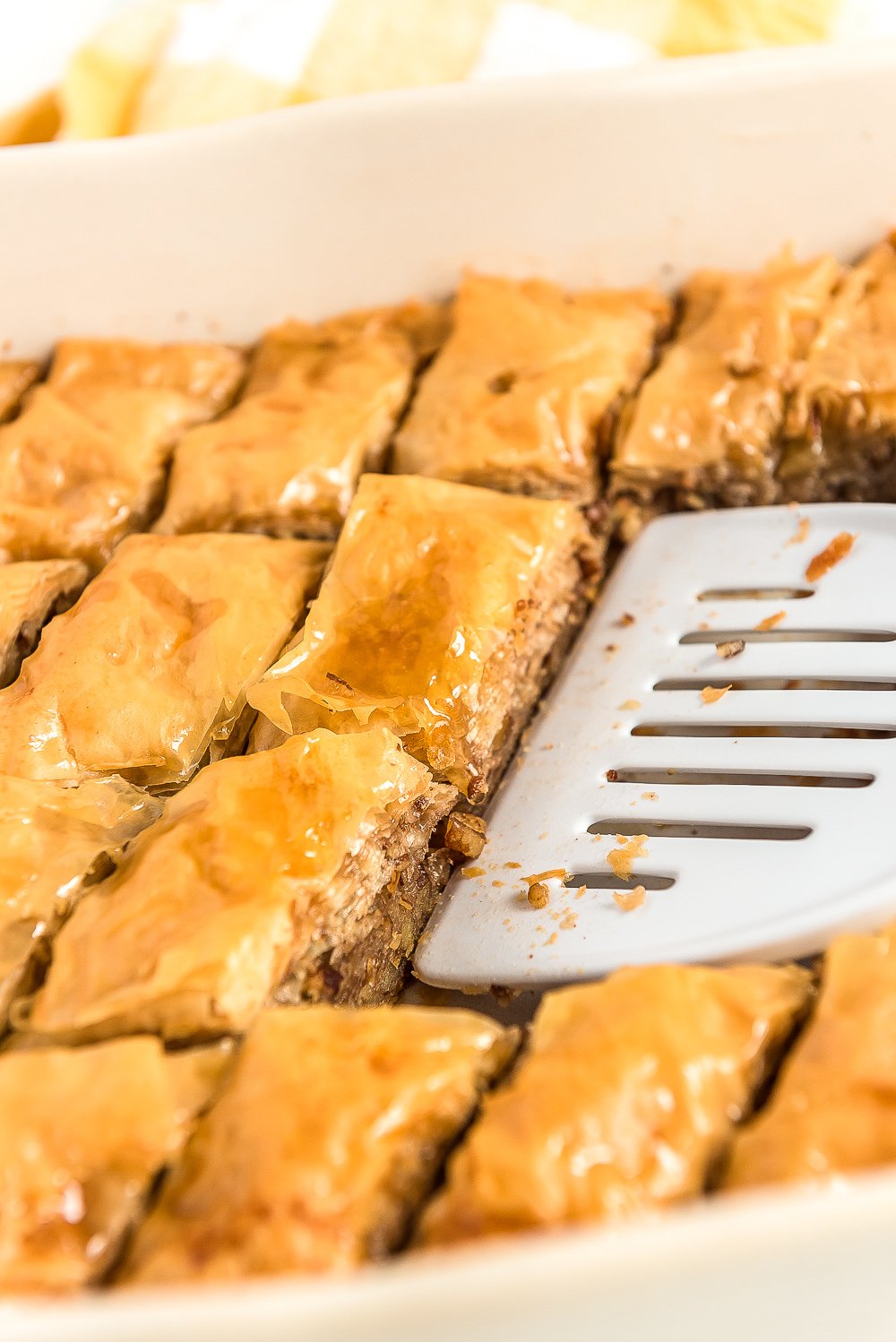 More Delicious Desserts Made With Honey
Classic Baklava
Click the button above to save this delicious recipe to your board!

Let's Connect!
I created a fun little group on facebook and I'd love for you to join in! It's a place where you can ask questions and see what's new with Sugar & Soul! If you'd like to check it out, you can request to join HERE.
Be sure to follow me on Instagram and tag #sugarandsoulco so I can see all the wonderful recipes YOU make from this site! You can also Subscribe to my Newsletter so you never miss a delicious recipe again!
This post was originally published in August 2015 and was updated with new photos and content in April 2019.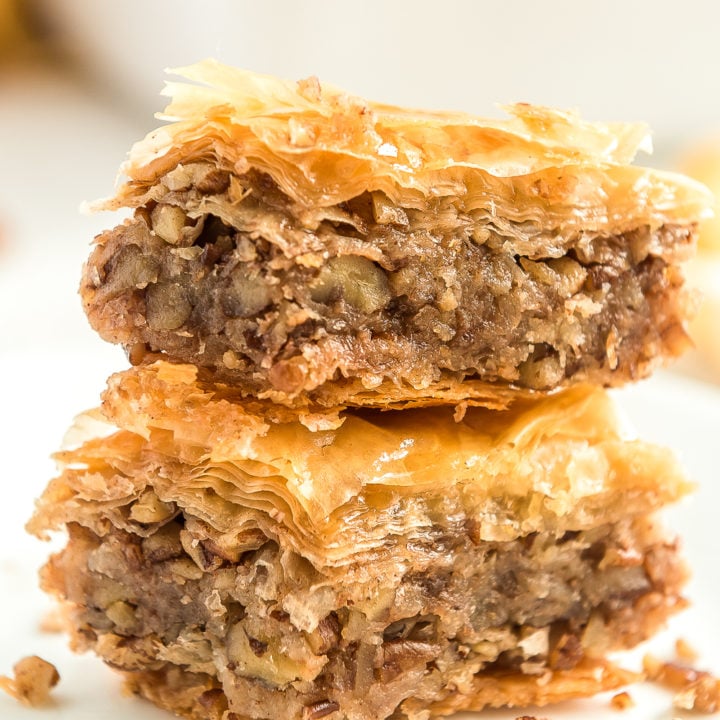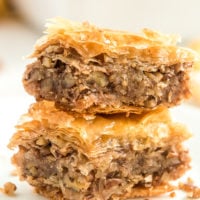 Traditional Baklava
This easy and Classic Baklava recipe is loaded with layers of cinnamon, nuts, and butter and saturated in a simple honey syrup! Everyone will love this sweet and sticky dessert!
Print
Pin
Rate
Total Time:
1
hour
20
minutes
Instructions
Preheat oven to 350 degrees F.

Add the nuts and cinnamon to a medium bowl and mix together, set aside.

Unroll both tubes of phyllo dough on a clean surface, cover loosely with saran wrap and a damp dishcloth so the dough doesn't try out.

Melt the butter in the microwave on 30-second intervals. Use a pastry brush to brush butter onto the bottom and sides of a 9x13-inch baking pan. Line the dough up with the length of the pan and feel free to cut off any excess at the end, usually, there's an extra inch or so that can be removed.

Add two sheets of phyllo dough to the buttered pan, and use the pastry brush to brush melted butter over the entire surface area of the dough, repeat until you have 8 layered sheets total.

Evenly sprinkle the top of the buttered 8th sheet with 2 to 3 tablespoons of the nut mixture.

Lay another two sheets on top and brush with butter and then add nuts again. Repeat the dough, butter, nuts layers until you have just 8 sheets left, adding those two at a time and only brushing with butter.

Using a really sharp knife, cut 4 rows down the length of the pan and then cut diagonally all the way down and across the pan for a traditional baklava prep. You may also cut into squares.

Bake for 50 minutes until baklava is golden and crisp on top.

With 30 minutes left to bake, begin making the syrup by adding the water and sugar to a small pot and bringing to a boil over medium-high heat until sugar is dissolved.

Add the vanilla and honey and simmer for 20 minutes, stirring occasionally.

Remove the baklava from the oven and immediately pour the sauce over the entire pan, let set and cool.
Notes
Adapted from All My Recipes.
Baklava does freeze well.
Chopped Pistachios can also be used.
Nutrition
Calories:
169
kcal
|
Carbohydrates:
11
g
|
Protein:
1
g
|
Fat:
14
g
|
Saturated Fat:
4
g
|
Cholesterol:
14
mg
|
Sodium:
1
mg
|
Potassium:
55
mg
|
Fiber:
1
g
|
Sugar:
9
g
|
Vitamin A:
170
IU
|
Vitamin C:
0.2
mg
|
Calcium:
11
mg
|
Iron:
0.3
mg