The original Toll House Cookie Recipe is an American favorite made with crunchy walnuts and decadent semi-sweet chocolate chips. It's a classic dessert recipe the whole family will love!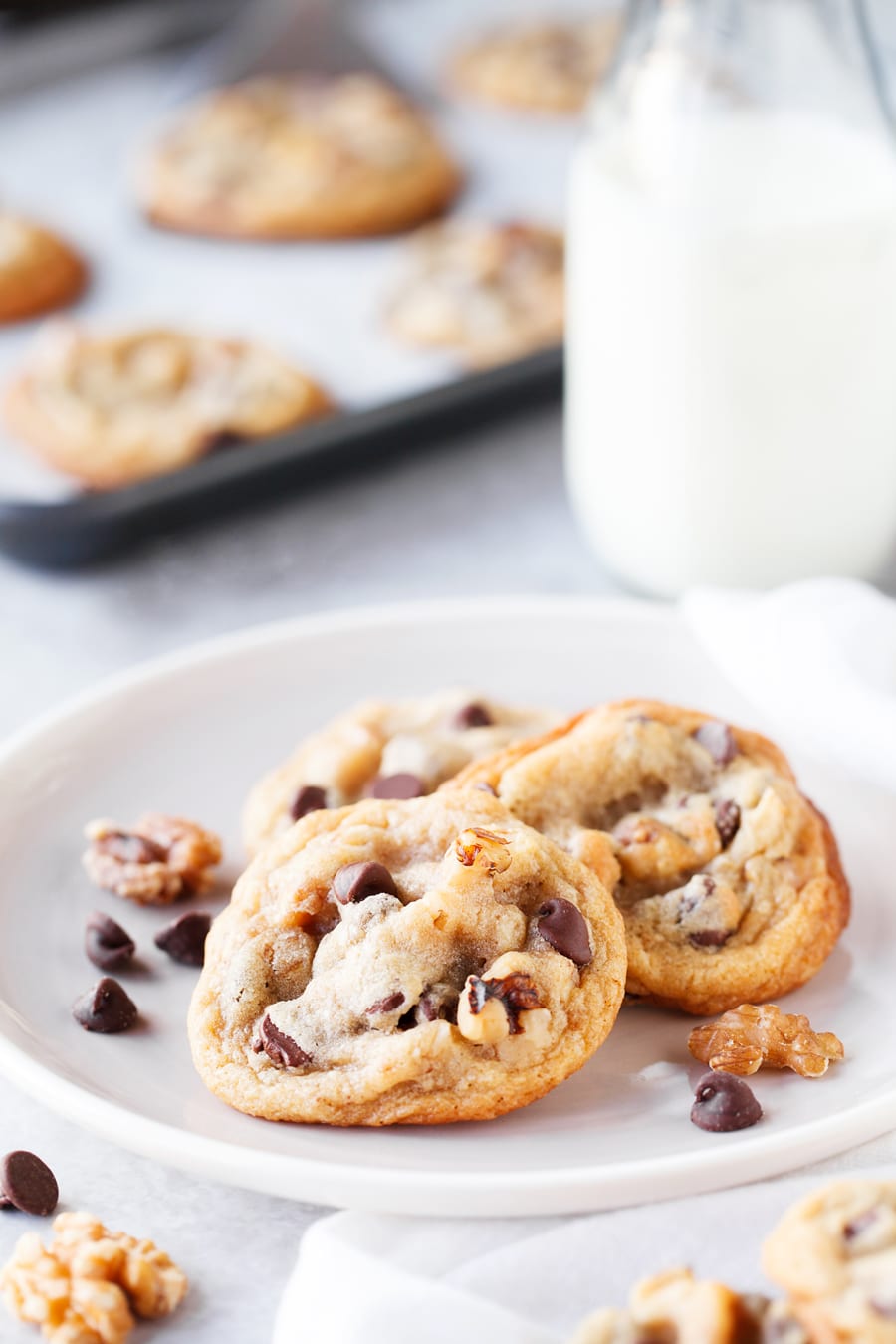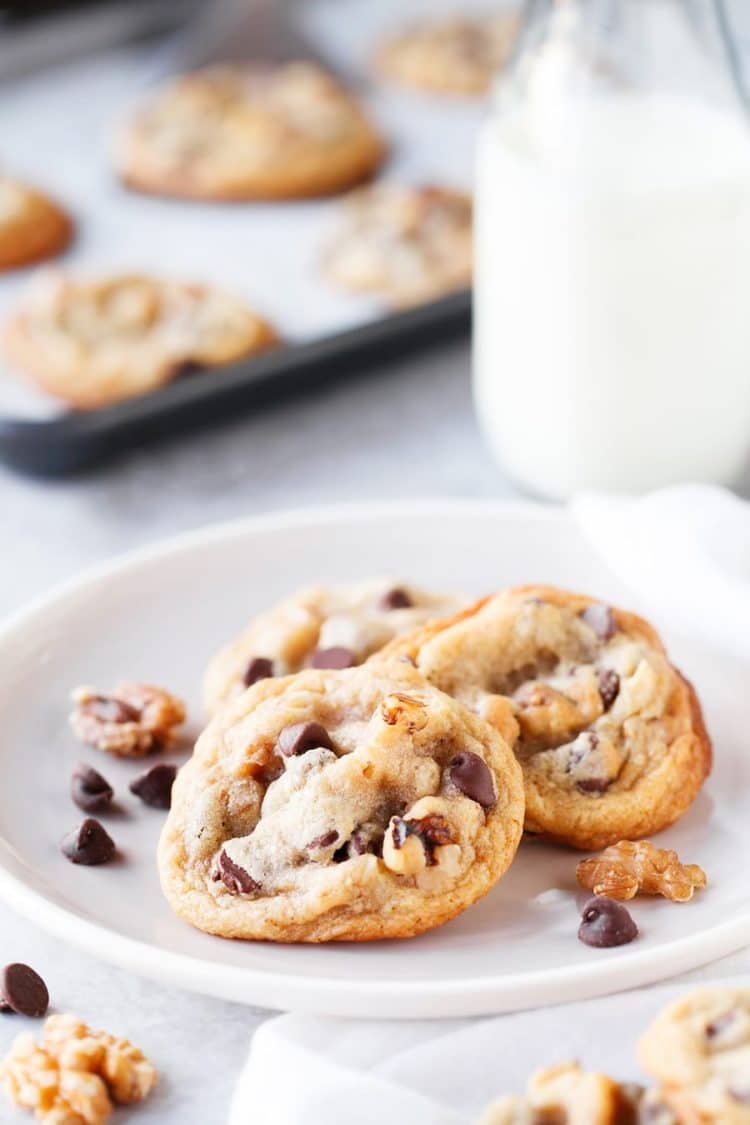 Toll House Cookie Recipe
Nothing beats a classic, and one of the best ways to enjoy everyone's favorite cookie is to make the original Toll House Cookie recipe!
You may have fond memories of baking these cookies with your parents or inhaling their aroma every time you walked into Grandma's house. Maybe you even make them with your own kids now!
Did you know that Chocolate Chip Cookies were invented in the 1930's? Despite what you've heard, it wasn't by accident, although no one ever would have ever guessed that they'd become a sweet American staple for years afterward.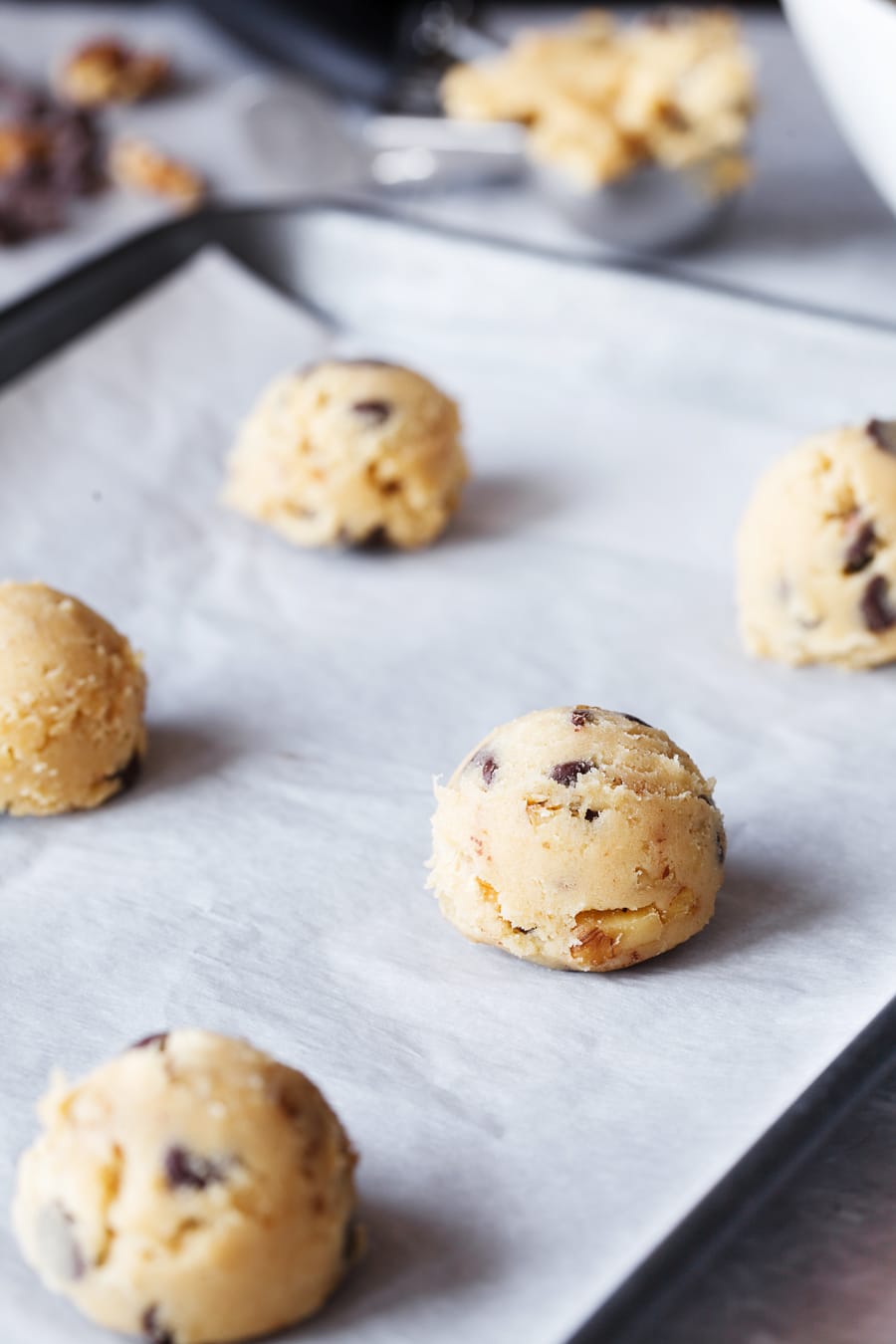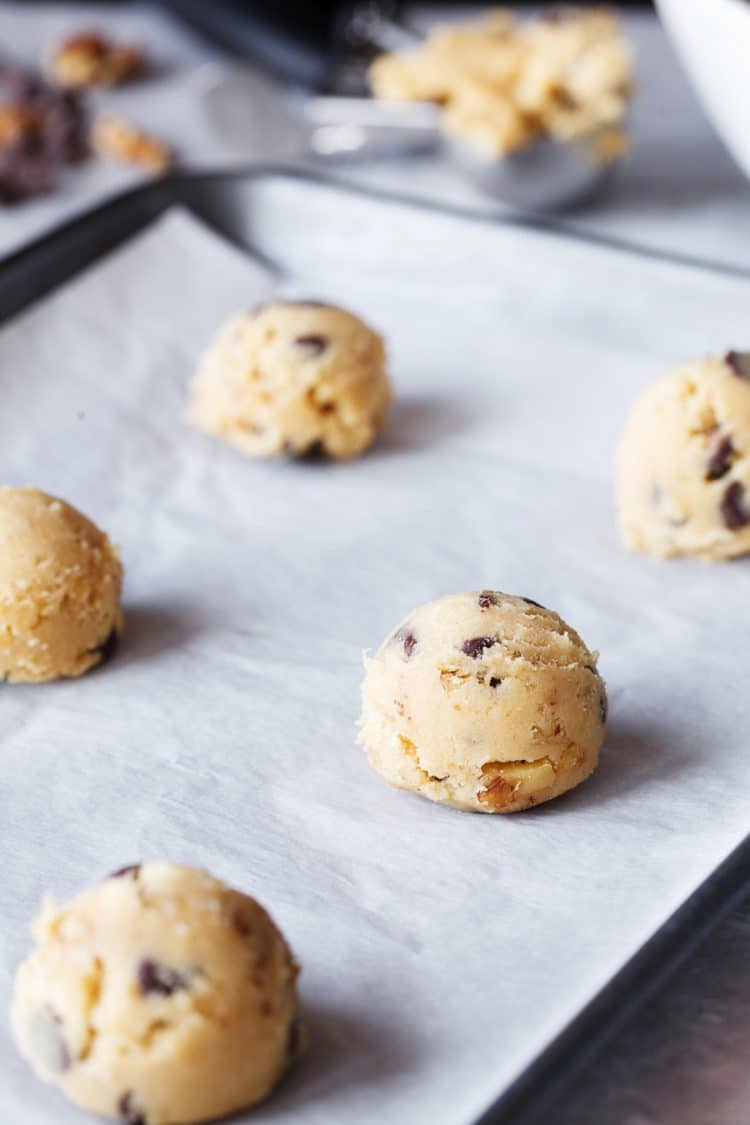 Ruth Graves Wakefield owned the Toll House Inn in Whitman, Massachusetts and was renowned for her scrumptious home cooking. Wanting to please her guests with a new dessert, she added nuts and chunks of semi-sweet Nestlé chocolate to her cookies, which were served with ice cream… and the iconic treat was born!
Wakefield eventually gave Nestlé permission to use her recipe, and supposedly (and unsurprisingly) received free chocolate for life. That craveable Toll House Cookie recipe is still printed on bags of Nestlé chocolate chips to this day.
If you've never tried the original Toll House Chocolate Chip Cookie recipe, it's about time! And if you have — well, you may be overdue for a chewy, chocolatey, oven-fresh batch.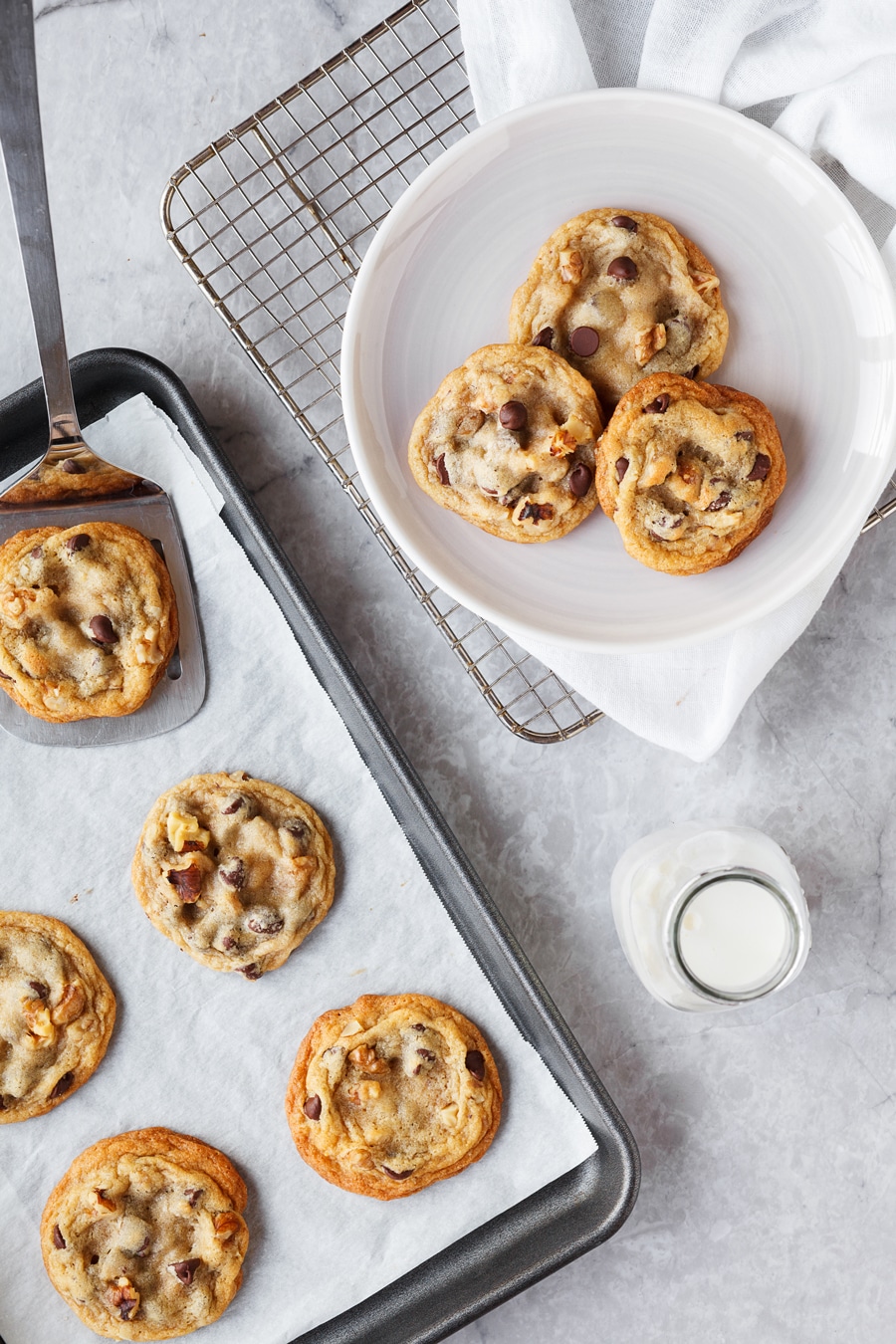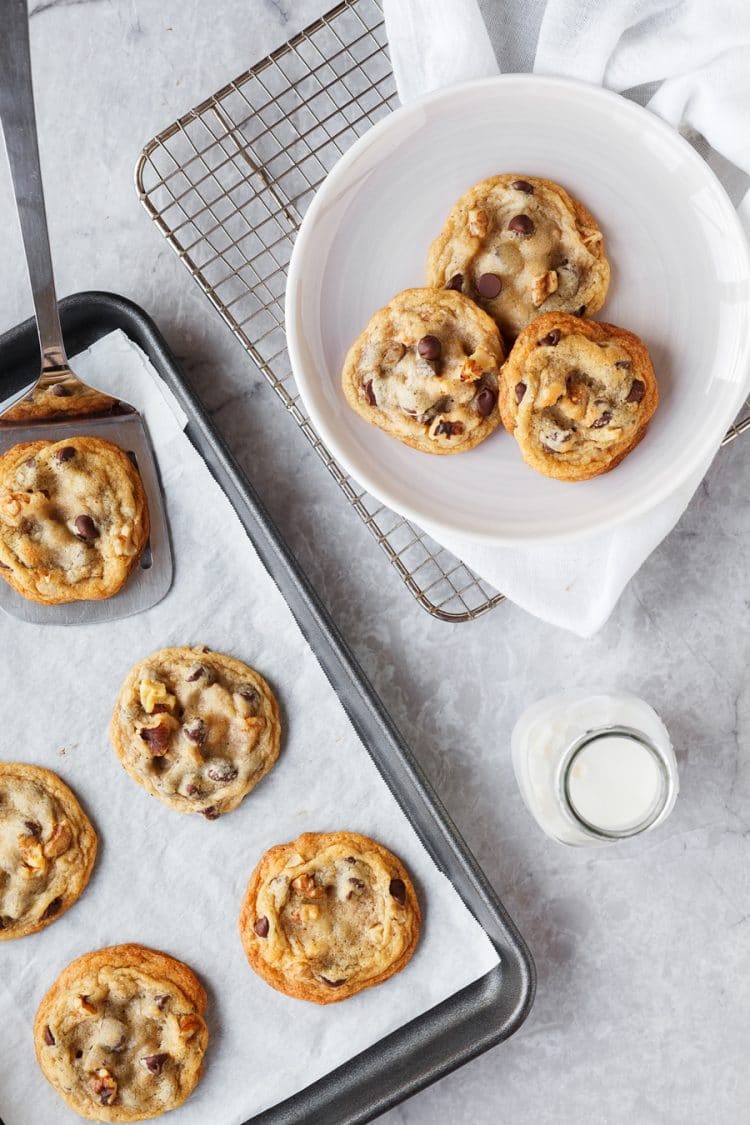 America's favorite cookies are made with basics like flour, eggs, and baking soda, but a mix of both white and brown sugars add a little depth to their sweetness. Then, vanilla and two sticks of butter (!) make them extra rich.
The recipe calls for chopped nuts, and I like to use walnuts to add a bit of crunch. Plus, they're good for your heart, brain, and can even help prevent cancer… so that makes these cookies healthy, right?
And let's not forget about those semi-sweet Nestlé chocolate chips! This recipe calls for a full two cups so each bite is filled with decadent, chocolatey morsels.
More Delicious Chocolate Chip Recipes!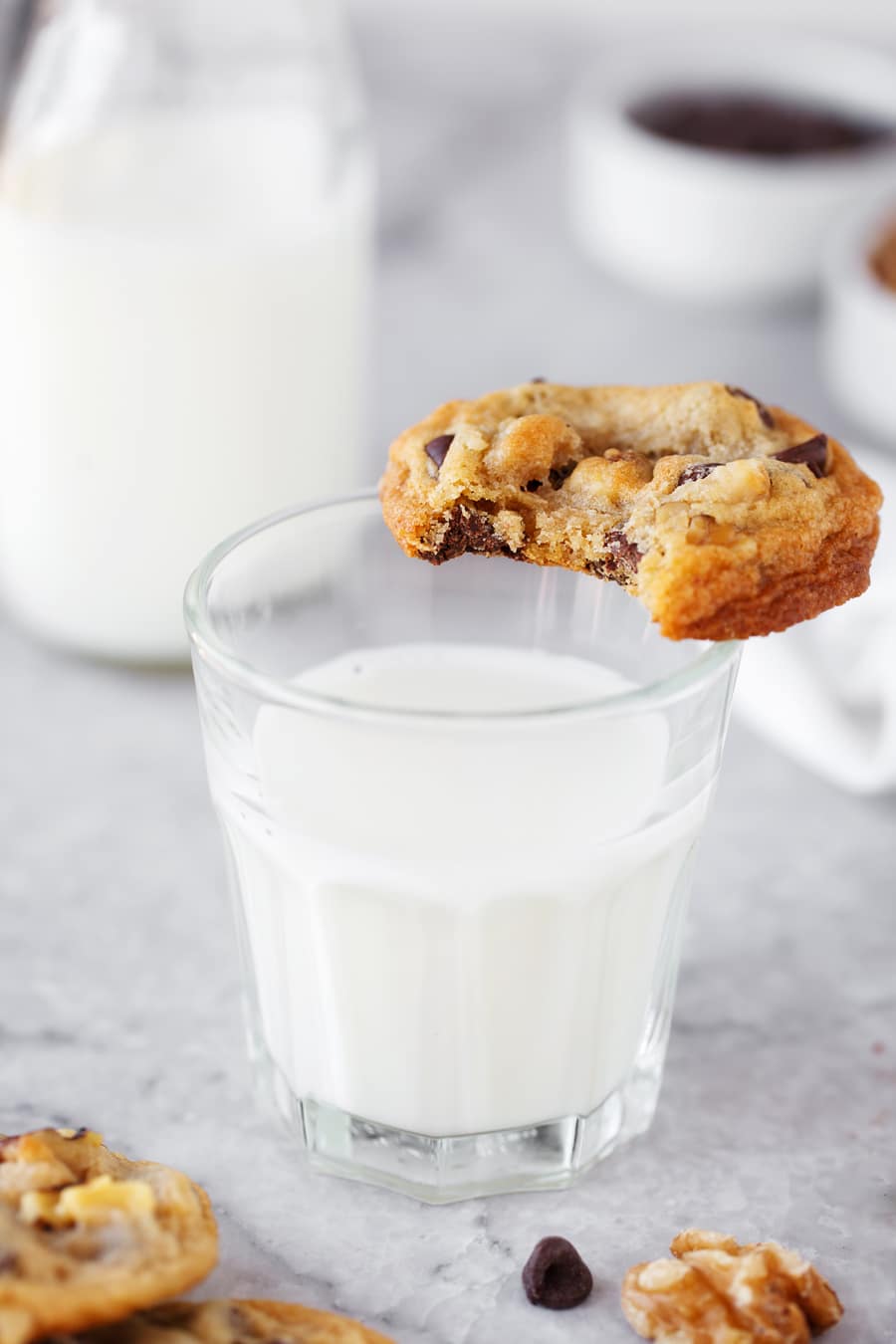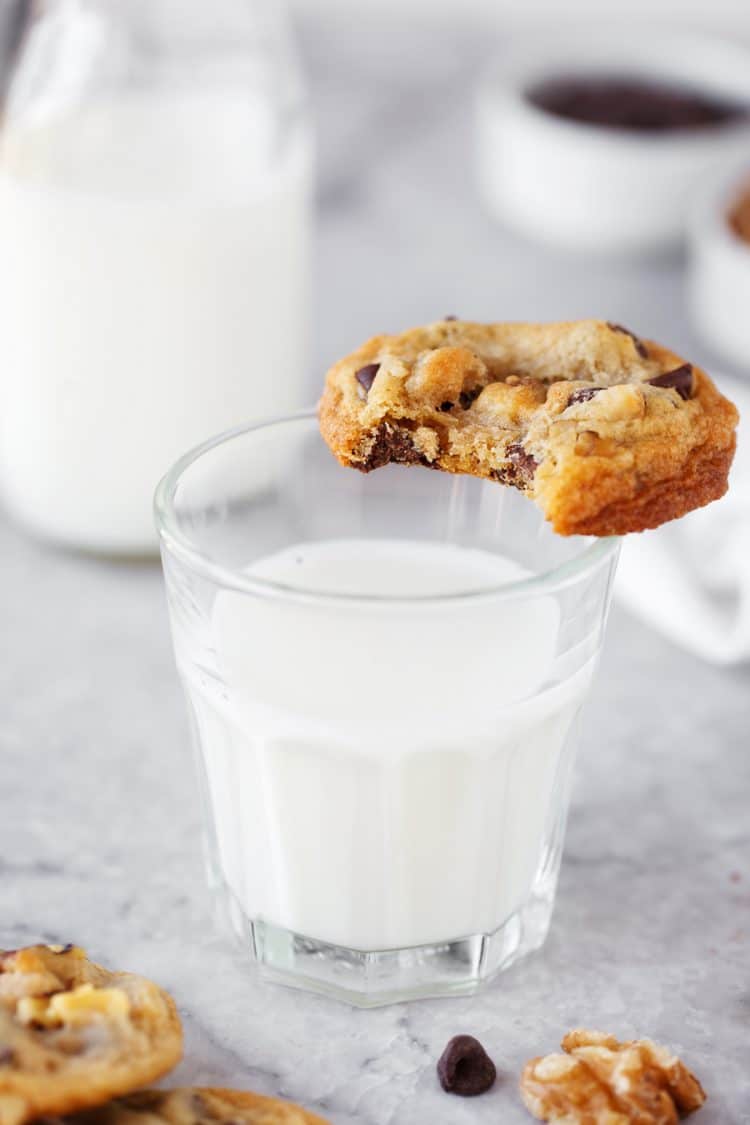 Since Toll House Cookies were created to be served alongside ice cream, try enjoying them with a heaping scoop of vanilla (hey, it's in the name of history!). Sometimes I even make ice cream sandwiches to keep in the freezer for when I'm in the mood for a frozen treat!
Whether served ooey-gooey and oven fresh with a glass of milk or as a frosty ice cream sandwich treat, there's no bad time to eat a chocolate chip cookie!
There's a reason that Toll House Cookies have remained a family favorite for decades. For a taste of nostalgia that never gets old, stick with the recipe that's stood the test of time!
Pin this Toll House Cookie Recipe for Later:

Tips For Making The Best Toll House Cookie Recipe:
So one of the things usually left out of the modern-day version of the recipe is the chilling time. But chilling the dough is absolutely crucial to getting soft and chewy cookies, if you don't chill them, you'll end up with flat cookies that spread.
Make sure your butter is soft, this means the butter should indent easily when you press your thumb or the back of a spoon into it.
Even if you're using a non-stick pan, I still highly recommend using parchment paper or a silicone baking mat for a better bake on your cookies.
The walnuts can be left out, but they really make the cookies!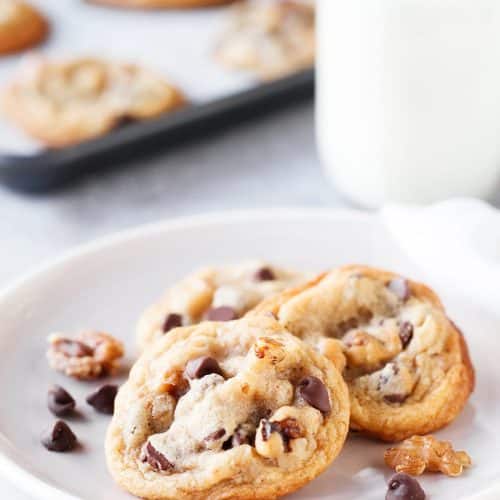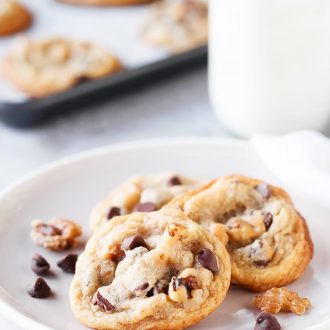 Toll House Cookie Recipe
The original Toll House Cookie Recipe is an American favorite made with crunchy walnuts and decadent semi-sweet chocolate chips. It's a classic dessert recipe the whole family will love!

Print
Pin
Rate
Instructions
In a medium bowl, whisk together the flour, baking soda, and salt and set aside.

In a large bowl, cream together the butter, sugars, and vanilla with a wooden spoon, mix the eggs in one at a time until fully combined.

Gradually mix in the flour mixture and stir until fully combined. Fold in the chocolate chips and nuts.


Chill the dough for at least 2 hours for best results.

Preheat oven to 375 degrees F. Line a baking sheet with parchment paper.

Use a medium cookie scoop to scoop the cookie dough onto the pan, placing the cookies at least 2-inches apart. Bake for 8-11 minutes or until edges are golden brown. Remove from oven and allow to cool on pan for 2 to 3 minutes before transferring to a cooling rack.
Video
Notes
Do not use a mixer to mix the cookies as this could result in flat cookies.
Not chilling the dough could result in flatter cookies.
Slightly adapted from Nestle Toll House.
Nutrition
Calories:
112
kcal
|
Carbohydrates:
12
g
|
Protein:
1
g
|
Fat:
6
g
|
Saturated Fat:
3
g
|
Cholesterol:
13
mg
|
Sodium:
60
mg
|
Potassium:
52
mg
|
Sugar:
7
g
|
Vitamin A:
105
IU
|
Calcium:
10
mg
|
Iron:
0.7
mg
Photos by Patty Kraikittikun-Phuong