These Brownie Cookies are made from an adapted brownie box mix and are loaded with chocolate chips! They have a crisp outer edge and chewy fudge center just like a classic brownie!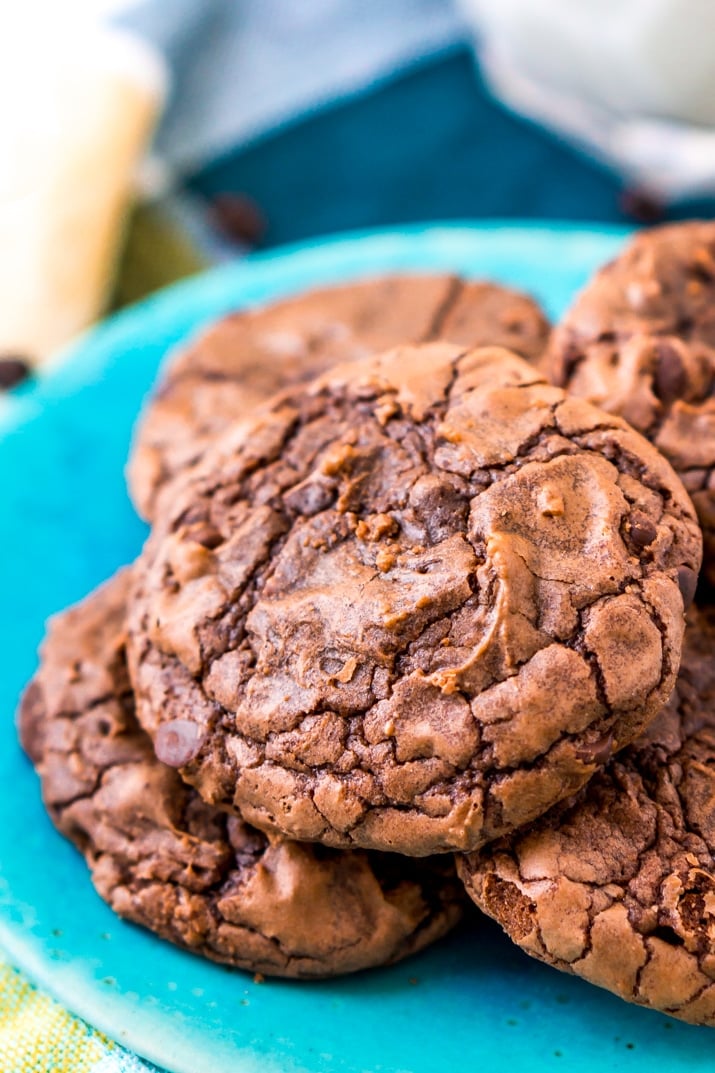 Brownie Cookies
I'm pretty sure the only way I can validate sharing my recipe for kale chips is by following it up with brownie cookies two days later. I mean, life is all about balance, right?
And while some of you may be starting your year off with a healthy purposeful diet, I am not. I am eating these cookies, and I will not be sorry for sharing them with you too!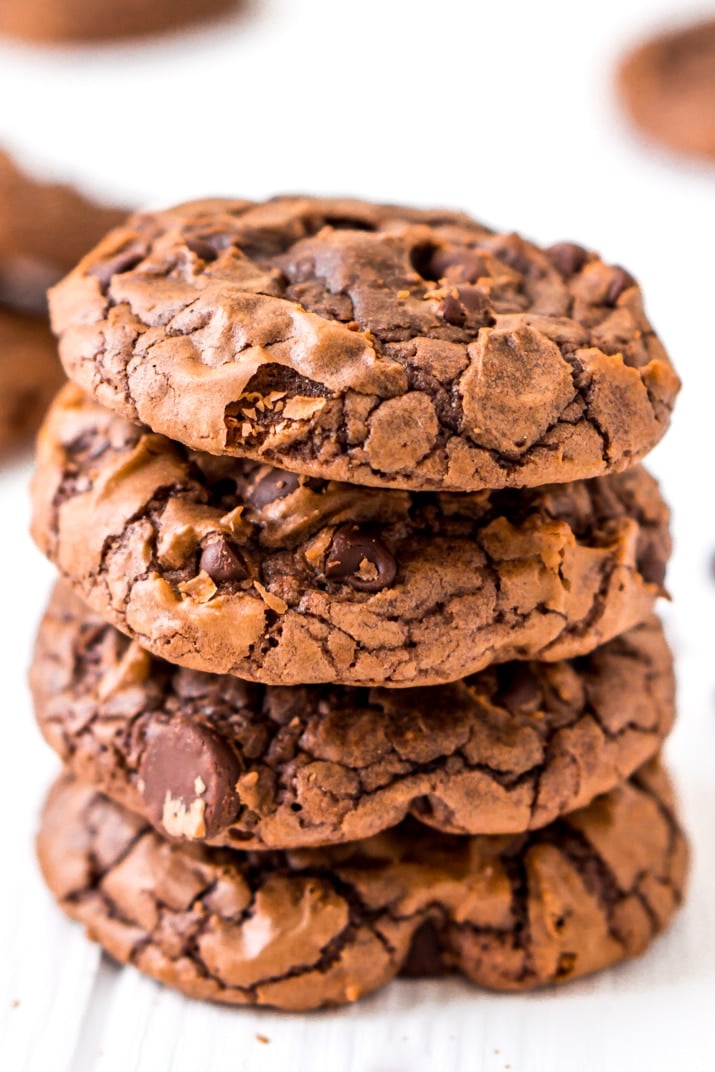 So last night, like a lot of nights, I kind of wanted brownies, but then I had a thought, "Can I make cookies out of brownie mix? Sure I can!", so here we are.
I spent a few hours last night testing this recipe to make sure it was absolutely perfect, and I think the final results are pretty damn close.
JUST TAKE ME TO THE BROWNIE COOKIES RECIPE ALREADY!
If you'd rather skip my (very helpful, I think) tips and tricks, essential cooking info, and similar recipe ideas – and get straight to this deliciously easy Best Ever BROWNIE COOKIES Recipe – simply scroll to the bottom of the page where you can find the printable recipe card.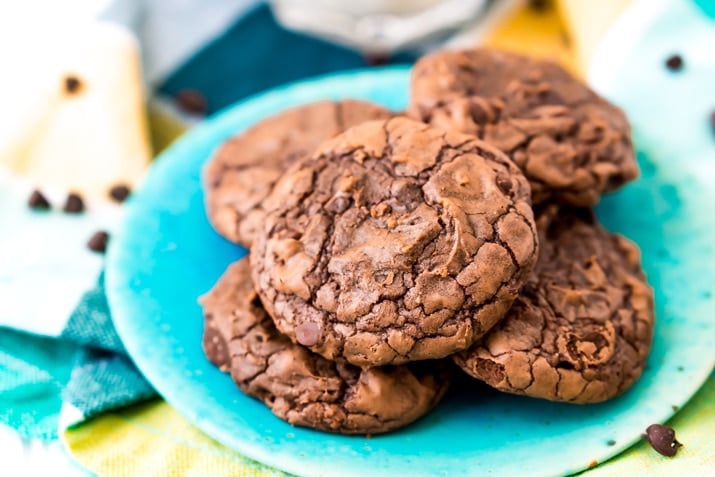 I promise you're going to go crazy for these cookies, they're absolutely sinful! They have a slightly crispy edge (for all the edge lovers) and a soft and chewy center (for all you center-cut lovers) and they have that perfect flaky brownie top!
And do you love walnuts it your brownies? I do! And you can easily add them in as well!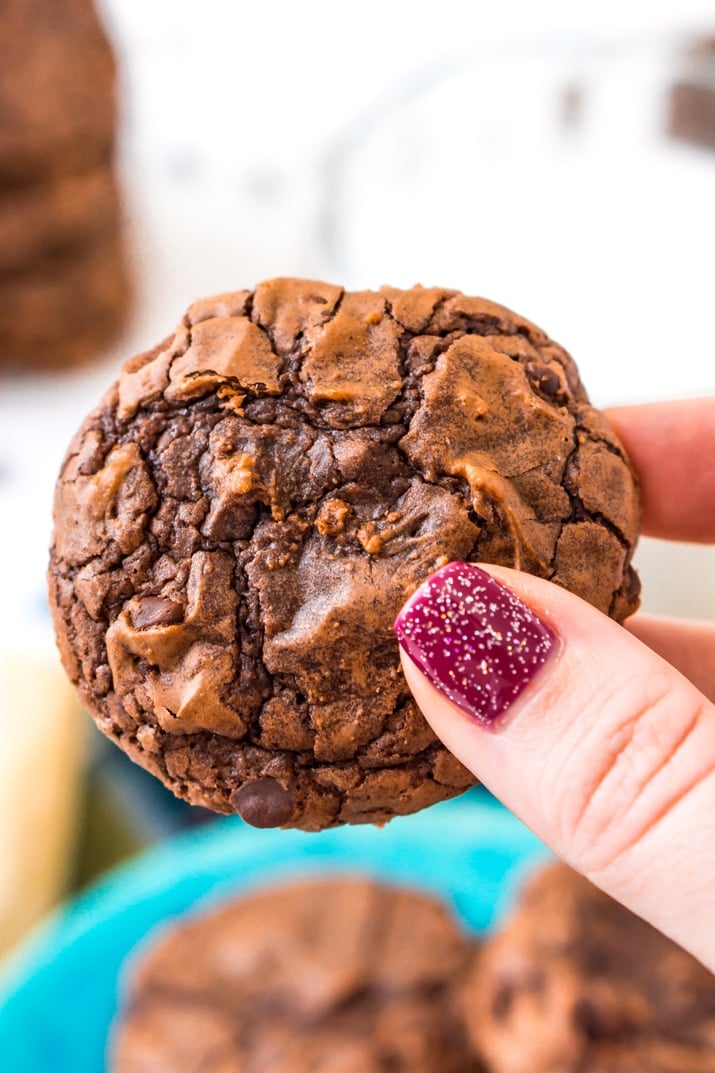 How To Make Brownie Cookies:
Mix together brownie mix, eggs, flour, chocolate chips, vegetable oil, water in a large bowl or stand mixer.
Drop scoops onto a prepared baking sheet and bake at 350 degrees F for 8 to 10 minutes.
Store in an air-tight container for up to one week.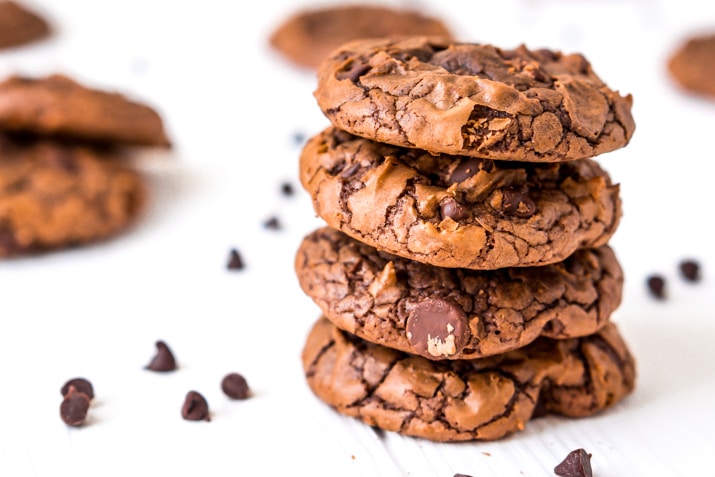 Tools You'll Need to Make Brownie Cookies:
Small Cookie Scoop – Using a scoop means you get evenly sized and measured cookies.
Baking Sheet – To bake the cookies on, of course!
Parchment Paper – I prefer using parchment paper over cooking spray when I'm making cookies, I find it yields better results and makes for an easier cleanup!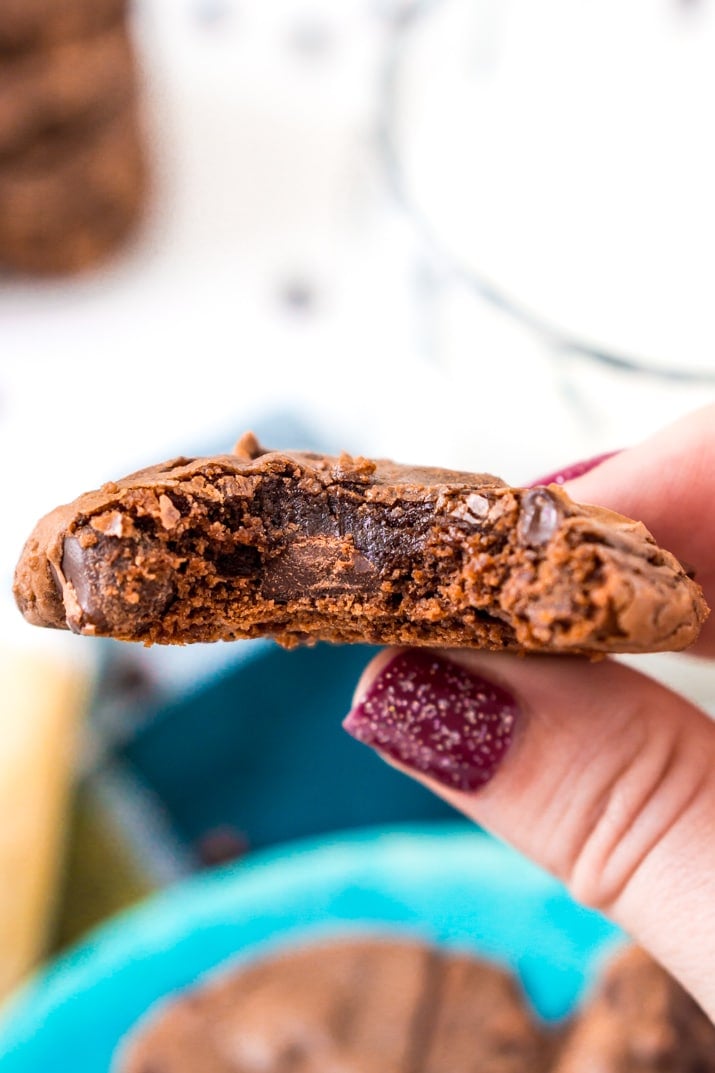 Notes About This Brownie Cookies Recipe:
These cookies are a little temperamental when it comes to baking time. You see, they cook pretty quickly, and one extra minute could mean a not-so-fudgy center (wahhhh, nobody want's that). I have a gas oven and I found the 8 minute was the perfect amount of time.
You want these cookies to be slightly undercooked when you take them out of the oven because they will continue to cook a little on the baking sheet. I think if you have an electric oven, you're going to want either 9 or 10 minutes of cook time, but test a couple cookies first so you get them right where you want 'em!
I have only tested and made this recipe with an 18-ounce box of Ghirardelli brownie mix, other mixes and sizes could change the outcome of the recipe.
The batter is very thick and sticky, I do not recommend mixing it with a whisk or even with a whisk attachment for a stand mixer.
Pin this Cookie Recipe for Later!

Watch How To Make These Cookies In The Video Below!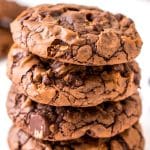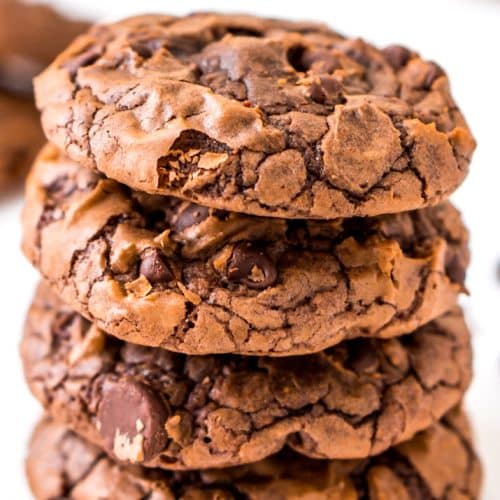 Brownie Cookies
These cookies are made from an adapted brownie box mix and are loaded with chocolate chips! They have a crisp outer edge and chewy fudge center just like a classic brownie!
Instructions
Preheat oven to 350 degrees F and line a large baking sheet with parchment paper.

In a large bowl or stand mixer fitted with a paddle attachment, combine all of the ingredients and mix well, scraping down the sides as needed. The dough will be very sticky.

Using a small cookie scoop, scoop out the dough and drop onto the prepared baking sheet about 2 inches apart.

Bake for 8 minutes to start, cookies should have a thin film on top and the batter should no longer be glossy, should still be able to see small ripples of darker batter. DO NOT OVERBAKE THESE COOKIES. They will cook up fast and can try out easily if cooked too long. Every oven is different, so do a few in a test batch to see how long they need.

Remove from oven and allow to cool on pan for a couple of minutes before transferring to a cool rack.

Consume immediately or store in an air-tight container for up to one week (if they last that long)
Recipe Notes
Recipe adapted from GeniusKitchen.
Nutrition Facts
Brownie Cookies
Amount Per Serving
Calories 101
Calories from Fat 36
% Daily Value*
Total Fat 4g 6%
Cholesterol 9mg 3%
Sodium 46mg 2%
Potassium 5mg 0%
Total Carbohydrates 14g 5%
Protein 1g 2%
* Percent Daily Values are based on a 2000 calorie diet.