How To Candy Pecans - The Easy Way! These Candied Pecans are a delicious addition to any fall dish. They're perfect on sweet potatoes, pumpkin pies, they also make a lovely addition to salads and yogurt. Or, just eat them straight up!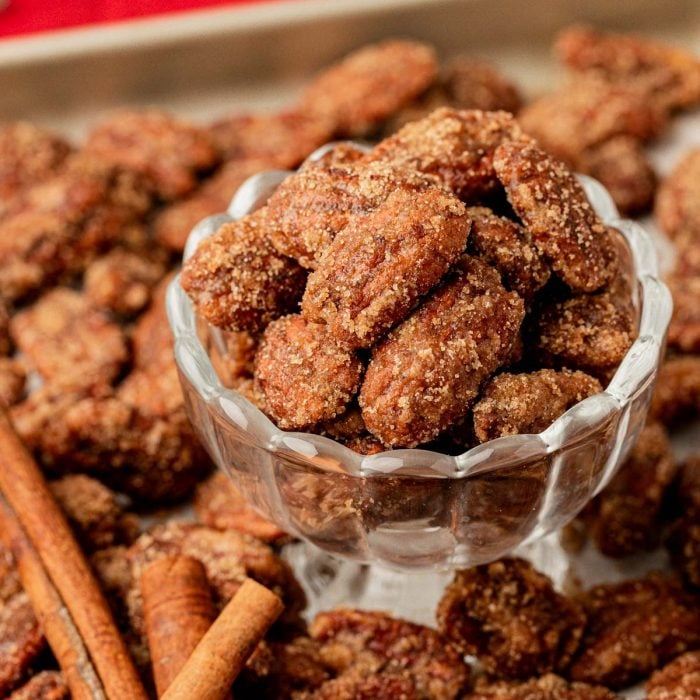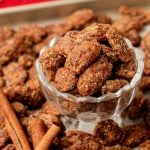 How To Candy Pecans – The Easy Way! This recipe requires just a handful of ingredients, less than 15 minutes of active cooking time, and a simple extra step that takes these from basic to amazing!
It's a winning recipe that's perfect to use as a topping, an add-in to cookies or brownies, or enjoy all on its own!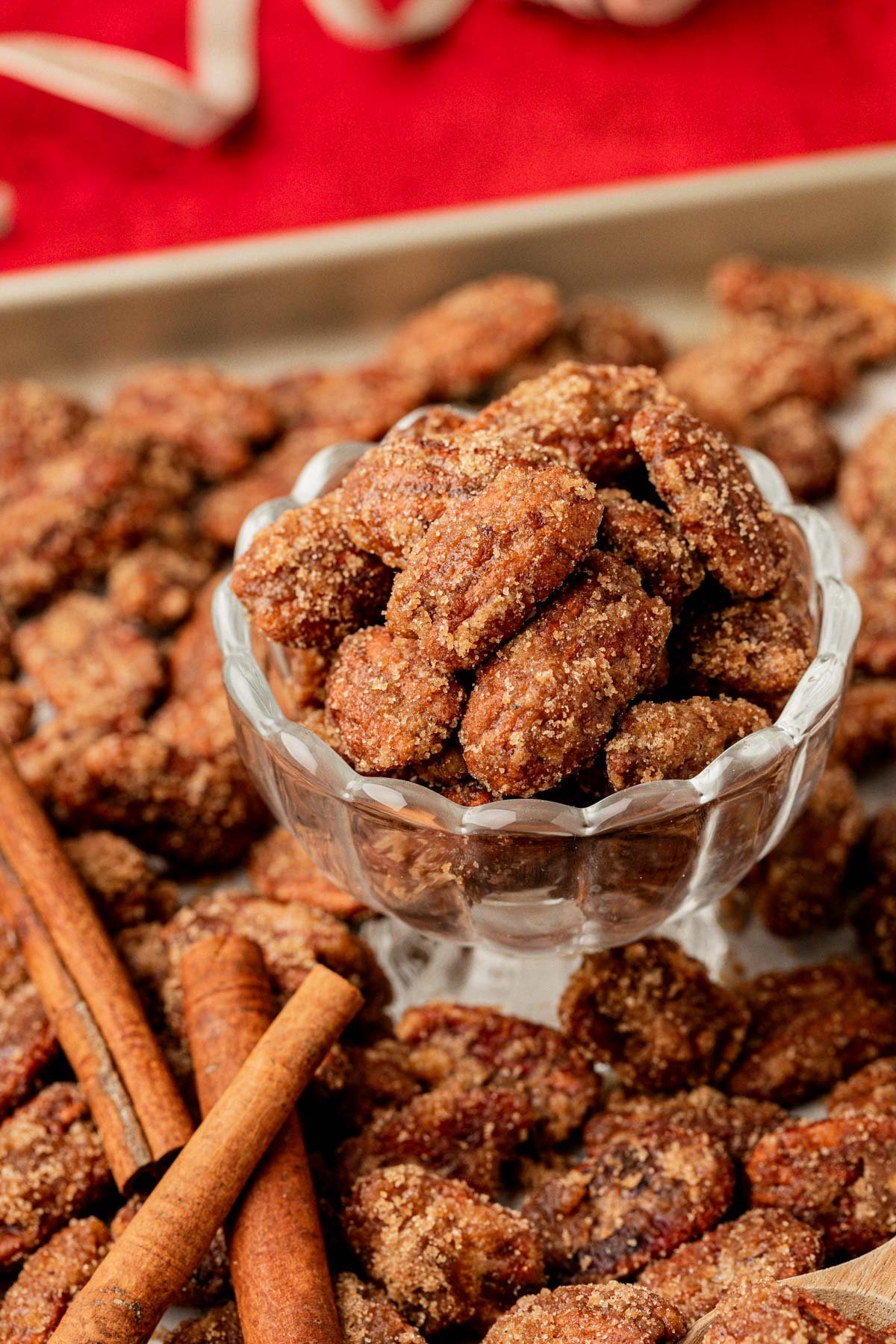 Why You'll Love This Candied Pecan Recipe
Every year around the holidays, the malls fill up with novelty kiosks. Everything from crazy weird toys to gourmet fudge. And it seems like there's always one that sells my favorite holiday snack, Candied Pecans.
I love the sugary crunch and nutty flavor, plus they make a wonderful gift. But they can also be crazy expensive. I mean, sure, nuts aren't cheap to begin with, but I always feel a little cheated when I spend $10.00 on a 1/2 cup of candied pecans. And I'm sure I'm not alone.
So, I decided I would start making them at home. I get way more for my money, and they only take about 15 minutes to make, so it seemed like a no-brainer!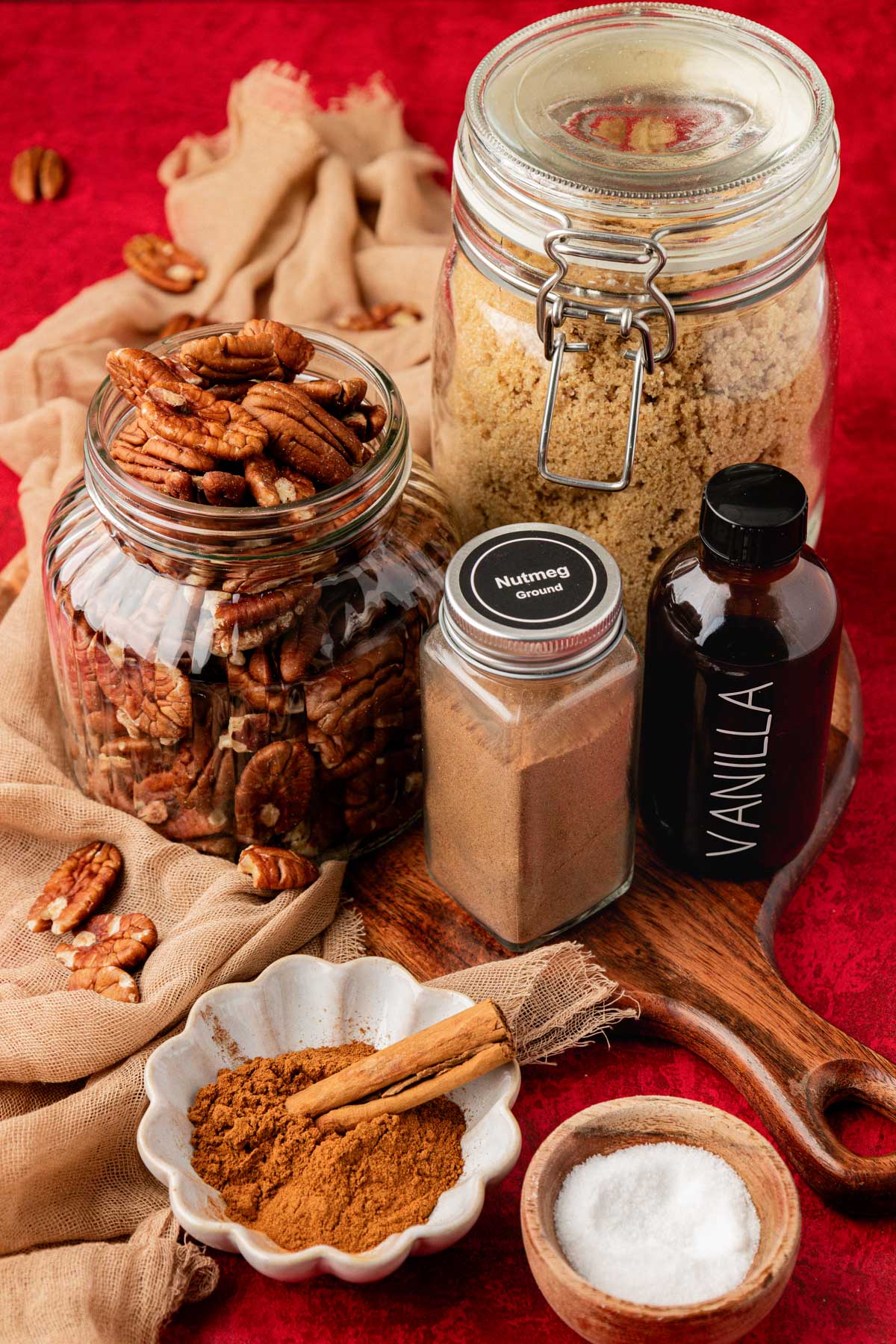 They're really great for snacking, too! I love to bring a big bowl with me to holiday get-togethers so people can munch on them throughout the night. They're also great for serving up with sweet potatoes, pumpkin pie, or holiday Chex mix!
Caramelized Pecans Ingredients
light brown sugar – For sweetness and flavor. Granulated sugar can be used, but brown sugar works best.
water – necessary, don't skip it.
vanilla extract – Since this is such a simple recipe, you want to use a high-quality vanilla or make your own for the best flavor.
ground cinnamon – for flavor
salt – for flavor
ground nutmeg – for flavor
pecan halves – – It's best to use pecan halves for this recipe, as smaller pieces won't be as great for snacking.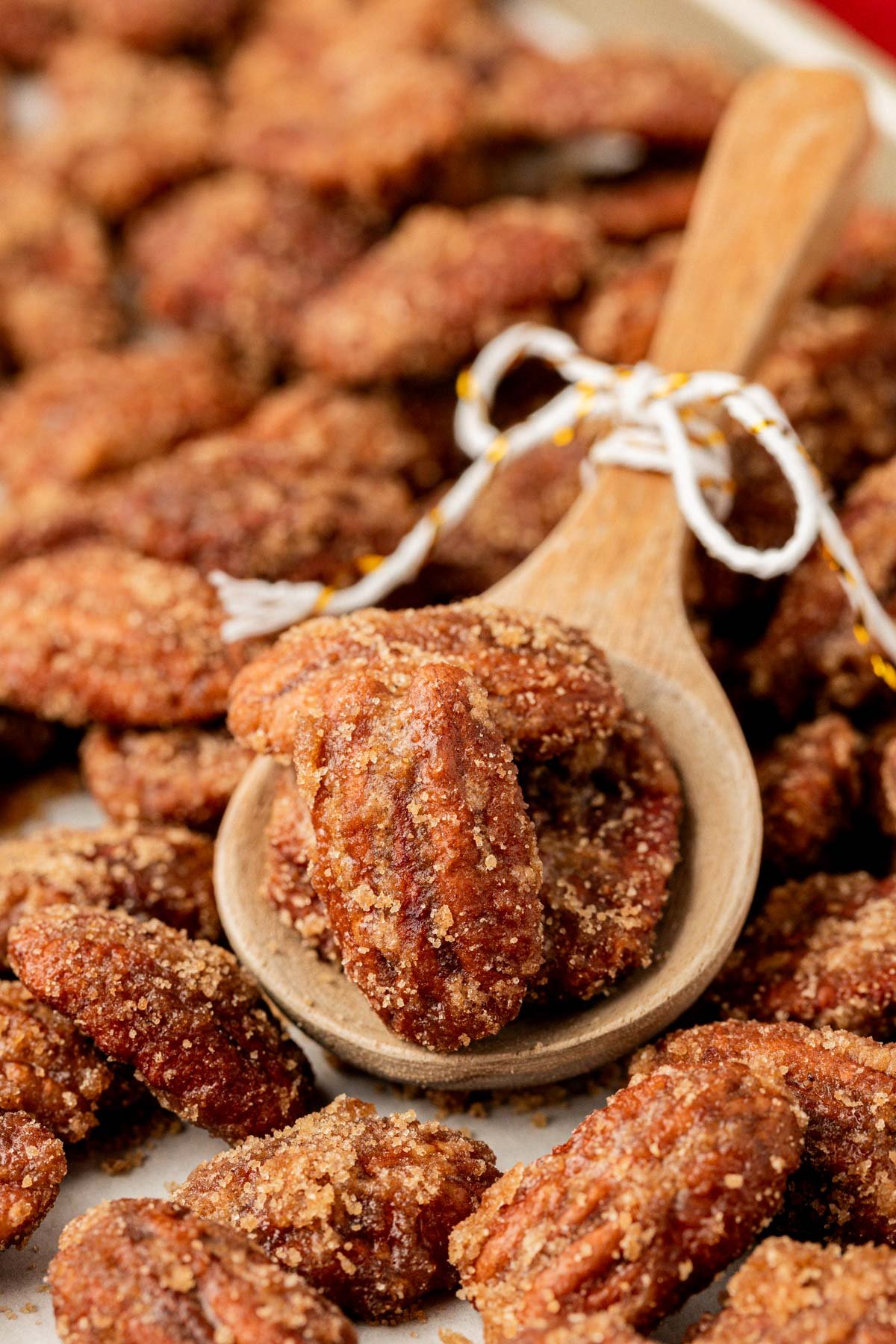 I prefer to use a nonstick pan since it's less likely the sugar will burn and a lot easier to clean in case some of it sticks to the pan.
How To Make This Candied Pecans Recipe
Step 1: Toast the pecans in the skillet, then remove and set aside.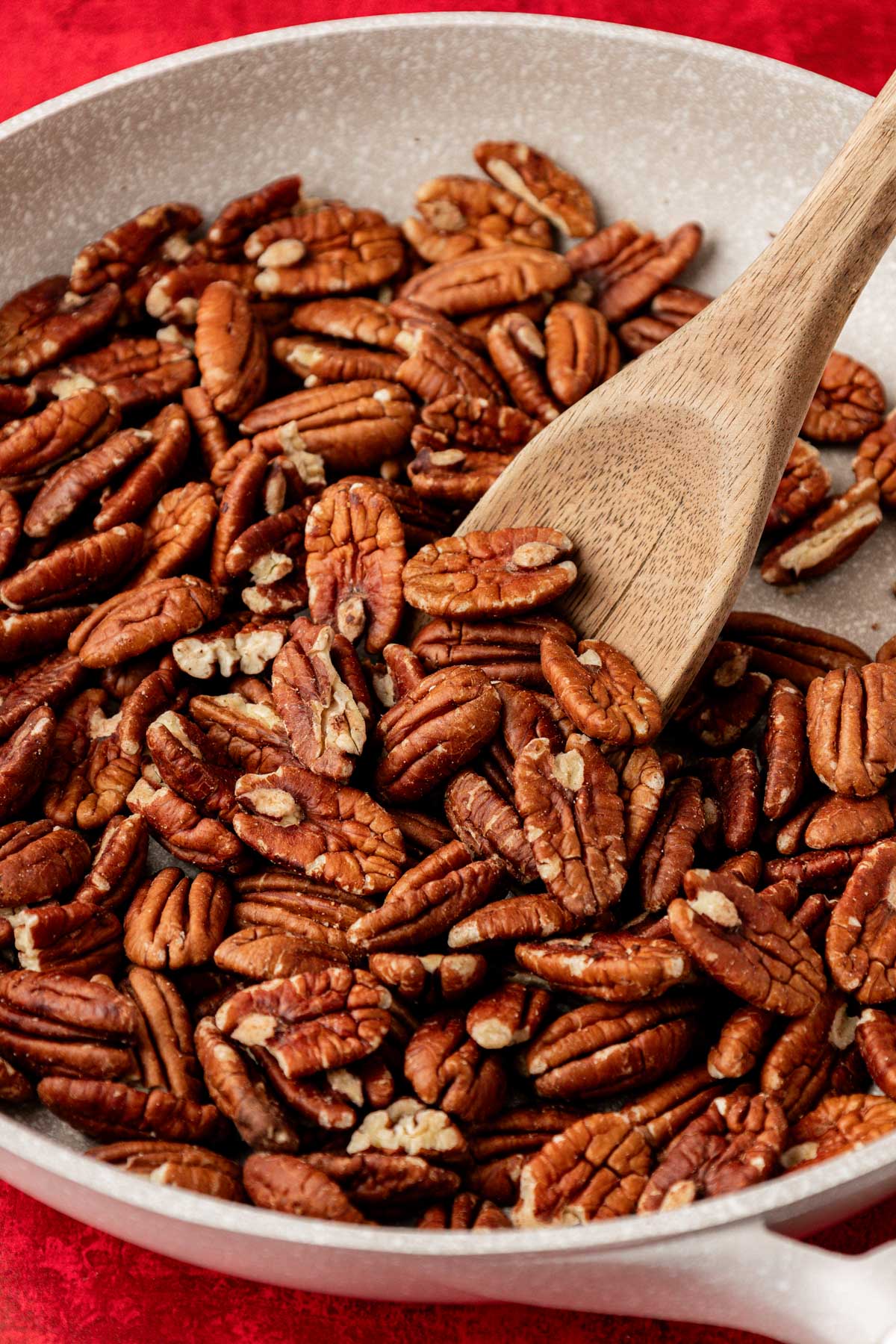 Step 2: Add water and brown sugar to a skillet and heat until sugar is dissolved and bubbling. Don't stir.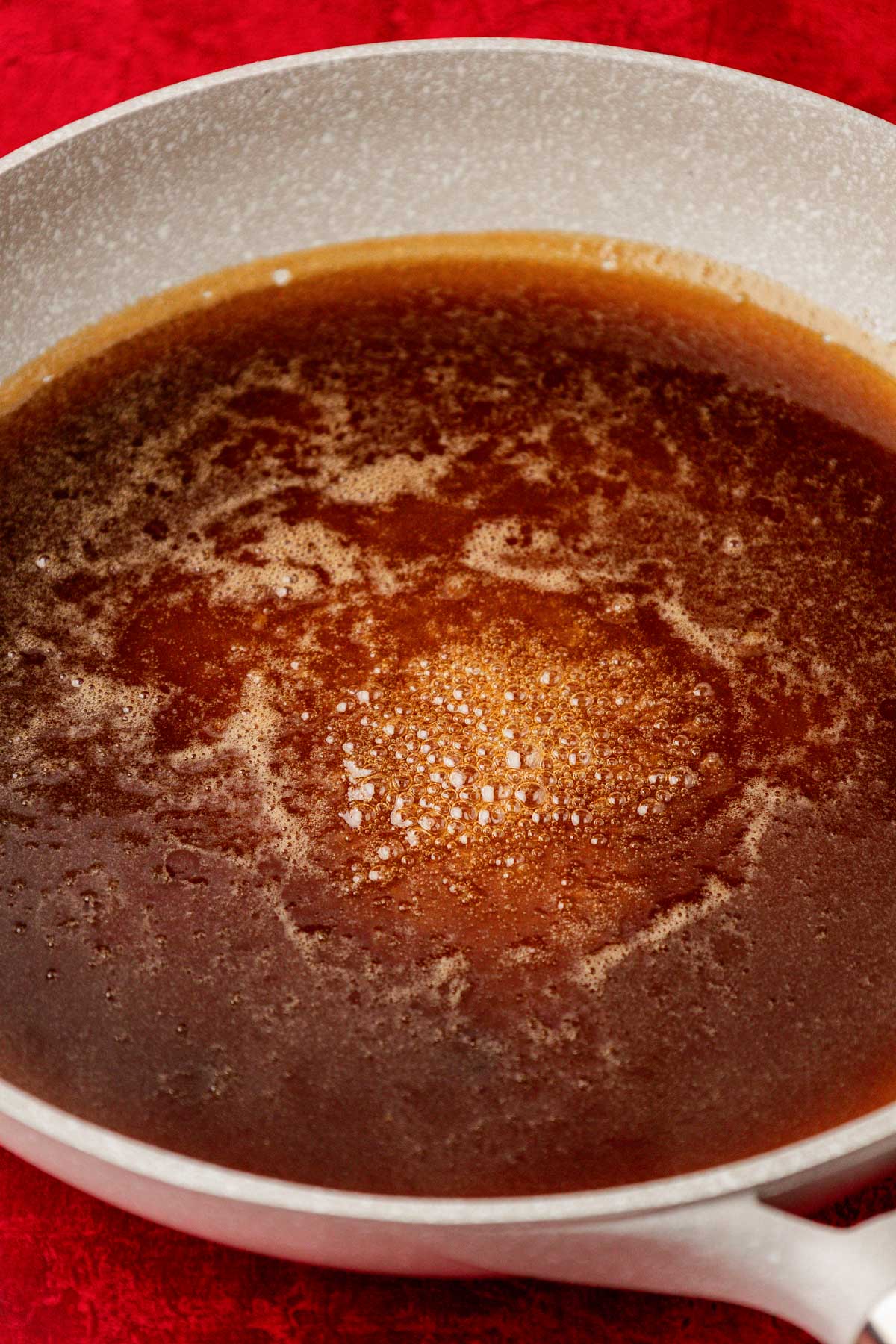 Step 3: Add pecans and spices and stir to coat.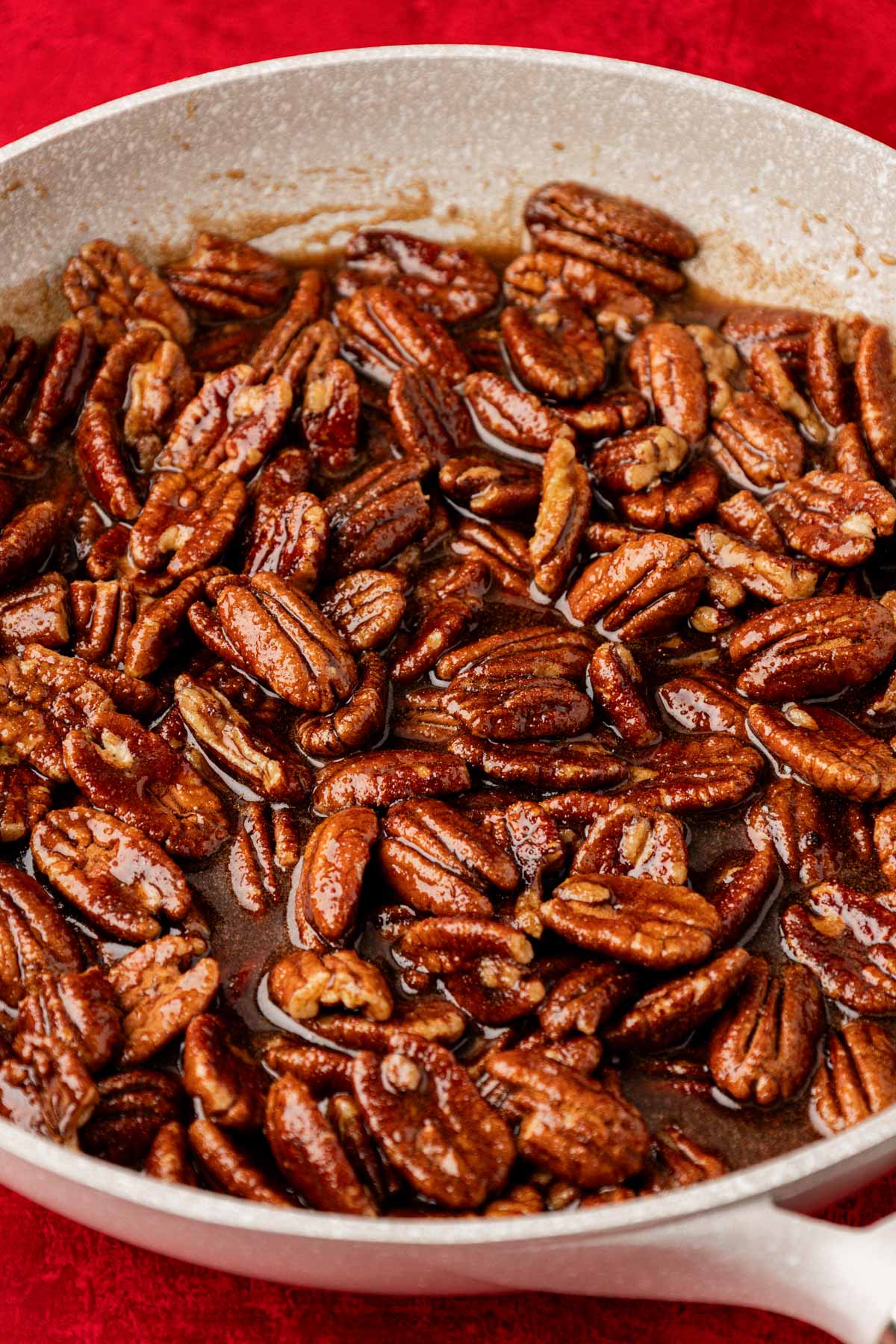 Step 4: Cook for a few minutes, stirring constantly. The sugar will start to crystalize on the pecans and begin to dry and crust.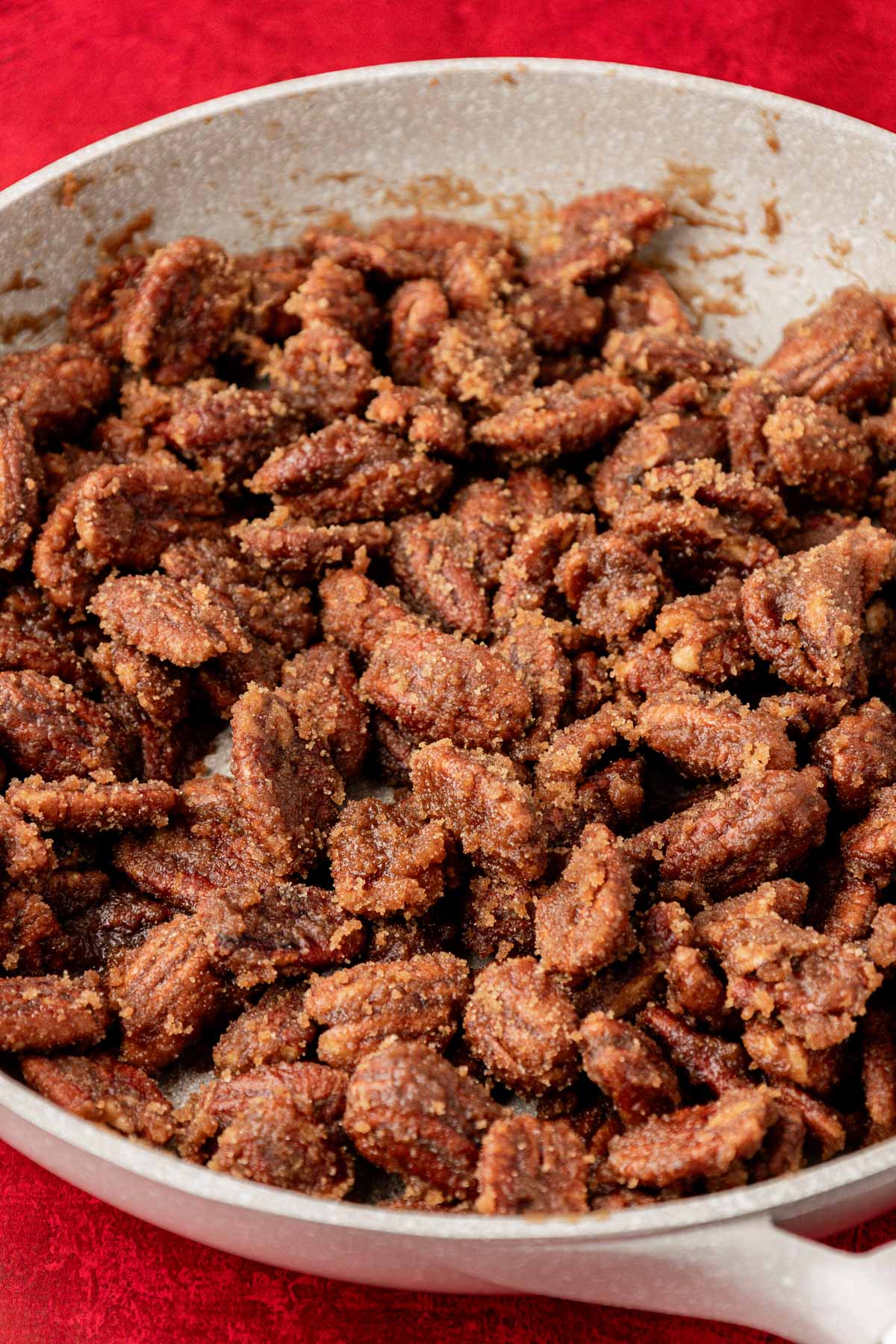 Step 5: Transfer the pecans to a parchment-lined baking sheet to cool.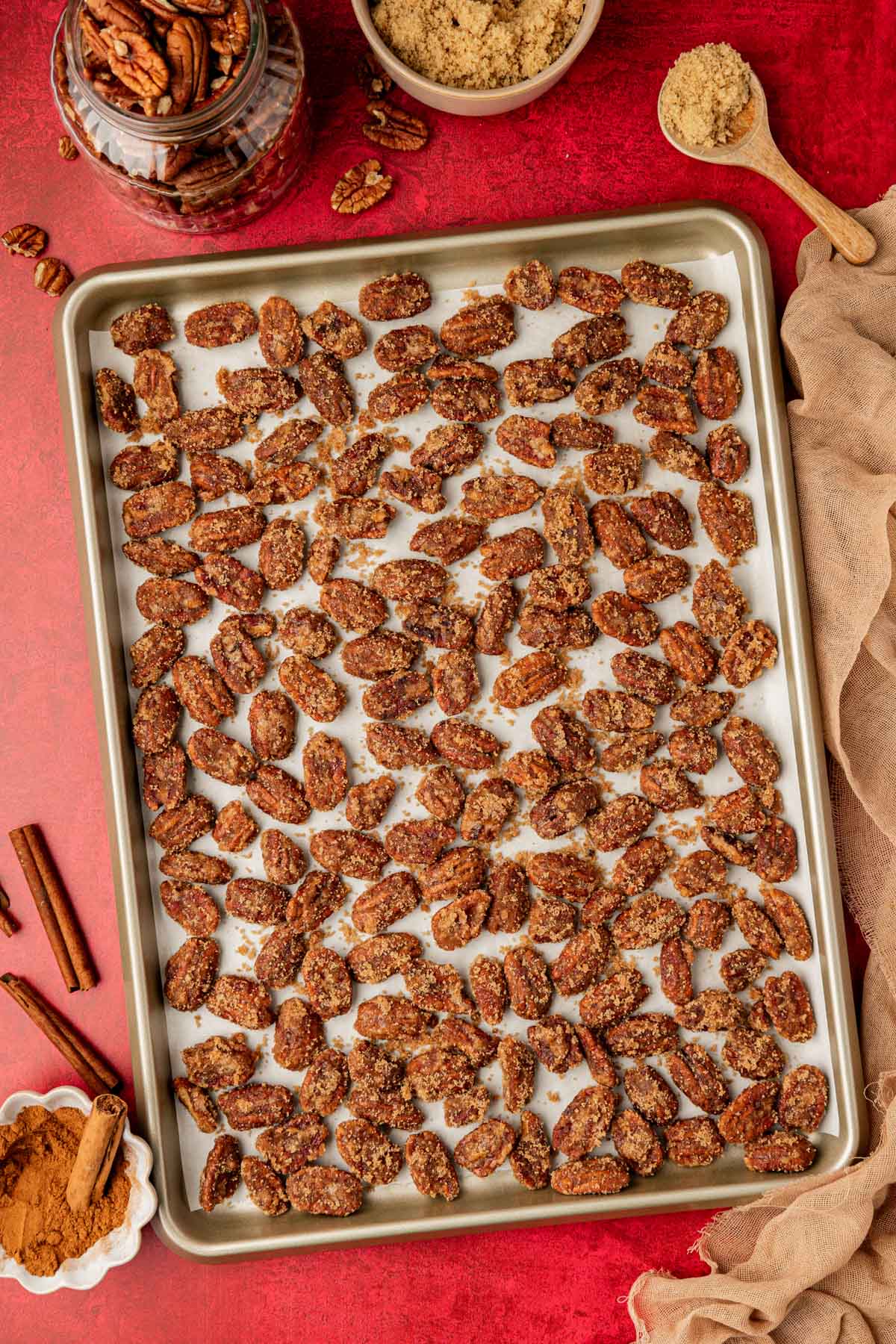 Favorite Ways To Use This Recipe For Candied Pecans
Plus, they can easily be packaged up in cute jars or bags and used as stocking stuffers, neighbor gifts, or additions to a gift basket.
Glazed Pecans Storage
These candied nuts are best enjoyed within a month or two when stored at room temperature in an air-tight container. However, they should be safe to consume for up to 6 months, but they may begin to soften or go stale.
They will last a little longer in the fridge and up to 12 months when frozen. If freezing, I do recommend flash-freezing them on the parchment-lined baking sheet before bagging them up – this will help prevent them from sticking.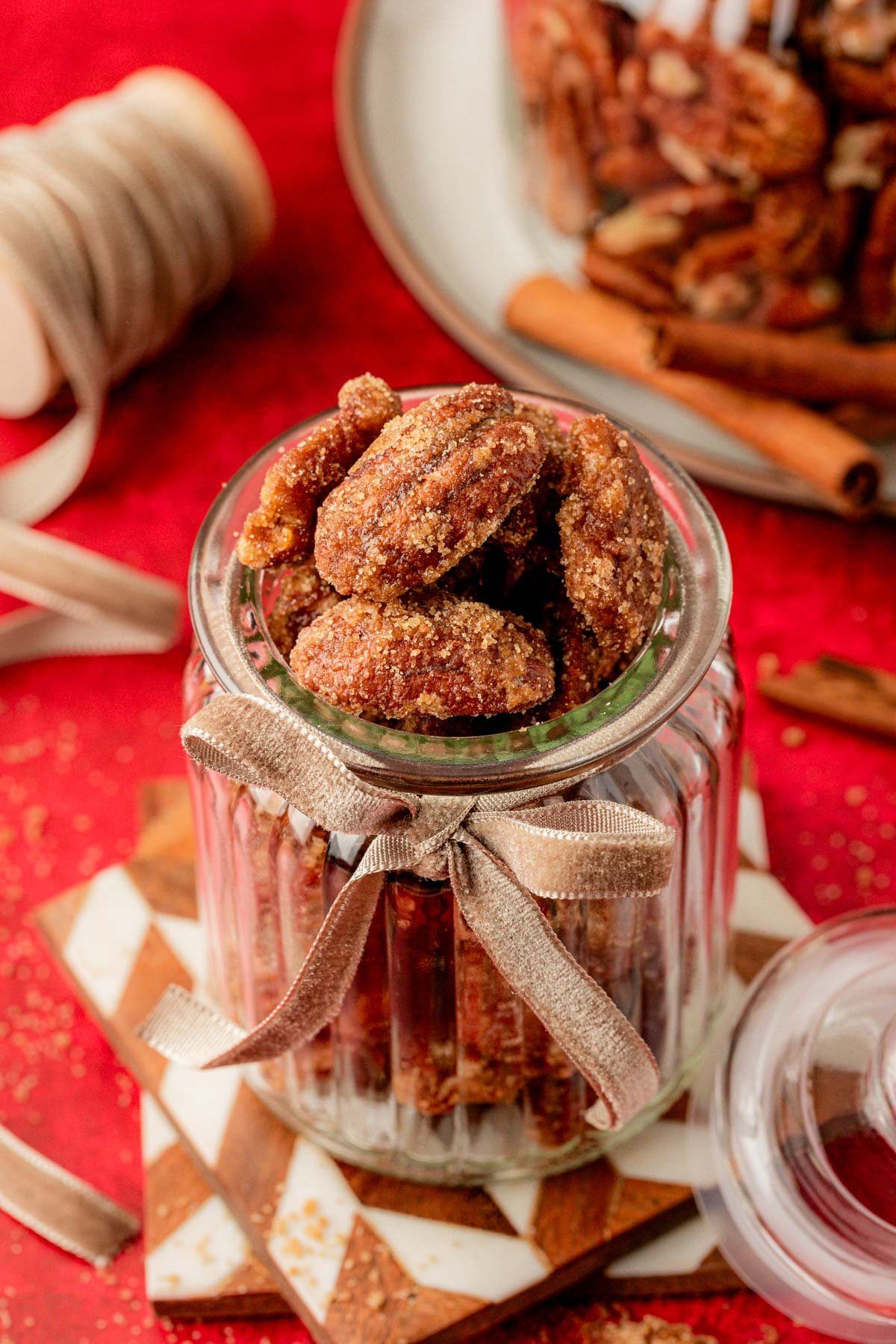 Glazed Pecans Recipe FAQs
Why are my candied pecans grainy?
These pecans are intended to have a sugar crust that makes them crunchy.
Are praline pecans the same as candied pecans?
No, but they are (can be) similar. Candied pecans are coated with a caramelized sugar mixture and usually made in a skillet.

There are two common recipes for Praline Pecans, the first being a sugar and egg white coating for a crunchier version of a candied pecan. The second is more of a candy where pecans are in a dairy-based mixture that's dropped into patties to set.
Why are my candied pecans so sticky?
The pecans will be a bit sticky right after cooking but should harden as they cool. If they are still sticky after cooling, it means the sugar did not reach a high enough temperature while cooking.
If they remain sticky, place them in the oven at 325 and cook for 5 to 15 minutes until they are no longer sticky. Keep an eye on them so they don't burn.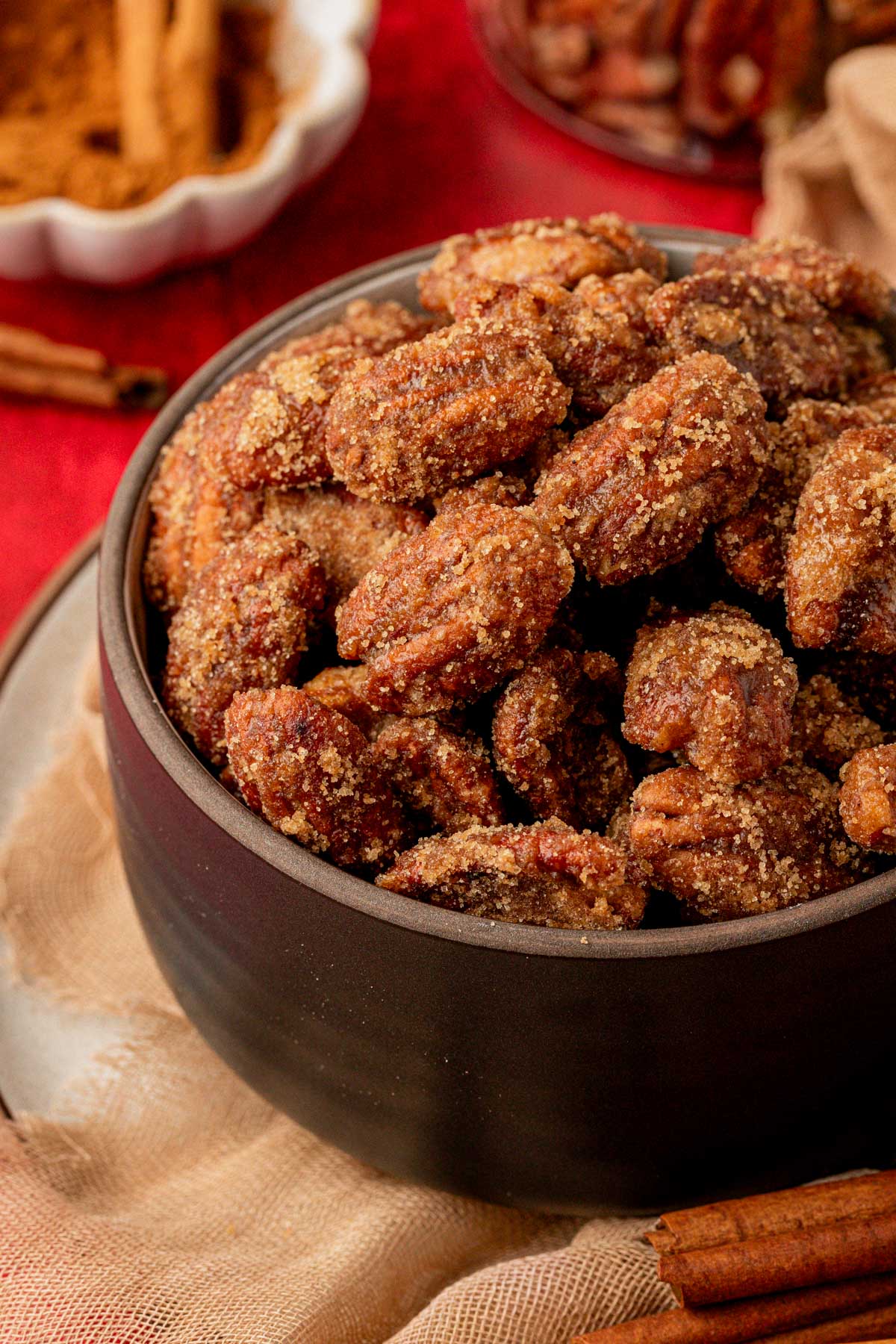 👋 Let's Connect!
If you've tried this recipe, please let me know how you liked it in the comments below and leave a review. I love hearing from you!
Don't forget to tag me – @sugarandsoulco – on Instagram and Pinterest with your photos or join our Sugar & Soul Show-offs Community and share them there, where you can join our recipe challenges!
This post was originally published in October 2013 and updated in November 2023 with a retested recipe and new photos.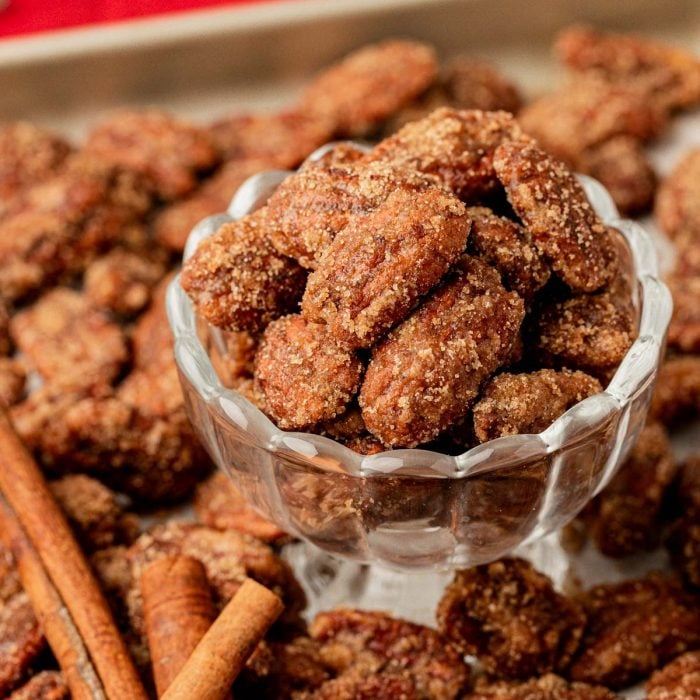 Recipe for Candied Pecans
How To Candy Pecans – The Easy Way! These Candied Pecans are a delicious addition to any fall dish. They're perfect on sweet potatoes, pumpkin pies, they also make a lovely addition to salads and yogurt. Or, just eat them straight up!
Instructions
Line a large baking sheet with parchment paper and set aside.

Add 3 cups pecan halves to a large nonstick skillet and toast for 3 to 5 minutes, stirring often. Transfer the toasted pecans to a bowl and set aside.

In the now empty skillet, add 4 tablespoons water with 1½ cups light brown sugar to a large skillet and stir just until combined with the sugar, DO NOT STIR AGAIN UNTIL PECANS ARE ADDED.

Cook over medium heat for about 2 to 3 minutes until the sugar is dissolved and the mixture begins to boil.

Once it's boiling in the center, add the toasted 3 cups pecan halves 1 tablespoon vanilla extract, 1 teaspoon ground cinnamon, ½ teaspoon salt, and ¼ teaspoon ground nutmeg.

Stir continuously for about a minute making sure to evenly coat the pecans with the sugar coating.

Turn heat to low and stir continuously for 3 to 5 minutes.

Let nuts cool in the pan for about 5 minutes. Stir occasionally so they don't stick to the pan.

Spread pecans out on parchment or wax paper, breaking up any large clumps. Allow them to fully cool then package for gifts, store in a plastic bag or container, or start snacking!
Notes
Make about 12 (1/4 cup) servings.
Store in an airtight container for up to 6 months in the freezer for 3 months on a shelf.
Nutrition
Calories: 314kcal | Carbohydrates: 31g | Protein: 2g | Fat: 22g | Saturated Fat: 4g | Polyunsaturated Fat: 6g | Monounsaturated Fat: 11g | Trans Fat: 0.2g | Cholesterol: 11mg | Sodium: 105mg | Potassium: 141mg | Fiber: 2g | Sugar: 28g | Vitamin A: 149IU | Vitamin C: 0.3mg | Calcium: 44mg | Iron: 1mg