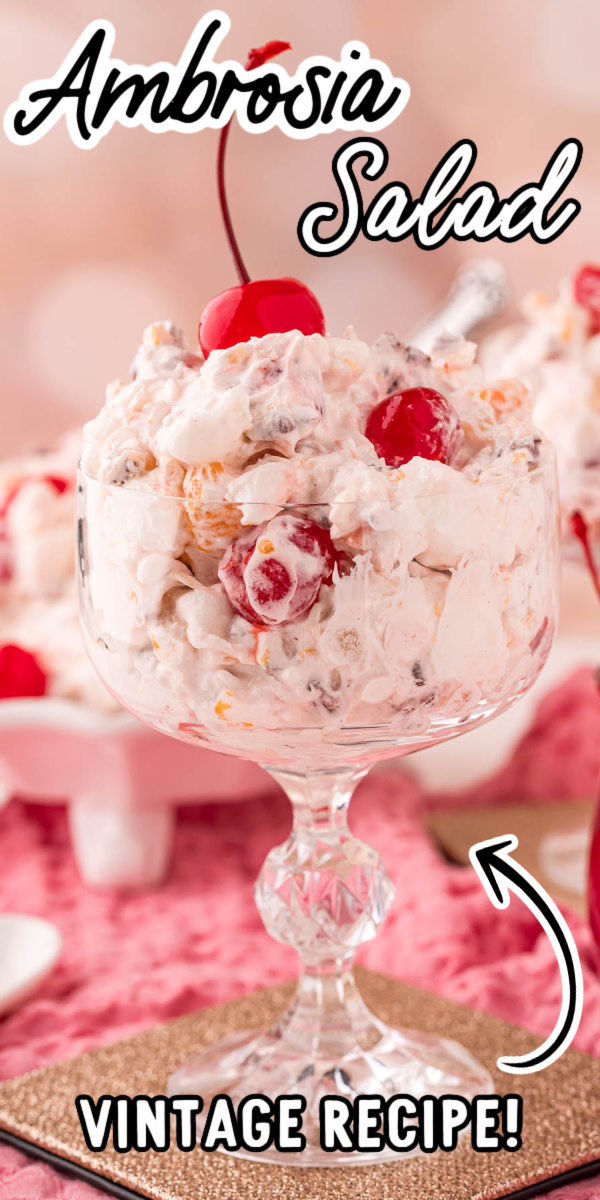 Classic Ambrosia Salad combines canned fruit, toasted pecans, mini marshmallows, and shredded coconut in a sweet, fluffy whipped topping! This vintage side dish or dessert comes together in only 20 minutes!
For another vintage taste try my 10-minute Apple Grape Salad that's filled with apples, grapes, and walnuts! And just like this Ambrosia Salad, it can be enjoyed as a side dish or dessert!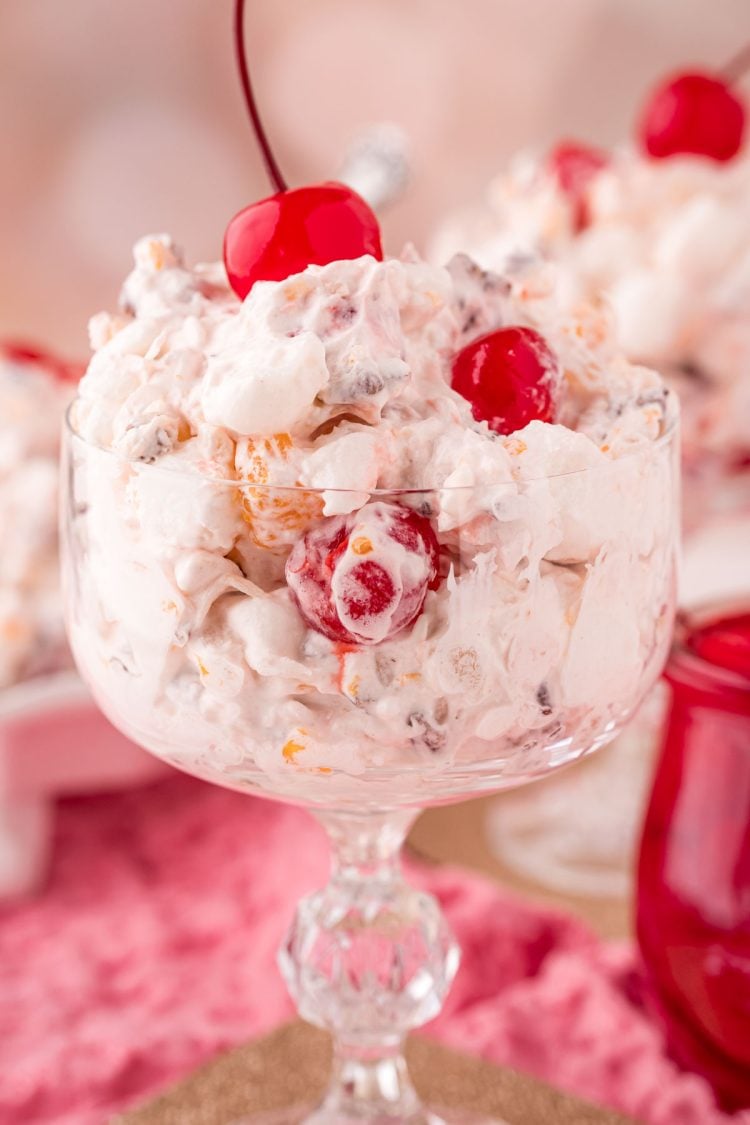 This Classic Ambrosia Salad coats tropical fruit and toasted pecans in a sweet, creamy topping that's made of cool whip and sour cream! The mandarin oranges, pineapple, cherries, and shredded coconut make for an irresistible flavor that everyone will love!
What Is Ambrosia Salad?
Ambrosia Salad is a chilled, creamy dish that began popping up in the Southern US in the late 1800s. By the 1920s it became a popular treat that was considered luxurious and served only at holidays or special celebrations.
Its sweet flavor can be enjoyed as a side dish to balance out a savory holiday meal such as Thanksgiving or Christmas Dinner! But is also good enough to be a wonderful dessert as well!
5 Reasons Why This Recipe Works!
Make It Ahead! This recipe can easily be made the night before to help save on time!
Variations! You can fill this treat with your favorite fruit! For other variations try adding strawberries, bananas, fresh orange slices, or even blueberries!
Great For Holidays! Though it's a vintage recipe, there's a spot on every holiday dinner table for this Ambrosia Salad! For this year and many, many years to come!
Cool Summertime Treat! Don't just make this for the holidays! Bring it to those backyard cookouts as a sweet, chilled treat to cool down with!
Easy Potluck Contribution! This salad makes for an easy potluck contribution since it's made in only 20 minutes using storebought ingredients!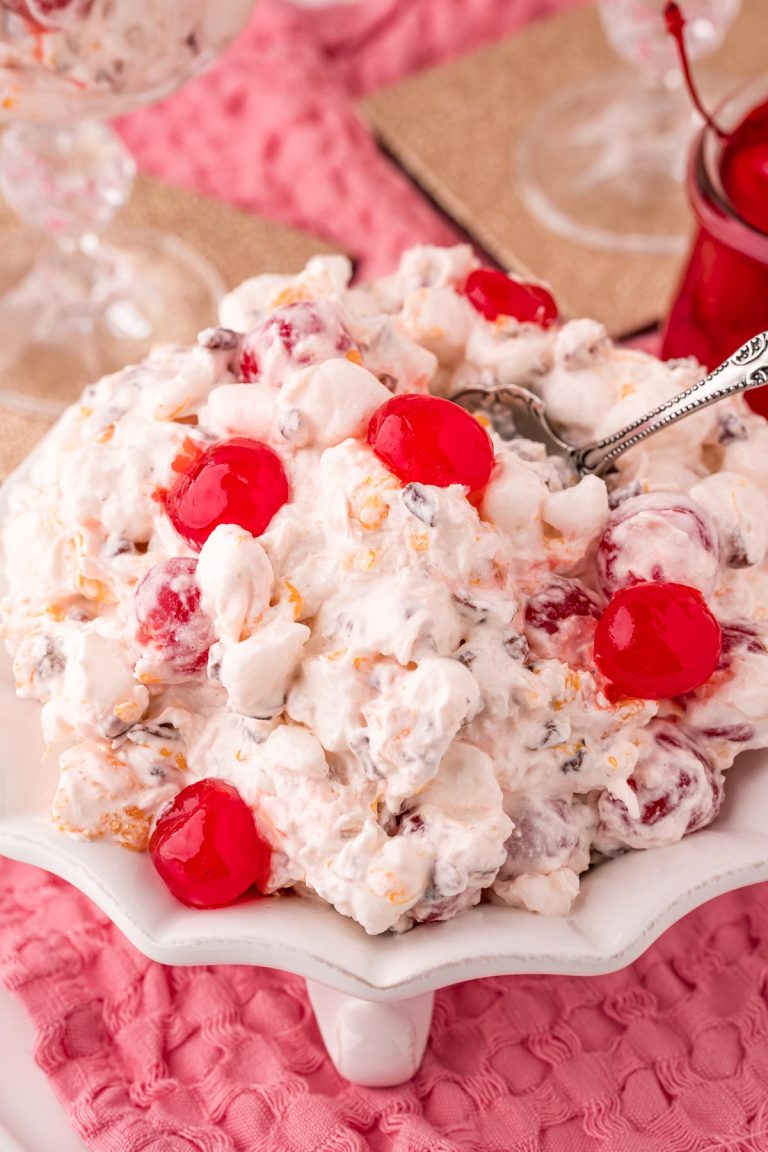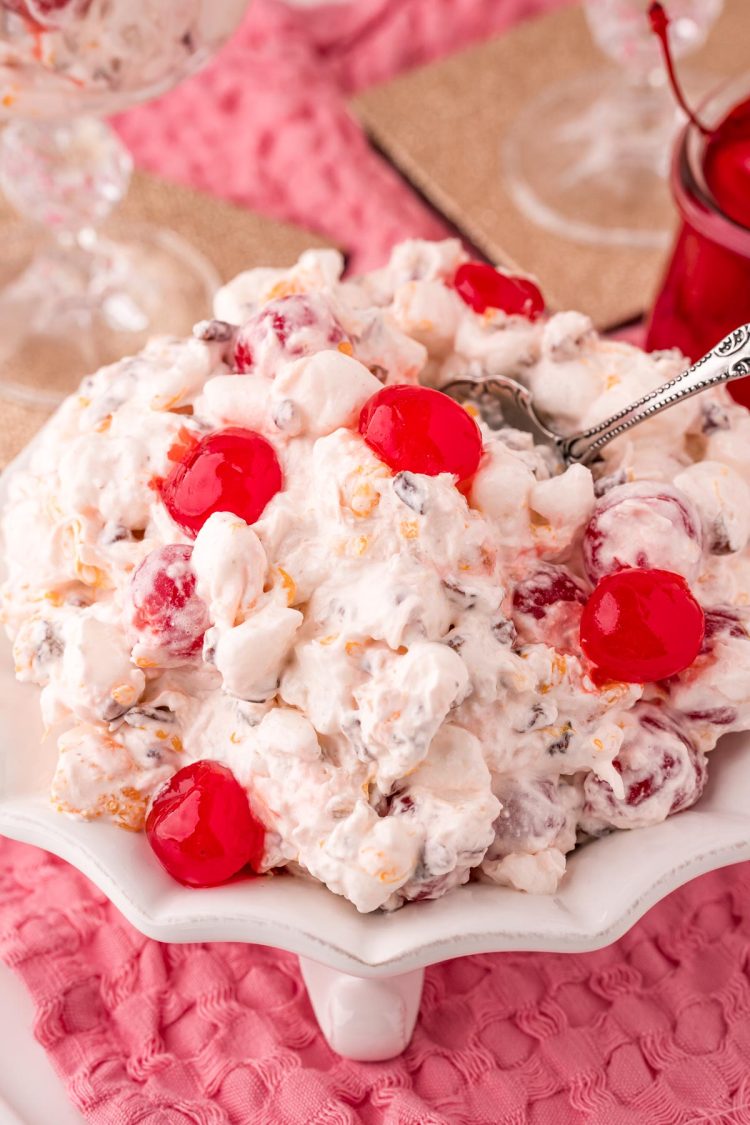 Ingredient Notes
Whipping up this Classic Ambrosia Salad recipe is super easy to do! Simply toast the pecans in only 10 minutes and then combine all of the ingredients into the sweet, creamy mixture that holds this side dish together!
To make this Ambrosia Fruit Salad you'll need the following ingredients:
Chopped Pecans – These will get toasted in the oven before being added to the salad. The pecans lend a wonderful crunch and slight nutty flavor to the Ambrosia Salad.
Fruit – Pineapple tidbits, mandarin oranges, and maraschino cherries.
Shredded Coconut – This enhances the great tropical flavor this salad has!
Vanilla Extract – Brings all the flavors of this entire recipe together and smooths them out for the best taste!
Mini Marshmallows – Regular or fruit flavored, your choice!
Cool Whip – You could also use Whipped Cream as long as you'll be enjoying the salad within a few hours.
Greek Yogurt – Can be replaced with sour cream or whipped cream cheese if you'd prefer.
Once you've finished making the Fruit Salad you can leave it as is or add some pink color to it! For color just add some pink or red food coloring or use the juice from the jar of cherries!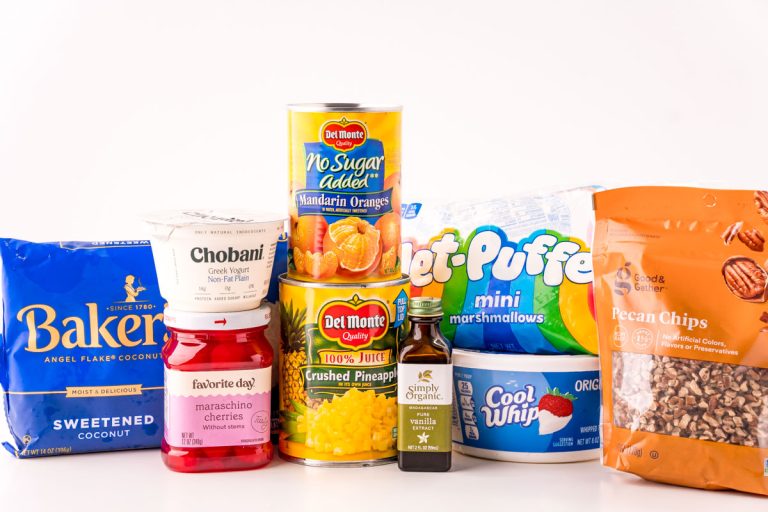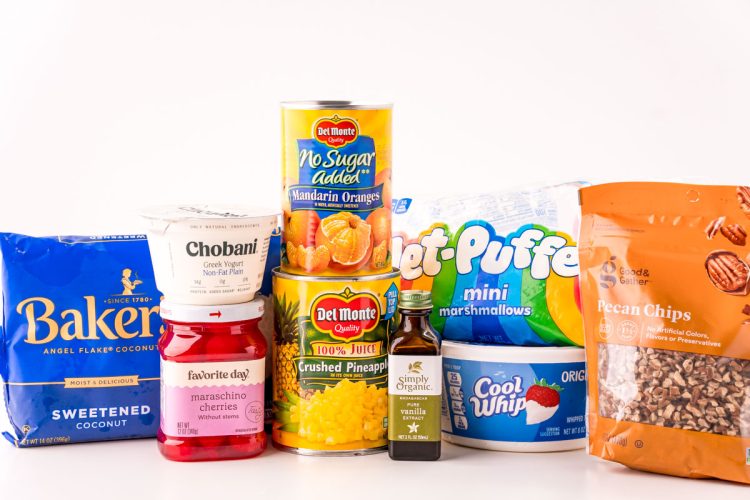 How To Make Ambrosia Fruit Salad
Toast the pecans by spreading them out on a baking sheet and placing them in the oven. Afterward, allow them to cool.
Combine the pineapple, mandarin oranges, cherries, coconut, vanilla, and cooled pecans into a large bowl. Mix the ingredients together.
Fold in the mini marshmallows, whipped topping, and yogurt.
Chill the Fruit Salad in the refrigerator before serving and enjoying!
Toasting the pecans amplifies their flavor and add a lot to the dish, but this step can be skipped if desired.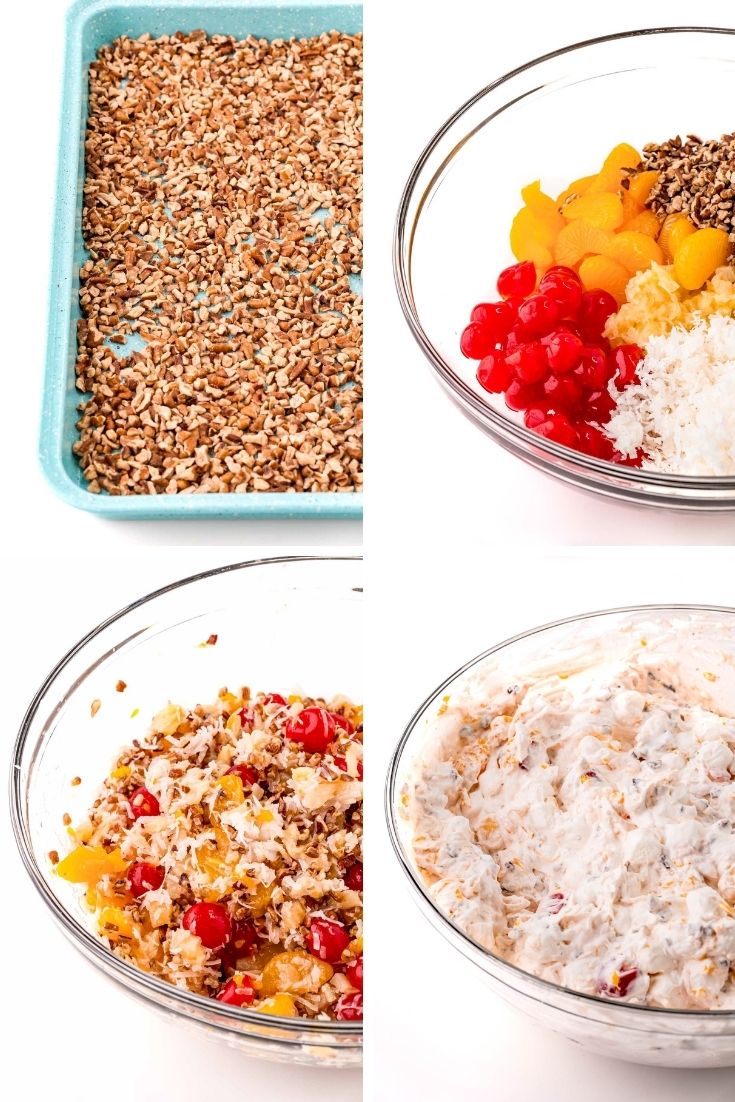 Frequently Asked Questions
What's The Shelf Life Of Ambrosia Salad?
Ambrosia salad stays good for up to 3 to 5 days! Just be sure to store it in the refrigerator in an airtight container.
Can You Freeze Ambrosia Salad?
Unfortunately, Ambrosia Salad does not freeze well. The freezing and thawing take a toll on the overall salad and will result in a soupy, soggy salad.
What Does Ambrosia Salad Taste Like?
The fruit you choose to put into your salad will ultimately dictate its flavor. If you follow this recipe you're left with a fruity, tropical flavor in a sweet, slightly tangy creaminess.
Does The Yogurt Flavor Stand Out In This Recipe?
Not to worry, it does not! Instead, it cuts the sweetness of the overall recipe to balance out the flavor.
Can I Leave The Shredded Coconut Out Of The Ambrosia Salad?
Though coconut shreds are a traditional ingredient in the salad you can totally leave it out if you prefer.
Can I Use Fresh Pineapple Instead Of Canned Crushed Pineapple?
You most certainly can! That fresh flavor would make a great addition to this recipe!
What Other Nuts Can I Use In This Fruit Salad?
If you'd like, you can swap the pecans out for walnuts!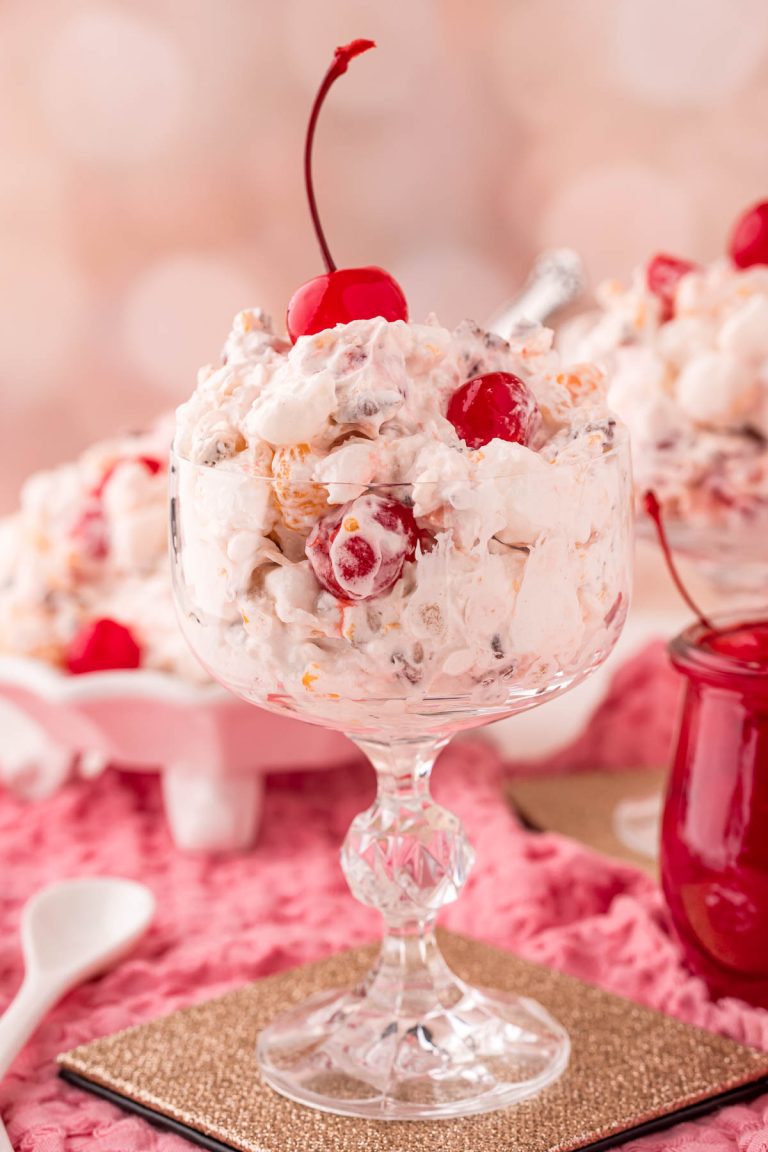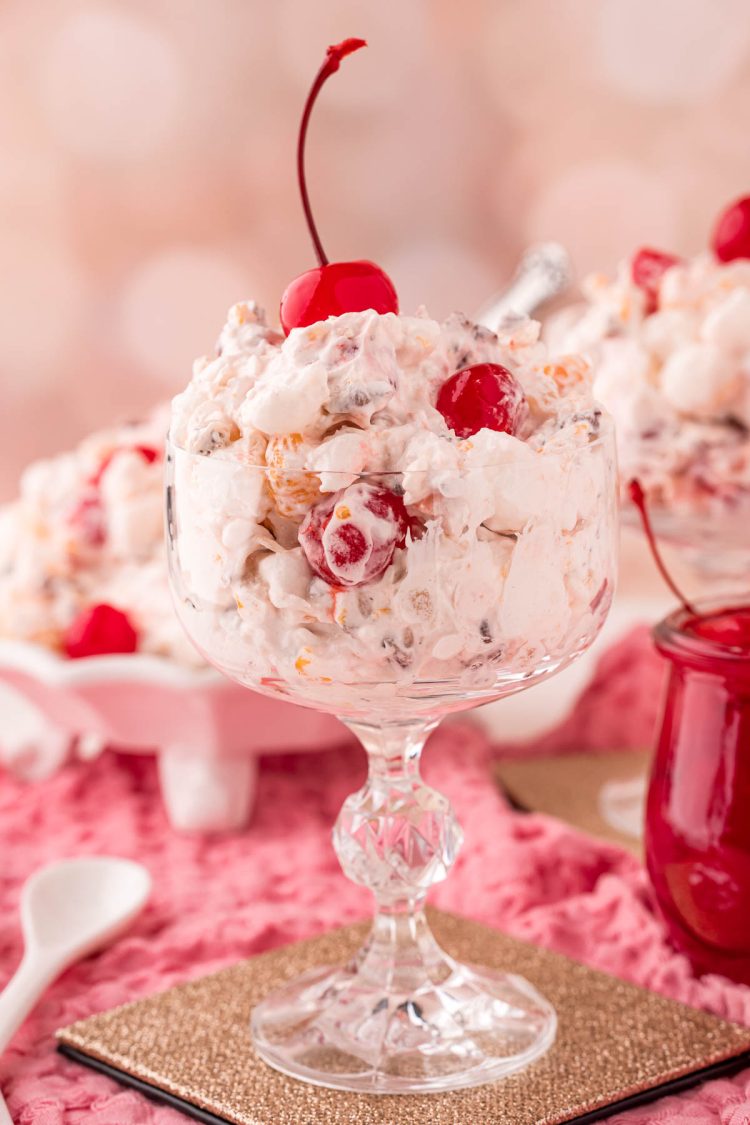 Delicious vintage recipes like this Ambrosia Fruit Salad will always have a spot on my table! If you have yet to try a vintage recipe here are a few popular ones that would be another tasty starting place!
Ambrosia Salad
Pin For Later
CLICK THE BUTTON ABOVE TO SAVE THIS DELICIOUS RECIPE TO YOUR BOARD!
👋 Let's Connect!
If you've tried this recipe, please let me know how you liked it in the comments below and leave a review; I love hearing from you! And don't forget to tag me – @sugarandsoulco – on Instagram and Pinterest with your photos or join our Busy Family Recipes Facebook Community and share them there!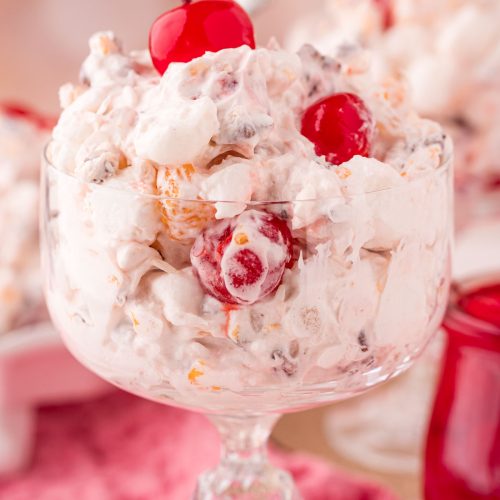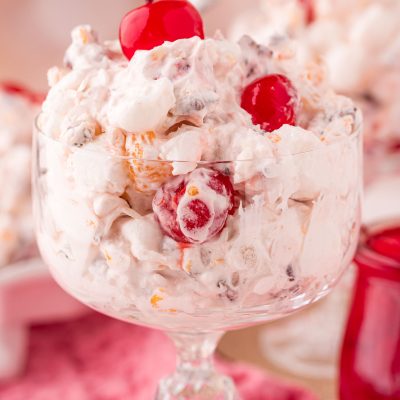 Ambrosia Fruit Salad
Classic Ambrosia Salad combines canned fruit, toasted pecans, mini marshmallows, and shredded coconut in a sweet, fluffy whipped topping! This vintage side dish or dessert comes together in only 20 minutes!
Ingredients
1

cup

chopped pecans or pecan pieces

20

ounces

crushed pineapple

drained

15

ounces

mandarin oranges

drained

12

ounces

maraschino cherries without stems

drained

1

cup

sweetened shredded coconut

1

teaspoon

vanilla extract

3

cups

mini marshmallows

regular or fruit flavored

8

ounces

cool whip

thawed

½

cup

Greek yogurt

or sour cream or whipped cream cheese
Instructions
Preheat the oven to 350°F and spread the pecans out on a baking sheet.

Bake the pecans for 10 minutes to toast them. Allow them to cool before adding to the rest of the ingredients.

In a large bowl, mix together the pineapple, mandarins, cherries, coconut, vanilla, and cooled pecans.

Fold in the marshmallows, cool whip, and yogurt until fully combined.

Refrigerate for 4 hours before serving for best results.
Notes
Should stay good for 3 to 5 days in an airtight container in the refrigerator.
Some prefer to make their ambrosia salads pink and you can do this by adding red or pink food coloring or reserving and stirring in some of the cherry juice.
Nutrition
Calories:
269
kcal
Carbohydrates:
44
g
Protein:
3
g
Fat:
11
g
Saturated Fat:
4
g
Polyunsaturated Fat:
2
g
Monounsaturated Fat:
4
g
Trans Fat:
1
g
Cholesterol:
4
mg
Sodium:
49
mg
Potassium:
219
mg
Fiber:
3
g
Sugar:
36
g
Vitamin A:
322
IU
Vitamin C:
14
mg
Calcium:
74
mg
Iron:
1
mg