This Classic Maine Whoopie Pies Recipe is the perfect ratio of chocolate cake and sweet vanilla buttercream in a hand-held treat the whole family will love!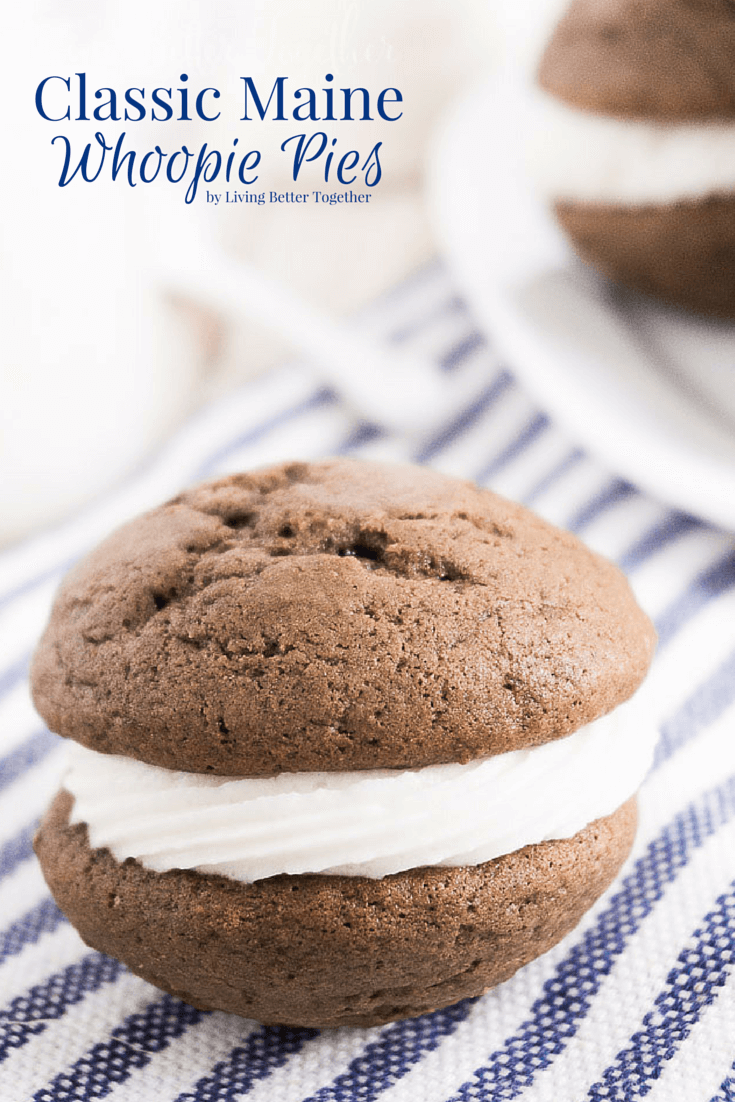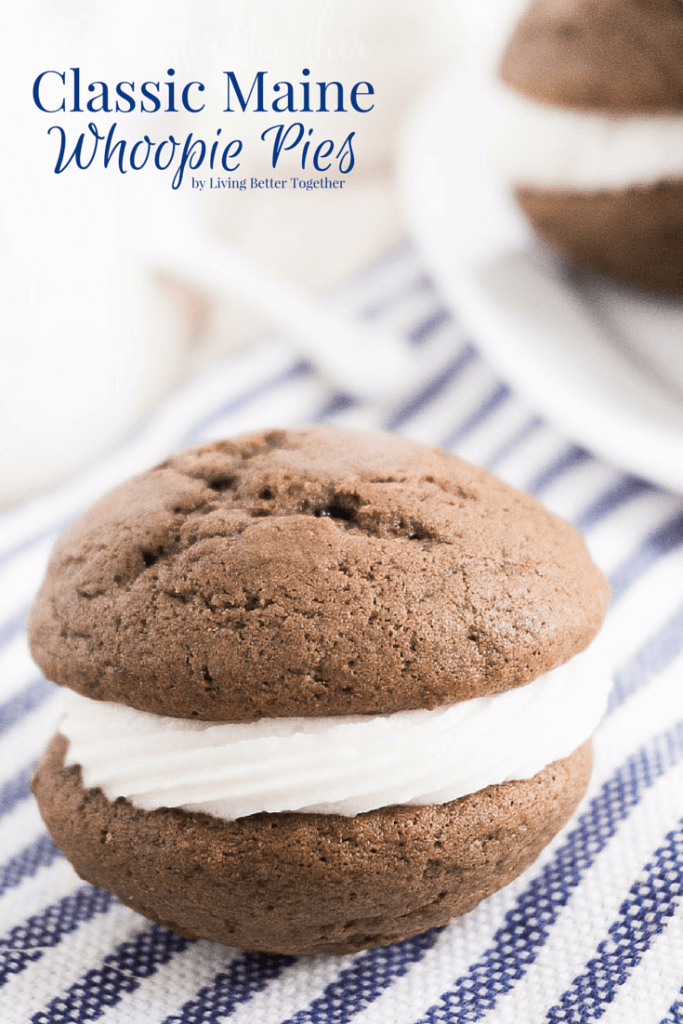 Whoopie Pies
Once upon a time, I hated whoopie pies, that was silly of me. Eventually, some cool guy came around and showed me just how amazing these little cream-filled cakes could be.
Growing up in Maine, a love for whoopie pies should have been in my blood, but it wasn't until my senior year of high school that I developed a taste for them.
Heck, I didn't like cake or chocolate until I met Matt either.
My hips still wish I hated all of them!
Except for Matt, I really like him!!!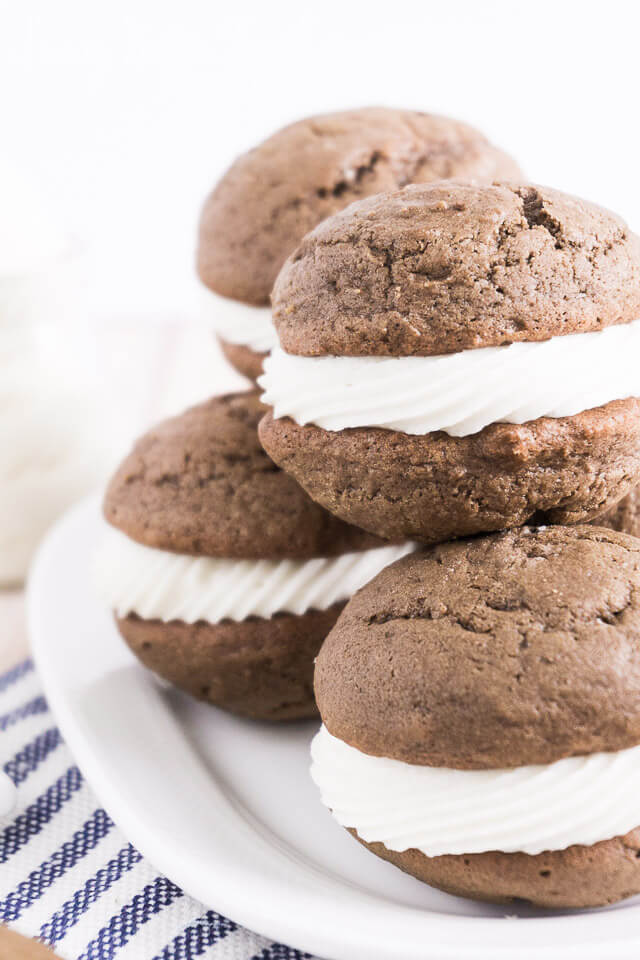 Since the Maine Whoopie Pie Festival is happening today in Dover-Foxcroft, I figured it was the perfect time to share a classic recipe for the Maine State Treat!
A friend of mine was kind enough to share her Grandmother's recipe with me, I adapted it just slightly and now I'm passing it along!
As we talked about a few days ago, I have an issue with the "mundane" so Classic Whoopie Pie wasn't exactly in my recipe box.
But I do have Chocolate Covered Cookie Butter Whoopies and White Chocolate Honey Gingerbread Whoopies <—– My all time favorite!
Once again though, these little treats are far from mundane, but I have to admit, these aren't exactly "Classic" whoopie pies as those tend to have raw egg whites worked into the filling.
I'm not really a fan of what most consider to be the traditional filling and decided to go with a Classic Vanilla Buttercream instead. So in my mind, they're still pretty classic and they still taste amazing!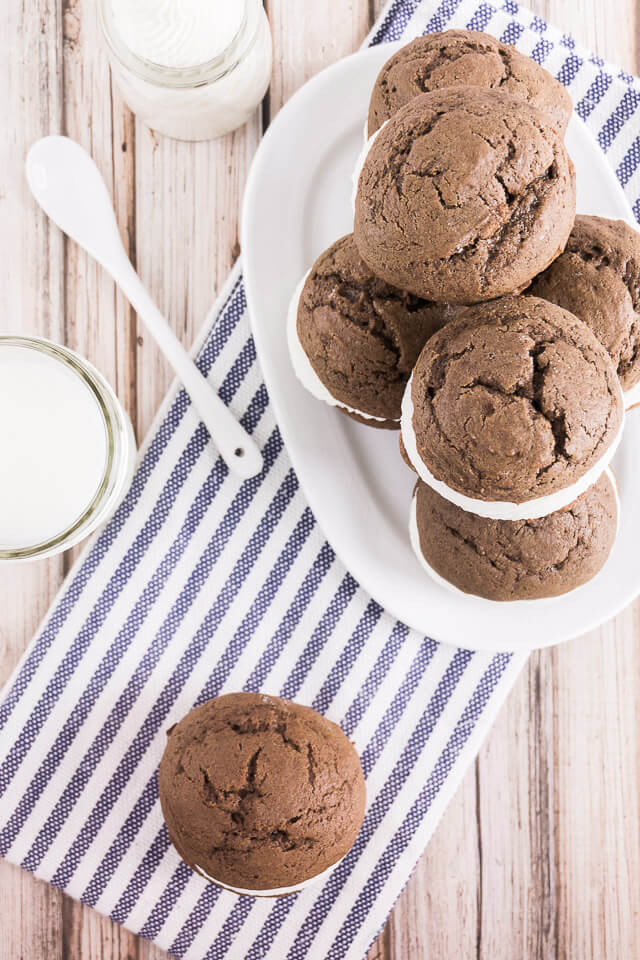 We really love our whoopie pies here in Maine, and most of us have recipes that have been passed down through generations, each one being a little different.
For me, the classic whoopie pie has simple chocolate cakes that crack along the top, aren't super moist, and have a filling that brings it all together. These whoopie pies are just that!
Why Do They Call It A Whoopie Pie?
Whoopie pies were considered a special treat because they were originally made from leftover batter from chocolate cakes and according to Amish legend when children would find these treats in their lunch bags, they would shout "Whoopie!"
Do Whoopie Pies Need To Be Refrigerated?
This answer would probably vary based on who you asked, but personally, I would refrigerate them if you don't plan on enjoying them the same day you assemble them.
The cakes can be made up a day in advance, but once frosted, you want that integrity of the filling to stay intact and refrigerating them will help with that.
Wrap each individual whoopie pie in plastic wrap and store in the fridge for up to 3 days for best taste.
How Do You Freeze Whoopie Pies?
To freeze Whoopie Pies, wrap them individually in aluminum foil (I personally like to wrap them in plastic wrap first) and place in the freezer for up to three months. Let the Whoopie Pies thaw at room temperature overnight before serving.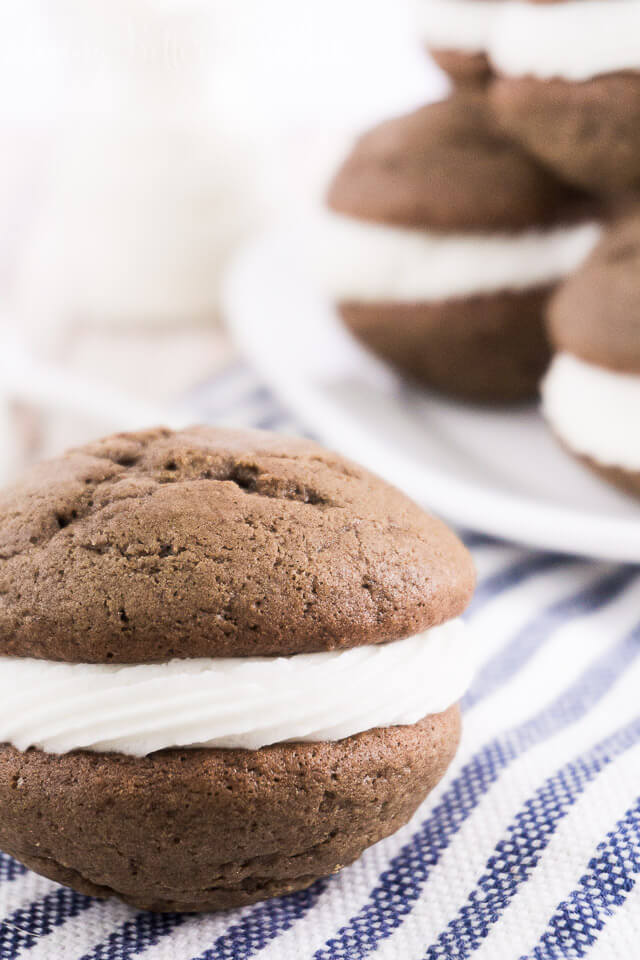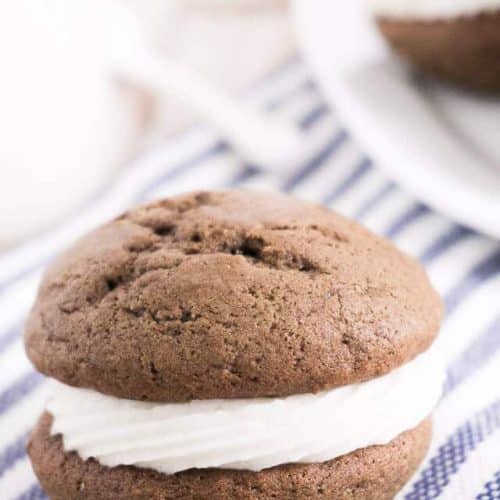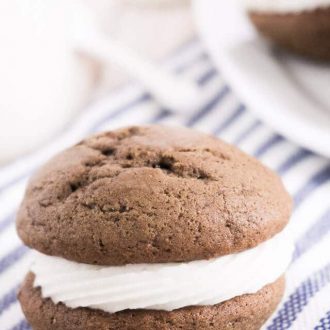 Classic Maine Whoopie Pies
This Classic Maine Whoopie Pies Recipe is the perfect ratio of chocolate cake and sweet vanilla buttercream in a hand-held treat the whole family will love!
Print
Pin
Rate
Ingredients
Filling:
Classic Vanilla Buttercream Frosting
Instructions
Preheat oven to 375 F.

Line baking sheet with parchment paper and set aside.

In a large bowl or stand mixer fitted with a paddle attachment, cream shortening and sugar until mixed.

Add in eggs and vanilla and beat until fully combined, scraping down the sides of the bowl as needed.

In a separate bowl, sift together cocoa, flour, baking soda, baking powder, and salt.

Add dry ingredients to wet ingredients alternating with milk until all ingredients are fully incorporated.

Using a

medium cookie scoop

(1.5 tbsp), scoop batter out onto lined baking sheet, leaving about 3 inches between each scoop. If there are any pointy spots on the cakes, simply wet the tip of your finger and gently press or rub them down so they're smooth.

Make for 10-12 minutes, or until cake spring back when touched.

Transfer to a wire rack to cool and back off the rest of the batter.
Notes
Use the Chocolate or Peanut Butter Frosting for different flavor variations.
Recipe from my friend Brandi.
The original recipe calls for 5 tbsp of Cocoa instead of 1/2 cup.
Nutrition
Calories:
244
kcal
|
Carbohydrates:
35
g
|
Protein:
3
g
|
Fat:
10
g
|
Saturated Fat:
3
g
|
Cholesterol:
34
mg
|
Sodium:
221
mg
|
Potassium:
142
mg
|
Fiber:
1
g
|
Sugar:
17
g
|
Vitamin A:
70
IU
|
Calcium:
47
mg
|
Iron:
1.6
mg