This Homemade Chocolate Syrup is overflowing with rich, delicious chocolaty flavor that you won't get from the store-bought kind! Takes less than 20 minutes of hands-on time to cook it up!
Use this Homemade Chocolate Syrup in a fun ice cream topping bar! Along with this sweet, fruity Easy Homemade Strawberry Sauce Topping and rich, sticky Slow Cooker Dulce de leche Caramel Sauce!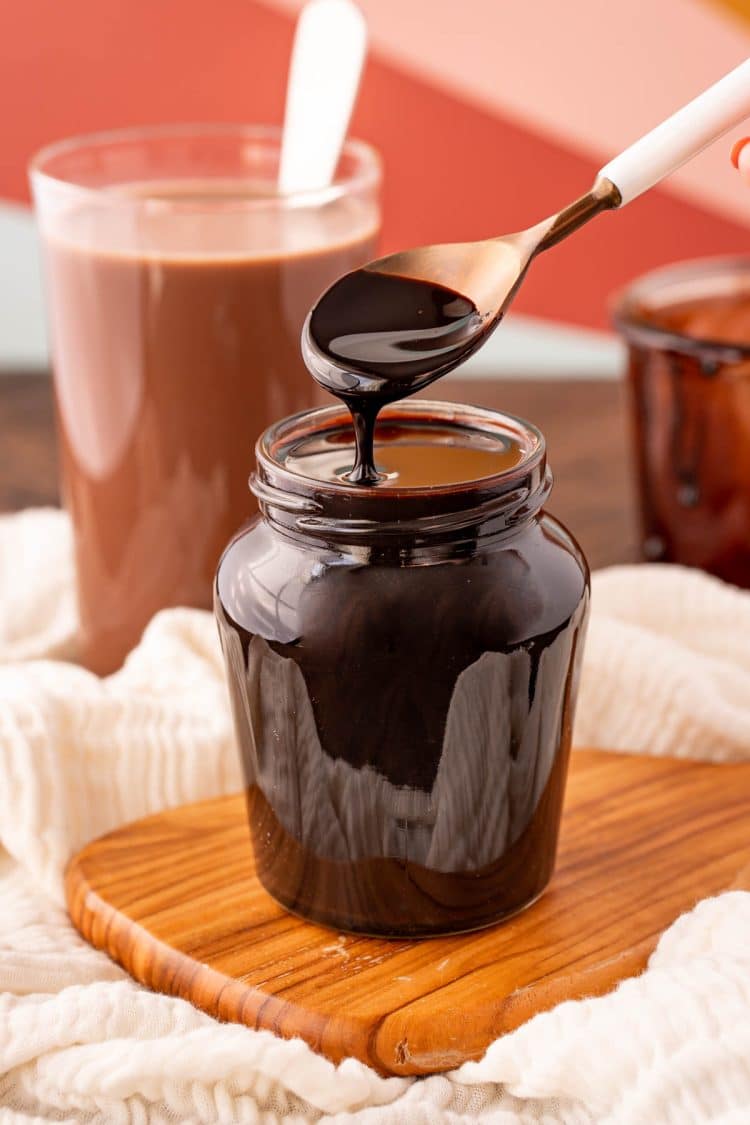 This Homemade Chocolate Syrup will have you kissing a bottle of the store-bought stuff goodbye forever! After all, that artificial flavor doesn't even begin to compare to the homemade taste of this syrup!
Stir this homemade Chocolate Syrup up with your favorite milk to make a tall glass of the best chocolate milk EVER! Or enjoy it as a topping on all of your favorite desserts!
Since a batch lasts for up to 2 weeks, you'll have plenty of time to figure out your favorite way to enjoy this chocolaty, sweet syrup!
Dutch Processed Cocoa Powder
The two main varieties of cocoa powder are natural and Dutch. To bring the best chocolaty flavor to this homemade chocolate syrup recipe I used Dutch-processed cocoa powder!
Dutch-processed cocoa powder has a smooth yet mellow flavor profile. Allowing this syrup to have a rich, deep chocolate flavor with great color!
Whereas naturally processed cocoa has a sharp flavor profile that doesn't provide the overall flavor we want in the syrup!
Therefore, I highly suggest using Dutch-processed to achieve the best taste when making this homemade chocolate syrup!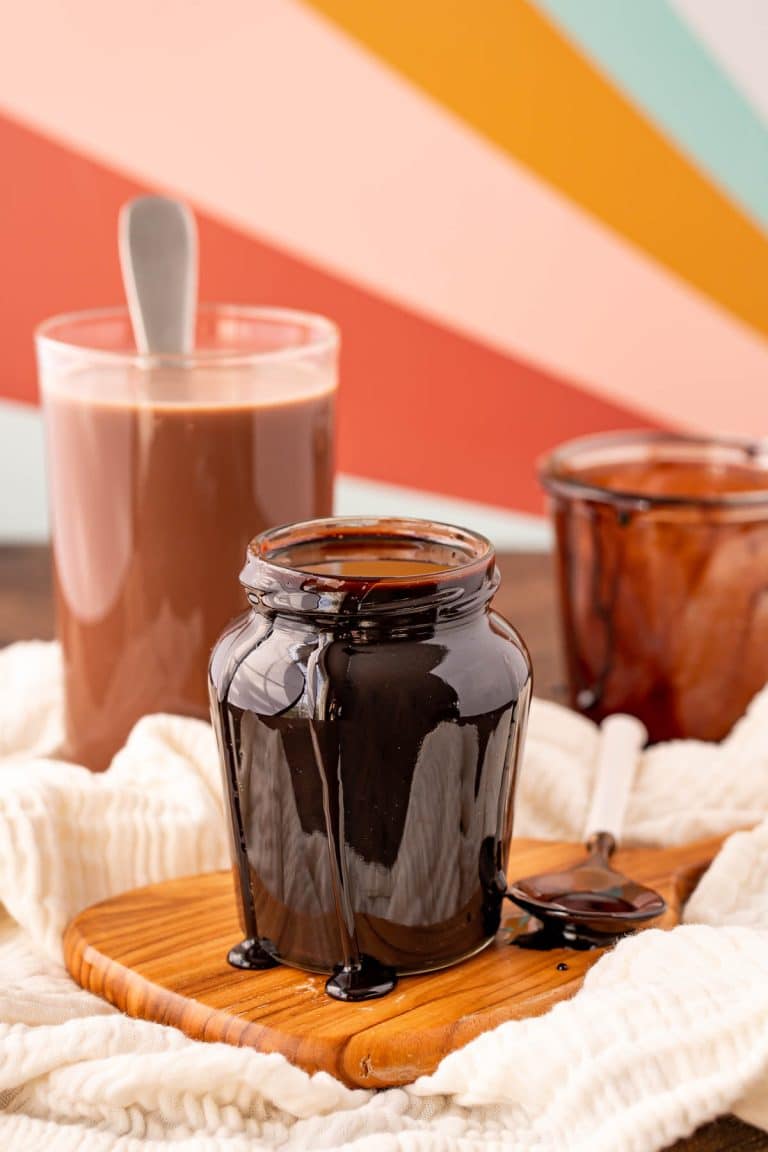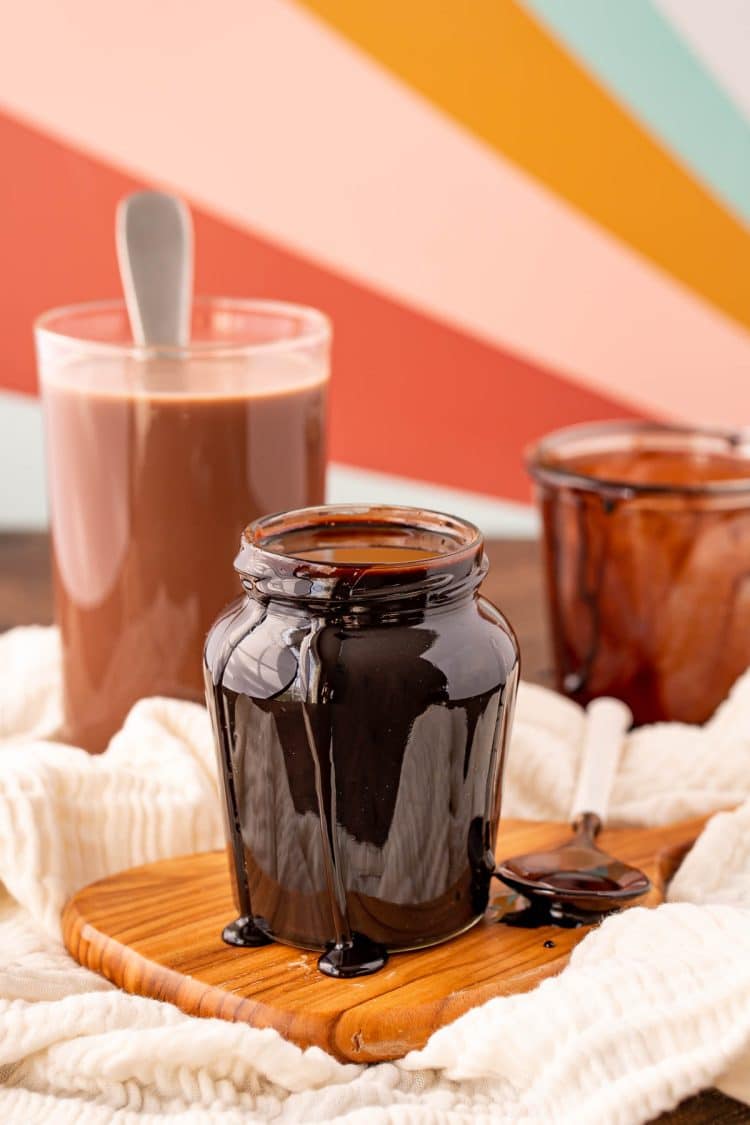 Tips & Tricks When Making This Homemade Chocolate Syrup
Salt – This common pantry ingredient is an important ingredient! It balances out the sweetness in this recipe which allows the homemade chocolate syrup to not be sickly sweet!
Vanilla Extract – To keep the taste of this chocolate syrup smooth, don't skip the vanilla extract! Adding a tablespoon smooths it out while enhancing the chocolaty goodness in this recipe!
Cooking The Syrup – When all of the ingredients are cooking in the pot, be sure to whisk often. This way it doesn't stick to the pot and burn. After about 10 minutes the syrup should be nice and thick!
Straining – I like to strain my syrup through a fine mesh sieve. That way it removes any possible lumps to allow for the smoothest syrup possible!
Cool Before Using – It may be tempting to enjoy this syrup right away, however, it's best to wait for 1 to 2 hours before enjoying it!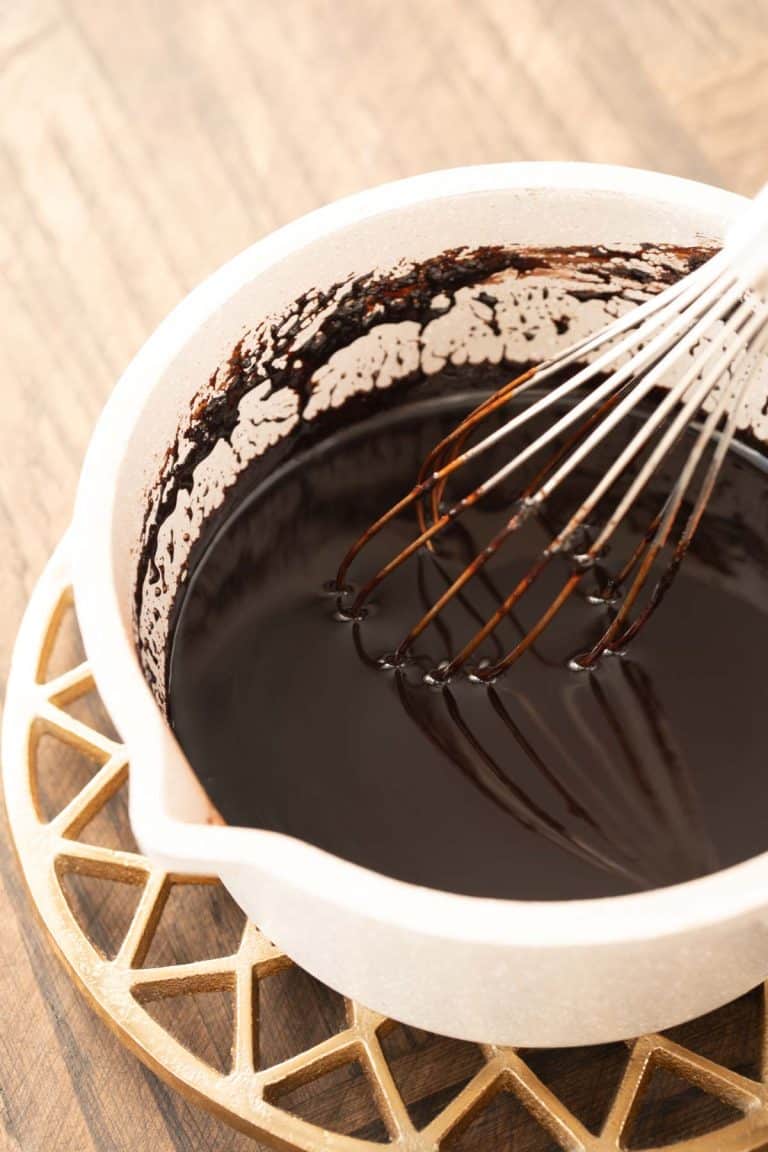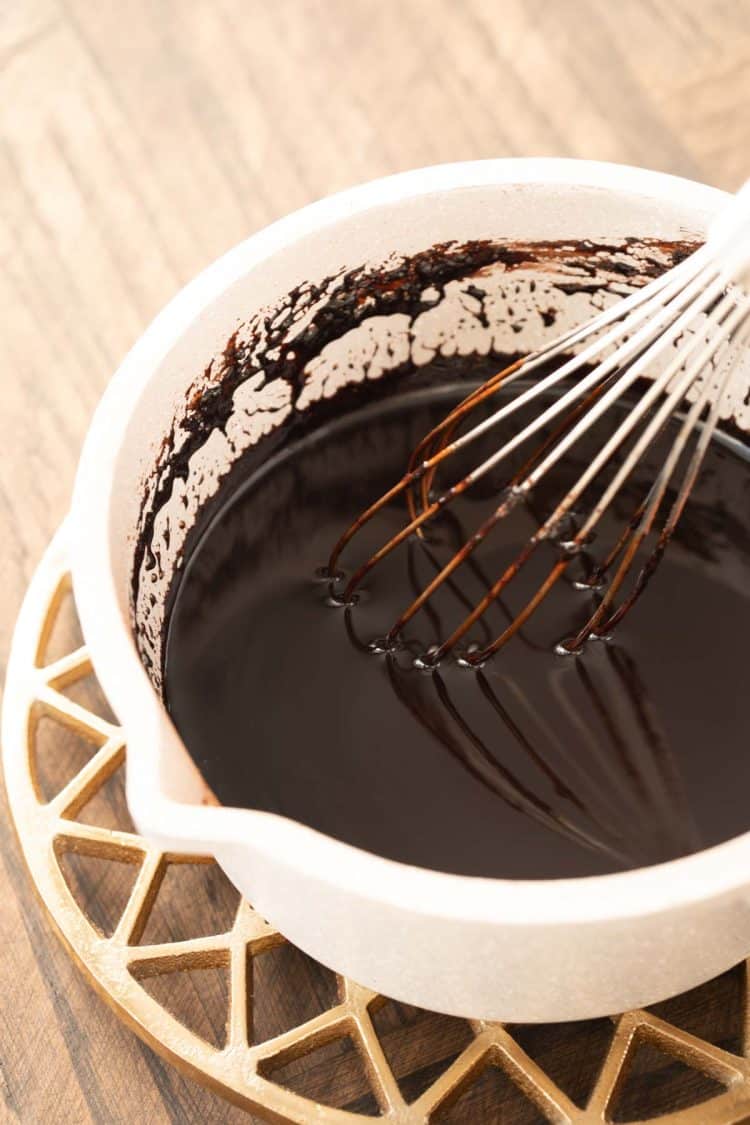 Fun Ways To Use This Delicious Chocolaty Sauce!
The possibilities are endless when it comes to using up this homemade chocolate syrup! Here are some of our favorite ways to enjoy it:
How Do I Store Chocolate Syrup?
Store this homemade chocolate syrup in an airtight container or tightly sealed jar in the refrigerator. The sauce is then good to enjoy for up to 2 weeks!
Can I Heat This Syrup Up To Enjoy It Warm?
Yes, you can pop some syrup in the microwave to heat it up before enjoying it. Instead of warming up the entire container of syrup, I'd recommend portioning it out into a small bowl.
That way you only heat up what you plan to use.
Is This Chocolate Topping Similar To Hot Fudge?
While this topping does have a delicious chocolate flavor the difference between it and hot fudge is the consistency. Hot fudge has a very thick consistency while this one is thinner, like syrup.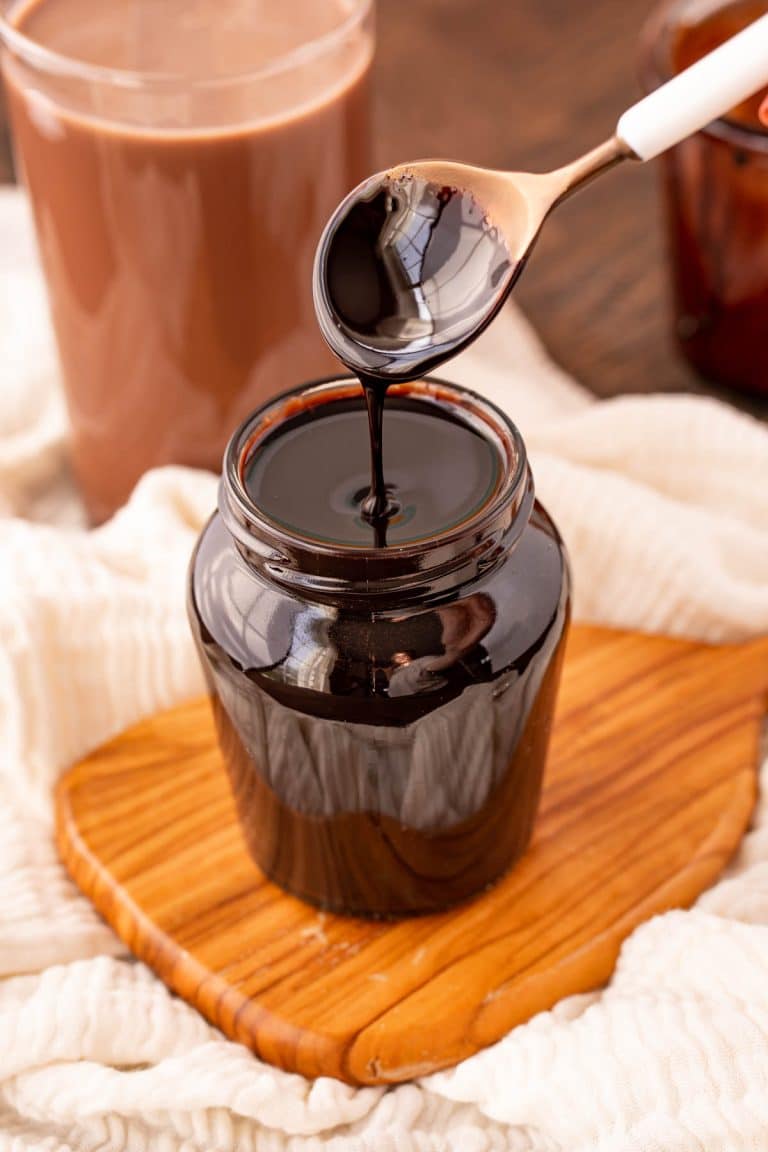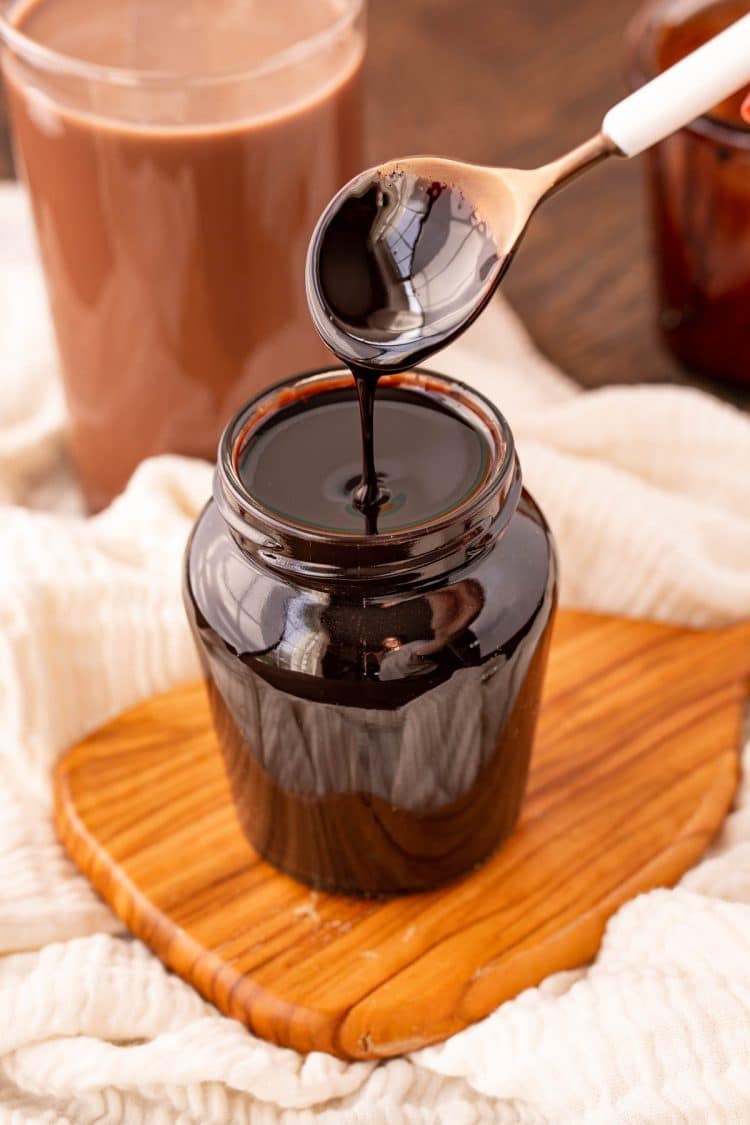 👋 Let's Connect!
If you've tried this recipe please let me know how you liked it in the comments below and leave a review, I love hearing from you! And don't forget to tag me – @sugarandsoulco – on Instagram and Pinterest with your photos or join our Busy Family Recipes Facebook Community and share them there!
This recipe was originally published in December 2013 and was updated in November 2022 with fresh photos and content.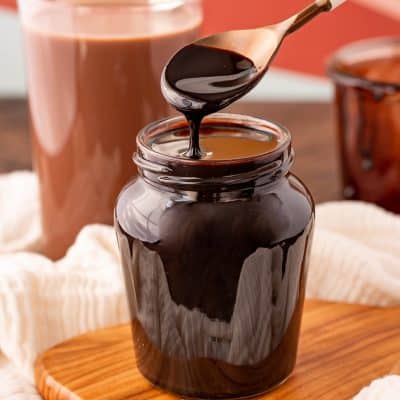 Chocolate Syrup
This Homemade Chocolate Syrup is overflowing with rich, delicious chocolaty flavor that you won't get from the store-bought kind! Takes less than 20 minutes of hands-on time to cook it up!
Instructions
Combine water and sugar in a large pot and bring to a boil.

¾ cup water,

1½ cups granulated sugar

Reduce heat to low and sift in the cocoa powder.

¾ cup Dutch-processed cocoa powder

Then whisk in the vanilla, salt, and corn syrup.

1 tablespoons vanilla extract,

⅛ teaspoon sea salt,

1 tablespoon light corn syrup

Continue to cook for about 10 minutes, whisking often, until it starts to thicken.

Remove from heat and strain through a fine mesh sieve to remove any clumps.

Let cool completely, about 1 to 2 hours, before using.
Notes
Store in an airtight container in the refrigerator for up to 2 weeks.

Nutritional information is an estimate per cup of syrup.
Recipe from Alton Brown.
Nutrition
Calories:
708
kcal
Carbohydrates:
177
g
Protein:
7
g
Fat:
8
g
Saturated Fat:
4
g
Polyunsaturated Fat:
0.3
g
Monounsaturated Fat:
2
g
Cholesterol:
8
mg
Sodium:
167
mg
Potassium:
500
mg
Fiber:
12
g
Sugar:
159
g
Vitamin A:
110
IU
Vitamin C:
0.04
mg
Calcium:
52
mg
Iron:
5
mg