This No Bake Peanut Butter Pie is an easy and sinful dessert recipe made with a pretzel crust, a creamy peanut butter filling, and topped with peanut butter cups.
Looking for more delicious no bake desserts? Try my No Bake Oreo Cheesecake and Edible Brownie Batter!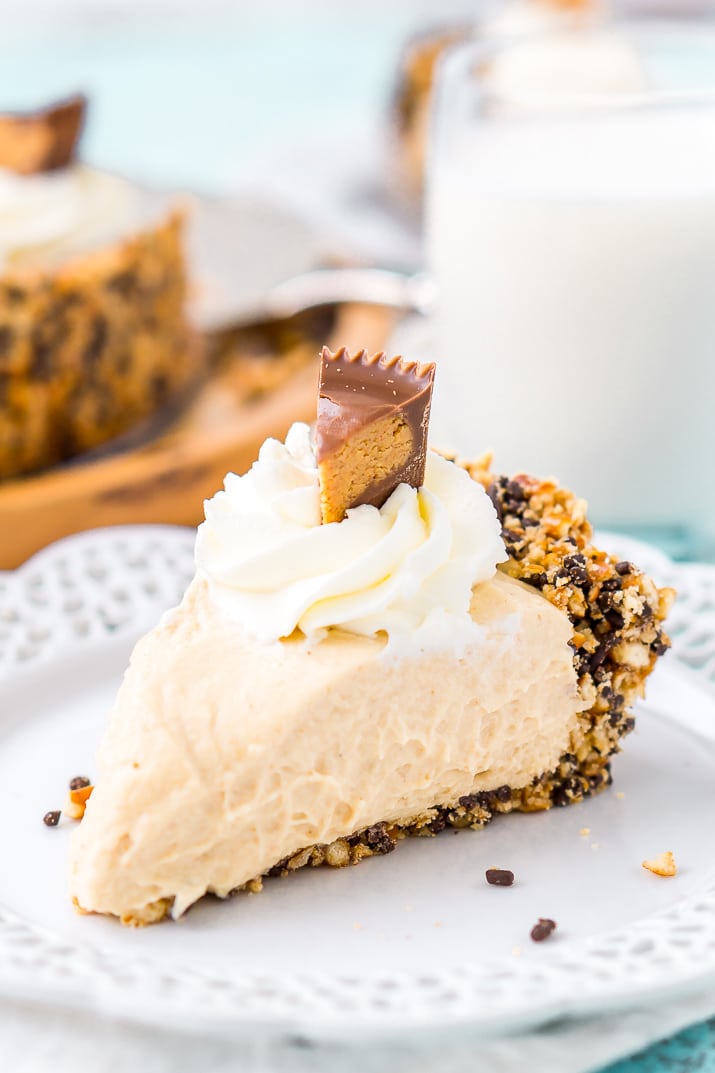 Peanut Butter Pie
Ready for a crave-worthy treat that's cool enough to enjoy on a hot day? This Peanut Butter Pie is the salty-sweet dessert that sets in the fridge!
The one sure way to put a smile on my husband's face is peanut butter and chocolate.
Okay, there's another way too. 😉
In my opinion, peanut butter is one of the best foods in the world and my husband Matt wholeheartedly agrees! Not only is this dessert one of his favorites, the recipe is so simple, even he can make it!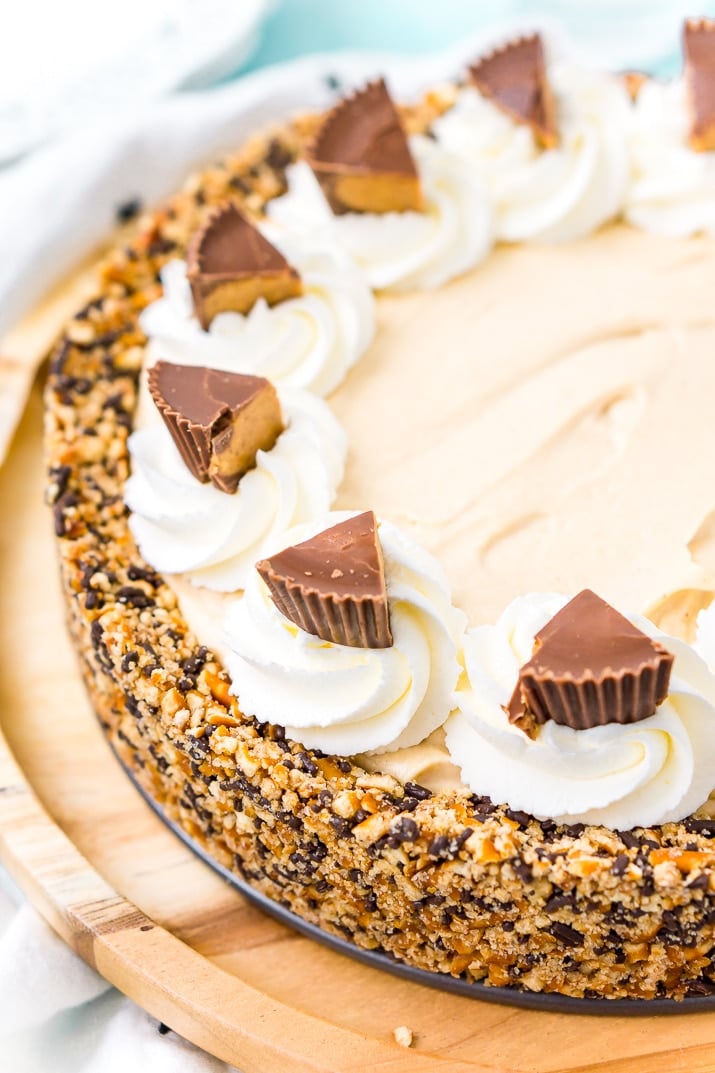 I decided to do a pretzel crust instead of a traditional graham cracker crust.
Why?
Why not!
It was genius, I know.
The filling of this crave-worthy Peanut Butter Pie is made with heavy cream, cream cheese, powdered sugar, vanilla, and of course, peanut butter! But the real twist in this heavenly recipe is the salty pretzel crust.
The pretzels are blended in a food processor, then mixed with chocolate sprinkles, sugar, and melted butter to create the crust. After it's briefly baked then cooled, it's time to pour in all that creamy, peanut-buttery filling!
If pretzels aren't your thing, you can use graham crackers or Oreos and it will still taste amazing!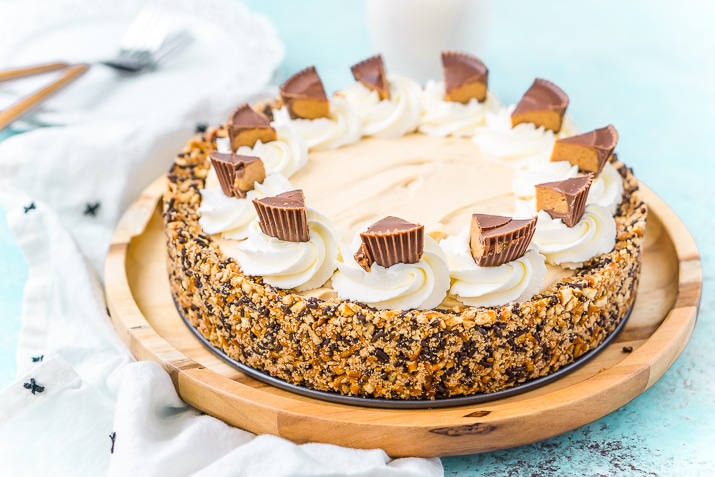 Next, top off this easy Peanut Butter Pie with swirls of whipped cream and pieces of peanut butter cups for an all-star finish. And you can even add a drizzle of chocolate syrup for extra decadence.
While this Peanut Butter Pie recipe is delicious any time of year, I love making it in the summer because it's cool, creamy, and requires very little baking time (just the crust). Plus, it stores well in the fridge — if there are any leftovers, that is!
How to Make this a No Bake Peanut Butter Pie:
You can easily make this as a no-bake pie, simply place the crust in the fridge or freezer for 1 hour before adding the filling. However, I have found that the pretzel crust holds together a bit better when baked, but either way, it will still be delicious!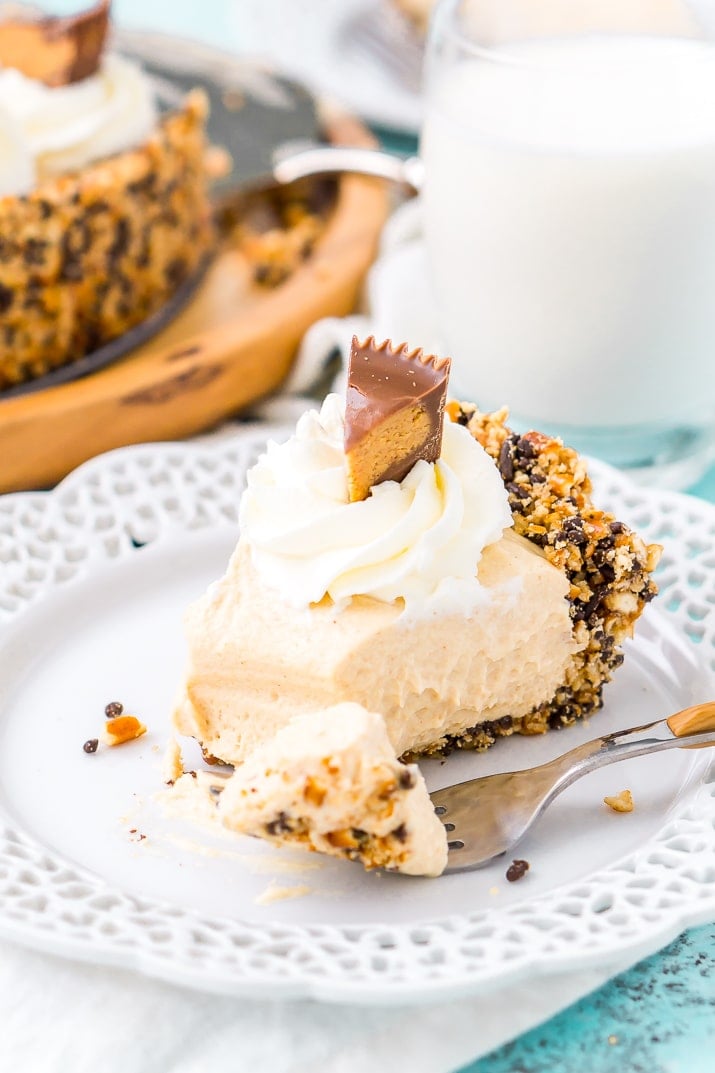 It's also the perfect dessert to make ahead of time if you're planning on hosting or heading to a barbecue, party, or get-together. In fact, if you're planning on feeding a lot of people, you better make two 'cause this dessert is always a crowd-pleaser!
If you're looking for a simple recipe that's as easy to make as it is delicious, you'll fall in love with No Bake Peanut Butter Pie. After all, who doesn't love peanut butter?
More Delicious Peanut Butter Recipes:
Helpful Kitchen Tools:
No Bake Peanut Butter Pie
Pin For Later
CLICK THE BUTTON ABOVE TO SAVE THIS DELICIOUS RECIPE TO YOUR BOARD!

👋 Let's Connect!
If you've tried this recipe, please let me know how you liked it in the comments below and leave a review; I love hearing from you! And don't forget to tag me – @sugarandsoulco – on Instagram and Pinterest with your photos or join our Busy Family Recipes Facebook Community and share them there!
This post was originally published on February 20, 2014.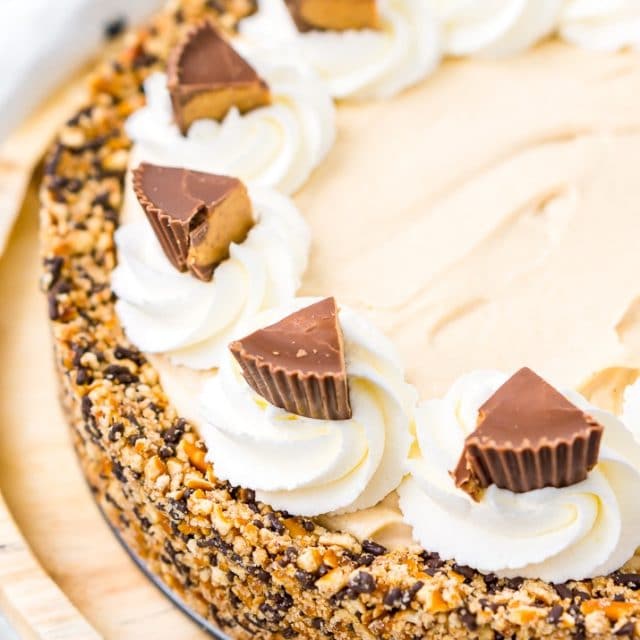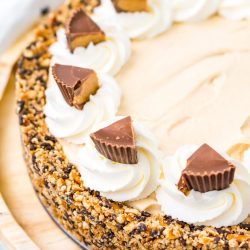 Peanut Butter Pie
This No Bake Peanut Butter Pie is an easy and sinful dessert recipe made with a pretzel crust, a creamy peanut butter filling, and topped with peanut butter cups.
Ingredients
Filling
2 1/2

cups

heavy cream

3/4

cup

powdered sugar,

divided

1

teaspoon

vanilla extract

1

cup

creamy peanut butter

8

ounces

cream cheese

peanut butter cups
Instructions
Crust
Preheat oven to 350 degrees F.

Add the pretzels to a large food processor or blender and pulse until a hearty crumb forms. Transfer to a large bowl and add the granulated sugar and sprinkles and mix to combine. Make a well in the center of the crumb mixture.

Pour in the melted butter and mix until evenly combined. Add the crumb mixture to a 10-inch springform pan and use a glass to press the crumbs into the pan and up the sides to create a crust. See my Graham Cracker Crust post for step-by-step photos. Bake crust for 10 minutes. Allow to cool after baking.
Filling
Add heavy cream, 1/4 cup of powdered sugar, and vanilla extract to a large bowl or stand mixer fitted with a whisk attachment or use a hand mixer and whip until stiff peaks begin to form. Reserve 1 1/2 cups of whipped cream and place in the fridge for later. Transfer the rest of the whipped cream to a large bowl, or if you're using a hand mixer, grab a fresh bowl.

Add the peanut butter, cream cheese, and remaining powdered sugar to the bowl and whip until light and fluffy, fold in half of the whipped cream until combined and then fold in the rest and add the filling into the crust.

Pipe the reserved whipped cream around the edge of the pie and top the dollops of whipped cream with peanut butter cups. Chill in the fridge for at least 4 hours before slicing and serving.

Nutrition
Calories:
722
kcal
Carbohydrates:
49
g
Protein:
11
g
Fat:
55
g
Saturated Fat:
28
g
Cholesterol:
137
mg
Sodium:
484
mg
Potassium:
272
mg
Fiber:
2
g
Sugar:
28
g
Vitamin A:
1535
IU
Vitamin C:
0.3
mg
Calcium:
79
mg
Iron:
1.7
mg