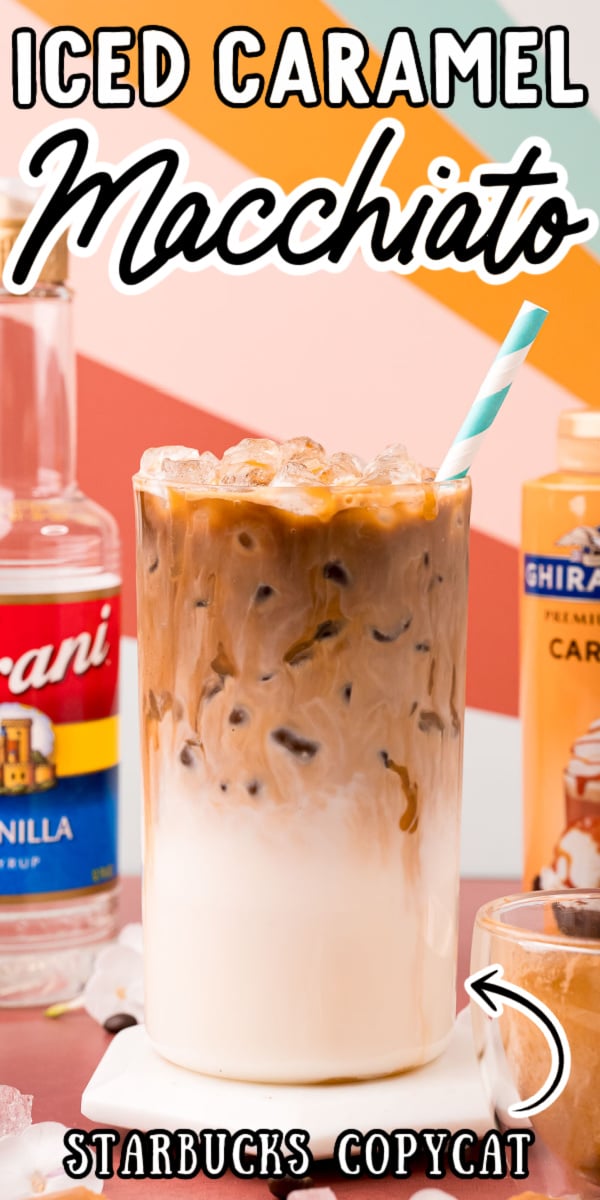 This Iced Caramel Macchiato is a Starbucks Copycat Recipe that's made right at home with espresso, milk, vanilla syrup, and caramel sauce! Take your first sip in just 3 minutes!
Love Starbucks copycat recipes? Then you'll also want to try whipping up a Shaken Brown Sugar Oatmilk Espresso, Medicine Ball Tea, or Pink Drink right at home to enjoy as well!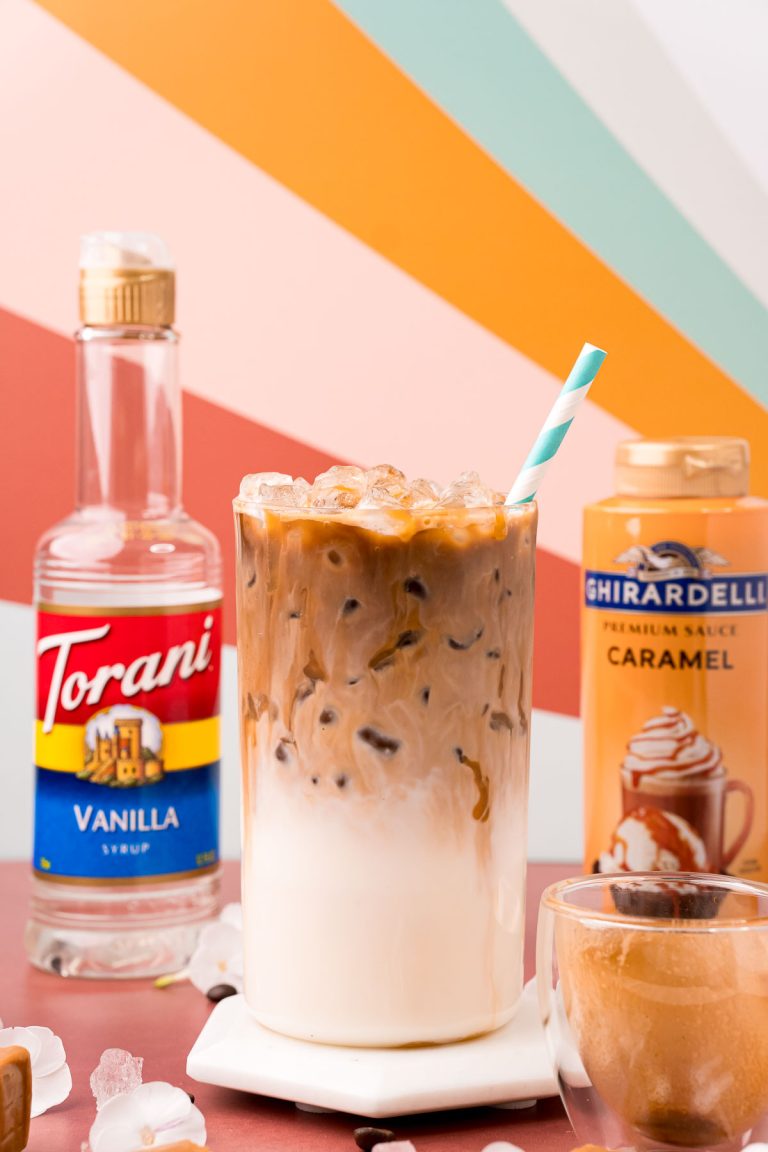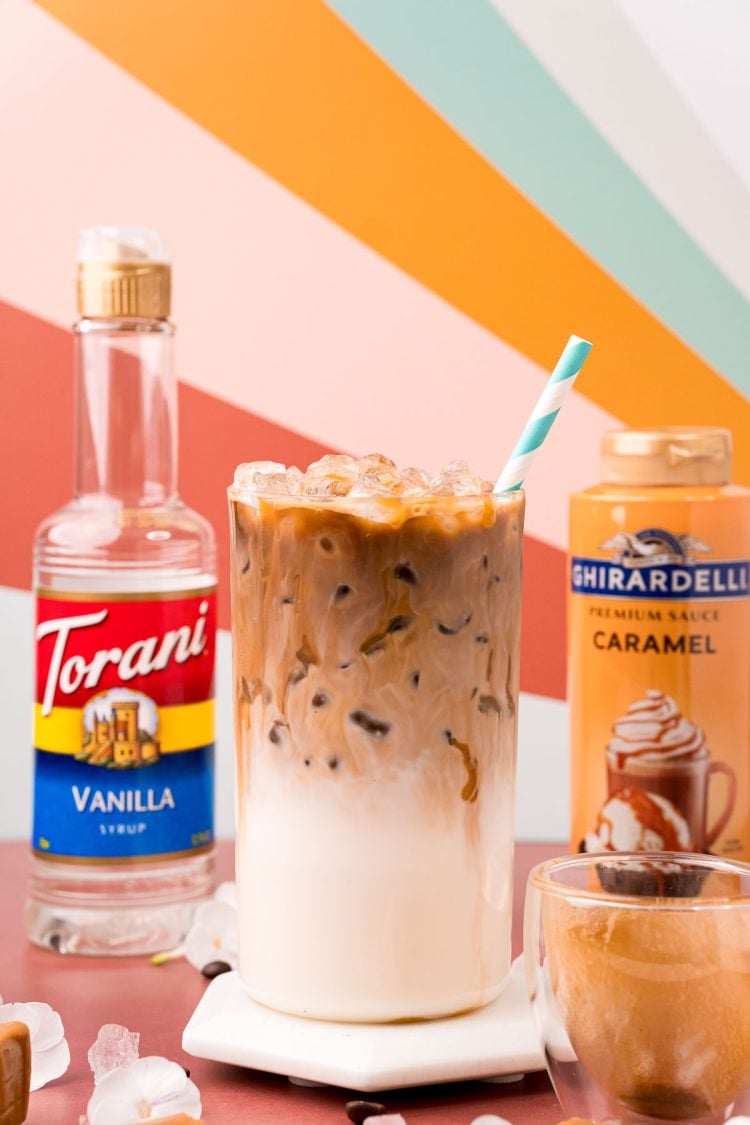 This Iced Caramel Macchiato drink has a bottom layer of sweet vanilla simple syrup that's topped with milk before adding in the bittersweet espresso on top! Then just finish it off with a drizzle of buttery caramel syrup, easy enough right?
When it comes to this Iced Caramel Macchiato Starbucks Copycat Recipe you'll love that combining only 4 ingredients right at home delivers you the same taste you get at Starbucks! The only difference is that it's cheaper and way more convenient than waiting in that long drive-thru line and let's be honest, that line can get really LONG!
If you've never even tried an Iced Caramel Macchiato now is your chance! There's a reason this sweet, creamy coffee drink is one of the most popular go-to orders at Starbucks!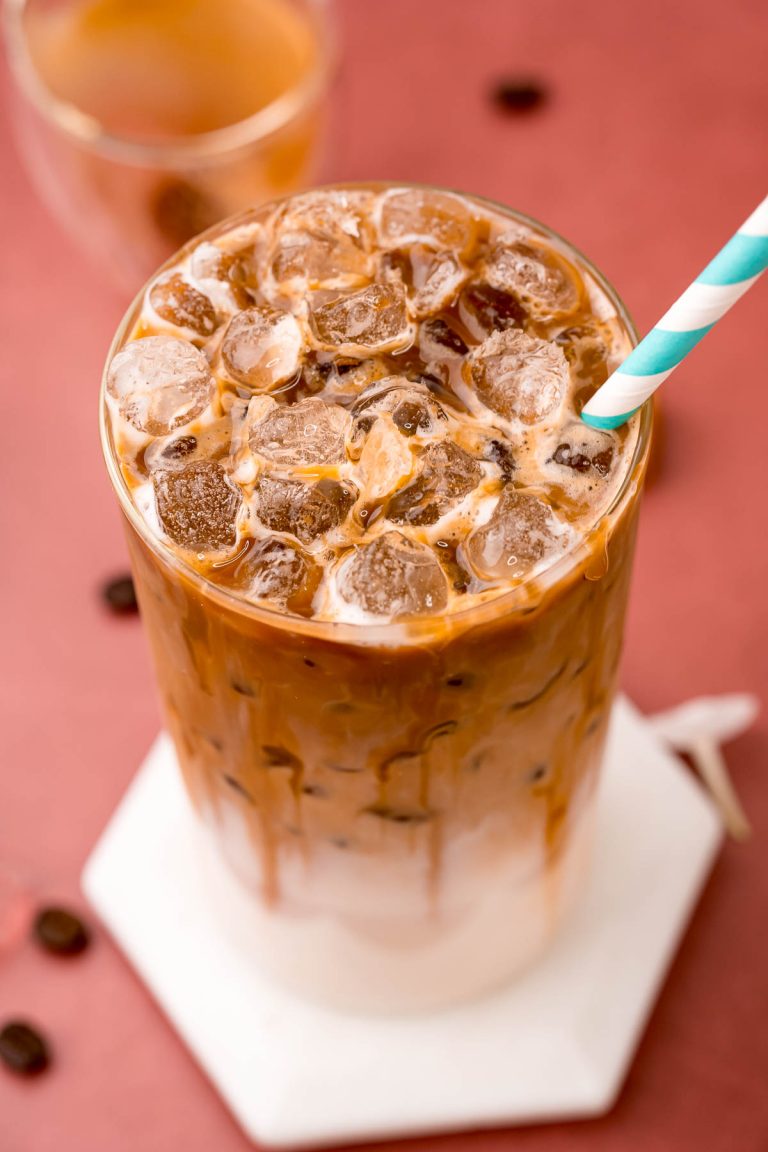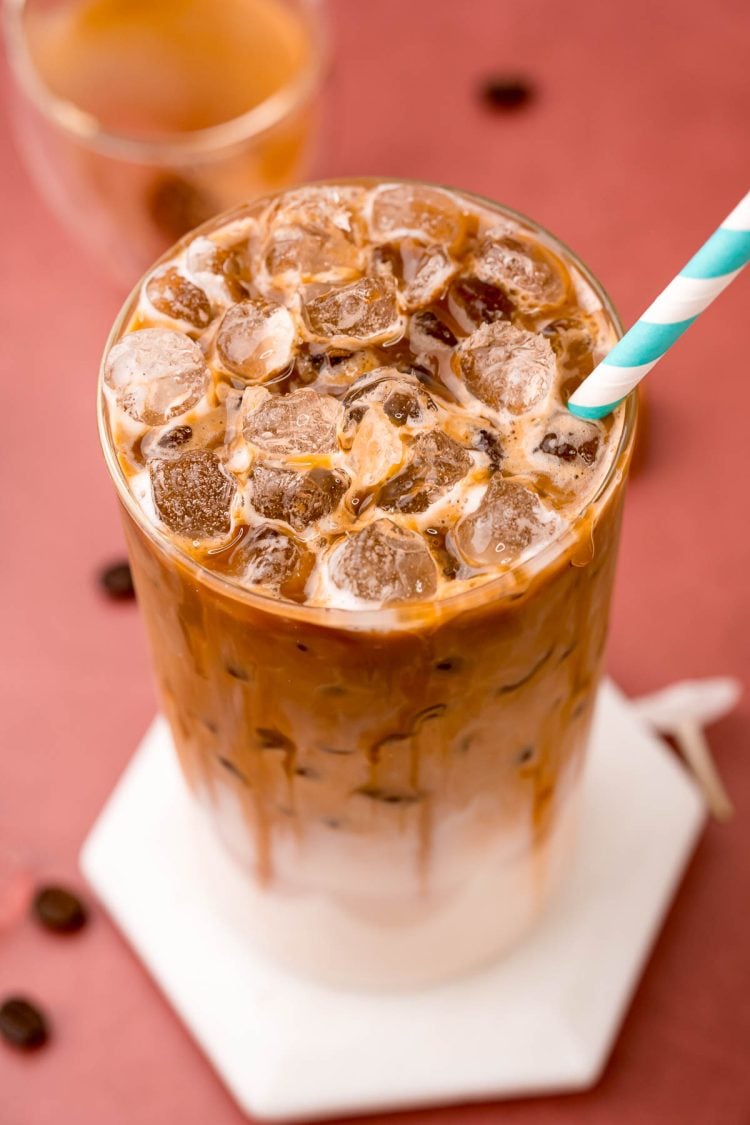 Ingredient Notes
Making this Iced Caramel Macchiato Recipe at home is a lot easier than some may think! To start you need just a few ingredients:
Vanilla Simple Syrup – I used Torani Vanilla Syrup but you could also use a sugar-free vanilla syrup if you're looking to save on calories!
Milk – Feel free to use what you have on hand! I prefer using whole milk but non-fat milk, almond milk, or even soy milk are also popular options.
Espresso – If you want a more authentic Starbucks flavor then grab their Starbucks Dark Roast Espresso!
Ice – To keep the drink chilled! Serve with Coffee Ice Cubes so it doesn't get watered down!
Caramel Sauce – For that sweet drizzled topping! I love using Ghirardelli Creamy Caramel Sauce, yum!
Once you have your ingredients you can make this in your favorite glass to enjoy at home or toss it in your favorite tumbler for on the go!
For those who have never had the Starbucks version, this is a pretty sweet drink. So feel free to cut back on the simple syrup or use sugar-free if desired.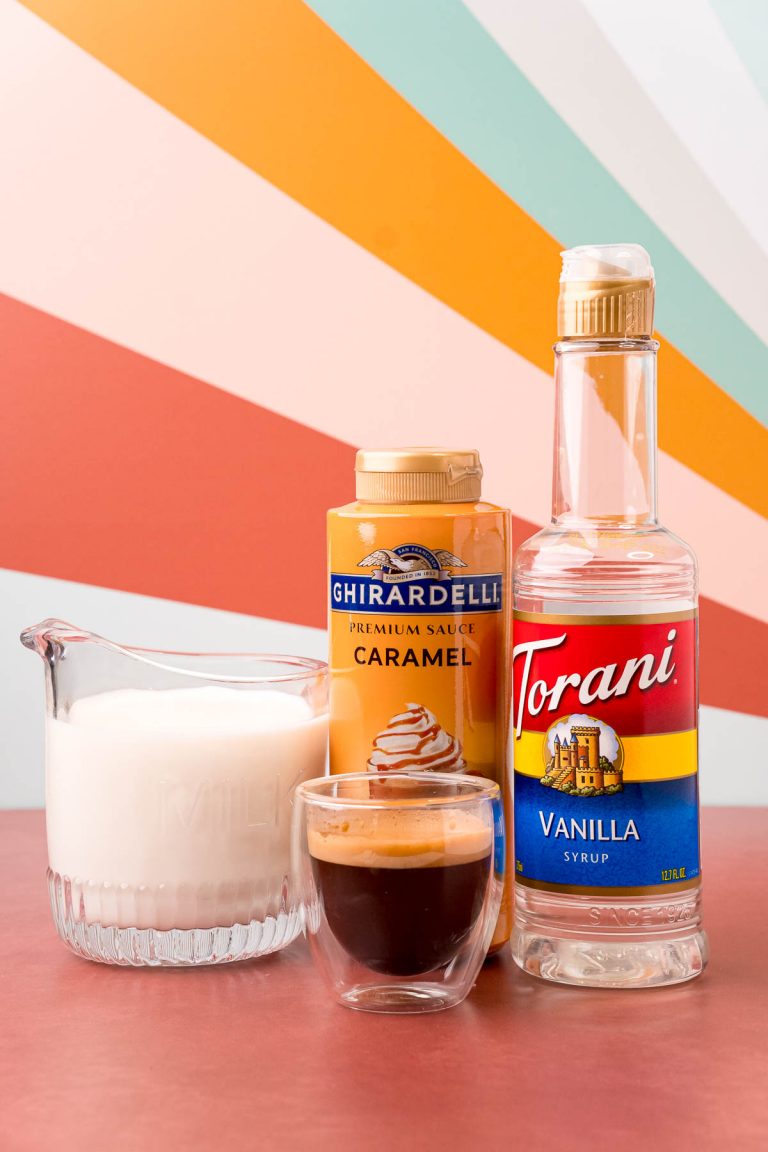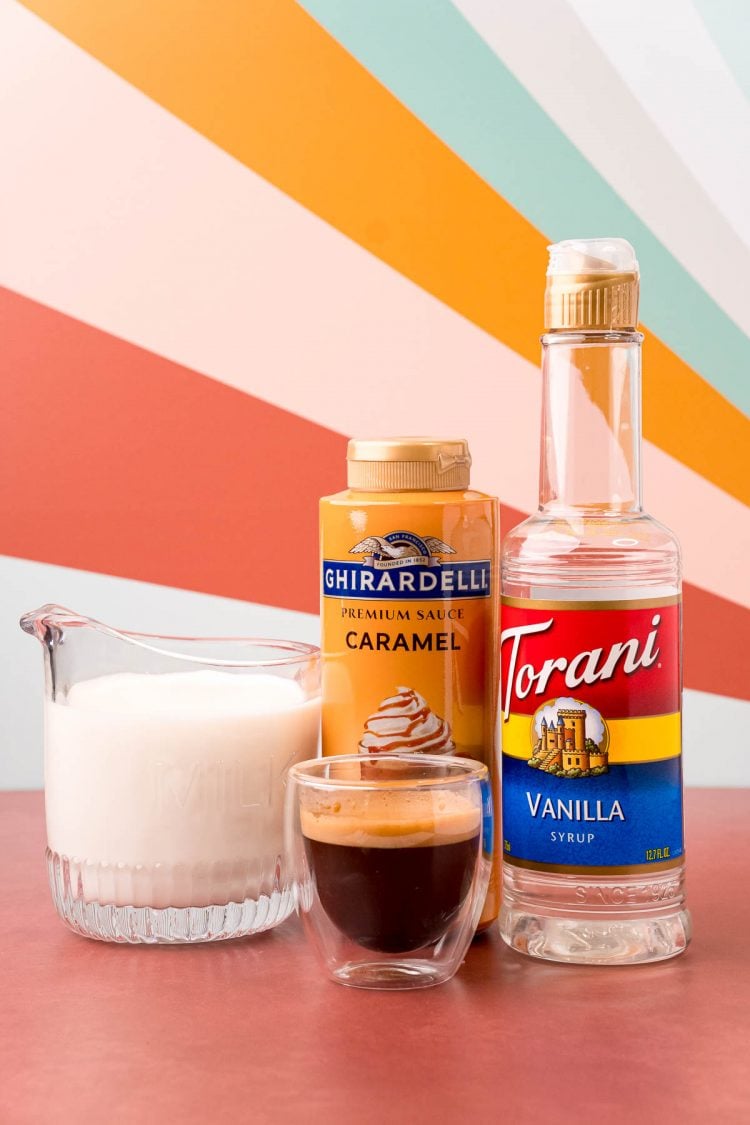 How To Make An Iced Caramel Macchiato
I worked at Starbucks for 4 years in college and this is the exact way a grande size is made.
Pour the vanilla simple syrup and milk into a glass.
Add ice to the glass, filling it almost all the way up.
Pour in the espresso.
Top with a caramel drizzle and enjoy!
It's important to add the ice AFTER adding the syrup and milk. This helps the espresso "float" which gives it that signature macchiato look. Feel free to stir it all together though if you prefer it that way.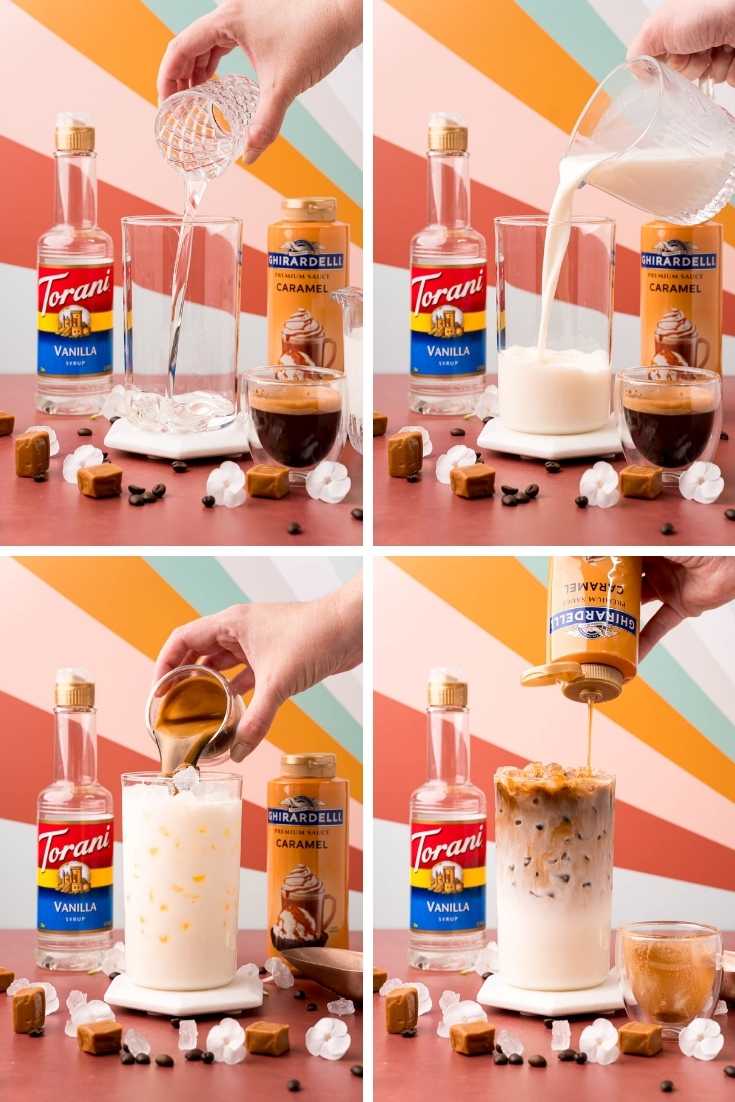 Frequently Asked Questions
Am I Supposed To Stir This Iced Caramel Macchiato?
Traditionally this macchiato is enjoyed in layers instead of being stirred altogether. Of course, feel free to enjoy it any way you prefer!
Can I Make This Recipe Hot Instead of Iced?
Yes, you can! To do so just skip the ice and steam the milk.
What Can I Used Instead Of Espresso?
If you don't have an espresso machine at home here are a few substitutes ideas:
Dark roast coffee
Instant espresso
Nespresso
If you want to invest in your own machine, this is the Espresso Machine I have and I absolutely love it! We've had it for 18 months and use it daily, low maintenance, and works beautifully! Our favorite coffee to use with it is actually Lavazza Espresso.
Should I Let The Espresso Cool Before Pouring It Into My Glass?
You don't have to and I personally don't! You should make this drink in a 16-ounce glass that way there's plenty of room for ice which will cool down the espresso once added.
How Can I Make This Drink Sweeter?
To make it sweeter you can add in more vanilla simple syrup or more caramel drizzle on top! Maybe even both if you like a really sweet iced macchiato!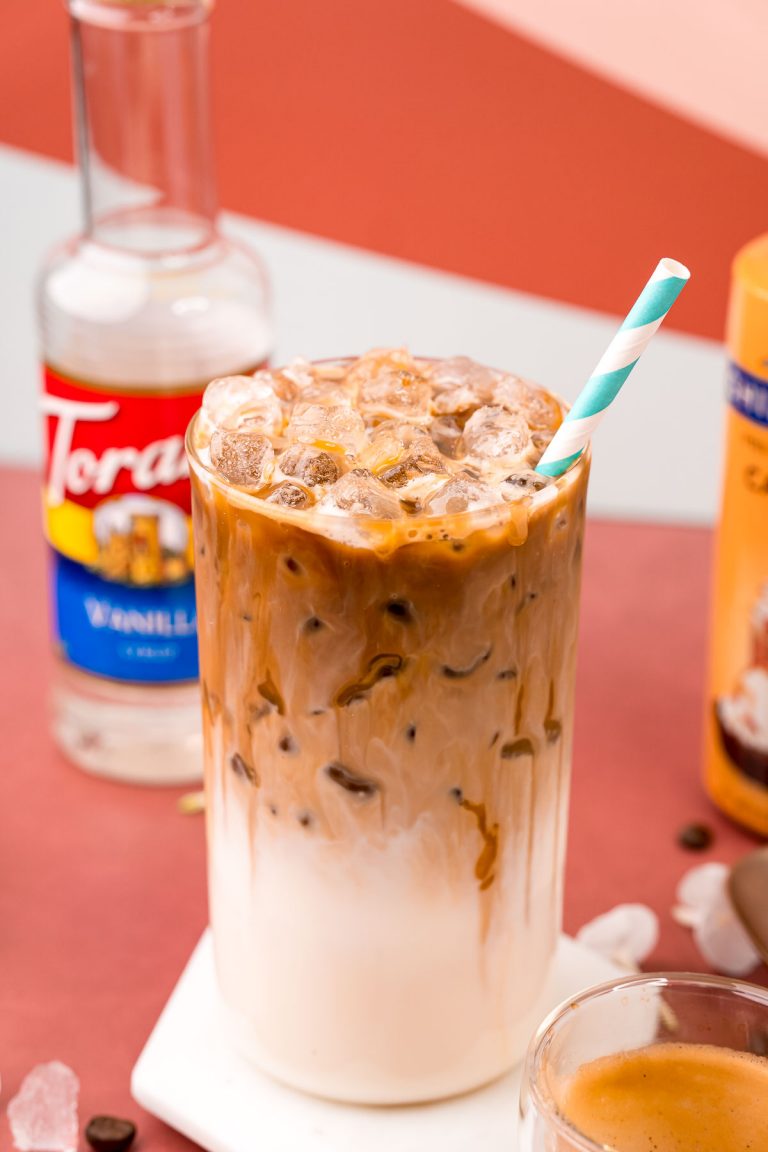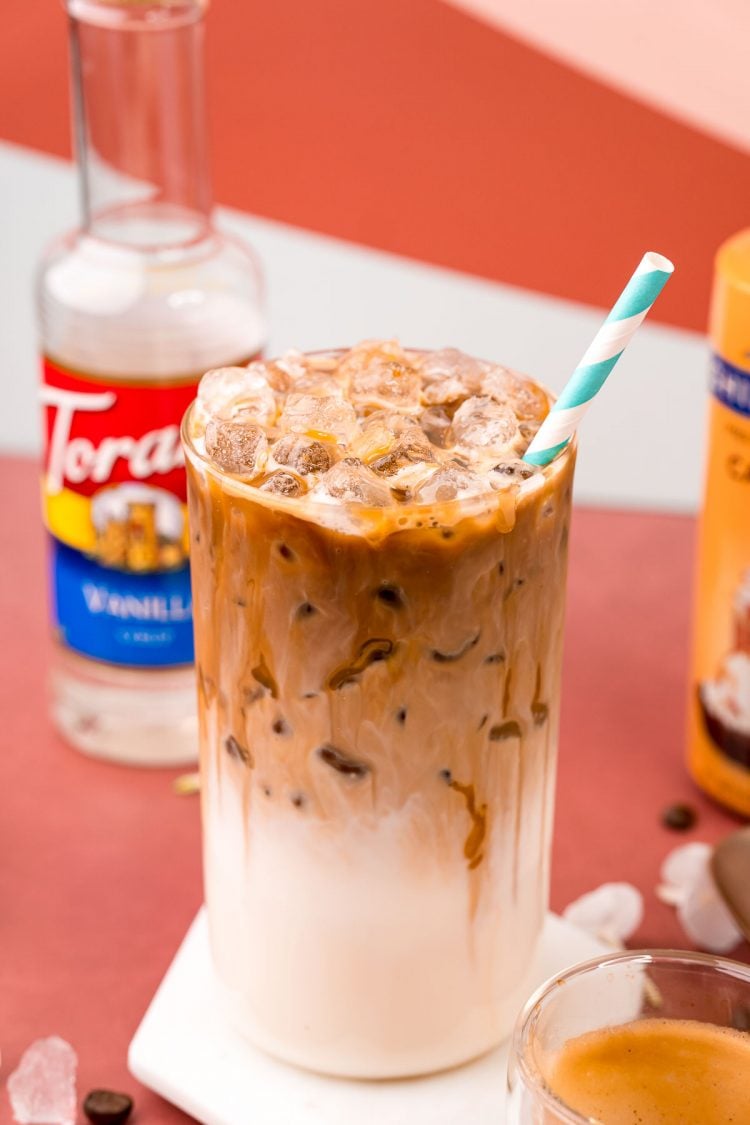 This Iced Caramel Macchiato is a delicious way to enjoy coffee right at home! Skip running out for your favorite cup of drive-thru coffee and instead pour yourself another tasty homemade cup of caffeine by grabbing another coffee recipe to try!
Iced Caramel Macchiato
Pin For Later
CLICK THE BUTTON ABOVE TO SAVE THIS DELICIOUS RECIPE TO YOUR BOARD!
👋 Let's Connect!
If you've tried this recipe please let me know how you liked it in the comments below and leave a review, I love hearing from you! And don't forget to tag me – @sugarandsoulco – on Instagram and Pinterest with your photos or join our Busy Family Recipes Facebook Community and share them there!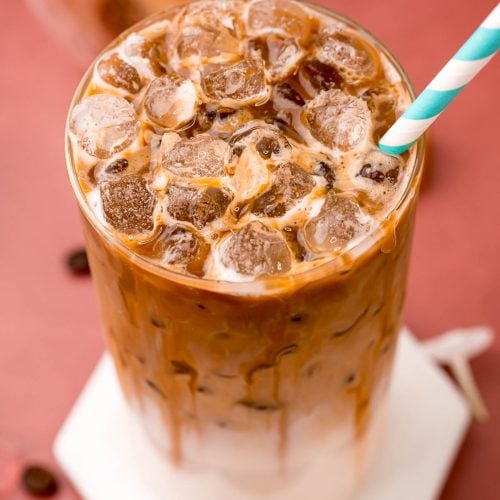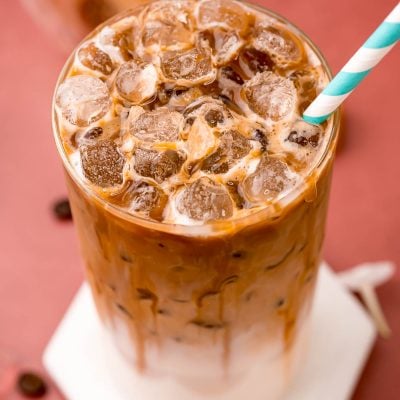 Iced Caramel Macchiato
This Iced Caramel Macchiato is a Starbucks Copycat Recipe that's made right at home with espresso, milk, vanilla syrup, and caramel sauce! Take your first sip in just 3 minutes!
Ingredients
1½

ounces

vanilla simple syrup

I used Torani

8

ounces

milk

of choice, I prefer whole

ice

2

ounces

espresso

2 shots

Caramel sauce

for drizzle topping
Instructions
Add the vanilla simple syrup and milk to a 16 ounce glass.

Fill almost all the way with ice.

Top with caramel drizzle.
Notes
Nutritional information is an estimate using whole milk. To reduce calories you could use a non-fat milk or almond milk and sugar-free vanilla syrup.
Nutrition
Calories:
258
kcal
Carbohydrates:
43
g
Protein:
7
g
Fat:
7
g
Saturated Fat:
4
g
Polyunsaturated Fat:
1
g
Monounsaturated Fat:
2
g
Cholesterol:
23
mg
Sodium:
130
mg
Potassium:
391
mg
Sugar:
43
g
Vitamin A:
367
IU
Vitamin C:
1
mg
Calcium:
263
mg
Iron:
2
mg