This is the Best Peanut Butter Frosting Recipe you're going to find. It's sweet, creamy, peanut buttery PERFECTION made with peanut butter, butter, powdered sugar, vanilla, and heavy cream!
This Peanut Butter Frosting is perfect for Chocolate Peanut Butter Cupcakes, Billionaire Bars, and so much more!
It Really Is The BEST Peanut Butter Frosting Ever!
I love my cookies and I have so much fun with my cupcakes, but it's my frosting that's ON POINT! Sure, a good cake is important, but it's the frosting that MAKES it.
I've learned that a killer frosting can save the day and that it can turn a boring box mix into something AWESOME!
This is the best peanut butter frosting around, it's so creamy and smooth with the perfect balance of sugar and peanut butter.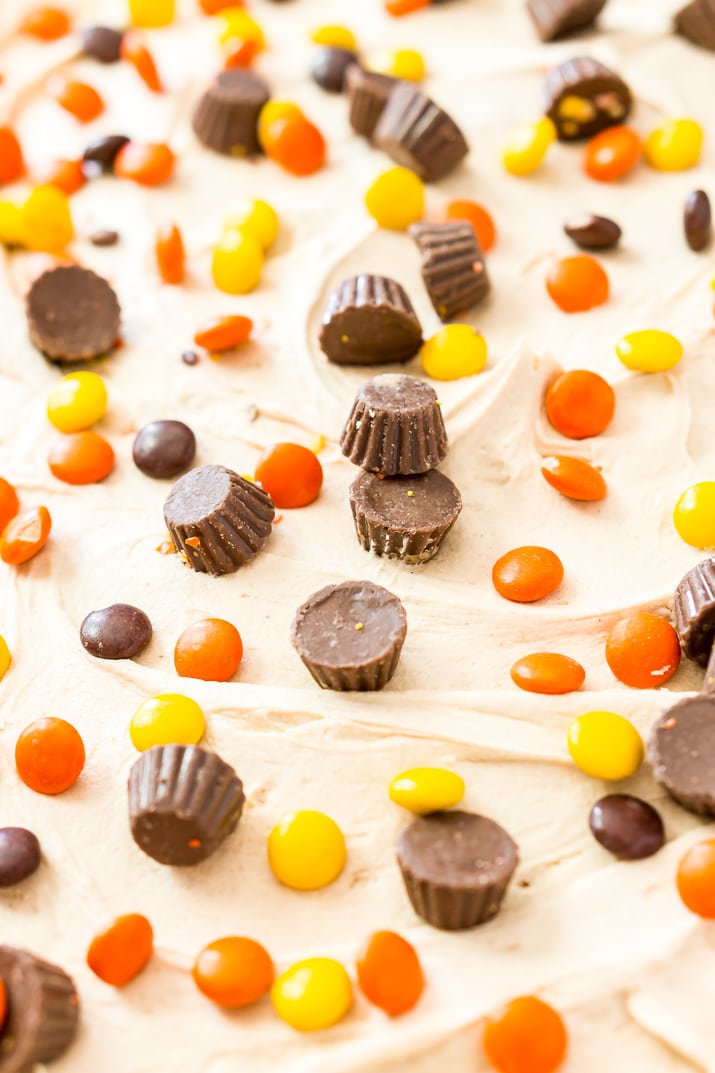 What Ingredients are in the Best Peanut Butter Frosting Recipe:
Unsalted Butter – You want to use unsalted when it comes to most dessert recipes, but especially in this one since the peanut butter itself has a lot of saltiness and we don't want this frosting to be overly salty.
It's also very important that the butter is at room temperature, you should be able to press the back of a spoon easily into the butter.
Peanut Butter – You obviously can't make peanut butter frosting without the peanut butter. You want to use creamy peanut butter, I personally prefer Jif.
Recipe Note:

All natural peanut butter that separates may not be the best fit for this recipe as they don't hold up quite as well in confections over time.
Powdered Sugar – You've got to lighten up the salty peanut butter with something sweet and powdered sugar is just the way to do it. Make sure your powdered sugar isn't old and hard. You need it to be fine and fluffy, so sift it first if you need to.
Vanilla Extract – Vanilla is such an essential ingredient in the kitchen and especially in frostings. It helps to add a great depth of richness to almost any recipe! Make sure to use good quality vanilla or make your own at home.
Heavy Cream – While this is the best cream form to use, it's my understanding that it can be hard to find in some parts of the country. In which case, whipping cream will do just fine.
What we're really after is that thick, rich, creamy component that milk and water just don't provide.
Using heavy or whipping cream allows for a night whip during the mixing process which yields a light and fluffy frosting everyone is sure to go crazy for!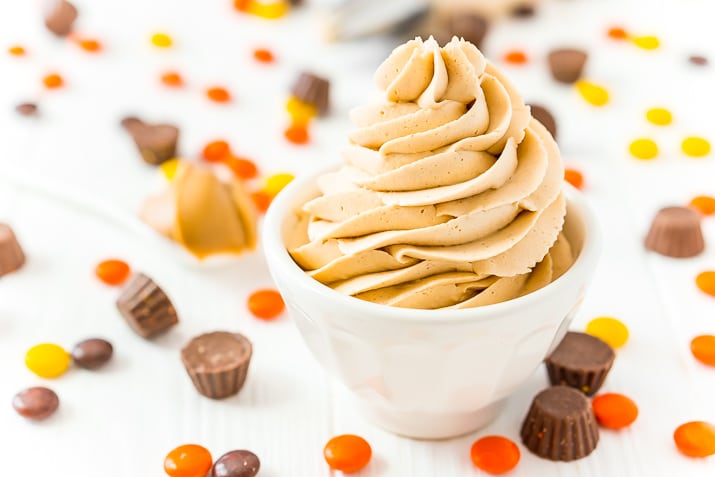 This frosting recipe is simple, but it's important that you follow my tips so that you get delicious and fluffy results!
For mixing, I find it best to make this frosting in a stand mixer with a paddle attachment (but a whisk attachment is fine too).
The high power can whip this recipe into the fluffy gloriousness that makes it so great. In a pinch, a hand mixer will do just fine!
How Do You Make Peanut Butter Frosting?
Cream The Butters – Add the butter and peanut butter to a large bowl or electric mixer and cream them together.
Add The Sugar – Add the cups of powdered sugar in batches, mixing in between each addition and alternating with the heavy cream. This allows the sugar to mix more thoroughly and usually prevents it from flying all over the kitchen. Scrape down the sides as needed.
Add The Liquid – Alternate adding the heavy cream 1 tablespoon at a time with the sugar. It's important to add liquid in small doses for a couple of reasons. One, it can splash everywhere if you add too much at once. Two, the liquid can impact the texture of frosting really fast. Once you're happy with the consistency, add in the vanilla extract and whip the frosting on high for 3 minutes.
Frost It – Your frosting has been made, now go pair it with something delicious!
I Make This Frosting A Lot! Sometimes I just eat it straight, because it's peanut butter awesomeness! So I've had a lot of practice and have a lot of troubleshooting tips!
Why Is My Peanut Butter Frosting Oily?
Did you use Natural Peanut Butter? This is usually the most common reason. Peanut butter that has been sitting a long time that has separated will cause an oily frosting. I prefer to use JIF creamy peanut butter, I find it gives the best flavor and texture.
Can I Use Crunchy Peanut Butter?
I wouldn't recommend it, especially if you plan on piping the frosting onto a dessert. Stick with creamy for the best results!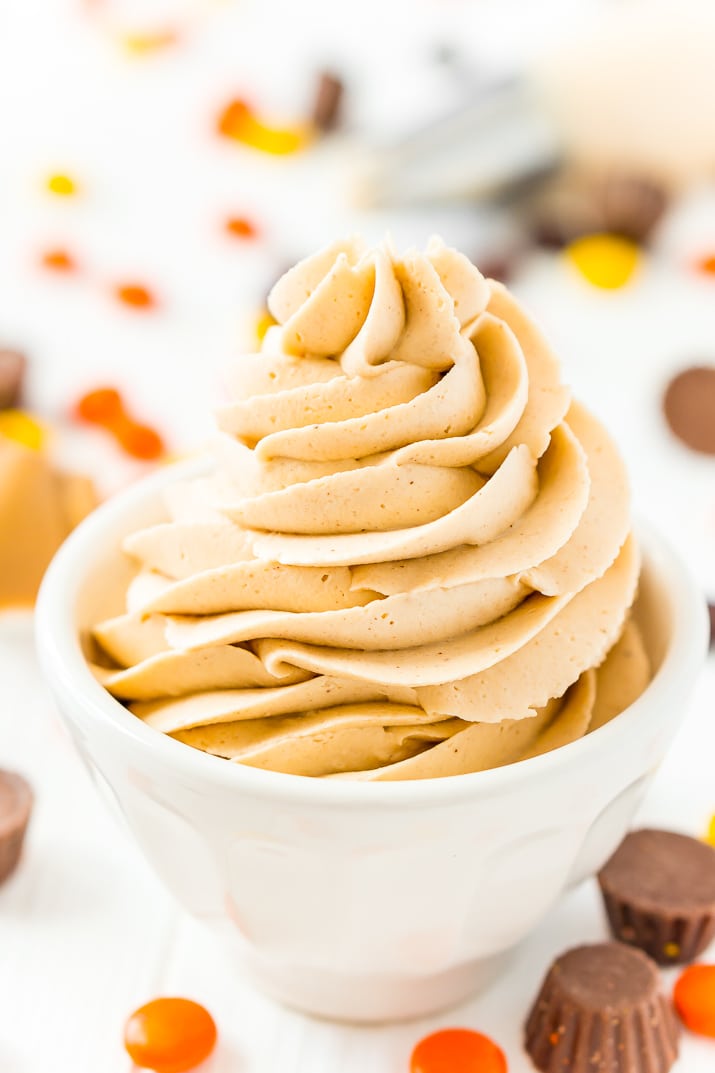 How Much Does This Recipe Make?
This Peanut Butter Frosting Recipe makes about 8 cups. This should be enough to frost 24 cupcakes, a 9×13-inch sheet cake, a 2-layer 8 or 9-in round layer cake, or fill 12 whoopie pies.
Does Peanut Butter Frosting Need To Be Refrigerated?
The small amount of heavy cream is stabilized by the amount of confectioners sugar in the recipe. And is considered safe at room temperature for two to three days.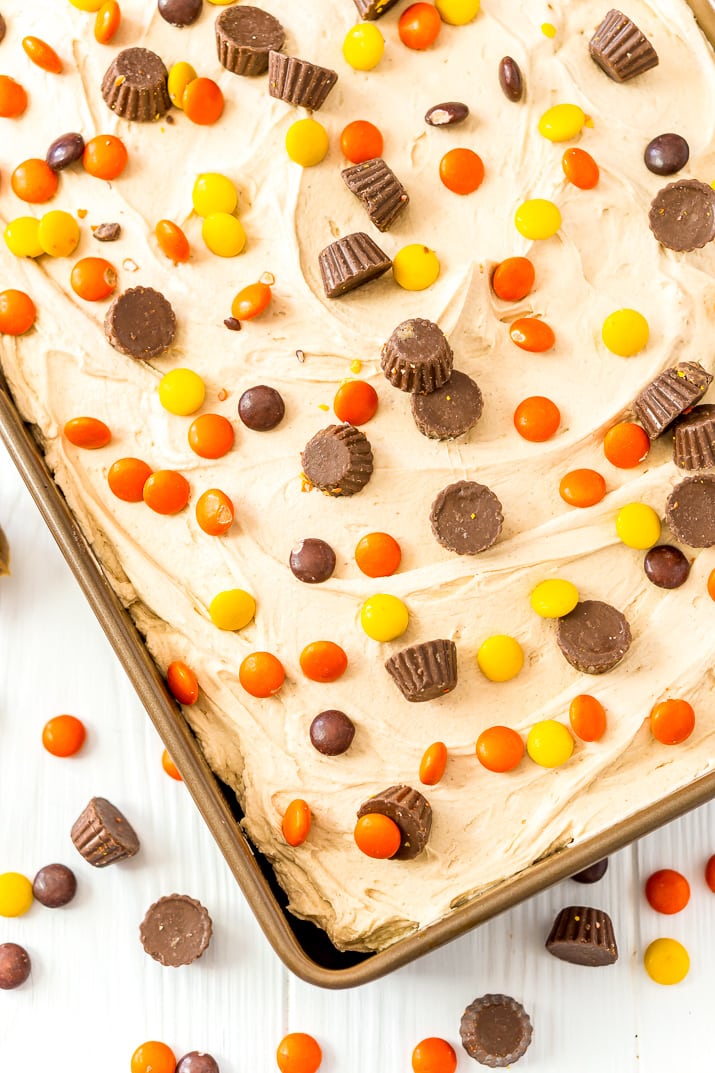 So if you need to frost a chocolate cake, fill some Whoopie Pies, or top a Chocolate Cupcake Recipe this is the peanut butter frosting you want! I hope you try this recipe and I hope you love it as much as everyone else does! It's absolutely amazing!
More Delicious Frosting Recipes You'll Love!
Peanut Butter Frosting
Click the button above to save this delicious recipe to your board!

Let's Connect!
I created a fun little group on facebook and I'd love for you to join in! It's a place where you can ask questions and see what's new with Sugar & Soul! If you'd like to check it out, you can request to join HERE.
Be sure to follow me on Instagram and tag #sugarandsoulco so I can see all the wonderful recipes YOU make from this site! You can also Subscribe to my Newsletter so you never miss a delicious recipe again!
This post was originally published on March 25, 2015. The post was republished on September 23, 2017. Updated September 5, 2018 with new photos.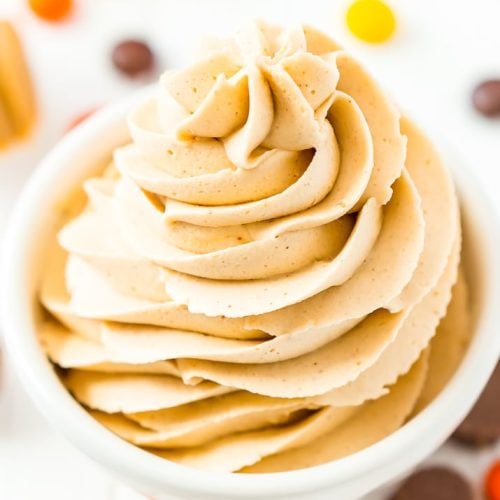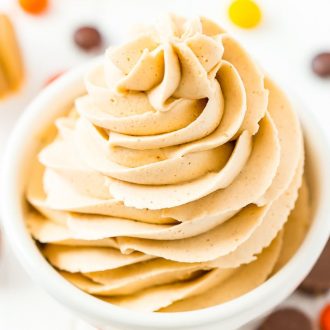 Peanut Butter Frosting
This is The Best Peanut Butter Frosting Recipe you're going to find. It's sweet, creamy, peanut buttery PERFECTION made with peanut butter, butter, powdered sugar, vanilla, and heavy cream!

Print
Pin
Rate
Instructions
In a large bowl or stand mixer fitted with a paddle attachment, cream the butters together and scrape down the sides of the bowl. 

Add the powdered sugar one cup at a time, alternating with tablespoons of heavy cream.

 Add in the vanilla and whip on medium-high speed for 2-3 minutes until frosting is light and fluffy.
Notes
Add additional cream or confectioners sugar as needed to reach desired consistency.
Frosting can be made with a hand mixer but will not be as whipped.
Nutrition
Calories:
616
kcal
|
Carbohydrates:
55
g
|
Protein:
8
g
|
Fat:
42
g
|
Saturated Fat:
20
g
|
Cholesterol:
73
mg
|
Sodium:
155
mg
|
Potassium:
223
mg
|
Fiber:
1
g
|
Sugar:
50
g
|
Vitamin A:
845
IU
|
Calcium:
27
mg
|
Iron:
0.6
mg