This Classic Vanilla Buttercream Frosting is amazing! It's made with just 5-ingredients and crusts to perfection! Plus, there's no egg whites so you can lick the beaters!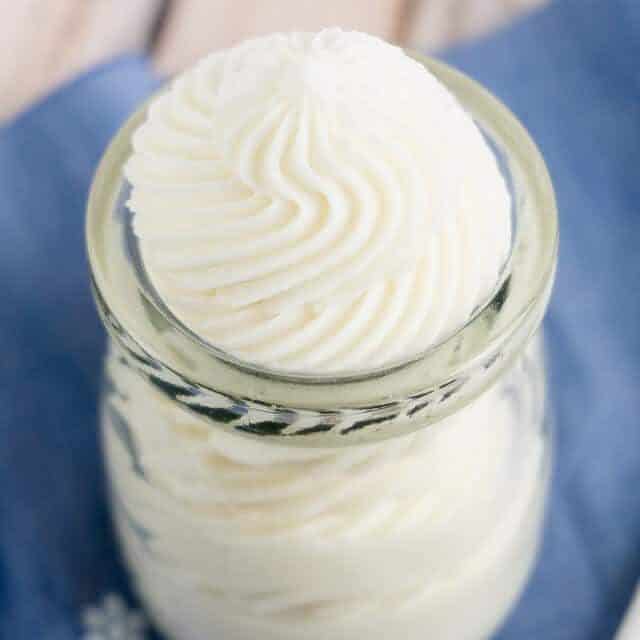 This perfectly crusting American Buttercream Frosting has an amazing classic vanilla flavor and is made with only 5 ingredients in 10 minutes! The most delicious way to finish off all of your cupcakes, cakes, and other desserts!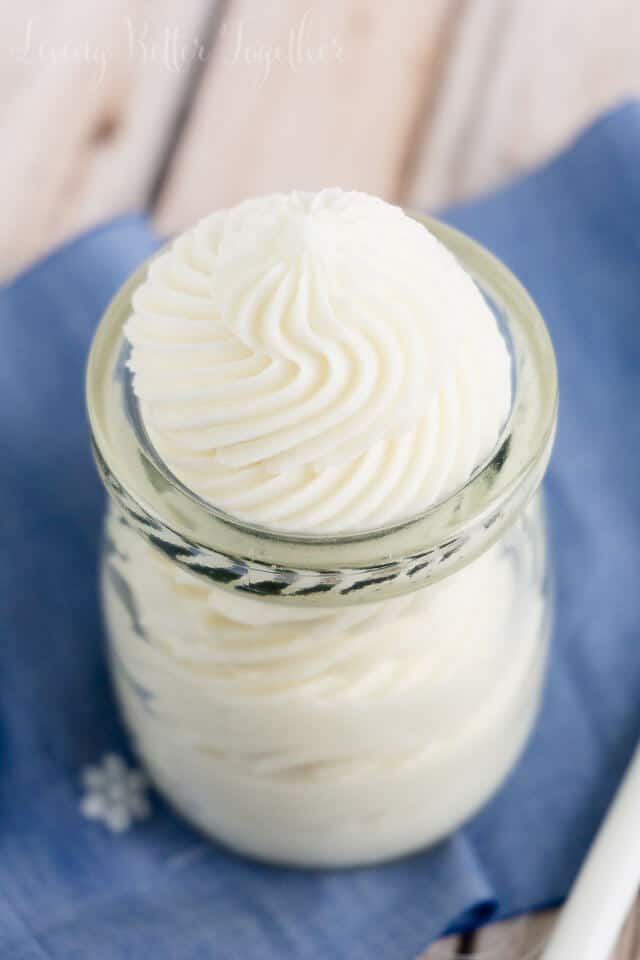 This American Buttercream Frosting is a classic that belongs at every baker's fingertip whether you're a beginner or experienced in the kitchen! It's easy enough to make for any level yet it's a sweet, standout that pushes any dessert over the top!
It's rich, and decadent and remains light and fluffy on the inside while crusting up to perfection on the outside! Enjoy it as the ultimate finish on all your favorite desserts!
What is American Buttercream Frosting?
American Buttercream frosting is a classic, easy-to-make frosting that can be made in any kitchen! The frosting is known for its crusty exterior and light, fluffy interior and is a popular choice for cakes and cupcakes!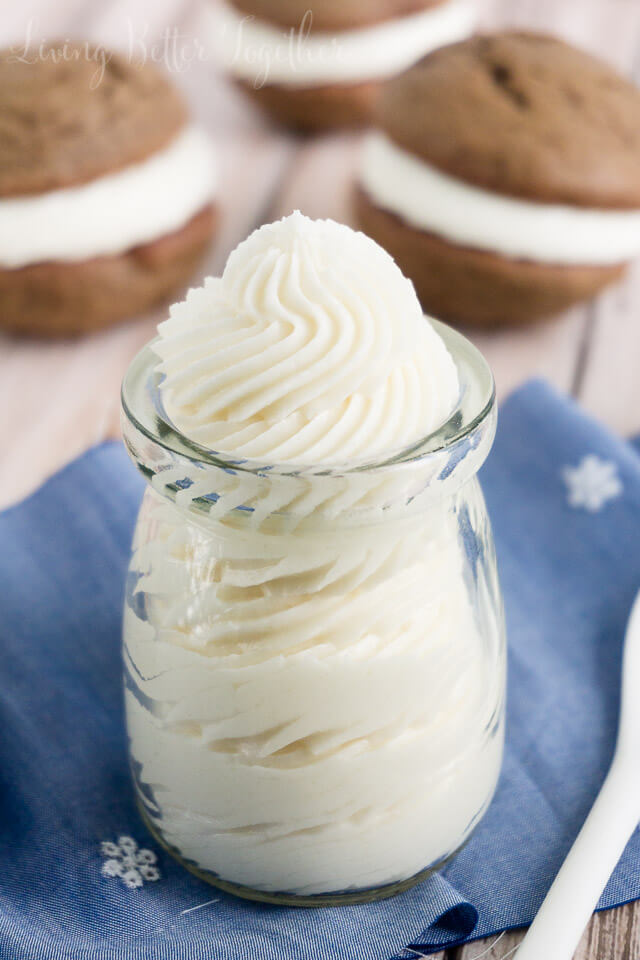 American Buttercream Frosting Recipe Ingredients
Unsalted Butter
Salt
Powdered Sugar
Heavy Cream
Vanilla Extract
Though the ingredients for this American Buttercream Recipe are minimal and simple there's one ingredient that should be chosen with intention. And that's the main ingredient, butter!
Since butter is a main ingredient, it needs to be high quality. I recommend using Irish/European style butter such as Kerrygold or Finlandia.
The higher butterfat content makes gives the frosting a better flavor and overall texture. This increased butterfat also causes the butter to have a more yellow color however when it's whipped long enough it will take on the classic white color that American Buttercream is known for.
American Buttercream Substitutions And Variations
Butter – I prefer making this recipe with unsalted butter as if gives you more flavor control. However, if you have salted butter on hand you can use that instead and then just omit the ½ teaspoon of salt from the recipe.
Extract – For a flavor variation, swap out the vanilla extract for another extract of choice such as peppermint, lemon, or even maple.
Chocolate Buttercream – If you're a chocolate lover then check out my recipe for chocolate buttercream frosting! It's perfectly chocolaty, rich, and creamy!
Gel Food Coloring – To create a colored American Buttercream I recommend using gel food coloring. Using gel food coloring over regular food coloring will prevent too much additional liquid to the frosting which could change its consistency. I also find that gel food coloring creates a more vibrant, beautiful color!
Consistency – You can control the consistency of this frosting by adding an additional ½ cup of powdered sugar or additional heavy cream 1 tablespoon at a time.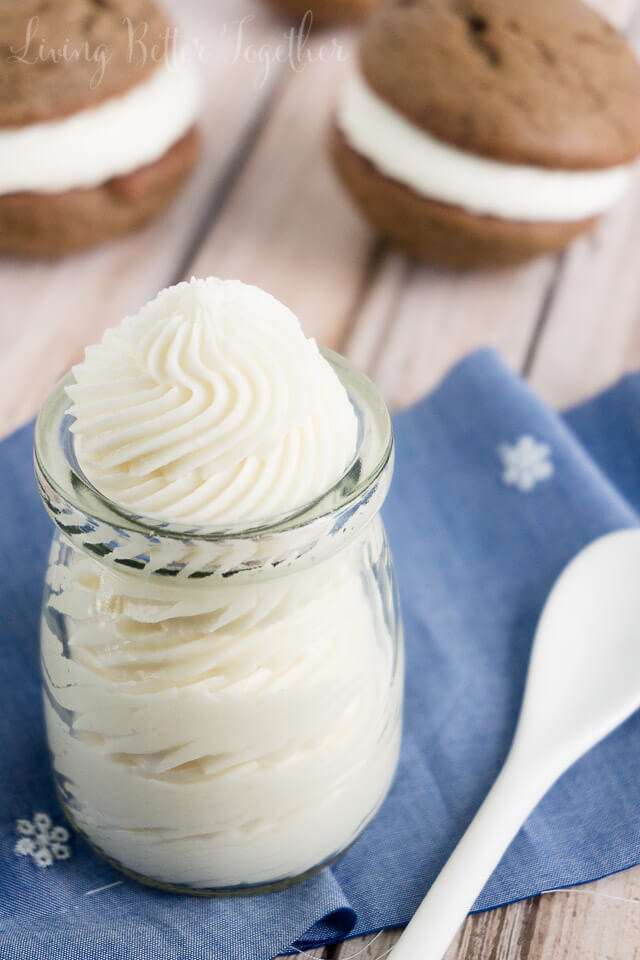 How To Make American Buttercream Frosting
Step 1: Cream unsalted butter with salt in a large bowl or stand mixer fitted with a paddle attachment. Mix on low speed until it becomes pale and creamy.
Step 2: Add in the powdered sugar and heavy cream a little at a time, alternating between each as the mixer continues mixing on low speed.
Step 3: Pour in the vanilla extract and then increase the speed to whip the frosting until it becomes light and fluffy. Be sure to scrape the sides of the bowl to ensure all ingredients are incorporated into the frosting.
Step 4: Pipe the finished American Buttercream onto your desired desserts or transfer it into an airtight container to store.
Favorite Ways To Use This Recipe For American Buttercream Frosting
American Buttercream has such a classic, sweet taste making it versatile enough to use on whatever your heart and taste buds desire! And since it's made without egg whites it can even be licked right off of the beaters while you decide what confections you'll put it on.
Use American Buttercream on:
American Buttercream Frosting Storage Instructions
Store any unused American Buttercream Frosting in an airtight container or in a Ziploc bag with the excess air squeezed out of it. The buttercream can then be kept at room temperature for 1 to 2 days or in the fridge for up to a week. For longer storage, transfer the frosting to the freezer to use within 3 months.
When you're ready to use the American Buttercream transfer it from the fridge or the freezer to the counter to come to room temperature. Afterward, place the frosting into a large bowl to mix on low speed using the paddle attachment.
You can also remix the frosting by hand using a rubber spatula. Once the American buttercream takes on a smooth, fluffy appearance it's ready to be used!
American Buttercream Frosting FAQs
Does humidity affect buttercream frosting?
Yes, humidity and kitchen temperature can affect American buttercream. If the humidity or temperature is too high, it will cause the frosting to melt and break down.
Does powdered sugar need to be sifted when making American buttercream?
Sifting the powdered sugar isn't necessary unless you notice that there are clumps in your powdered sugar or the humidity is high.
What is the difference between cream cheese frosting and American buttercream frosting?
American buttercream is made with only butter whereas cream cheese frosting is made with both butter and cream cheese.
How come my American Buttercream is grainy?
If you find that your frosting has a grainy texture, then there may not enough heavy cream in it to absorb the powdered sugar. To fix this, add an additional tablespoon of heavy cream at a time until the grainy texture is gone.
Can American Buttercream be made in advance?
Yes, since American buttercream can be stored in the fridge for up to a week or in the freezer for up to 3 months you can make it in advance! An easy way to get ahead of dessert prepping!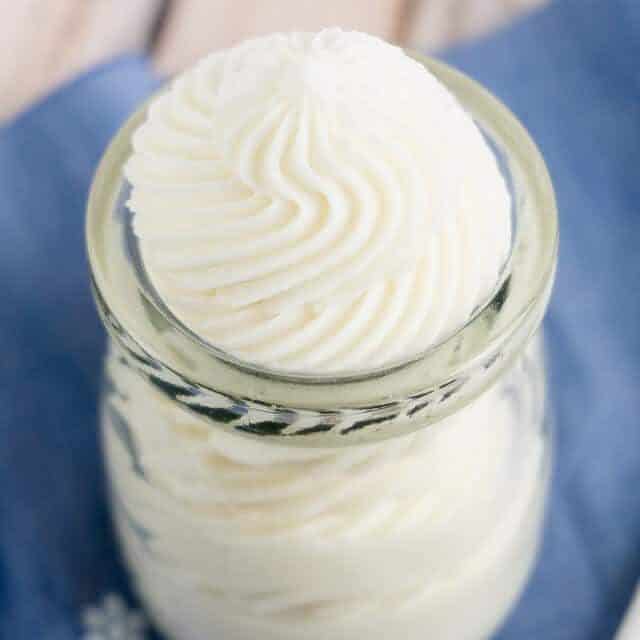 American Buttercream Frosting
This Classic Vanilla Buttercream Frosting is amazing! It's made with just 5-ingredients and crusts to perfection! Plus, there's no egg whites so you can lick the beaters!
Instructions
In a large bowl or stand mixer fitted with a paddle attachment, cream 1 cup unsalted butter and ½ teaspoon salt on low speed until pale and creamy.

1 cup unsalted butter

Add in 4 cups powdered sugar and 2 ounces heavy cream a little at a time, alternating between each, while mixing on low over the course of about 3 minutes. Add an additional ½ cup of powdered sugar or an additional 1 tablespoon of heavy cream at a time until desired consistency is reached.

4 cups powdered sugar, 2 ounces heavy cream

Add 1 tablespoon vanilla extract and increase the speed to high for about 2 to 3 minutes, and whip until the frosting is light and fluffy. Scrape down the sides every minute or so.

1 tablespoon vanilla extract, ½ teaspoon salt

Use as desired or store in an airtight container.
Nutrition
Calories: 398kcal | Carbohydrates: 90g | Fat: 4g | Saturated Fat: 2g | Cholesterol: 15mg | Sodium: 6mg | Sugar: 88g | Vitamin A: 165IU | Calcium: 7mg | Iron: 0.1mg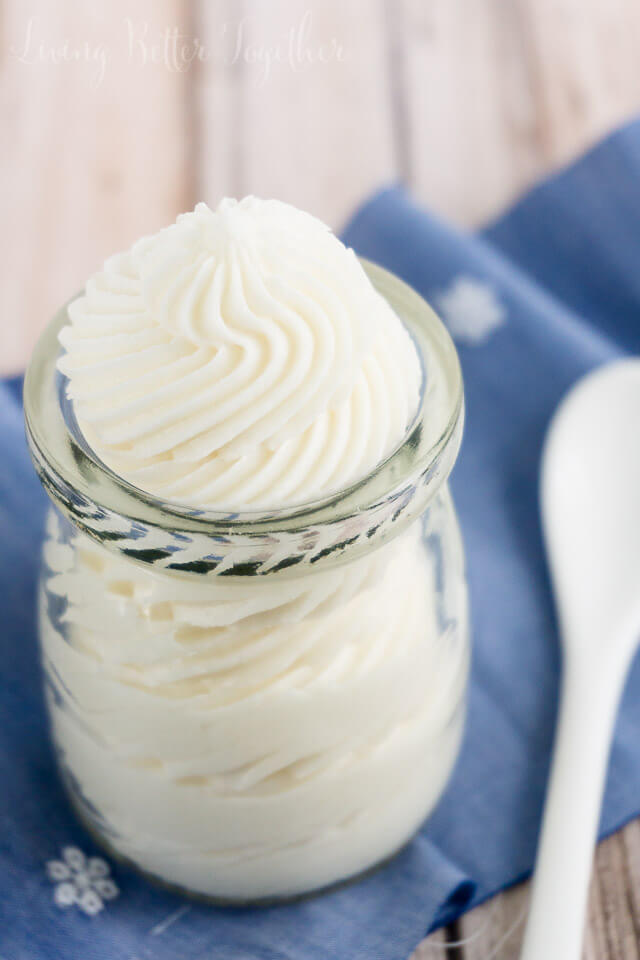 You might also like:
The Best Chocolate Buttercream Frosting