This Funfetti Birthday Cake is made with a fluffy white cake loaded with rainbow sprinkles and wrapped in a white chocolate whipped cream frosting and even more sprinkles!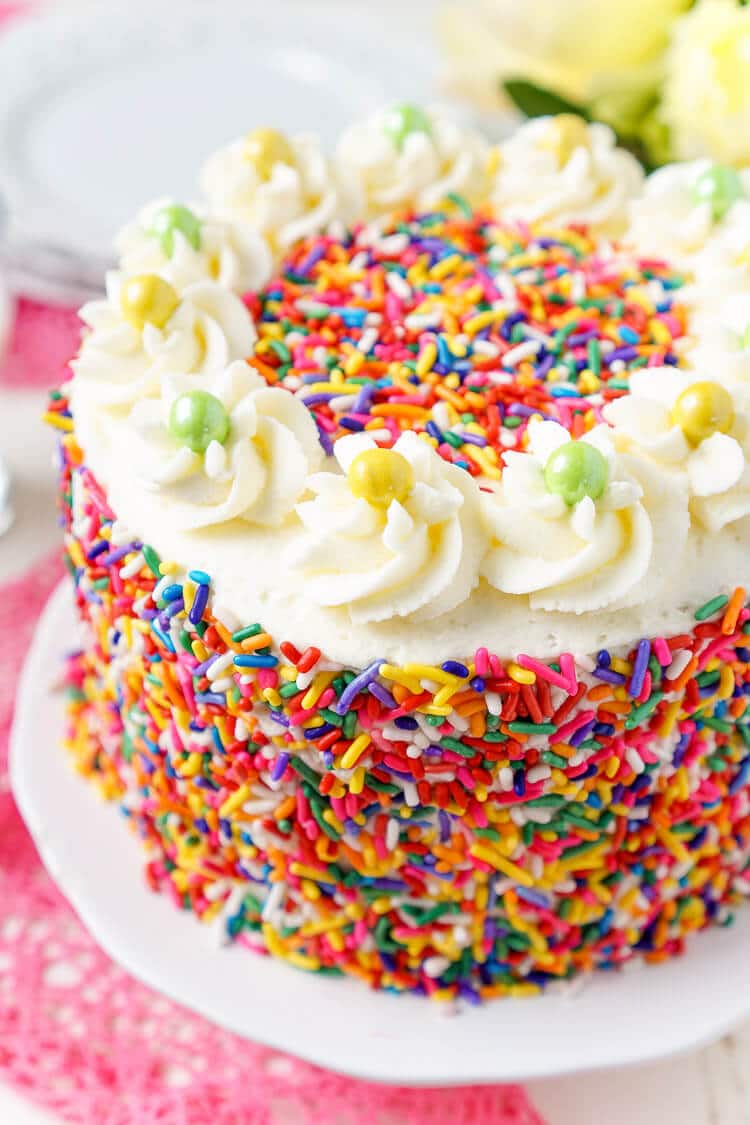 Who would have thought that the Oscars would inspire me to make not one, but TWO, cakes! And oddly enough they came out of what are probably two of the darker nominees this year. We had Boston Cream Pie for Spotlight and now I'm sharing this Funfetti Birthday Cake inspired by Room!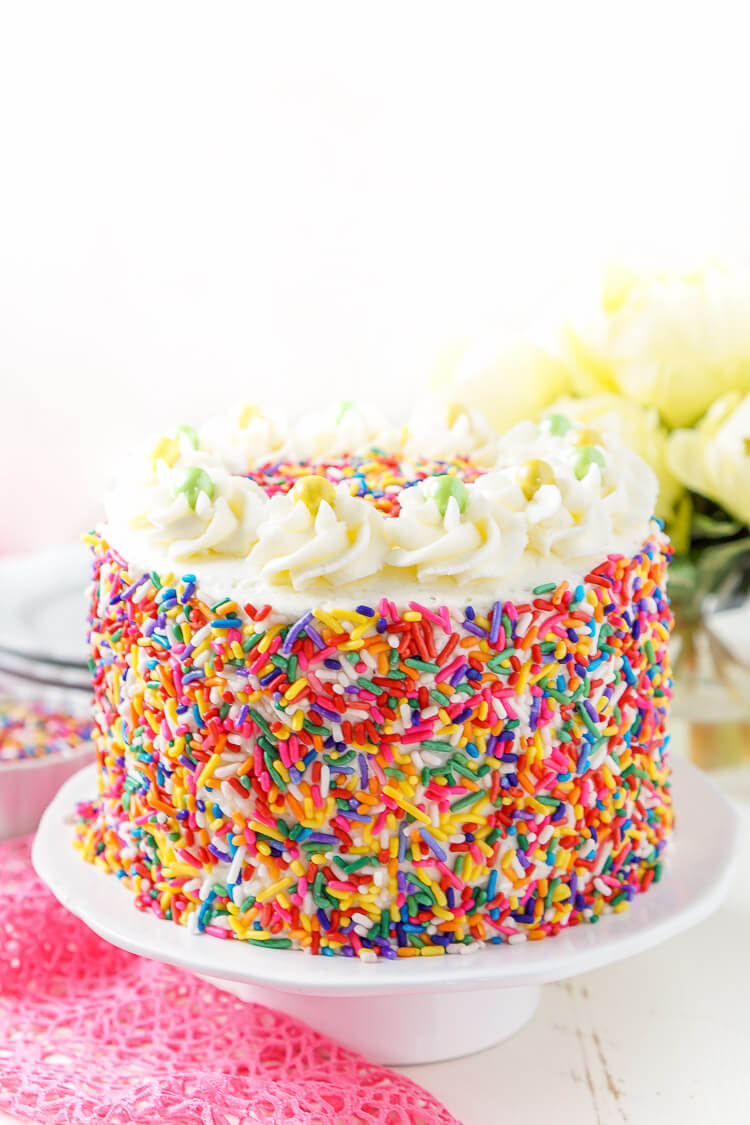 Early in the film, it's Jack's 5th birthday and he and his mom make a birthday cake. Now obviously, when you've been locked in a room for seven years there isn't a whole lot to work with and their cake definitely didn't look like this one. But I'd like to imagine that on his 6th birthday Jack got a pretty spectacular cake like this! Also, I left off the candles to make it more authentic to the film 😉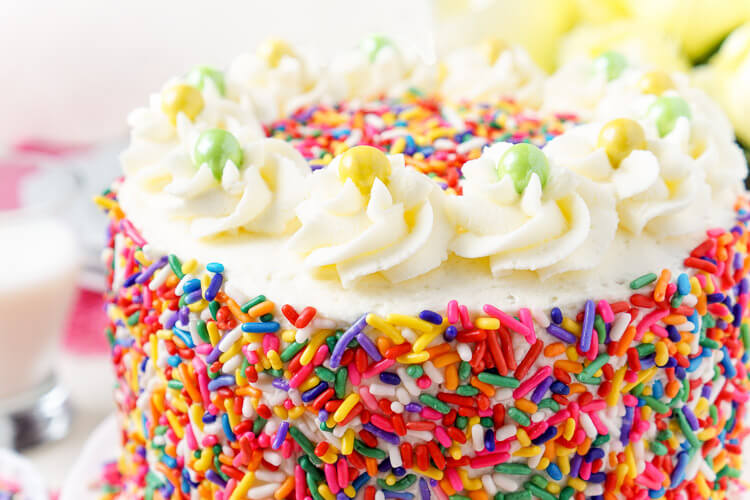 We watched Room tonight and it was the last of the Best Picture nominees for us to see. And I hate to say it, but it was the most disappointing, even Bree Larson who won the Golden Globe for Best Actress for her role didn't impress us.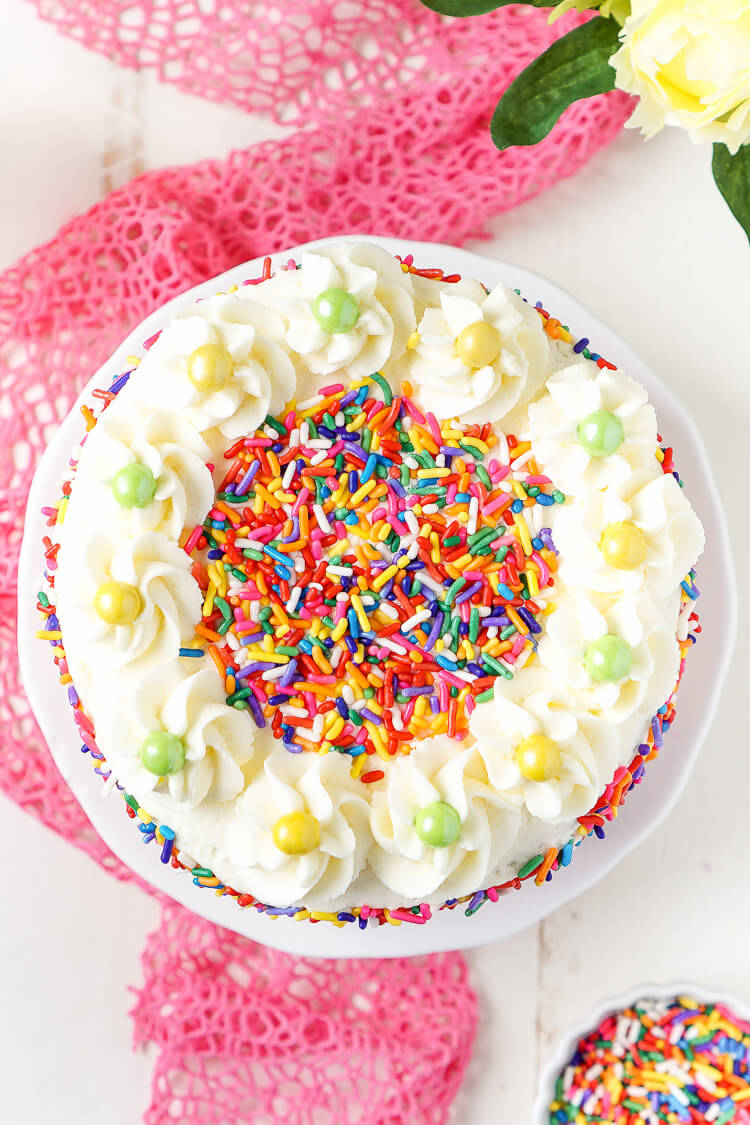 Matt described it as Boyhood with a Saw beginning, not quite that extreme, but you get the idea. And a friend of ours even joked that the last half turns into a bit of a Lifetime movie and I'd have to agree. Neither of us has read the book, so I can't speak to how much may or may not have been changed in the adaptation, but overall we felt it was more or less "incomplete".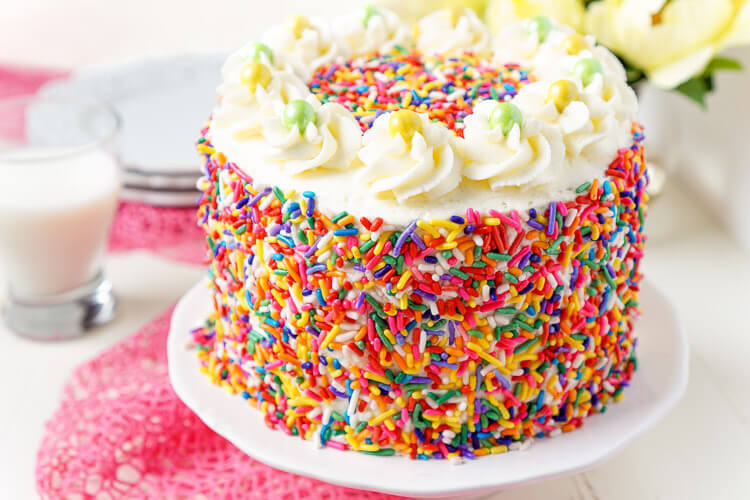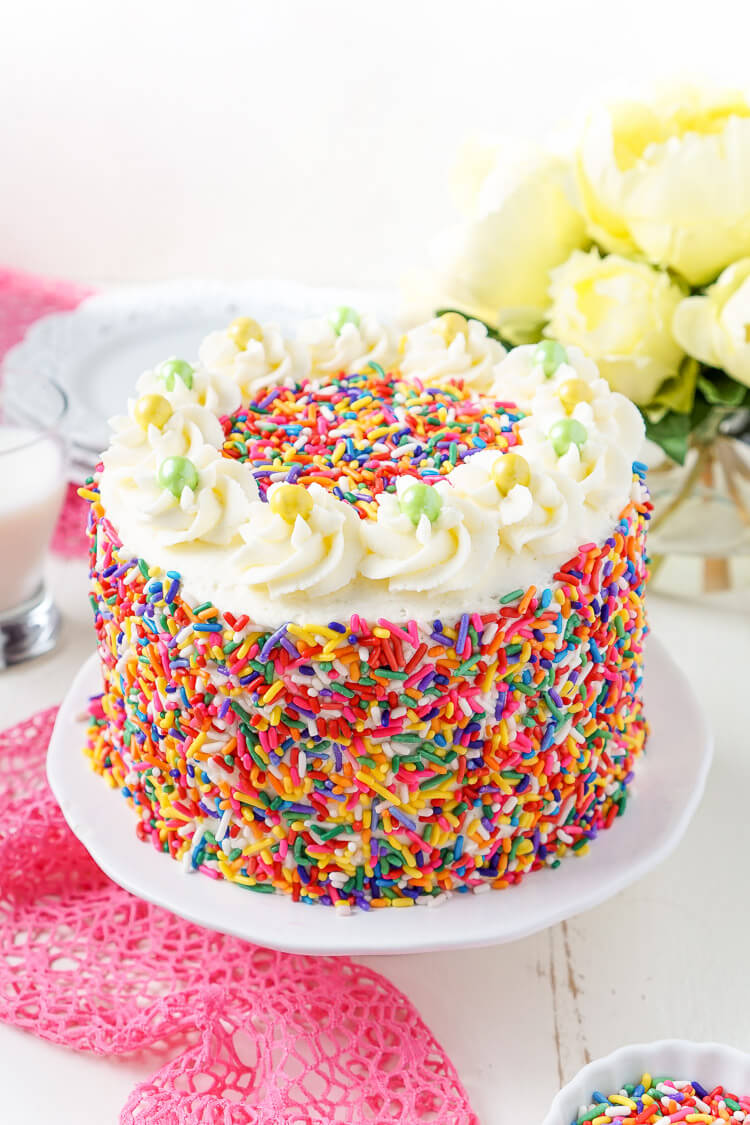 The cake itself is a fluffy white cake that's been loaded with rainbow sprinkles and covered in a delicious white chocolate whipped cream frosting and even more rainbow sprinkles. The recipe will make 2 9-inch layers or 4 6-inch layers so you can make a 9-inch 2-layer cake, two 6-inch 2-layer cakes, or one 6-inch 4-layer cake if you're feeling brave!
---
This post is part of my Oscar Recipe Series, check out the other film inspired recipes: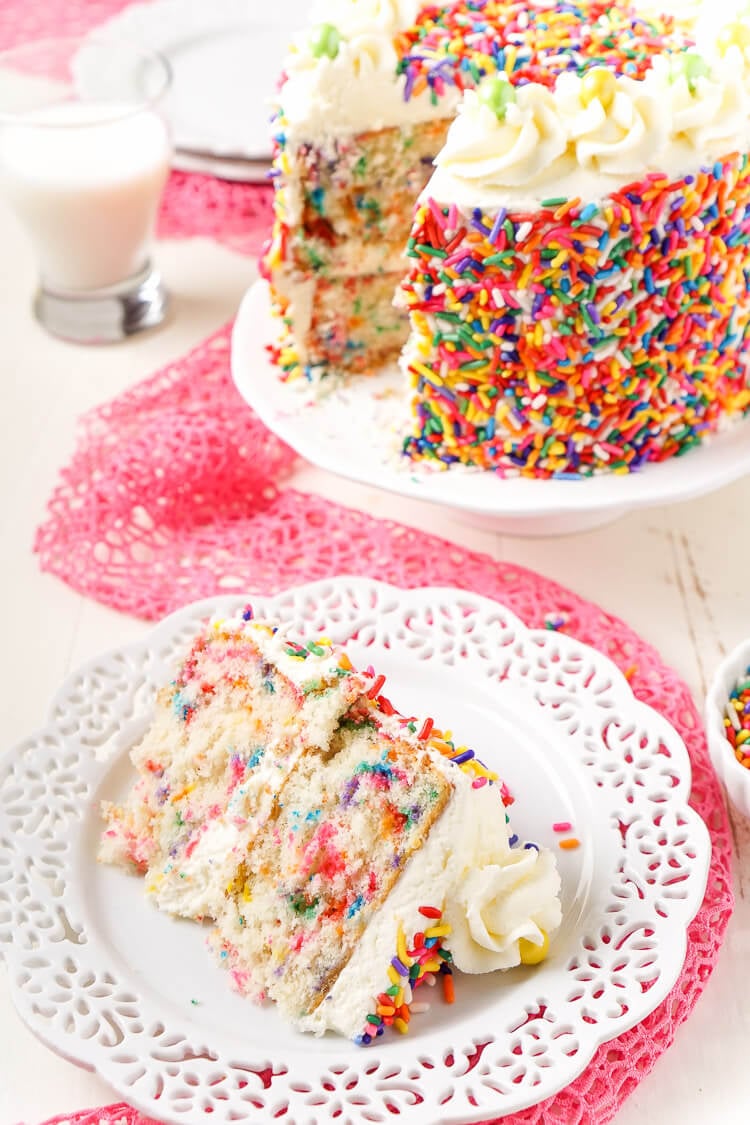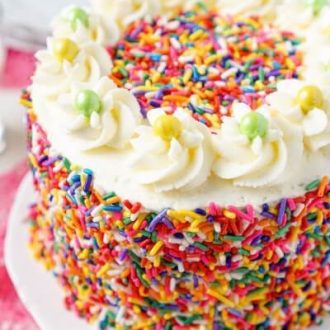 Funfetti Birthday Cake
Print
Pin
Rate
Total Time:
1
hour
5
minutes
Ingredients
Frosting:
2

cups

heavy cream

1/2

cup

confectioners' sugar

1/3

cup

white chocolate instant pudding mix

dry

Topping:

Sixlets

1 1/2

cups

rainbow sprinkles
Instructions
Cake:
Preheat oven to 350 degrees F.

Spray 4 6-inch pans (or 2 9-inch pans for a double layer) with cooking spray, cut out parchment paper for bottoms of the pans. See how

here

.

Combine milk, egg whites, and extracts in a small bowl and whisk together.

In a large bowl or stand mixer fitted with a whisk attachment, add the flour, sugar, baking powder, and salt and mix on low speed for 30 seconds.

Cut the butter into small cubes and add to the dry ingredients. Mix on low speed until mixture resembles moist crumbs, about 3 to 4 minutes.

Add half of the milk and egg mixture to the dry ingredients and beat on medium speed for 90 seconds, scrape down the sides of the bowl and then add the remaining milk and egg mixture and beat until fully incorporated.

Add rainbow sprinkles and mix for about 15 seconds until incorporated.

Add 1 3/4 cup batter to each 6-inch pan, or evenly divide between 2 9-inch pans.

Bake for 30 to 40 minutes depending on size until toothpick comes clean from center of cakes. Remove from oven and flip onto a cooling rack to cool completely.
Frosting:
Once cakes have cooled, add frosting ingredients to a large bowl or stand mixer fitted with a whisk attachment and beat until light and fluffy, about 3 to 4 minutes, scraping down the sides of the bowl as needed.

Place bottom cake layer on a plate or cake stand and add strips of wax paper under it on each side about a 1/2 inch in under the cake, this will allow you to pull it away later and have a clean stand/plate when you're done frosting.

Dollop some frosting on the top and work it evenly over the cake with a frosting spatula, add the next layer and do the same, continue if you're doing a 4 layer cake.

Use the frosting spatula to add a thin crumb coat around the edge of the cake, then work from the top down the sides of the cake to do the final frosting layer. The sides don't have to be perfect because we'll be covering it up with sprinkles.

Add sprinkles to the sides of the cake by holding sprinkles in your palm and gently pressing them against the side as seen in

this video

.

Add some of the frosting to a piping bag or decorator tool with a large star tip and pipe along the edge of the top of the cake. Add a Sixlet to the top of each peak.

Add more sprinkles in a circle in the top middle of the cake. Gently pull the strips of wax paper out from under the cake.

Serve as soon as possible or store in the fridge for up to two days.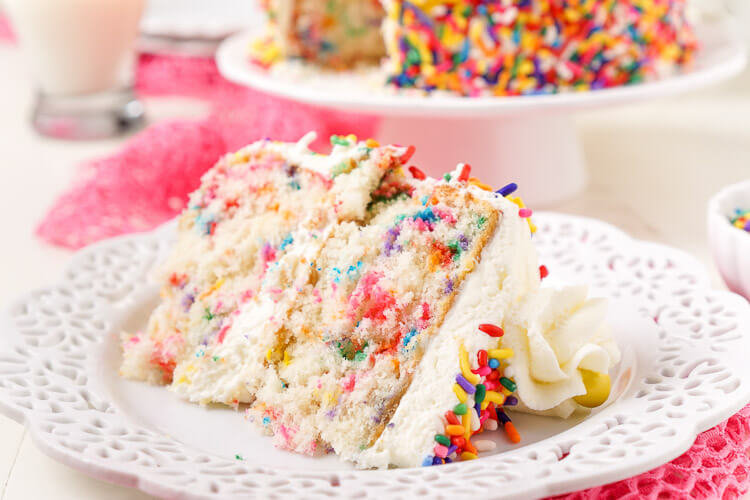 You might also enjoy: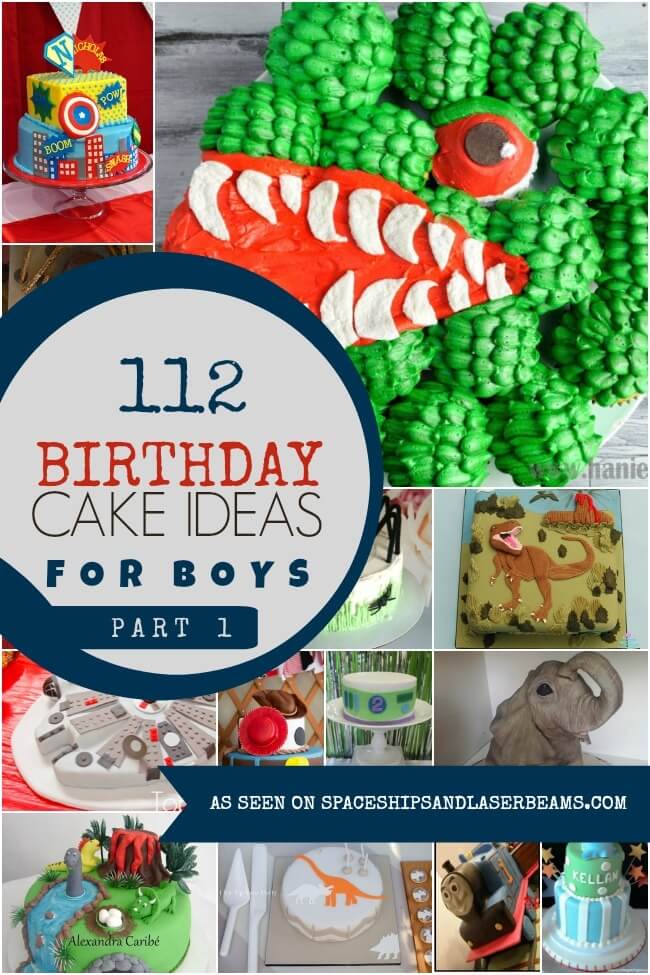 Birthday Cake Ideas for Boys by Spaceships and Laserbeams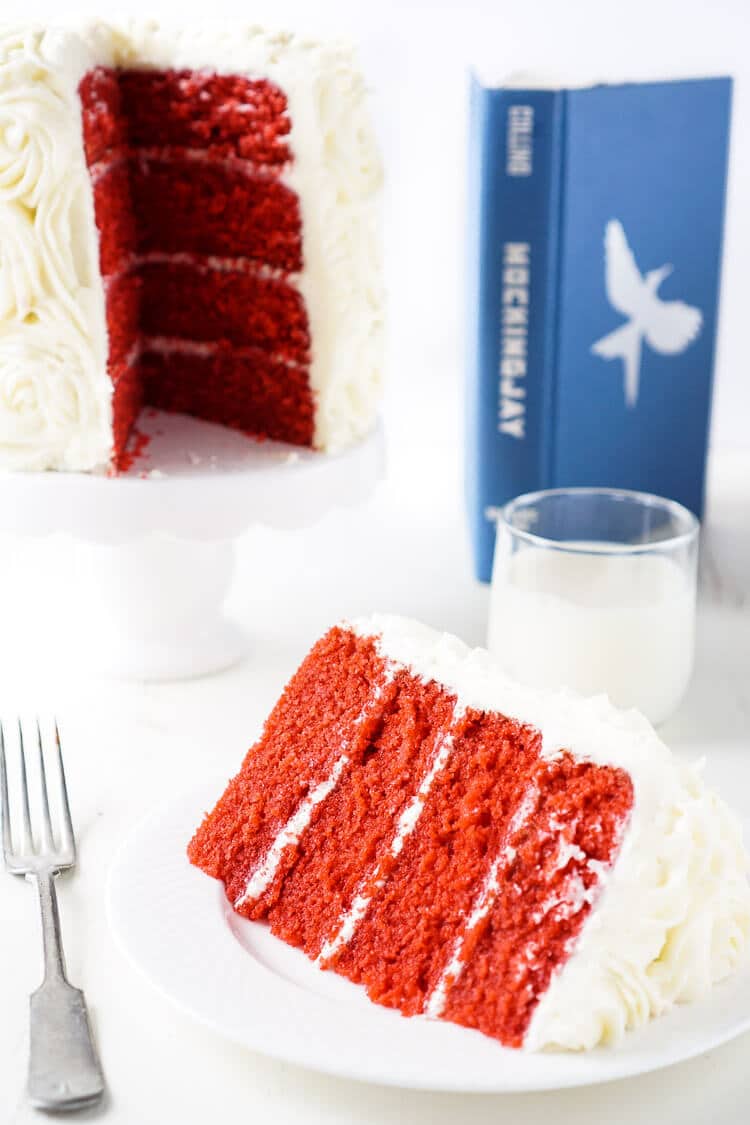 President Snow's White Rose Cake (Red Velvet)