How to Make the Best Ever Moscow Mule Recipe with vodka, lime juice, ginger beer and a few extra ingredients that really take this classic cocktail to the next level!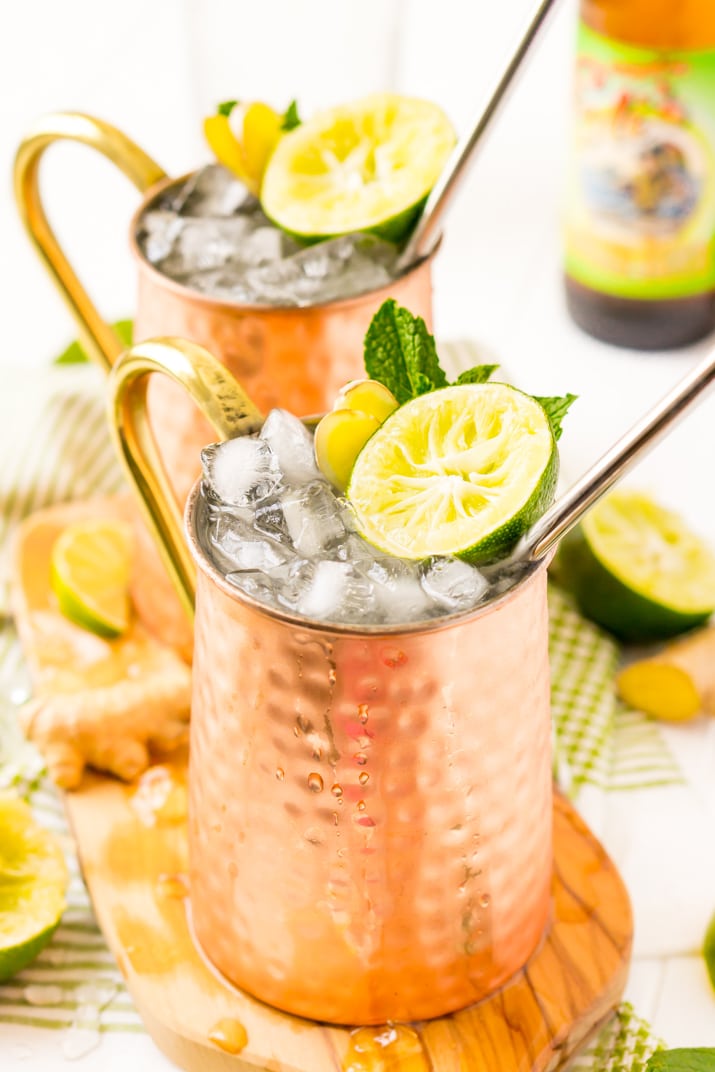 Moscow Mule Recipe
Contrary to the origin indicated by its name, the Moscow Mule recipe is actually American by birth, not Russian. It was invented in the 1940s as a way to use up vodka, a relatively new import to the States and a hard sell to the gin lovers of that time.
But they eventually came around, and here we are 70+ years later still making the same classic cocktail most of grandparents and great-grandparents were so leary to try.
JUST TAKE ME TO THE MOSCOW MULE RECIPE ALREADY!
If you'd rather skip my (very helpful, I think) tips and tricks, essential cooking info, and similar recipe ideas – and get straight to this deliciously easy Best Ever MOSCOW MULE Recipe – simply scroll to the bottom of the page where you can find the printable recipe card.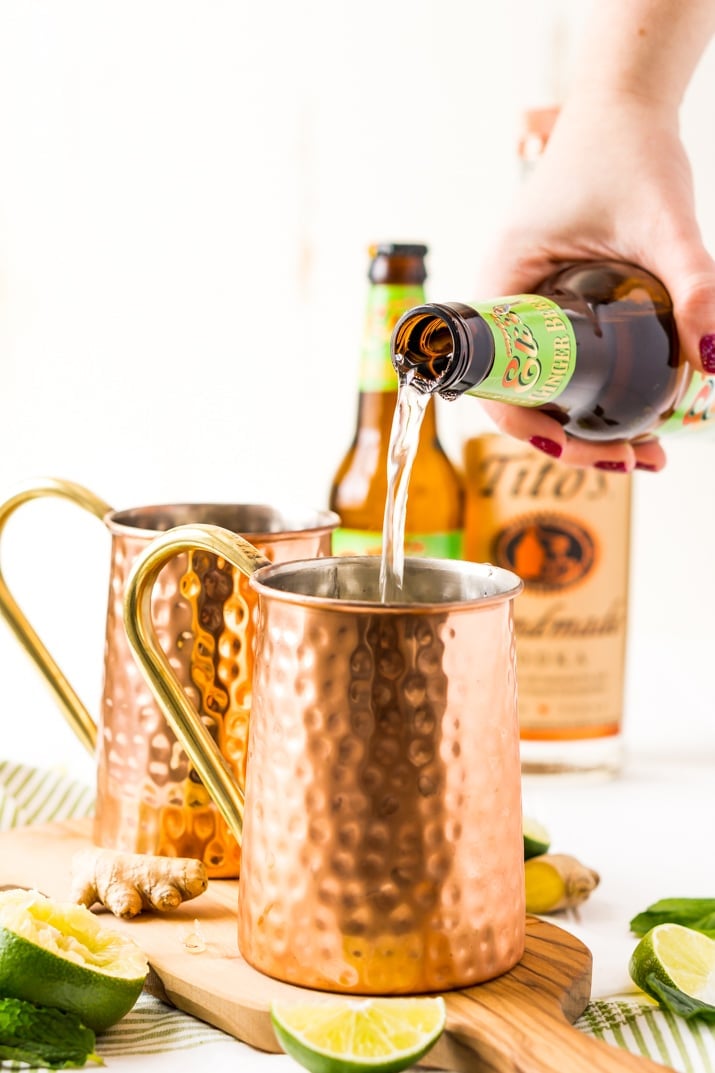 But what is it about the Moscow Mule that has allowed it to stand the test of time when so many cocktail recipes have remained in the past? I think there are a few different reasons
They're super easy to make
They're made with minimal ingredients
They're refreshing and delicious
The name just sounds cool
Maybe it's something else, but I don't think I'm too far off with my guesses. I also think that since this classic drink helped vodka win over the love of Americans everywhere, that's it simply iconic at this point.
What Is A Moscow Mule?
It's part of the Buck cocktail family, which means that it combines either ginger ale or ginger beer with citrus and spirits. In this cocktail recipe, you use ginger beer, lime juice, and vodka. It's also sometimes referred to as a Vodka Buck.
Where Did It Originate?
It was created in Los Angeles in the 1940s. At the time, Wes Price, the bartender of the Cock 'n' Bull, needed to clear out the cellar which was full of Smirnoff Vodka since the spirit hadn't yet gained popularity and was a hard sell to patrons of the bar. So in an attempt to use up ingredients, the Moscow Mule was born.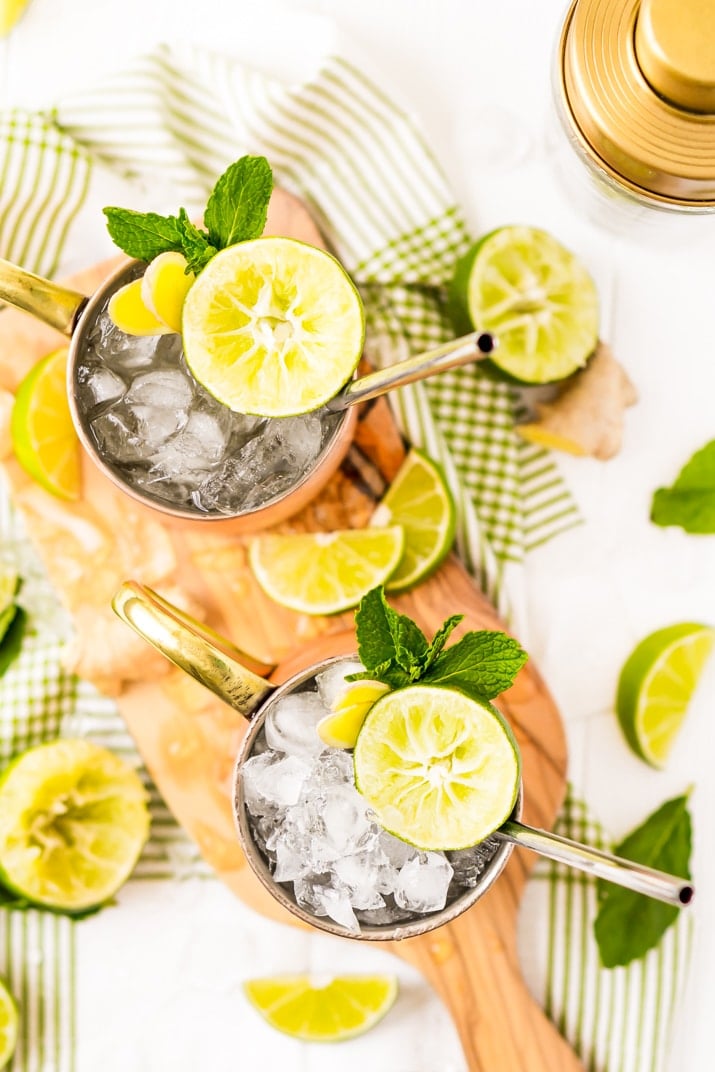 Why Does A Moscow Mule Have To Be In A Copper Mug?
What started as a marketing ploy has turned into a key component of this classic cocktail. There are three main reasons why the drink is still served in a copper mug to this day.
Temperature – Metal takes on the temperature of the drink quicker than glass, leading to an extra-cool sensation when drinking.
Taste – This one might be up for interpretation, but some say that the copper begins to oxidize when the vodka hits it, enhancing the flavor and aroma of the drink slightly boosting the aroma, and enhancing the taste of the vodka.
Presentation – Let's face it, they look pretty, and these days you can find copper mugs EVERYWHERE! But remember, not all mugs are created equal, the cheap ones tend to be copper plated and don't hold up well. Most decent mugs are between $10 and $20 each. In a pinch, a Collins glass can be used to serve the drink.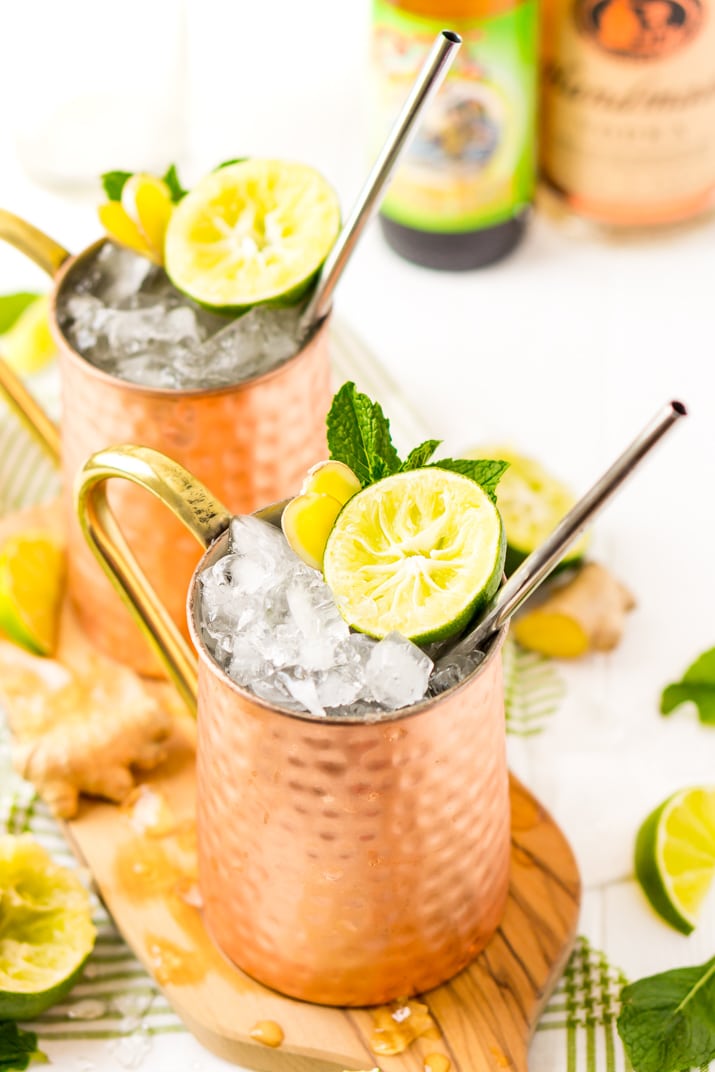 What Makes This Recipe The Best?
Shaken – Most recipes will call for the drink to be mixed in the glass, but I prefer using a cocktail shaker to start because I like my vodka and lime juice to be nice and chilled when it hits that copper mug.
Fresh Ginger – Most recipes call just for the ginger beer, but I believe you can take the flavor one step further by adding a couple slices of fresh ginger to the mix. Some people will add minced ginger, but I'm not a fan of this because there's nothing more unpleasant than sucking up one of those pieces of ginger through your straw. Total mouth-fire, no thanks.
Fresh Limes – You don't want to cut corners with bottled lime juice when it comes to this cocktail, splurge on fresh ones and squeeze lime juice directly into the mug before dropping in the rest of it.
Mint – Now, this isn't a part of the traditional recipe, but ginger is strong and I think that adding a spring of mint near your straw to breathe in while you sip helps balance the bite of the ginger beer.
Crushed Ice – I've had mules made with ice cubes and in my opinion, it just isn't as good as when it's made with crushed ice. I never feel like the drink ever gets quite cold enough.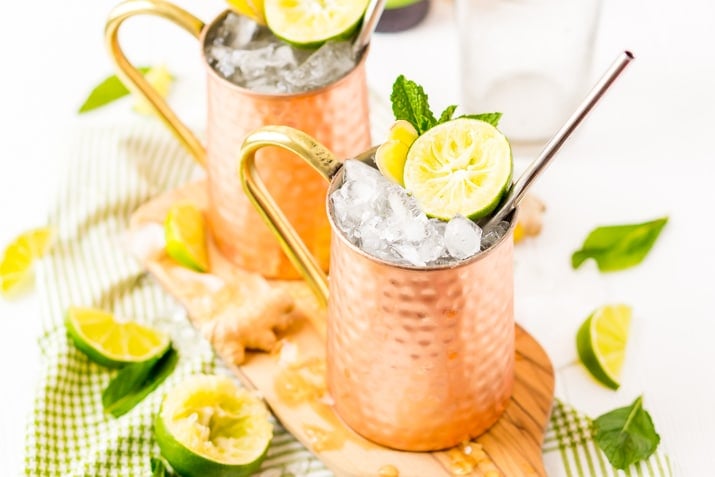 What Kind of Ginger Beer Do You Use?
Fever-Tree is a very popular choice, but be warned, it has a lot of bite.
I personally try to avoid Gosling's Ginger Beer.
If you happen to be in a region where it's sold, I really like Eli's Ginger Beer because it has bite, but is a bit more mellow than some other varieties.
How To Make a Virgin Moscow Mule:
It's really easy to make a virgin version since ginger beer isn't alcoholic and vodka is general flavorless and is easy to remove without changing the flavor of the drink. You can either add extra ginger beer or lime juice if you like or simply remove the vodka and keep the initial measurements.
You can skip the cocktail shaker for the virgin version and mix it right in the mug. It's also pretty common to add a splash of simple syrup to the virgin version of this drink.
Pin this Moscow Mule Recipe for Later!

Let's Connect!
I created a fun little group on facebook and I'd love for you to join in! It's a place where you can share YOUR favorite recipes, ask questions, and see what's new with Sugar & Soul (so that you never miss a new recipe)! If you'd like to check it out, you can request to join HERE.
Be sure to follow me on Instagram and tag #sugarandsoulco so I can see all the wonderful recipes YOU make from this site! You can also Subscribe to my Newsletter so you never miss a delicious recipe again!
More Delicious Cocktail Recipes:
Watch How To Make a Mule in the Video Below!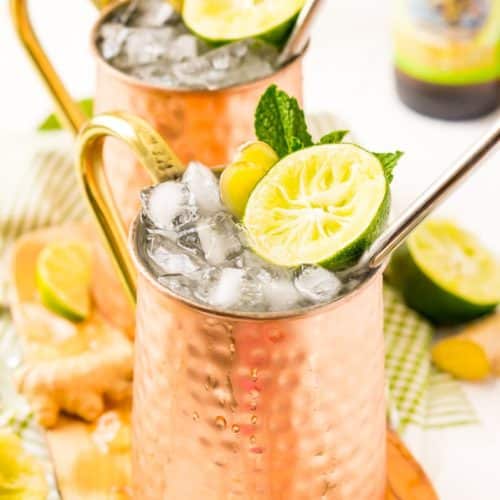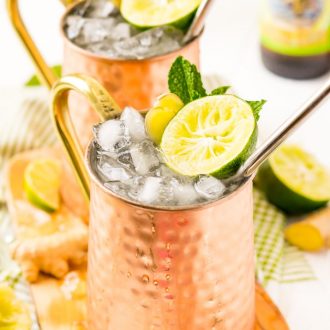 Moscow Mule
How to Make the Best Ever Moscow Mule Recipe with vodka, lime juice, ginger beer and a few extra ingredients that really take this classic cocktail to the next level!

Print
Pin
Rate
Ingredients
crushed ice

2

ounces

vodka

1/2

ounce

fresh lime juice

4

ounces

ginger beer

4

slices

fresh ginger

optional

1

lime wedge

1

sprig fresh mint
Instructions
Fill a cocktail shaker with crushed ice and add the vodka and lime juice as well as two of the ginger slices (if desired). Shake well and strain into a copper mug. If you don't have a copper mug, you can use a highball glass. Add the ice from the shaker to the mug.

Pour in the ginger beer, add a straw, lime wedge and remaining ginger slices as garnish. Slap the sprig of mint between your hands and place in the drink next to the straw.

Video
Notes
For a virgin version, omit the vodka and mix directly in the mug.
Nutrition
Calories:
173
kcal
|
Carbohydrates:
11
g
|
Sodium:
8
mg
|
Sugar:
10
g
|
Vitamin C:
4.3
mg
|
Iron:
0.2
mg