This Slow Cooker Chicken Queso Dip is an easy and addicting party dip made with shredded chicken, cheese, green chiles, tomatoes, green onions, and lots of spice!
If you love hot dips like Baked Buffalo Chicken Dip and Cheeseburger Dip then you'll go crazy over this Queso Dip loaded with chicken!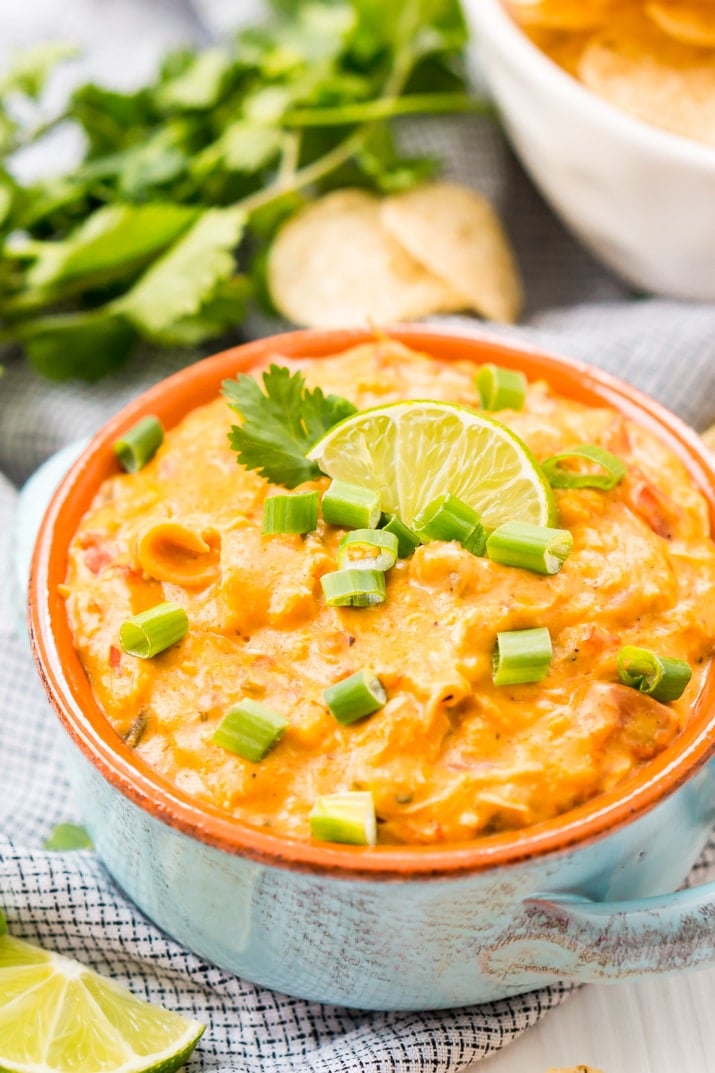 I've always been the girl at the party standing around the slow cooker or bowl full of dip, I can't help it, they're all just so addicting. Especially when it's a dip that's as creamy and cheesy and delicious as this Chicken Queso Dip!
Queso has always been a serious weakness of mine, I can't resist ordering it every time we go out for Mexican food. And I try to make it at least a couple of times a year at home. It's super easy to whip up with a batch of margaritas to serve on game days!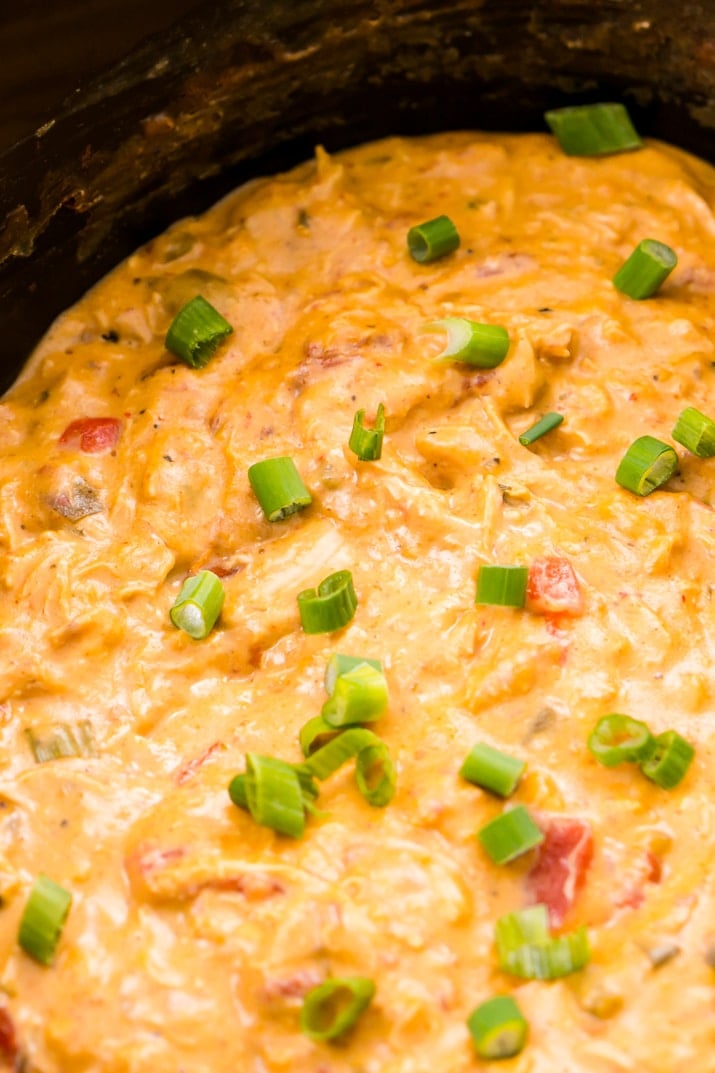 What Is Queso Dip?
Queso is short for Chile con queso, which is a thick sauce of melted cheese seasoned with chili peppers, typically served warm as a dip for tortilla chips.
What Kind of Cheese Do You Use In Queso Dip?
That's the beauty of queso, it's just thick melted cheese and you can choose whatever cheese you'd like! Most recipes include more than one kind of cheese, cheddar cheese being the most popular option.
This recipe is made with Velveeta (which technically isn't a cheese) and 4 Cheese Mexican cheese which is a quick-melting blend of Monterey Jack, Mild Cheddar, Queso Quesadilla and Asadero cheeses.
Want to make this queso recipe without Velveeta? Swap it out for an additional cup of Mexican cheese and an 8-ounce block of cream cheese.
Now, I am not a fan of canned chicken, which seems to be a common ingredient in hot dips. I prefer to either take the extra time (about 30 minutes) to bake and shred my own chicken. You can also purchase a rotisserie chicken and shred that.
This recipe requires about 2 cups of shredded chicken, 1 large breast or two smaller ones should cover it. Plus, it doesn't need to be exact since the only thing it will really impact is the thickness and texture of the dip, not the flavors.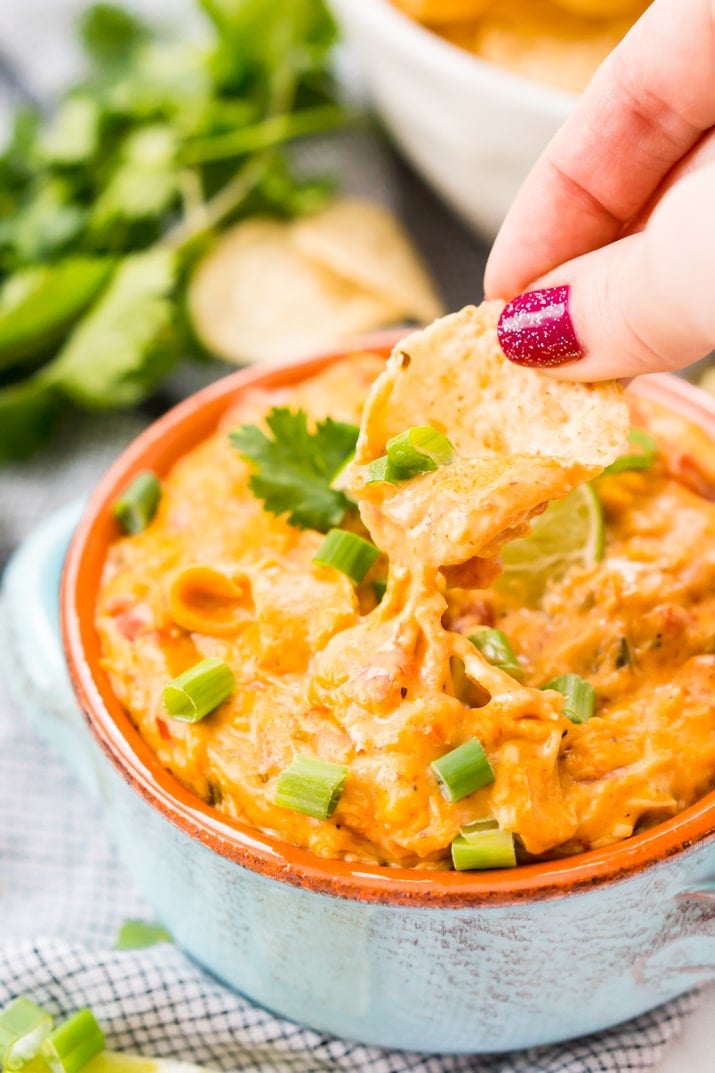 Once you have your chicken ready, all you really have to do is throw everything into a slow cooker. Then let it cook on low for about 3 hours or until the cheese has fully melted. After that, you'll just have to stir it up and you're ready for a party!
Serve this queso dip straight out of the crockpot with tortilla chips! I promise you everyone will love this dip. They might even love it more than the one their favorite Mexican restaurant serves!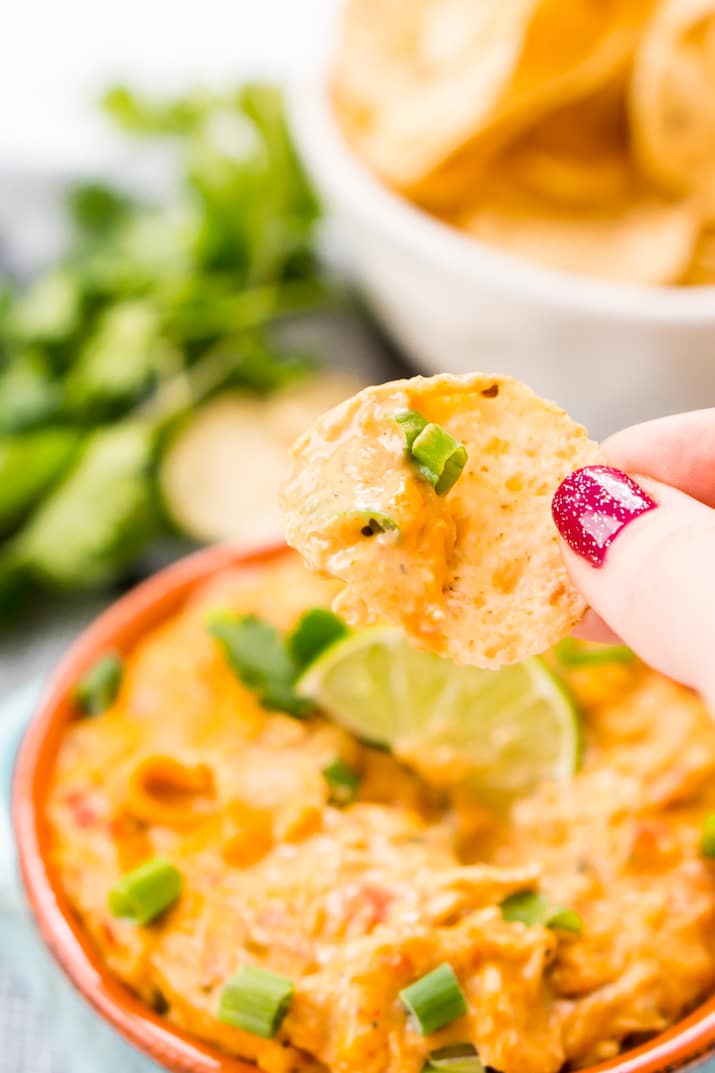 More Delicious Recipes:
Slow Cooker Posole
This Slow Cooker Posole (or Pozole) is a traditional Mexican stew made with hominy and pork and a flavorful broth that's super easy to make!
Continue Reading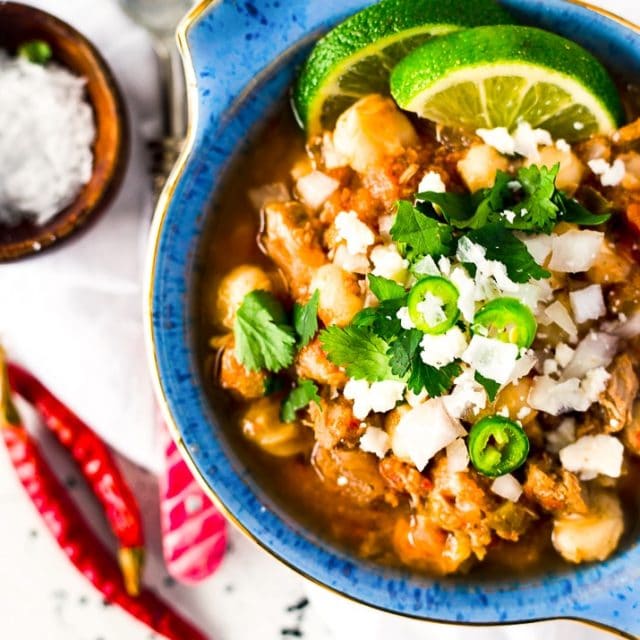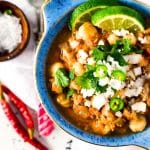 Slow Cooker Chicken Tortilla Soup
This Slow Cooker Chicken Tortilla Soup is loaded with delicious ingredients like chicken, peppers, tomatoes, corn, and beans and the bold flavor of garlic and cayenne! A comforting and hot meal for chilly nights!
Continue Reading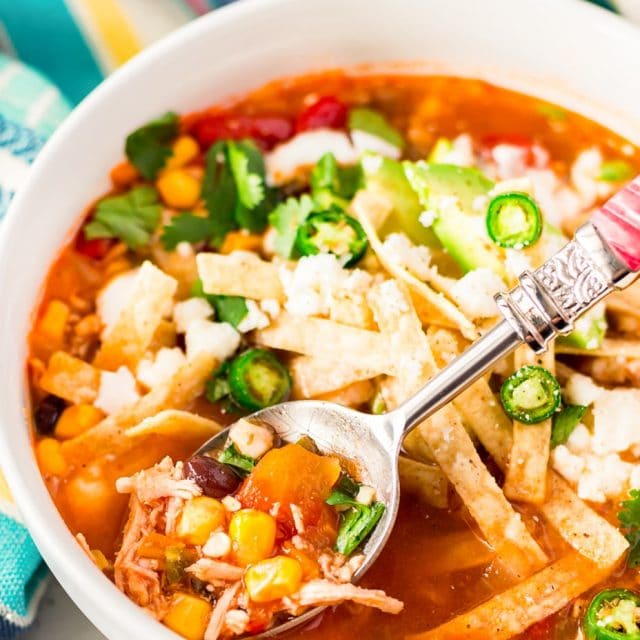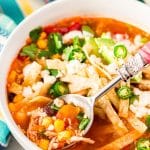 Baked Spinach & Artichoke Dip
This Baked Spinach Artichoke Dip is a must have for any party, it's loaded with cheese and garlic and the recipe has two different prep methods, you can make it either hearty or creamy!
Continue Reading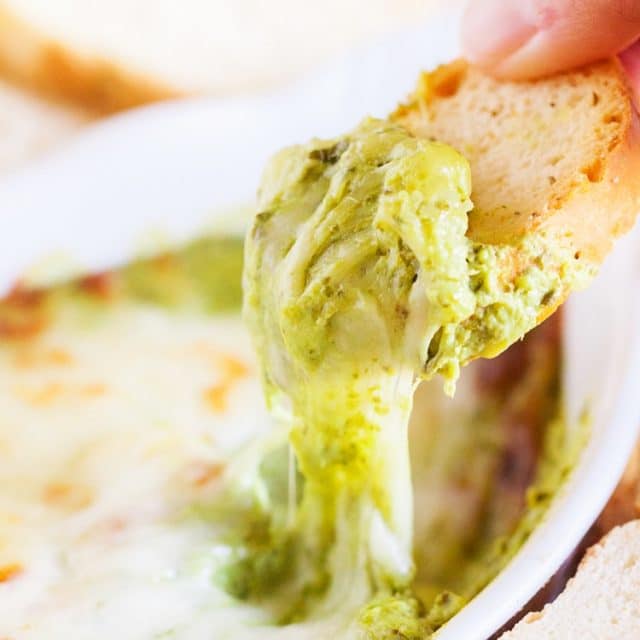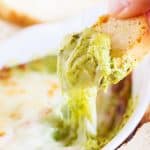 Cheesy Corn
Cheesy Corn is a delicious side dish made in the crockpot with corn, cheddar cheese, butter, cream, cheese, heavy cream, and seasonings.
Continue Reading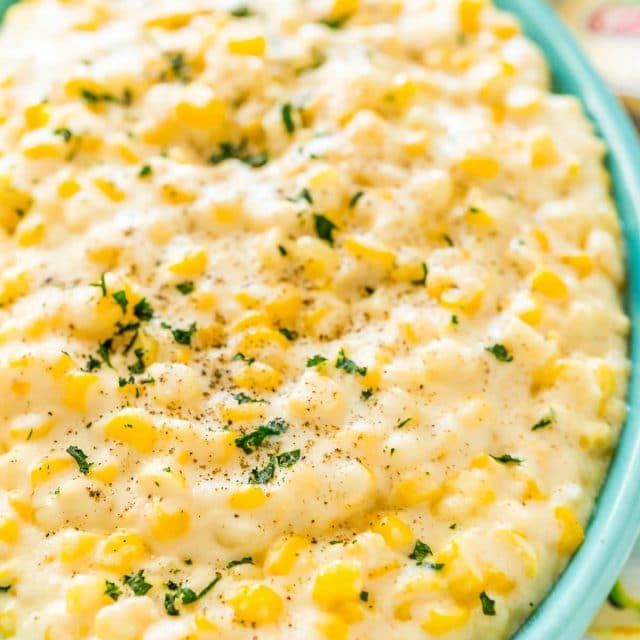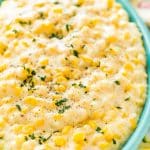 Chicken Queso Dip
Pin It For Later
Click the button above to save this delicious recipe to your board!

👋 Let's Connect!
If you've tried this recipe, please let me know how you liked it in the comments below and leave a review; I love hearing from you! And don't forget to tag me – @sugarandsoulco – on Instagram and Pinterest with your photos or join our Busy Family Recipes Facebook Community and share them there!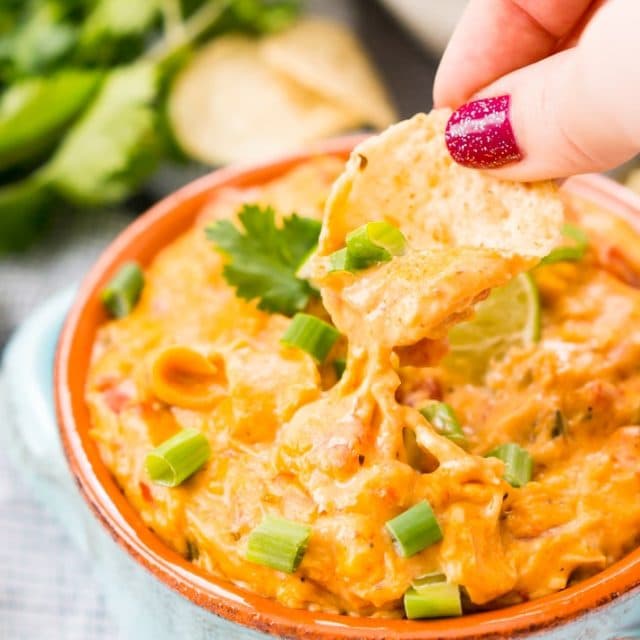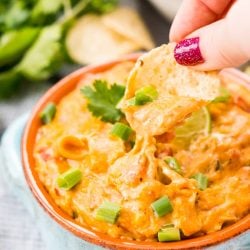 Slow Cooker Chicken Queso Dip
This Slow Cooker Chicken Queso Dip is an easy and addicting party dip made with shredded chicken, cheese, green chiles, tomatoes, green onions, and lots of spice!
Instructions
Spray the slow cooker with cooking spray and set to low heat. Add the shredded chicken, diced tomatoes (do not drain), green chiles, green onion, seasoning, and spices in the slow cooker and stir together.

Add the cheeses to the top, do not stir them in, and cook on low for 3 hours.

Once the time is up, stir to combine all of the ingredients, turn slow cooker to "warm" and serve out of the slow cooker with tortilla chips.
Notes
Cayenne pepper can be omitted if you don't want a super spicy queso dip.
If you'd prefer to make this without Velveeta, replace it with an additional cup of the Mexican cheese and an 8-ounce block of cream cheese, cubed.
Nutrition
Calories:
166
kcal
Carbohydrates:
8
g
Protein:
15
g
Fat:
8
g
Saturated Fat:
4
g
Cholesterol:
42
mg
Sodium:
939
mg
Potassium:
280
mg
Fiber:
1
g
Sugar:
4
g
Vitamin A:
785
IU
Vitamin C:
8.5
mg
Calcium:
299
mg
Iron:
0.9
mg