How To Make Buttermilk Substitute is an incredibly easy and quick way to make a homemade substitution right at home with just 2 ingredients!
Try using this easy buttermilk substitute in some of my favorite recipes such as this moist Buttermilk Chocolate Cake or these super fluffy Best Homemade Buttermilk Pancakes!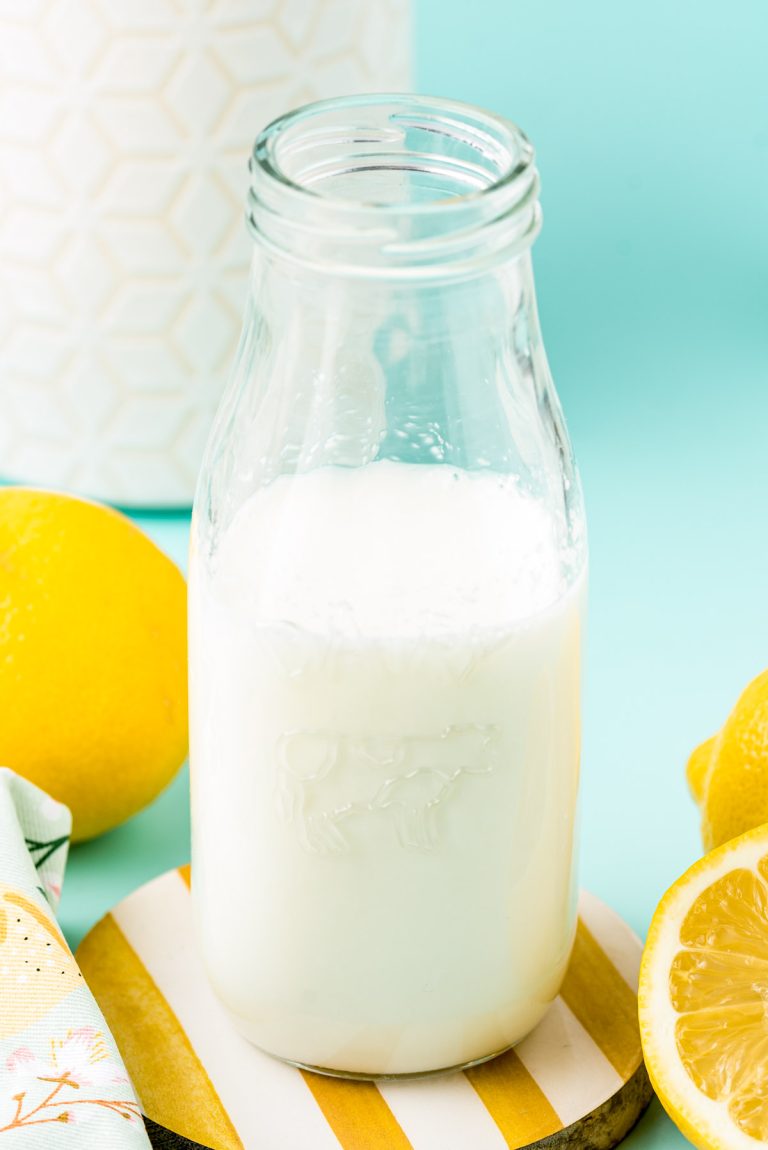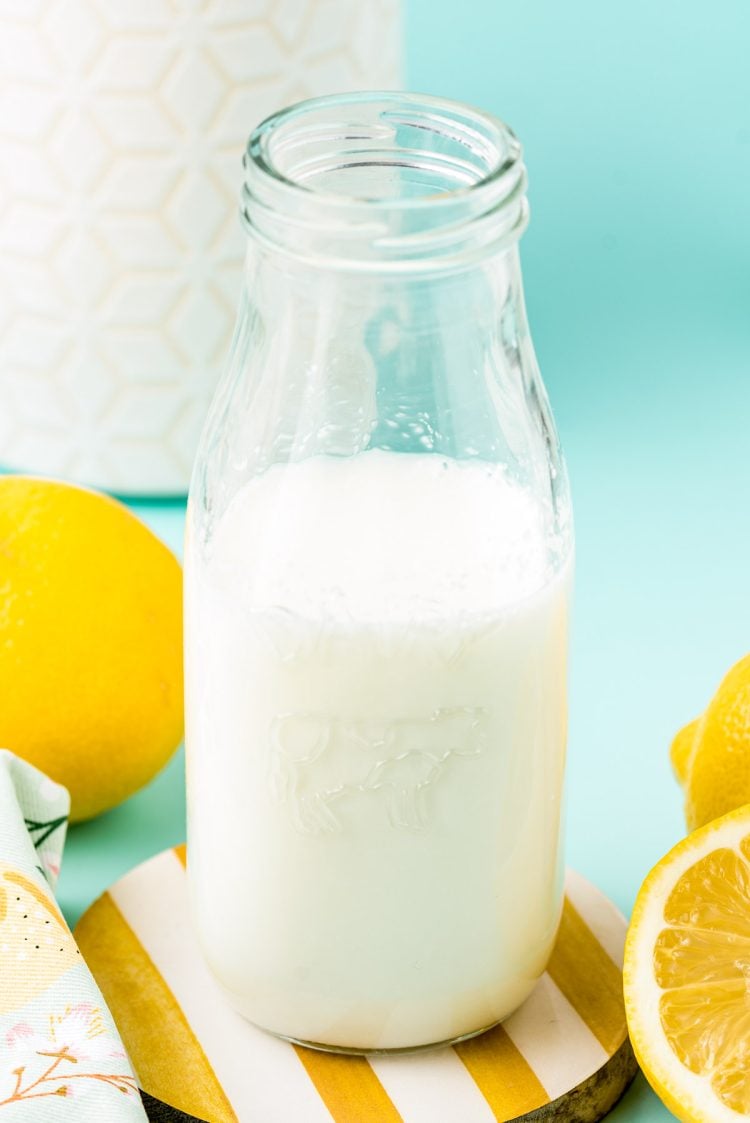 How To Make Buttermilk Substitute is a must-save and share post that you'll turn to when your refrigerator is missing a bottle of the real stuff! I'm guilty of scanning recipes, seeing an ingredient I don't have on hand, and turning away.
Easy, quick substitutes like this one have allowed me to continue making recipes even after I find an ingredient I don't have within reach!
I prefer using this substitute for buttermilk in baking whereas recipes like fried chicken, such as my Air Fryer Nashville Hot Chicken, or drinks, like Blackberry Buttermilk Panna Cotta, should use the real thing. This is because the real flavor of buttermilk is an important standout taste in those recipes!
What Is Buttermilk?
Buttermilk was the leftover milky liquid after churning cream into butter. Today it's more of a cultured milk product that has lactic acid making baked goods perfectly fluffy and airy!
This popular ingredient is used in baking recipes, known for creating rich and tender cakes, muffins, and quick bread! The use for buttermilk doesn't stop in the oven though, it's also used for drinks, frostings, and in many breakfast foods!
Ingredient Notes
This homemade buttermilk substitute is easily made using just two ingredients that you likely have on hand! For this recipe, I used fat milk such as 2% or whole milk, and an acid like lemon juice or white wine vinegar.
Don't have either acid but still need a buttermilk substitute? No problem! Swap it out for a 1 3/4 teaspoon of cream of tartar!
Another common way is using plain greek yogurt as an equal part substitute. Since that's a fairly thick buttermilk substitute, you can also mix 3/4 cup of sour cream with 1/4 cup of milk for a thinner option.
As you can see, you don't need to instantly give up when you read that a recipe calls for buttermilk when you don't have it within reach! You're now well equipped with handy kitchen tricks to quickly and easily replace the real stuff with an alternative that works just as well!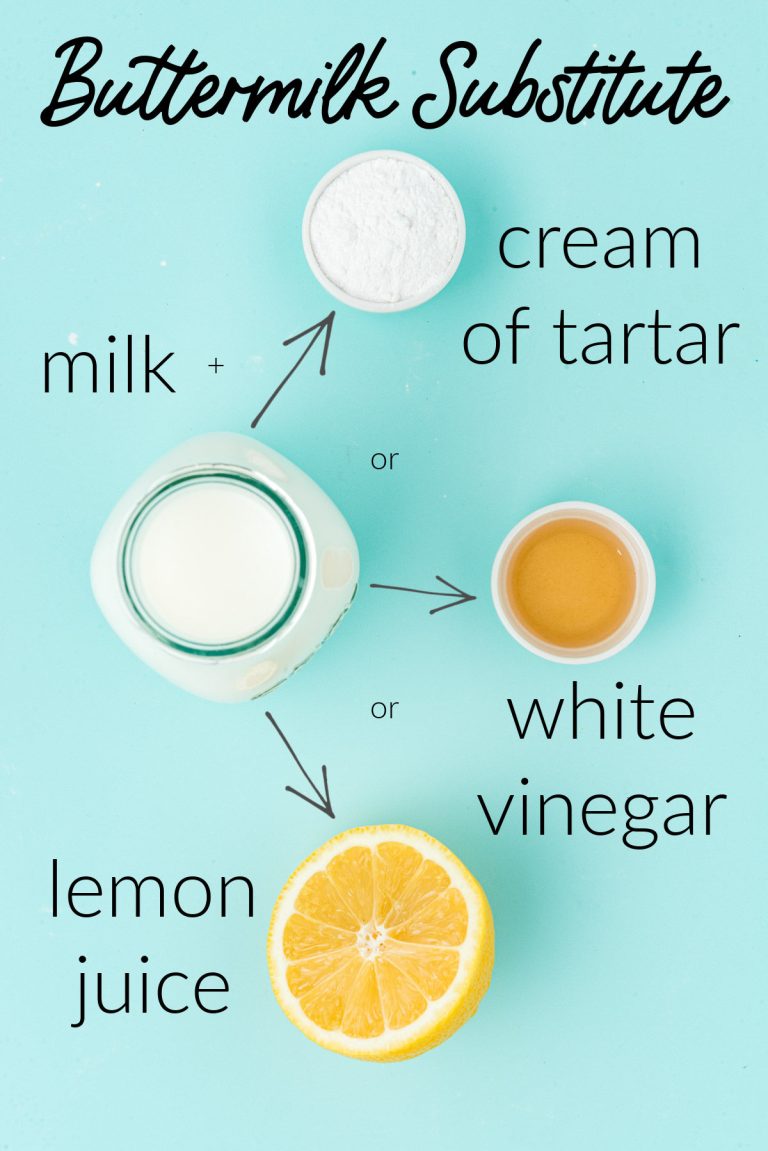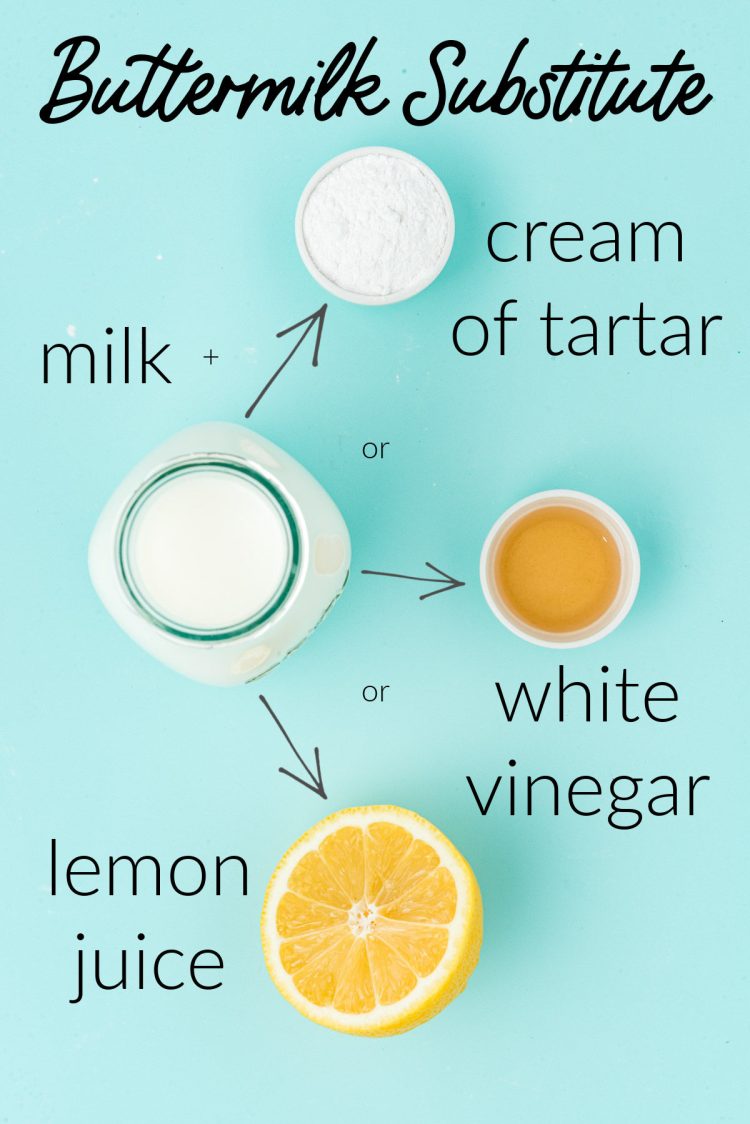 How To Make Buttermilk Substitute
Making this Buttermilk Replacement right at home is quicker than running out to the grocery store to grab a bottle! To make this buttermilk alternative, all you need to do is:
Add either vinegar, lemon juice, or cream of tartar into a glass measuring cup.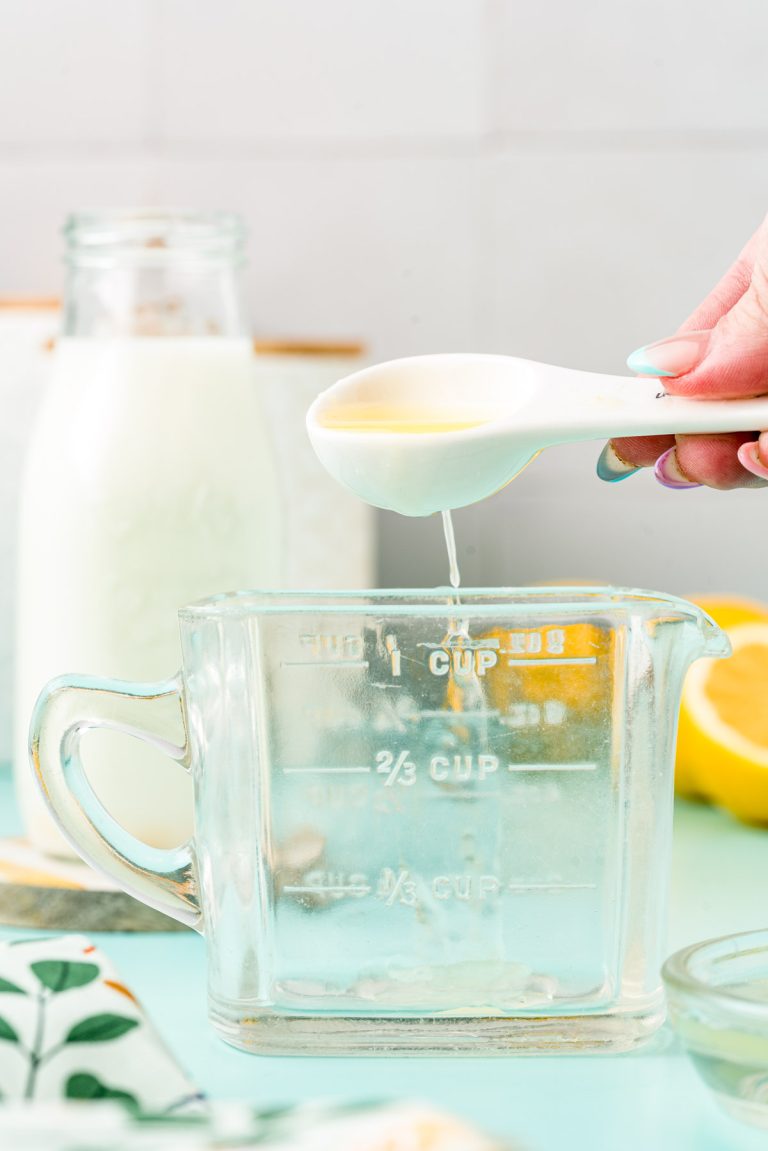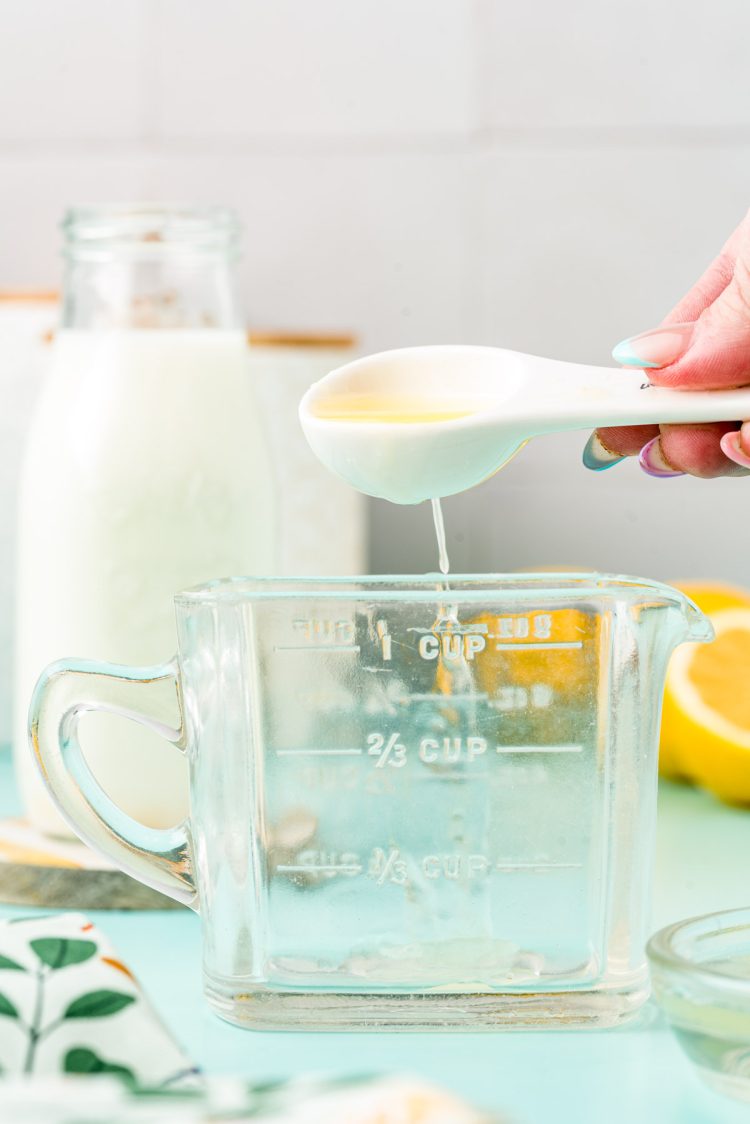 Then add a scant cup of milk, filling to the one cup measurement line.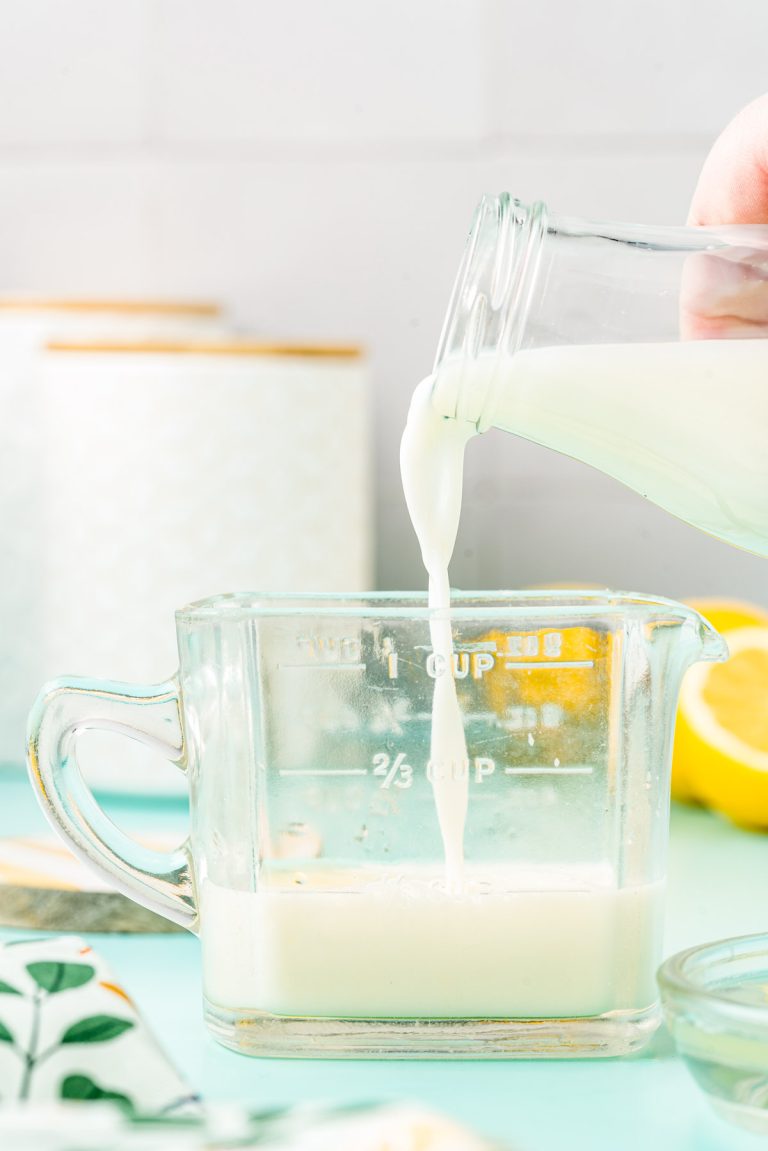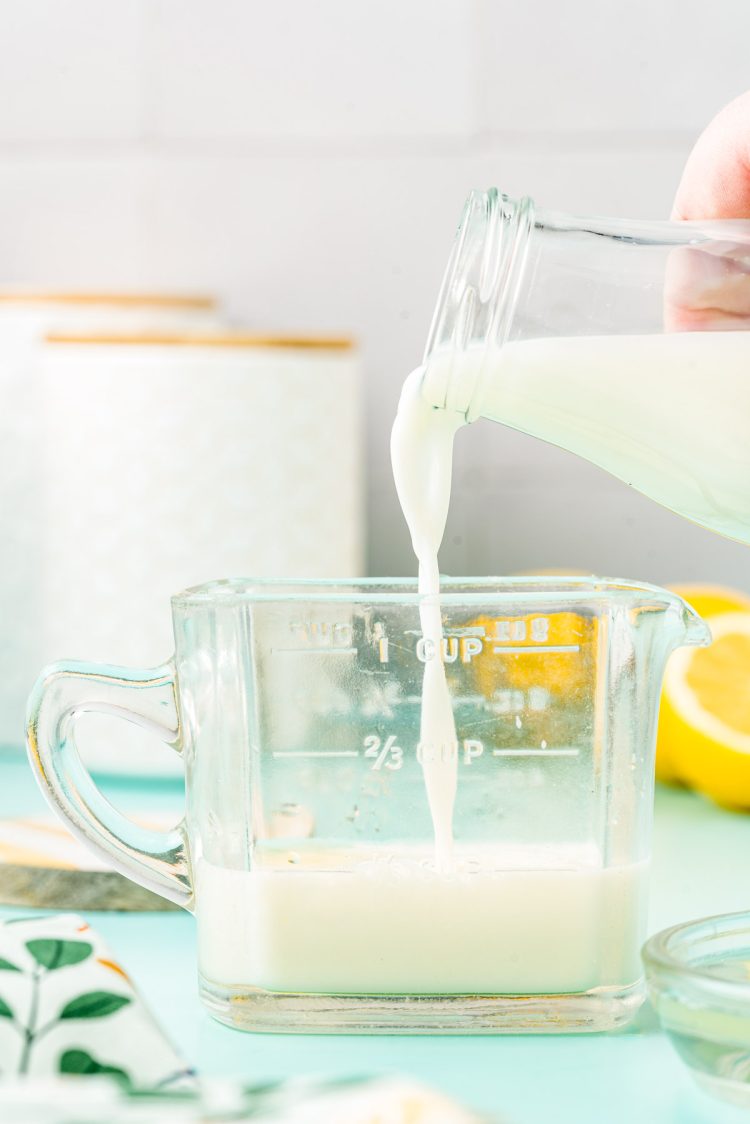 Set it aside for 5 minutes before using.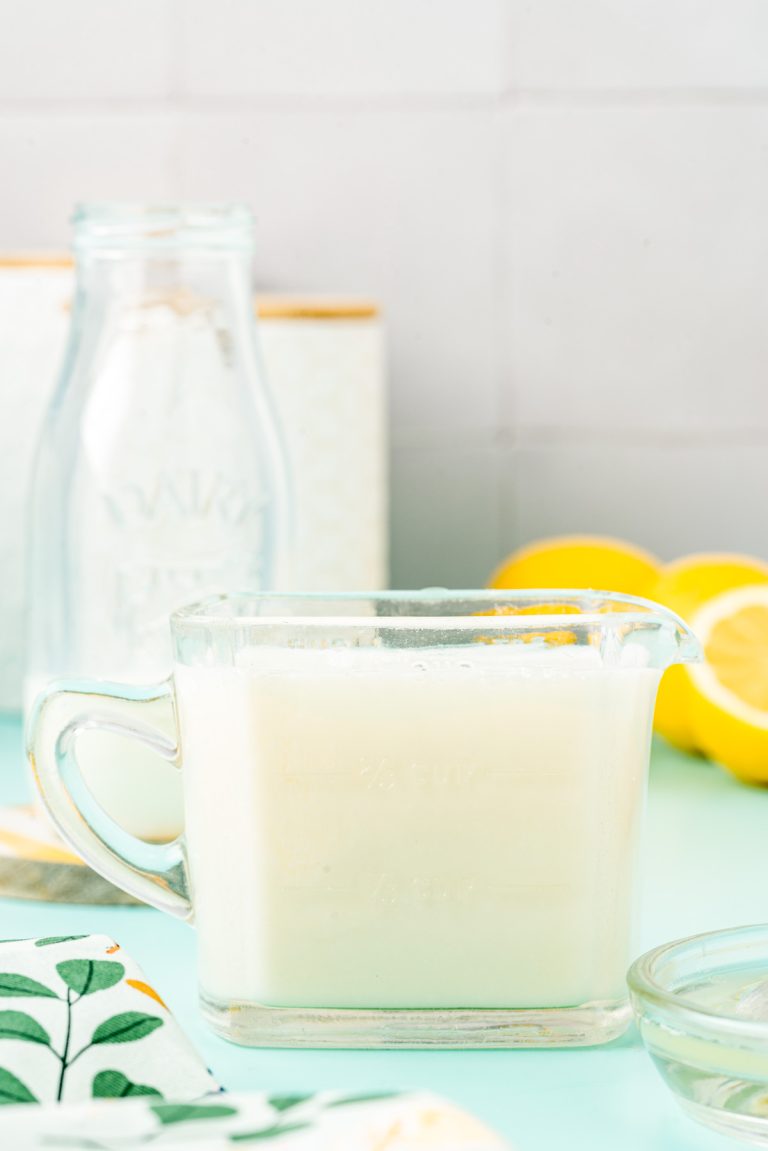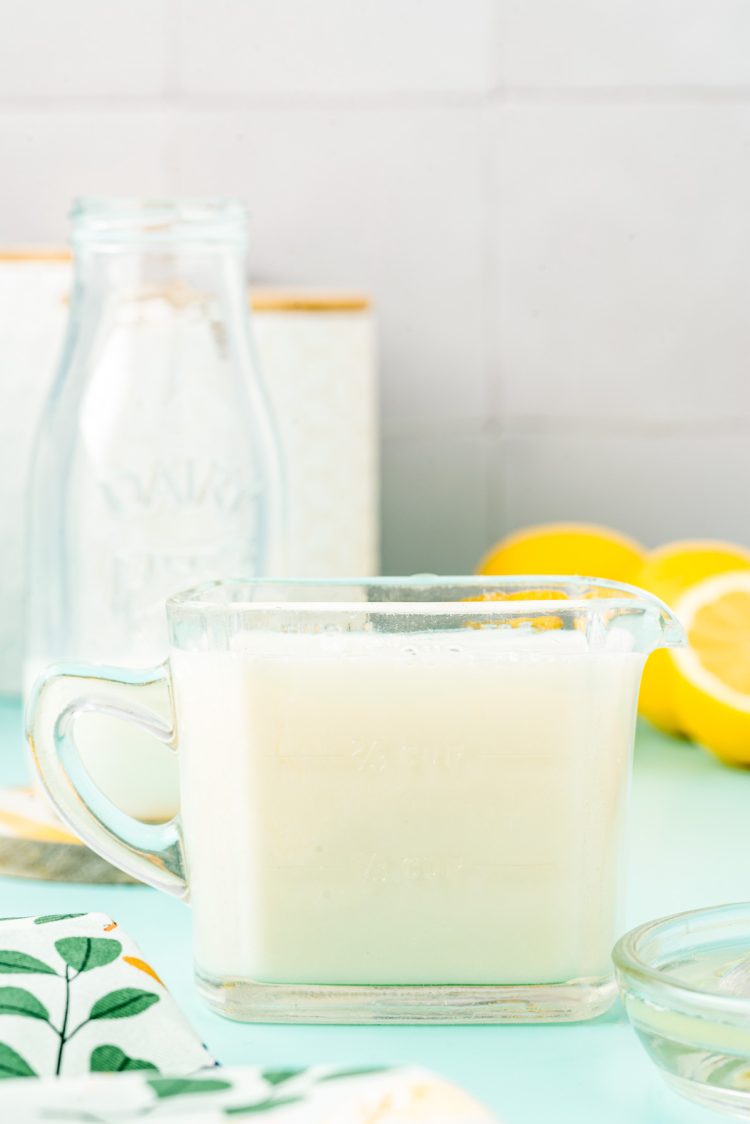 Frequently Asked Questions
Storage Instructions
Store this Buttermilk substitute in an airtight jar, such as a mason jar, and keep it in the refrigerator for 1-2 weeks. You can also freeze the buttermilk if you don't plan on using it up within that time frame!
To freeze just pour the buttermilk alternative into an ice cube tray and transfer the cubes to a Ziploc bag once they're completely frozen. The frozen buttermilk will then last for up to 2 to 3 months.
Just be sure to allow the cubes of buttermilk to thaw before adding it to your recipes!
Can I Make This Buttermilk Vegan?
Yes, you can! To make Vegan Buttermilk just swap out the dairy milk for plant-based milk. Popular choices are soy milk or almond milk.
How Much Buttermilk Substitute Does This Recipe Make?
This will make one cup of buttermilk substitute. If you need more simple just double or triple the ingredients!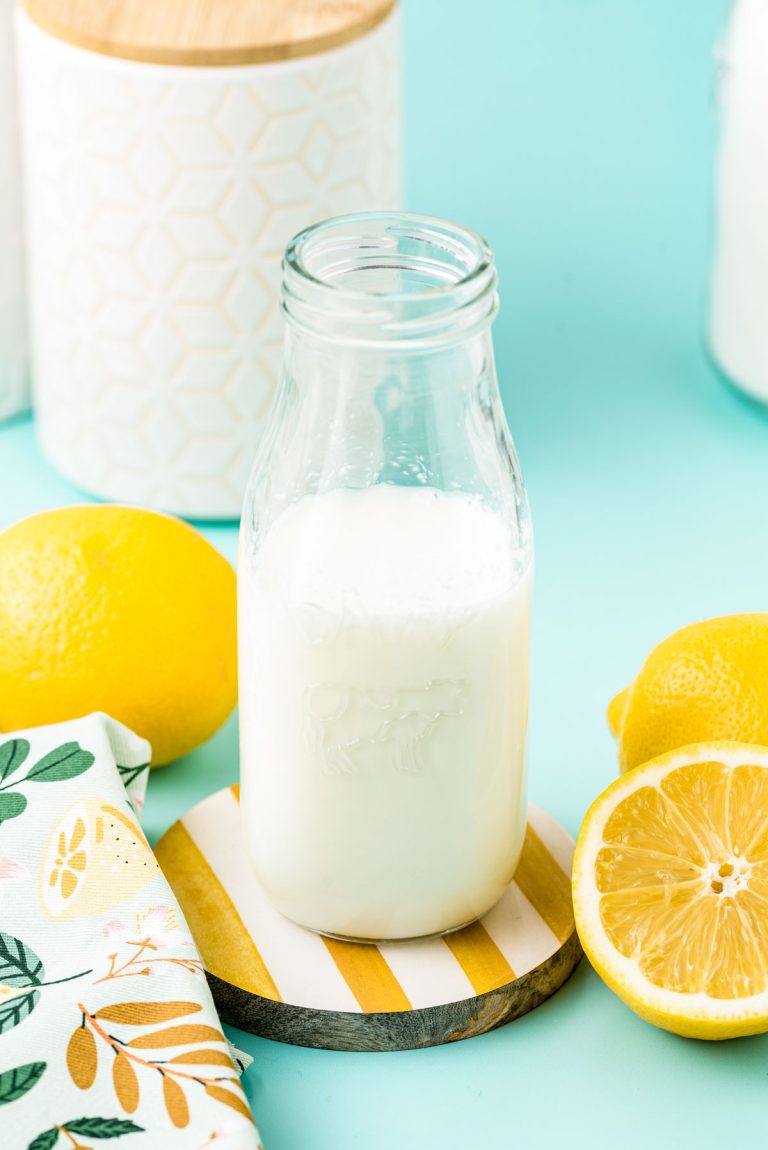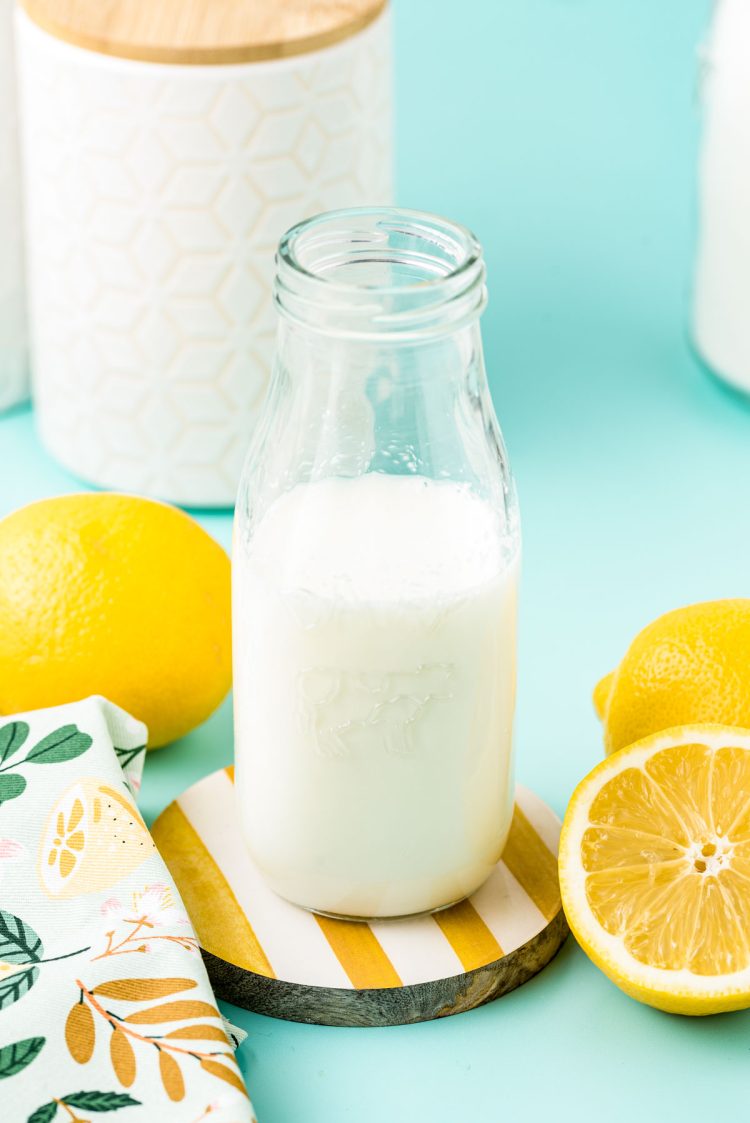 Now that you know how to make an easy buttermilk substitute it's time to put it to the test! Here are some of my popular buttermilk recipes that are absolutely worth trying out this substitute on since you'll be rewarded with a delicious treat at the end!
Buttermilk Substitute
Pin For Later
CLICK THE BUTTON ABOVE TO SAVE THIS DELICIOUS RECIPE TO YOUR BOARD!
👋 Let's Connect!
If you've tried this recipe, please let me know how you liked it in the comments below and leave a review; I love hearing from you! And don't forget to tag me – @sugarandsoulco – on Instagram and Pinterest with your photos or join our Busy Family Recipes Facebook Community and share them there!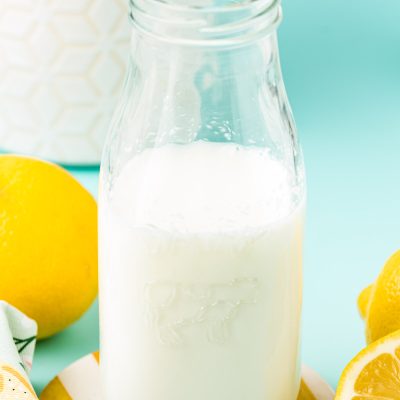 Buttermilk Substitute
How To Make Buttermilk Substitute is an incredibly easy and quick way to make a homemade substitution right at home with just 2 ingredients!
Ingredients
1

tablespoon

white wine vinegar or lemon juice

or 1¾ teaspoons cream of tartar

1

scant cup

whole milk
Instructions
Add vinegar, lemon juice, or cream of tartar to a 1 cup measuring cup.

1 tablespoon white wine vinegar or lemon juice

Fill the cup to the 1 cup line with milk.

Let it rest and curdle for 5 to 10 minutes before using.
Nutrition
Calories:
149
kcal
Carbohydrates:
11
g
Protein:
8
g
Fat:
8
g
Saturated Fat:
5
g
Polyunsaturated Fat:
0.3
g
Monounsaturated Fat:
2
g
Cholesterol:
29
mg
Sodium:
94
mg
Potassium:
372
mg
Sugar:
12
g
Vitamin A:
395
IU
Vitamin C:
0.1
mg
Calcium:
301
mg
Iron:
0.1
mg