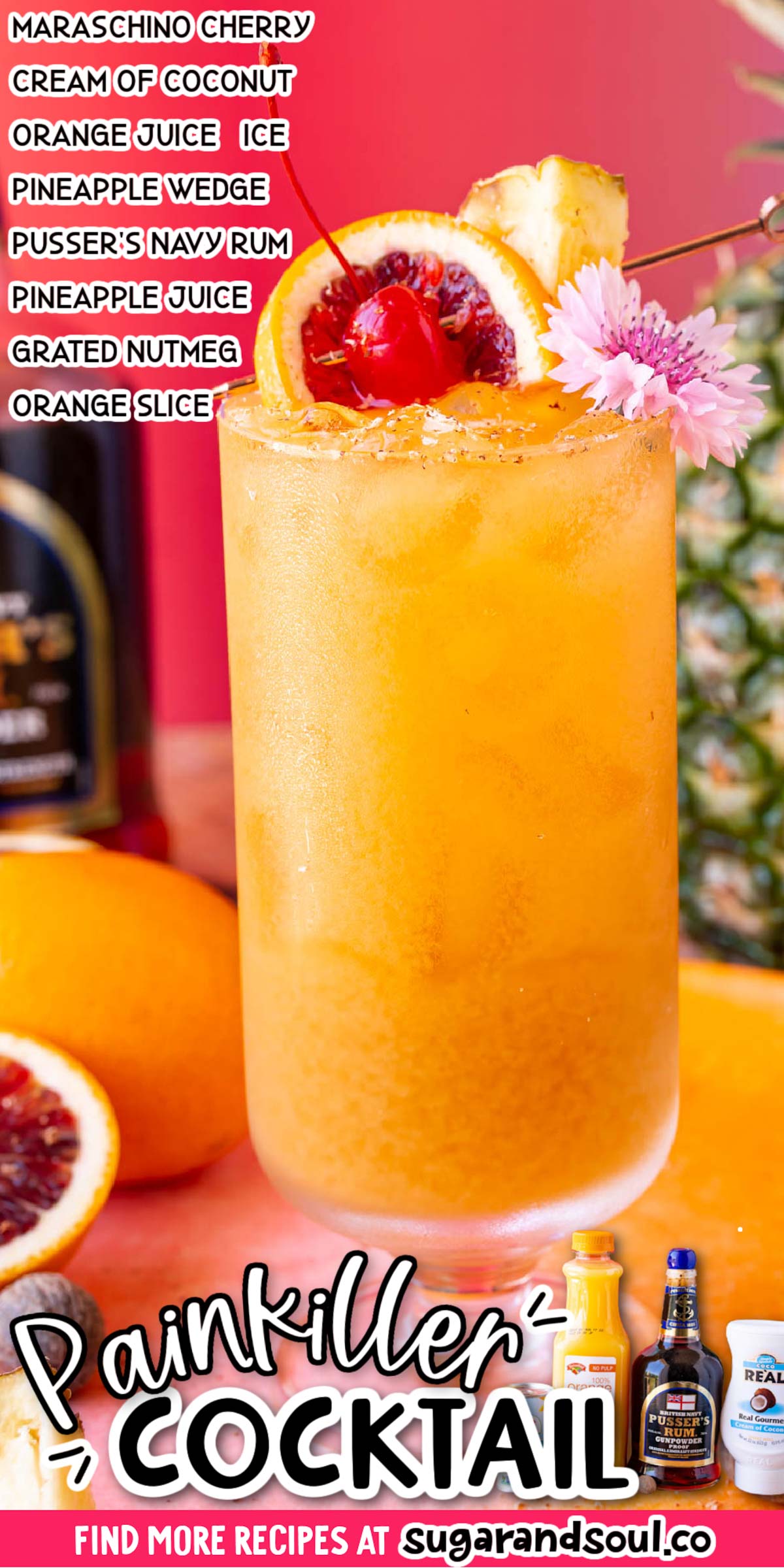 This Painkiller Cocktail recipe is made with pineapple juice, orange juice, cream of coconut, and aged rum in just 3 minutes! A fruity but strong tropical drink that you'll want in your hand all summer long!
For another tropical cocktail recipe that's also made with cream of coconut and pineapple juice try this delicious Blue Hawaiian!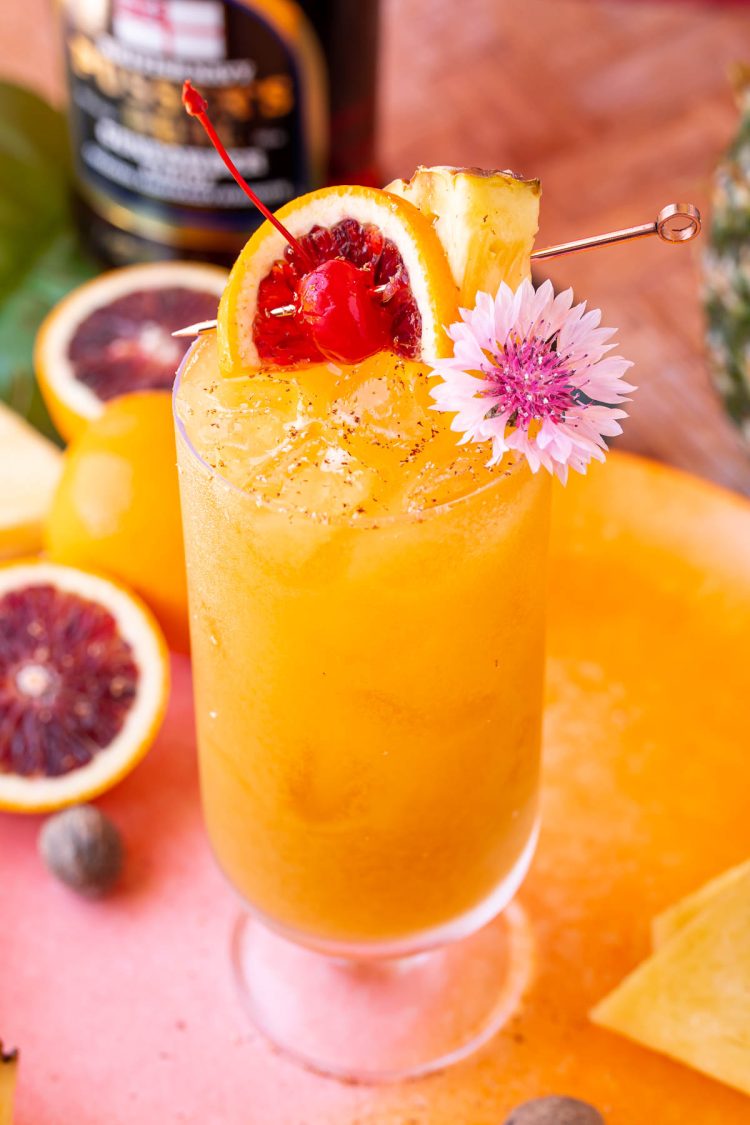 Grab a Painkiller Cocktail and enjoy all the fruity, tropical flavors it has to offer! This sweet, simple drink is just the thing to sip in the heat of the day or as the sun goes down while poolside.
If you can't be on a white sandy beach in the tropics, you might as well have a drink that makes you feel like you're there! And this Painkiller does just that since it's similar to a Pina Colada!
Where Did This Cocktail Originate From?
The history of the Painkiller Cocktail begins in the 1970s at Soggy Dollar Bar in the British Virgin Islands. The bar was owned by Daphne Henderson while the founder of Pusser's Rum was Charles Tobias.
In the 1980s Tobias got permission from Great Britain's Royal Navy to commercialize the rum. Since the cocktail is trademarked, it should be made with Traditional Pusser's Rum for an authentic Painkiller if it's offered on a menu.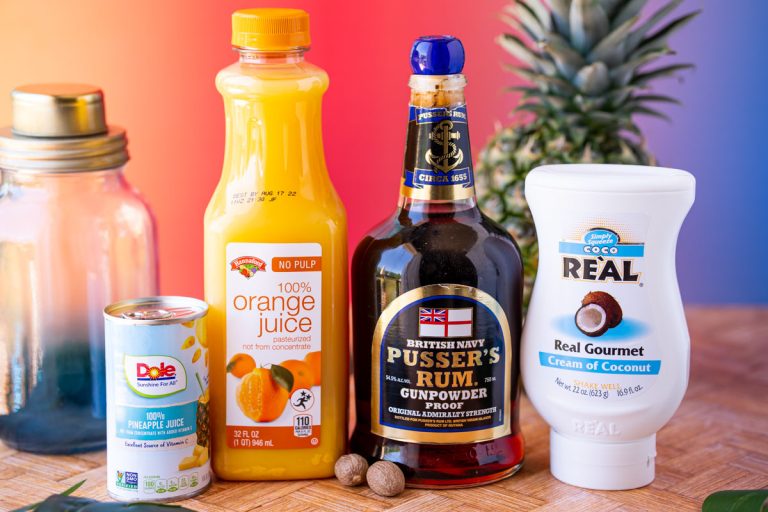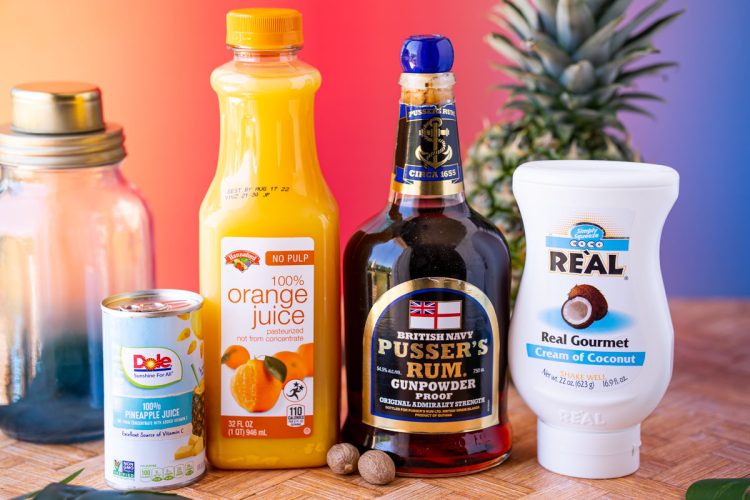 Enjoying That First Sip!
Taste: The mixture of pineapple juice, orange juice, and cream of coconut combine for a tropical taste you'll love! While the aged rum provides a complex flavor that makes this drink incredible!
Strength: This recipe goes down smooth and EASY, but packs a punch! This cool, chilled drink is good on any day, but is especially pleasing on those humid, sticky days!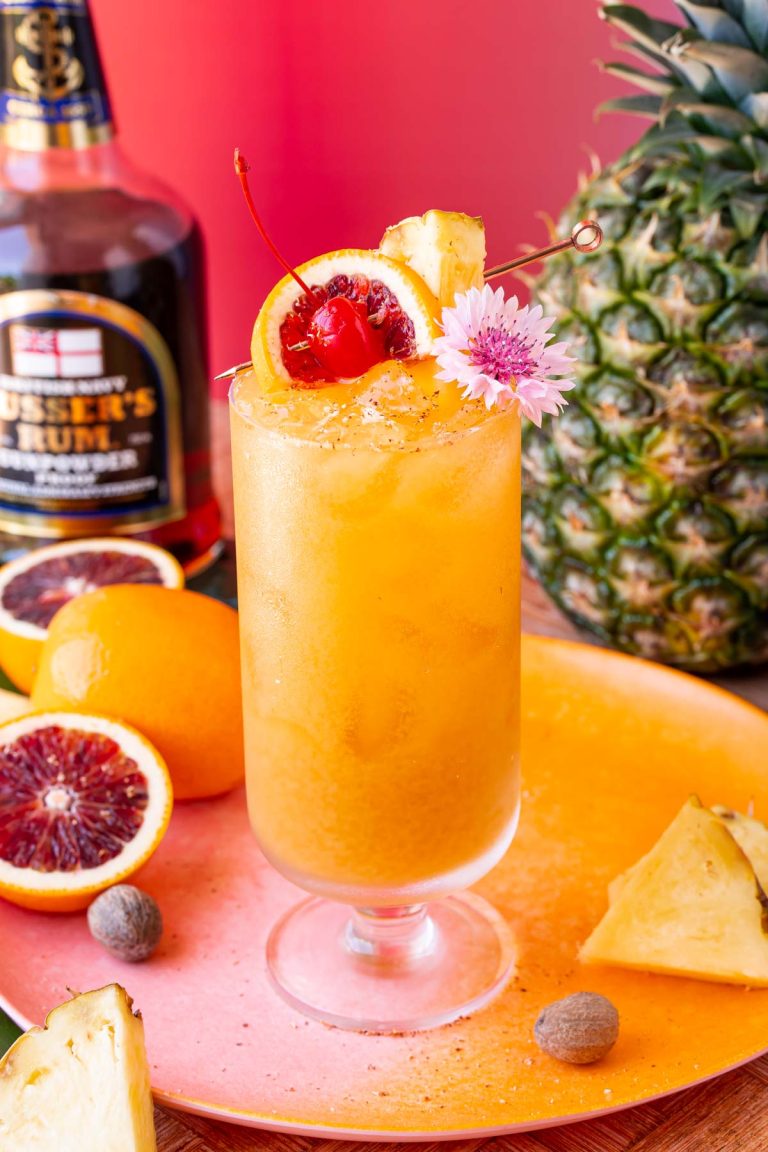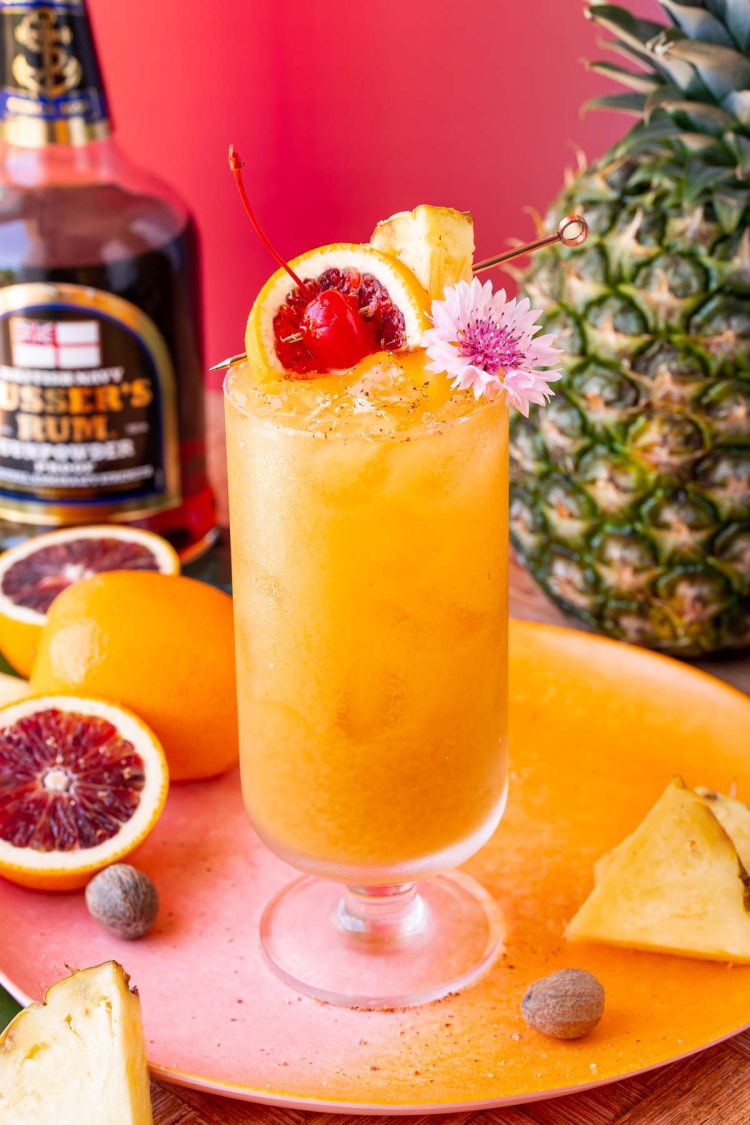 Ways To Serve Pusser's Painkiller Drink
Single Serving – This recipe yields one drink! Perfect when simply making an end-of-the-day drink to sip on the porch after the kids go to bed.
Large Batch For A party – A great option to have when hosting! Think pool parties, backyard BBQs, or having friends over for a little campfire!
Make It A Frozen Slushy – Blend all of the ingredients with ice to make a Painkiller Slushie! Nice for those REALLY hot summer days!
Tips For Making The Best Cocktail
Aged Rum! The traditional Painkiller Cocktail is made with Pusser's Rum. The aged rum gives this drink its complex flavor, totally worth grabbing a bottle just for this recipe!
Chill The Ingredients! The best summer cocktail is a chilled one! Try to plan ahead by tossing the ingredients into the fridge. That way they're nice and chilled when it's time to make a cocktail!
Cream Of Coconut! Be sure to grab cream of coconut and NOT coconut cream. Cream of coconut is a lot sweeter than coconut cream, so you'll notice a big taste difference if you don't use the right ingredient!
Garnishes! Orange slices, pineapple wedges, and maraschino cherries are a simple way to dress this drink up!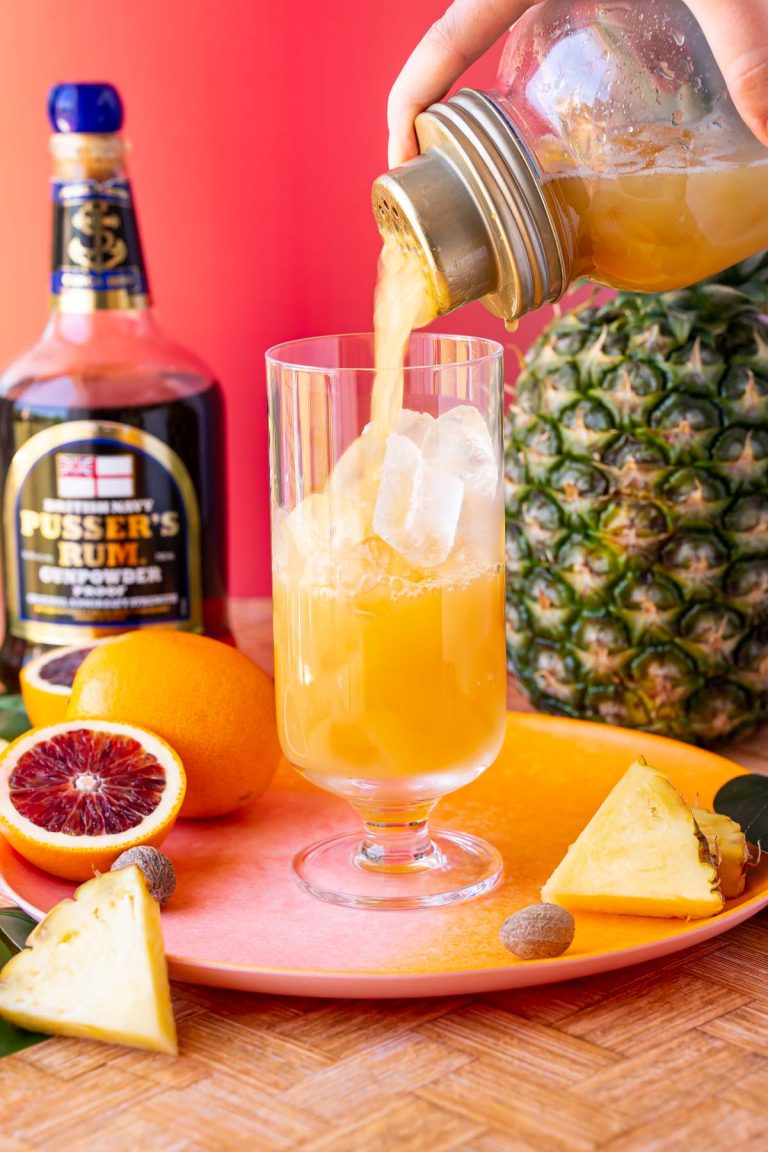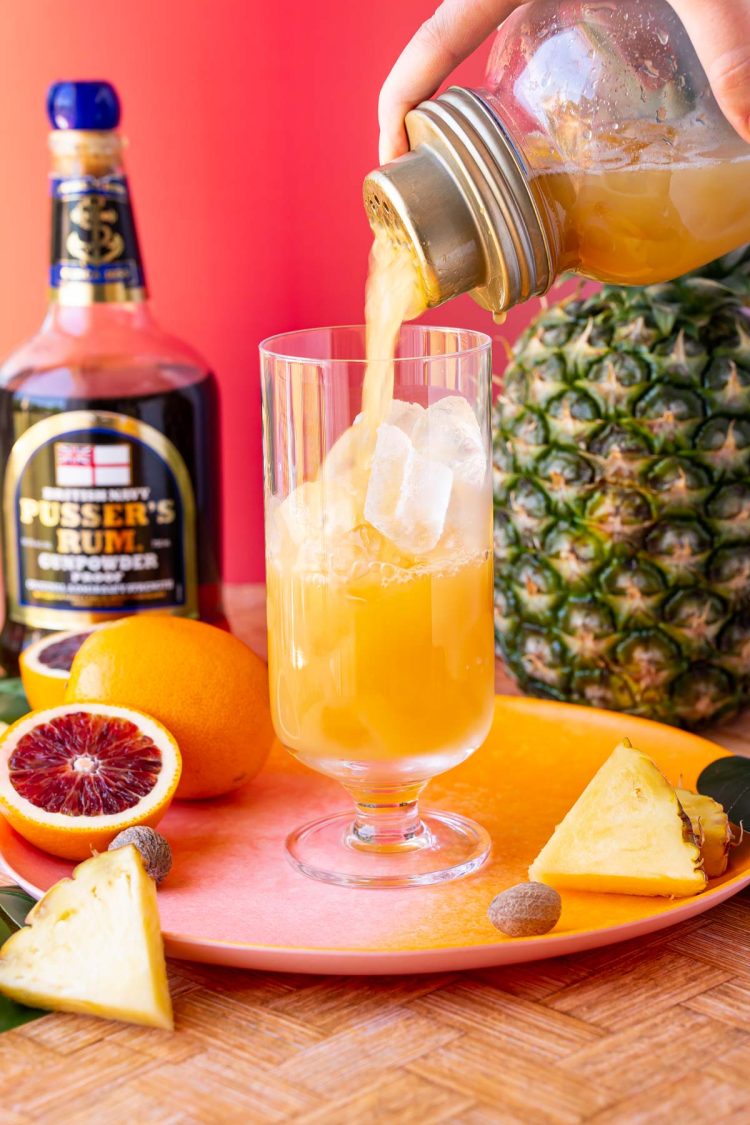 If I Make A Large Batch Of This Cocktail For A Party Can I Store The Leftovers?
Yes, since this drink isn't made with any carbonated ingredients storing the leftovers would be fine. However, if the batch had ice in it I wouldn't bother storing the leftovers since they'll be watered down.
What If I Don't Have A Cocktail Shaker?
Not a problem at all, to make a painkiller without a shaker just use something with a tight lid. You could use a mason jar, protein shaker, or blender bottle instead.
Can I Make This Cocktail Recipe With Fresh Juices?
You can certainly make this cocktail with fresh orange juice and fresh pineapple juice. I always say fresh juice gives the best flavor anyway.
The recipe does call for 4 oz pineapple juice so if you're juicing by hand, it may take a while! But again, totally worth it if you're up for it!
What Can I Use If I Can't Find Pusser's Rum?
Any aged rum or dark rum would work in the place of Pusser's.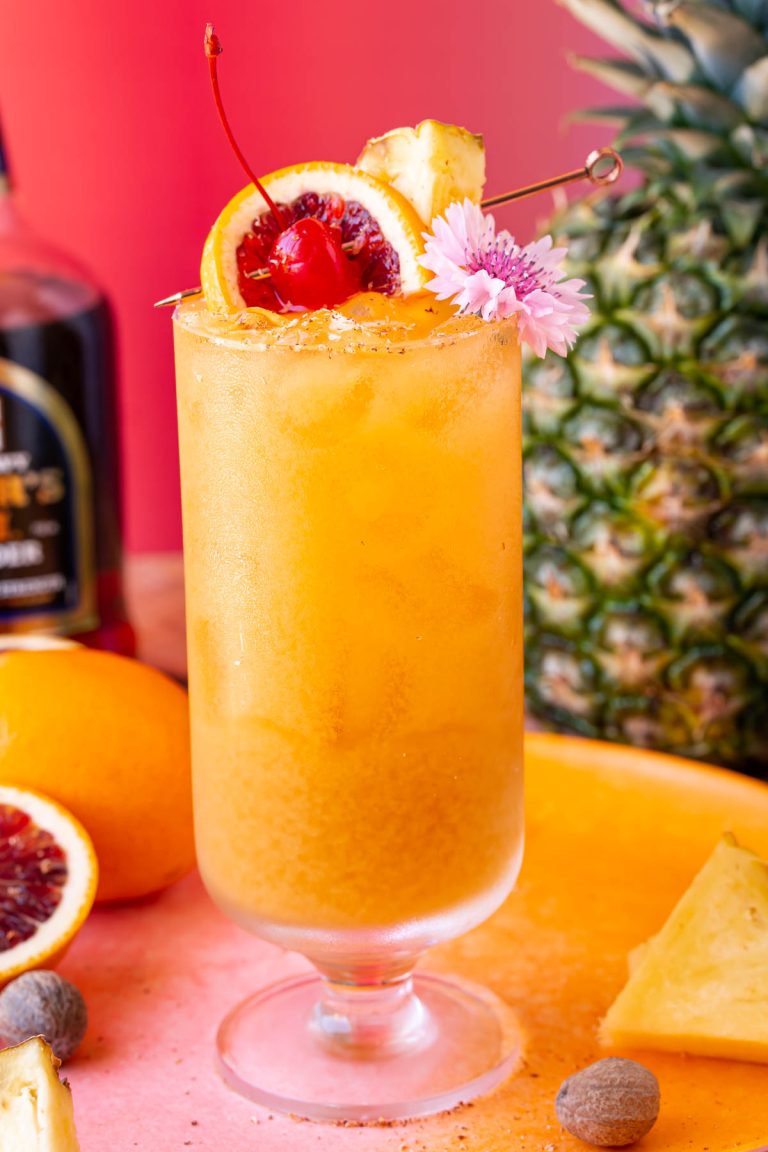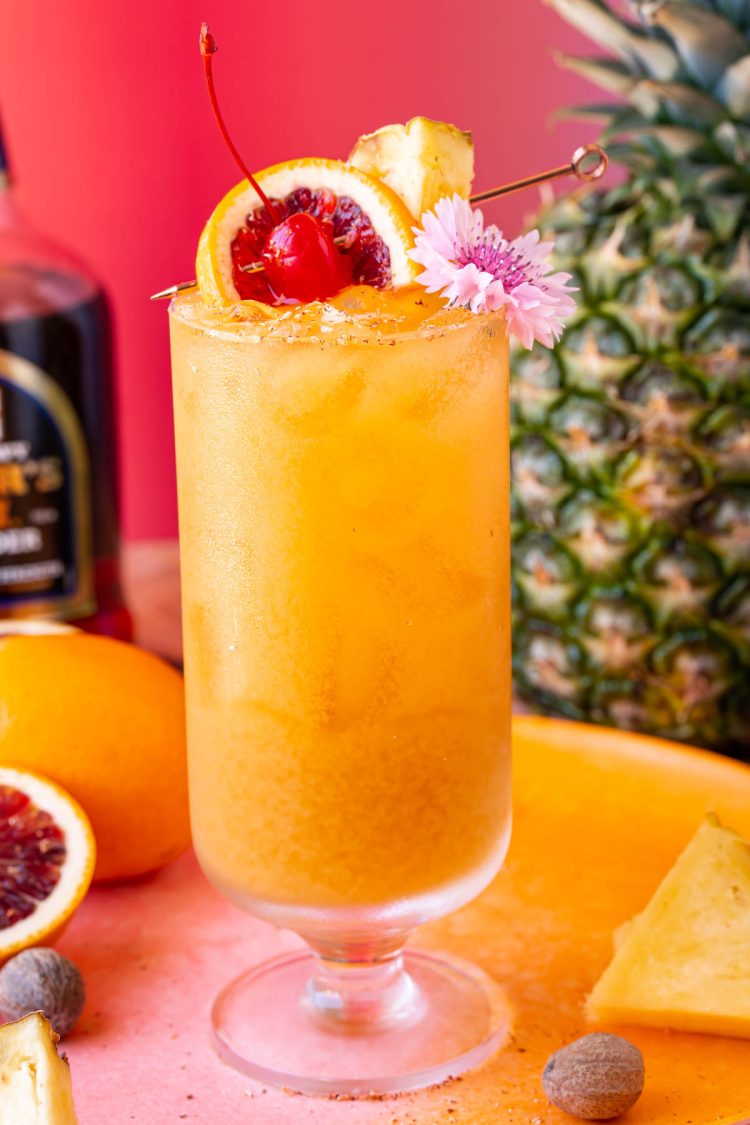 The pineapple juice in this Painkiller Cocktail really makes for a deliciously fruity, tropical drink that you'll love! Here are more cocktail recipes that are also made with pineapple juice!
Painkiller Drink Recipe
Pin For Later
CLICK THE BUTTON ABOVE TO SAVE THIS DELICIOUS RECIPE TO YOUR BOARD!
👋 Let's Connect!
If you've tried this recipe please let me know how you liked it in the comments below and leave a review, I love hearing from you! And don't forget to tag me – @sugarandsoulco – on Instagram and Pinterest with your photos or join our Busy Family Recipes Facebook Community and share them there!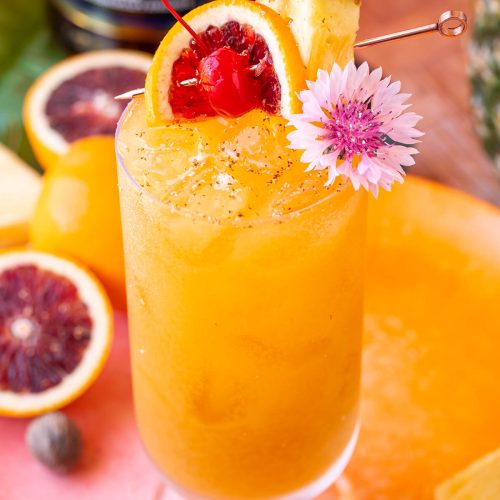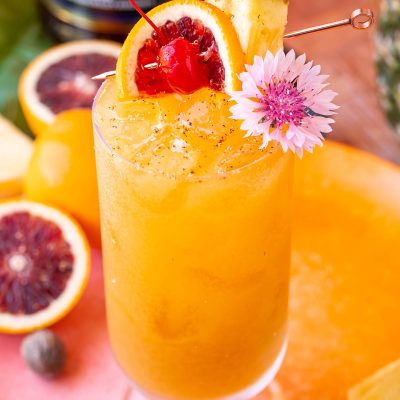 Painkiller Cocktail
This Painkiller Cocktail is made with pineapple juice, orange juice, cream of coconut, and aged rum in just 3 minutes! A fruity, tropical drink that you'll want in your hand all summer long!
Ingredients
ice

2

ounces

Pusser's Navy Rum

4

ounces

pineapple juice

1

ounce

orange juice

1

ounce

cream of coconut

freshly grated nutmeg

orange slice

for garnish

pineapple wedge

for garnish

maraschino cherry

for garnish
Instructions
Add rum, pineapple juice, orange juice, and cream of coconut to a cocktail shaker with ice and shake vigorously for 15 seconds.

ice,

2 ounces Pusser's Navy Rum,

4 ounces pineapple juice,

1 ounce orange juice,

1 ounce cream of coconut

Strain into a highball glass with fresh ice and garnish with nutmeg, orange slice, pineapple wedge, and maraschino cherry.

freshly grated nutmeg,

orange slice,

maraschino cherry,

pineapple wedge
Nutrition
Calories:
327
kcal
Carbohydrates:
37
g
Protein:
1
g
Fat:
5
g
Saturated Fat:
4
g
Polyunsaturated Fat:
0.1
g
Monounsaturated Fat:
0.03
g
Sodium:
17
mg
Potassium:
205
mg
Fiber:
1
g
Sugar:
33
g
Vitamin A:
62
IU
Vitamin C:
26
mg
Calcium:
18
mg
Iron:
0.4
mg